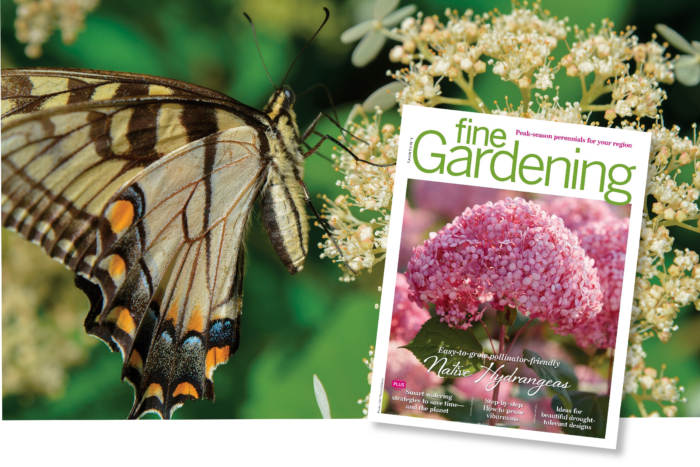 Online Features and Extras from Fine Gardening #212
See Fine Gardening #212 online now
Having the right equipment will help to ensure pruning success. Here are the basic

tools to get the job done right.

Here are some of the dynamic plants that grow in the front and back of this city garden.

If you're looking to up your container gardening game, we can help you achieve a season filled with incredible-looking pots.
More from the web
LET'S ARGUE ABOUT PLANTS PODCAST: Spectacular Combos
All Fine Gardening Online Magazine Extras
---
Here's where you'll find all of our web extras for our magazine issues. Serve yourself up a platter of a little something extra with the following articles!
 

Web Features:

At the heart of every great garden is at least one pathway. Learn more about creating picture-perfect pathways here.

Related Content:

Bring beauty and pollinators to your garden with a mix of these of annuals, perennials, and woody plants. Learn more about creating a butterfly haven here.

This three-part series, done in partnership with UK experts from Garden Masterclass, includes lectures on reimagining the mixed border, planning a small urban garden, and digging into the herbaceous design process.

 

Web Features:

Find inspiration and items that will take your garden to the next level, make your work easier, and add the color or interest you want.

Related Content:

Planting Plan for a Mature Garden Makeover

In the article How to Make Changes to a Mature Garden, Laura Trowbridge explains how her long border acquired its present appearance.

Planting Plan for a Geometric Garden

In this post, you'll find some plant identifications for two key areas of the geometric garden: the pool and the bed with the zigzag border.

Web Features:

Tour a Garden That Perfectly Balances Hardscape and Plants

---

Related Content:

Planting Plan for a Stylized Meadow

3 Less-Common Grafting Methods

Web Features:

Tour a Naturalistic Garden With Great Structure

---

Related Content:

Beautiful Back Border Plant IDs

Garden that Fills in Fast Plant IDs