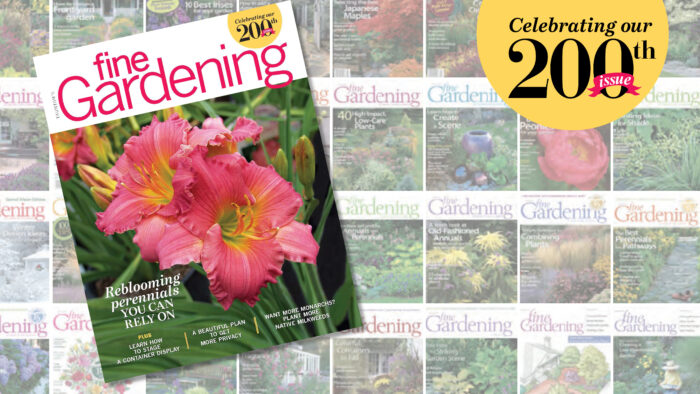 When you start a new job, there's a lot to think about. Will you understand the computer system? Will you get along with your co-workers? Will you be able to find the restroom? Maybe that's why I didn't really believe the Fine Gardening staffers who told me when I started at the magazine 14 years ago, "You'll always remember your first issue." Remember the issue? I was way too busy figuring out the job. But it turns out they were right. Issue 118—that was my first.
When putting together this 200th issue, we decided each core staff member would list the issue they consider to be their first. You'll see those listed below. After asking them, I was a bit surprised by how quickly everyone responded. It was something every person knew immediately, and many answers were accompanied by the story of why they remember that issue so well. I wish we had the extra space to tell those tales, like the one about driving through the night to take a photo of a plant that was in bloom several states away, just so the article would be "perfect" before going to press. Unfortunately, the 200th issue doesn't mean we get 200 extra pages.
If you add up the years that the staff has been collectively involved with this magazine, you'll get a sense of the commitment that we have toward creating and delivering inspiring gardening content. And we'll continue doing so into the foreseeable future thanks to you, our loyal readers. So happy birthday, FG! Now please excuse me while I head to one of those restrooms I found 14 years ago—too much celebratory champagne. Issue #200 will be out May 26, 2021.
– Danielle Sherry, Executive Editor

First issue: Issue 118

A recent fave: How to Plant in a Muddy Spot (136)

This was the first of three (maybe more?) features we did with Barbara Weirich and her Michigan garden. It's still my favorite garden I've ever visited, and I find it so inspiring that a Zone 5/6 garden could be this fantastic. We still use outs from these photo shoots all the time for compilation articles on design.
---
Meet Fine Gardening
Steve Aitken

Editor-at-Large

First issue:

Issue 82

A recent fave:

Water-Soluble Fertilizers (164)

I know it isn't a beautiful, bodacious garden, but this article is chock-full of firsthand research. I love getting the real low-down on a topic, and Jeff Gillman really put these fertilizers to the test. Very cool.

Stephanie Fagan

Executive Art Director

First issue:

Issue 86

A recent fave:

How to Create a Gravel Garden (178)

I chose this stunning garden because when I was first designing the article I expected there to be mostly succulents and other plants that you find in a rock garden. I was so pleasantly surprised to see the lush array of color, texture, and form. And I love the idea of using gravel instead of mulch—so much less upkeep.
---
Carol Collins

Associate Editor

First issue:

Issue 152

A recent fave:

How to Use Annuals in Your Garden (177)

I visited that garden at least three times, and what I think is cool about it is that the author adds a different palette of annuals and tropical plants each year. I got a ton of photos, way more than we needed for the article, and I will be putting them into a garden-tour video this summer.

Lisa Proccacini

Administrative Assistant

First issue:

Issue 172

A recent fave:

Spice Up Your Containers With Herbs (199)
---
Christine Alexander

Digital Content Manager

First issue:

Issue 179

A recent fave: 

A Water-Wise Garden That Works (183)

I am a big fan of the no-lawn movement, and this article features a beautiful design utilizing water-wise plants. It's a great model for those wishing for a more dynamic and sustainable yard. (A second, secret option—I can sneak one in since I built this page—is this Native Grasses article from issue #124.)

Don Burgard

Copy/Production Editor

First issue:

Issue 182

A recent fave:

Heaths and Heathers (185)

Maybe it's because the Scottish Highlands are my favorite place on the planet, but I was captivated by this article. As FG's copy editor, I'm usually superfocused on words, but I came away from this article wishing it contained even more photos of those gorgeous plants.
---
Kara Demos

Digital Production Specialist

First issue:

Issue 190

A recent fave:

How to Support Soil Life (195)

I found this article to be eye opening. It taught me about the biology of soil and how to support that soil life to have a healthier garden. It is a good read for a new perspective on making your garden thrive! 

Kaitlyn Hayes

Digital Production Specialist

First issue:

Issue 190

A recent fave:

A Cohesive Garden Built from Uncommon Plants (196)

I love anything that's a bit out of the ordinary, and I'm obsessed with funky foliage plants—so Loree Bohl's Portland garden instantly caught my eye. With the many interesting trees that canopy the space and her bright orange pergola, I could hide away in this shady sanctuary all day.
---
Diana Koehm

Assistant Editor


First issue:

Issue 193

A recent fave:

A Deer-Proof Design for Dry Shade (199)

I love this garden designed by Susan Calhoun. There's so much color, texture, and interest even with several constraints on the plants used. It's interesting to see what kind of design can come out of a challenging area.