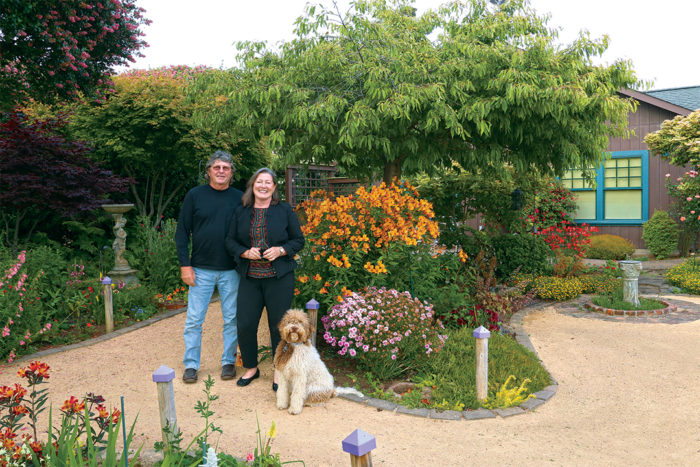 The following plant IDs are from the article "An Open Invitation" by Barbara Morrison (web title: A Garden Design to Bring People Together) featured in Issue #187 of Fine Gardening.
"When our well-established forested garden on California's northern coast was flattened in 20 minutes by a powerful microburst, the first feelings my husband and I had were of loss, upheaval, and exposure. Then one evening I reread the line of Japanese poetry taped to my computer monitor, a reminder to embrace the opportunities of change: "Barn's burnt down; now I can see the moon."
My perspective suddenly shifted to imagining a garden design that better reflected our growing interest in inviting others in, a design that allowed us to interact more with our neighbors rather than protect our privacy. Could we build a garden to bring diverse people, even strangers, together? Many changes in the world had convinced us that we needed to engage more, not less. We could let our new garden design reflect that by creating a broader view in—a welcoming invitation to meander, pause, reflect, engage, even play." Read more.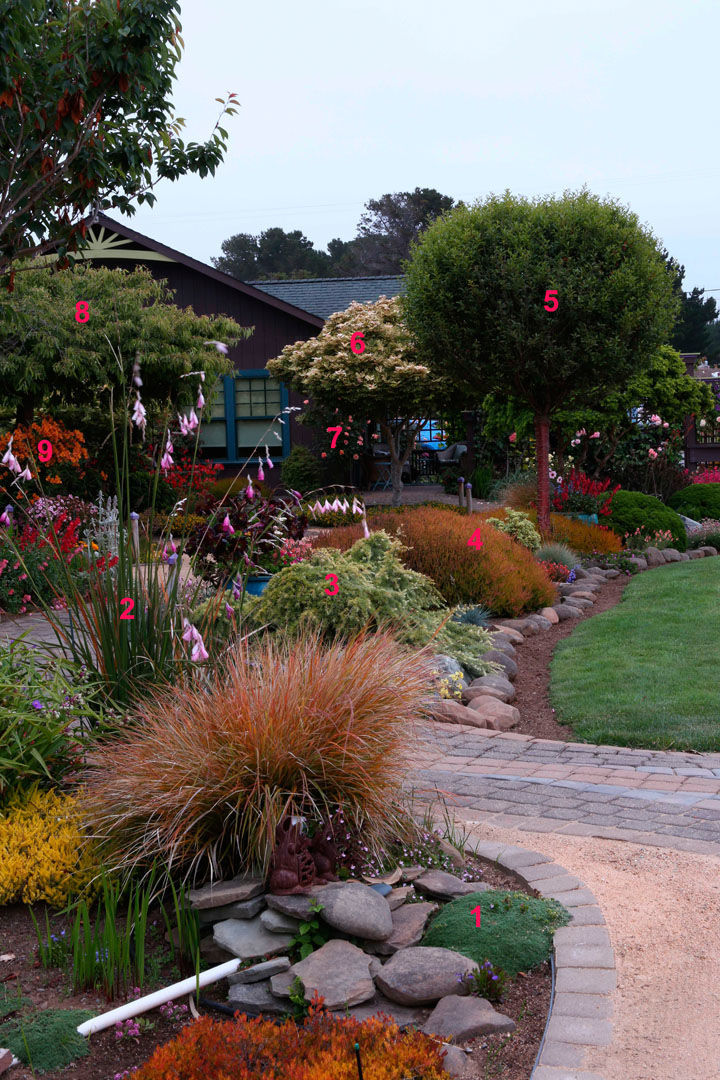 CUTTING GARDEN
'Elfin' thyme (Thymus praecox 'Elfin', Zones 5–8)
Fairy wand or angel's fishing rod (Dierama pulcherrimum, Zones 7–11)
Feelin' Sunny® Himalayan cedar (Cedrus deodara 'Monkinn', Zones 7–9)
'Wickwar Flame' heather (Calluna vulgaris 'Wickwar Flame', Zones 5–8)
Hybrid cherry (Prunus serrulata 'Tibetica' × Prunus 'Snow Goose', Zones 5–8)
'Puget Pink' sycamore maple (Acer pseudoplatanus* 'Puget Pink', Zones 5–8)
Bonica® rose (Rosa 'Meidomonac', Zones 4–9)
Hybrid cherry (Prunus serrulata 'Tibetica' × Prunus 'Akebono', Zones 5–8)
'The Third Harmonic' Peruvian lily (Alstroemeria 'The Third Harmonic', Zones 8–10)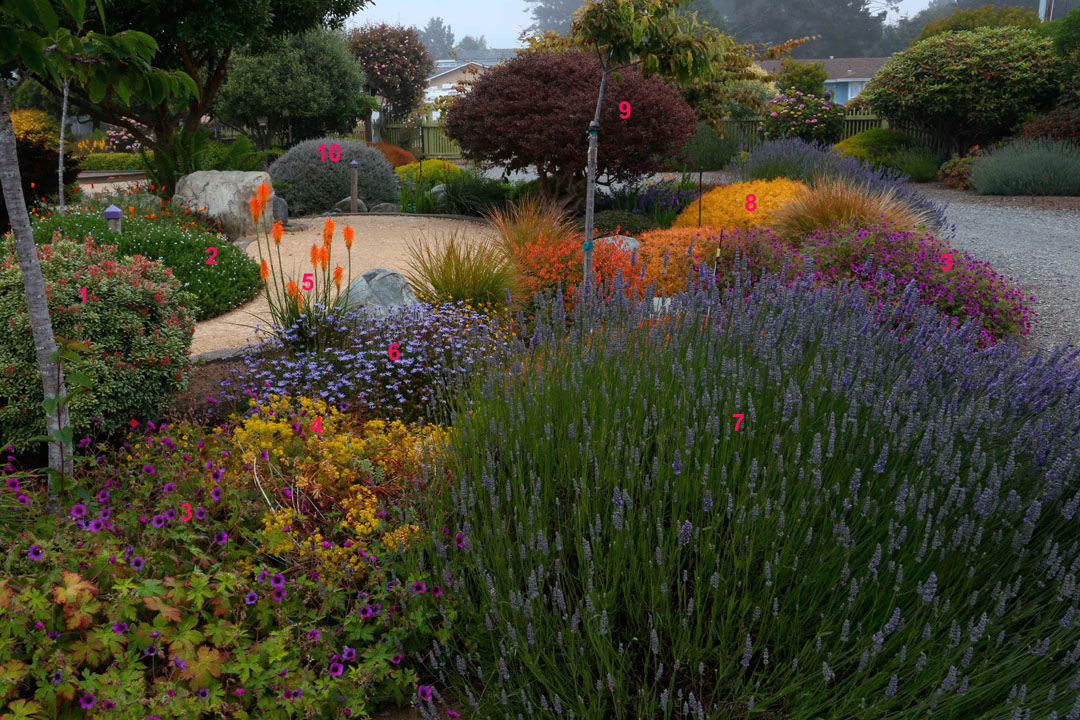 DRIVEWAY GARDEN
'Forest Flame' pieris (Pieris × 'Forest Flame', Zones 5–8)
Lithodora ( Lithodora diffusa, Zones 6–8)
'Ann Folkard' geranium (Geranium 'Ann Folkard', Zones 5–8)
'Blue Haze' euphorbia (Euphorbia 'Blue Haze', Zones 6–10)
'Mango Popsicle' kniphofia (Kniphofia 'Mango Popsicle', Zones 6–8)
'Tight & Tidy' blue marguerite (Felicia aethiopica 'Tight & Tidy', Zones 9–10)
'Provence' lavender (Lavandula × intermedia 'Provence', Zones 5–9)
'Rheingold' American arborvitae (Thuja occidentalis 'Rheingold', Zones 2–7)
'Fireburst' mirror plant (Coprosma 'Fireburst', Zones 9–11)
'Silver Knight' Scotch heather (Calluna vulgaris 'Silver Knight', Zones 4–8)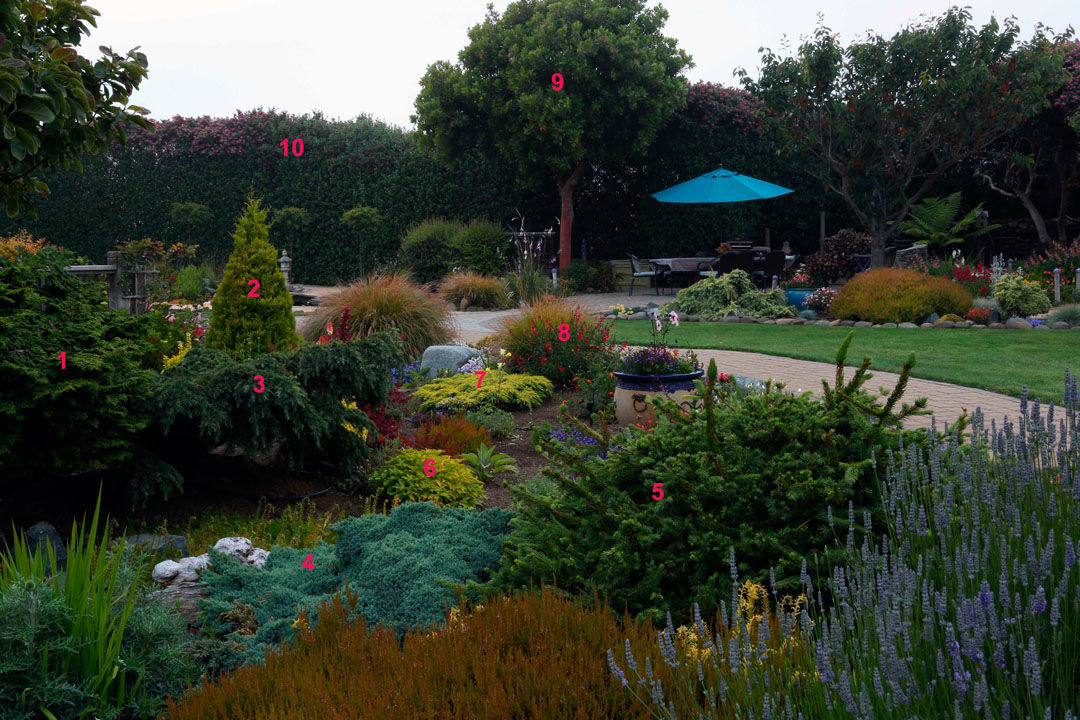 ENTRY GARDEN
Compact Hinoki cypress (Chamaecyparis obtusa 'Compacta', Zones 5–8)
American arborvitae (Thuja occidentalis, Zones 2–7)
'Prostrate Beauty' Himalayan cedar (Cedrus deodara 'Prostrate Beauty', Zones 6–9)
'Blue Star' juniper (Juniperus squamata 'Blue Star', Zones 4–8)
Weeping Norway spruce (Picea abies 'Pendula', Zones 3–7)
Lil Miss Sunshine® bluebeard (Caryopteris x clandonensis 'Janice', Zones 5–9)
'Gold Coast' juniper (Juniperus × pfitzeriana 'Gold Coast', Zones 4–9)
'Royal Bumble' salvia (Salvia greggii 'Royal Bumble', Zones 7–10)
'Marina' strawberry tree (Arbutus × 'Marina', Zones 7–9)
Pink Princess escallonia (Escallonia × exoniensis 'Fradessi', Zones 7–9)
GARDEN BY WALKWAY
'Provence' lavender (Lavandula × intermedia 'Provence', Zones 5–9)
'Forest Flame' pieris (Pieris × 'Forest Flame', Zones 5–8)
'Sunset Gold' breath of heaven (Coleonema pulchellum 'Sunset Gold', Zones 8–11)
'Mary' heath (Erica × watsonii 'Mary', Zones 5–9)
'Mt. Fuji' Japanese flowering cherry (Prunus serrulata 'Mount Fuji, Zones 5–7)
Acidanthera (Gladiolus murielae, Zones 7–10)
Madeira cranesbill (Geranium maderense, Zones 9–11)
'Cambridge Blue' lobelia (Lobelia erinus, Zones 10–11)
'Wilma Goldcrest' Monterey cypress (Cupressus macrocarpa 'Wilma Goldcrest', Zones 7–10)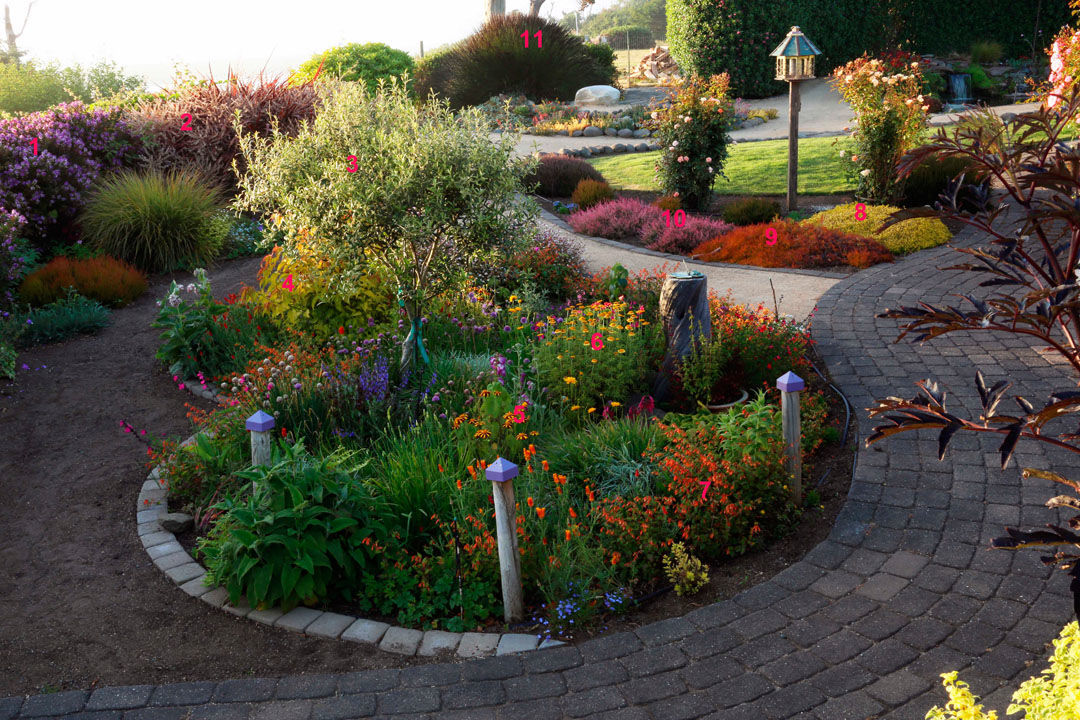 POLLINATORS' GARDEN
'Veronica Lake' hebe (Hebe 'Veronica Lake', Zones 9–10)
Festival™ Burgundy cordyline (Cordyline × 'JURred', Zones 8–11)
'Arbequina' olive (Olea europaea 'Arbequina', Zones 8–11)
Himalayan honeysuckle (Leycesteria formosa, Zones 7–10)
'Harlequin' marigold (Tagetes patula 'Harlequin', annual)
'Gina's Himalayan' marigold (Tagetes patula 'Gina's Himalayan', annual)
'Strybing Sunset' cuphea (Cuphea 'Strybing Sunset', Zones 9–11)
'Celebration' bell heather (Erica cinerea 'Celebration', Zones 6–9)
'Golden Drop' bell heather (Erica cinerea 'Golden Drop', Zones 5–9)
'Mrs. Pat' heather (Calluna vulgaris 'Mrs. Pat', Zones 5–8)
Cape Rush (Chondropetalum tectorum, Zones 8–10)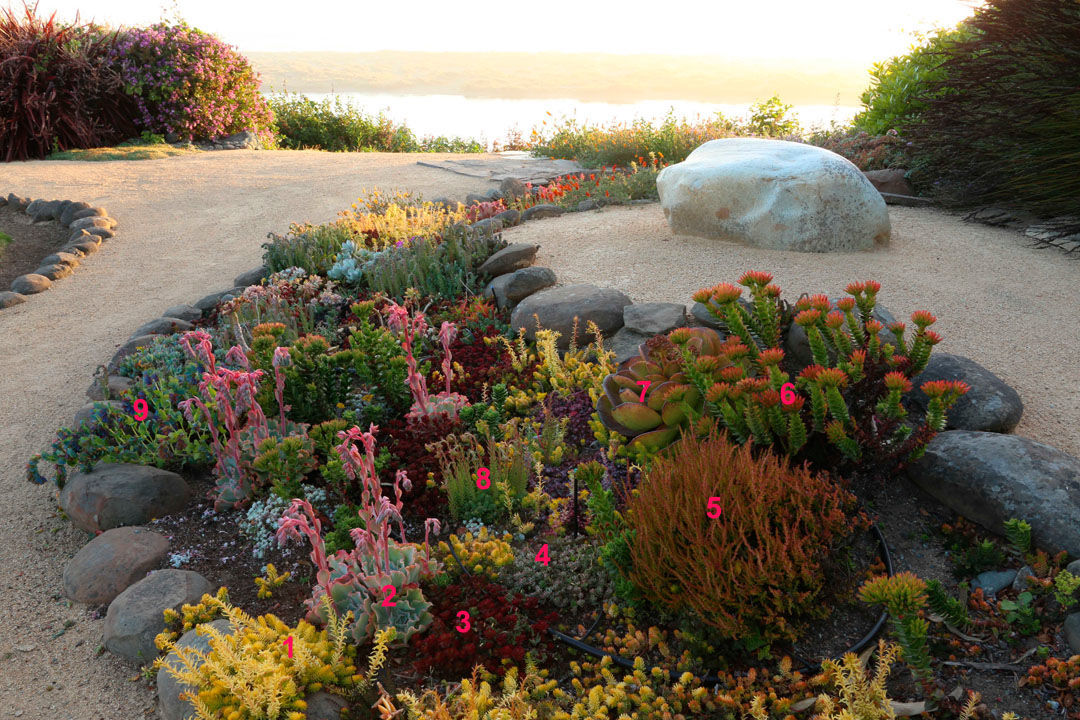 SUCCULENT GARDEN
'Angelina'sedum (Sedum rupestre 'Angelina', Zones 3–11)
'Lady Aquarius' echeveria (Echeveria 'Lady Aquarius', Zones 9–11)
'Voodoo' sedum (Sedum spurium 'Voodoo', Zones 3–8)
'Blue Spruce' sedum (Sedum reflexum 'Blue Spruce', Zones 3–11)
'Winter Fire' heath (Erica 'Winter Fire', Zones 9–11)
Red crassula (Crassula coccinea, Zones 9–11)
Noble aeonium (Aeonium nobile, Zones 9–11)
'Lidakense' sedum (Sedum cauticola 'Lidakense', Zones 4–11)
Blue honeywort (Cerinthe major 'Purpurascens', annual)