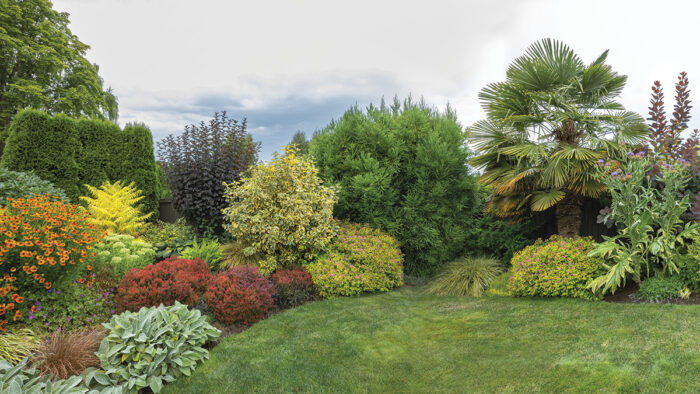 If you fell in love with Stacie Crooks's border in the article Designing a Beautiful Back Border from issue #208 of Fine Gardening magazine, you are not alone—so did we. The way that she has hidden the fence with a carefully curated plant palette is absolutely stunning. Want to know which plants she used? Here are the plant IDs for her beautiful border.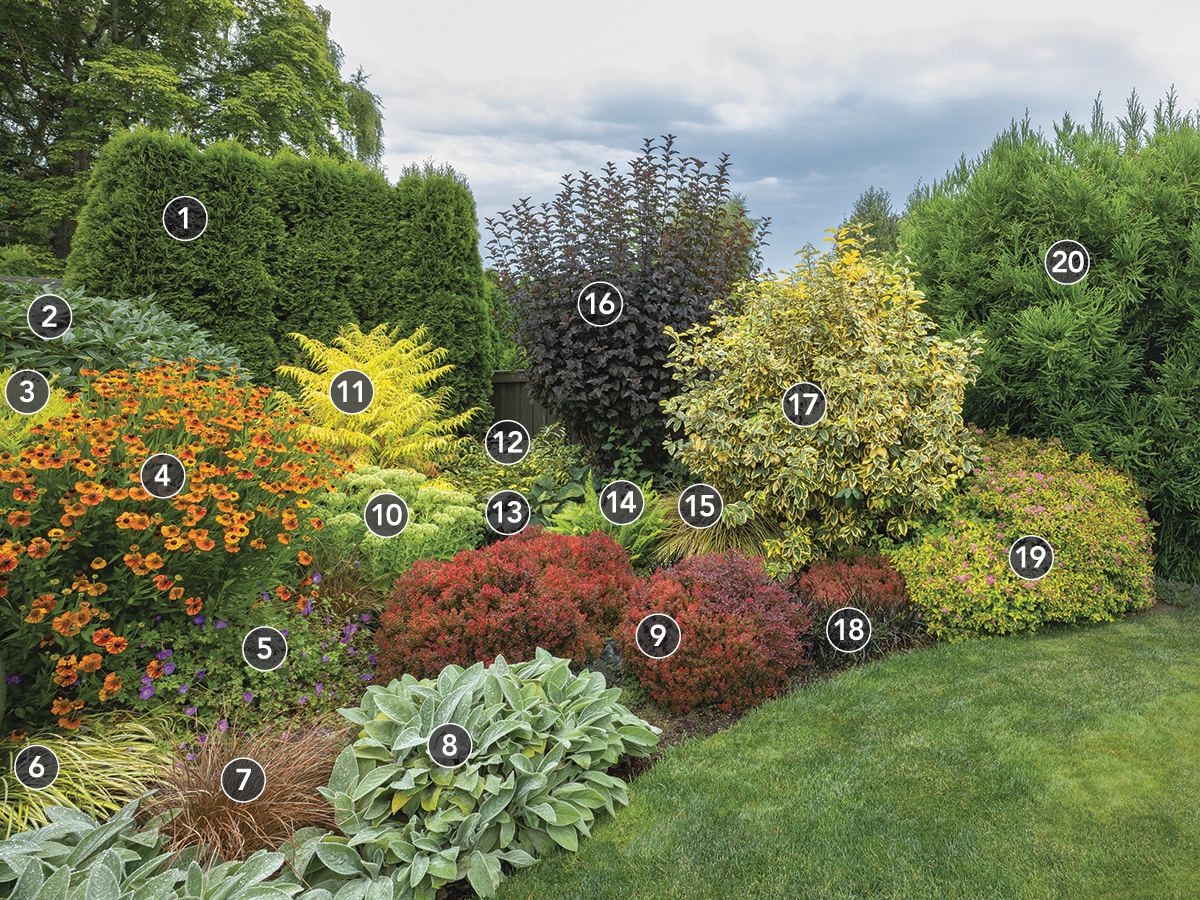 1. Emerald Green arborvitae (Thuja occidentalis 'Smaragd', Zones 4–8)
2. David viburnum (Viburnum davidii, Zones 7–9)
3. 'Moon Bay' heavenly bamboo (Nandina domestica* 'Moon Bay', Zones 6–9)
4. Mardi Gras™ sneezeweed (Helenium 'Helbro', Zones 4–8)
5. Rozanne geranium (Geranium 'Gerwat', Zones 4–8)
6. 'Aureola' Japanese forest grass (Hakonechloa macra 'Aureola', Zones 5–9)
7. 'Cappuccino' New Zealand hair sedge (Carex tenuiculmis 'Cappuccino', Zones 6–9)
8. 'Big Ears' lambs' ears (Stachys byzantina 'Big Ears', syn. S. byzantine 'Helen Von Stein', Zones 4–9)
9. Golden Ruby® barberry (Berberis thunbergii* 'Goruzam', Zones 4–8)
10. Autumn Joy sedum (Hylotelephium 'Herbstfreude', syn. Sedum 'Herbstfreude' and S. 'Autumn Joy', Zones 3–9)
11. Tiger Eyes® sumac (Rhus typhina 'Bailtiger', Zones 3–8)
12. Coastal doghobble (Leucothoe axillaris, Zones 5–9)
13. 'Frances Williams' hosta (Hosta 'Frances Williams', Zones 3–8)
14. Deer fern (Blechnum spicant, Zones 5–8)
15. Orange New Zealand sedge (Carex testacea, Zones 8–9)
16. Diabolo® ninebark (Physocarpus opulifolius 'Monlo', Zones 3–7)
17. 'Aureomarginatus' Japanese euonymus (Euonymus japonicus 'Aureomarginatus', Zones 6–9)
18. Black mondo grass (Ophiopogon planiscapus 'Nigrescens', Zones 6–11)
19. Magic Carpet® spirea (Spiraea japonica* 'Walbuma', Zones 4–9)
20. 'Radicans' Japanese cedar (Cryptomeria japonica 'Radicans', Zones 5–8)
---
Discover Stacie's favorite Plants for Hiding a Fence
---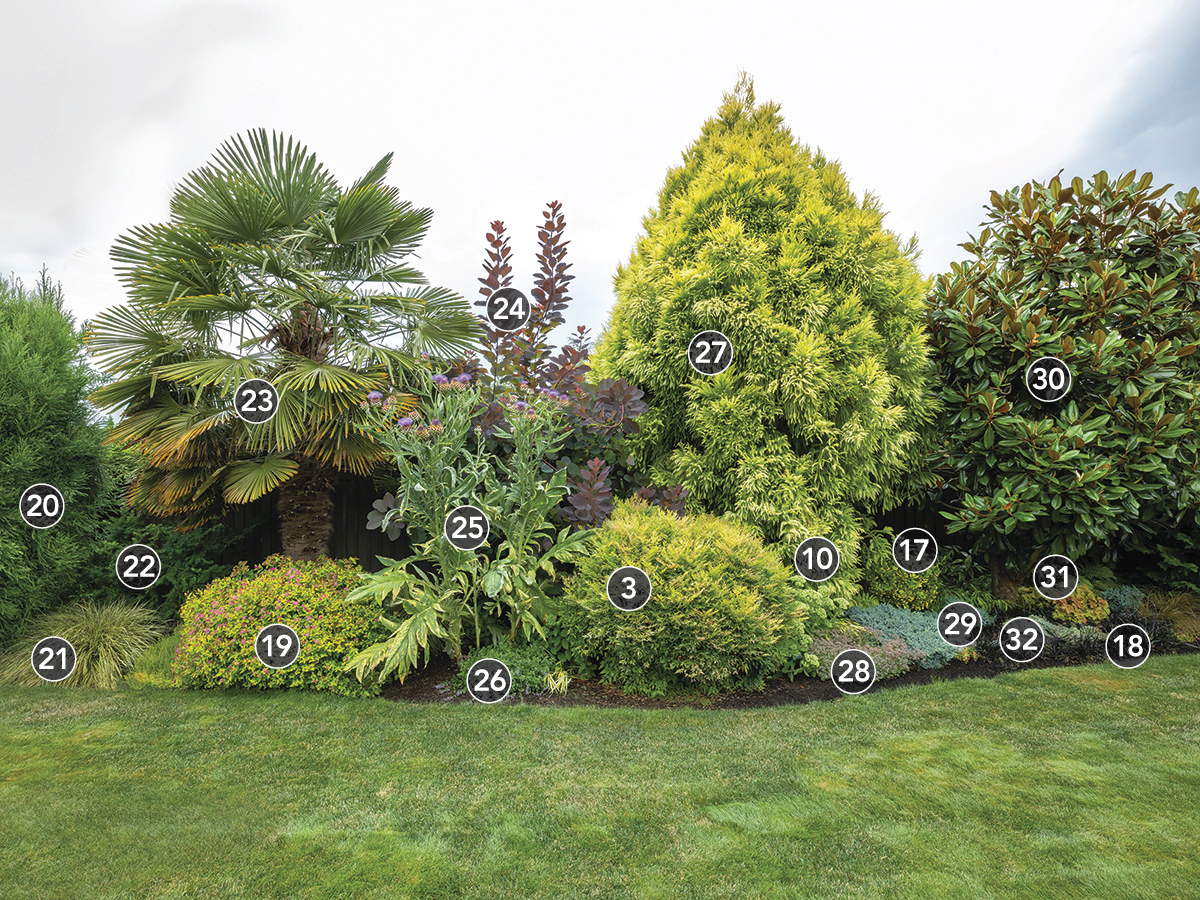 21. 'Evergold' sedge (Carex oshimensis 'Evergold', Zones 5–9)
22. 'Densiformis' yew (Taxus × media 'Densiformis', Zones 4–7)
23. Fan palm (Washingtonia filifera, Zones 8–11)
24. 'Grace' smokebush (Cotinus 'Grace', Zones 5–9)
25. Cardoon (Cynara cardunculus, Zones 7–8)
26. 'Walker's Low' catmint (Nepeta × faassenii 'Walker's Low', Zones 3–10)
27. 'Sekkan-sugi' Japanese cedar (Cryptomeria japonica 'Sekkan-sugi', Zones 6–9)
28. 'Vera Jameson' sedum (Hylotelephium 'Vera Jameson', syn. Sedum 'Vera Jameson', Zones 3–9)
29. 'Blue Star' juniper (Juniperus squamata 'Blue Star', Zones 4–8)
30. 'Blanchard' Southern magnolia (Magnolia grandiflora 'Blanchard', syn. M. grandiflora 'D. D. Blanchard', Zones 7–9)
31. 'Marmalade' heuchera (Heuchera 'Marmalade', Zones 4–9)
32. October daphne (Hylotelephium sieboldii, syn. Sedum sieboldii, Zones 3–9)
*These plants are considered invasive in some areas. Please check invasiveplantatlas.org or your state's list of invasive plants for more information.
Photos: doreenwynja.com