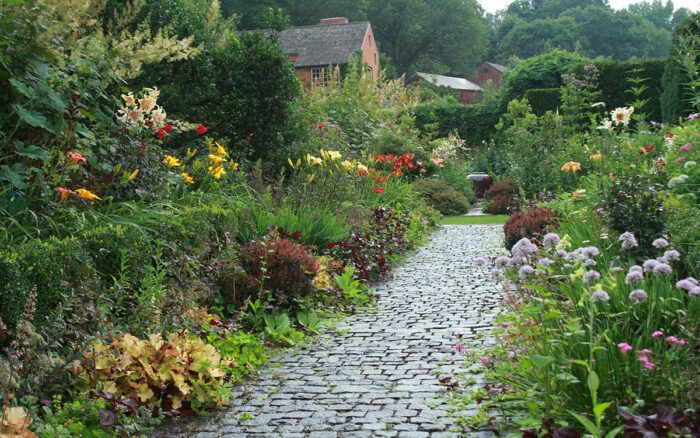 No matter the size, style, or location of your cultivated patch of paradise, at the heart of every great garden is at least one pathway. These essential areas are an important part of a garden's infrastructure, providing a way to get from point A to point B. They serve as the thoroughfare to reach your front door, a bench under a favorite tree, and the storage area where you keep your gardening tools. And while pathways are highly practical in their purpose, they can also contribute to your garden's beauty with the use of interesting materials, shapes, and configurations.
When planning out your pathways, first look to other gardens and spaces for inspiration. Take note of the types of materials you like and that will work well with your space and budget, such as brick, stone, gravel, wood chips, or simply a mowed swath of grass or steppable plants. Consider how wide your path needs to be for the functions you need it for, like annually carting a wheelbarrow of compost to your raised vegetable bed.
Of course, your choice of plants that dovetail with your walkways is important too. After all, that's why we have a garden—to jam it full of wonderful plants. Choose plants that provide multifaceted interest. Intriguing foliage, texture, and structure are excellent for extended interest, while colorful blooms and fragrance are wonderfully enchanting.
Find inspiration for creating pathways below from the expert designers and plantspeople at Fine Gardening.
See more on garden pathways:
10 Tips for Picture-Perfect Garden Pathways
Build a Stone-Edged Gravel Path
---