Fine Gardening Seminar Series
Thank You for Attending our October 2019 Event
— Check back soon to see about our 2020 event! —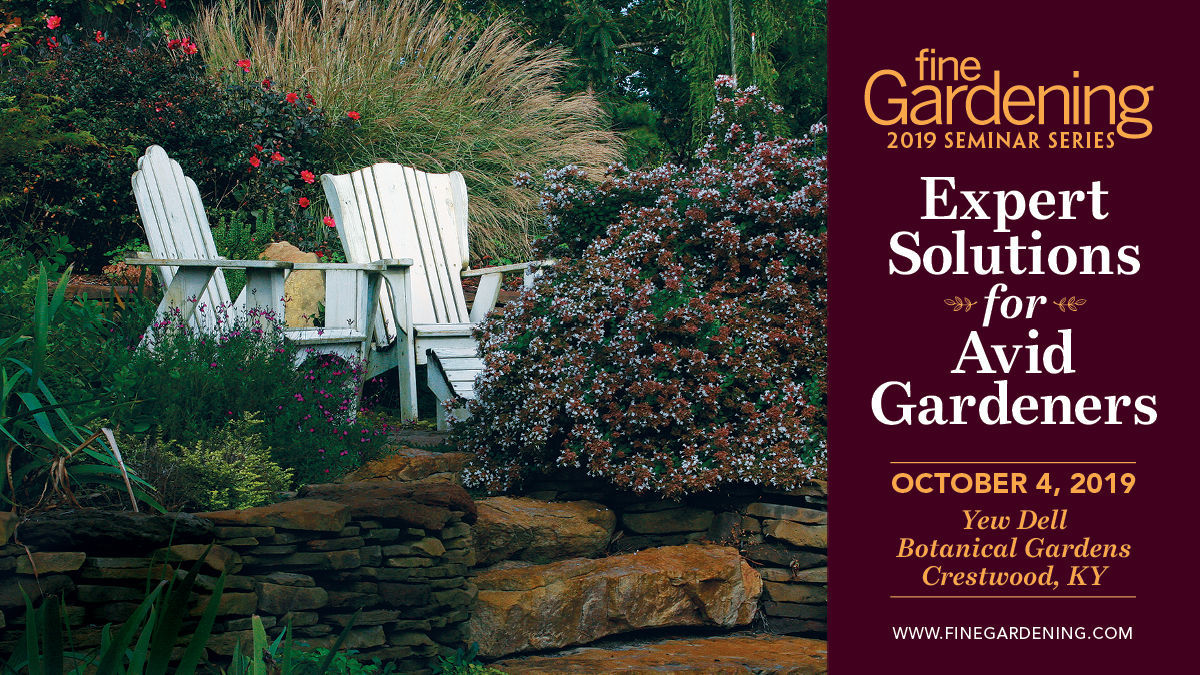 Take your garden to the next level!
Join Fine Gardening on October 4, 2019 for this special day of seminars from some of the country's leading horticultural minds and practitioners. This series takes a step beyond the basics, offering practical solutions and science-based information to make your garden healthier and more beautiful. This is the knowledge that makes the difference in a garden. Knowing some of what these experts know is essential to bringing your garden closer to what you have always dreamed it could be. The chance to learn from such expertise in one day is an opportunity not to be missed!
Details and Tickets
The Fine Gardening Seminar Series: Expert Solutions for Avid Gardeners
October 4, 2019
at Yew Dell Botanical Gardens
6220 Old LaGrange Road
Crestwood, KY 40014
Cost includes all four lectures, lunch, swag bag, and access to Yew Dell Gardens
Speakers
---
In the fall of 2019, Fine Gardening–along with Yew Dell Gardens – will bring together an amazing array of experts, professional landscape designers, and educators to share their knowledge and insights in a collaborative learning experience. These seminars will feature presentations on various topics within their area of expertise, all in service of the same agenda—growing better gardens.
---
Stacey Hirvella

After working as a landscaper while she earned her bachelor's degree in linguistics, Stacey finally realized her calling was in the garden. She attended the New York Botanical Garden School of Professional Horticulture in Bronx, NY, interning as a rooftop gardener in Manhattan for designer Jeff Mendoza. Upon graduation, she served as the horticulturist for the former Tavern on the Green restaurant in New York's Central Park for three years before joining the editorial staff at Martha Stewart Living magazine. There, she created, wrote, and edited garden content and co-hosted a call-in program on Sirius satellite radio. In May 2011, she joined the marketing team at Proven Winners ColorChoice Shrubs where she continues her mission to educate and encourage home gardeners. Her first book, Edible Spots & Pots, was published by Rodale in March 2014. Read more about Stacey
Speaking on: Big Impact from Small Spaces
Whether your landscape is measured in acres or square feet, you will have nooks, crannies, and awkward corners. These small spaces can be an asset, not a liability, if you design it right. Learn 13 easy tips to make the most of your yard and accomplish more than you ever dreamed possible. No matter what size space you have, you'll find ideas you can apply to improve your enjoyment of your garden.
---
Dr. Andy Pulte
Dr. Andy (Andrew) Pulte grew up in the nursery industry in Grand Island, NE.  He is on the faculty of the Plant Sciences department at The University of Tennessee. His current responsibilities include teaching, advising, and coordination of the UT Plant Sciences undergraduate program.  Additionally, he speaks regularly to diverse groups and travels extensively to feed his passion for people and plants.  Over his career, he has contributed to a variety of gardening publications and hosted a gardening radio show.  He is also an internationally certified arborist.  Andy gardens in a residential community north of Knoxville, TN.  He seeks out unusual plants for his home garden that inspire questions from those who visit.  He and his wife Beccy have two outdoor loving young boys that are always looking for their next adventure. See articles by Andy.
Speaking on: Overachievers: Identifying Plants that Really Work in Your Garden
This talk will help you sort through the endless stream of new plants on the market and focus on the important factors of personal style, and the mood you wish to create in your garden.  We will talk about some of the most garden worthy plants, explore some gardening history, and get clued into what the scientific name of a plant can tell you about their garden worthiness.  Additionally, we will take a multi-media journey through the creation of an Adrian Bloom inspired teaching garden at The University of Tennessee.  This garden was designed to showcase very common perennial plants in extraordinary ways.
---
Paula Gross

Paula Gross has spent her career connecting plants and people through education. As the former Associate Director of the University of North Carolina at Charlotte Botanical Gardens she taught university courses on botany and plant identification, lead the creation of children's and adult public education programs, and couldn't keep her hands out of just about all aspects of growing a botanical garden. She's currently teaching horticulture part-time at Central Piedmont Community College and attempting to rescue her own garden. Her deep belief in the power of plants is what inspires her to write and teach. She has a masters in Horticulture from the University of Georgia, is co-author of the book Bizarre Botanicals and the upcoming Southeast Native Plants Primer, and is the Southeast regional reporter for Fine Gardening All-Access. See articles by Paula.
Speaking on: Science in the Garden: The Principles Behind the Practices
Gardening is dynamic, four-dimensional, and personal. Whether your gardening is creatively artistic, food-focused, habitat-centered, or home-adorning, one thing underlies it all. Plants. And like any relationship, understanding your partner is key to opening new doors of potential. I'll take you beyond the practices to the principles of science that underlie plant growth. Taking a plant's eye view of the seasons may be the shift that takes your gardening to a new level of confidence or opens up realms of experimentation.
---
Jeff Epping
More info coming soon! See articles by Jeff.
Speaking on: Sustainable Gardens: Creating and Maintaining Gravel Gardens
Green or sustainable gardens make sense for many reasons – they're good for the environment and they're good for us. Many people want beautiful gardens, but don't have the time, nor want to see precious resources like water and energy go into growing them. Jeff and his staff have created a number of gravel gardens at Olbrich Botanical Gardens that can easily be incorporated into home landscapes. These gardens are as beautiful as any perennial bed or border, but require just a fraction of the labor to grow. Don't confuse these gardens with traditional rock or alpine gardens that can look more rocky than green and require a great deal of time to maintain. These gravel gardens are as lush, green and colorful as any perennial border around. Jeff will show you how they have replaced lawns and traditional annual and perennial beds with these sustainable gardens.
Schedule of Events
---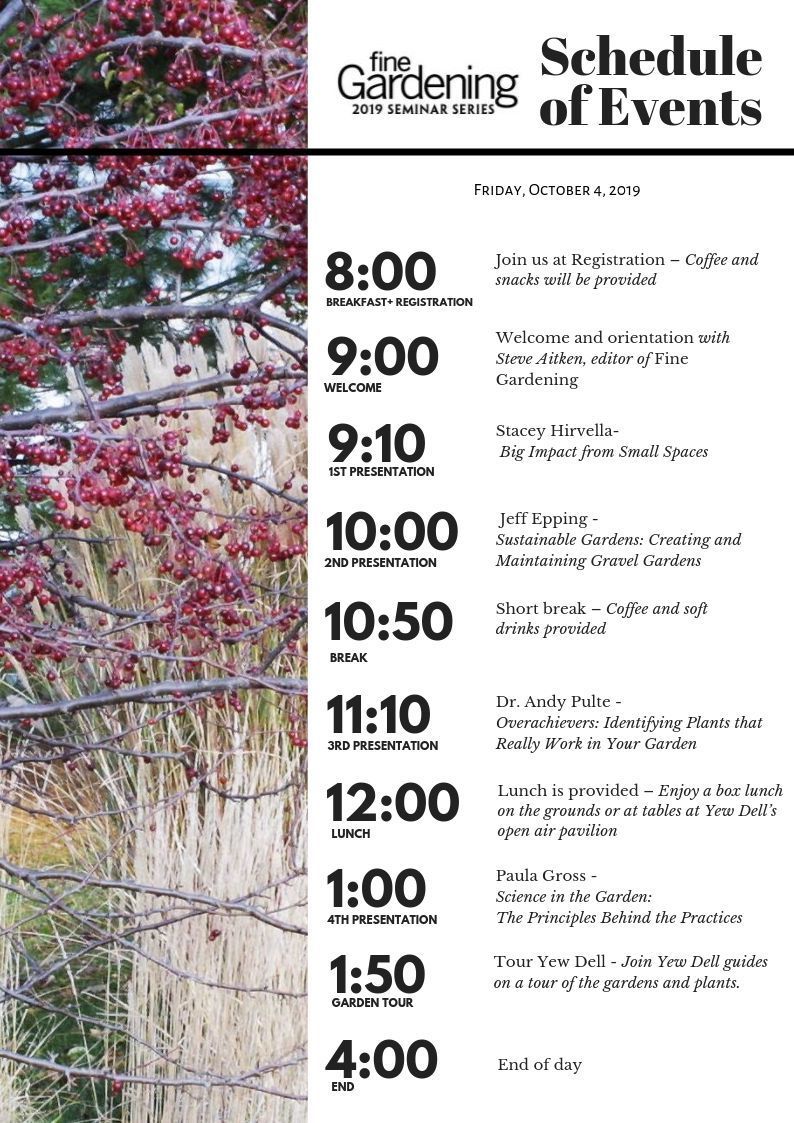 Location: Yew Dell Botanical Gardens
---
Yew Dell is in Crestwood, Kentucky just a short ride from Louisville. In their own words:
"Yew Dell is an internationally-recognized center of gardening, plants and education, all offered in a stunning site of significant historical importance. Originally the home, gardens and commercial nursery of the late Theodore Klein and his family, Yew Dell now offers the public exceptional display gardens, an ambitious slate of education programs and community events, ongoing garden plant research, woodland trails and event rental opportunities." Learn more about Yew Dell at their website.
Sponsors
---
Fine Gardening wishes to heartily thank our sponsors for helping to make this event a reality.