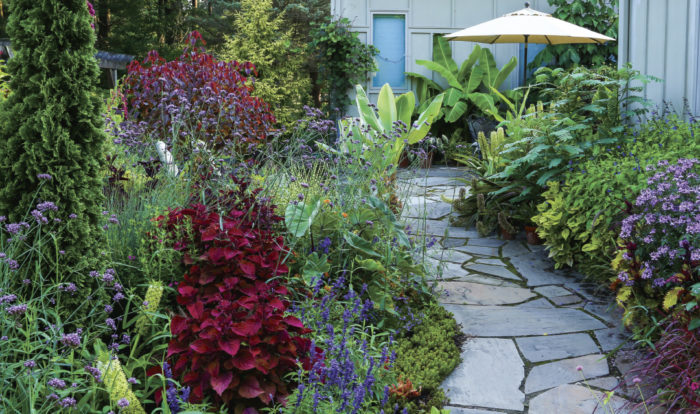 See plant IDs from Taming a High Impact Design, from Issue #189 of Fine Gardening Magazine.
I have been a horticulturist long enough (and have made enough mistakes) that I always ­begin my design process by dealing with the bones of the entire garden. This holds true in smaller spaces such as the patio garden, where figuring out the location for larger plants or groups of plants came first, before I placed smaller individuals or groups.
This is a garden where annuals and tropicals add seasonal flair, and hardier specimens persist as anchors throughout the year. I love the strong vertical accents provided by 'Green ­Arrow' Alaskan cedar (Chamaecyparis nootkatensis 'Green Arrow', Zones 4–8) and 'Degroot's Spire' arborvitae (Thuja occidentalis 'Degroot's Spire', Zones 3–8). These evergreens screen and maintain the visual space of the garden throughout the year. They add height and differ sharply with the general flatness of the surrounding area. Read more.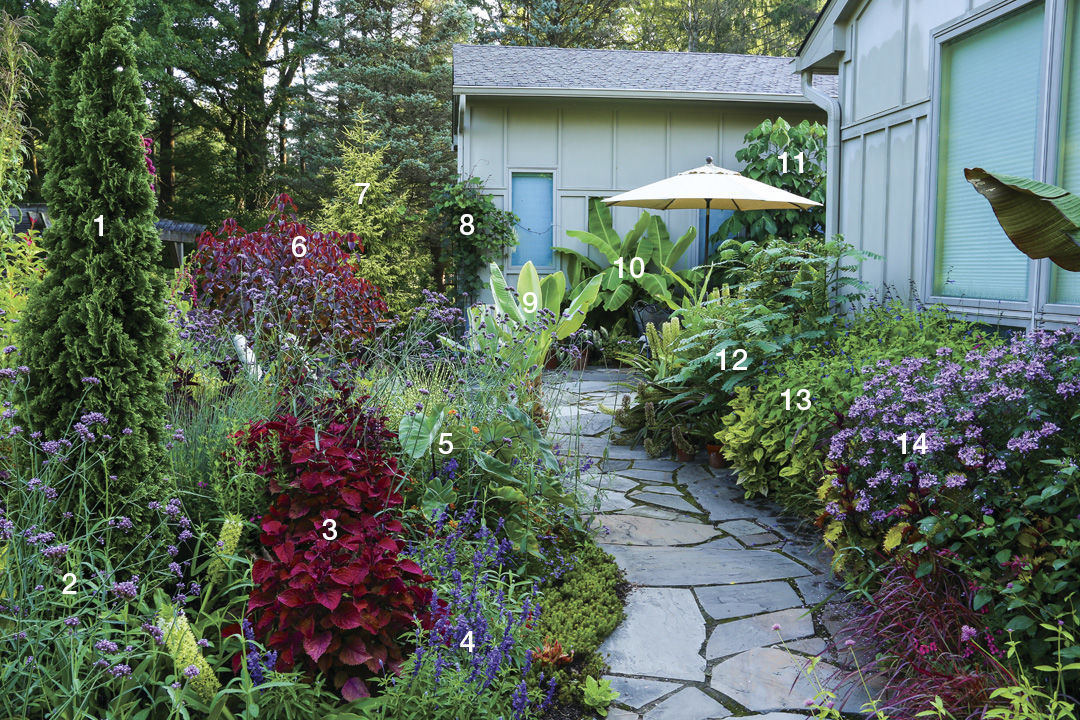 1 'Degroot's Spire' arborvitae (Thuja occidentalis 'Degroot's Spire', Zones 3-8)
2 Tall verbena (Verbena bonariensis, Zones 7-10)
3 Coleus cultivar (Plectranthus scutellarioides cv., Zones 10-11)
4 Salvia cultivar (Salvia cv.)
5 Colocasia cultivar (Colocasia cv., possibly 'Tea Cup', Zones 7-11)
6 Tropical smokebush (Euphorbia cotinifolia, Zones 10-11)
7 'Skylands' oriental spruce (Picea orientalis 'Skylands', Zones 4-7)
8 Hyacinth bean (Lablab purpureus, Zone 10-11)
9 Chinese dwarf banana (Musella lasiocarpa, Zones 7-10)
10 Japanese banana (Musa basjoo, Zones 5-10)
11 Chinese parasol tree (Firmiana simplex, Zones 7-9)
12 Popcorn cassia (Senna didymobotrya, Zones 10-11)
13 'Gays Delight' coleus (Plectranthus scutellarioides 'Gays Delight', Zones 10-11)
14 SEÑORITA ROSALITA cleome (Cleome 'Inncleosr', Zones 9-10)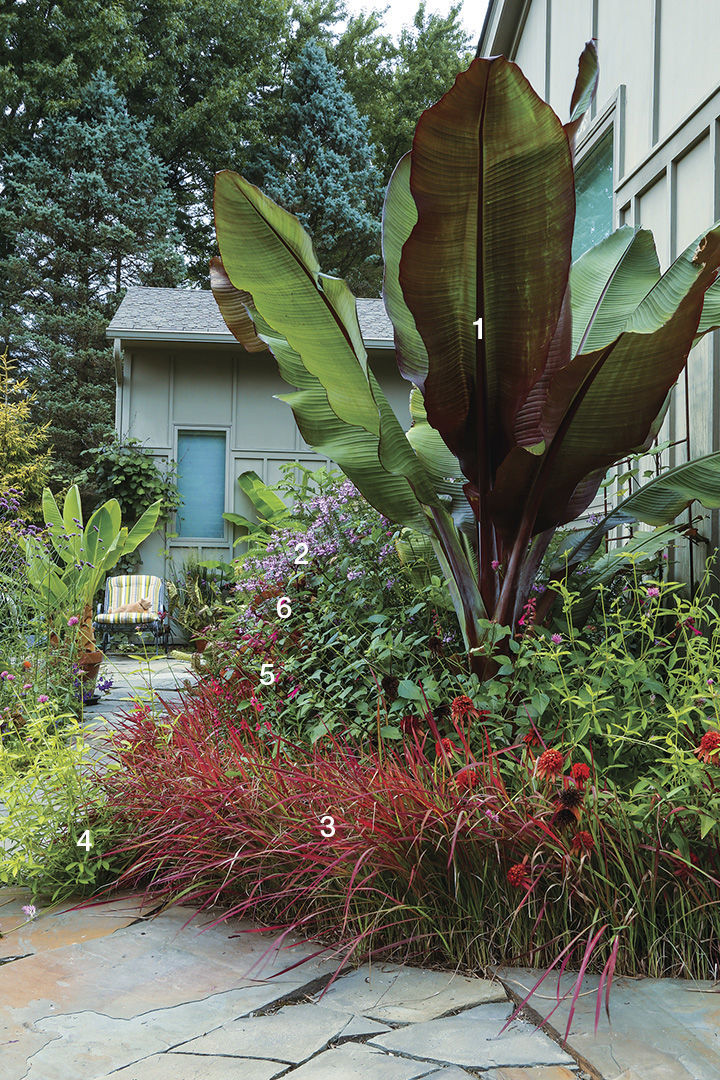 1 Red banana (Ensete ventricosum 'Maurelii', Zones 10-11)
2 SEÑORITA ROSALITA cleome (Cleome 'Inncleosr', Zones 9-10)
3 Japanese blood grass (Imperata cylindrica 'Rubra', Zones 5-9)
4 Cosmic Flare' gomphrena (Gomphrena 'Cosmic Flare', annual)
5 'Wendy's Wish' salvia (Salvia hybrida 'Wendy's wish, Zones 9-11)
6 'Love and Wishes' salvia (Salvia 'Love and Wishes, Zones 9-10)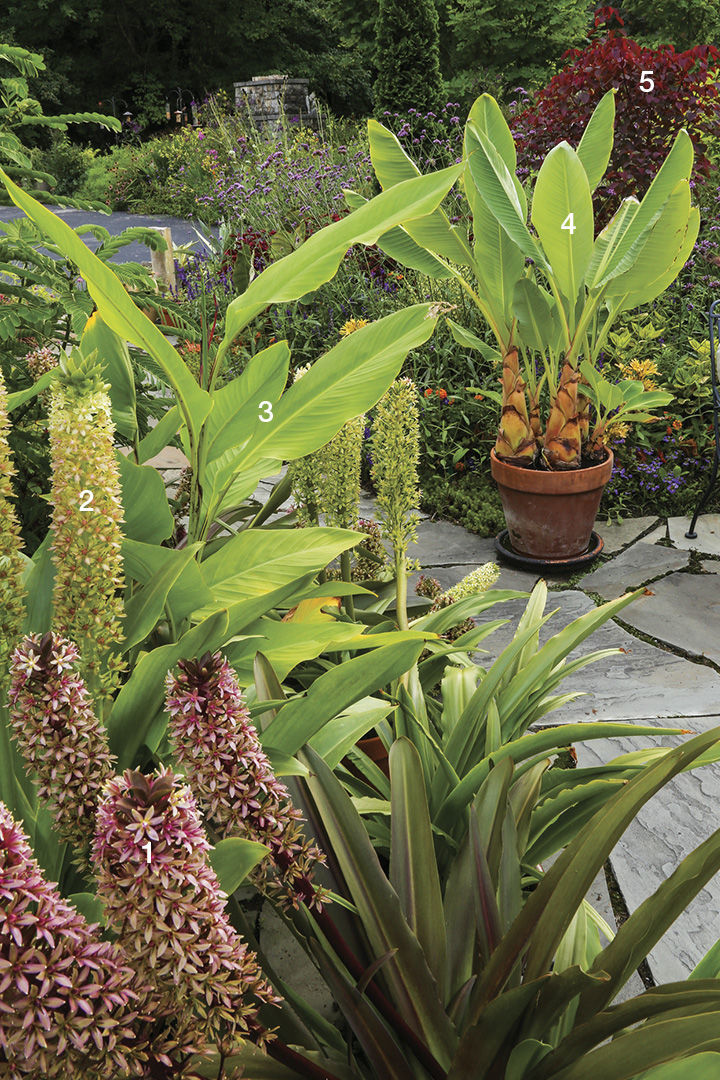 1 'Sparkling Burgundy' pineapple lily (Eucomis 'Sparkling Burgundy'—might be 'Oakhurst'—Zones 6-9)
2 Giant Pineapple Lily (Eucomis pallidiflora ssp. pole-evansii, Zones 7-9)
3 Ehemann's canna (Canna x ehemanii, Zones 7-11)
4 Chinese dwarf banana (Musella lasiocarpa, Zones 7-10)
5 Tropical smokebush (Euphorbia cotinifolia, Zones 10-11)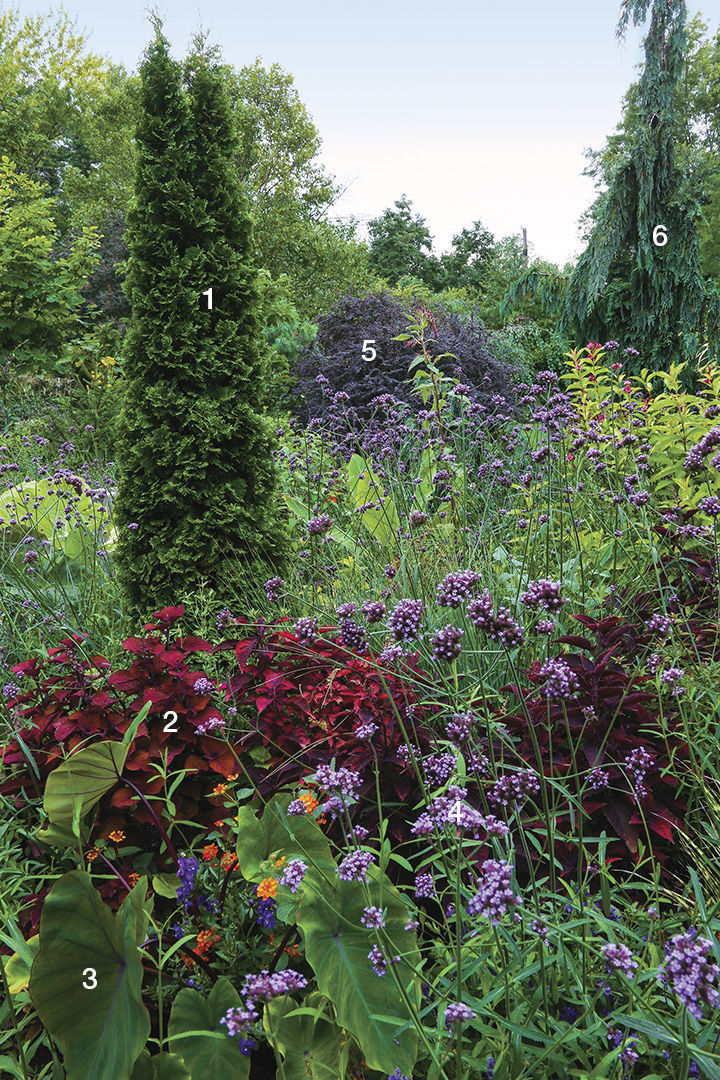 1 'Degroot's Spire' arborvitae (Thuja occidentalis 'Degroot's Spire', Zones 3-8)
2 Coleus cultivar (Plectranthus scutellarioides cv., Zones 10-11)
3 Colocasia cultivar (Colocasia cv., Zones 7-11)
4 Tall verbena (Verbena bonariensis, Zones 7-10)
5 Barberry cultivar (Berberis cv.)
6 'Green Arrow' Alaskan yellow cedar (Chamaecyparis nootkatensis 'Green Arrow', Zones 4-8)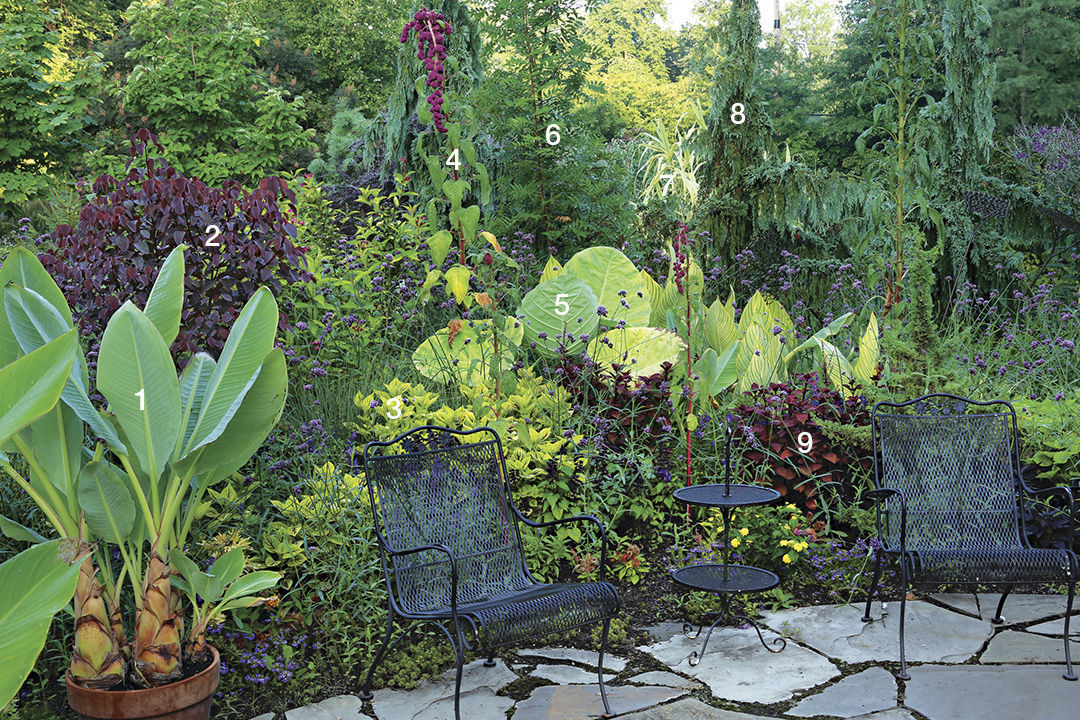 1 Chinese dwarf banana (Musella lasiocarpa, Zones 7-10)
2 Tropical smokebush (Euphorbia cotinifolia, Zones 10-11)
3 'Gays Delight' coleus (Plectranthus scutellarioides 'Gays Delight', Zones 10-11)
4 'Dreadlocks' amaranth (Amaranthus 'Dreadlocks', annual)
5 'Thailand Giant' colocasia (Colocasia gigantea 'Thailand Giant Strain', Zones 8-10)
6 Chinese pistache (Pistacia chinensis, Zones 6-9)
7 'Golden Chain' giant reed grass (Arundo donax 'Golden Chain', Zones 7-9)
8 'Green Arrow' Alaskan yellow cedar (Chamaecyparis nootkatensis 'Green Arrow', Zones 4-8)
9 Coleus cultivar (Plectranthus scutellarioides cv., Zones 10-11)