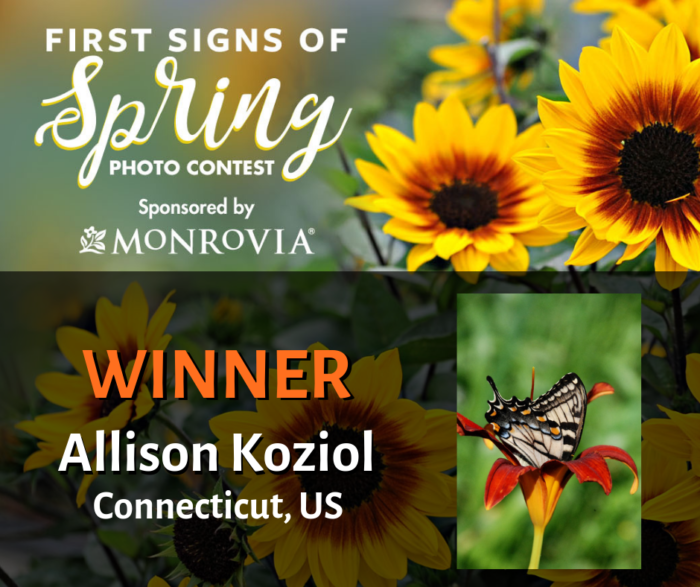 We are excited to announce the winner of the First Signs of Spring Photo Contest: Allison Koziol with over 500 votes!
Fine Gardening reached out to Allison to learn a little bit more about how she got such a cool photo and to learn more about her, her garden, and her photography. Allison won a $500 gift card to Shop.Monrovia.com, and will be featured in Issue #189 of Fine Gardening magazine, which will be on stands later this summer.
1. When and why did you first start gardening?
I've never been without plants in my life. We've always had a variety of houseplants. As a teen I raised a grape ivy from a little sprout to a huge hanging plant that took up our entire front window. As far as the outdoors is concerned, throughout my childhood we always had fruit trees and bushes, a vegetable garden that left the neighbors in awe, and gorgeous flowers. They were all the handiwork of my father, who was a natural gardener and had a green thumb like no other. I can't say that I'm as skilled as he, but I did learn to appreciate the gifts that you get from gardening. My husband grew up on a farm in Poland, so he has it in his blood too. When we searched for a home to buy, one of our biggest criteria was that we needed ample land to have generous organic gardens.
2. Why did you take up photography? Do you take pictures professionally or as a hobby?
I am an absolute photo addict. I can leaf through entire albums of photos of people I don't even know. Photographs show you so much about life, especially if you take the time to look beyond the initial subject in the photo. I always wanted an SLR camera so I could try my hand at manipulating photos. Years ago I received my first SLR from my husband as a birthday gift. I loved it, but the instruction manual was so large that I thought, "I'll have to take classes just to figure out how to take a photo." So I did. I took continuing education classes at my local community college. I've never taken photography to a professional level, although I did do plenty of volunteering with my camera over the years.
3. What is the story behind this photo? How did you capture it?
Every so often, when I had the time, I would take my camera out into the yard and just explore. What you see through the lens of a camera is a whole different view of what's in front of you. You become more zoned into specific things. When it comes to nature shots, I tend to like to get in very close to see what one misses when taking in "the big picture." On this particular day I was looking at my tiger lilies from all different angles. I zoomed into the very center of a flower, I aimed at the flower from different angles and distances, I brought the background into focus and blurred it out again. After playing around for a bit I decided to sit and enjoy the sunshine. As I was sitting this butterfly came along and started to explore. When it entered the center of the flower I thought about the amazing composition of colors and the fact that the butterfly practically became another part of the flower. Luckily I was there to see it and had my camera with me.
4. What are you going to buy with your gift card from Monrovia?
Since I first heard about the contest I've been like a kid with a Sears catalogue at Christmas time. I've been on the Monrovia website fantasy shopping and thinking about what I would do if I won. There were so many amazing things to choose from that I am still trying to whittle down my wish list and make some decisions. The front of our house can definitely use some sprucing up, so I'm thinking that it would be good to add a little shrubbery to fill in what we have now. I'd also love some perennial flowers. I love the deep, rich red of the Sombrero Salsa Red Coneflower, the warm golden tones of the Li'l Bang Daybreak Tickseed, and of course some more amazing lilies. It's just so hard to decide.
5. What is your favorite part of gardening?
My favorite part of gardening is being able to walk out into the yard and pick fresh and delicious fruits and vegetables at will. It's a blessing to be able to grow our own food organically and harvest it when ripe rather than getting it from the supermarket where it is, quite often, picked before it's ready and shipped quite a distance. I also value the contribution that gardening has on one's positive mental health.
6. Anything else you would like to tell us?
I've moved a lot in my lifetime. One of my favorite parts of living in a new place is the first spring season. It's like a surprise party, and the gifts are the things that pop up in the yard that you had no idea would be there. Even now, after being in this home for over 15 years I still get surprises, like walking the property and finding new patches of crocuses or daffodils that were never there before. Those are my kinds of surprises!
Thank you to Allison, and our other entrants, as well as to Monrovia for sponsoring such a cool contest.