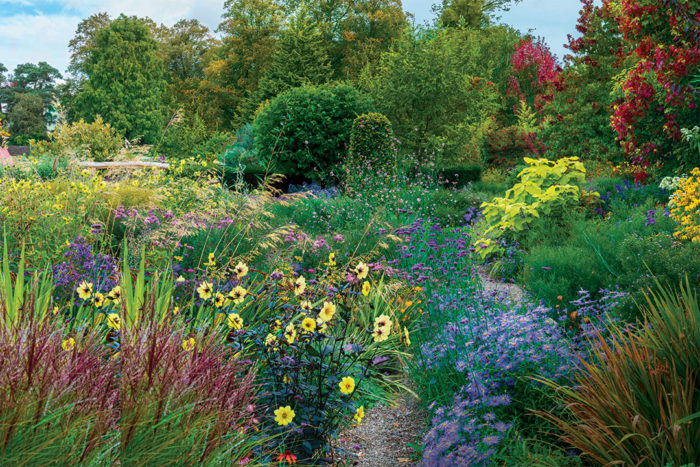 When you think of spring, you think of flowers. Summer is also for flowers. Fall? Everyone is all about the foliage. Colorful leaves are a highlight of the season, along with cool nights, apple cider donuts, and comfy sweatshirts. But why can't flowers be a part of that mix? And we aren't talking about mums, those ubiquitous mounds of supermarket color whose value brings out more seasonal opinions than pumpkin spice flavorings or the New England Patriots. Adding some blooms for autumn is sure to bring a new vibrancy to your garden and will only make the fabulous foliage that much better.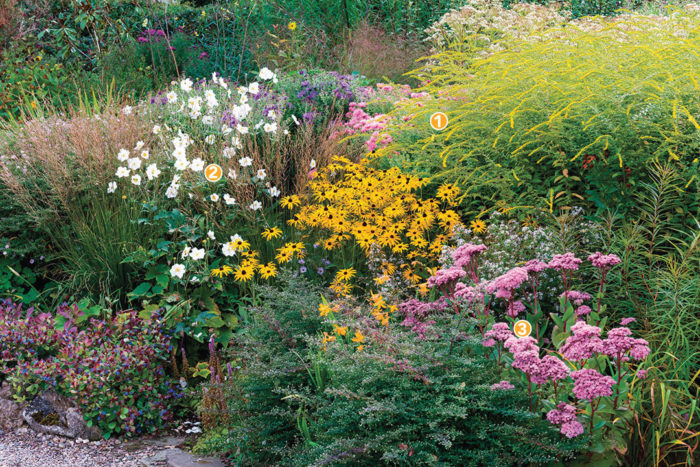 1. Yellow is the theme
The frothy mass of flowers atop 'Fireworks' goldenrod (Solidago rugosa 'Fireworks', Zones 5–9) creates an impact emphasized by the stronger gold of the black-eyed Susans (Rudbeckia fulgida var. deamii, Zones 4–9). The bright color is a welcome addition to a season known for somber tones.
2. Keep it light
Tall, dense plantings can seem imposing, so to keep an area from feeling overwhelming, be sure to incorporate lighter colors and open habits, like those of 'Andrea Atkinson' anemone (Anemone 'Andrea Atkinson', Zones 5–8), whose white blooms dance in the breeze, adding playful movement to the design.
3. Color can lead the eye
The way the pinkish-red hues run through the bed pull attention into the planting, adding depth and interest.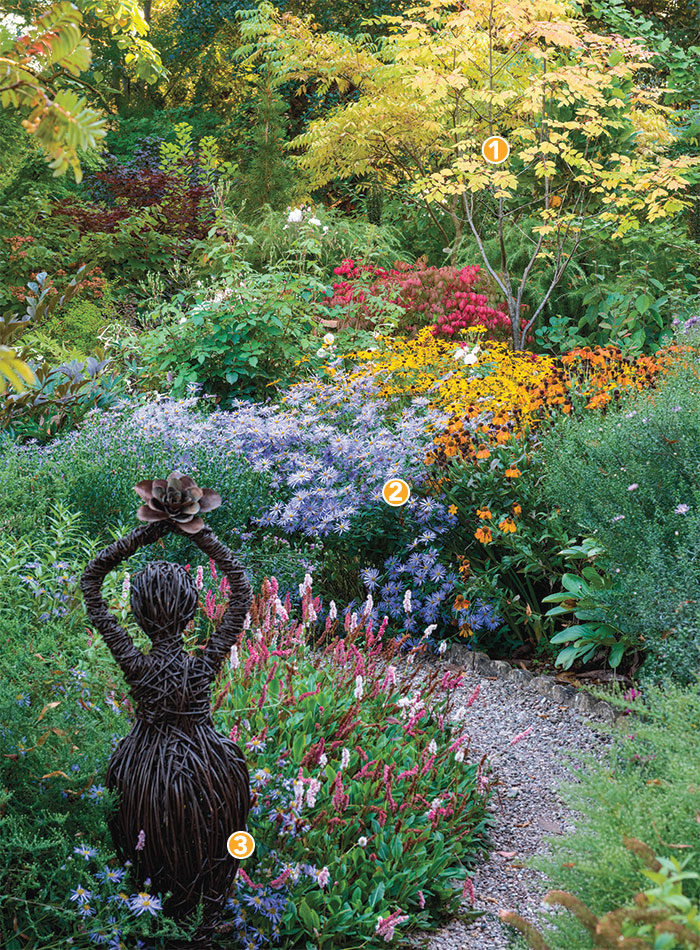 1. Use small trees
Small trees—or trees that haven't gotten large yet—play an important part in a design by filling in the middle layer without adding the bulk that a similarly tall shrub would.
'Monch' Aster

Aster × frikartii 'monch' (also above)

Zones: 4–9

'Alma Potschke' Aster

Symphiotrichum novae-angliae 'Alma Potschke'

Zones: 4–9
2. Give it up for the real stars
Forget mums. Asters are the real queens of autumn (no matter how many different genera they have been separated into). Floriferous to the point of floppiness, these must-have fall stars benefit from pinching early in the season for a sturdier, bushier habit.
3. Art works
By virtue of being man-made, sculpture and other works of art always draw the eye when set among a plethora of plants. The main thing to remember is not to use too much art in an area, which can make the space feel tacky or overcrowded.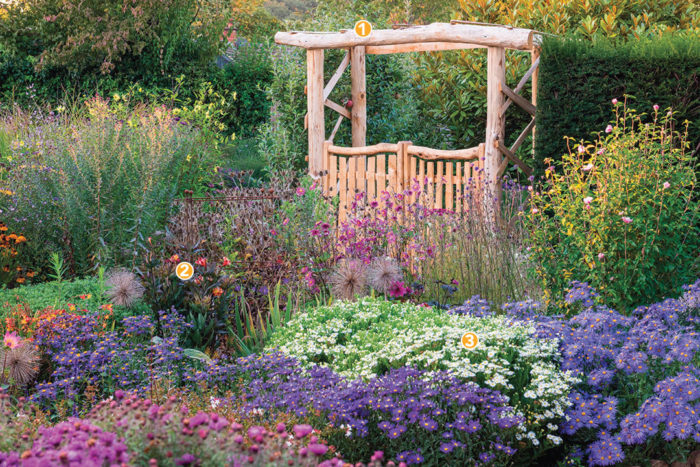 1. Formal meets relaxed
When something formal, like a yew hedge, meets something informal, like this planting, something else is needed to help connect the two moods. The style of the gate and arbor is geometric but incorporates rustic materials, creating the perfect connection so that both styles can work together.
2. Add a layer of wispy
With all the things making a strong statement here—the yew hedge, the wooden gateway, the swaths of asters—this nice layer of diverse wild and wispy plants is needed to lighten things up.
3. Make it a mass
Dozens of frilly flowers, as on these asters, can create so much interest that the scene comes across as busy. Using those blooms in masses offsets all that action and makes the scene easier on the eyes.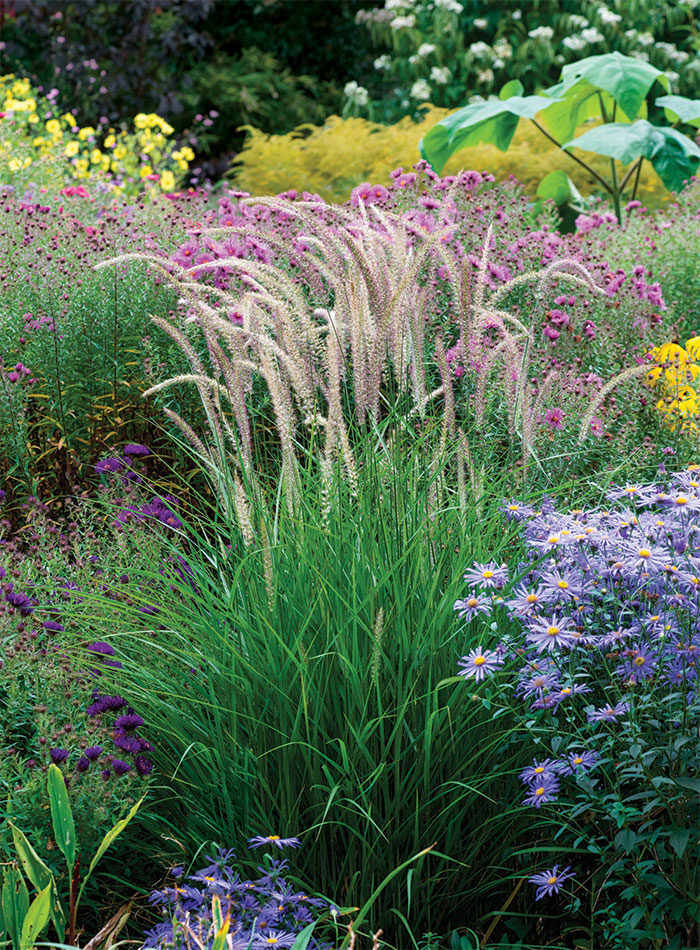 ---
Top Late-Season Bloomers
Summer unofficially ends around Labor Day, but these plants will make sure your garden is still working on into Halloween.
Photo: Melissa Lucas

Photo: Stephanie Fagan

Photo: Nicola Stocken/gapphotos.com

'Crossfield Ebony' Dahlia

Dahlia 'Crossfield Ebony'

Zones: 9–11

Globe Amaranth

Gomphrena cv.

Zones: annual

 'Henry Eilers' Sweet Coneflower

Rudbeckia subtomentosa 'Henry Eilers'

Zones: 4–8

Photo: Steve Aitken

Photo: Nicola Stocken/gapphotos.com

Photo: Michelle Gervais

'Lemon Queen' Helianthus

Helianthus 'Lemon Queen'

Zones: 4–9

Autumn Joy Sedum

Sedum 'Herbstfreude'

Zones: 3–9

Bugbane

Actaea cordifolia

Zones: 4–9

Photo: Jennifer Benner

Photo: Michelle Gervais

Photo: Stephanie Fagan

'Honorine Jobert' Anemone

Anemone × hybrida 'Honorine Jobert'

Zones: 4–8

 'Fireworks' Goldenrod

Solidago rugosa 'Fireworks'

Zones: 5–9

Autumn Crocus

Colchicum autumnale

Zones: 4–8
---
Favorites
Garden Art Is Always in Season
A touch of sculpture is a welcome addition to any garden, and you don't have to wait for it to bloom or remember to water it.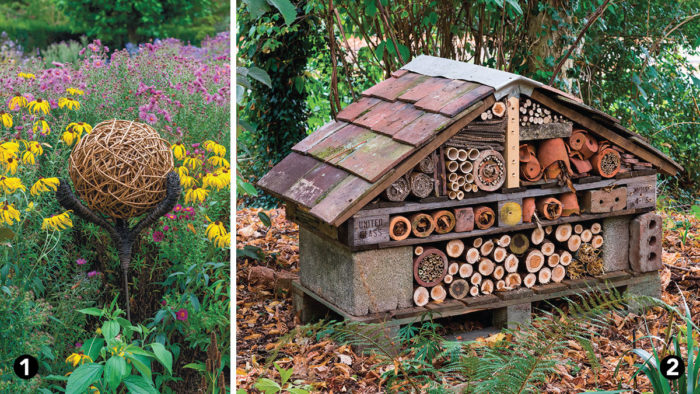 1. Blooms look better
Flowers look great on their own, but when they are matched with a piece of sculpture, the whole planting becomes a work of art.
2. It doesn't have to be art to be artistic
A touch of Marie Kondo–style organization turns this collection of castoffs, trimmings, and random stuff into an inviting habitat for bees and other insects, while adding a nice dose of rustic charm.
3. Make a moment
This pair of pears leaning sweetly on each other will delight anyone who sees them, making this a must-see stop in the garden. Moments like this pull you through a garden, which becomes a journey and an event rather than a collection of plants.
---
Photos, except where noted: Nicola Stocken/gapphotos.com