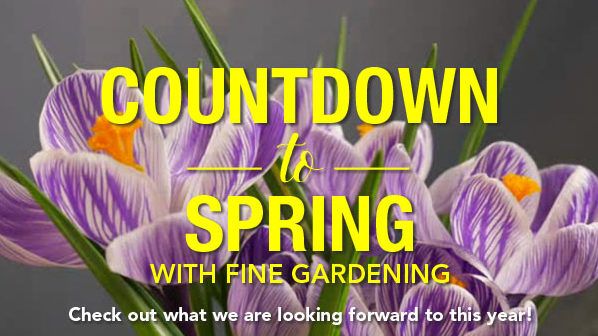 Join us as we countdown to spring!
Spring is just around the corner and we at Fine Gardening could not be more excited. Every gardener is primed and ready for that magical date, March 20th, when we know that spring should – in theory – arrive. In fact, we're already planning, and some of are already planting, having sown our seeds in preparation for transplanting after last frost. If you haven't and you would like to, see our best practices for sowing seeds to get started the right way. If you are looking for some new design ideas, or want to play with a border or bed, check out the many design ideas offered on the site. With relish we look forward to the smell of the thawing earth, the heavily scented warmth of the greenhouse, warm winds, longer days, and the feel of the dirt in our hands.
There's so much to look forward to that we thought it would be great to list some of the plants, books, gear – and more! – we are especially excited about for this season. So, our editors put their heads together and came up with twenty things they think every gardener should consider for the season ahead.
What are you excited about for spring? We want to hear about your goals, plans, and designs for a wonderful growing season. If you've got pictures, send them in for a chance to be featured in our Garden Photo of the Day blog.
Here we go, folks, we're in the home stretch now! It is with great pleasure being our Countdown to Spring!