Plants emerging in the earliest days of spring never cease to amaze me, even though I've been gardening for 40 years. In Zone 5 in central New York State, spring often arrives reluctantly, along with April snows and temperatures ranging from 25° to 70°F in the same day or week. Yet once the season truly gets underway, I find myself thinking what a very lucky lot gardeners are to experience once again the miraculous reawakening of the places we lovingly tend. Of course, there are other moments in gardening when failure can disappoint us and even break our hearts. Gardening is indeed a juggling act, and I've found that striking a balance between hardscape elements, plants, and scale is key to success.
---
---
Establish a strong foundation with a healthy dose of hardscape
The original owners of our house were Professor Albert E. and Lillian Wells. Albert was a mechanical engineer, inventor, and avid gardener. He was also an accomplished stonemason. The paths, stairs, and walls that he built from rocks found in the adjacent creek established the wonderful overall layout of the property. Upon our arrival, it was clear that the bones set by him would give us an exceptional start even though some of this beautiful hardscape required reconstruction.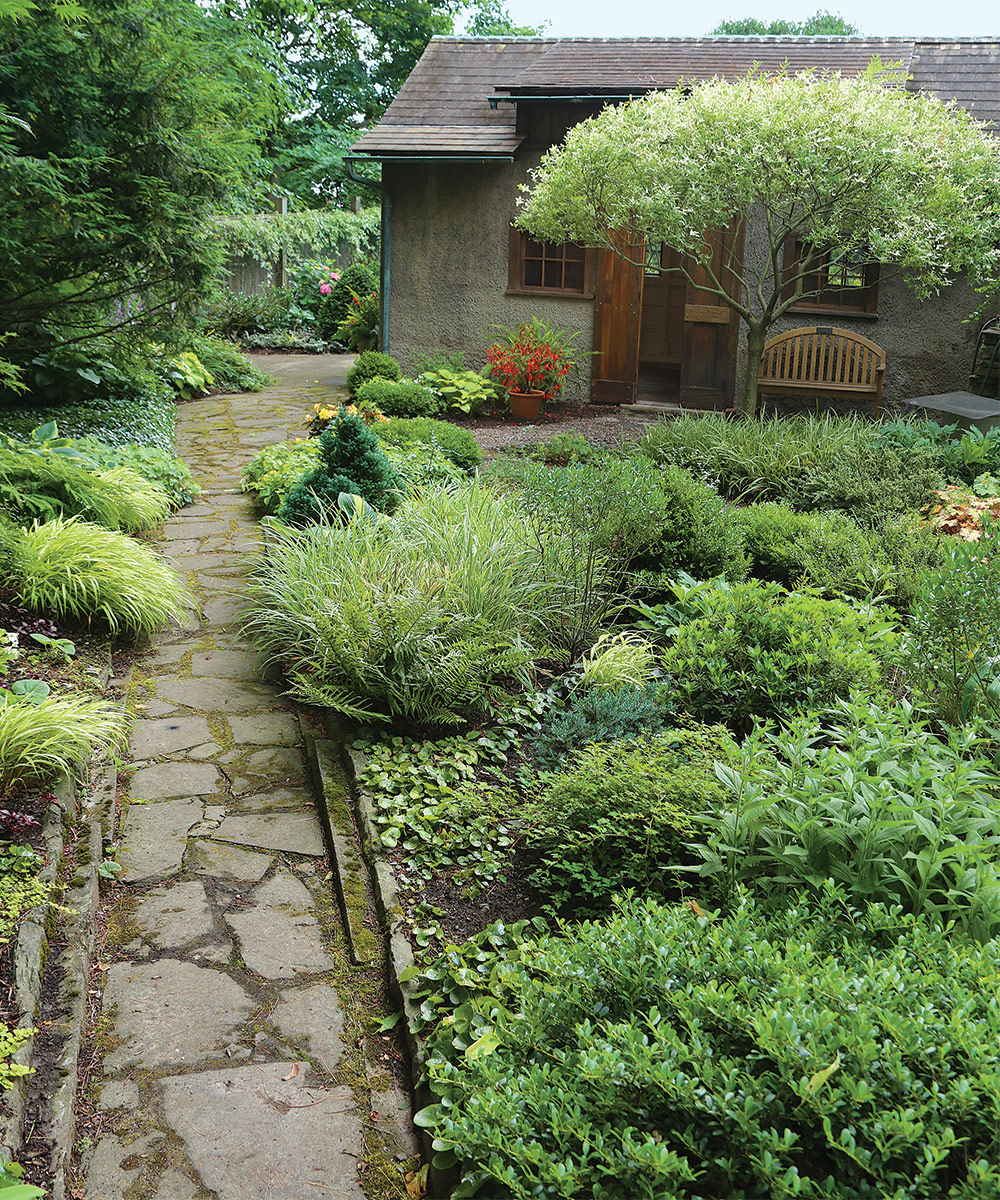 Every balanced garden needs a strong foun­dation, so among our first objectives was to maximize the hardscape bones while taking stock of the existing plants. In some areas, we removed overgrown or marginal plants to ­enhance the garden's spatial arrangement and to enjoy views within and beyond our property out to the distant hills. In other areas, time and nature had taken their toll on the hardscape. Lucky for me, my husband, Andy Jordan, is also masterful at building, and over time he has given much of the hardscape a new lease on life. He has relaid crumbling paths, reconstructed languishing rock retaining walls, handcrafted privacy fences, transformed the garage into a garden house, and built new terraces and ­patios, including a dining area in the heart of the shade garden.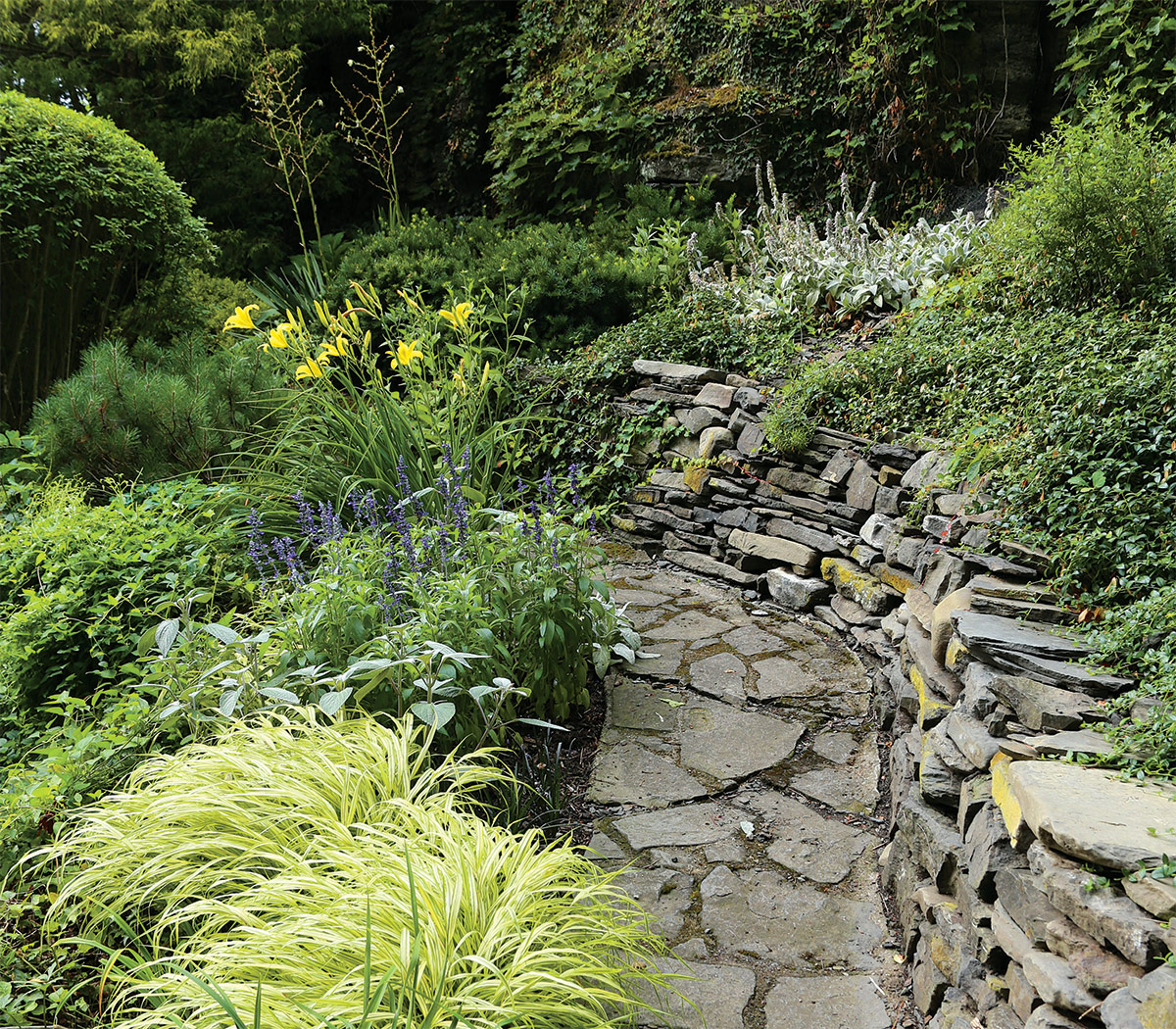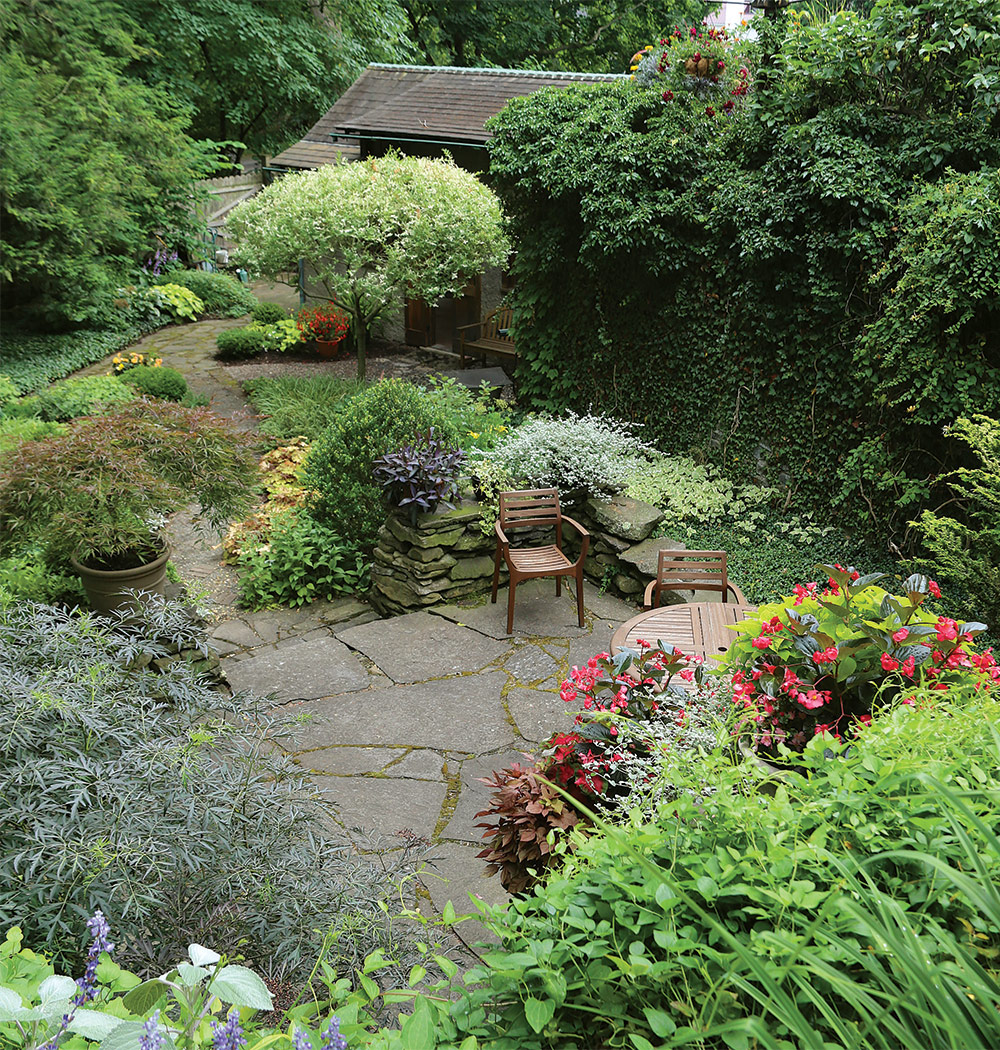 Since its beginnings nearly 100 years ago, this has been a garden to walk through, sit in, and look down upon from inside the house as well as outside from its highest terrace. The ratio of hardscape to softscape in our garden is truly close to 50:50. Wooden and stone stairs provide ways to navigate the steep slopes. A linear path made from irregular flat indigenous stones serves as a thruway to the Garden House (a structural center point for all the garden rooms) and the sunny garden, while a curved gravel path edged in brick keeps plants within bounds and leads to the flagstone dining terrace. The brick is repeated as the new patio material surrounding the pool. All of these hardscape elements perform as a functional and visual foundation, providing negative space that balances with lush plantings.
Select a well-proportioned mix of anchor plants to tame busy or expansive views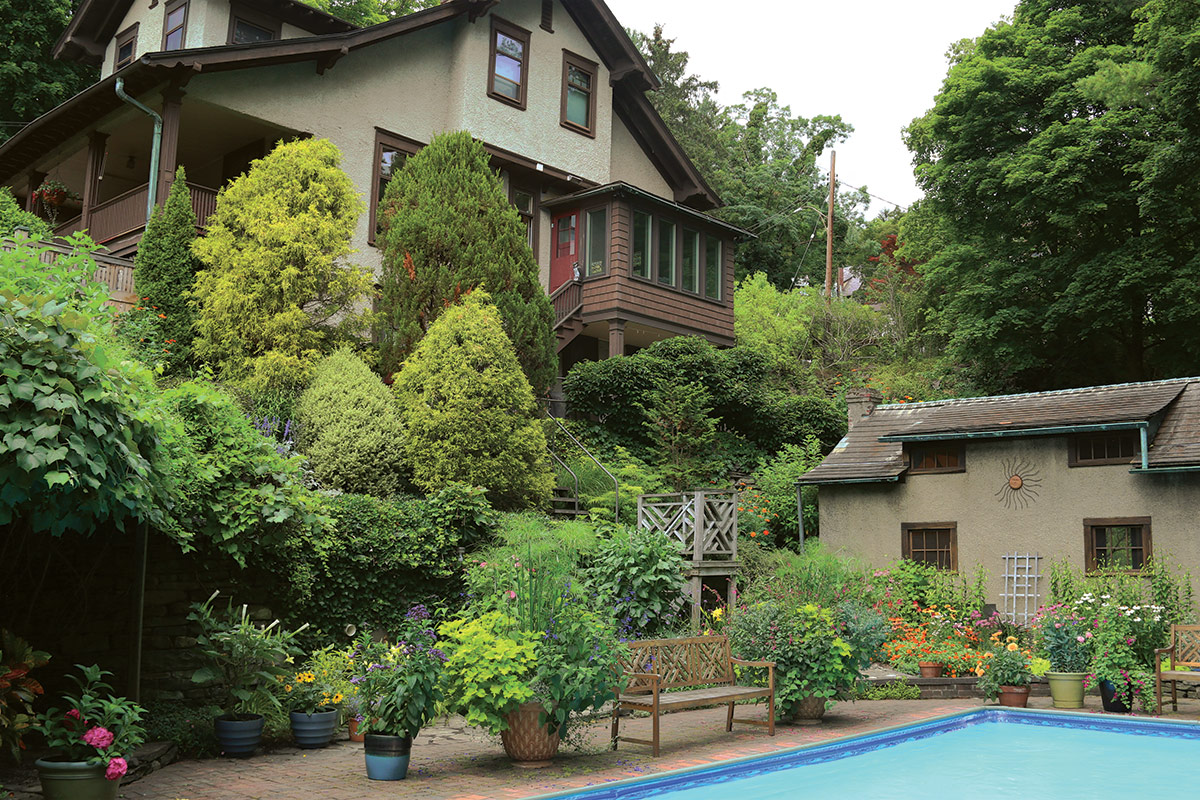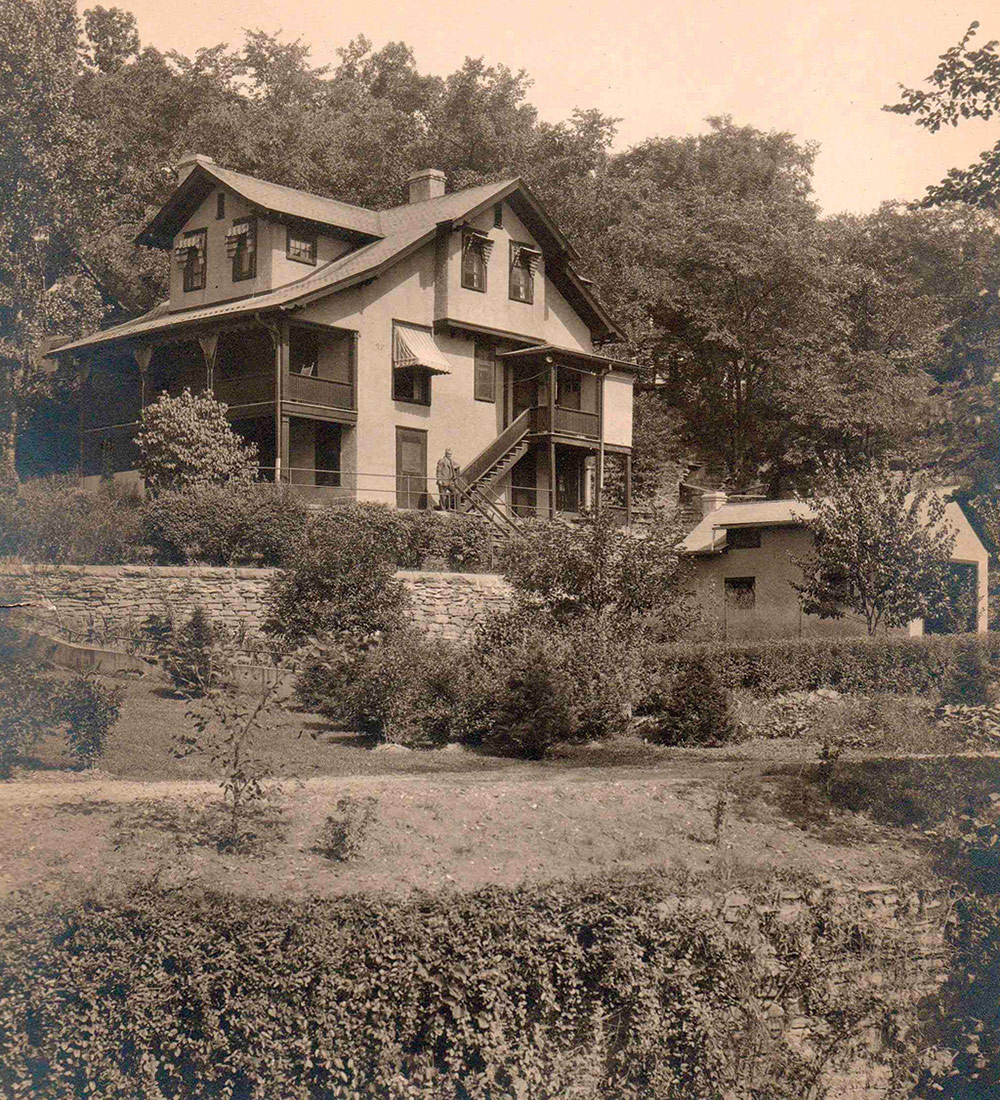 With the changing elevations, mix of outdoor spaces, and extended views in our garden, plantings can quickly appear chaotic if I don't rein in plant choices. To do this, I rely on a range of powerhouse plants to boldly anchor a scene, from bed edges to towering borders. These are plants with arresting color and/or form. In the shade garden, woody plants and perennials whose shape or foliage, rather than just flowers, demand attention work best as the season-long main attractions. Since this area sits at the lowest point on our property and can be viewed from all sides, low-growing perennials work well at the center of the space as the powerhouse plants. 'Kassandra' heuchera (Heuchera 'Kassandra', Zones 4–9), epimedium (Epimedium spp. and cvs., Zones 3–9), and lady's mantle (Alchemilla ­mollis, Zones 3–8) are must-have perennials in this area. Among my prized trees and shrubs are Black Lace® elderberry (Sambucus nigra 'Eva', Zones 5–7) and 'Seiryu' Japanese maple (Acer palmatum 'Seiryu', Zones 5–8). Varied boxwoods (Buxus spp. and cvs., Zones 5–9) with stalwart evergreen forms and large-leaved hostas (Hosta cvs., Zones 3–9) also are solid anchors in my beds.
In the sunny garden, cup plant (Silphium perfoliatum*, Zones 3–9), a native in the sunflower family, gets a prime spot at the top of the slope among a mix of anchoring structural conifers. With stout, square stems, it manages to hold itself upright, reaching up to 10 feet tall. Its leaves are big and bold, and though its yellow blooms don't appear until late in the season, the long duration of the display is worth the wait. It towers above butterfly-and-bird-favorite Mexican sunflower (Tithonia rotundifolia, annual), Summer Wine® ninebark (Physocarpus opulifolius 'Seward', Zones 3–8), and 'Quicksilver' plectranthus (Plectranthus argentatus 'Quicksilver', Zones 10–11), all scaled in relation to it. Anything smaller disappears on this slope.
Create balanced scale by using large pots in voids
My passion for containers evolved out of necessity. Before moving to this property, I had no experience gardening near black walnuts (Juglans nigra, Zones 4–9). The massive black walnut tree near our pool changed all that, and I learned that many of my most beloved plants are juglone sensitive (and either die or do not thrive). Eventually I settled on hostas and boxwood near the base of the tree. Then I began experimenting with annuals and tropicals in pots in the full-sun zone to add colorful flair while avoiding the negative effects of the black walnut.
It didn't take long until I was hooked on large-scale containers throughout our space. Our multiple areas of stark stone and brick beg for exuberant planters. The pots function as another balancing element by providing important visual-scale references when placed at transition areas, entry points, and along the way through the garden.
I especially love using extra-large pots (24-inch-diameter minimum) to help provide visual relief from our big rectangular pool. I typically fill them with five to seven plants, including a trailer, and regularly fertilize them throughout the season. I have learned that extra-tall plants even in a large, heavy pot can catch a fierce wind and tip over. To solve this, I drop a couple bricks into the bottom before I plant them.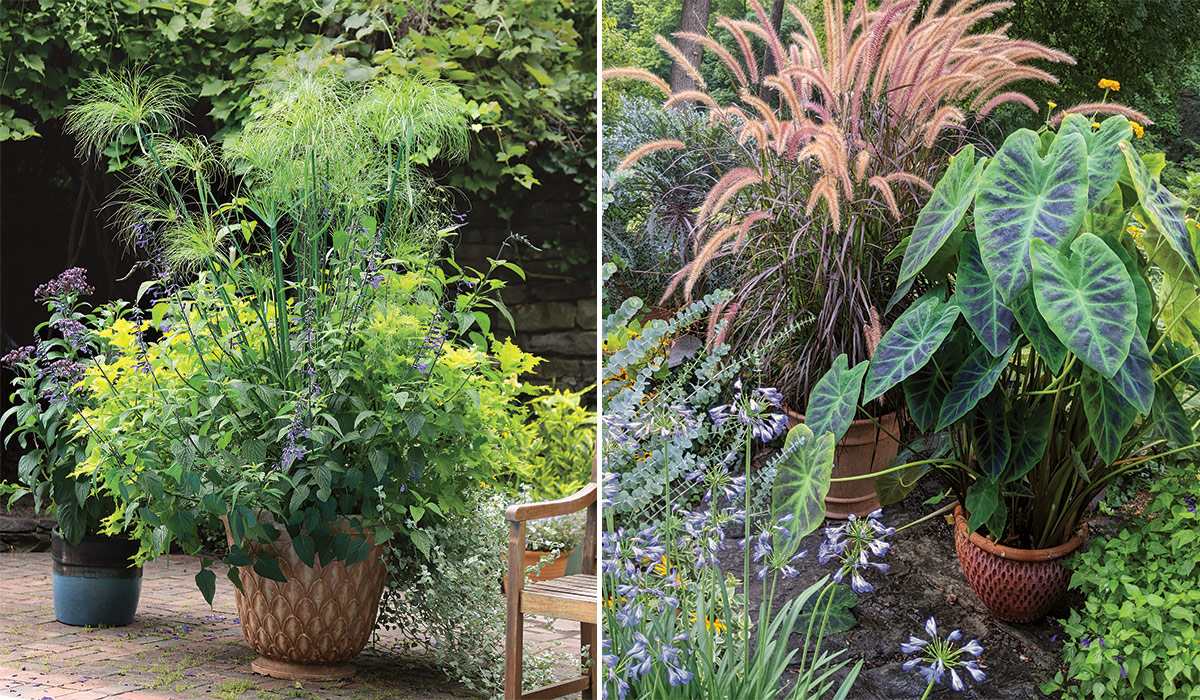 Carefully chosen color and texture combinations along with compatible plant sizes and watering needs make for impactful pots. King Tut® Egyptian papyrus (Cyperus papyrus King Tut®, Zones 10–11), Wasabi coleus (Plectranthus scutellarioides 'UF0843', Zone 11), 'Black and Bloom' salvia (Salvia guaranitica 'Black and Bloom', Zones 7–10), and trailing silver licorice plant (Helichrysum petiolare* and cvs., Zones 9–10) form one of my favorite combinations. The height of the papyrus combined with the fullness of the other plants creates a pleasing, prominent focal point. In other areas of the garden I have found that less is more with single-plant pots. 'Baby Blue' eucalyptus (Eucalyptus pulverulenta 'Baby Blue', Zones 9–11), red fountain grass (Pennisetum × advena 'Rubrum', Zones 8–11), and 'Break Out' dinner­plate dahlia (Dahlia 'Break Out', Zones 8–11)—the queen of my pots in mid-August—are among my attention-getters in sun. In shadier settings I rely on big begonias (Begonia spp. and cvs., Zones 10–11) and tall coleus (Plectranthus scutellarioides cvs., Zone 11). The bold foliage of 'Illustris' elephant's ear (Colo­casia esculenta* 'Illustris', Zones 9–11) is also stunning in a stand-alone pot.
In the end, a successful design is really a dance that balances ornamental attributes and scale. Gardeners cultivate and nurture beauty. We like to think of ourselves as plant whisperers, able to sense what a plant needs and then to help it thrive and mature. In this way, gardening is a privileged partnership with the magical energy of plants, and through it we bring joy, order, and harmony into our spaces.
---
Blending Old With New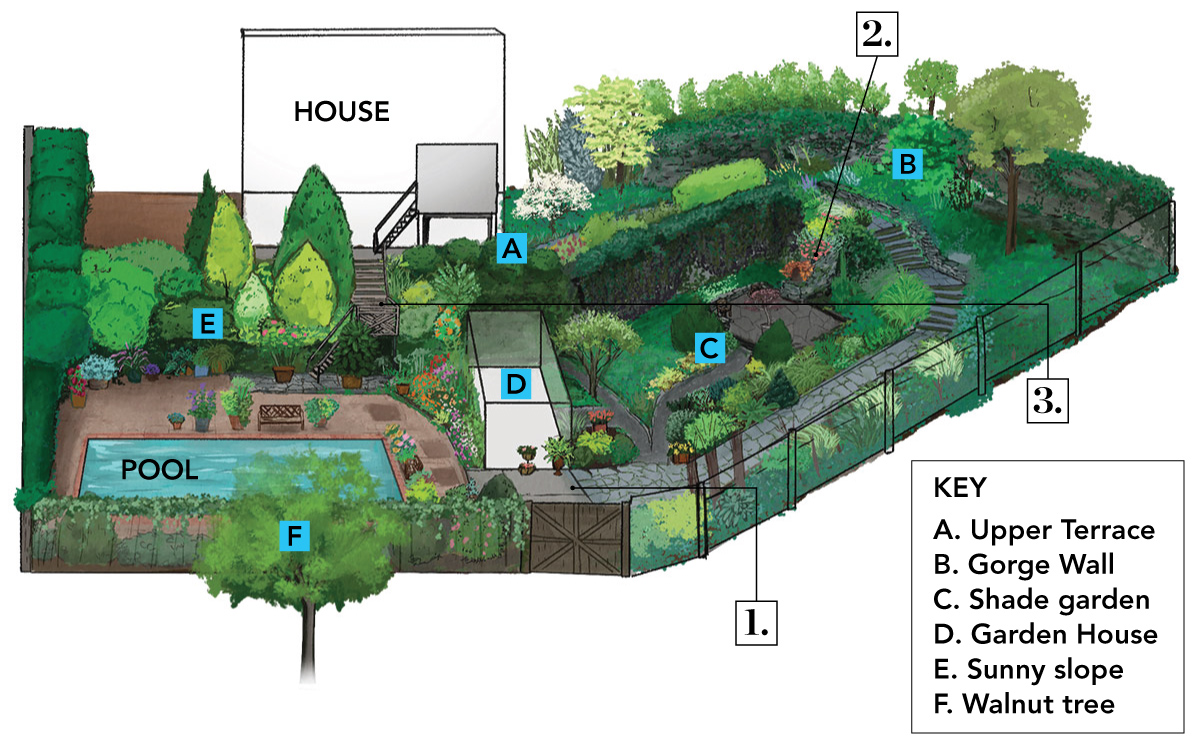 Our home was built in 1918 on a steep, north-facing quarter-acre. The terraced site sits at the mouth of a mile-long gorge in downtown Ithaca, New York. The beginning of the gorge's shale walls is the backdrop for our garden. The main walkway (built in the 1920s and '30s) provides a grand view from above and then descends into the garden with stairs that mirror the graceful swoop of the gorge. The unique beauty of the property is what inspired my husband and me to purchase it nearly 15 years ago. Since then, it has been a labor of love to curate the nearly 100-year-old man-made landscape into a harmonious garden connected with its natural surroundings.
1. Visual cues pique curiosity and draw visitors into the garden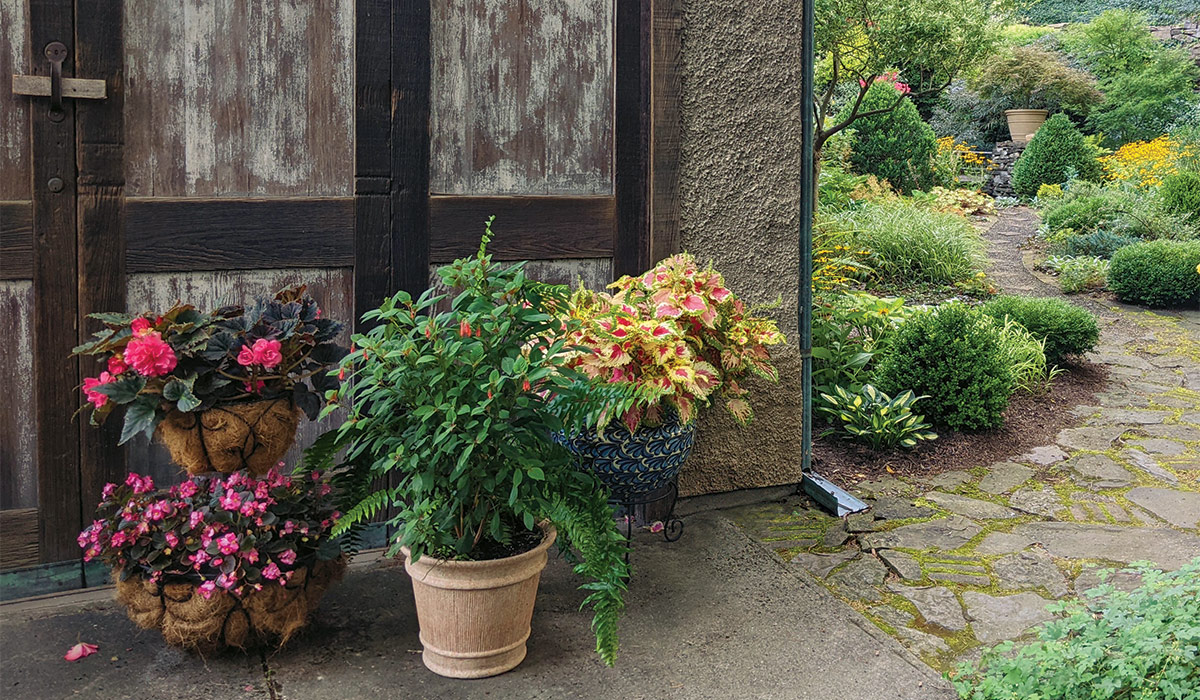 The original garage, now called the Garden House and repurposed into a central outdoor gathering space, bisects the lower property and creates the perfect transition from the shade garden to the sun garden. No matter which direction you are traveling in, the Garden House wonderfully conceals the two garden rooms, providing an element of surprise when you walk past the building into the next garden area. The same effect can be created on a smaller scale by placing large pots or plants at transitional locations to generate a sense of mystery and invite exploration.
2. Stone walls and large-scale pots create a more comfortable space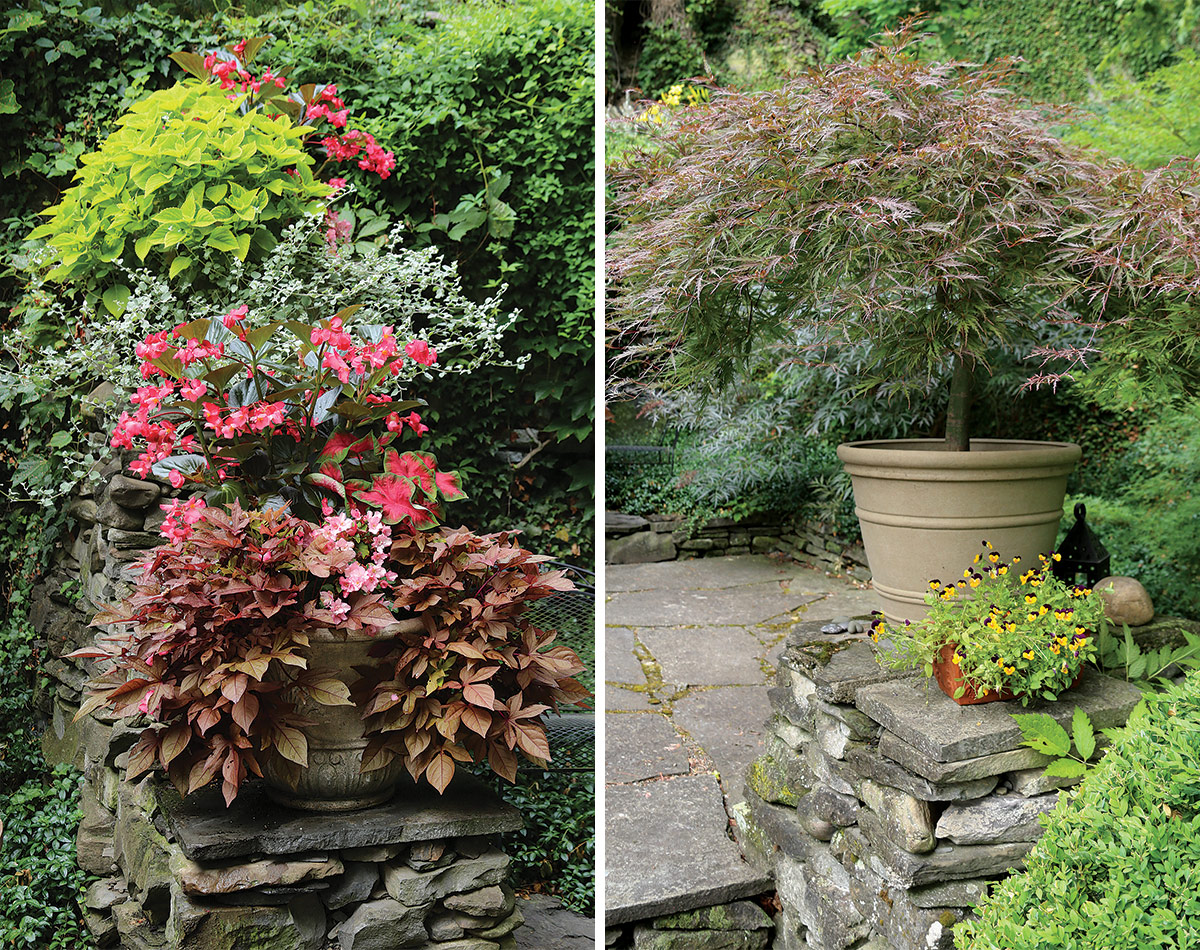 When we moved in, the shade garden area was a grassy slope with leaning trees. We removed the trees, leveled the grade, and built a stone dining terrace edged with a 3-foot-high wall, along with a stone buttress to help support a large, aging wall. These now serve as shelving for large-scale pots. This makes the space feel cozy and secluded rather than like you're at the bottom of a fishbowl at the base of a cavernous gorge wall.
3. Big brushstrokes help settings with elevation changes look their best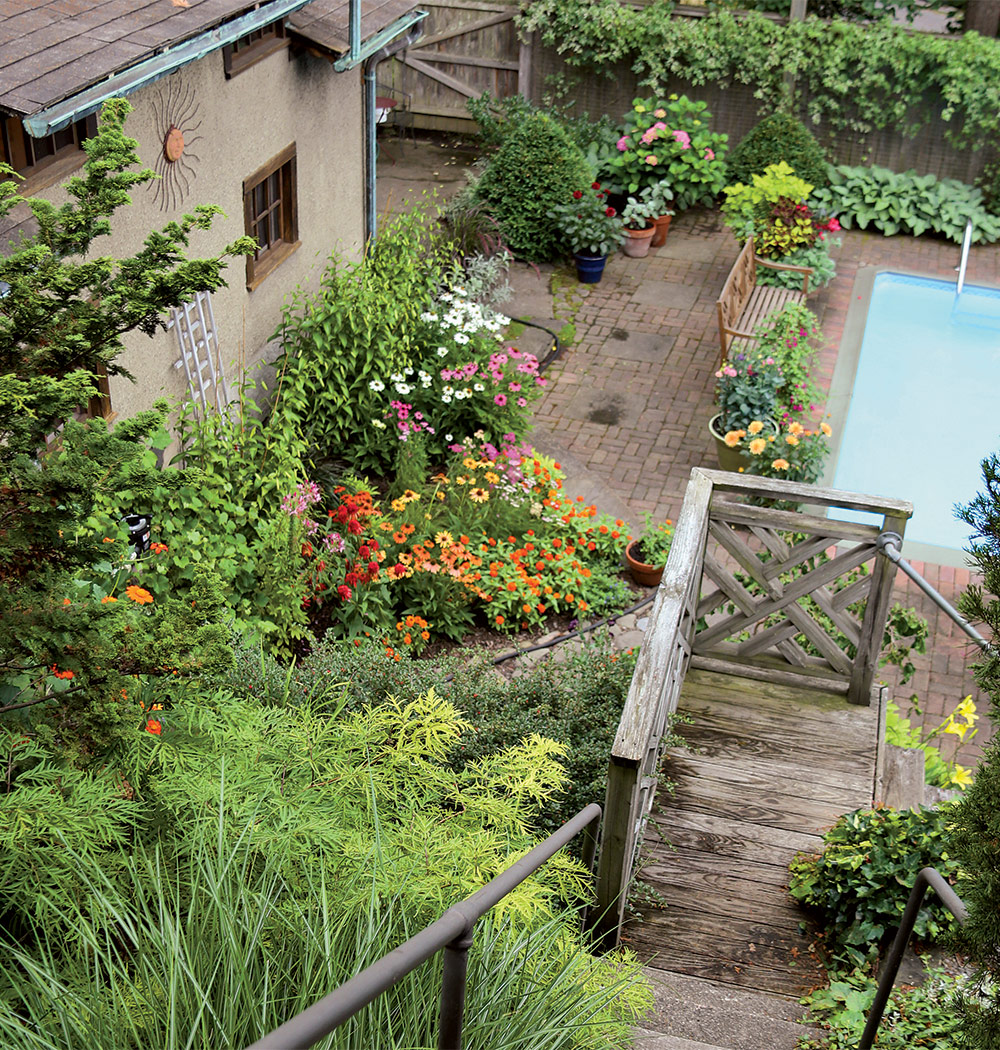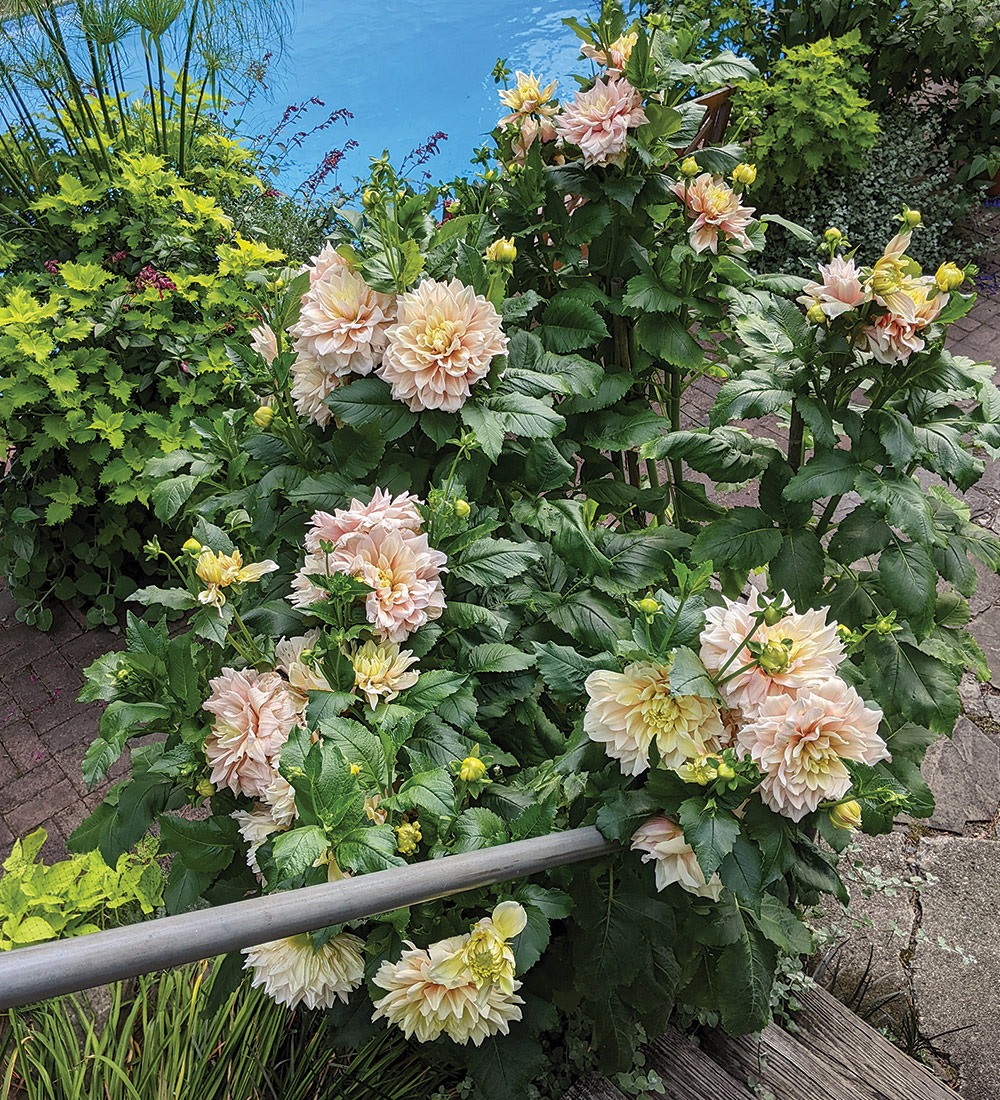 No matter how you slice it, gardening in a space with elevation changes is a challenging endeavor, especially in a garden like ours that is viewed in its entirety from the top and the bottom. Because the scene is so expansive, I learned that planting a small one-of-this and one-of-that creates a disjointed and indistinguishable result that confuses the eye. Using large brushstrokes of color and form (whether planted or potted) brings the garden into focus, providing impactful pockets of interest that guide the eye in a more rhythmic flow across the landscape—no matter if you are viewing it from the top or the bottom of the elevation.
---
*Invasive Alert:
Elephant's ear (Colocasia esculenta)
This plant is considered invasive in AL, CA, and FL.
Cup plant (Silphium perfoliatum)
This plant is considered invasive in CT, and NY.
Please visit invasiveplantatlas.org for more information.
---
Margherita Fabrizio is a lifelong gardener and photographer in Ithaca, New York, with an eye for texture, color relationships, scale, and balance in her garden and through a camera lens.
Photos, except where noted: Jennifer Benner