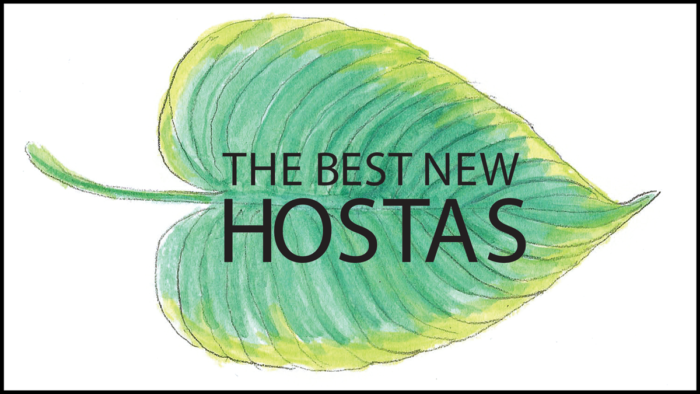 Do you know any gardeners who have both hostas—the green one and the variegated one? Sadly, the lack of knowledge some people have about this amazing genus is shocking. No other temperate woodland perennial provides more climatic adaptability, more diverse foliage patterns, or a wider range of sizes. While a few great hostas stand the test of time, most disappear from the market as quickly as they arrive, often due to poor garden performance combined with continuing improvements in foliage, texture, and vigor.
Each year, the American Hosta Society conducts a Hosta Popularity Poll. The top 20 regular-size hostas and five miniatures, chosen from a list of over 6,400 registered cultivars, are voted on by the membership. Unlike clothing fashions, hosta favorites are slow to change; people aren't usually willing to replace old hostas with stylish new introductions each year, as they might do with clothes. In fact, the latest poll results still include five hostas from the 1980s, when the rankings began.
Since few hostas from the last decade have made the Popularity Poll yet, I have produced a list of new cultivars that I feel are likely to become long-term favorites. This list includes several hostas with unique traits as well as others that simply continue to raise the bar for existing forms. Any one of them would be a great addition to your shade garden.
---
Hosta spp. and cvs.
Zones: 3–9
Conditions: Partial to full shade; moist, rich, well-drained soil
Propagation: Division in spring or fall
Problems: Deer, slugs, snails
---
Eye-catching variegation enhances any leaf shape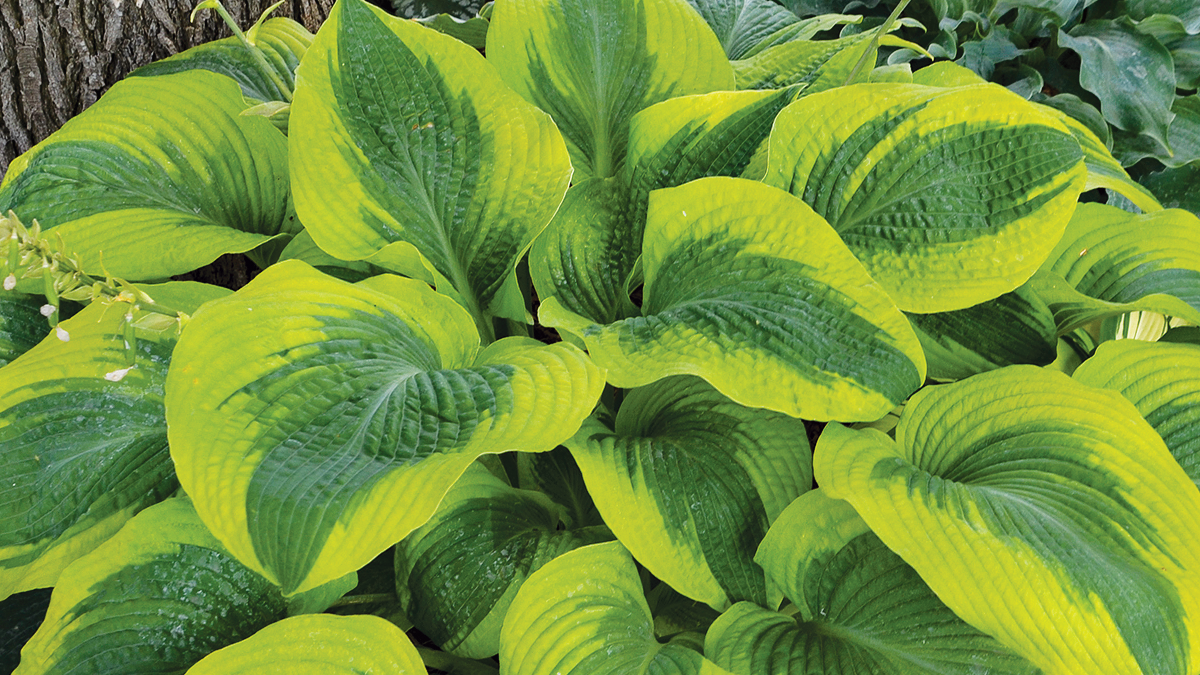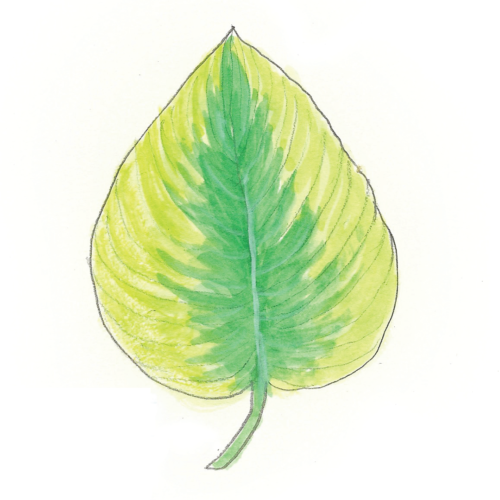 'Afterglow'
Introduced: 2012
Plant size: 2 feet tall and 4 feet wide
Leaf size: 10 to 12 inches long and wide
I like hostas that are so distinctive they can't be mistaken for anything else, and 'Afterglow' fits the bill. This sport of 'Climax' forms an impressive 4-foot-wide mound of foliage, with excellent leaf thickness and very wide golden edges. These bright edges get even wider as the leaves mature, so that from a distance the plant appears to glow. Because of its wonderfully thick substance, foliar damage from pests is virtually nonexistent.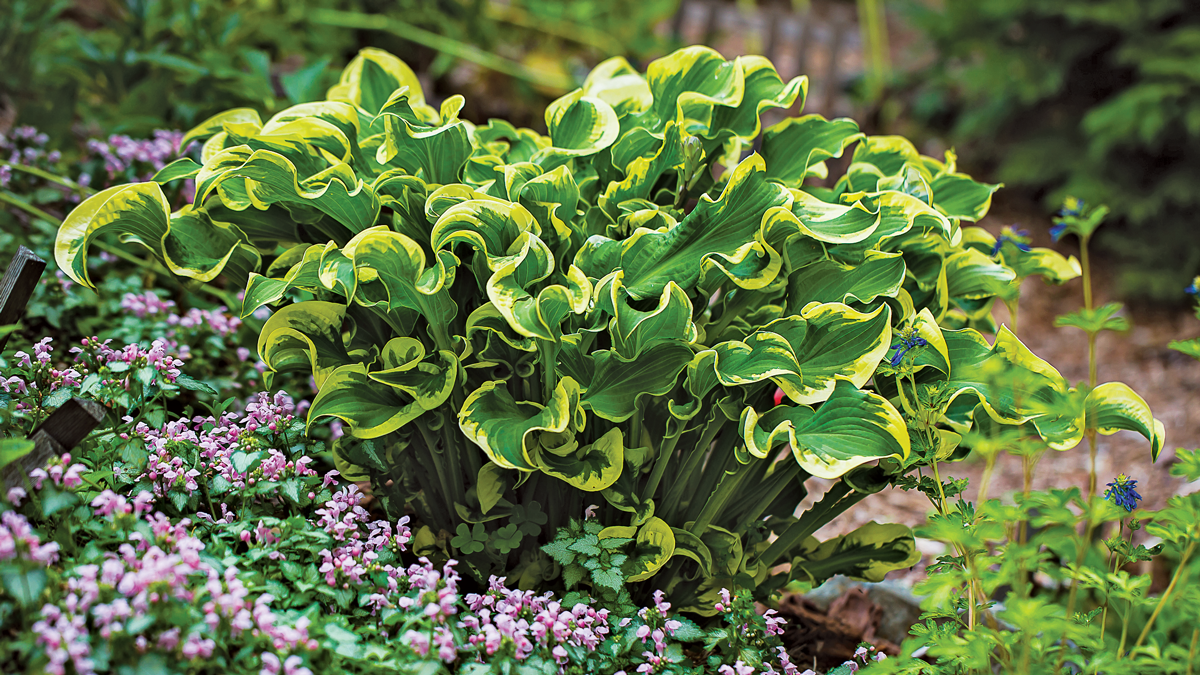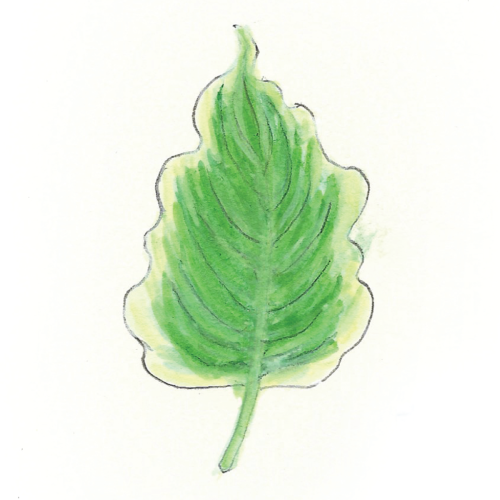 'Wheee!'
Introduced: 2012
Plant size: 12 to 18 inches tall and 30 inches wide
Leaf size: 5 to 6½ inches long and 4 to 5 inches wide
'Wheee!', a sport of 'Leola Fraim', is unquestionably one of the most unique hosta sports ever introduced. The parent was already edged in creamy white, so the mutation here was one of dramatically increased leaf waviness. It looks like someone has taken a curling iron to the foliage. In fact, 'Wheee!' has the waviest leaves of any hosta ever introduced and cannot be mistaken for any other.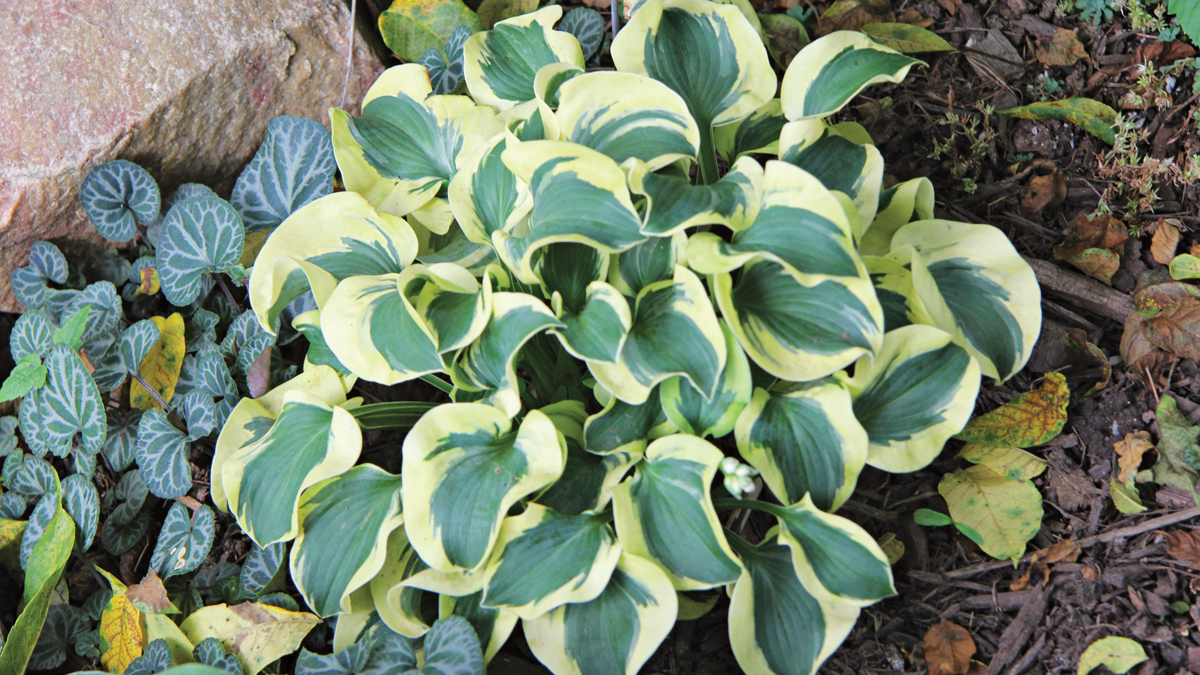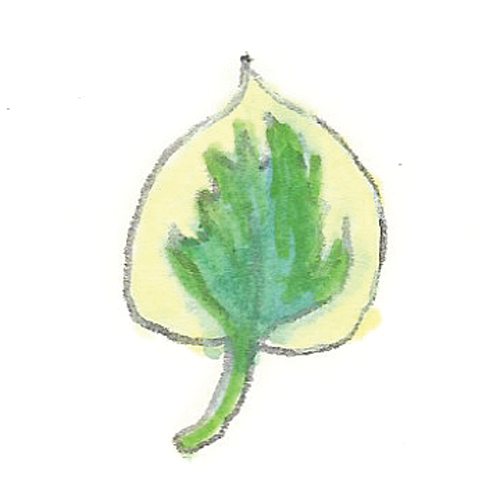 'Miniskirt'
Introduced: 2013
Plant size: 5 to 7 inches tall and 12 to 14 inches wide
Leaf size: 2½ to 3 inches long and wide
If you are looking for the perfect miniature for a container or the front of a bed, 'Miniskirt' is a great fit. Although its genetic roots trace back to 'Blue Mouse Ears', its sculptural leaves with wide, creamy white edges are anything but mousy. This little dynamo has excellent vigor and incredible leaf thickness.
Bright colors and standout flowers steal the show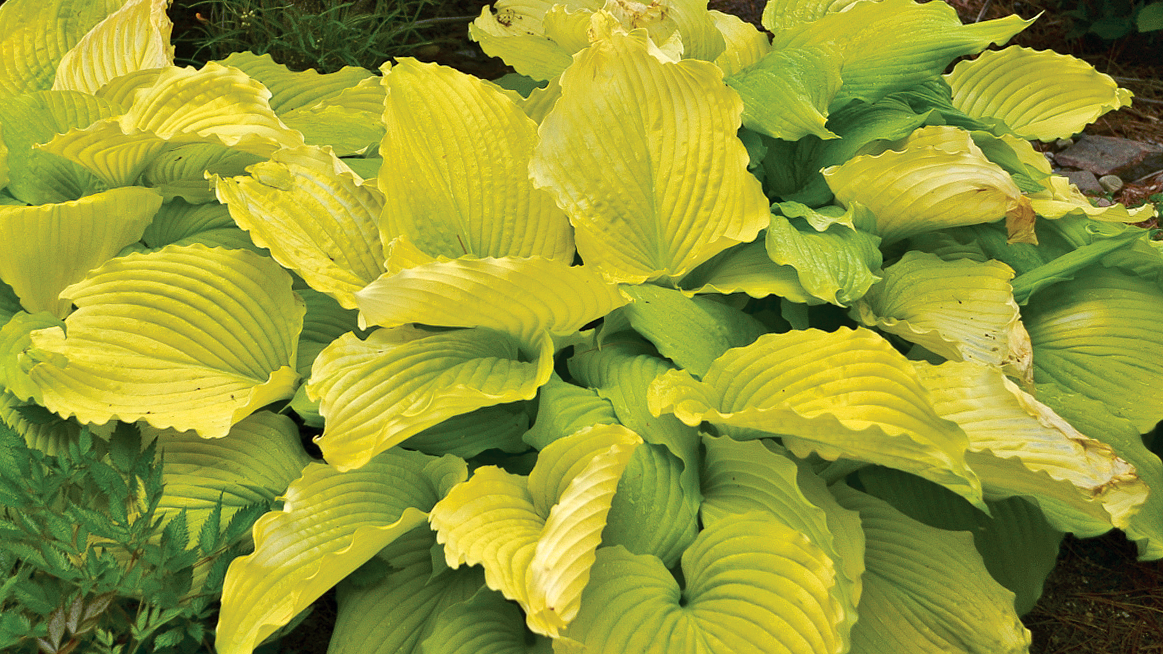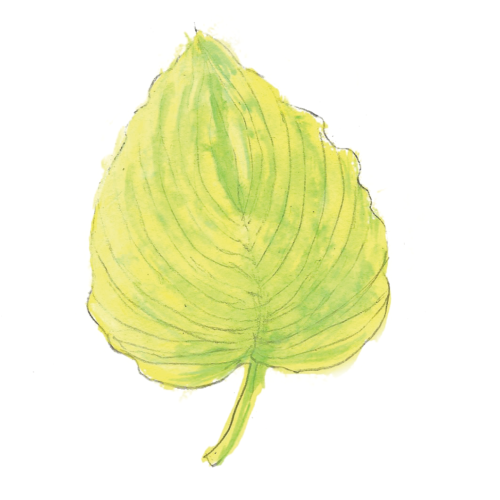 'Coast to Coast'
Introduced: 2014
Plant size: 30 inches tall and 36 inches wide
Leaf size: 9 to 10 inches long and 7 to 8 inches wide
The only solid gold-leafed hosta to make my list is 'Coast to Coast', which forms an upright vase-shaped clump composed of thick, wavy, bright gold leaves. While it thrives in light shade, this hosta can also take several hours of morning sun without leaf burn, as long as the soil doesn't get too dry. Its thick, corrugated foliage also helps this standout resist slug damage.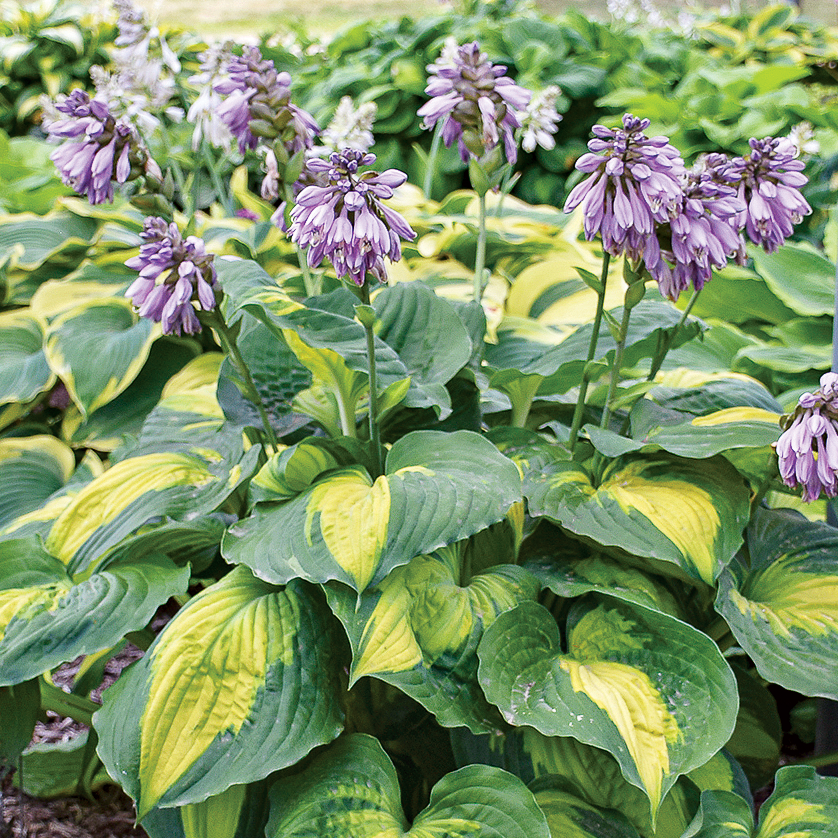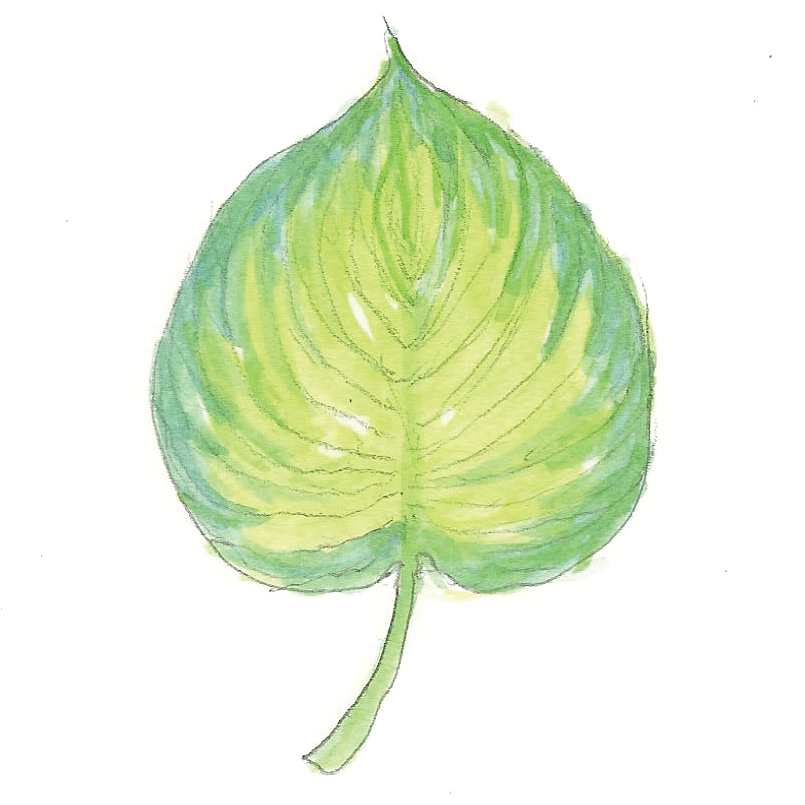 'Beyond Glory'
Introduced: 2015
Plant size: 16 inches tall and 30 to 40 inches wide
Leaf size: 9 to 12 inches long and wide
Eye-catching color is also the hallmark of 'Beyond Glory', with its slightly rippled golden leaves edged with wide, dark green margins. This is a mutation of 'Old Glory', which has much narrower margins. It has the same great vigor in the ground as its parent, but with added foliar contrast provided by the 3-inch-wide green border that trims each perfectly round leaf.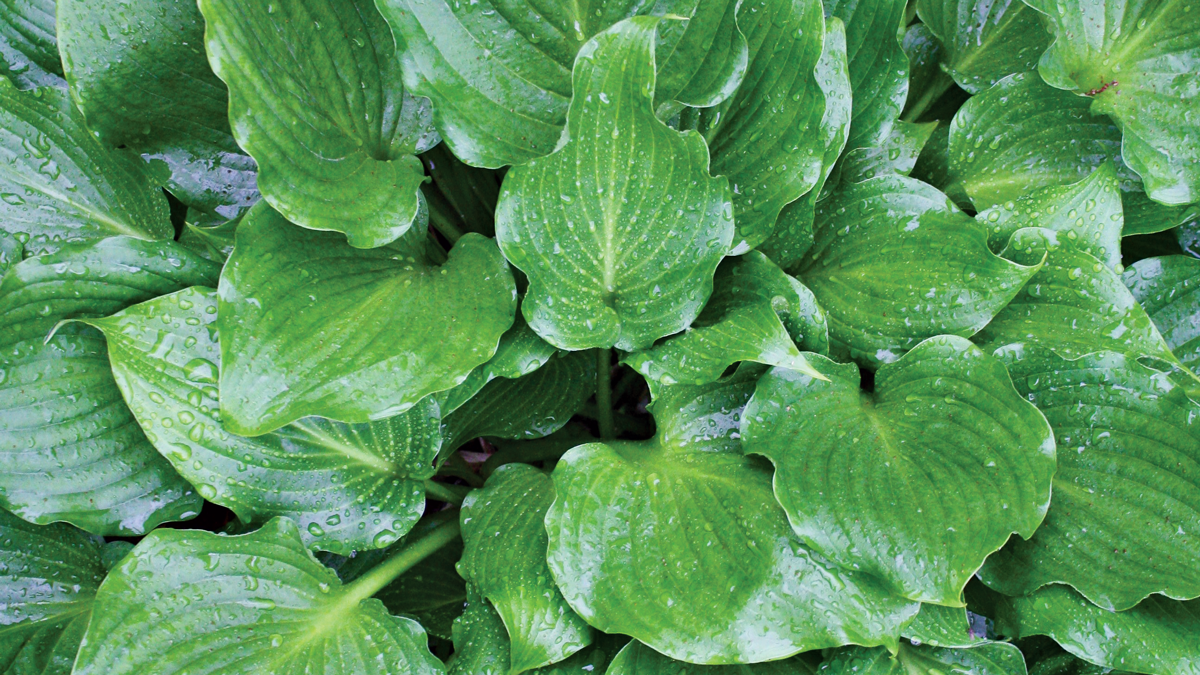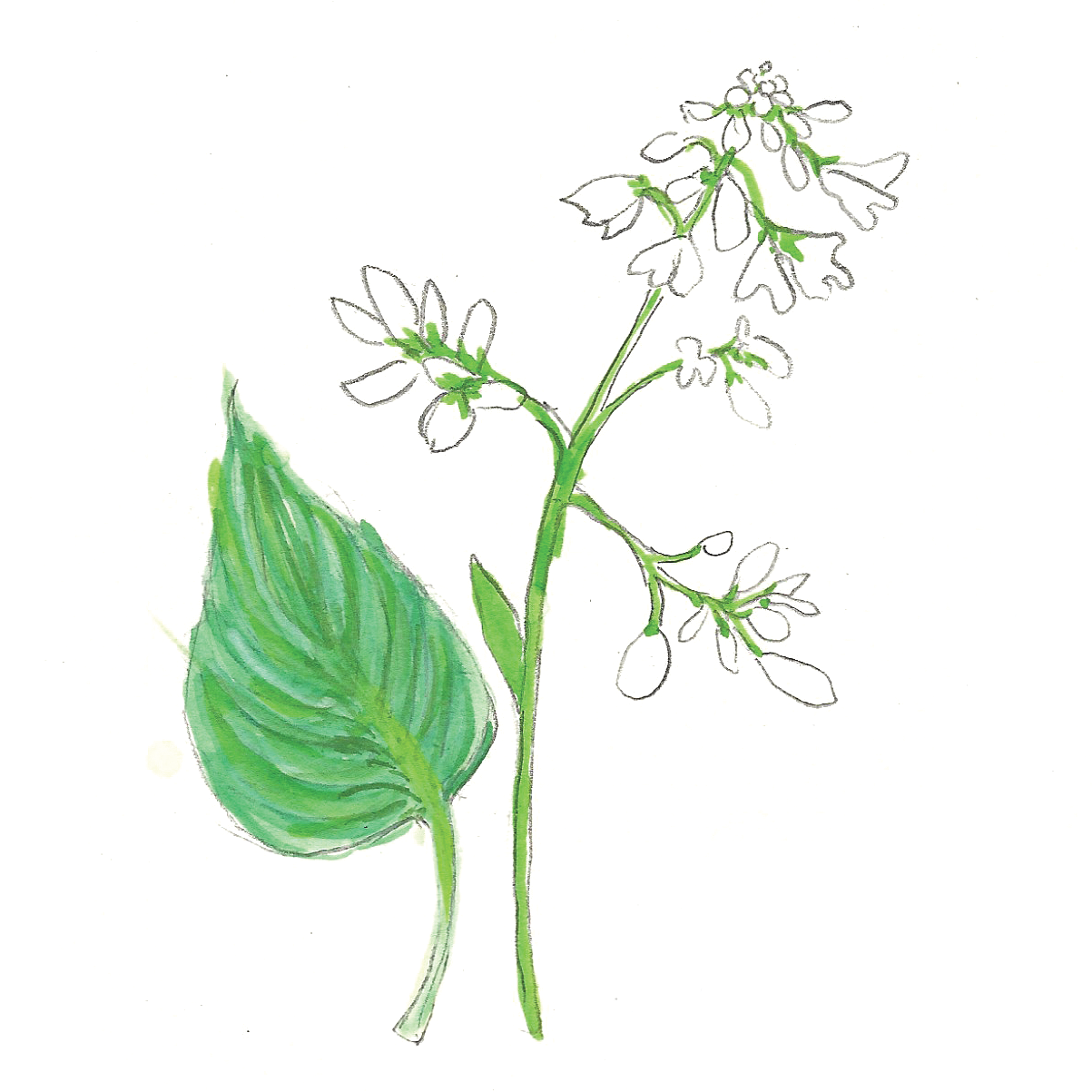 'Branching Out'
Introduced: 2015
Plant size: 12 inches tall and 30 inches wide
Leaf size: 8 to 9 inches long and 5 to 6 inches wide
'Branching Out' is a Plant Delights introduction. Based on our fascination with the branched flower scapes of daylilies (Hemero callis cvs., Zones 3–10), we wanted to see if we could do the same with hostas. Developing this unique hybrid took 16 years, from the first cross to its release in 2015. In late summer it puts on one of the most stunning, long-lasting floral shows in the genus, with an abundance of pale flowers held on sturdy branched scapes above an attractive clump of shiny, ruffled green leaves.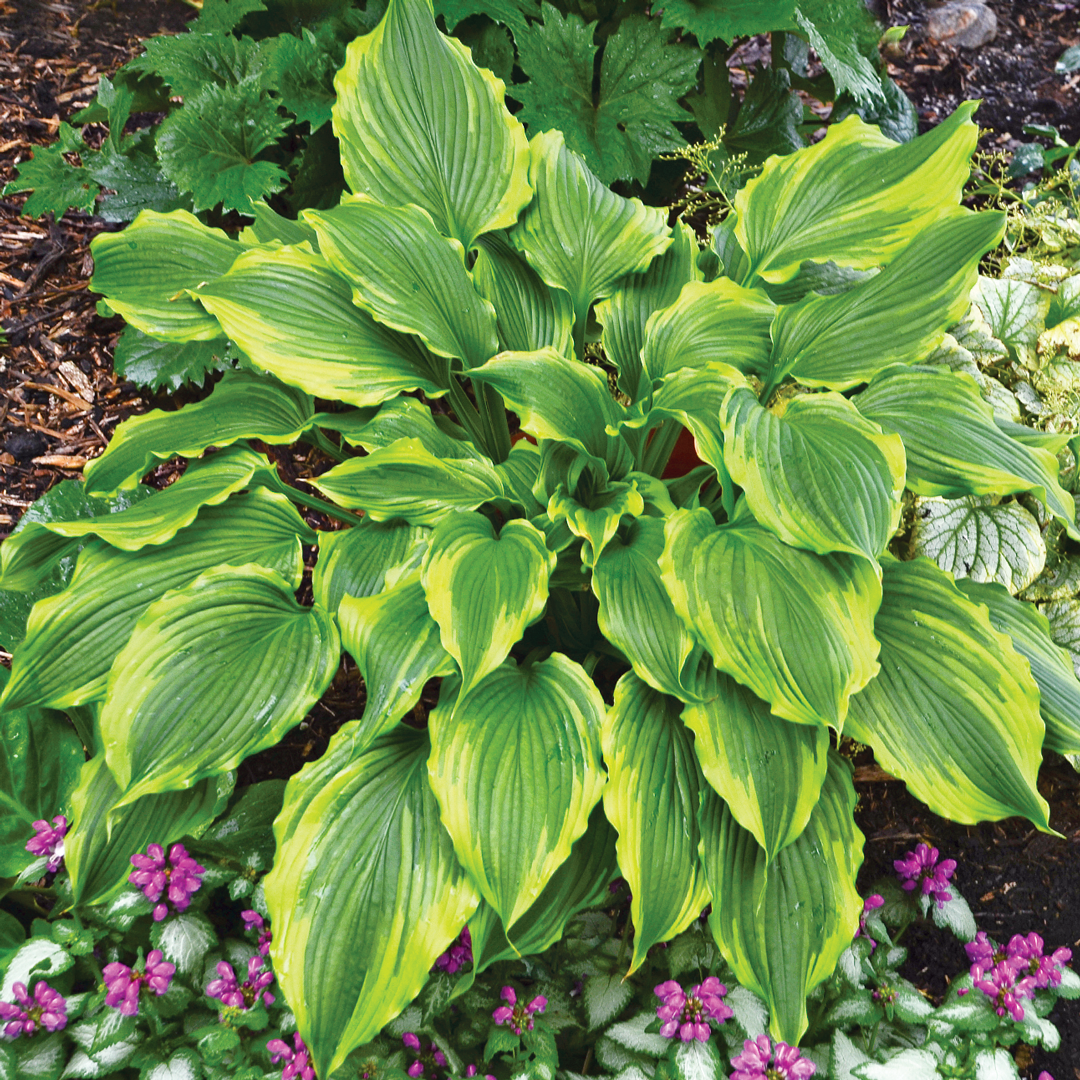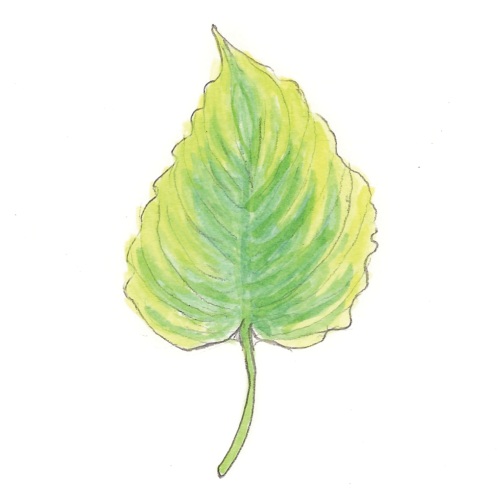 'One Last Dance'
Introduced: 2016
Plant size: 16 to 18 inches tall and 36 to 38 inches wide
Leaf size: 10 to 12 inches long and 6 to 8 inches wide
A green-centered sport of the popular gold-leaved 'Dancing Queen', 'One Last Dance' retains the great form, vigor, and large pointed leaves of its parent. It is the perfect hosta for adding a sense of movement to a shady spot, with its lightly rippled, corrugated leaves, each uniquely adorned with an irregular golden margin. This hosta grows best with an hour or two of morning sun.
Cool blues are stately and serene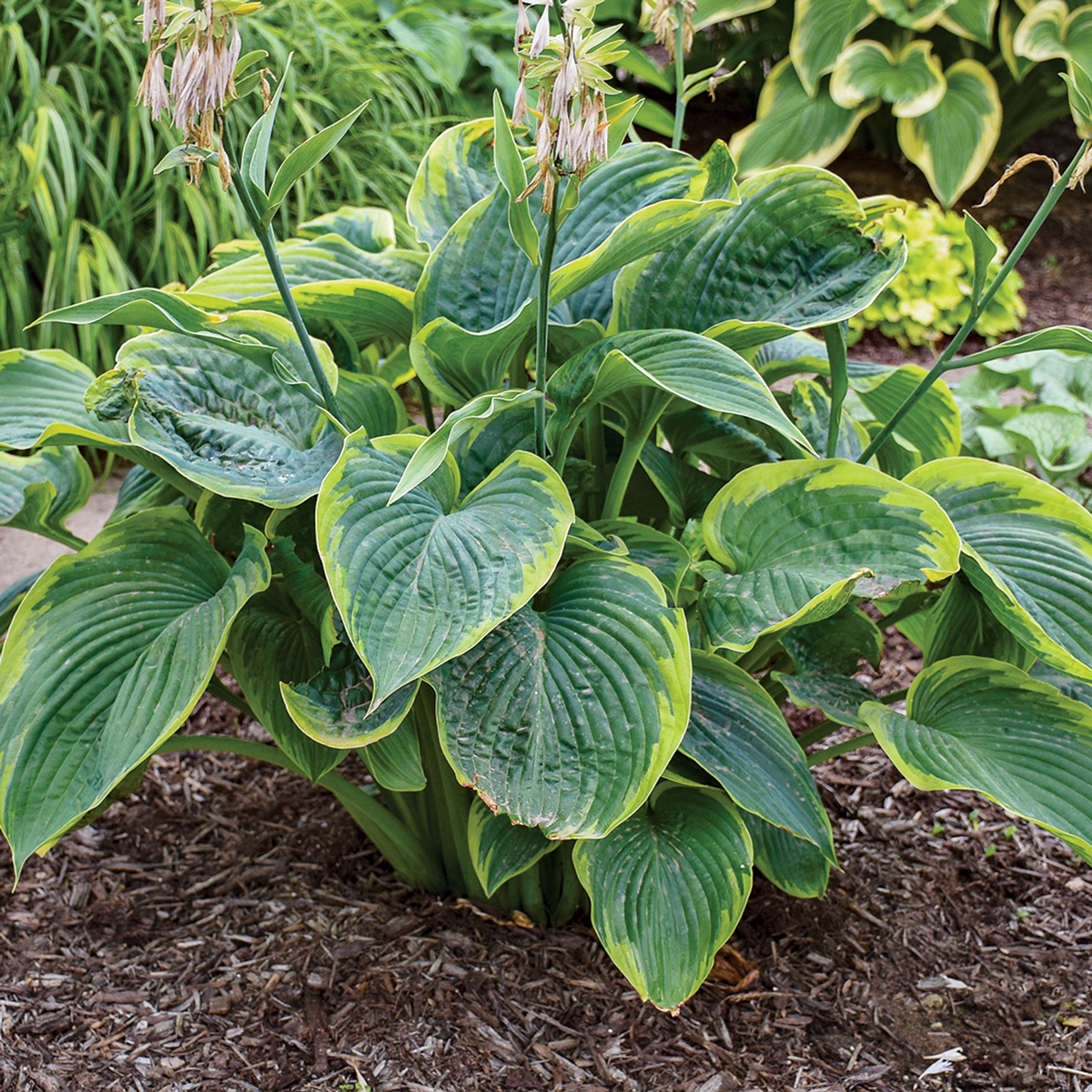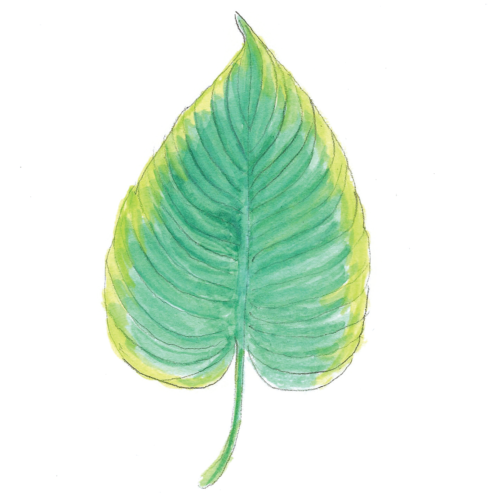 'Wu La La'
Introduced: 2019
Plant size: 36 to 48 inches tall and 60 to 72 inches wide
Leaf size: 18 to 20 inches long and 12 to 14 inches wide
'Wu La La' is a sport of the giant, wildly popular 'Empress Wu'. Its big, blue-green leaves are bordered by wide chartreuse margins. Although it doesn't grow quite as large as its parent, this stunning hosta makes a bold, "Don't miss me" statement. It takes at least five years to reach full size under good growing conditions, so ­patience is key.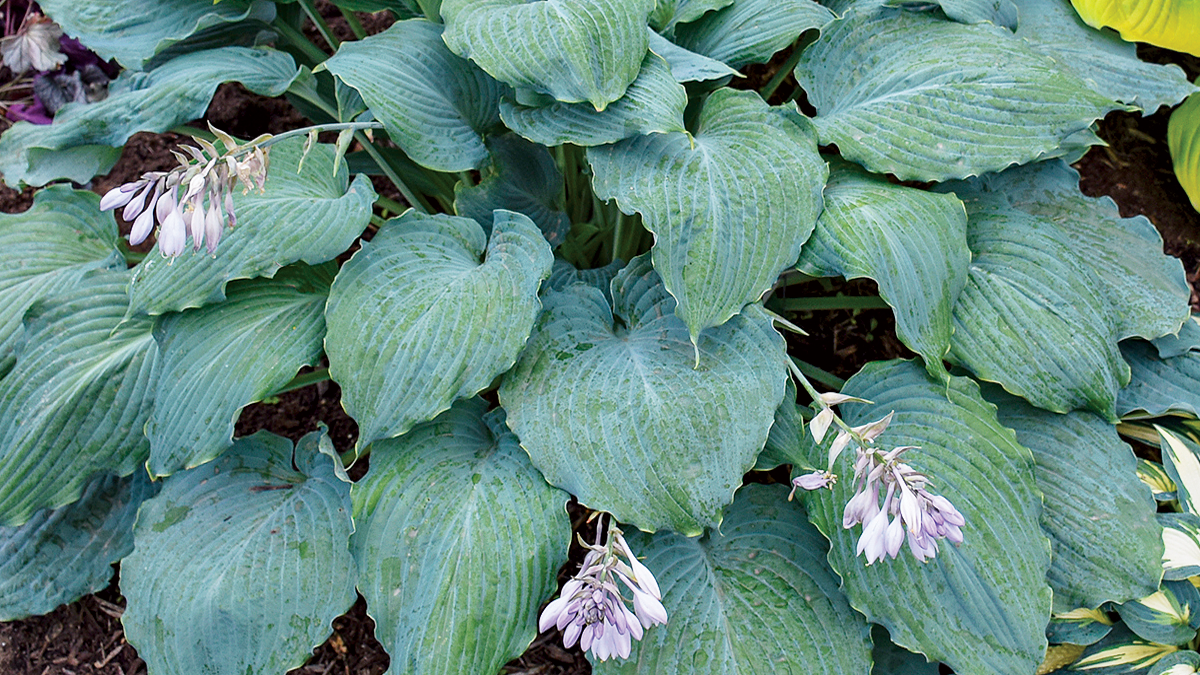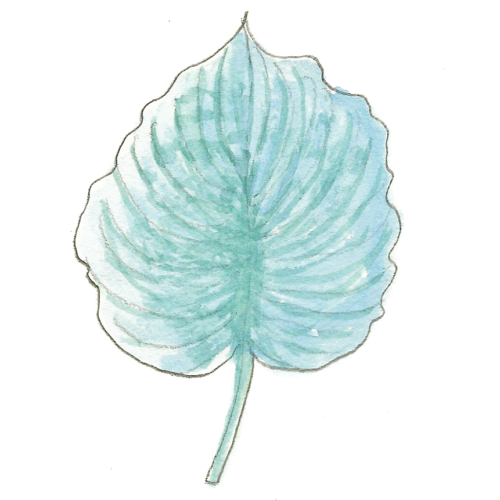 'Diamond Lake'
Introduced: 2018
Plant size: 17 inches tall and 45 to 48 inches wide
Leaf size: 9 to 11 inches long and wide
For decades, hosta breeders have been trying to create a large blue hosta with thick, corrugated, wavy leaves. Hosta legend Hans Hansen achieved all these goals with his creation 'Diamond Lake'. This elegant and substantial hybrid has beautiful powder-blue color and is sure to be a featured specimen in any woodland garden. In rich, moist soil, it will produce a mature clump in three to five years.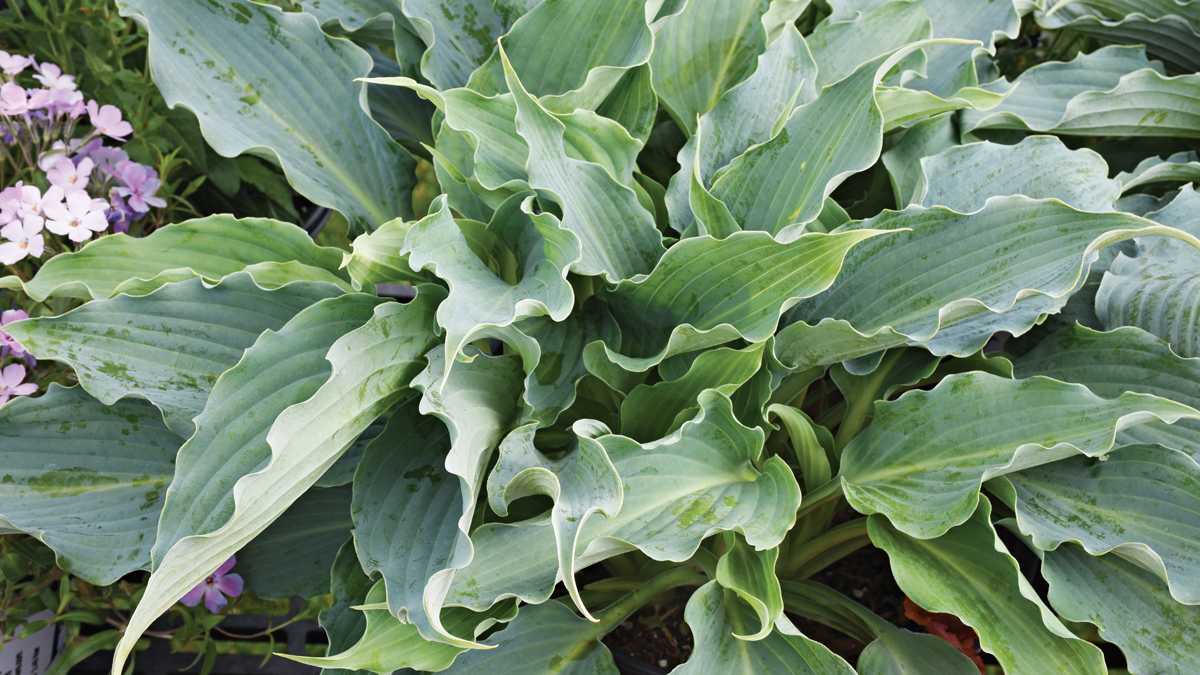 'Waterslide'
Introduced: 2017
Plant size: 14 inches tall and 32 inches wide
Leaf size: 6 to 8 inches long and 3 to 4 inches wide
Most of the blue hostas sold have large, round, corrugated leaves, so 'Waterslide'—with its long, pointed, wavy leaves—is a refreshing change. One of only two blue-foliage hostas on my list, 'Waterslide' earned its place with its graceful form and frosty blue color that lasts well into summer. It is an architecturally stunning plant whose time has come.
Whether your hostas are old or new, siting them in moist, rich soil with light shade or early morning sun will produce the best specimens. Providing these conditions will help you show off your hostas to their best effect.
---
| Good to Know |
How new hostas are "made"
Many popular hostas came into being as sports, naturally occurring mutations of existing cultivars. Genetically speaking, hostas are notoriously unstable. What often starts as a streaked leaf on a nonvariegated clump can soon turn that plant into a new variegated gem.
In the early 2000s, finding hosta sports became so popular that those who engaged in searching for new ones became known as sport fisherman. Of the 10 hostas featured in this article, six are sports and four are newly created hybrids.
---
Tony Avent is the owner of Juniper Level Botanic Garden and Plant Delights Nursery in Raleigh, North Carolina.
Sources
Bluestone Perennials, Madison, OH; 800-852-5243; bluestoneperennials.com
Land of the Giants Hosta Farm, Milton, WI; 608-580-0190; landofthegiantshostafarm.com
New Hampshire Hostas, South Hampton, NH; 603-879-0085; nhhostas.com
Plant Delights Nursery, Raleigh, NC; 919-772-4794; plantdelights.com