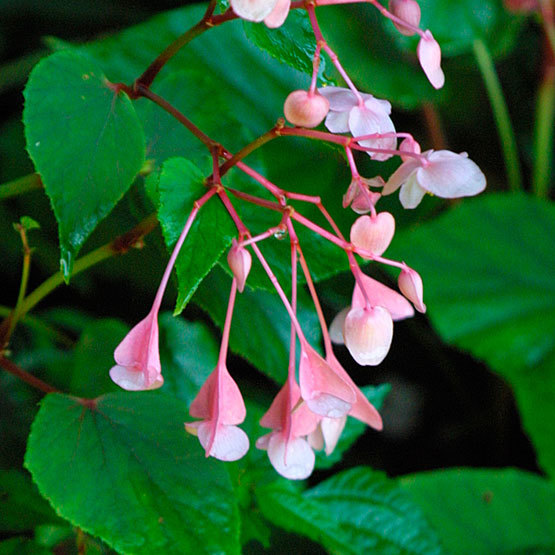 The genus Begonia encompasses a fantastically varied collection of humidity-loving plants grown for their wide range of flowers and foliage, and adaptability to different garden culture.  They are represented by various groups: Semperflorens, Rex-cultorum, Rhizomatous, Tuberous (Multiflora and Pendula), Cane-stemmed, Winter-flowering, and Shrub-like.
Noteworthy CharacteristicsThis incredibly diverse genus of tropical and subtropical plants is adored for both its flowers and foliage alike. The flowers produced range from single and delicate, pendulous blossoms, to full clusters of antique-like rose or camellia blossoms. The foliage (more significant in some species than the flowers) differs in shape, texture, edging, and color; some leaves form spirals that resemble shells, others have distinct, painted markings, while others are iridescent to the eye, or velvety to the touch. Their beauty is matched by their broad utility in bedding, container, greenhouse, and terrarium culture.
CareMost prefer fertile, well drained soil (reduced watering in winter if grown under glass), and partial shade or bright light without direct sun.
PropagationSow seed of species when fresh and bulbils in damp peat in spring. Take stem cuttings in spring or summer, rhizome cuttings in summer, and basal cuttings of tuberous types in spring and winter-flowering types in early summer. Divide in spring.
ProblemsMealybugs, mites, thrips, whiteflies, powdery mildew, stem rot, rhizome rot, nematodes.