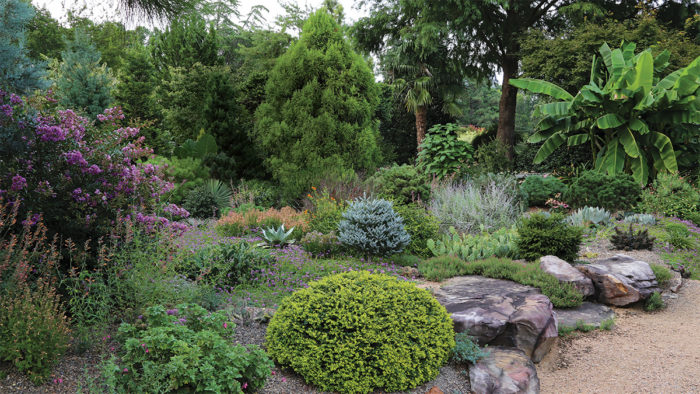 Texture is often referred to as the third element of garden design. We all tend to get overly focused on color and form, but texture is that hard-to-explain "little something extra" that brings a landscape from good to great. Joann Currier and Sebastian Hamilton relied on this essential third element when they turned their 4-acre North Carolina property from horse pastures into the glorious garden they always dreamed it would be. Throughout the landscape, they have repeated colors, forms, and—most important—textures. But while the colors can fade and forms will change in this Zone 7 garden, the texture keeps things interesting and attractive year-round.
---
The Plan: United by texture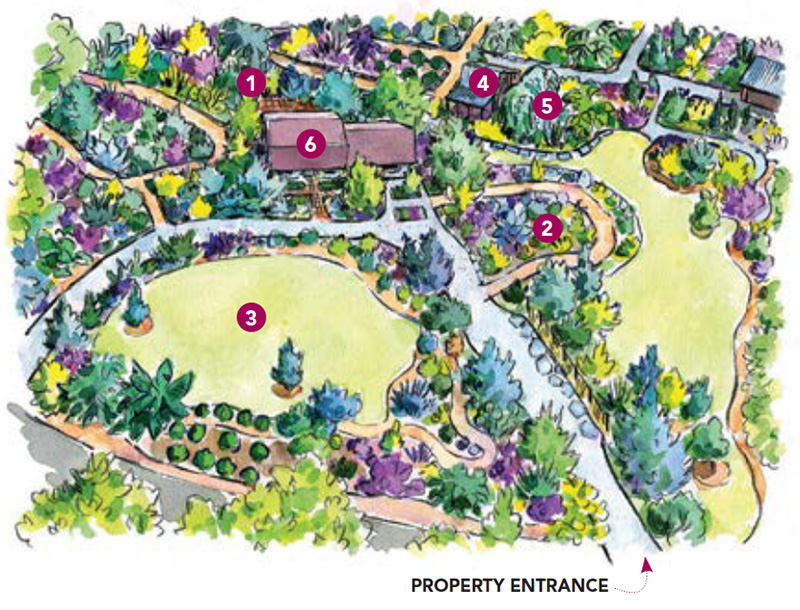 This garden spans nearly 4 acres, and each area has a distinctive feel and plant palette. However, the various sections are united by repeating colors, forms, and, perhaps most strikingly, textures.
1. Shade area/patio

2. Scree garden

3. Central lawn

4. Small barn

5. Weeping katsura

6. Main residence
---
Select focal points that are texturally significant
If you were to ask even the most seasoned gardeners to name why some of the focal points in their spaces stand out, they would likely mention the color of those plants first, and then perhaps their form second. Rarely do gardeners mention texture— although most know that it is an important element to have if a design is to be successful. Although Sebastian and Joann consider theirs to be largely a collector's garden, they knew that their love of plants had to be balanced by good design. "In this landscape, we chose texture over flowers," Sebastian explains. When blooms fade or a form changes over time, texture can be generally counted on to be ever present—especially when you ensure that the focal points of the garden are textural gems.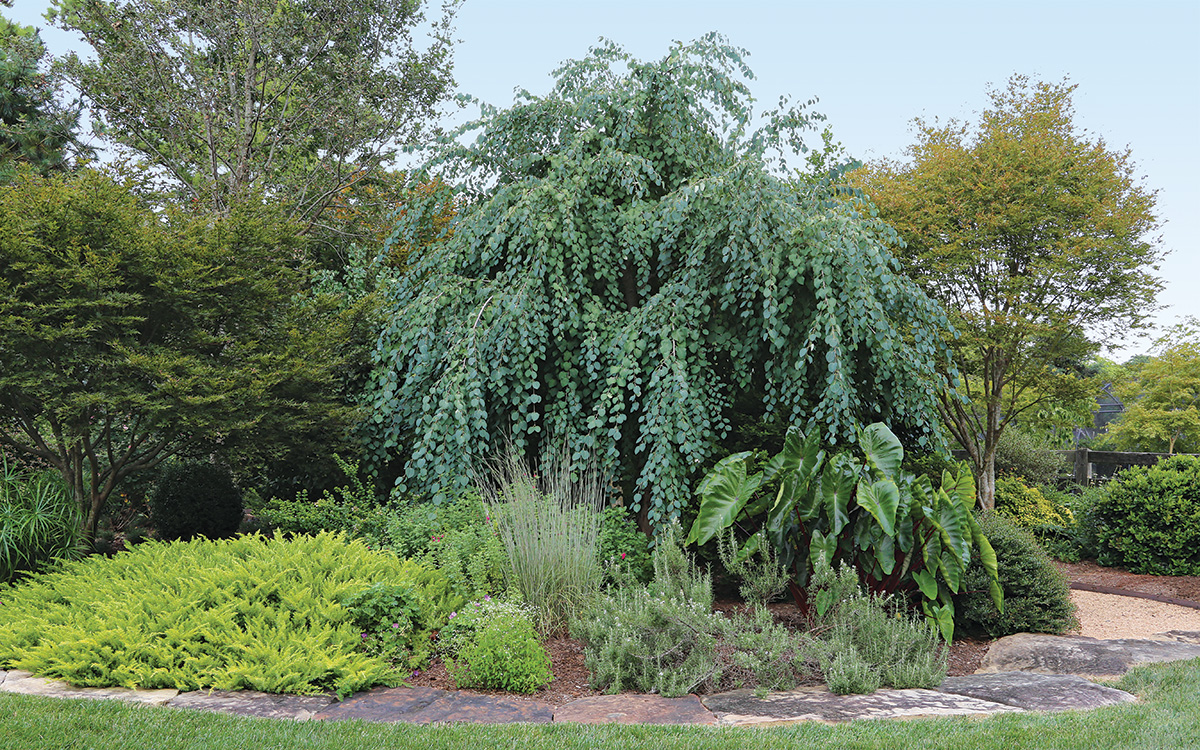 After a visitor travels down the driveway and heads through a small gate, one of the first areas to draw attention is the scree garden. The plants in these beds are a sublime mix of trees, shrubs, and evergreens (from conifers to hardy succulents). The plants that scream, "Look at me!" are textural wonders that shine in all 12 months—chief among them whale's tongue agave (Agave ovatifolia, Zones 7–11) and 'Little Diamond' dwarf Japanese cedar (Cryptomeria japonica 'Little Diamond', Zones 5–9). These will change shape over time, and their color can vary depending on the season, but their texture never changes, and that is why they were chosen as focal points.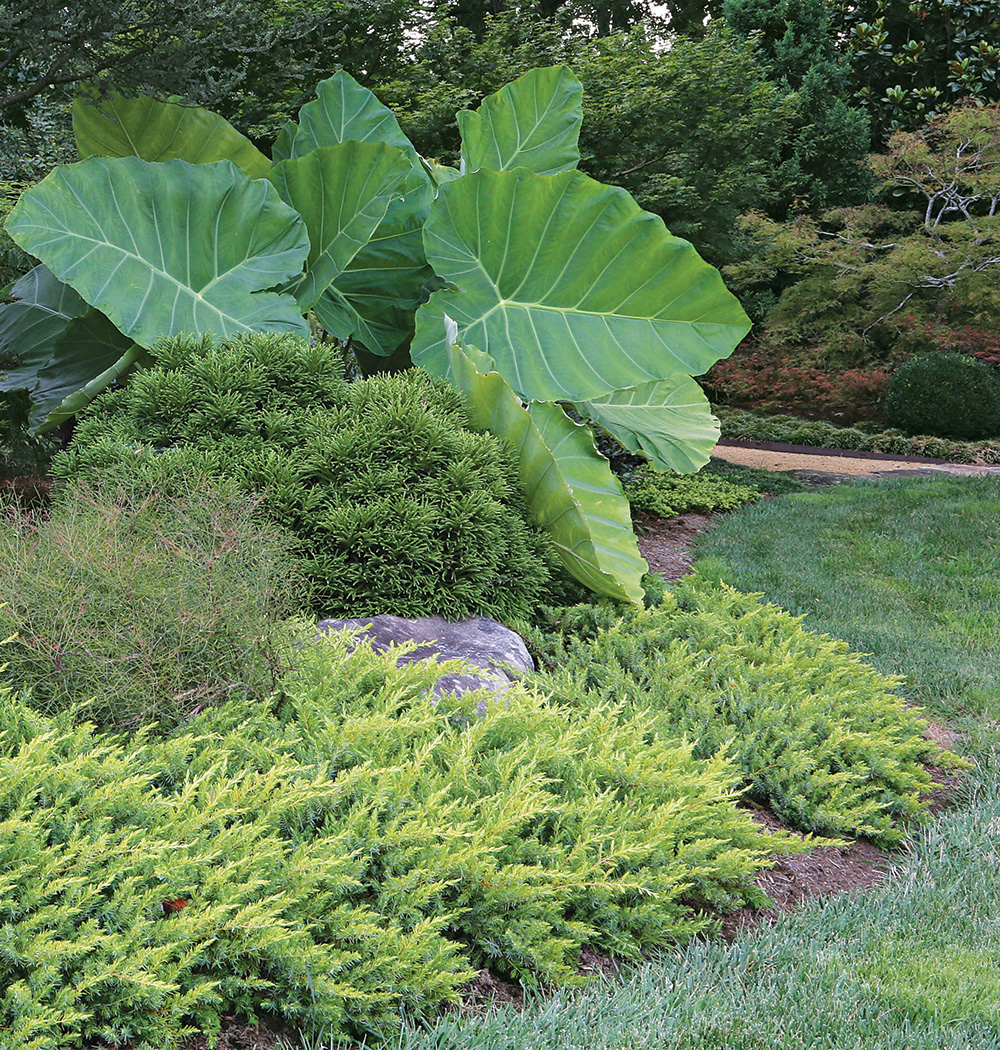 Just outside of the scree garden are more traditional long borders filled with a mix of trees, shrubs, perennials, and even some tropicals. Again, it is the plants with the strongest textures that stand out from the crowd, whether these textures come from the bold, dense leaves of 'Thailand Giant' elephant's ear (Colocasia gigantea 'Thailand Giant', Zones 8–10), or the soft and lacy canopy of one of the many Japanese maples. These were the focal points that were first planted, and then partner plants were added around those stars. Each partner was chosen for its ability to accentuate the texture of the focal point—to help it really shine. 'Amazing Grace' weeping katsura (Cercidiphyllum japonicum 'Amazing Grace', Zones 5–9) takes center stage in one oblong bed, and its willowy, soft texture is quite striking in its own right. But with the bulky, bold leaves of 'Hawaiian Punch' elephant's ear (Colocasia 'Hawaiian Punch', Zones 8–10) and the ultrafine needles of 'All Gold' spreading juniper (Juniperus conferta 'All Gold', Zones 6–8) at its feet, this show-stopper of a tree really takes center stage. The partners here offer contrasting texture to the focal point, and that makes the pairing work.
Even a plant that you wouldn't normally think of as having what it takes to be a focal point can be elevated to that status if it has exceptional texture and is given the right planting partners. First Knight™ fountain grass (Pennisetum 'Tift 10', Zones 8–10) has thick, glossy purple blades but wouldn't necessarily stand out as a textural focal point if it weren't surrounded by the contrasting airy billowiness of prairie dropseed (Sporobolus heterolepis, Zones 3–9; top photo, p. 39). Partnerships of plants should be built by forming textural contrasts; however, color and form should play a role in connecting plants. If a garden were filled with only strong contrasts, everything could look disjointed and chaotic. Here, both plants are grasses and thus have a similar form.
Ensure that the hardscaping plays a prominent role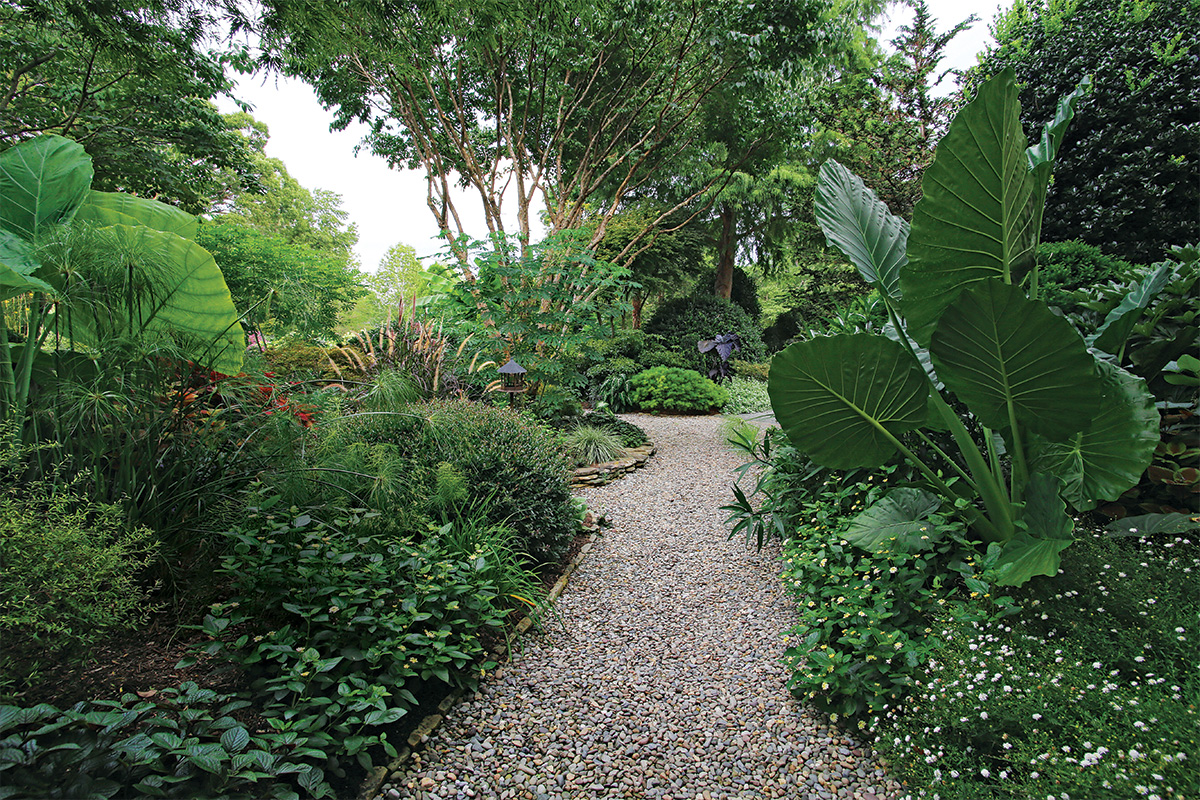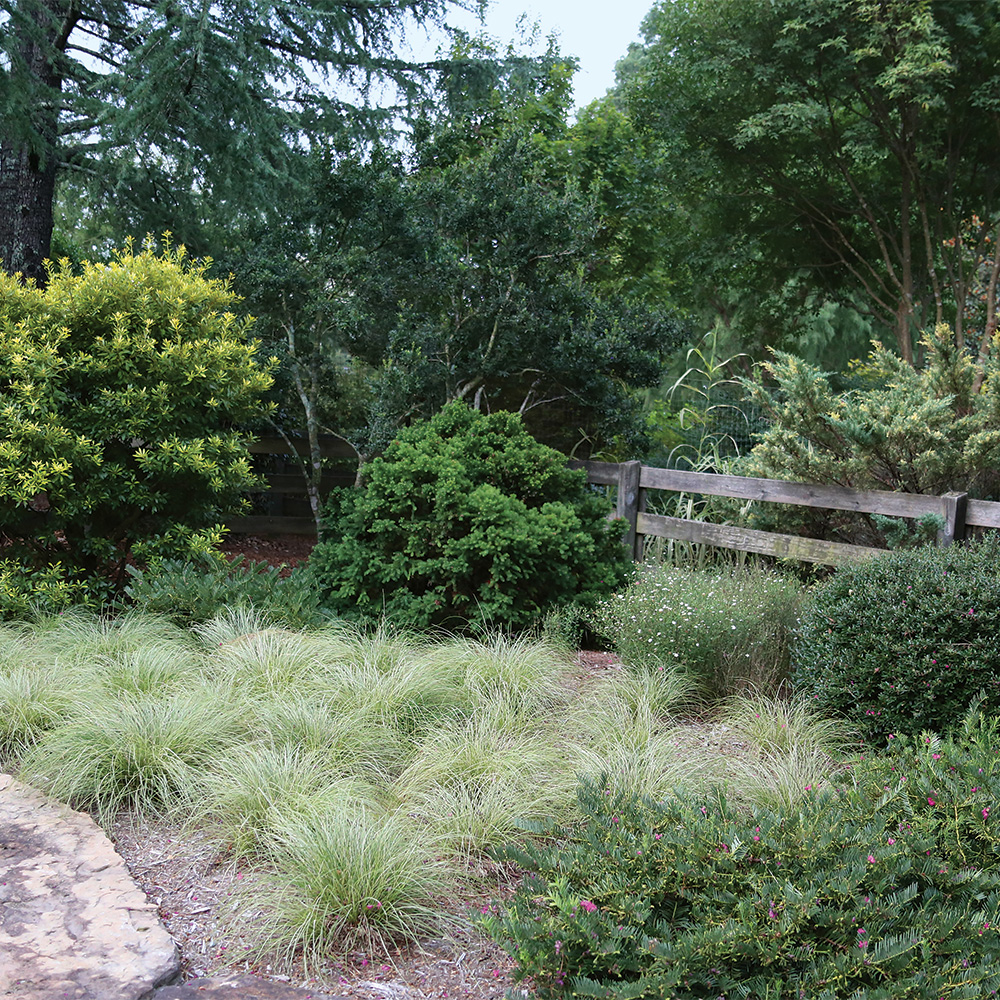 Seldom do we think of the bricks, boulders, and gravel pathways that snake through a garden as being essential elements. But in this North Carolina landscape, the hardscape plays a textural role just as important as that of the plants. The materials and location of the hardscape were determined by the same requirements as the plants: strongest contrast for maximum visual impact. "We gave equal weight to the plants and hardscaping," Sebastian says.
This idea of equal billing is seen right as you pull into the driveway. "As you enter the gardens from the road," says Joann, "the large stones bordering both sides lie in bold majestic contrast to the delicately flowing 'Silk Tassel' sedge" (Carex morrowii var. temnolepis 'Silk Tassel', Zones 5–9). The rough and pitted flagstones are incredibly eye-catching, but perhaps more so because they are paired with the soft, fine-textured blades of the grasses. This same pairing of coarse flagstones and soft, lush tropical and perennial plants is seen just off the lawn in a more traditional area of the landscape.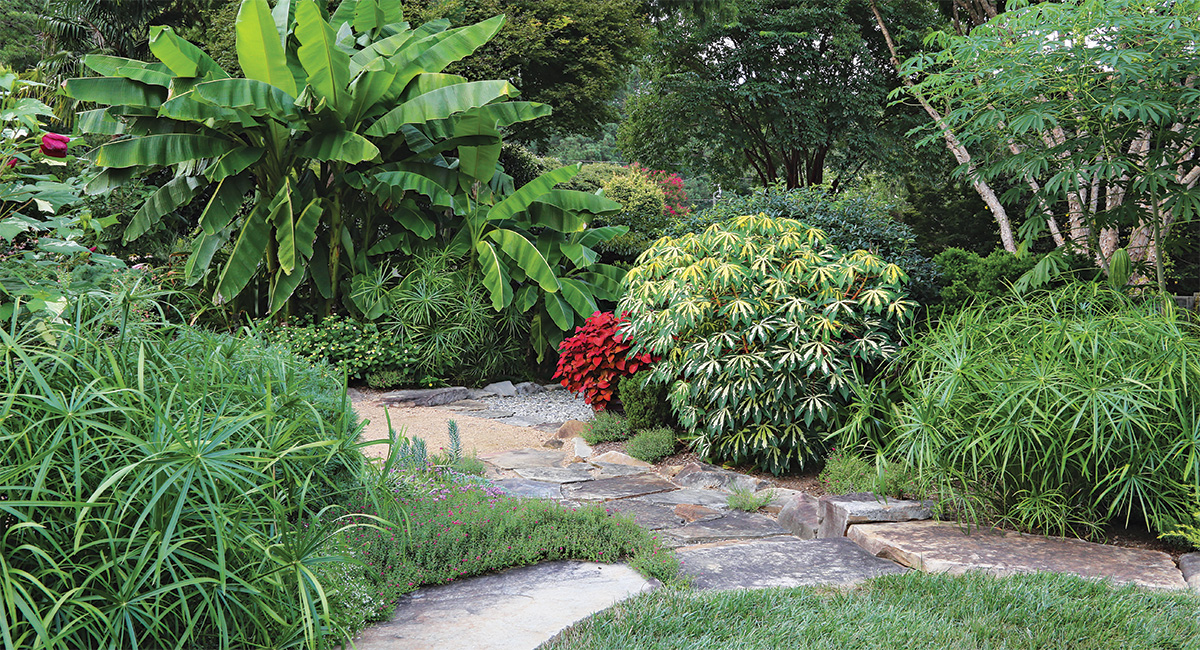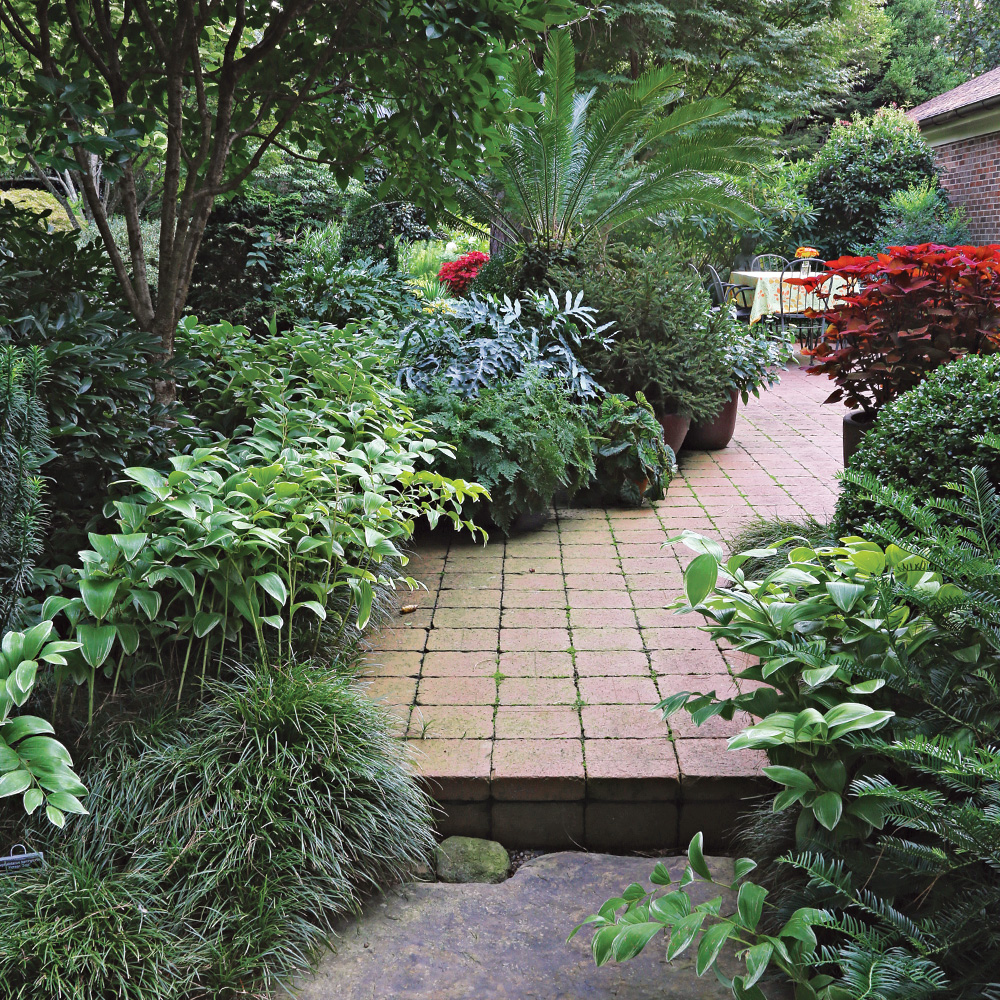 The scree garden offers another example of how hardscaping can add needed texture to a space, giving it that little extra something. The hardscaping here provides continuity among the diverse plantings. A mix of smooth boulders surrounds the bed perimeters, and rough gravel pathways snake throughout. The texture of the boulders contrasts with the fluffy dwarf conifers and other fine-textured perennials. The gravel is accentuated by the soft billowy 'Lavender Frappe' verbena (Verbena catherinae 'Lavender Frappe', Zones 7–10) that softens the edges of the stones. As you move out of the scree garden area toward the house, several tropical plants with fine textures take over the duty of diverging from the hardscape. These larger plants contrast strikingly with the gravel paths and pitted rock edges.
At the back of the house is a series of shade gardens that surround a brick patio. The bricks, which have an almost sandpaper-like texture, are the perfect foil to the many smooth-leaved shade plants around them. In this way, the patio played a role in guiding the plant choices. The gravel pathways around the patio are similar to those that run throughout the garden, and again, the plants surrounding the edges here provide a different texture from that of the bumpy pieces of peastone.
Form is still important, especially if it provides contrast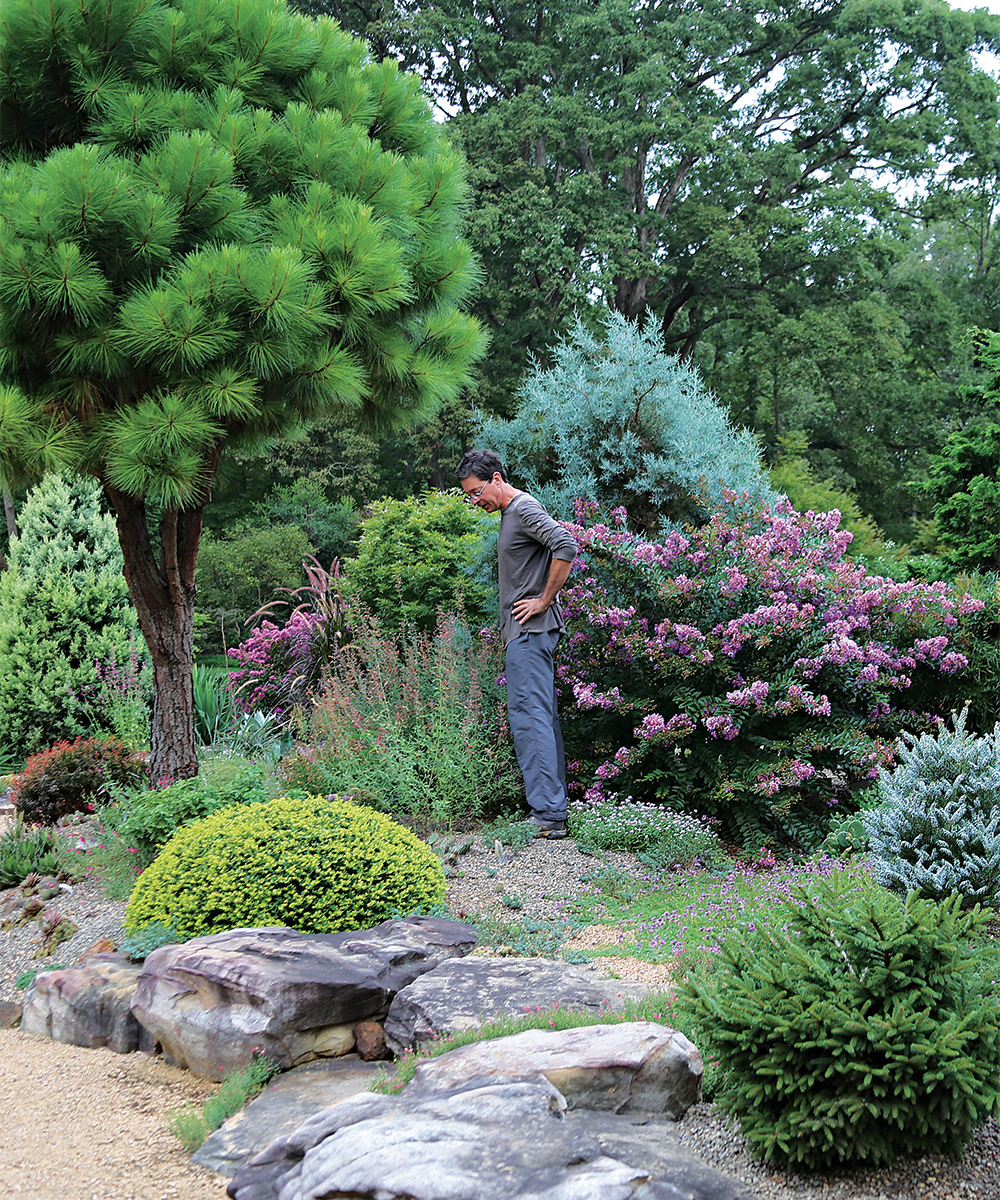 Although texture is the first thing that jumps out at you when visiting Joann and Sebastian's incredible garden, it's hard to ignore the diversity of forms throughout every bed. Joann is a master at pruning Japanese maples (Acer palmatum and cvs., Zones 5–9), and there are several standout specimens throughout the property, including 'Baldsmith' and 'Orangeola'. First you notice their bonsai-like silhouette, and then you see the lacy, soft texture of their canopy. Form is indeed important for capturing the eye's attention, but the texture of those diverse forms is what keeps the eye engaged. It's a similar scenario in the scree garden, where there are pines and firs with extremely distinctive shapes. Again, first you notice their form, but then you focus on the fine texture the needles provide, or even the coarse appearance of their bark. This double punch of form followed by texture keeps and holds nearly everyone's attention and gives the garden an extra level of interest.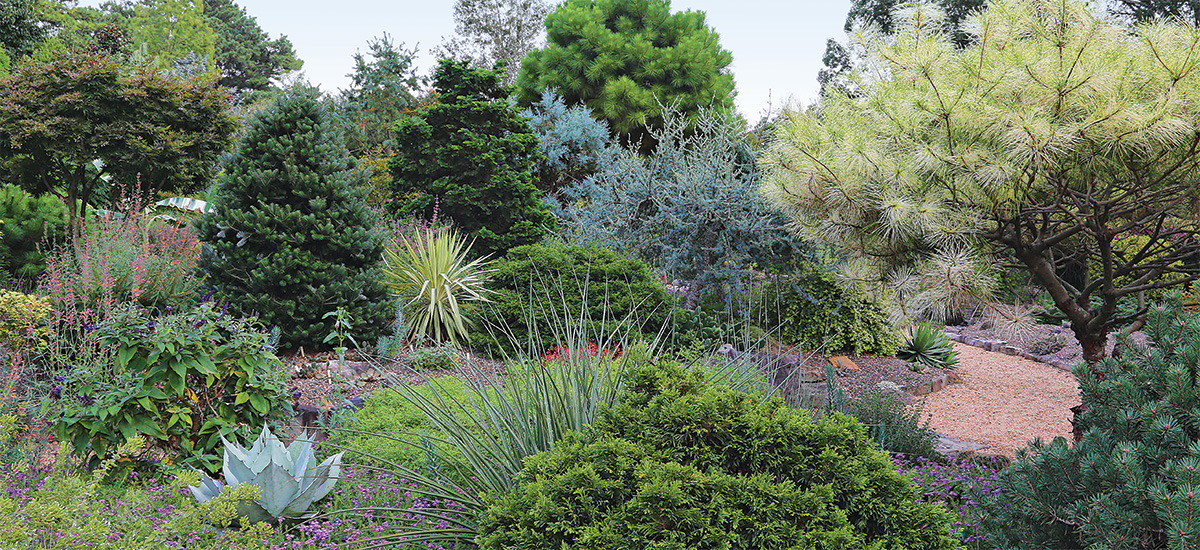 As you move through this large garden, it feels seamless. There is a delightful mix of plants in an array of colors and forms, but it is the textures that keep the eye engaged and moving. These are why this landscape looks good and feels good year-round.
---
Joann and Sebastian's favorite textural gems
It's important to have a selection of plants with great texture for every season. The following list includes evergreens (including a holly Joann discovered), conifers, herbaceous perennials, and even a tropical or two.
1. 'Mini Twists' Eastern white pine (Pinus strobus 'Mini Twists')

Zones: 3–9

Size: 6 feet tall and 4 feet wide

Conditions: Full sun; well-drained soil

Native range: Northeastern North America

2. 'Solar Flare' holly (Ilex × 'Solar Flare')

Zones: 6–9

Size: 6 to 8 feet tall and 5 to 6 feet wide

Conditions: Full sun to partial shade; moist, well-drained soil

Native range: Hybrid

3. 'Green Spice' Persian ivy (Hedera colchica 'Green Spice')

Zones: 6–9

Size: 4 feet tall and wide

Conditions: Partial to full shade; well-drained soil

Native range: Western Caucasus, northern Turkey

4. Braun's arborvitae fern (Selaginella braunii)

Zones: 6–9

Size: 18 inches tall and 24 inches wide

Conditions: Partial to full shade; moist, well-drained soil

Native range: China

Photo: courtesy of Plant Delights Nursery Inc.

5. Japanese banana (Musa basjoo)

Zones: 5–10

Size: 6 to 14 feet tall and wide

Conditions: Full sun to partial shade; moist, fertile soil

Native range: Japan

6. 'Baby Tut' umbrella plant (Cyperus involucratus 'Baby Tut')

Zones: 9–11

Size: 1 to 2 feet tall and wide

Conditions: Full sun to partial shade; moist soil

Native range: Eastern Africa, Arabian Peninsula

7. Variegated bitter cassava (Manihot esculenta 'Variegata')

Zones: 10–12

Size: 6 to 10 feet tall and wide

Conditions: Partial shade; moist, fertile soil

Native range: Brazil

8. 'Nico' Swedish ivy (Plectranthus 'Nico')

Zones: 8–11

Size: 10 inches tall and 18 inches wide

Conditions: Partial to full shade; well-drained soil

Native range: South Africa

9. Dwarf loblolly pine (Pinus taeda 'Nana')

Zones: 6–9

Size: 10 to 20 feet tall and 10 to 15 feet wide

Conditions: Full sun; well-drained soil

Native range: Southeastern United States
---
*Invasive alert: Japanese holly (Ilex crenata)
This plant is considered invasive in NJ and TN.
Please visit invasiveplantatlas.org for more information.
---
Danielle Sherry is the senior editor.
Photos, except where noted: Danielle Sherry. Illustration: Elara Tanguy.