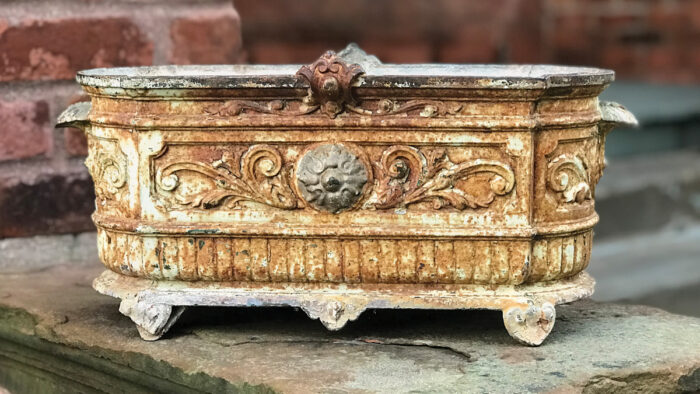 Containers add a pop of garden interest almost anywhere and in any season. One of my garden mentors, Thomas Hobbs, once said, "To design in a container, you must love the container." Over the years, my wife and I have collected many unique and delightful planters that bring us joy when we look at them. These portable mini-gardens expand the horticultural possibilities of our small urban lot. We can move them around, mix them up, and create new looks whenever the mood strikes us. Below you will find a few of our favorite containers, filled to the brim with plants that cele­brate the spirit of each season.
Vintage French iron planter: A petite vessel is perfect for tabletop arrangements
This antique was a flea market find, a treasure box perfect for showcasing smaller horticultural gems. Its size (7½ inches tall and 17 inches wide) makes staging it indoors for seasonal gatherings easy, and it looks equally at home in an intimate garden nook.
Spring: Welcome a new start with color and fragrance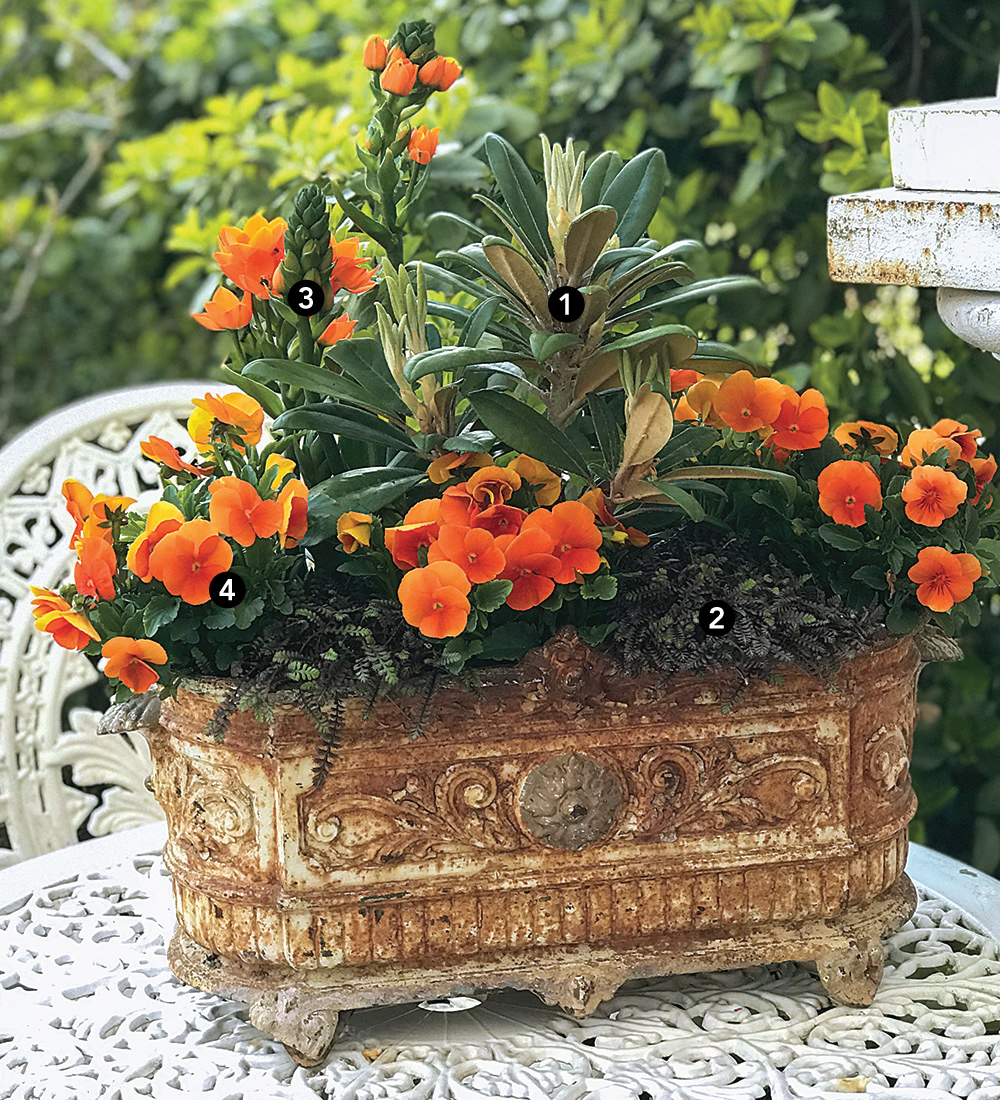 Sun star, an underappreciated bulbous perennial from South Africa, brings a burst of brilliant color to a spring planting, amplified in this combination by a fragrant viola in a similar hue. The substantial foliage of a small rhododendron plant adds structure, and the ferny, dark leaves of brass buttons soften the front edge of the composition.
'Crete' rhododendron (Rhododendron yakushimanum 'Crete', Zones 5–9)
'Platt's Black' brass buttons (Leptinella squalida 'Platt's Black', Zones 7–9)
Sun star (Ornithogalum dubium, Zones 7–11)
Sorbet® XP Deep Orange viola (Viola cornuta 'PAS1171798', annual)
Summer: Everything is better with succulents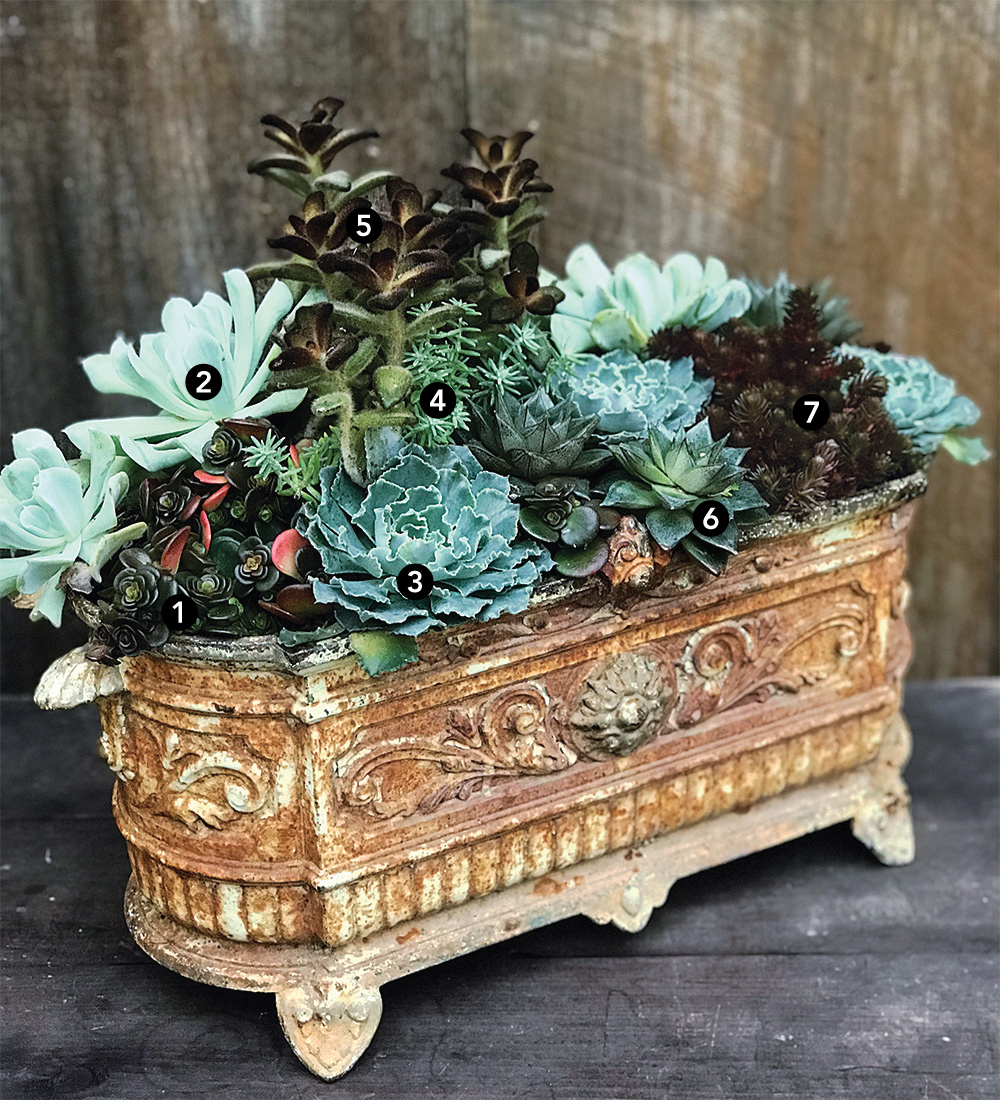 Carefree, water-wise, and available in countless shapes and colors, succulents are perfect for summer containers. This combo picks up the rusty tones of the planter, with bursts of silver for contrast.
'Coral Reef' Chinese sedum (Sedum tetractinum 'Coral Reef', Zones 4–8)
'Topsy Turvy' echeveria (Echeveria runyonii 'Topsy Turvy', Zones 9–11)
Mexican hens (Echeveria shaviana, Zones 9–12)
'Blue Spruce' creeping sedum (Sedum reflexum 'Blue Spruce', Zones 4–9)
'Chocolate Soldier' kalanchoe (Kalanchoe tomentosa 'Chocolate Soldier', Zones 9–11)
Urbinia (Echeveria purpusorum, Zones 10–11)
'Chocolate Ball' sedum (Sedum hakonense 'Chocolate Ball', Zones 4–9)
Fall: Fine textures tie it all together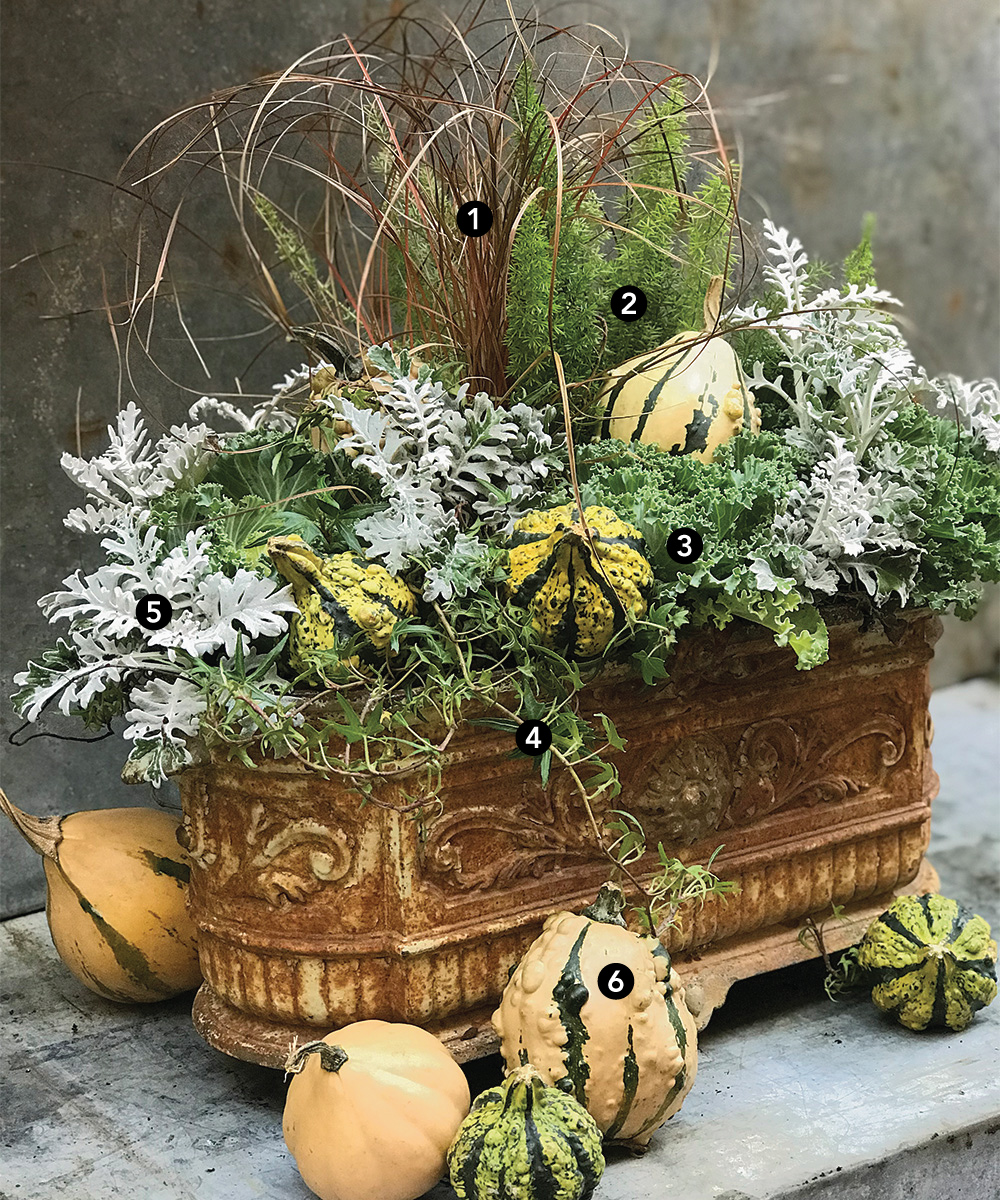 Twisted ribbons of sedge, lush asparagus fern fronds, and frilly kale weave together in this autumn mix. Dusty miller and a trailing ivy keep the mood light. Tuck in a few gourds, and you have a subtle decoration that suits the mellow mood of fall perfectly.
'Toffee Twist' sedge (Carex flagellifera 'Toffee Twist', Zones 6b–10)
Sprenger's asparagus fern (Asparagus aethiopicus, Zones 9–11)
Ornamental kale (Brassica oleracea cv., annual)
'Needlepoint' English ivy (Hedera helix* 'Needlepoint', Zones 5–9)
Dusty miller (Jacobaea maritima, syn. Senecio cineraria, Zones 8–11)
Assorted gourds
Winter: Cut branches are an easy solution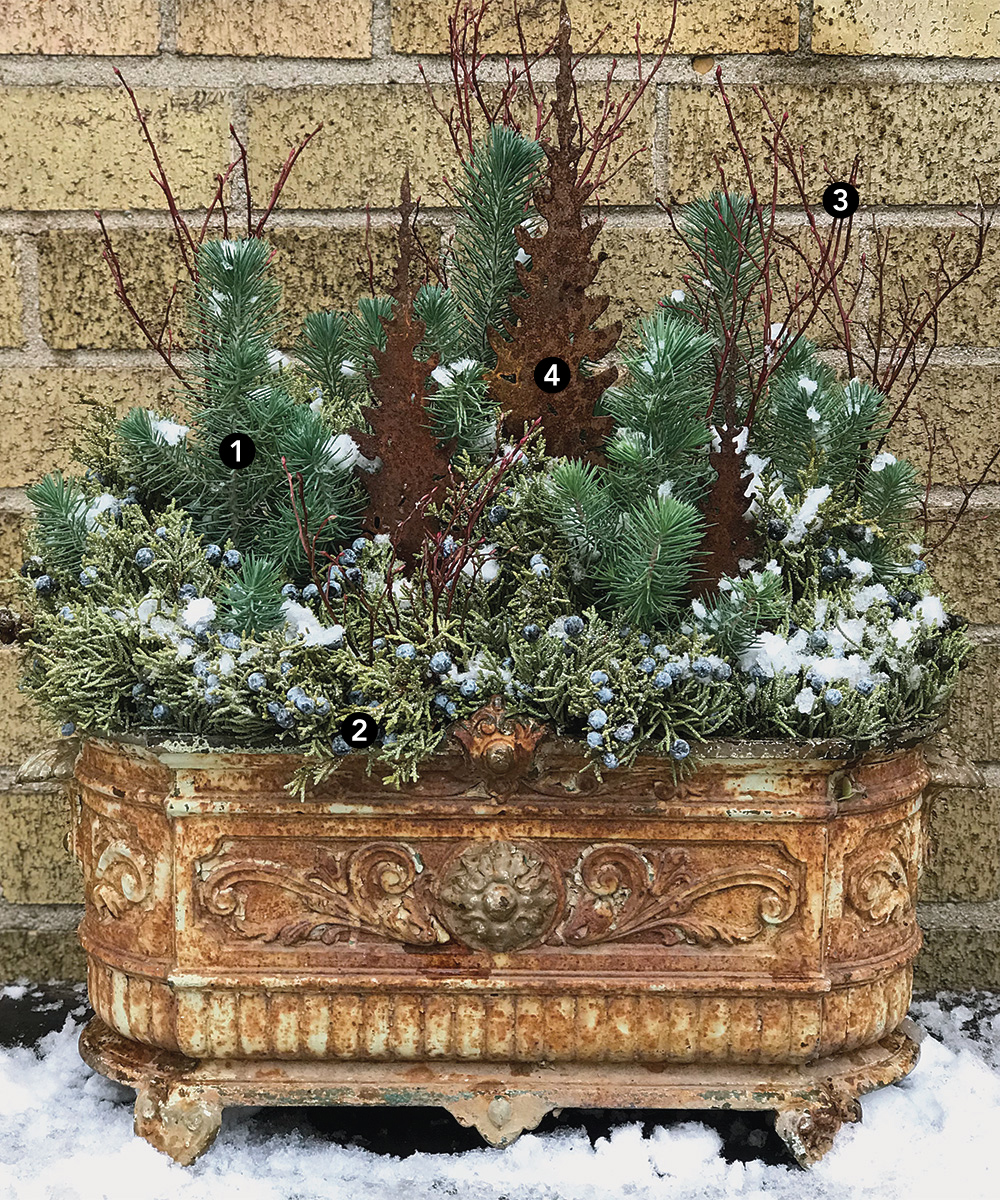 Search your garden for inspiration as cold weather approaches, and you are certain to find at least a few cuttings to add cap­tivating texture to winter arrangements. Here, I combined old with new by placing contemporary conifer silhouettes purchased on a trip to the Chicago Botanic Garden in this antique iron planter.
Stone pine (Pinus pinea, Zones 8–10)
Juniper (Juniperus cv., Zones 3–9)
Red huckleberry (Vaccinium parvifolium, Zones 6–9)
Rusted steel ornament
---

Expert tip: Seek out treasures of your own
One of the most thrilling parts of working with vintage and antique containers is discovering them at flea markets, estate sales, and online marketplaces, and then learning as much as possible about their histories.
---
Antique white urn planter: Get creative with a classic form
Its timeless silhouette and graceful lines make an urn look at home in almost any garden setting. Whether displayed on the ground or set at eye level, its tapered shape lends an airy, elevated feeling to a planting, despite its physical weight.
Spring: Cultivate an air of sweet simplicity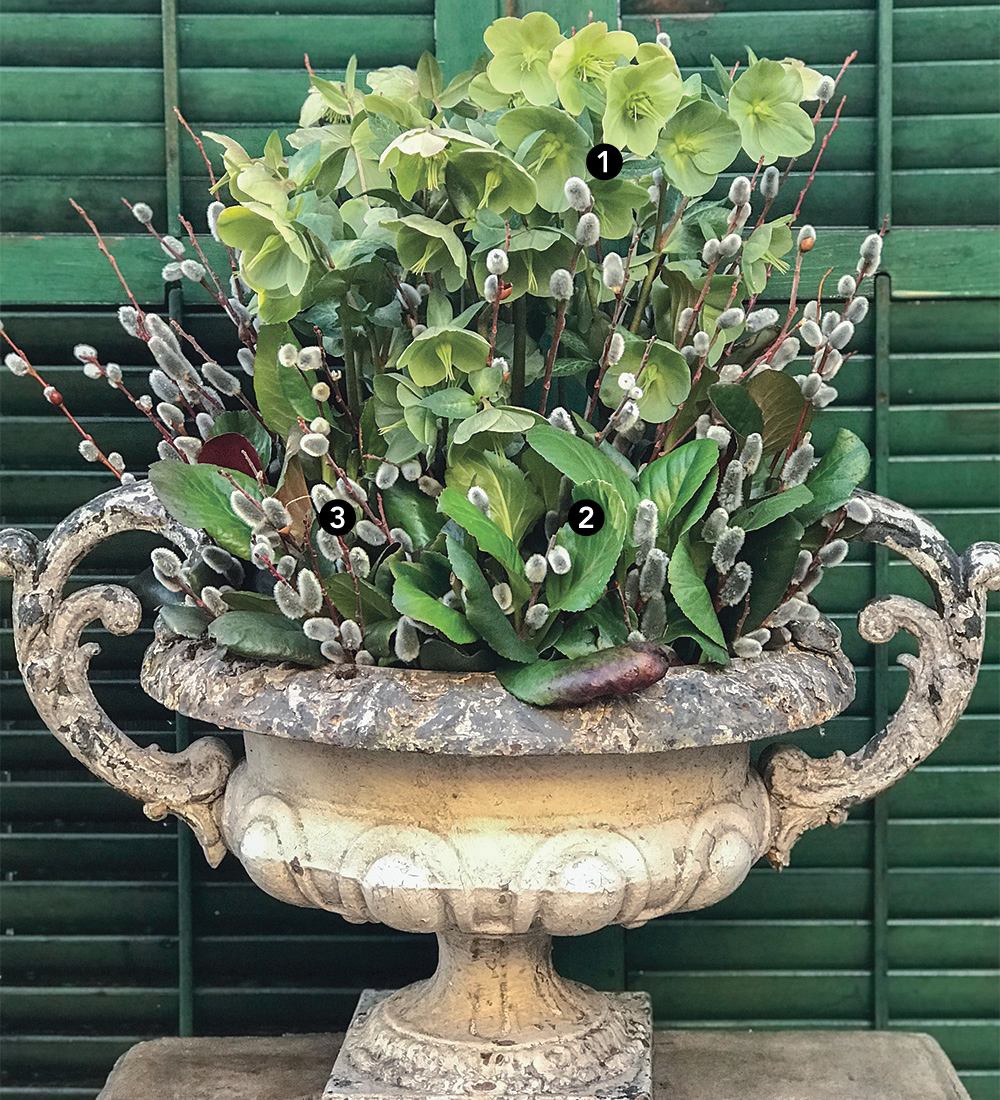 A monochromatic apple-green color scheme effortlessly ties this planting together and puts the focus on subtle details such as flower and leaf textures. Cut branches add another element of interest, in this case with soft, silvery pussy willow catkins that echo the muted tones of the container.
Illumi Lime™ hellebore (Helleborus cv., Zones 5–8)
Bergenia (Bergenia cordifolia cv., Zones 4–8)
Cut pussy willow stems (Salix discolor, Zones 4–9)
Summer: Embrace midseason abundance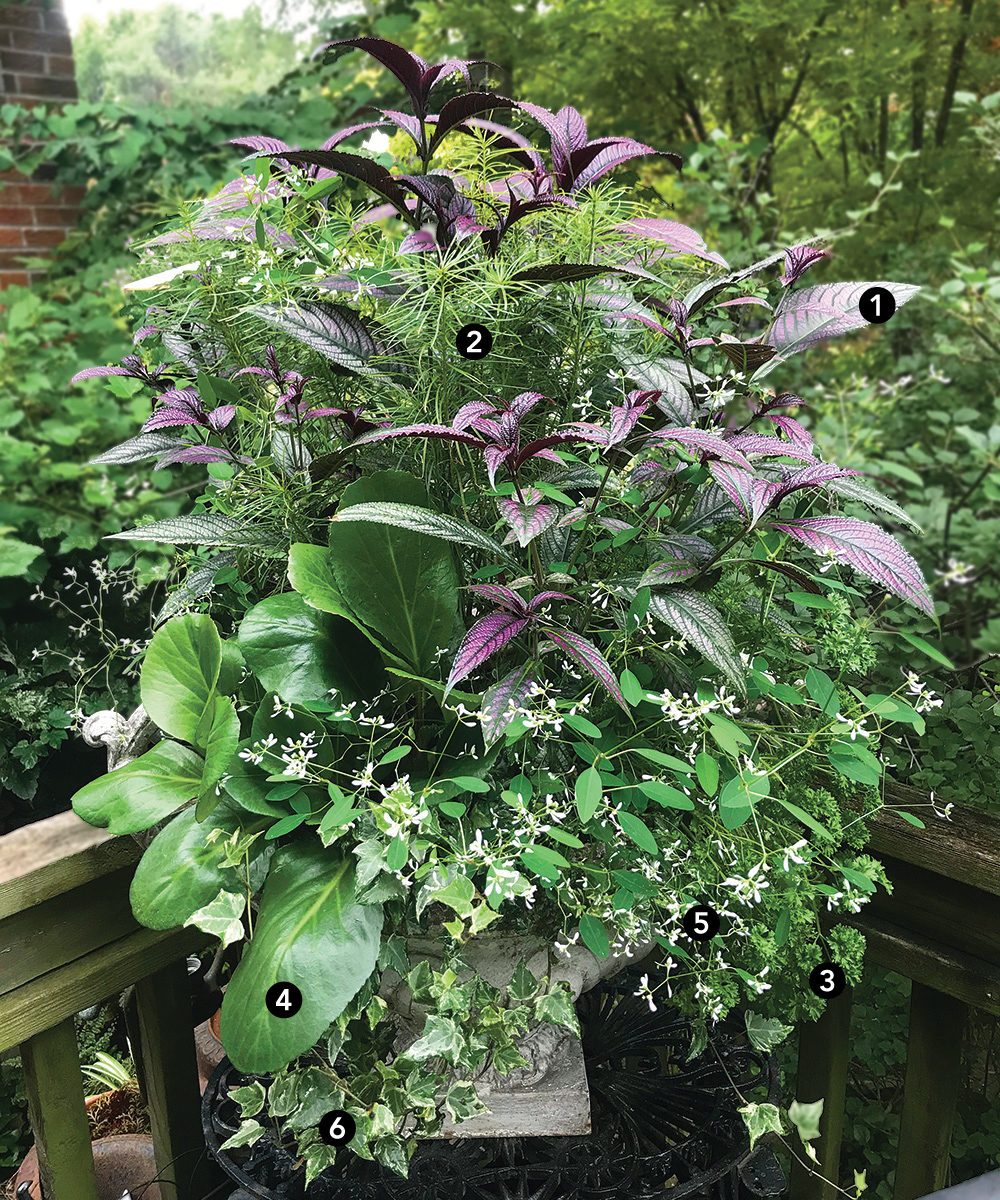 Persian shield's patterned foliage makes it an instant focal point, especially when set against a bountiful collection of deeper greens. The airy flowers of graceful euphorbia and the threadlike foliage of Arkansas bluestar infuse the arrangement with their delicacy. Curly leaf parsley, a host plant for swallowtail butterfly larvae, is another fun addition.
Persian shield (Strobilanthes dyerianus, Zones 9–11)
Arkansas bluestar (Amsonia hubrichtii, Zones 4–9)
Curly leaf parsley (Petroselinum crispum var. crispum, annual)
Bergenia
Graceful euphorbia (Euphorbia hypericifolia cv., Zones 10–11)
'Glacier' English ivy (Hedera helix* 'Glacier', Zones 4–9)
Fall: Find foliage that can take some frost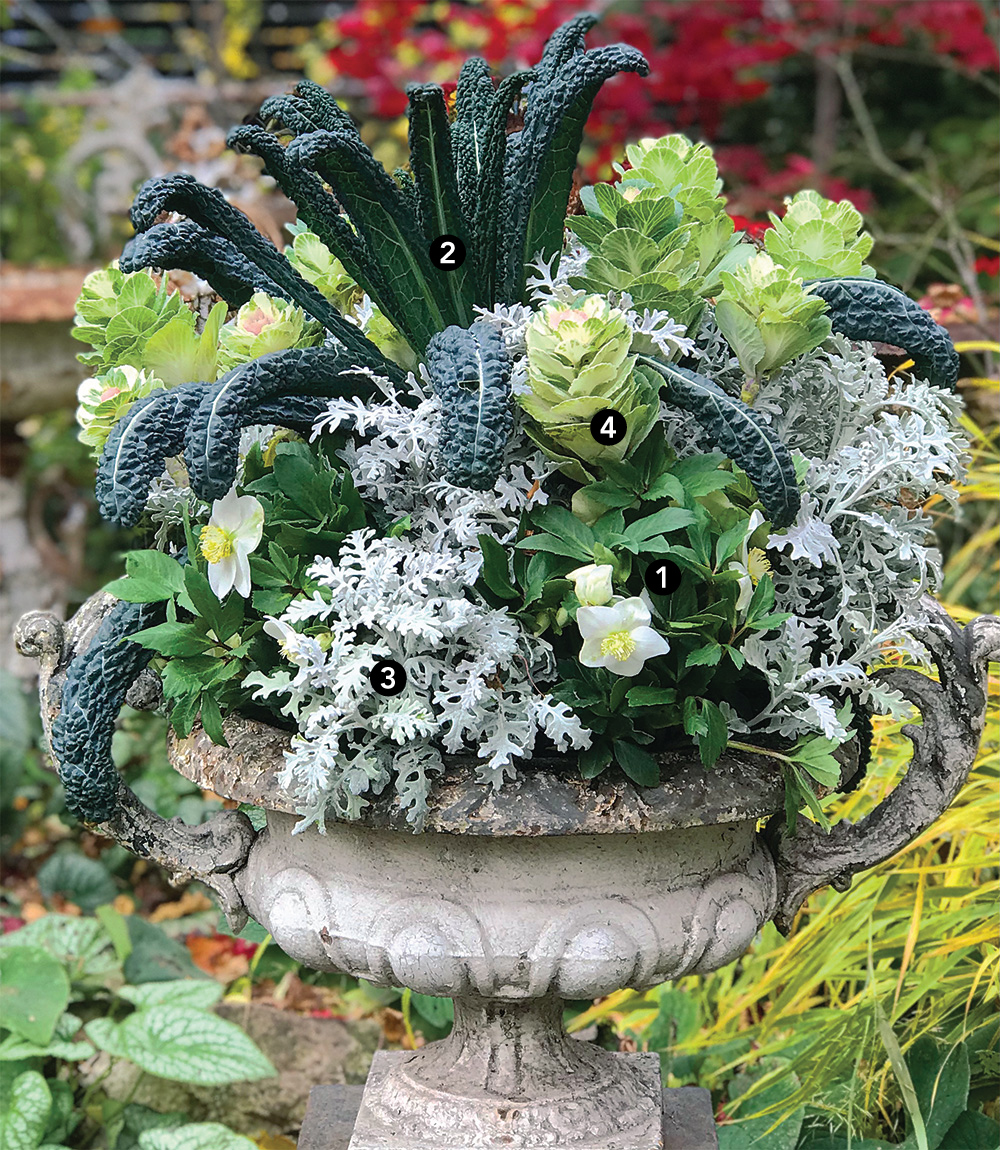 The leafy rosettes of 'Crane White' kale may look like delicate blooms, but they are tough enough to withstand frosty temperatures. Dusty miller and lacinato kale also hold up admirably well in early winter, but it's best to move hellebores into a garden bed before the ground freezes. Mulch the transplants well, and monitor them for frost heaving.
Christmas rose (Helleborus niger, Zones 3–8)
Lacinato kale (Brassica oleracea cv., biennial, Zones 6–9)
Dusty miller
'Crane White' ornamental kale (Brassica oleracea 'Crane White', annual)
Winter: Spruce up the garden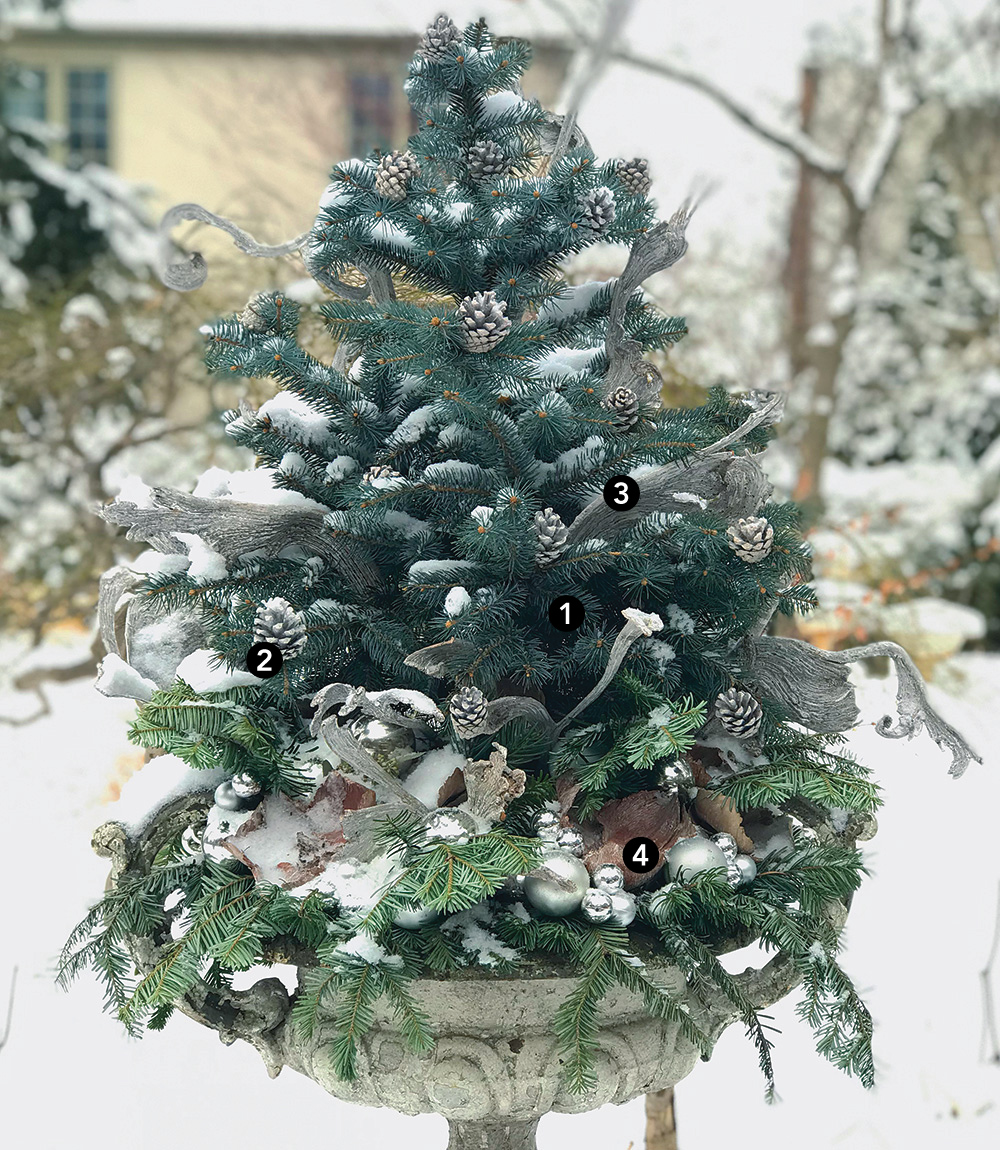 A live or cut tree decorated with whitewashed natural materials harmonizes with the quiet winter landscape. Here, a blue spruce nestles in a base of cut branches from a Fraser fir (Abies fraseri, Zones 4–7). Painted botanical accents from a floral supply shop and silver ornaments complete the frosty effect.
Blue spruce (Picea pungens, Zones 3–7)
Painted conifer cones
Painted natraj stems
Painted palm cups
---

Expert tip: Prune to maintain balance
Do not be afraid to cut back a vigorous annual or tender perennial such as Persian shield to keep it in scale with other plants in the container. Your efforts will be rewarded when the plant pushes out fresh, attractive new growth.
---
Resin basket planter: Build upon a broad, beautifully textured base
The handmade look of this resin planter ties in harmoniously with every plant texture imaginable. With a wide opening, it holds plenty of plants, opening up many possibilities for plant combinations throughout the year.
Spring: Start the season with a storm of color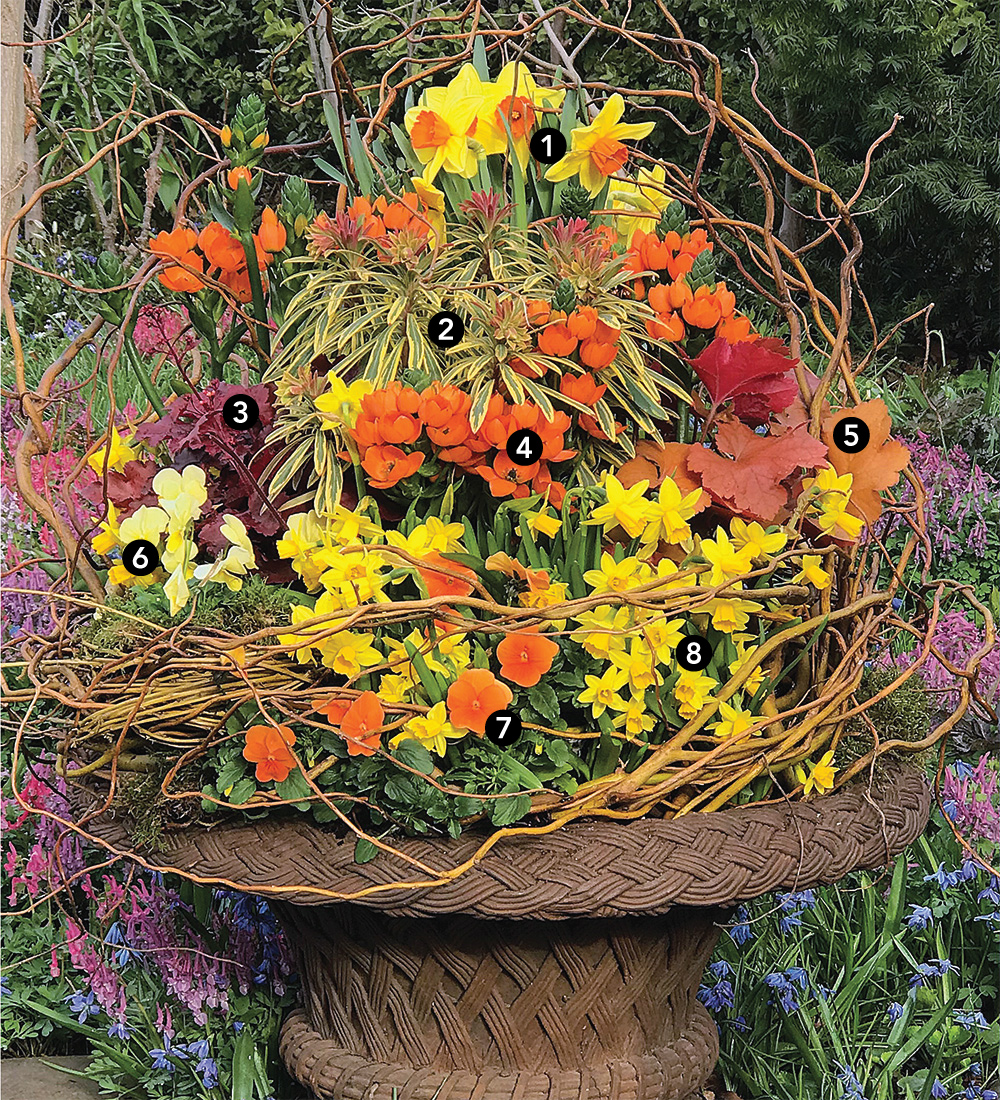 Flowering bulbs, hot-hued heuchera foliage, and citrus-colored violas are electrified by the addition of flashy 'Ascot Rainbow' euphorbia. Curly willow canes swirl around the perimeter, adding both movement and volume to this perfect storm.
'Fortissimo' daffodil (Narcissus 'Fortissimo', Zones 3–8)
'Ascot Rainbow' euphorbia (Euphorbia × martinii 'Ascot Rainbow', Zones 6–9)
'Cherry Truffles' heuchera (Heuchera 'Cherry Truffles', Zones 4–9)
Sun star
'Toffee Tart' heuchera (Heuchera 'Toffee Tart', Zones 4–9)
Sorbet® Lemon Chiffon viola (Viola cornuta 'PAS872977', annual)
Sorbet® XP Deep Orange viola
'Tete-a-Tete' daffodil (Narcissus 'Tete-a-Tete', Zones 3–8)
Summer: Put plant architecture on display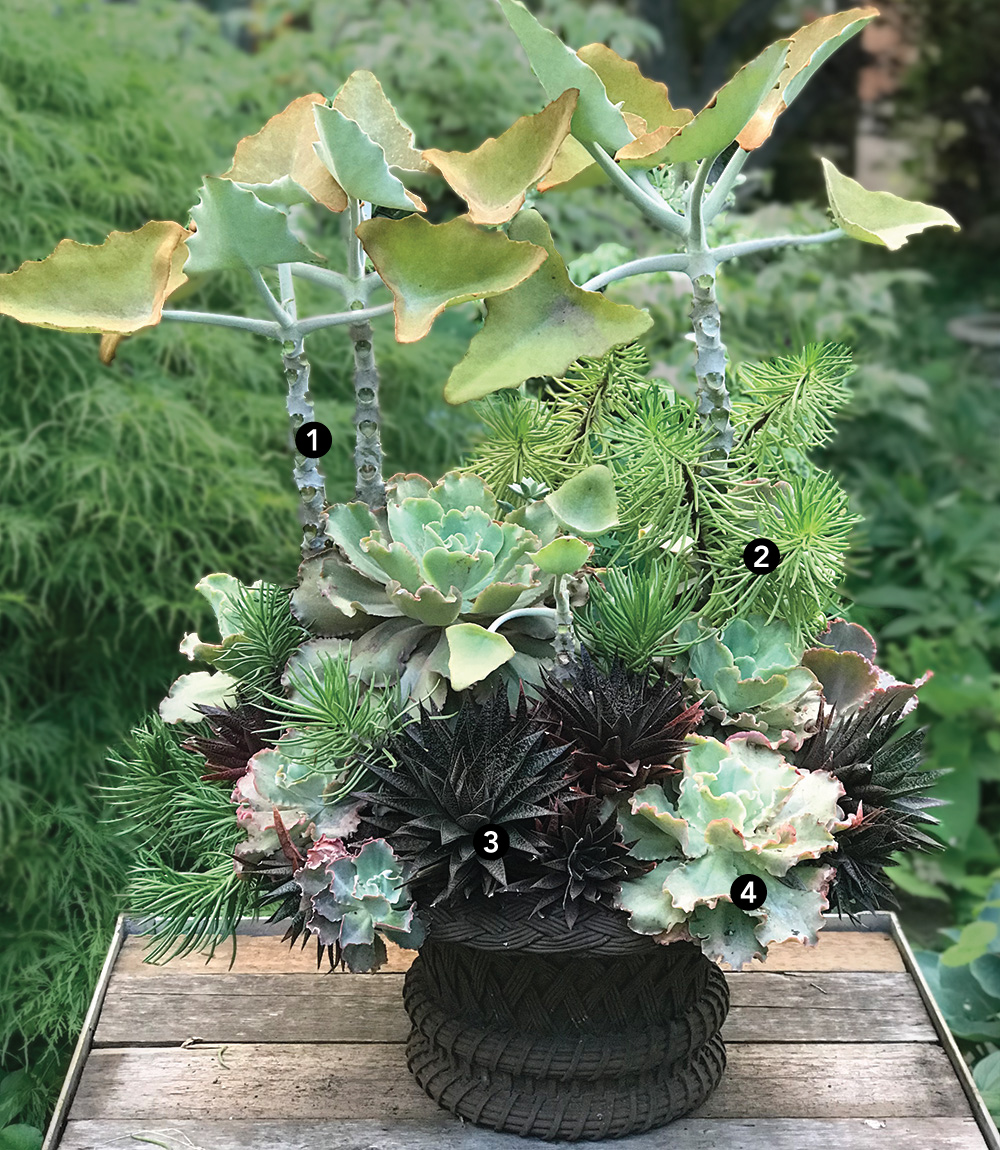 This felt bush needed a solid base of complementary textures to keep it grounded and to make it look less leggy. The sunburst-like foliage patterns of its companions serve as a unifying design element that ties the composition together.
Felt bush (Kalanchoe beharensis, Zones 11–12)
Succulent bush senecio (Senecio barbertonicus, Zones 9–11)
Haworthia (Haworthia margaritifera cv., Zones 9–11)
'Crinoline Ruffles' echeveria (Echeveria 'Crinoline Ruffles', Zones 10–11)
Fall: Sometimes cool leaves are just what you need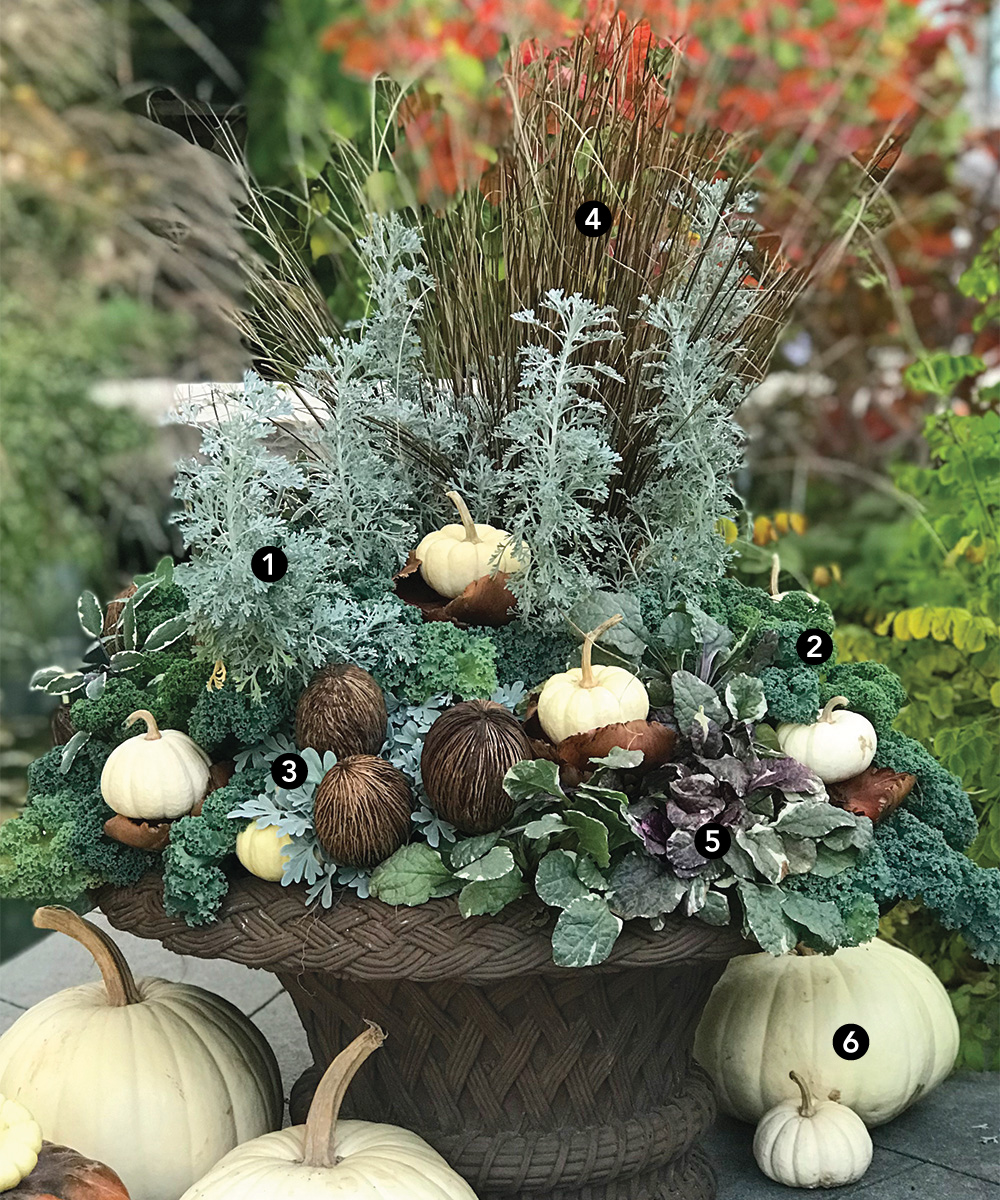 This foliage-focused grouping acts as a palette cleanser that heightens the intensity of the surrounding fall colors. Studded with nutty accents and mini-pumpkins, it is a playful take on the bounty of the season.
'Parfum d'Ethiopia' artemisia (Artemisia 'Parfum d'Ethiopia', Zones 6–9)
'Green Curls' kale (Brassica oleracea 'Green Curls', annual)
'Silver Brocade' artemisia (Artemisia 'Silver Brocade', Zones 3–8)
Leatherleaf sedge (Carex buchananii, Zones 6–9)
'Burgundy Glow' ajuga (Ajuga reptans 'Burgundy Glow', Zones 3–9)
Assorted white pumpkins
Winter: Architectural elements add interest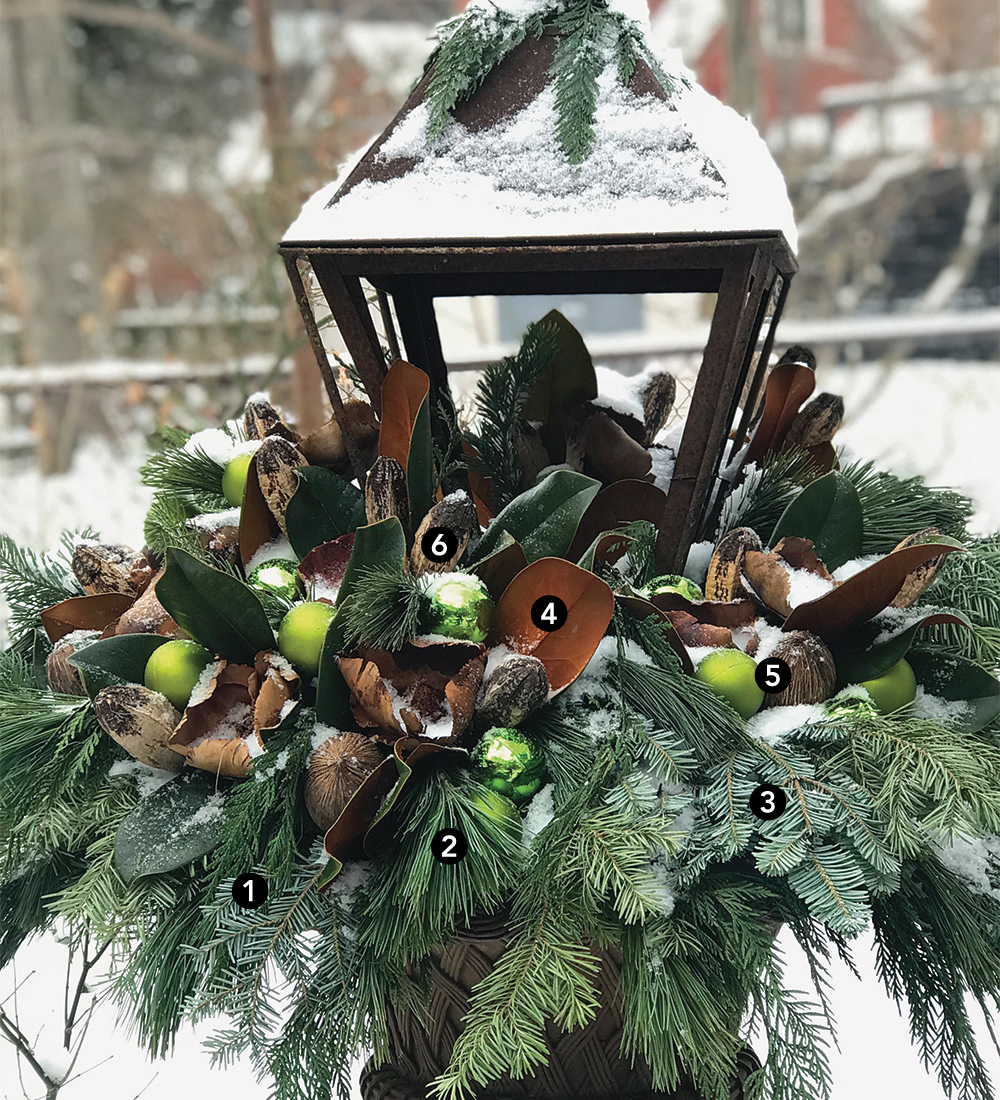 An antique lantern adds height and provides a new focal point for the late season, enhanced by a horizontal wreath of cut greens around its base. The arrangement of cut materials inside the lantern will look good over a long season and can be decorated with lights to get you through the darkest days of winter.
Fraser fir (Abies fraseri, Zones 4–7)
White pine (Pinus strobus, Zones 3–8)
Silver fir (Abies alba, Zones 5–8)
Southern magnolia (Magnolia grandiflora, Zones 6–10)
Mintola pods
Mahogany pods
---

Expert tip: Find a frost-proof container for winter
In freezing weather, forgo fragile materials such as ceramic or terra-cotta and opt for durable pots that will not crack or spall if the soil inside freezes.
---
Iron bowl planter: A rustic pot lends instant character
This heavily patinated iron planter could harmonize with almost any architectural style, and its simple shape and muted details will never upstage the planting it holds.
Spring: Early bloomers cure spring fever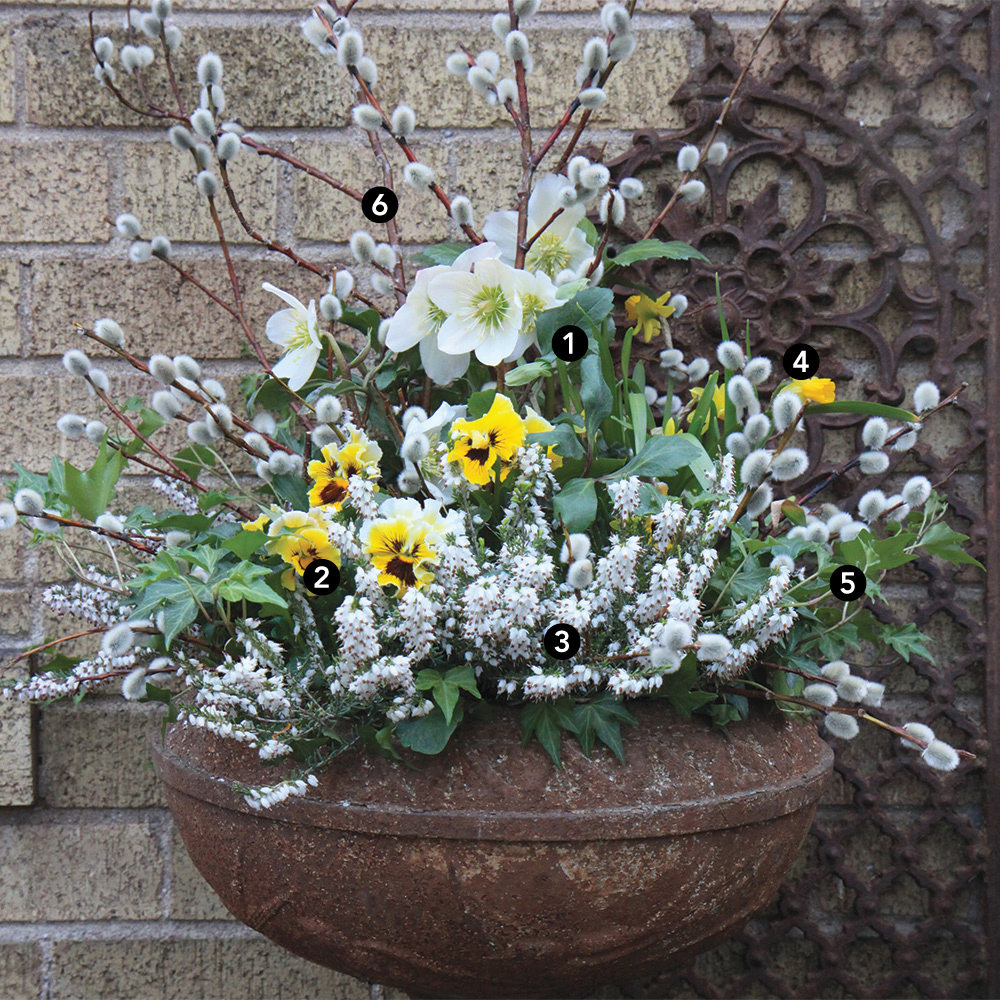 Potting up frost-hardy flowers is a great way to get the garden party started, even if snow is still lingering in the shadows. Use pussy willow branches to give any pot a vernal vibe; here, they create the illusion of a tiny landscape. You can move the daffodils and perennials into the garden after they finish blooming, but it is better to keep aggressive English ivy in a container.
'HGC Jacob' hellebore (Helleborus niger 'HGC Jacob', Zones 5–8)
'Frizzle Sizzle Yellow' pansy (Viola × wittrockiana 'Frizzle Sizzle Yellow', annual)
'White Perfection' winter heath (Erica × darleyensis 'White Perfection', Zones 6–8)
'Tete-a-Tete' daffodil
'Green Ripple' English ivy (Hedera helix* 'Green Ripple', Zones 5–9)
Cut pussy willow stems
Summer: Spotlight sculptural shapes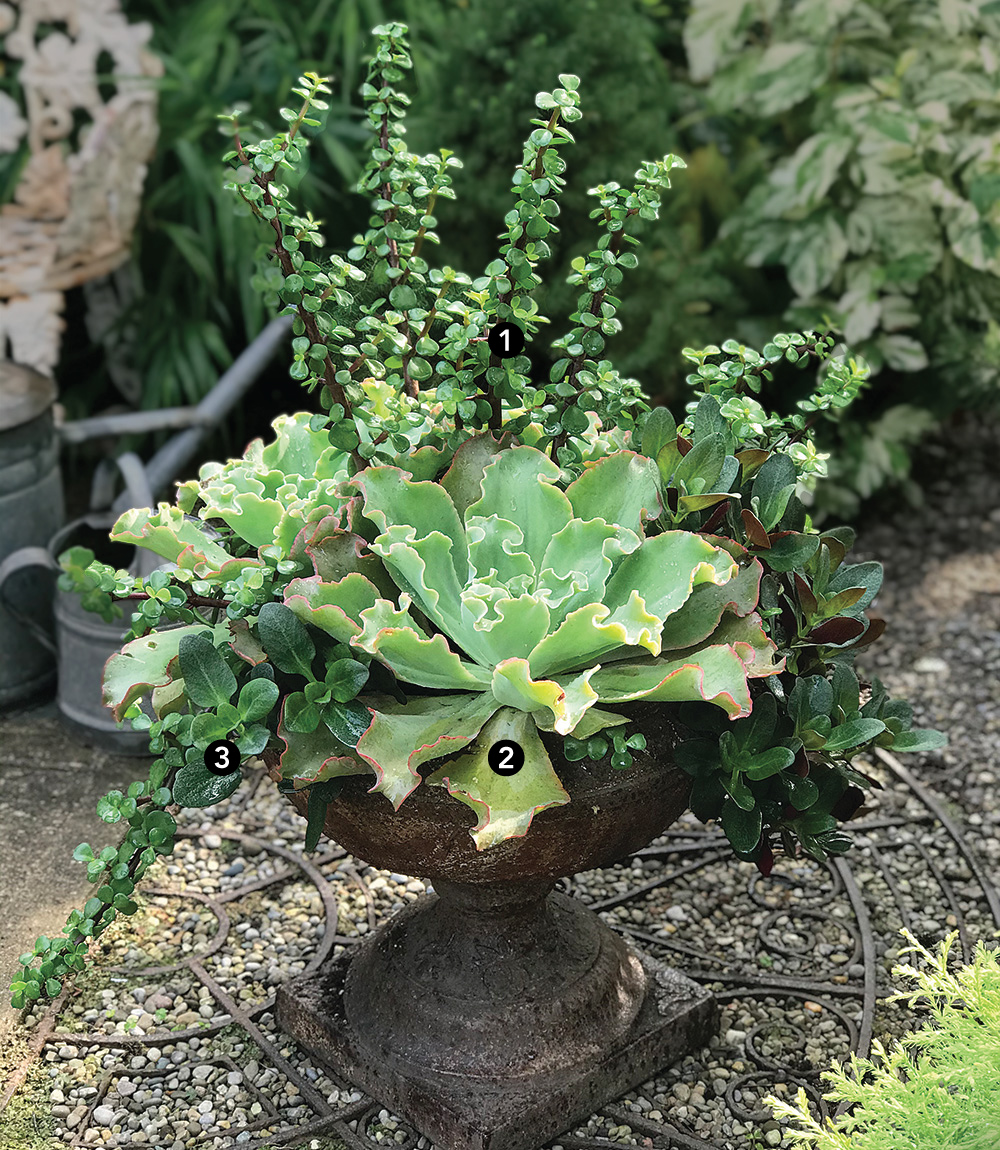 A grouping of just a few plants can feel bountiful if they complement each other as well as these do. Elephant bush adds a strong vertical element and has leaves that resemble showers of tiny coins. A show-stopping echeveria contributes another ethereal texture, and 'Purple Dragon' fairy crassula, with its arching habit, dips below the container rim to balance out the design.
Elephant bush (Portulacaria afra, Zones 9–11)
'Crinoline Ruffles' echeveria
'Purple Dragon' fairy crassula (Crassula multicava 'Purple Dragon', Zones 9b–11)
Fall: Dark foliage sets off harvest treasures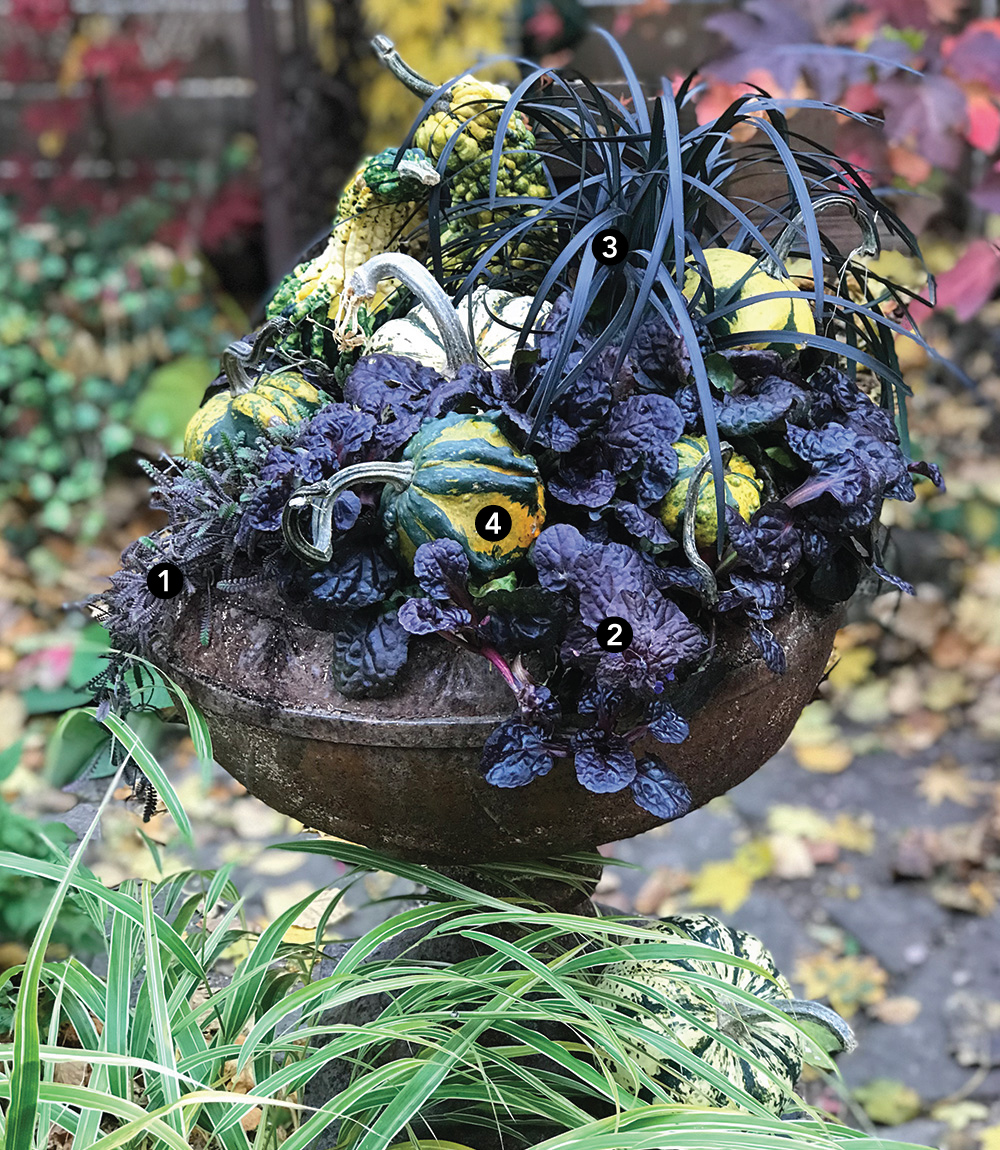 Gourds make fun additions to autumn arrangements, and their bright colors pop against dark-leaved plants. The effect is eerily beautiful and perfect for Halloween.
'Platt's Black' brass buttons
'Black Scallop' ajuga (Ajuga reptans 'Black Scallop', Zones 4–10)
Black mondo grass (Ophiopogon planiscapus 'Nigrescens', Zones 6–9)
Assorted gourds
Winter: Berries and evergreens are a classic winter combo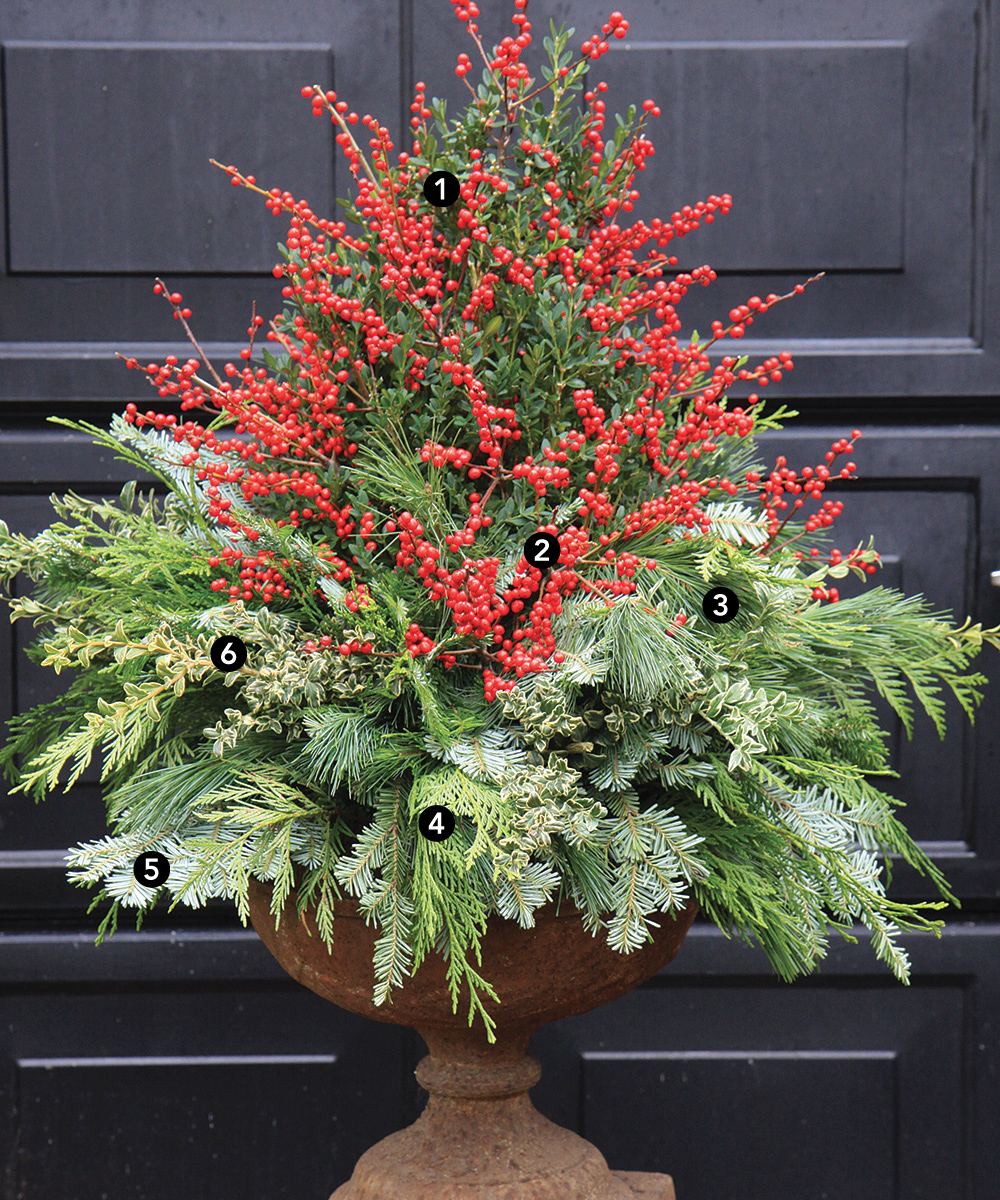 A potted pyramidal boxwood is the evergreen base of this cheerful composition. Sprays of winterberry are tucked into its branches, and assorted greens are arranged into a whorl around its base.
Boxwood (Buxus sempervirens, Zones 5–8)
Cut winterberry branches (Ilex verticillata, Zones 3–9)
White pine branches
Western red cedar branches (Thuja plicata, Zones 5–9)
Pacific silver fir branches (Abies amabilis, Zones 4–8)
Variegated boxwood branches (Buxus sempervirens 'Variegata', Zones 6–8)
*These plants are considered invasive in some areas. For more information, please visit invasiveplantatlas.org, or check your state's list of invasive plants.
---
Expert tip: Trailing plants look elegant in an elevated container
Using "spillers" to add volume at the base of a planting is a time-tested container-design technique. In the arrangements above, note how a variety of shapes and forms have been used to soften the top edge of the planter.
---
Paul Zammit is a professor of sustainable horticulture at Niagara College in southern Ontario.
Photos: Paul Zammit