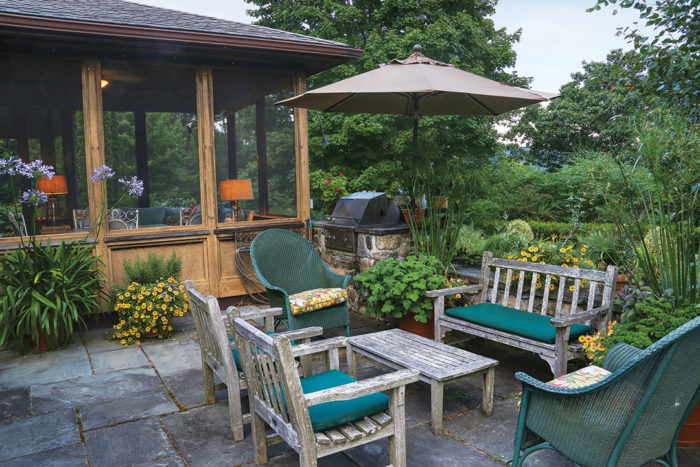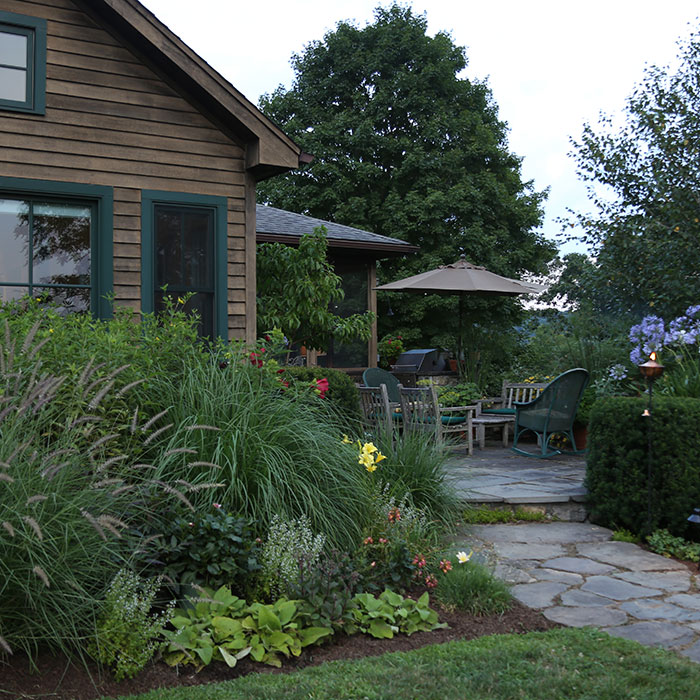 On the east side of our house, adjacent to the kitchen, a screened porch connects to an open patio with a built-in grill. Having a screened area for bug-free dining or nighttime reading is a delight, as is sleeping there under the ceiling fan on hot nights. We planted a Himalayan birch close to the patio to provide dappled shade and to screen the driveway. Its canopy gives a cozy feel to this space without blocking our long views to the east and south. The garden we see from the porch is the most viewed of all our gardens. Because it is the first garden we see in the morning and the first garden that guests see upon arriving, using plants with year-round interest is important. A comfortable seating area is the perfect place to relax while dinner is on the grill, or to catch some early morning sunshine with a cup of coffee.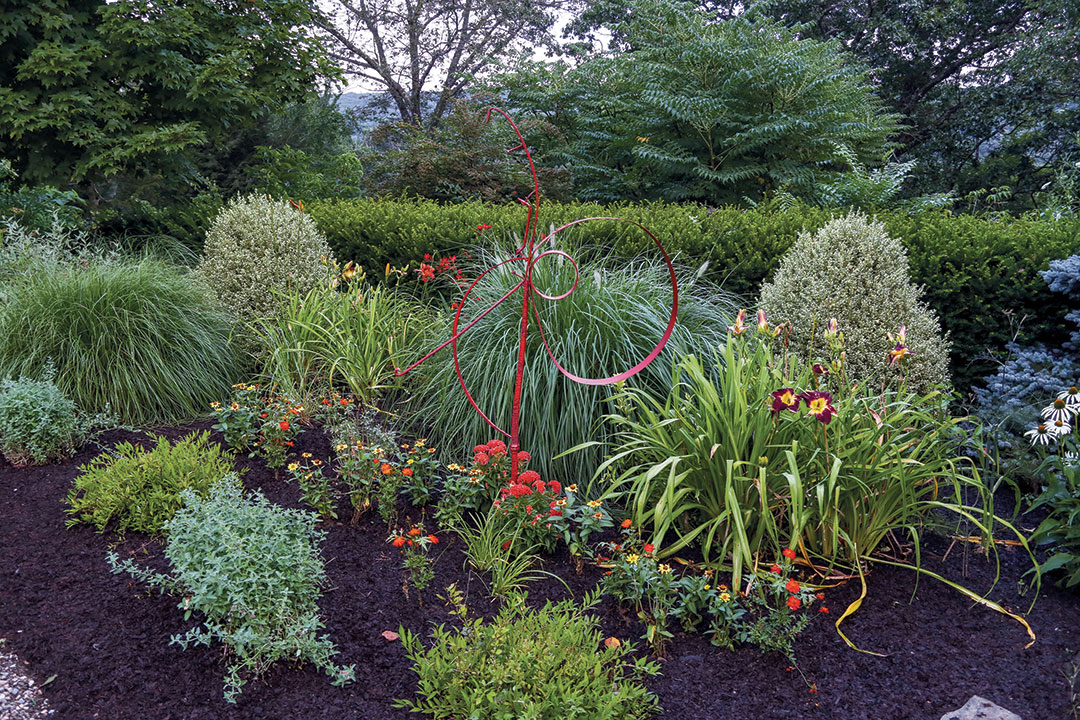 Enhance a key view. This garden bed is seen from the kitchen, deck, and driveway, so it was important to include plenty of plants that look good over a long season. A sculpture by Jane Cohen anchors the composition and lends some year-round color.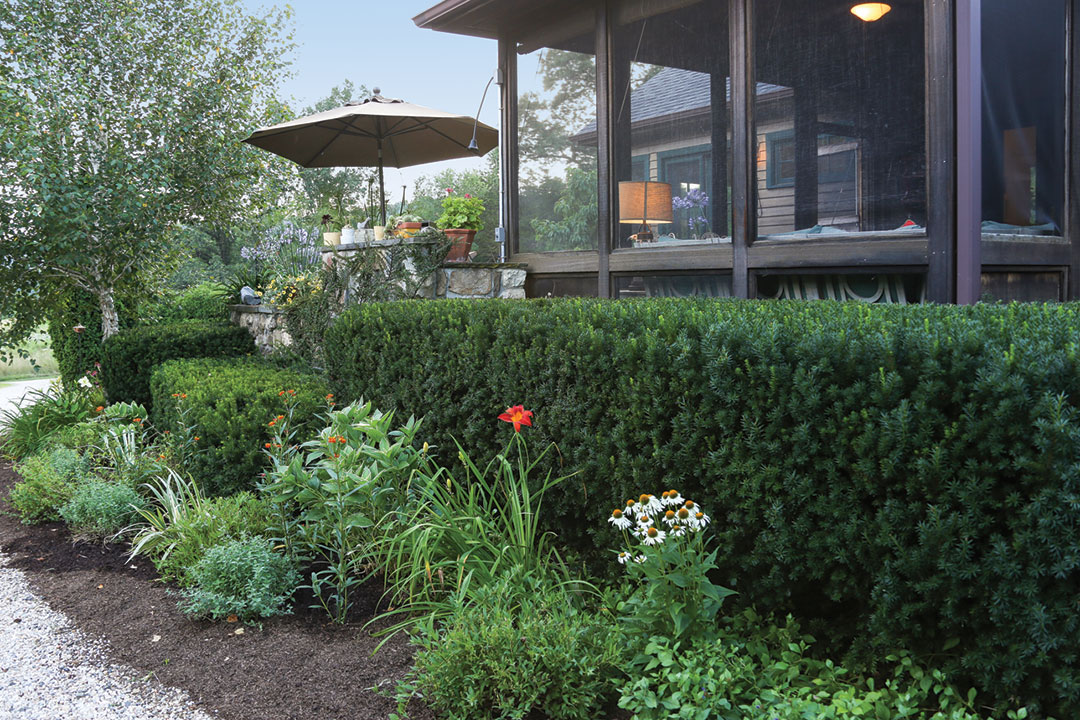 A screened area offers open views without the bugs. This breezy three-season room serves as a transitional area between the kitchen and the patio. Garden beds wrap around the patio and porch, tying the two spaces together.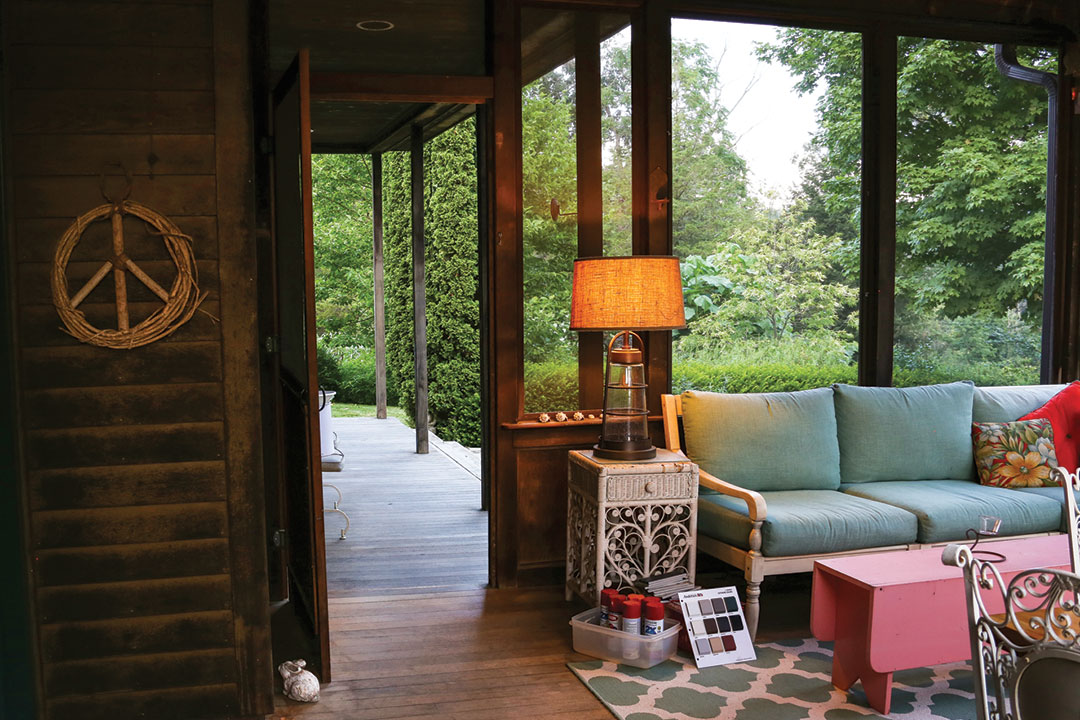 The details that make it work
Grill convenient to kitchen door
Area enclosed by walls and hedging
Weatherproof year-round furniture
Soft lighting
Key plants
Himalayan birch

(Betula utilis var. jacquemontii, Zones 5–6)

'Globosa' dwarf Colorado spruce

(Picea pungens 'Globosa', Zones 2–7)

'Hameln' fountain grass

(Pennisetum alopecuroides 'Hameln', Zones 5–9)

Variegated boxwood

(Buxus sempervirens 'Variegata', Zones 6–8)

'Flaviramea' yellow twig dogwood

(Cornus sericea 'Flaviramea', Zones 3–8)

Rue

(Ruta graveolens, Zones 4–8)
Key plants photos: Carol Collins (birch and boxwood), Jennifer Benner (spruce), Steve Aitken (fountain grass), millettephotomedia.com (dogwood), Michelle Gervais (rue)
| | |
| --- | --- |
| | To learn how to design even more garden rooms, view the entire collection: |