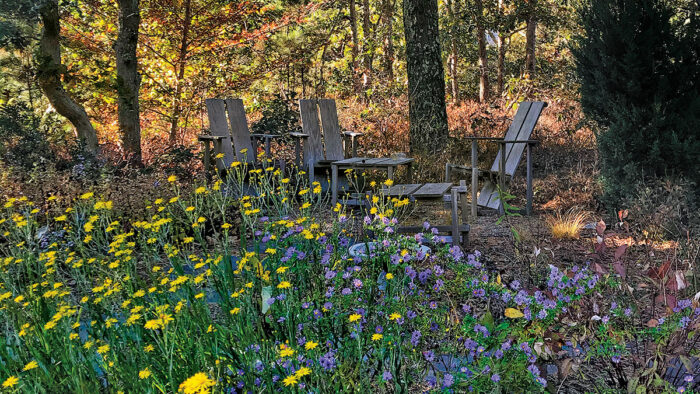 For many of us, there's a certain amount of gardening that feels a bit like a battle against impending chaos. Gardeners Tim Boland and Laura Coit, however, seemed to embrace a more Zen-like approach as they carved out their garden space from the surrounding wild environment. The result was a landscape that works with nature rather than against it. "We had to have almost a pioneering spirit with this garden," Tim says.
Garden at a glance
Size: 0.79 acres  Location: West Tisbury, Massachusetts  Zone: 7
Conditions: Full sun to partial shade; sandy, acidic soil
Age of the garden: 17 years
Tim and Laura have toured the world doing what they love: gardening. From Michigan and upstate New York, to England, to the Delaware Valley, and now Massachusetts, they have worked, explored, and been educated by some of the most beautiful gardens in the world and by some of the most renowned gardeners. Tim is now the executive director at Polly Hill Arboretum in West Tisbury, a small town located on idyllic Martha's Vineyard off the coast of Cape Cod. In addition to being a local librarian, Laura designed and still maintains the library garden in addition to the home landscape.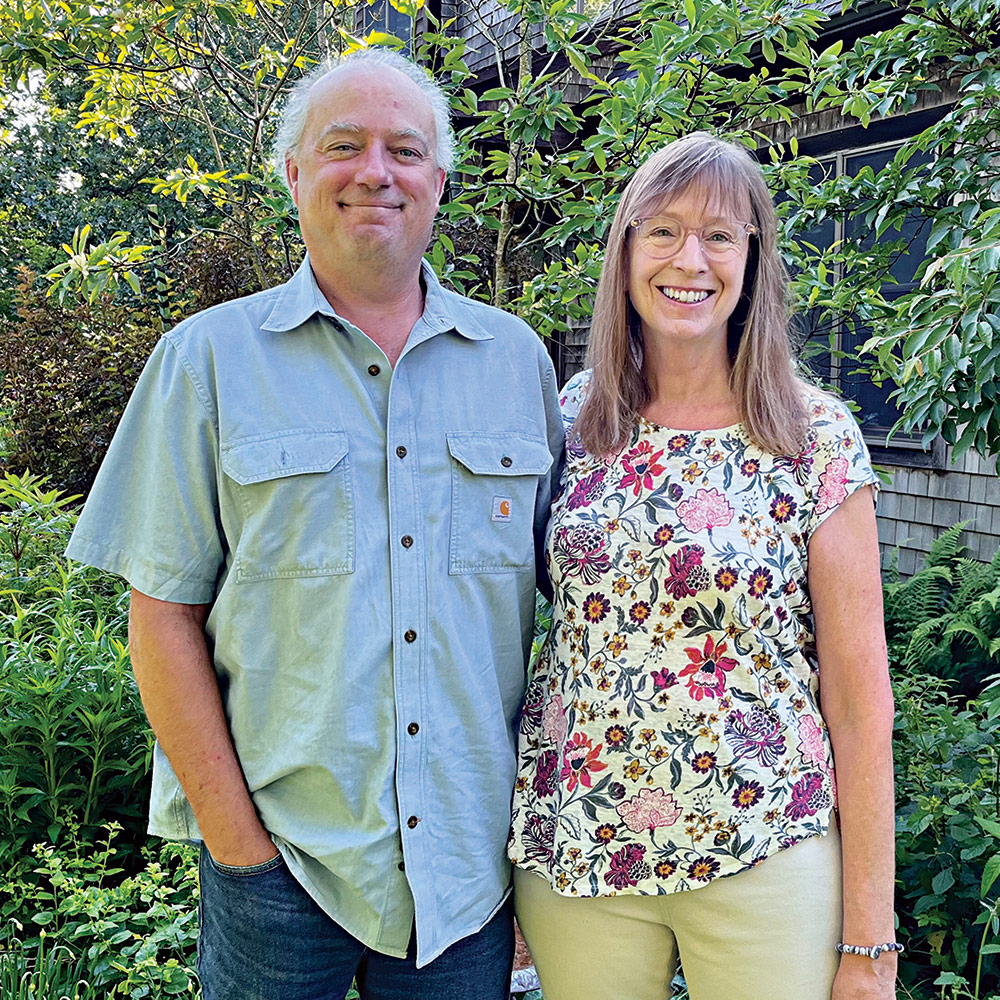 Laura points out that they never intended to create a show garden. "We're really just trying to enjoy plants and grow what will grow—creating a space for our passion," she says. Tim refers to it as "a forest garden that has a wild scenic look" due to its proximity to a large state forest. "The garden really takes its personality from the forest," he says.
The area has come with its challenges, from the expected— such as deer—to the unexpected. When they started a long border years ago, Tim and Laura skipped a site analysis and simply began digging. "It's embarrassing," Laura says, "but I dug a hole and hit what was essentially a sand pan." The couple discovered that their garden was actually on a flat sand plain that was highly acidic (pH around 4.5 to 4.8). This setback eventually helped inform and strengthen their gardening philosophy. "We're not trying to be perfect," Laura says. "You have to take that burden off yourself, and it's actually freeing. You just have to try to not be discouraged, and work with what you have."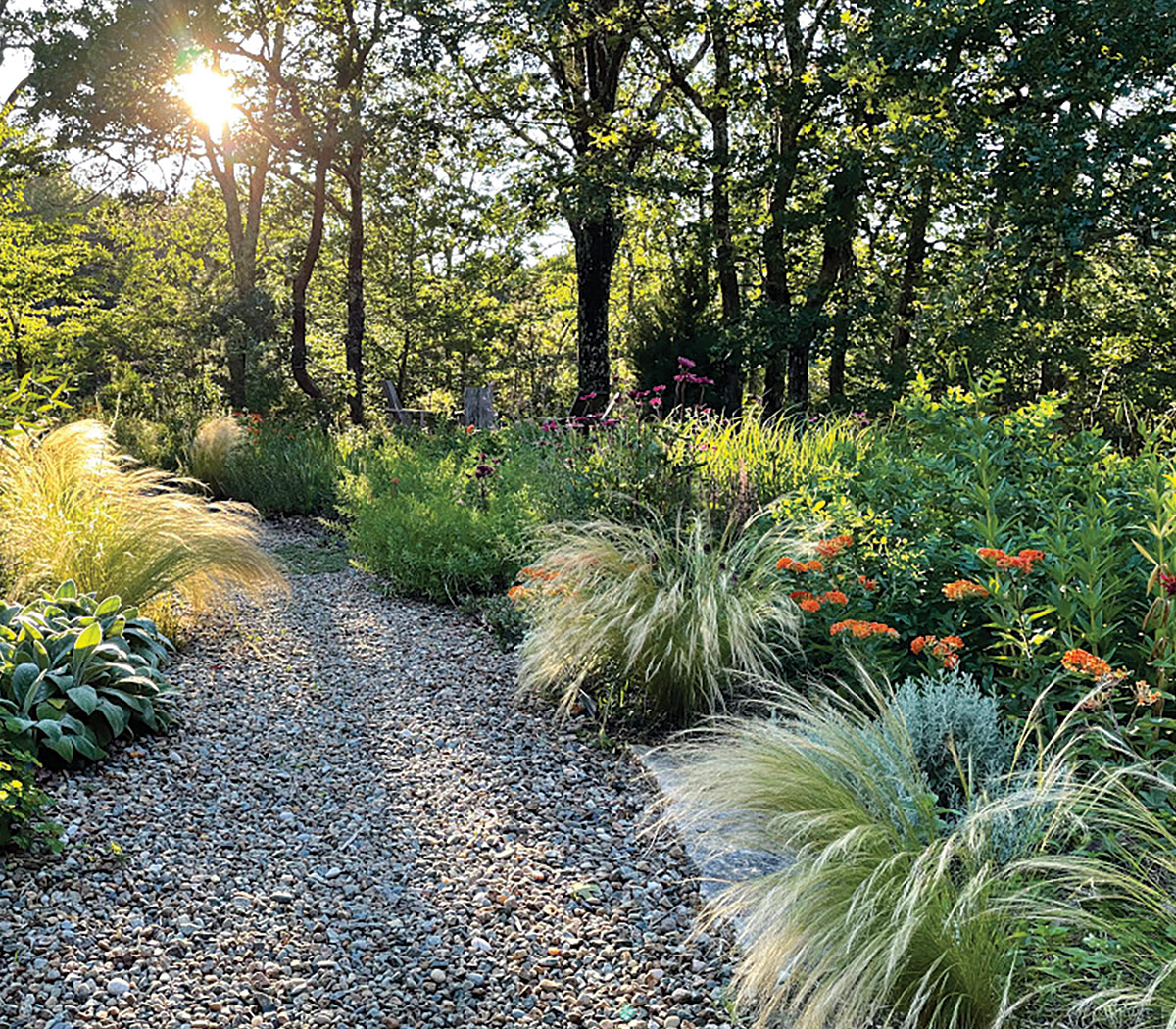 Though the particular conditional challenges of their area have limited what they can do, they amend their soil with leaf mold and rely heavily on plants native to Martha's Vineyard such as Pennsylvania sedge (Carex pensylvanica, Zones 3–8), butterfly weed (Asclepias tuberosa, Zones 3–9), and little bluestem (Schizachyrium scoparium, Zones 3–9). Their efforts to try and limit fragmentation of the forest have backfired in some cases where native plants such as eastern blue-eyed grass (Sisyrinchium atlanticum, Zones 4–9), northern sea oats (Chasmanthium latifolium, Zones 3–8), and white wood aster (Eurybia divaricata, Zones 3–8) have become aggressive and tried to take over areas that Tim and Laura would rather remain ecologically diverse. "There are some native plants that are extremely weedy," Laura says. But the couple is committed to removing or editing when aggressive plants get out of bounds.
In this garden you will see put into practice the concept of "mirroring goodness," which encourages people to pick out what they see as good and lovely in their surroundings (or another person) and reflect it back. Their relationship with the surrounding forest has influenced their tree planting within the landscape. And plant trees they have. Tim and Laura have added over 11 types of trees to their forest garden, including a 'Legacy' sugar maple (Acer saccharum 'Legacy', Zones 4–8), several American beech (Fagus grandifolia, Zones 4–9), and a couple of stewartias (Stewartia spp. and cvs., Zones 5–9). Other favorite focal points include 'Betty Corning' clematis (Clematis 'Betty Corning', Zones 4–9) at the garden entry, as well as a seating area bordered with prairie dropseed (Sporobolus heterolepis, Zones 3–9). Plants take turns putting on a show through the seasons, from spring to winter.
The couple has taken inspiration from their friends and their associates in the garden community, but also from leaders in the industry such as Mary Louise Butcher "Polly" Hill, who created the arboretum where Tim is the director. They also credit Beth Chatto, another pioneer of so-called wild gardening, whose English garden the couple worked at for a time. Tim says, "I think you have to listen to the site and let it tell you. I look at [the surrounding] plant diversity and I think our garden should take cues from it, save the goodness of it, and deal with what's left."
---
—Christine Alexander is the digital editor for Fine Gardening.
Photos, except where noted: courtesy of Tim Boland
Check out these other awesome reader-submitted gardens:
---
Have a garden you'd like to share?
Have photos to share? We'd love to see your garden, a particular collection of plants you love, or a wonderful garden you had the chance to visit!
To submit, send 5-10 photos to [email protected] along with some information about the plants in the pictures and where you took the photos. We'd love to hear where you are located, how long you've been gardening, successes you are proud of, failures you learned from, hopes for the future, favorite plants, or funny stories from your garden.
If you want to send photos in separate emails to the GPOD email box that is just fine.
Have a mobile phone? Tag your photos on Facebook, Instagram or Twitter with #FineGardening!
You don't have to be a professional garden photographer – check out our garden photography tips!
Do you receive the GPOD by email yet? Sign up here.