Design
Ideas for Stylish Shady Container Gardens
Low light doesn't have to cramp your creativity or limit your plant choices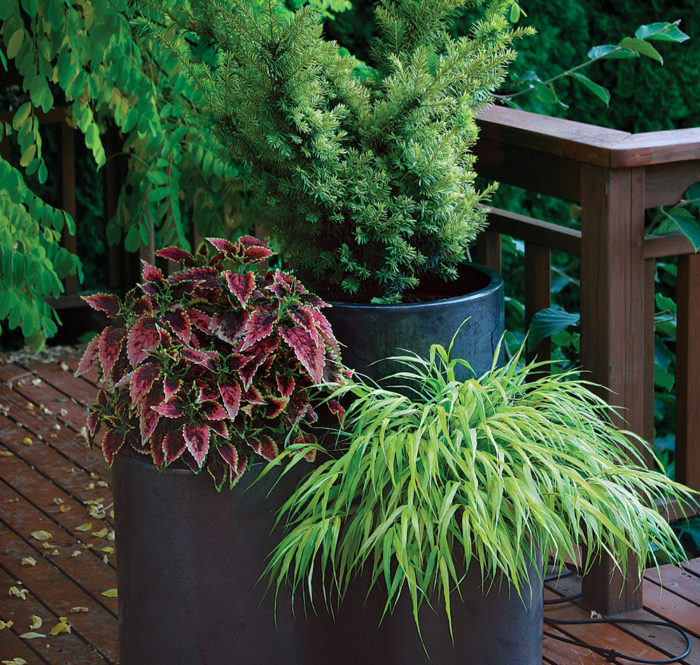 Born in England, I grew up with a sincere love of gardening. When we moved to the Pacific Northwest, I came across an unfamiliar phrase that filled me with foreboding: "shade gardening." At first, I was daunted at the thought of not growing my beloved roses and sweet peas. But as someone who loves a challenge, I began to scour nurseries for shade-loving plants and soon discovered many treasures I never had the opportunity to grow before.
Of course, I quickly ran out of space in my small garden, so I began to fill an ever-increasing number of containers. People often assume that the plant options for shade containers are limited and less exciting than those for sun, but I found that to be far from the truth. Throughout my journey, I discovered that shade is not an affliction that hinders personal style. By understanding how to combine color, texture, and form, I create container gardens that thrive even in the shadiest of areas. Through many years of experimentation, I came to realize that shady containers, much like their sunny counterparts, can be any style you want—be it informal or formal.
For formal containers (which can include contemporary and traditional designs), success depends upon a careful marriage of pot and plants. This sophisticated style calls for restraint in color, embellishment, and plants. The vessel itself has a strong presence and is as important as the contents. The best combinations focus on foliage and texture because blossoms are often fleeting.
Informal designs, on the other hand, can range from fun and frilly to more humble in nature. The choice of pots and their contents will vary according to the specific look you want. Unglazed containers offer the ideal starting point for woodland-inspired containers because they often come in earth tones, whereas other rustic designs can incorporate pastels or bold color schemes, colored ceramic containers, or simple wooden barrels. Although flowers are important, a good design must also offer textural interest from a variety of leaf shapes and colors. These informal arrangements, much like their formal cousins, may contain a colorful assortment of shrubs, perennials, annuals, and tender species.
Whether formal or informal, shade containers can be a brilliant highlight to any outdoor living space.
Modern pot, sleek combination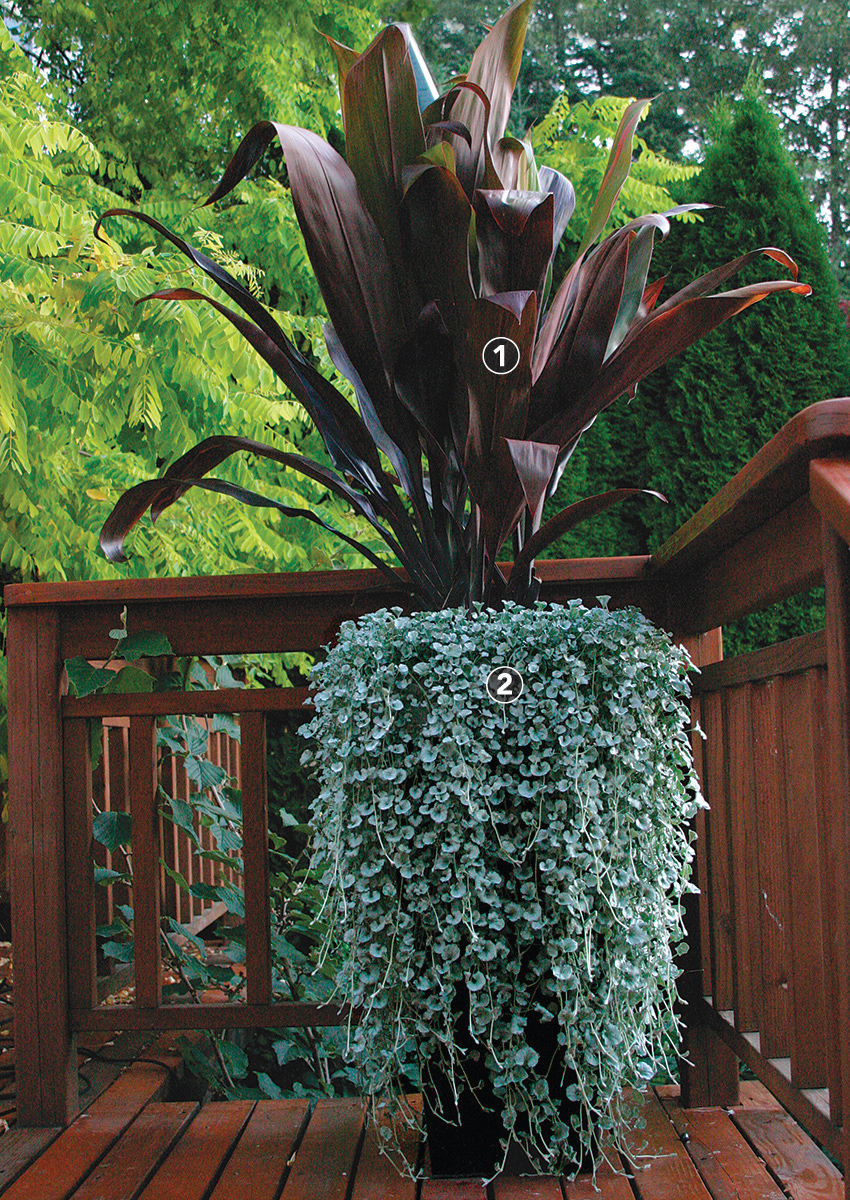 A tall, metal container sets the tone for this contemporary planting. Pairing the strong vertical lines of the strap-leaved 'Black Magic' ti tree against the glistening silver strings of dichondra foliage creates a contrast that is simple yet striking. The silver-and-black color scheme is taken from the metallic sheen of the decorative container.
'Black Magic' ti tree (Cordyline fruticosa 'Black Magic', USDA Hardiness Zone 11)
'Silver Falls' dichondra (Dichondra argentea 'Silver Falls', Zones 10–11)
Inspired by the forest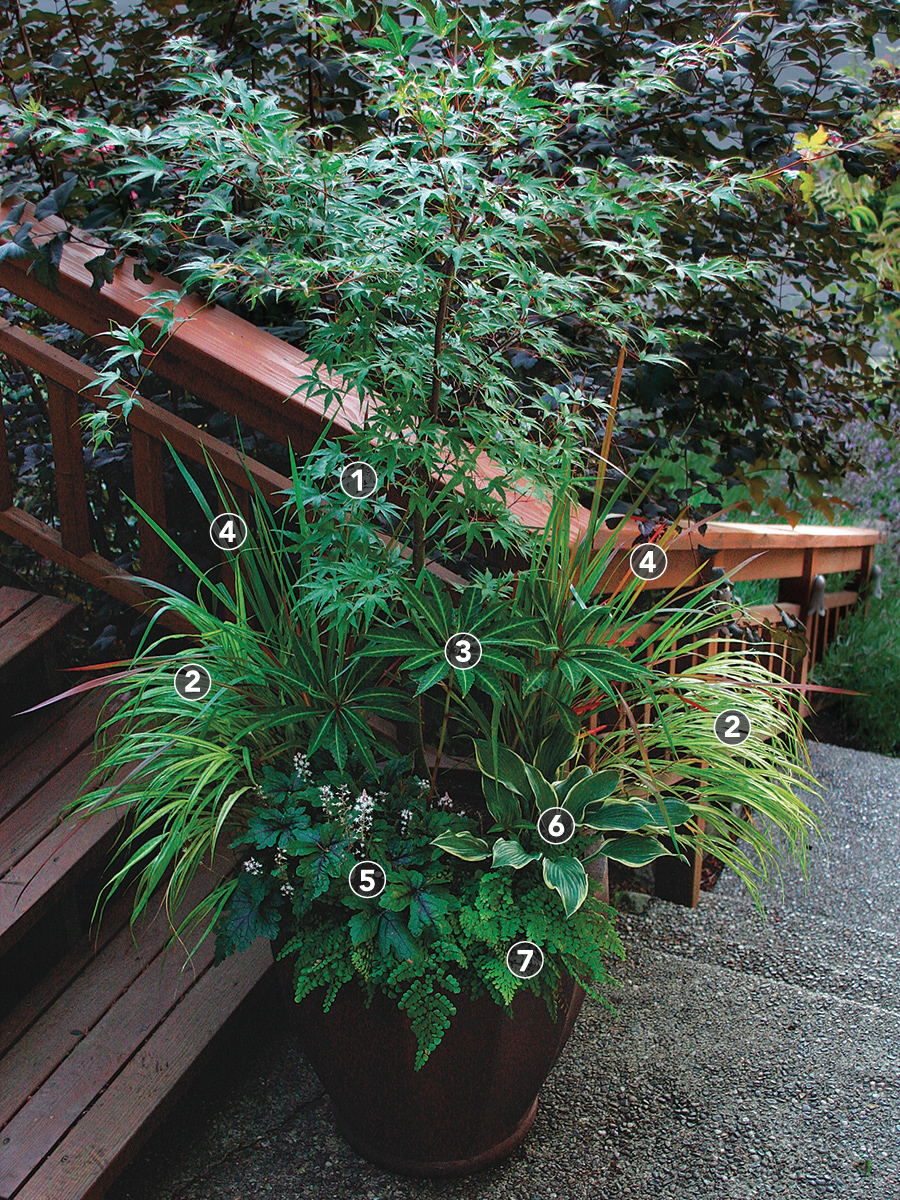 A dwarf Japanese maple tree is a perfectly hued focal point for this unassuming, rustic pot. To feel natural, the plants in woodland designs should mimic a forest environment. The understory in this pot is a mixture of herbaceous and evergreen perennials well suited for dappled light. The delicate texture of the grasses and fern contrast with the bolder leaves of the hosta and foam flower. Soft yellow tones appear throughout to add some bright light, while the deep red of the Japanese blood grass is echoed in the veining on the foam flower leaf.
Rough bark maple (Acer palmatum 'Arakawa', Zones 5–9)
 'Aureola' Japanese forest grass (Hakonechloa macra 'Aureola', Zones 5–9)
Perennial impatiens (Impatiens omeiana, Zones 6–9)
Japanese blood grass (Imperata cylindrica* 'Red Baron', Zones 5–9)
 'Crow Feather' foam flower (Tiarella 'Crow Feather', Zones 4–9)
 'Regal Splendor' hosta (Hosta 'Regal Splendor', Zones 3–9)
Himalayan maidenhair fern (Adiantum venustum, Zones 5–9)
*See invasive alert below.
Condensed for a cramped entryway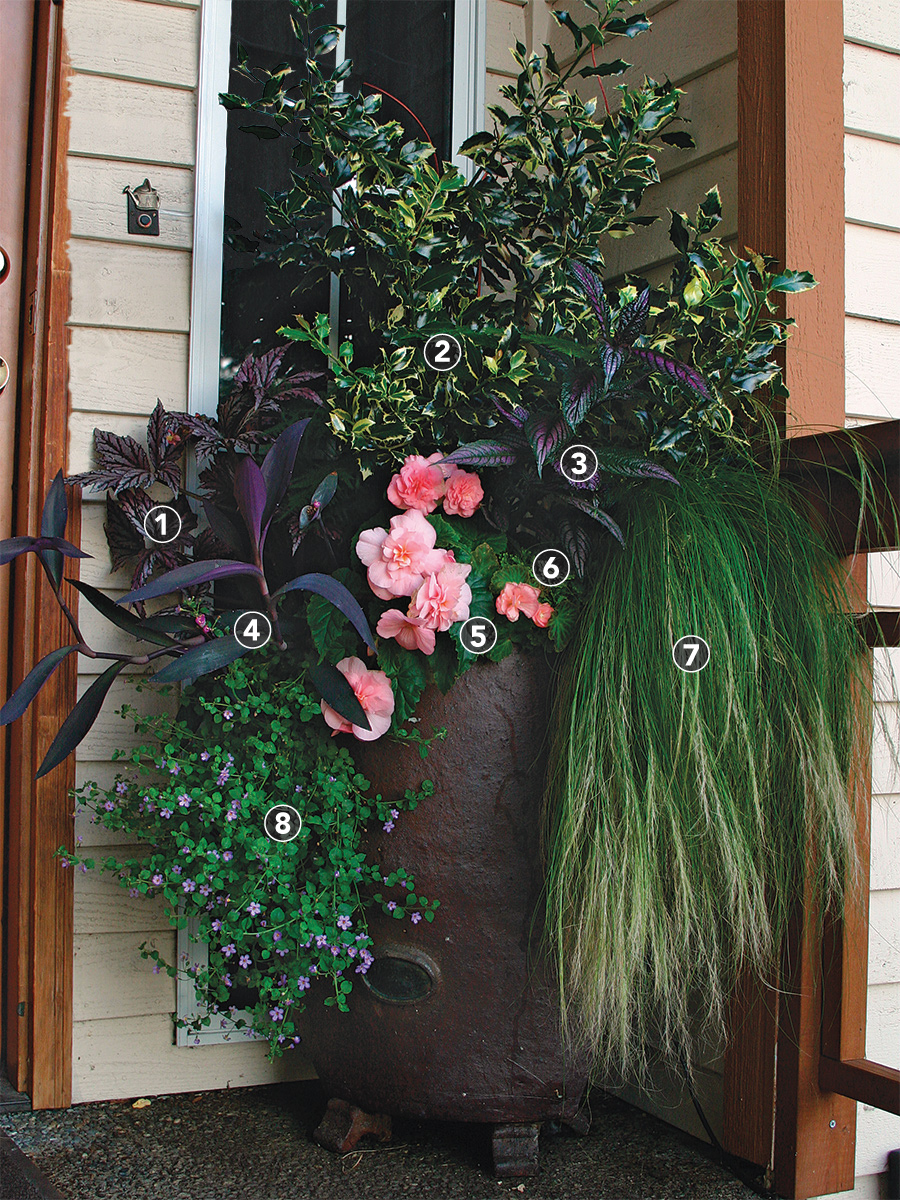 Sitting next to my front door, this container needs to be tall enough to be easily viewed but small enough to avoid obstructing the entrance. The elliptical shape of the unglazed, rustic brown container allows for lots of plants without taking up too much room. The palm-shaped, metallic foliage of the 'Benito­chiba' begonia is the inspiration for the pink-and-burgundy color scheme. Purple notes are offered by the iridescent leaves of the Persian shield and repeated by the lilac bacopa and 'Purple Queen' purple heart. Pairing the contrasting textures of the spiky holly leaves with the finely textured Mexican feather grass completes the welcoming composition.
'Benitochiba' begonia (Begonia 'Benitochiba', Zones 10–11)
Gold Coast® English holly (Ilex aquifolium 'Monvila', Zones 7–9)
Persian shield (Strobilanthes dyerianus, Zones 9–11)
'Purple Queen' purple heart (Tradescantia pallida 'Purple Queen', Zones 8–11)
'Fortune Pink' tuberous begonia (Begonia 'Fortune Pink', Zones 11)
Golden trailing spikemoss (Selaginella kraussiana 'Aurea', Zones 6–10)
Mexican feather grass (Stipa tenuissima, Zones 7–11)
Blue Showers™ bacopa (Sutera cordata 'Bacoble', annual)
Cubes with a color-echo edge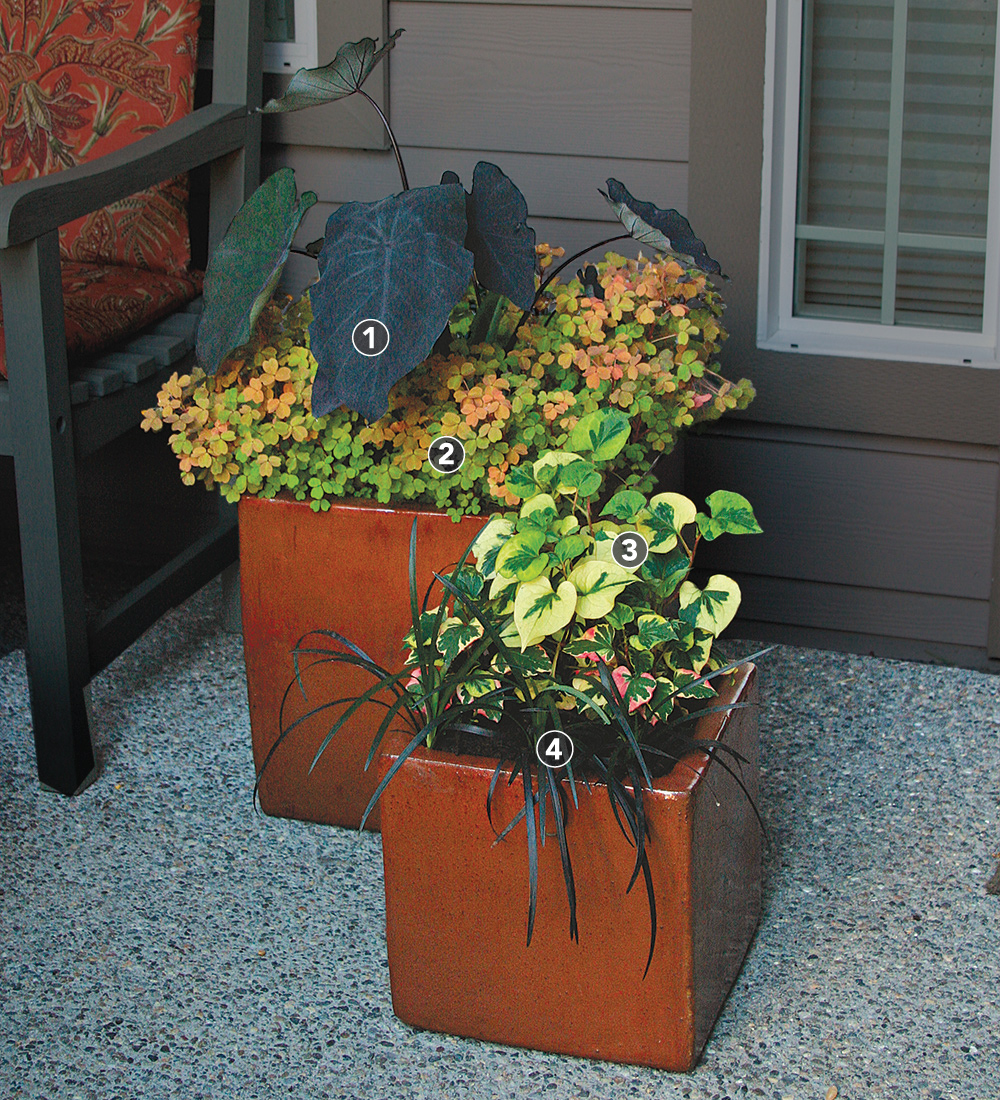 This shady courtyard calls for an elegant planting that enhances the copper tones in the cubic containers and the fabric on the chairs. The 'Black Magic' elephant's ear has dramatic black leaves that pop when paired with a copper hue. The copper color of the oxalis leaves is picked up by the rosy blush of the chameleon plant. Black mondo grass offers a textural contrast to the chameleon plant and carries the color of the ele­phant's ear to the second container.
'Black Magic' elephant's ear (Colocasia esculenta* 'Black Magic', Zones 8–11)
Molten Lava™ oxalis (Oxalis vulcanicola Molten Lava™, Zones 9–11)
Chameleon plant (Houttuynia cordata 'Chameleon', Zones 5–11)
Black mondo grass (Ophiopogon planiscapus 'Nigrescens', Zones 6–11)
*See invasive alert below.
Full color without full sun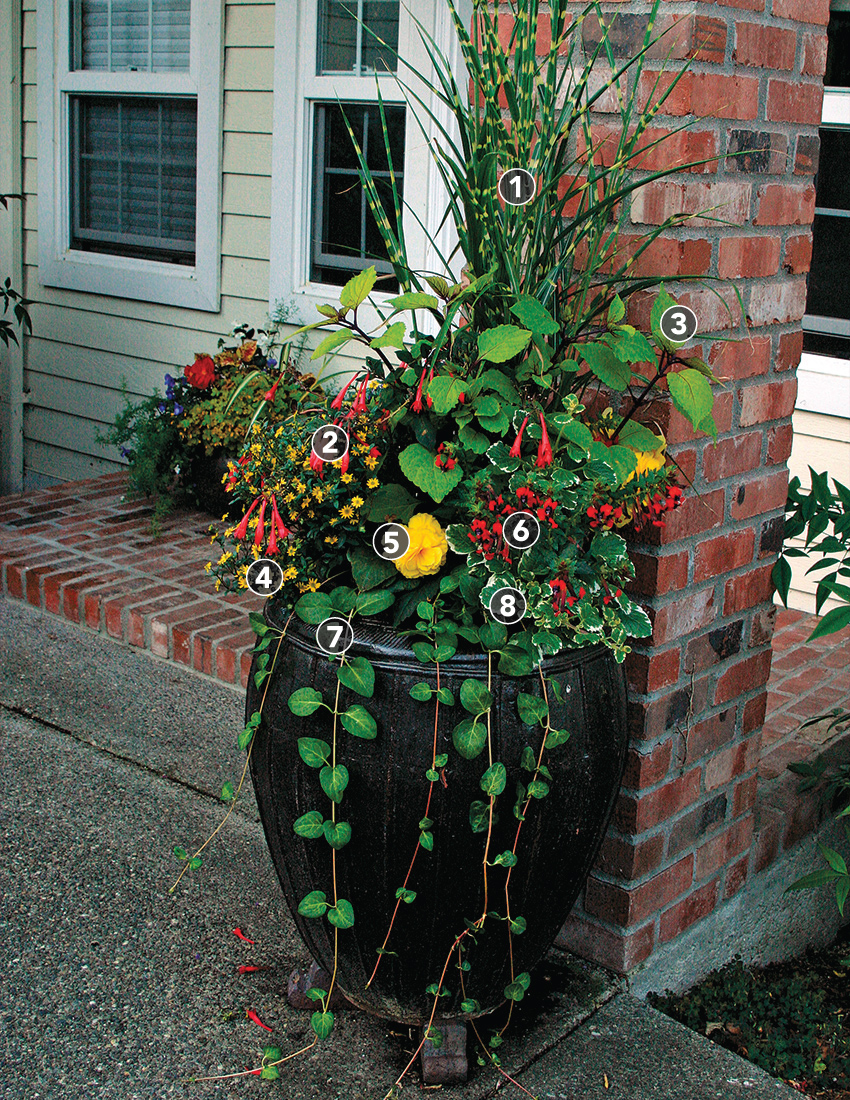 Planted to delight my clients' young daughter, this combination provides bright colors and lots of fun. The centerpiece is a porcupine grass, aptly named for its quill-like blades with horizontal yellow stripes. Although the grass prefers more direct light, it does well in this location, which receives four hours of morning sun. Toward the front of the container is a fuchsia with tubular blooms, which attracted hummingbirds even as I was planting it. Kids of all ages delight at the whiskered face of a mouse suggested by the tiny purple and red flowers of the bat-faced cuphea. Yellows, reds, oranges, and purples add unexpected zest and eye-catching appeal to a container that doesn't feel one bit like a typical shady pot.
Porcupine grass (Miscanthus sinensis* 'Strictus', Zones 4–9)
'Gartenmeister Bonstedt' fuchsia (Fuchsia 'Gartenmeister Bonstedt', Zones 9–10)
Stained Glassworks™ Big Blonde coleus (Solenostemon scutellarioides Stained Glassworks™ Big Blonde, Zone 11)
Sunbini sanvitalia (Sanvitalia 'Starbini', Zones 9–11)
'Fortune Yellow Shades' tuberous begonia (Begonia 'Fortune Yellow Shades', Zones 11)
'Tiny Mice' bat-faced cuphea (Cuphea llavea 'Tiny Mice', Zones 10–11)
Trailing vinca (Vinca major* 'Maculata', Zones 7–9)
Variegated Swedish ivy (Plectranthus forsteri 'Marginatus', Zones 11)
*See invasive alert below.
Simply sophisticated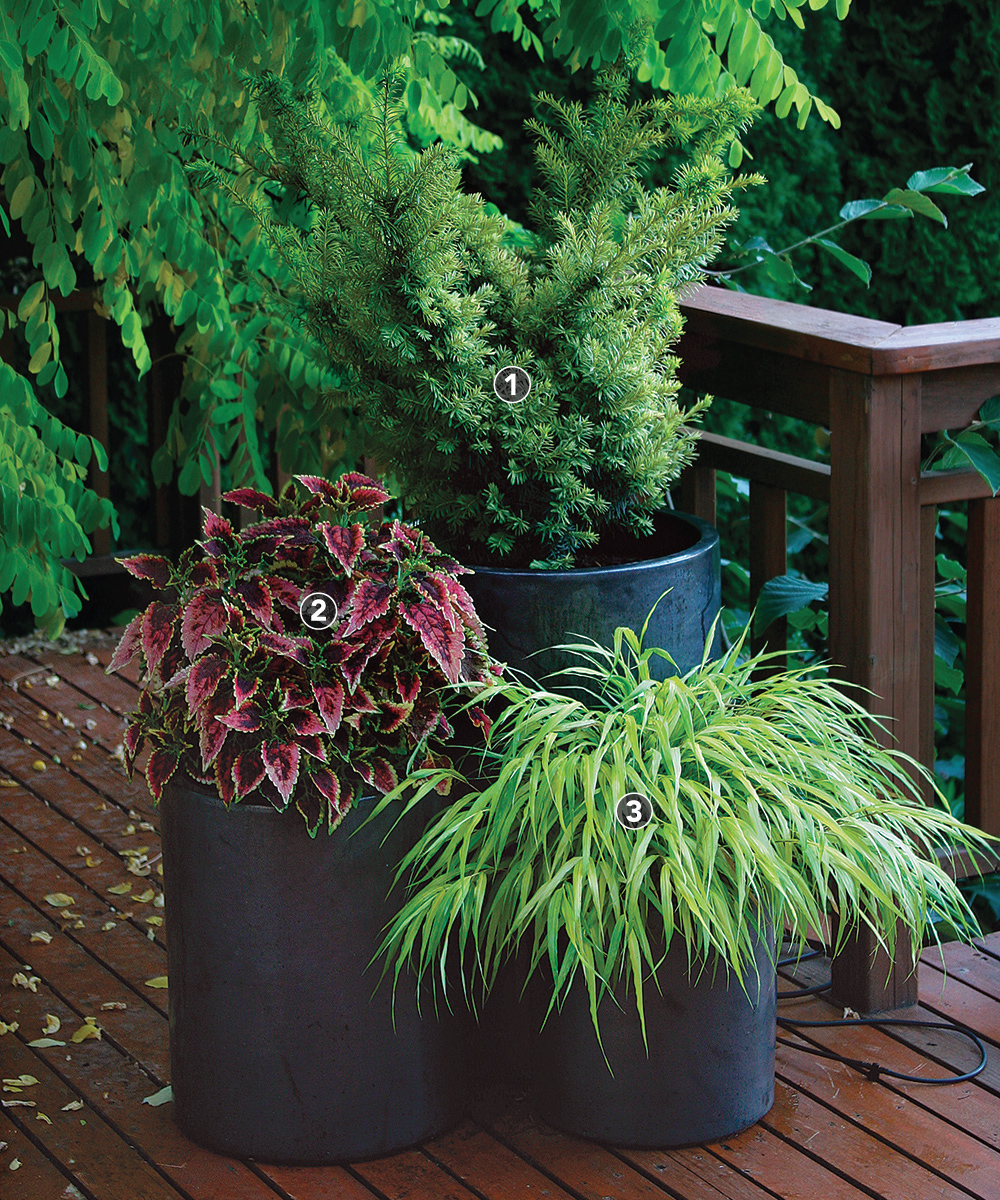 The success of this dramatic combination relies on simple color repetition and textural variety among the feathery yew, the bold coleus, and the fine Japanese forest grass. Gold provides a color theme, showing up in the needles of the yew, the blades of the grass, and the leaf margins of the coleus. In keeping with the clean, simple lines of the modern pots, this grouping relies on a limited number of plants. Adding additional plants would take away from the beauty and sophistication of the vessels.
Dwarf golden yew (Taxus cuspidata 'Dwarf Bright Gold', Zones 5–7)
'El Brighto' coleus (Solenostemon scutellarioides 'El Brighto', Zones 11)
'All Gold' Japanese forest grass (Hakonechloa macra 'All Gold', Zones 5–9)
Elegant yet exciting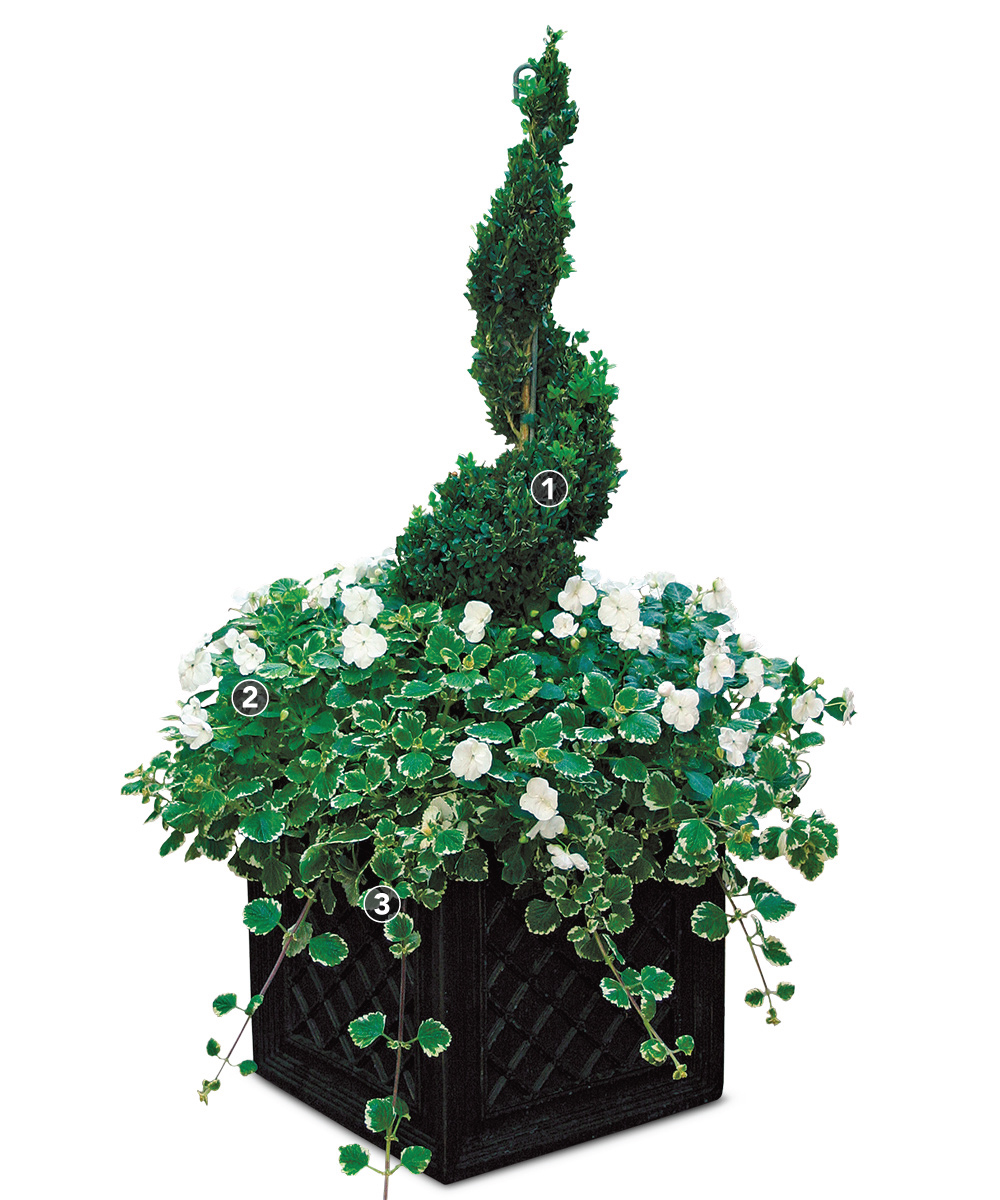 This lightweight Versailles-style container sports a unique bronzed finish and is the perfect stage for a classic boxwood topiary. In a shady location, this duo would normally lack sparkle. Adding luminous white impatiens and variegated Swedish ivy not only brightens the design but also softens the formality, while maintaining an elegant simplicity.
'Green Mountain' boxwood (Buxus 'Green Mountain', Zones 4–9)
'Tempo White' impatiens (Impatiens walleriana 'Tempo White', annual)
Variegated Swedish ivy (Plectranthus forsteri 'Marginatus', Zone 11)
---
How much shade is shade?
Because not all shade is the same, you need to know the different types in order to determine what plants will thrive in your specific conditions. Here are three common conditions you may have.
Bright shade
An east-facing location that receives between four and six hours of unobstructed morning sun would fit this classification. Reflected light from nearby walls may also contribute to the light intensity. Some sun-loving and most partial-shade plants will thrive in this situation.
Dappled shade
This term refers to the filtered light that passes through the canopy of deciduous trees or is found under a structure such as an arbor or pergola. Many plants that require partial shade will do well under this scenario.
Dense shade
True shade-loving plants require dense shade, which occurs in a north-facing aspect, under evergreen trees, or in areas heavily shaded by adjacent structures.
---
*Invasive alert: Japanese blood grass (Imperata cylindrica)
This plant is considered invasive in AL, AR, CO, FL, GA, MD, MS, NY, PA, SC, TN, UT, and VA.
Invasive alert: Elephant's ear (Colocasia esculenta)
This plant is considered invasive in AL, CA, and FL.
Invasive alert: Miscanthus (Miscanthus sinensis)
This plant is considered invasive in AL, CT, GA, IN, KY, MD, NC, NH, NJ, NY, PA, SC, TN, and VA.
Invasive alert: Vinca (Vinca major)
This plant is considered invasive in AL, AR, CA, GA, IN, and VA.
Please visit invasiveplantatlas.org for more information.
---
Karen Chapman designs container gardens for herself and clients throughout the Seattle area.
Photos: Danielle Sherry
View Comments