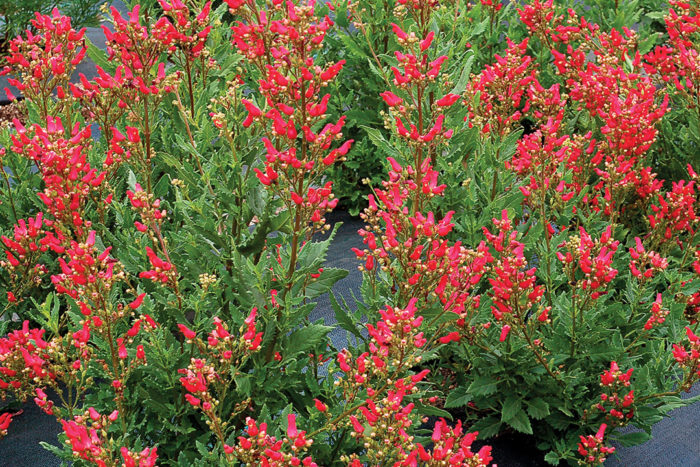 Who knew there was a plant for fans of the cultural phenomenon that is the Angry Birds video game and movie? While the unusual plant Cardinale™ Red red birds in a tree isn't going to chase treacherous green pigs (or garden gnomes) out of your borders, it will certainly add long-lasting color, botanical intrigue, and numerous hummingbirds to your landscape.
The straight species, Scrophularia macrantha, also known as Mimbres or New Mexico figwort, is an interesting yet little-known U.S. native related to penstemon. It is found on the rocky slopes and within the coniferous forests of a few mountaintops, often referred to as the Sky Islands, in New Mexico. The straight species gets quite large, reaching upwards of 3 feet tall and wide. Since not everyone has that kind of garden real estate available, the newer cultivar Cardinale™ Red offers the same great traits of red birds in a tree, but at nearly half the size.
This is a bushy perennial consisting of dense, upright stems with bright green, triangular to egg-shaped, serrated foliage. The common name refers to the unusual, small, cherry red, slightly curving, tubular blooms with little white lips that dot the branched flower spikes and resemble a flock of plump little birds perched in a tree. Cardinale™ Red blooms over many months from midspring into fall with or without deadheading. As you might imagine for a North American native plant with red, tubular flowers, red birds in a tree is as popular with hummingbirds as the Angry Birds franchise is with children and adults. Some gardeners report that their hummingbirds dismiss all other nectar-producing flowers in favor of this stunner.
This is an easy-care plant. However, in hot summer climates you should provide it some afternoon shade. Cardinale™ Red is tolerant of clay and sandy soils and also of drought once established. Be careful not to overwater it or plant it in excessively moist sites, which can cause yellow leaves and stem dieback. It can struggle in places with lots of winter moisture, so try planting it in lean, sharply draining soils. Whether you're a fan or not of Angry Birds, try this beautiful native perennial in your garden and—at the very least—you will become a fan of red birds in a tree.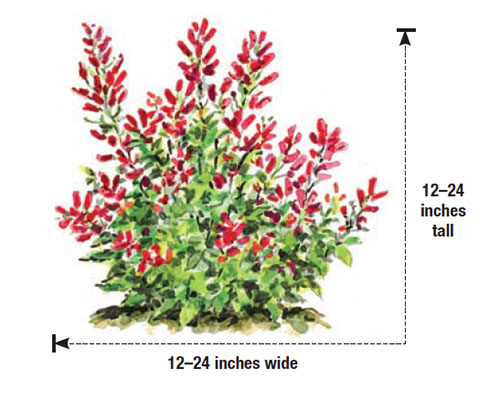 Cardinale™ Red red birds in a tree
Scrophularia macrantha 'TNSCRCR'
Zones: 5–9
Conditions: Full sun to partial shade; average to dry, well-drained soil
Native range: Southwestern United States
---
Gary Lewis is the owner of Phoenix Perennials, a specialty nursery in Richmond, B.C.
Illustration: Elara Tanguy
Sources