Design
Designing Containers for Shade
Foliage is the key to bold and beautiful combos that brighten the dark corners of your garden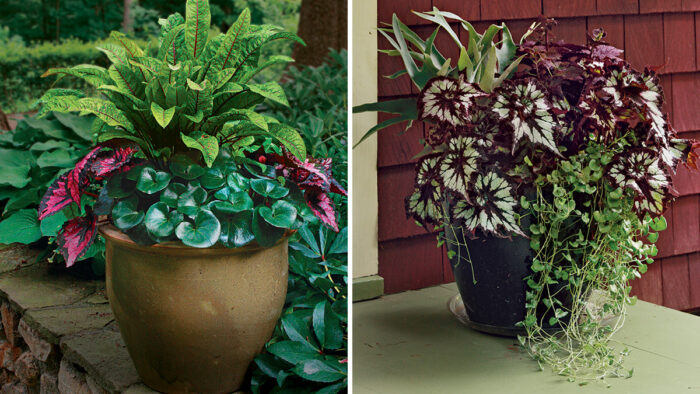 Designing a container for shade can be a challenge, because you are no longer choosing your favorite color of the all-too-familiar geranium or petunia. Choosing plants for a shady container requires some venturing out beyond the flowering-annual department. Foliage is what shady containers are all about. If you shop at a garden center that carries annuals, perennials, tropicals, shrubs, and (most important) indoor houseplants, you'll find a world of great container-plant options that thrive in the shade. My strategy for creating a spectacular shady container is quick and simple. Before long, you'll be brightening up areas of your garden that you never considered before.
A splashy caladium is a surefire star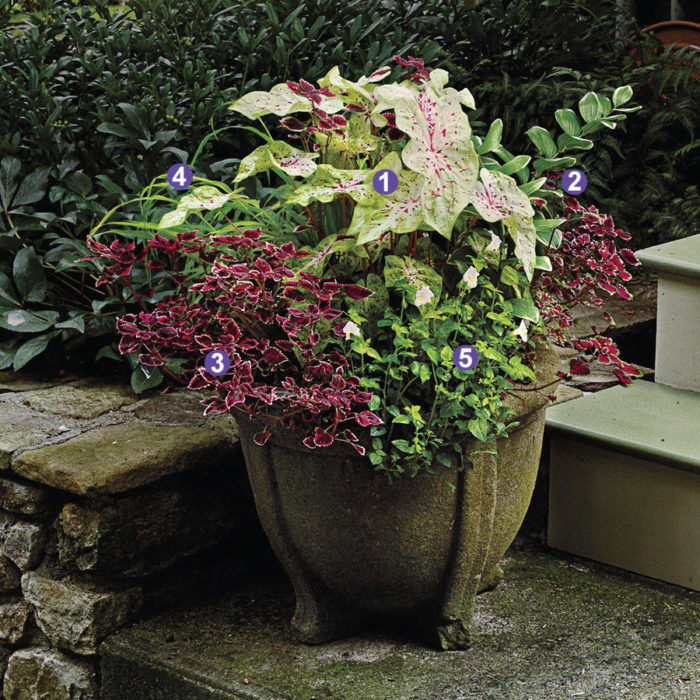 Caladiums are especially valuable for brightening shady areas because most come with leaves splashed with vivid color. The white variegation of 'Miss Muffet' caladium is picked up by the white flowers of a wishbone flower and the creamy variegation of the fragrant Solomon's seal, while its deep pink dots are echoed by the burgundy-leaved coleus. The 'All Gold' Japanese forest grass rounds out the composition by matching the overall chartreuse hue of the caladium's leaves.
Showcase plant
1. 'Miss Muffet' caladium (Caladium bicolor 'Miss Muffet', USDA Hardiness Zone 13)
Companion plants
2. Variegated fragrant Solomon's seal (Polygonatum odoratum 'Variegatum', Zones 3–8)
3. 'Swinging Linda' coleus (Solenostemon scutellarioides 'Swinging Linda', Zones 12–13)
4. 'All Gold' Japanese forest grass (Hakonechloa macra 'All Gold', Zones 5–9)
5. Wishbone flower (Torenia fournieri cv., annual)
Balancing textures is key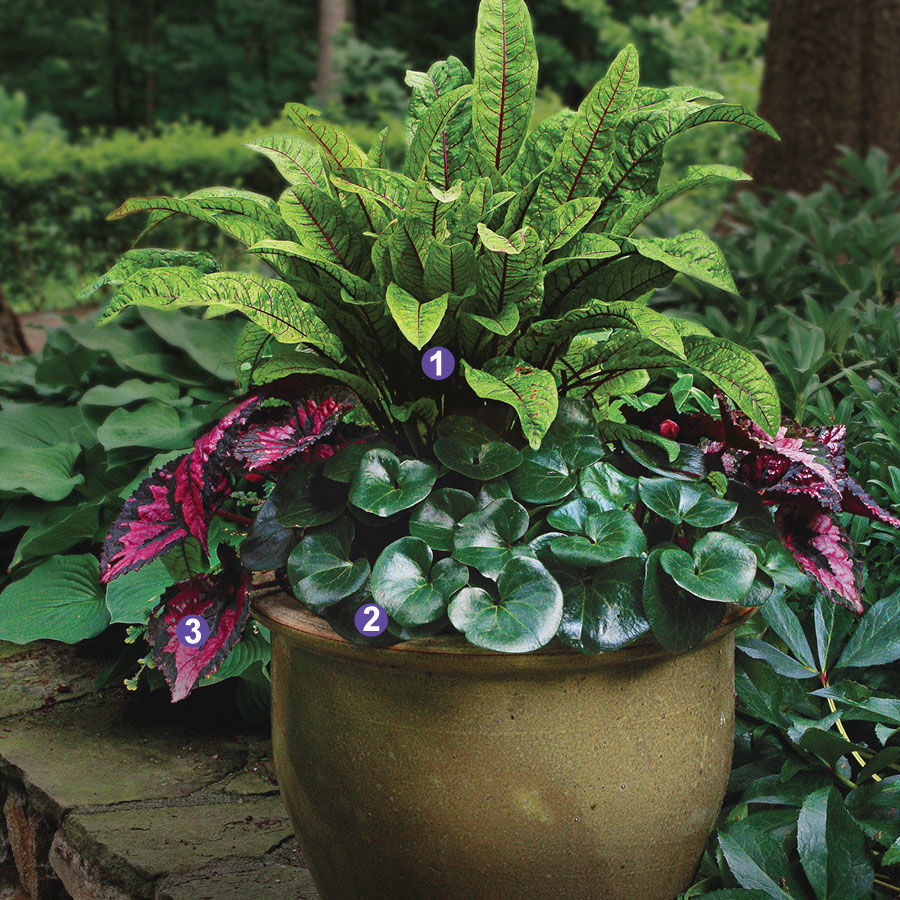 The long and skinny, crinkled, burgundy-lined leaves of bloody dock call out for a plant that's the complete opposite, and European wild ginger fits the bill perfectly. Its glossy, round, smooth leaves make the bloody dock's leaves stand out even more, while the deep-hued rex begonia highlights the bloody dock's dark variegation.
Showcase plant
1. Bloody dock (Rumex sanguineus, Zones 6–8)
Companion plants
2. European wild ginger (Asarum europaeum, Zones 4–8)
3. 'Chicago Fire' rex begonia (Begonia 'Chicago Fire', Zones 12–13)
Black and white says "sophistication"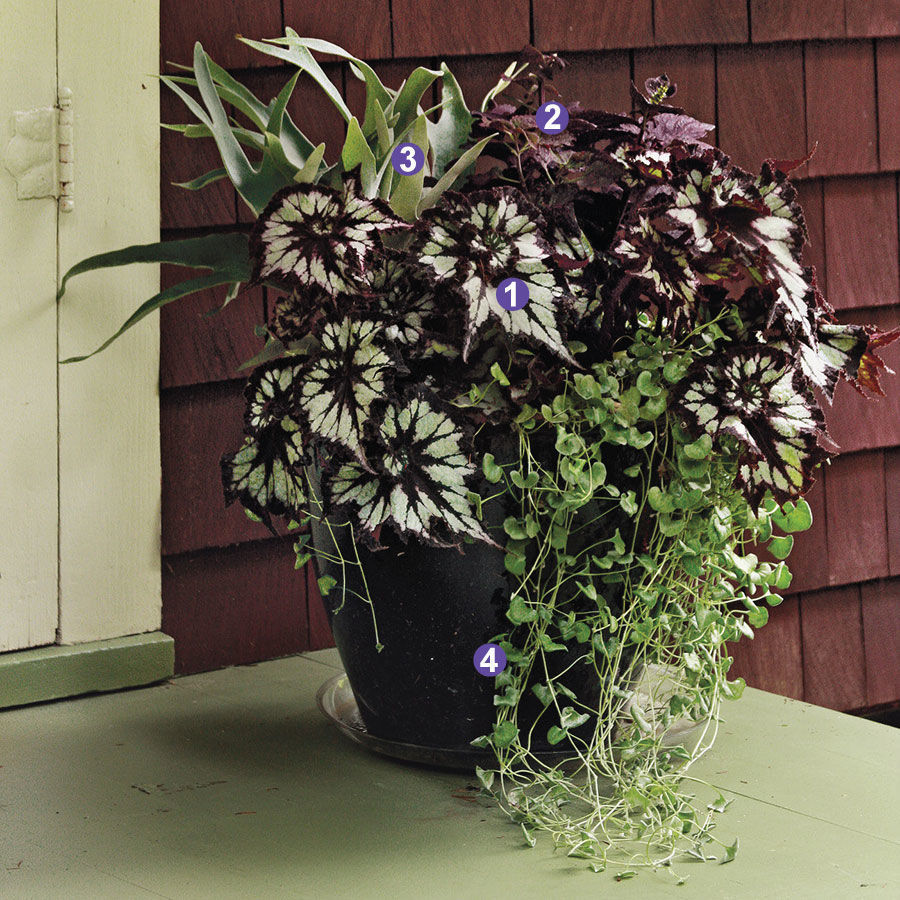 This stunning design is the ultimate in elegant contrast. The deep burgundy and bright silver leaves of the rex bego­nia are matched by those of its monochromatic companions, each of which plays a strong role in pulling the design together. Even the dark pot contributes to the two-toned theme.
Showcase plant
1. 'Super Curl' rex begonia (Begonia 'Super Curl', Zones 12–13)
Companion plants
2. 'Burgundy Sun' coleus (Solenostemon scutellarioides 'Burgundy Sun', Zones 12–13)
3. Silver staghorn fern (Platy­cerium veitchii, Zones 9–11)
4. 'Silver Falls' dichondra (Dichondra argentea 'Silver Falls', Zones 10–11)
A splash of
f
lowers is icing on the cake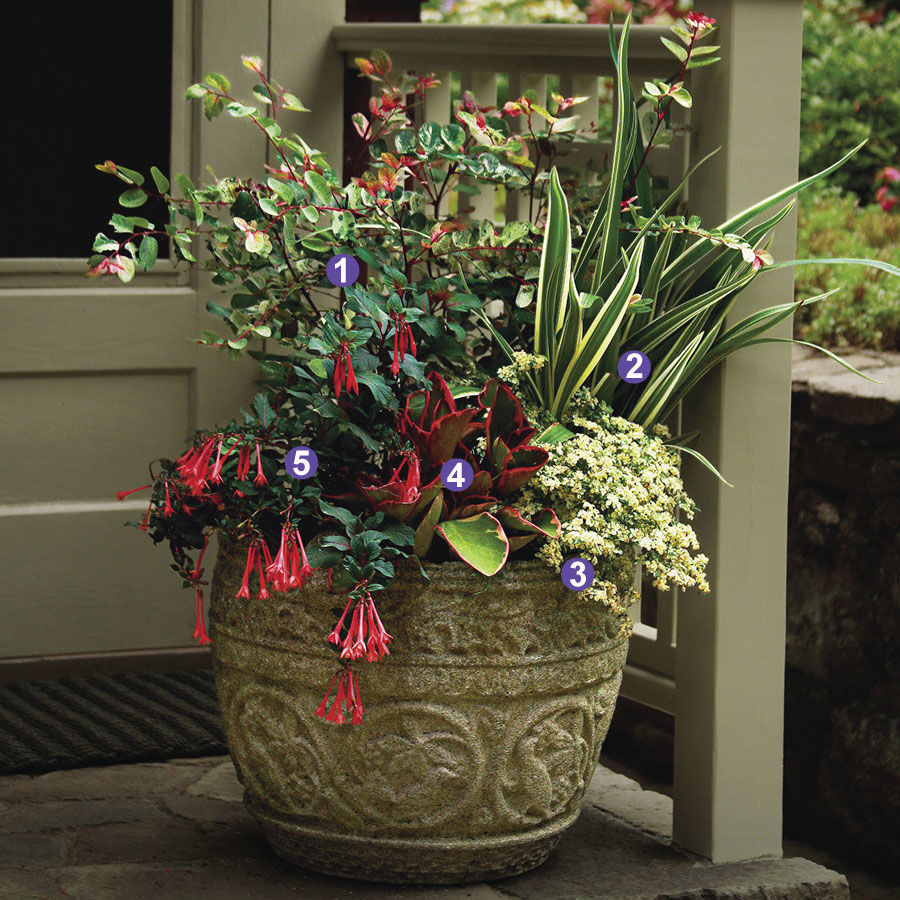 Who says you can't have colorful flowers in the shade? In this planting, the fuchsia could almost compete with the snow bush for showcase-plant status, and that's just fine for a large container, like this one. Because the two have similar coral accents, they enhance rather than compete with one another.
Showcase plant
1. Variegated snow bush (Breynia disticha 'Roseopicta', Zones 9–11)
Companion plants
2. Variegated flax lily (Dianella tasmanica 'Variegata', Zones 8–10)
3. Variegated artillery plant (Pilea microphylla 'Variegata', Zone 11)
4. 'Rainbow' peperomia (Peperomia magnoliifolia 'Rainbow', Zone 13)
5. 'Koralle' fuchsia (Fuchsia 'Koralle', Zone 13)
---
Cindy's shady-container strategy
Designing a container for shade is a whole-nursery experience. Here's how the author creates her stunning designs.
1. Consider the pot first
As with containers for sunny gardens, the container you choose for your shady garden should reflect the style of your home and the rest of your garden. Consider color too. Glazed, brightly colored containers help bring attention to a shady area, while a neutral-hued pot lets the plants make the statement.
2.
 Evaluate your plant palette
The plant palette for a sunny container seems endless, but there are many great choices for shade too. You'll just need to investigate not only annuals but also shade-loving peren­nials, ferns, grasses and sedges, tropical houseplants, and even trees and shrubs. Gather a wide selection of plants at the nursery that will work in shade, and place them in a shopping cart or just keep a mental picture of them.
3.
 Select a showcase plant
Now that you are familiar with the plants at your disposal, begin designing your planting by choosing your showcase plant. Your showcase plant will be the one on which you base your entire design. It should have outstanding color, shape, or texture—or a combination of more than one spectacular attribute.
4.
 Choose companion plants
Once you have your showcase plant selected, begin choosing companion plants that accentuate rather than compete with it. If your showcase plant has brightly colored variegation, choose an accompanying foliage plant that has similar tones. If your showcase plant has intensely textured foliage, choose a smooth-leaved companion to temper it. In addition, make sure that all of your chosen companions work well with each other.
---
Cindy Young is a garden designer in Brewster, New York, and the winner of the 2011 Fine Gardening Container Design Challenge.
Photos: Michelle Gervais
View Comments