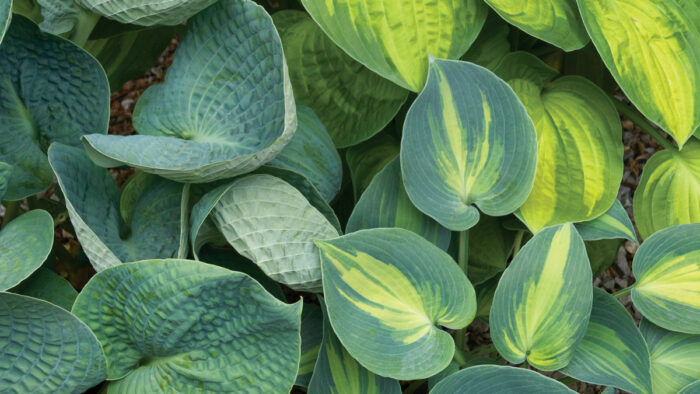 When my husband and I bought our home in North Vancouver in 1992, I was a novice gardener. Our purchase gave me the enviable opportunity to create a new garden from a blank canvas. Anything was possible, but that also necessitated making thoughtful choices at the outset to guide the evolution of the design.
I found a couple of plants I was unfamiliar with in the original space: a medium-size mound of solid green foliage, and a similar plant that was smaller with white variegation in the center of the leaves. They were happy and welcoming, and I felt very comfortable with them. So began my hosta (Hosta spp. and cvs., Zones 3–8) addiction. Since then I've learned through trial and error how best to care for and design with hostas. First, I made my garden more hospitable for growing them. Then, as I added new plants, I placed them in locations that allowed their unique colors, textures, and forms to shine.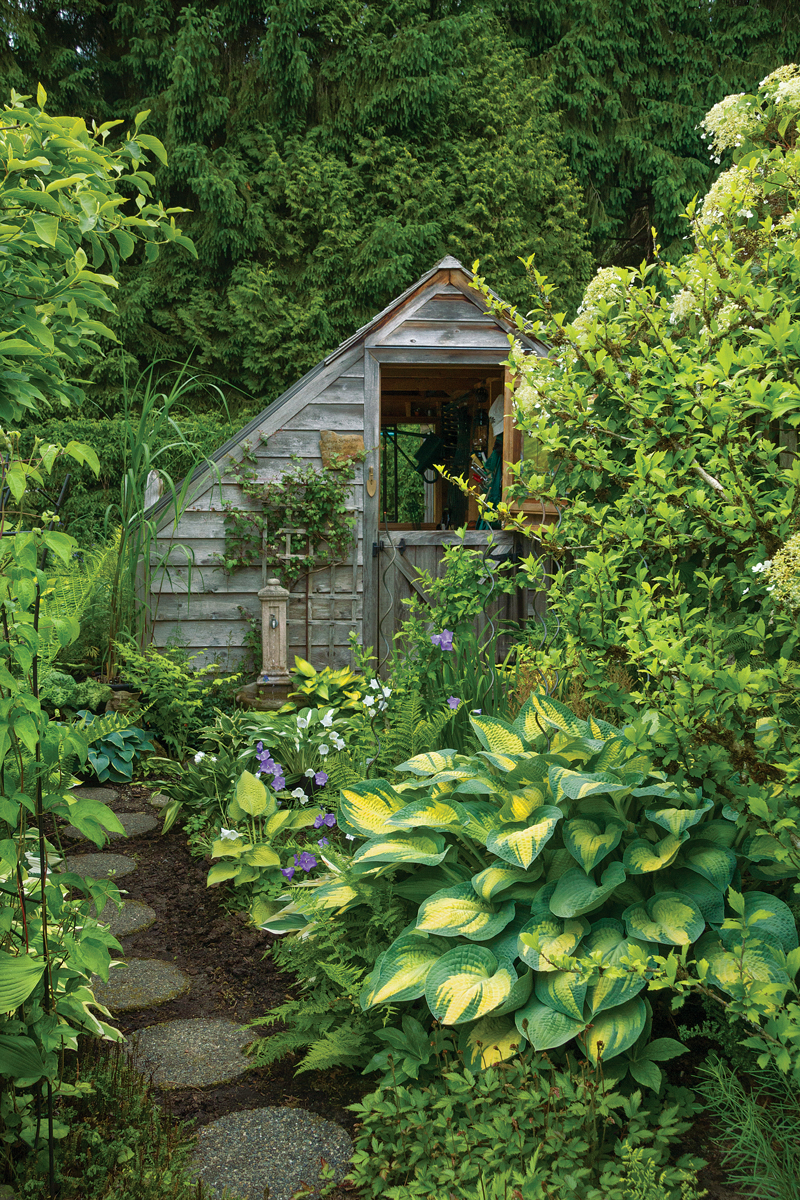 Make the site hosta-friendly
Over the years, I have had to make a number of changes to my garden to support my hosta addiction. My property is at the base of the North Shore Mountains in British Columbia and close to the ocean. Water drains from north to south across the garden, and at times of heavy rain there can be flooding. I have had to build berms in some areas to keep the feet of some plants out of soggy soil. In addition to excess moisture, I deal with clay soil in some places. Adding lots of compost in these areas increases drainage and creates the rich, fertile soil that hostas crave. I also mix in some sand to mitigate the sogginess.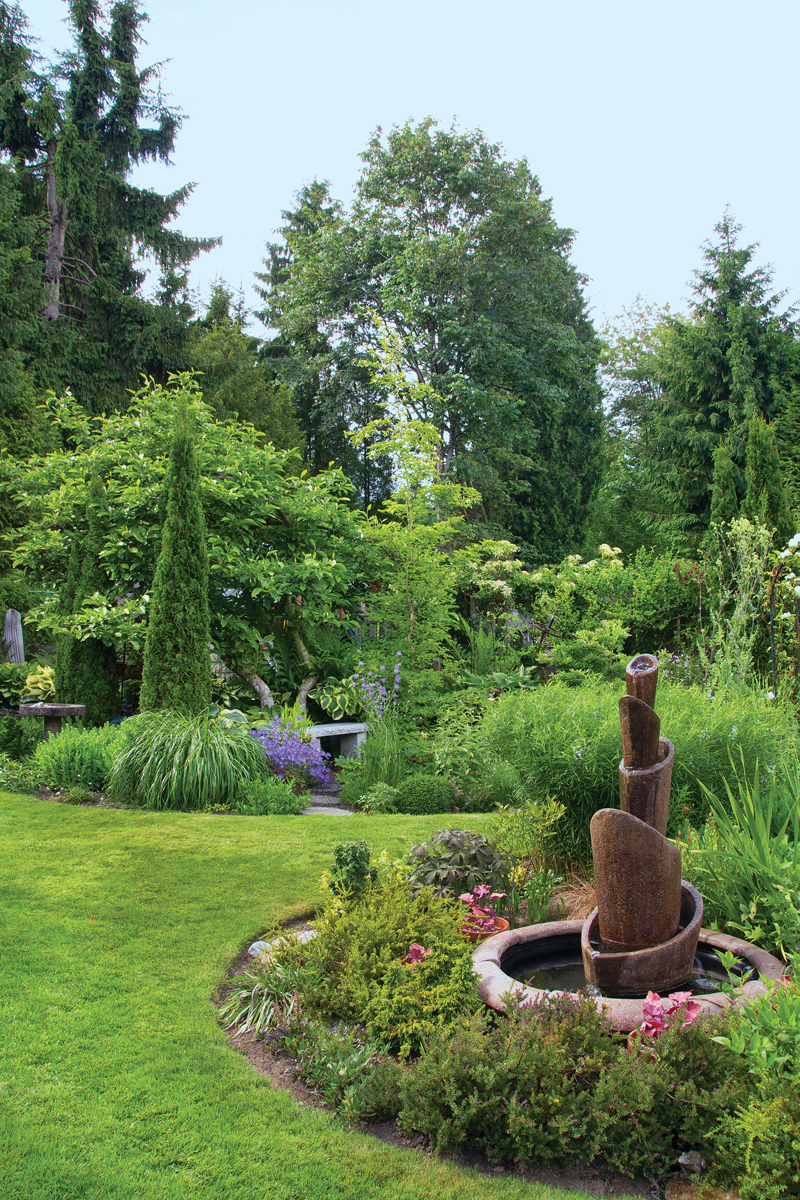 In addition to building berms, I've made other structural changes to create better conditions for my favorite plant. It was clear to me that the garden I had when I bought this property was too sunny for most hostas, apart from a few sun-tolerant varieties, such as 'Gold Standard' and 'Sun Power'. To create the necessary shade, I began transforming the flat, sunny space into distinct areas divided by tall plants that would protect the hostas from morning sun. I removed much of the lawn and created pathways around the perimeter of the garden (photo above). By bordering both sides of those paths with tall plants, it was possible to double up on the shade cast in each area and create a happy home for many hostas beneath them.
A vicious storm hit North Vancouver in 2007 and uprooted a cluster of alder trees (Alnus spp., Zones 2–9) from a neighboring property that smashed down through the garden, destroying many plants and structures. One casualty was a mature Lawson's cypress (Chamaecyparis lawsoniana, Zones 5–7), which was split in half, leaving a large sunlit area. This gave me an opportunity to recreate the space and make room for more hostas.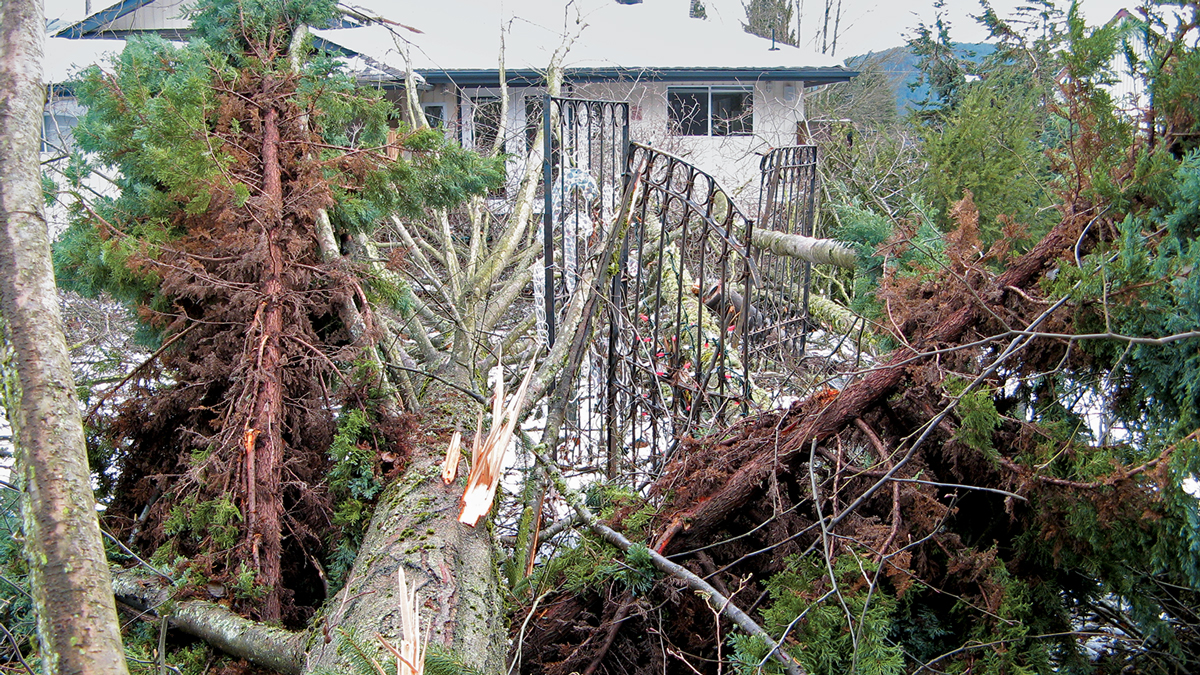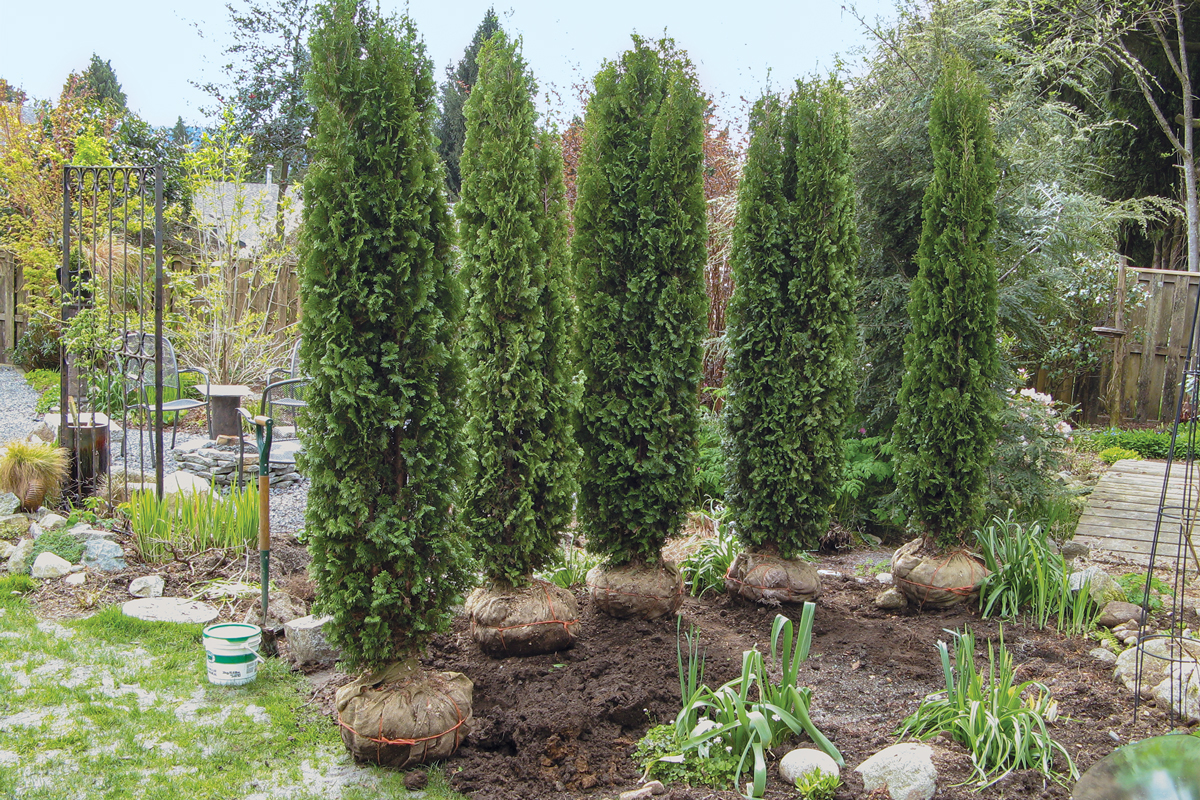 To provide the necessary afternoon shade, I planted a curved wall of 'Degroot's Spire' arborvitae (Thuja occidentalis 'Degroot's Spire', Zones 3–8). This is the perfect evergreen for shading hostas because it has a compact habit and maintains its slender profile as it grows. It doesn't edge out any of the hostas planted under it, and it provides a soft green backdrop to colorful hostas planted or hung nearby, such as 'Inniswood' and 'Love Pat'.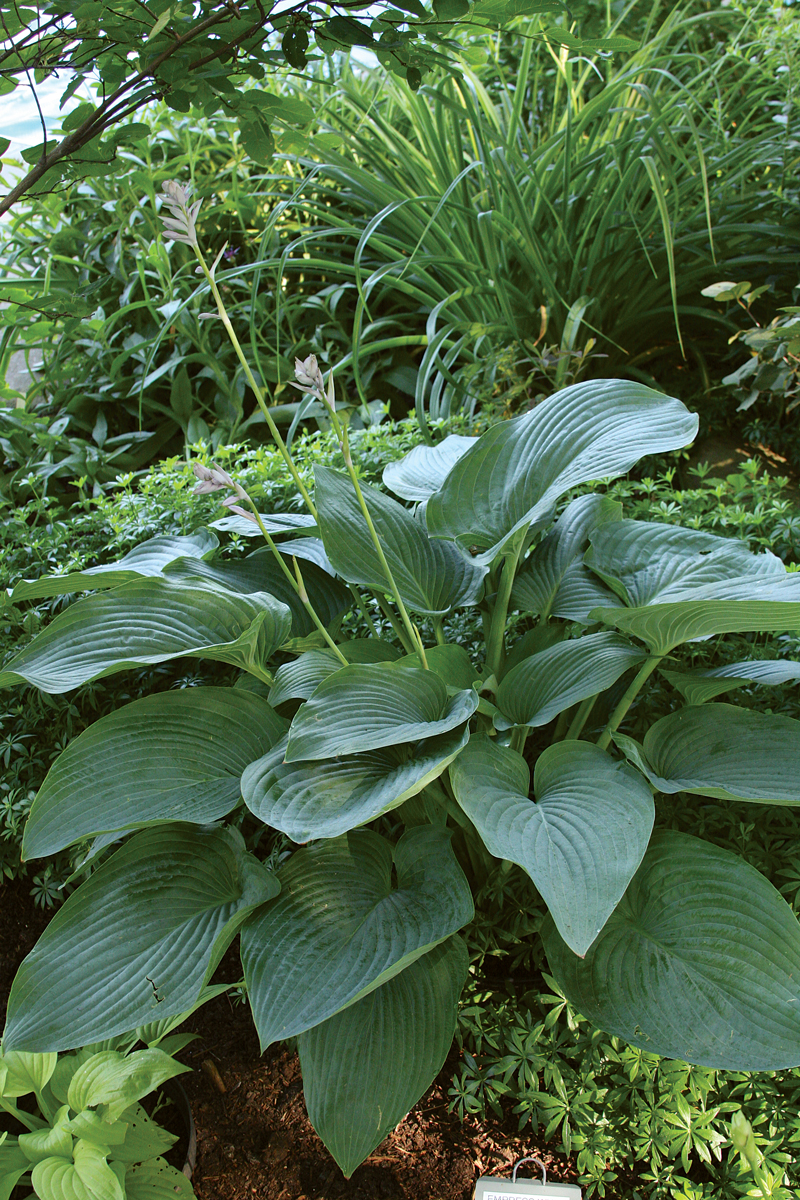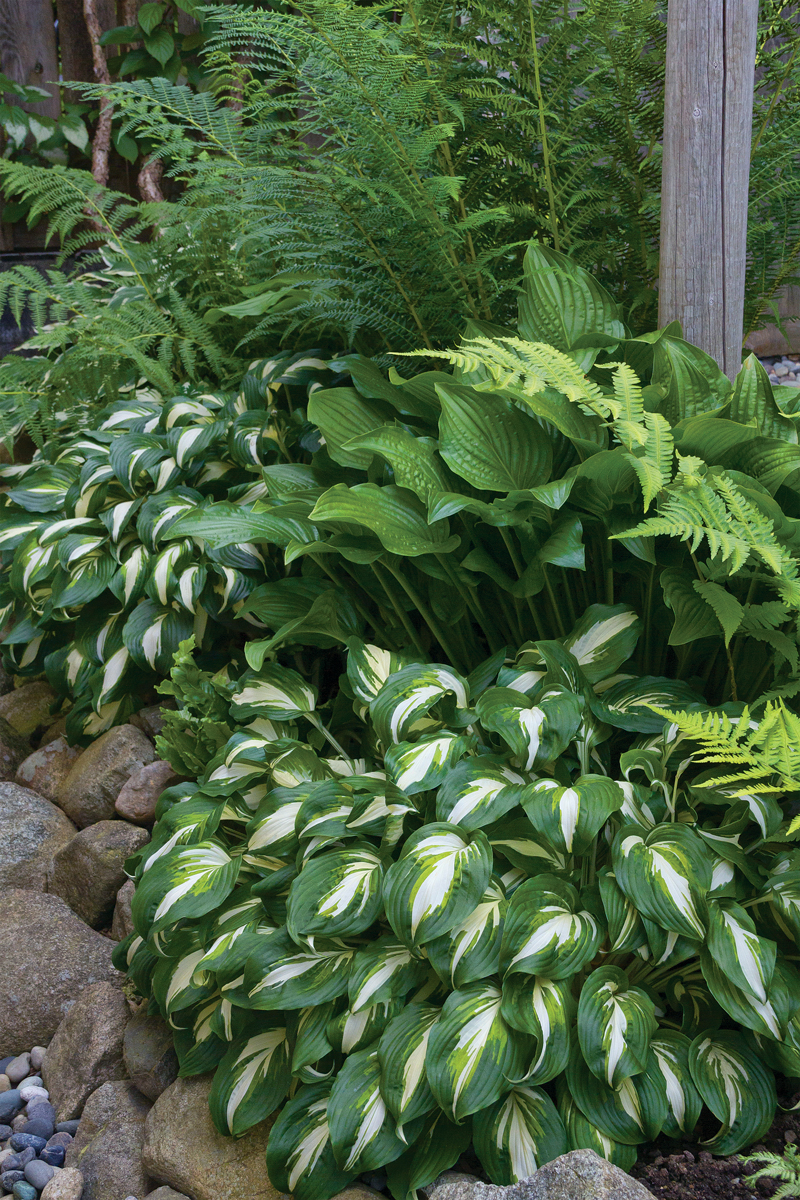 Because of limited space I have to be careful about adding large hostas to my garden, but if a plant is a must-have—a beauty that really catches my eye at a nursery or in a catalog—it's coming home with me no matter what, even if all spots in the garden are taken. This often means transplanting existing plants until everyone's happy. To date, the most labor-intensive example of this process has been making room for my 'Empress Wu' hosta (photo above, top left). This impressive plant can grow 4 feet tall and 6 feet wide. I needed to move many large perennials to make room for it. The 2-foot-wide leaves of 'Empress Wu' dwarf everything around it. So to balance the Empress's girth, I built a berm to its right side, which provides height, light, and airflow to smaller plants beneath it.
Use color and form to determine plant placement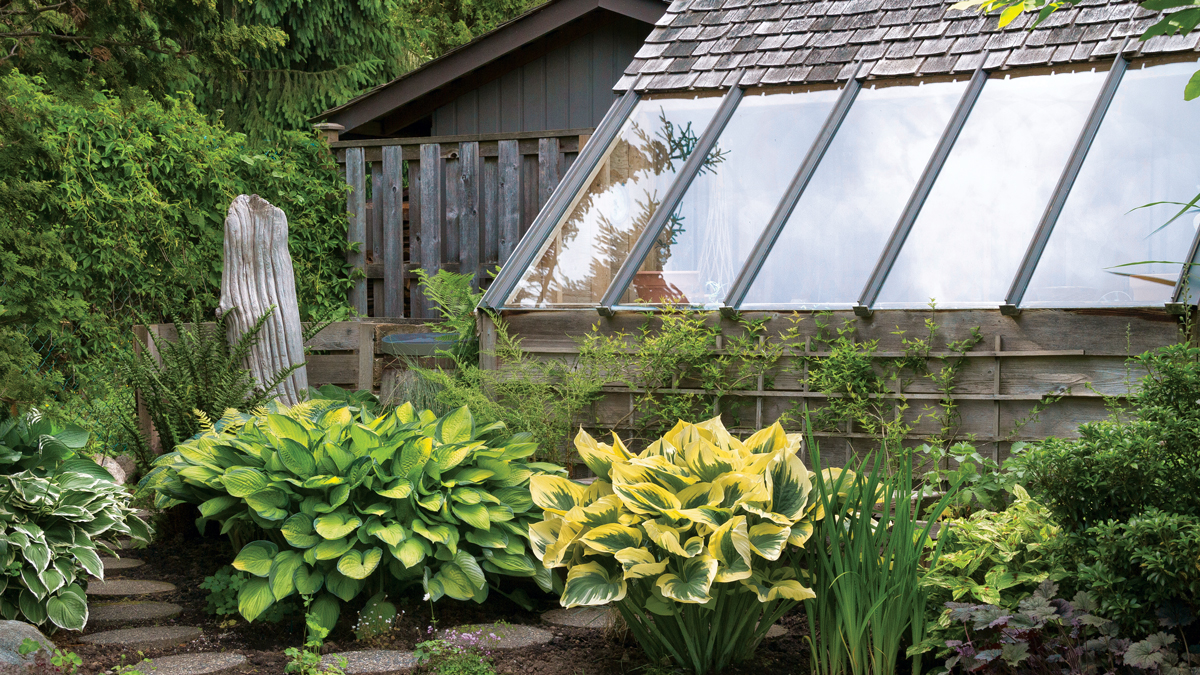 My goal in designing the garden was to create a calm and relaxing space, and that decision influenced both its flow and its color palette. I chose plants with soft colors, such as cool blues, whites, pinks, and butter yellows. The range of colors present in hostas naturally made them a perfect choice for this color scheme. There are no sharp intakes of breath when wandering through hosta-focused designs—only long, relaxed exhales. But calm doesn't mean boring, and the hostas in my garden are strategically placed in areas that highlight their best features and make them shine. One of the earliest large hostas to stretch out in spring is the green-and-yellow-variegated 'Liberty', and it always attracts attention. 'Liberty' is strategically planted in a far corner as a focal point. It's the first large hosta that visitors see when they enter the garden (photo above). 
A big consideration in choosing which hostas to plant next to each other is color. Complementary colors (opposite colors on the color wheel) work well to add contrast to the design. Blue and yellow are complementary colors, so I planted 'Piedmont Gold' hosta, with its rich yellow foliage, next to 'Elegans' hosta (H. sieboldiana 'Elegans', Zones 4–9), which has powdery blue leaves. Nearby yellow-variegated hostas 'Wide Brim' and 'Carolina Sunshine' blend the tones of 'Elegans' and 'Piedmont Gold', creating depth and cohesion in the design.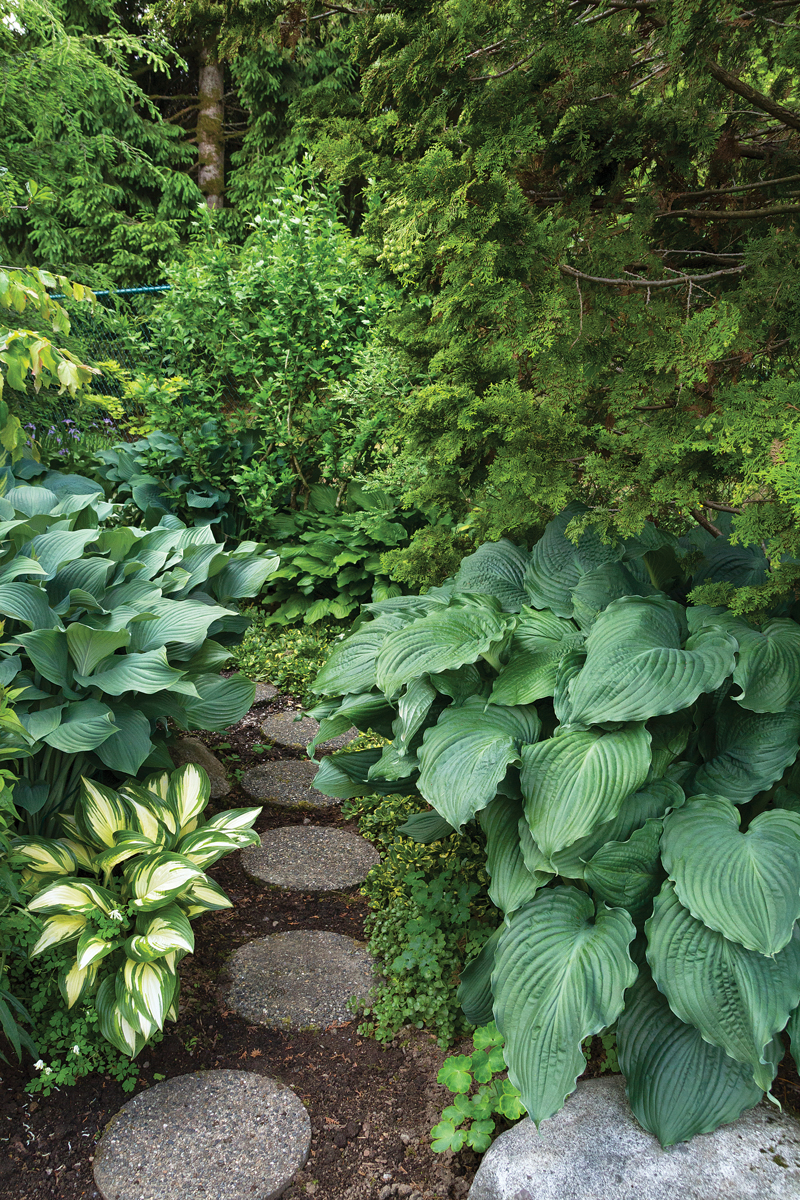 A repeated color motif like this can also be used to guide the eye in a specific direction. Along one of the stone paths, I've planted white-variegated hostas like 'Sea Thunder' among hostas with solid teal colors to guide a viewer's gaze down the path (photo above). While many of these hostas are similar in size, nearby 'Lakeside Ripples' is several times larger. Its broad foliage creates textural contrast and anchors the scene. 
While creating shade allowed for many more hosta purchases, the garden was soon filled to capacity, and it then became necessary to think imaginatively about alternative planting options. Containers and hanging baskets came to the rescue. Another epiphany was elevating some potted-up hostas on pedestals, which enabled them to be layered and let me showcase specialty plants. Lifting 'Restless Sea' reveals the whitish undersides of the leaves, and when a breeze cruises through the leaves, the look is that of moving water. 
Hostas make a strong contribution to the architecture of the garden, and it is their textured and colorful foliage that does all of this heavy lifting. Their flowers can be fragrant with colorful scapes, but I think that the flowers are a distraction from the beautiful foliage. It's my husband's job to cut down flower scapes as they emerge in spring. He sterilizes the pruners with ammonia between plants to be absolutely sure he doesn't transmit any disease from one plant to another. 
In case you are wondering, I have incorporated many plants in my garden that are not hostas. But they are there to provide contrast (with color, texture, or form) to the stars—the hostas. Developing this garden has been a thirty-year process. While it continues to evolve, I've achieved my goal: to create a calm, soothing design with hostas at the center. As I keep making room for must-have specimens, I continue to make way for hostas.
---
Delphia Johnstone is a lifelong gardener who lives in North Vancouver, British Columbia.