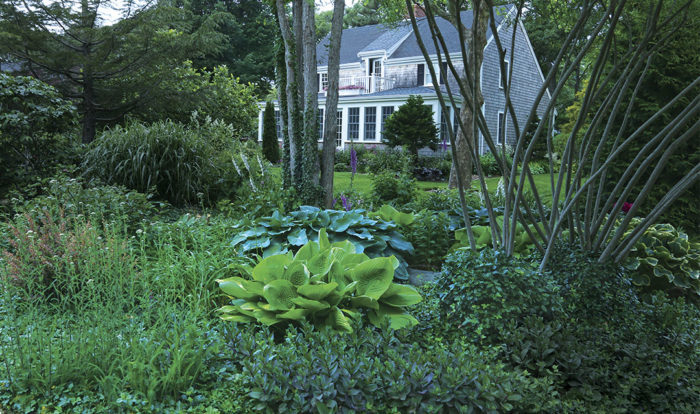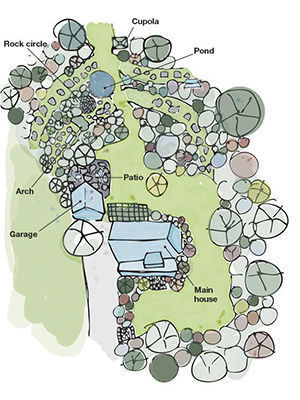 Land is somewhat hard to come by in Cape Cod, Massachusetts. When a real estate listing mentions "land," it sometimes just means enough space to squeeze between yours and your neighbor's house. So in 1984 when my husband, George, and I found a lot that was a half-acre of pitch pines and poison ivy, we were excited—but also concerned. Would this small property be able to satisfy a lifetime of plant addiction? Though not garden designers by trade, each of us had been in horticulture for our entire working lives, so we were confident we could make the garden feel bigger than it actually was. Over the past 33 years, we've learned several tactics to maximize the space we've got.
Instead of carving up our property into multiple small gardens, we chose to lay out the largest garden beds possible. In these "big" borders, the plant placement is built around creating the illusion of space. Focal points draw the eye though the expanse, and certain screening plants stop the eye from wandering too far off, giving the impression that there could be more garden beyond.
Creating faux vistas within the beds makes them seem larger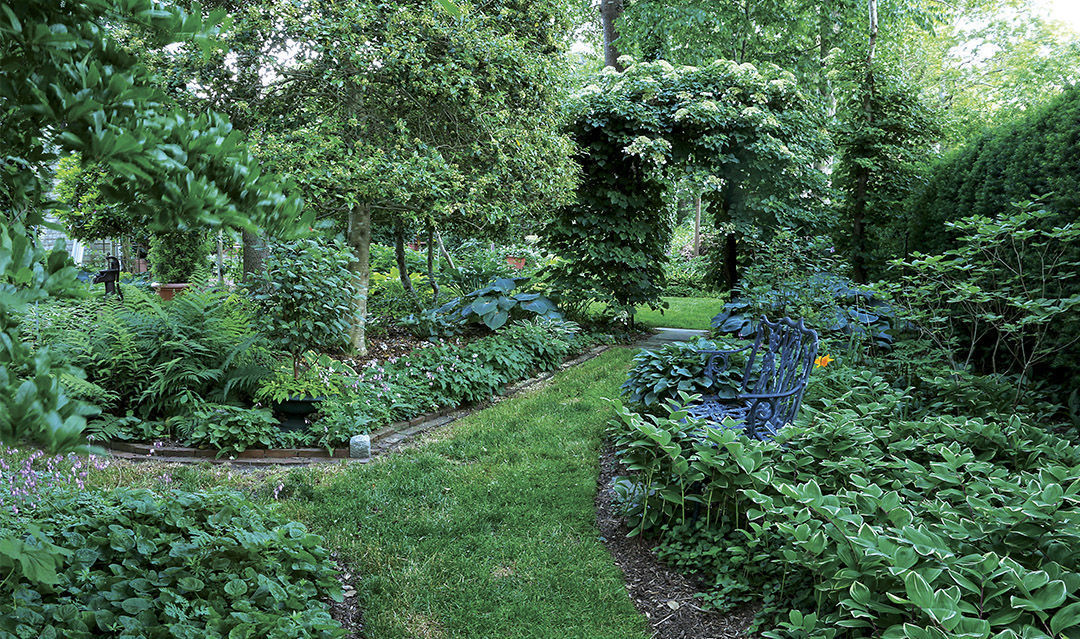 Every area of the garden has layers of interest up close (from single plants), in the middle ground (from plant combinations), and at a distance (from other garden elements like a cupola or bench). You'll find trees, shrubs, and perennials of all heights throughout each bed. From towering to ground level, it's this variety that helps move the eye throughout the vertical dimension, making things seem more visually expansive. Tunnels of beech (Fagus spp. and cvs., Zones 4–9) and rhododendron (Rhododendron spp. and cvs., Zones 4–9) and arches of climbing hydrangeas (Hydrangea anomala ssp. petiolaris, Zones 4–8) add to the sense of vertical space expanding and contracting. They help frame views where the space appears vast.
We made sure that visibility as you travel through the garden isn't ever completely blocked nor wide open. We strategically created long sight lines with plant placement throughout the beds, allowing for open space to come in and out of view. This helps orient you and provide visual relief in contrast to the more enclosed areas. Doing this makes the space feel enclosed and comfortable, but never closed in and claustrophobic. The actual boundaries of the property are always partially obscured or unclear. For instance, we planted trees, shrubs, and ornamental grasses to stop the eye from looking beyond the garden to our neighbor's property, but we also created narrow garden paths to the neighbors' house as well to give the illusion that the garden could keep going.
*See invasive alert below.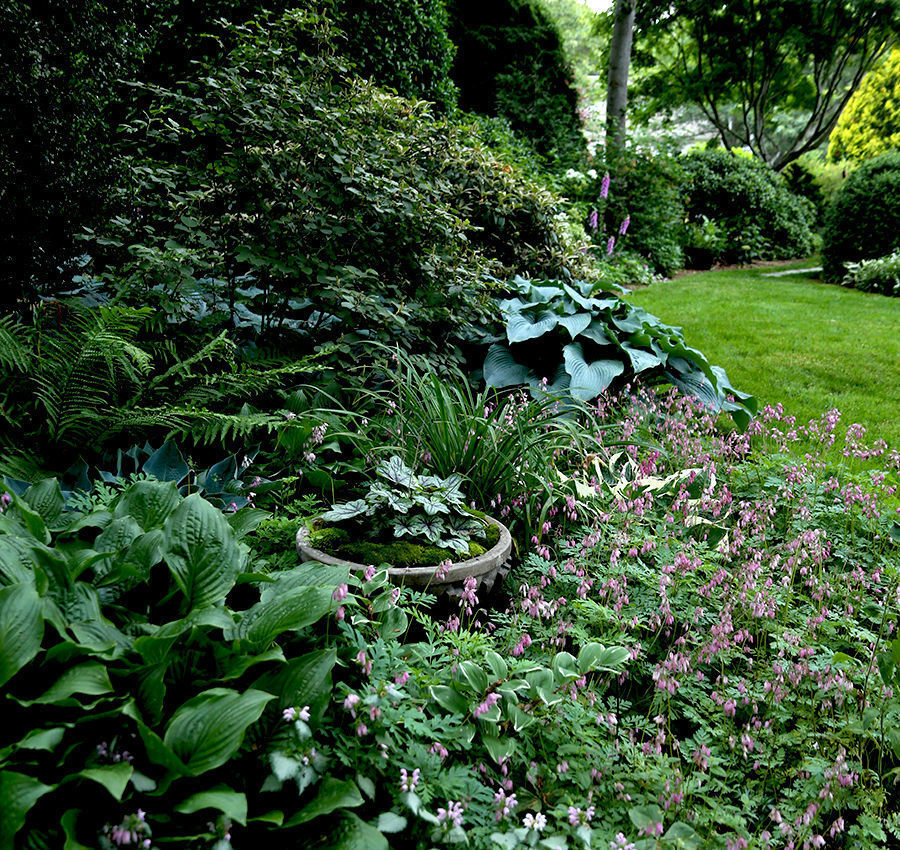 One thing that larger gardens possess that can be hard for a small garden to duplicate is the feeling of intimacy, privacy, and containment. Big landscapes create rooms, but with a smaller space, sectioning off what little land you've got can make the space feel limited instead of lush. Instead of creating rooms, we put "gardens within the garden" to make it feel like there are many destinations throughout the property—and this leads to a feeling of being in a bigger place. In a shady section of lush hostas (Hosta spp. and cvs., Zones 3–9) and ferns, for instance, we carved out a piece of the bed to build a water fountain—and planted an array of interesting moisture-loving perennials around it.
Winding paths lengthen the journey while living spaces get downsized, not ditched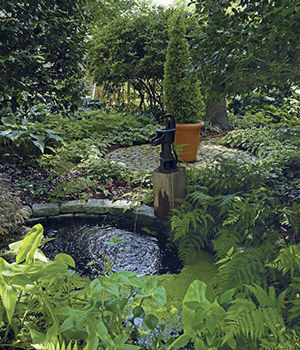 There is a logical progression to the layout of paths in our garden, but there is not just a singular, forced route to travel. Instead, we made sure there were choices and a variety of approaches or decision points/options that make the journey seem longer. The many meandering, interconnected paths obscure sight lines at the back of the property and on the side, blocking the view of the house so you often don't know where you are. This encourages you to look closely at what is right before you. The sheer variety of the plantings adds to the sense of "largeness," because you feel as if you've seen a great deal during a stroll. As time has gone on and the gardens—as well as our family—have gotten older, paths have been moved for better access or a more pleasing curve. Kids on bicycles no longer travel the grassy pathways that loop through the shade gardens, but those paths remain integral to creating the feeling of more space.
We made sure that visibility as you travel through the garden isn't ever completely blocked nor wide open.

It's like a choose-your-own-adventure book. Curved paths intersect in several spots, allowing you to turn left or right to lengthen your stroll.
Just because we have a smaller lot doesn't mean we had to sacrifice our outdoor living areas. You'll still find patios and various seating and entertaining spots throughout our landscape—except these spots are downsized. Since our property is petite, these areas needed to flow easily into one another to enhance the feeling of expansiveness. If the square footage was chopped up into a series of small disjointed spots, the space would feel cramped and chaotic. We did small things, however, to delineate areas and give each a particular mood. A visitor, for instance, will find a variety of materials underfoot.
In the early 1990s, I dragged George out of the garden and onto a local beach for a few hours. Between swims, I showed him a picture of an irregular bluestone patio. "Where?" he asked, thinking we had no space for something similar. But we found a place—by removing an outgrown swing set behind the garage. A different patio was created entirely out of found beach stones. The size and scale are similar, but the different materials give each spot its own character. All of these outdoor living areas have their own spirit or color scheme, but repetition of some plants throughout gives the experience cohesion.
There was never a master plan for this garden, and it will keep evolving. We continue to add to the gardens where outgrown tree houses and trampolines once resided. Visitors now think they are wandering around a 5-acre lot, and we always delight in telling them that, no, it's just the largest half-acre on Cape Cod.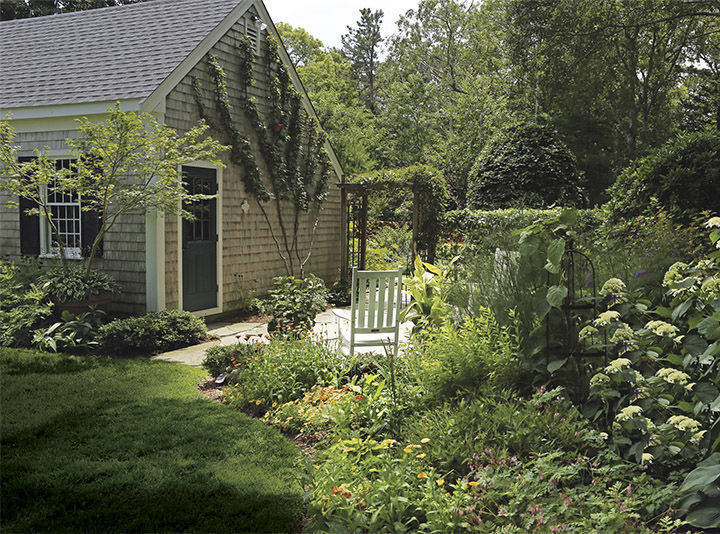 ---
Tips for Layering Plants
Stacking plants in a specific way leads can lead to a sense of fullness. Here is how to ensure every level of the garden has interest.
1. UP CLOSE  Place single plants with a unique trait. Here, the glowing chartreuse foliage of 'Stained Glass' hosta (Hosta 'Stained Glass', USDA Hardiness Zones 3–9) grabs your attention.
2. MIDDLE GROUND  Plant captivating combinations by mixing textures. The bold rhubarb (Rheum cv., Zones 3–8) leaves paired with the wispy dame's rocket (Hesperis matronalis*, Zones 3–8) blooms create instant impact.
3. AT A DISTANCE  Place interesting garden elements with a distinct form. The striking cupola, originally on the garage, was repurposed as a focal point and gives some hint of the treasures that are farther away.
*See invasive alert below.
---
Favorite Space-Saving Beauties
Almost any plant can be grown in a small space, but some are simply better suited to thrive in cramped quarters. The following are a few plants that have a big presence but a relatively small footprint.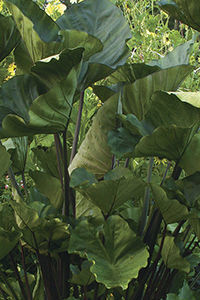 'Coffee Cups' Elephant Ears
(Colocasia esculenta* 'Coffee Cups')
I like putting tropicals, this large-leaved one being a favorite, in pots and move them around to fill unanticipated garden gaps. They can also be underplanted with annuals and perennials.
Zones: 8–11
Size: 3 to 6 feet tall and wide
Conditions: Full sun; moist, well-drained soil
*See invasive alert below.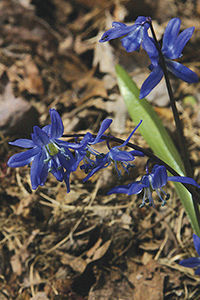 Siberian Squill
(Scilla siberica)
Many thousands of these bulbs create an early spring show in our gardens, making them feel full and expansive at the start of the season. Then they disappear, making way for bulkier perennials.
Zones: 2–8
Size: 4 to 6 inches tall and wide
Conditions: Full sun to partial shade; well-drained soil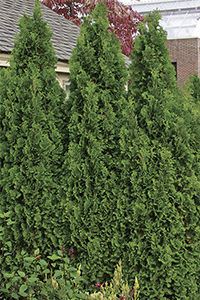 '

Degroot's Spire' Arborvitae
(Thuja occidentalis 'Degroot's Spire')
This tall yet narrow evergreen creates an eye-catching, strong, vertical accent. I use it for hedging, boundary obscuring, and singly as a focal point.
Zones: 2–7
Size: 20 to 30 feet tall and 4 to 6 feet wide
Conditions: Full sun to partial shade; well-drained soil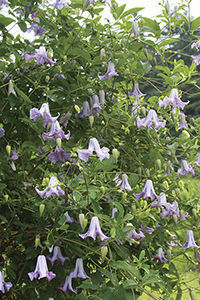 'Betty Corning' Clematis
(Clematis 'Betty Corning')
Like many vines, this one has a small footprint but offers a big contribution by drawing the eye upward. It scrambles through our evergreens, blooming most of the summer, and adds invaluable lushness.
Zones: 4–9
Size: 5 to 6 feet tall and 2 to 3 feet wide
Conditions: Full sun to partial shade; moist, well-drained soil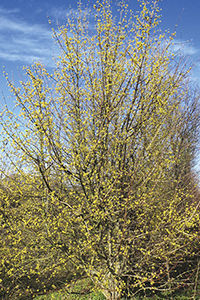 Cornelian Cherry
(Cornus mas)
This small tree is easily trained into an espalier. In that form, it can separate garden spaces or add interest to a blank wall.
Zones: 4–8
Size: 15 to 20 feet tall and wide
Conditions: Full sun to partial shade; moist, well-drained soil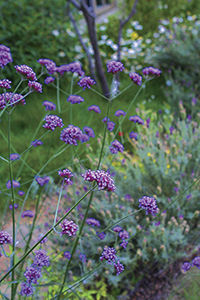 Tall Verbena
(Verbena bonariensis)
You can bank on this tall, skinny plant to bloom prolifically throughout summer and fall. Although an annual for us, these plants tend to self-seed and incorporate themselves seamlessly into beds and borders.
Zones: 7–11
Size: 2 to 4 feet tall and 1 to 2 feet wide
Conditions: Full sun; well-drained soil
---
Marcia Chapman is the manager of Soares Flower Garden Nursery and gardens with her husband in East Falmouth, Massachusetts.
Photos: Danielle Sherry, Michelle Gervais, Steve Aitken. Illustration: Kate Gosselin.
*Invasive alerts
Lysimachia nummularia
This plant is considered invasive in CT, IL, MA, NH, PA, TN, WI, and WV.
Hesperis matronalis
This plant is considered invasive in CO, CT, IL, IN, IA, MA, ME, MI, NH, NJ, OH, PA, TN, VT, WI, and WV.
Colocasia esculenta
This plant is considered invasive in AL, CA, and FL.
Please visit invasiveplantatlas.org for more information.