Design
Pick the Perfect Pot
When selecting a container material, consider your climate, back strength, and style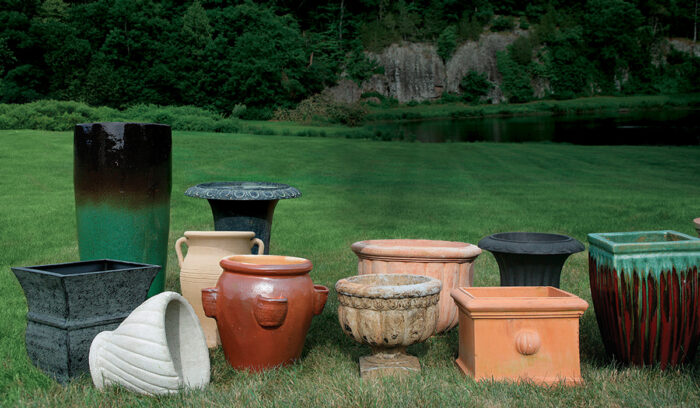 Every time I step across the threshold of another garden center in search of a new container, I feel like I should proclaim, "Hello. My name is Danielle, and I'm a potaholic." Maybe then the staff would save me from myself. Many years of planting container gardens have left me with quite a collection of pots: some glazed, some terra-cotta, one or two concrete—all beautiful in their own way. But I've learned the hard way that not all container materials are created equal.
Each year, after dragging the last oppressively heavy pot around my garden, I vow that I will invest in lighter pots or in those that can withstand my climate so that I don't have to move them if I don't want to. These days, you can find synthetic pots that look just like real terra-cotta, stone, or metal at a comparable price. I've come to realize that looks aren't the only thing to consider when choosing a container. The climate in your area and your brute strength are factors to consider as well. Here's a closer look at the variety of container materials available.
---
Can you tell the difference?
With recent advances in manufacturing, container material options are more diverse than ever. The classic look and aesthetic appeal of terra-cotta, for instance, is often duplicated in fiberglass or plastic. Deciding which one of the three options is the real thing isn't as easy as you might think.
Wondering which pot in the photo above is terra-cotta, which is fiberglass, and which is plastic? Scroll to the bottom of this page to find out.
---
Terra-cotta is a classic but can be fragile
Terra-cotta's classic look is what many other materials attempt to re-create. The downsides of this material are that it is heavy, breakable, and vulnerable to cold weather. Terra-cotta pots are made from baked clay. The porous nature of this earth-based medium allows air and water to pass through the walls of the pot; this promotes healthy plants by staving off root rot and disease caused by overwatering. However, this can also cause the soil to dry out quickly, which means more watering. Also, if water remains in the clay during freezing weather, the pot can flake and crack. Terra-cotta baked at higher temperatures is the most durable because the clay becomes harder and less permeable. For a high-quality pot that will last for years, look for an even, reddish brown hue and thick walls.

Pros: Natural and classic look lends itself to almost any setting; porous nature of clay encourages good drainage
Cons: Can crack if frozen or dropped; plantings will need to be watered more often than with other materials; heavy
Glazed terra-cotta is all about color
With such a wide variety of colors available, glazed pots can be integrated into nearly any setting and are purchased primarily for their bold good looks. These pots are actually just typical terra-cotta covered in a glaze. But glazed terra-cotta tends to hold up better to weathering than regular terra-cotta because the clay is baked at higher temperatures, resulting in stronger, less-permeable pots better suited to handling changes in weather. When glaze is baked onto the outer surface, it seals the exterior of the pot, making it even more resilient. The terra-cotta is still exposed on the inside of the pot, so some winter protection is required. Like their unglazed cousins, these pots are heavy even when empty and will break if dropped.
Pros: Wide range of colors and styles; moderate weather resistance
Cons: Clay is susceptible to weathering; breakable; heavy
Fiberglass looks as good as the real thing
Much like the new breed of plastics, fiberglass has an uncanny ability to look like terra-cotta, cast stone, or even metal. Fiberglass containers are molded from a viscous polymer laced with fiberglass strands, which lend strength to the thin liquid, allowing for clearer details and textures than those possible with plastic. Fiberglass is fairly light and rigid, so it is easy to reposition if you find a better place for it. Although production quality has improved in recent years, fiberglass pots still have a tendency to flake and chip when overhandled or when subjected to prolonged weathering. Some companies are experimenting with hybrids of fiberglass and other materials, a clay and resin mixture applied to a fiberglass skeleton, for instance. This process makes it possible to simulate the look of terra-cotta or cast iron even more successfully.
Pros: Moderately resistant to weathering; sharp details and interesting textures; lightweight; vast array of colors and styles
Cons: Somewhat vulnerable to flaking and chipping
Metals can be classic or contemporary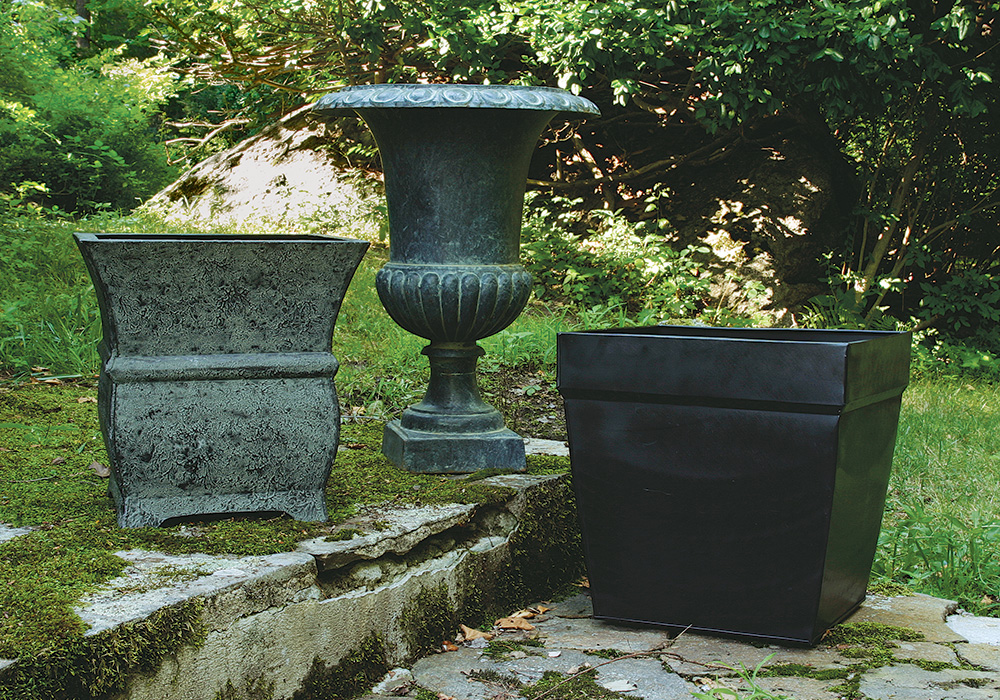 Available in styles appropriate to traditional and contemporary settings, metal containers are quite varied. Cast iron is a heavy, traditional option often used for Grecian-style urns. Cold weather is not a concern with these pots. Although iron is prone to rusting, yearly applications of a weather-resistant sealant can help slow down the aging process. Like most metals, cast iron absorbs heat readily, which can cause both plants and the occasional hand to burn. Most contemporary metal pots are cut and shaped from sheet metal and then coated to help prevent rusting. Moving these pots is a cinch because they are far lighter, although heat is still a concern with these containers. Some manufacturers are now coating metal pots with a UV-resistant sealant that reflects the sun's rays and protects the metal from rust.
Pros: Wide variability in style; moderate weather resistance; containers made from sheet metal are lightweight and easy to move
Cons: Rust is inevitable; absorbed heat can harm plants; cast iron is heavy
Cast stone is built to last
Nothing says longevity like cast-stone planters. They are typically chosen because they are classic, regal, and able to add visual weight to any setting. While you may find some varia­bility in color, cast-stone containers tend to be limited to a small range of earthen tones. Essentially the same material, cast stone and concrete differ in two respects. First, cast stone has a classier name. "You make roadside curbs out of concrete; you make beautiful urns out of cast stone," says David Tanguay, national sales manager for Campania pottery. Second, cast stone is stronger and less permeable than concrete, making it more resistant to the elements. Cast-stone pots are very heavy and, therefore, not easily moved. But a planting in a cast-stone pot will rarely blow over in a stiff wind.
Pros: Weather resistant; durable; won't blow over
Cons: Heavy weight makes relocation difficult; limited colors
Plastics have come a long way
In the past, many gardeners have considered plastic tacky, but the stigma associated with plastic pots is beginning to wane. From a distance, many newer, higher-grade plastic pots are indistinguishable from their stone or terra-cotta cousins and much lighter in weight. Developments in design technology over the past few years have created a new generation of plastic pottery with thicker walls, interesting textures, and colors that realistically mimic natural materials or make a bold statement as undisguised plastic. The walls of a plastic pot are impermeable to water, which means less-frequent watering and more weather resistance. Plastic pots are very light, so while they are easy to move about, they do not sufficiently anchor larger plantings, which can blow over in strong winds.
Pros: Lightweight; can be left outside year-round in colder zones; virtually indestructible; retains water better than other container materials
Cons: Stigma that plastic is cheap/tacky; susceptible to blowing over in strong winds
*The pots featured in the first photo are made out of fiberglass (left), plastic (center), and terra-cotta (right).
---
Danielle Sherry is the executive editor at Fine Gardening magazine.
Photos, except where noted: Julie Curtis
View Comments