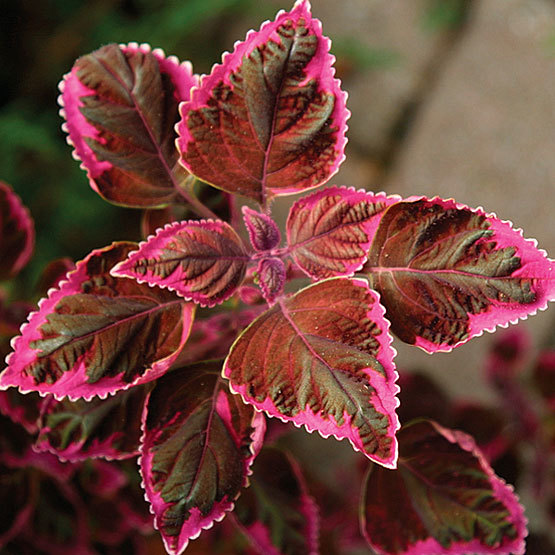 Commonly known as coleus, this genus is grown mainly for its colorful foliage, which may be orange, red, yellow, green, purple, pink, cream, or many combinations of colors. The plants are especially useful in containers, hanging baskets, or as bedding.
Noteworthy CharacteristicsDynamic foliage that holds its own or can be combined with annuals and perennials in the border or in containers.
CareMoist but well-drained soil rich in organic matter. Coleus need a sheltered location in full sun or part shade and ample water in dry weather. Pinch off shoots and flower stalks to encourage good form and to avoid detracting from the foliage. Indoors, grow in a soil-based potting mix in bright filtered to moderate light. Water freely and fertilize every 2 weeks during active growth. In winter, keep just moist, and repot in spring. Alternatively, repropogate to produce the strongest growing plants.
PropagationIn early spring, sow seed on the surface of the soil and sprout at 72-75°F. In late spring, summer, and autumn, root softwood cuttings.
ProblemsMealybugs, scale insects, and whiteflies under glass.