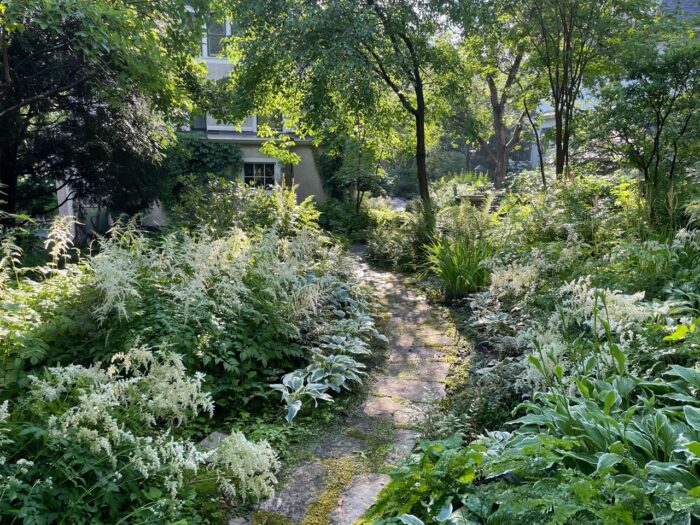 Today we're in chilly Zone 4b, visiting Susan Warde's Minnesota garden.
Before my husband and I bought our current home in 1981, we'd pass it on neighborhood walks. Gazing at the sunny front yard, I'd say to myself, "Now if I lived there, I'd put an edging of marigolds up the front walk." And so I did, with some irises transplanted from our former residence. Three years later I had a low stone wall built along the front sidewalk and the driveway; I dug up a 2-foot-wide border and planted it with annuals and more irises. The garden grew from those narrow strips and now encompasses all of the backyard and most of the side and front.
At first I'd buy or beg any plant that caught my fancy. If it was showy, I'd pop it in. After a while, I began to plan and refine and use a more limited palette, and eventually I eliminated annuals altogether. The front has a bit of a cottage-garden look and features perennials in pinks and yellows, deepening as the season progresses to golds and fuchsias. The back garden (begun in 1998) looks more like a woodland, with flagstone paths winding among ferns, hostas, and spring-flowering Minnesota natives. A side garden, developed between 2009 and 2019, now connects the front and back.
The loss of two full-grown deciduous trees and a couple of towering evergreens, and the growth over the years of once-small saplings, have made the distinction between the "sunny" front and the "shady" back less clear. Both, however, still retain much of their original character. All the gardens are home to numerous ferns, representing more than two dozen species. A dozen birdbaths provide the shimmer of water and encourage visits by wildlife.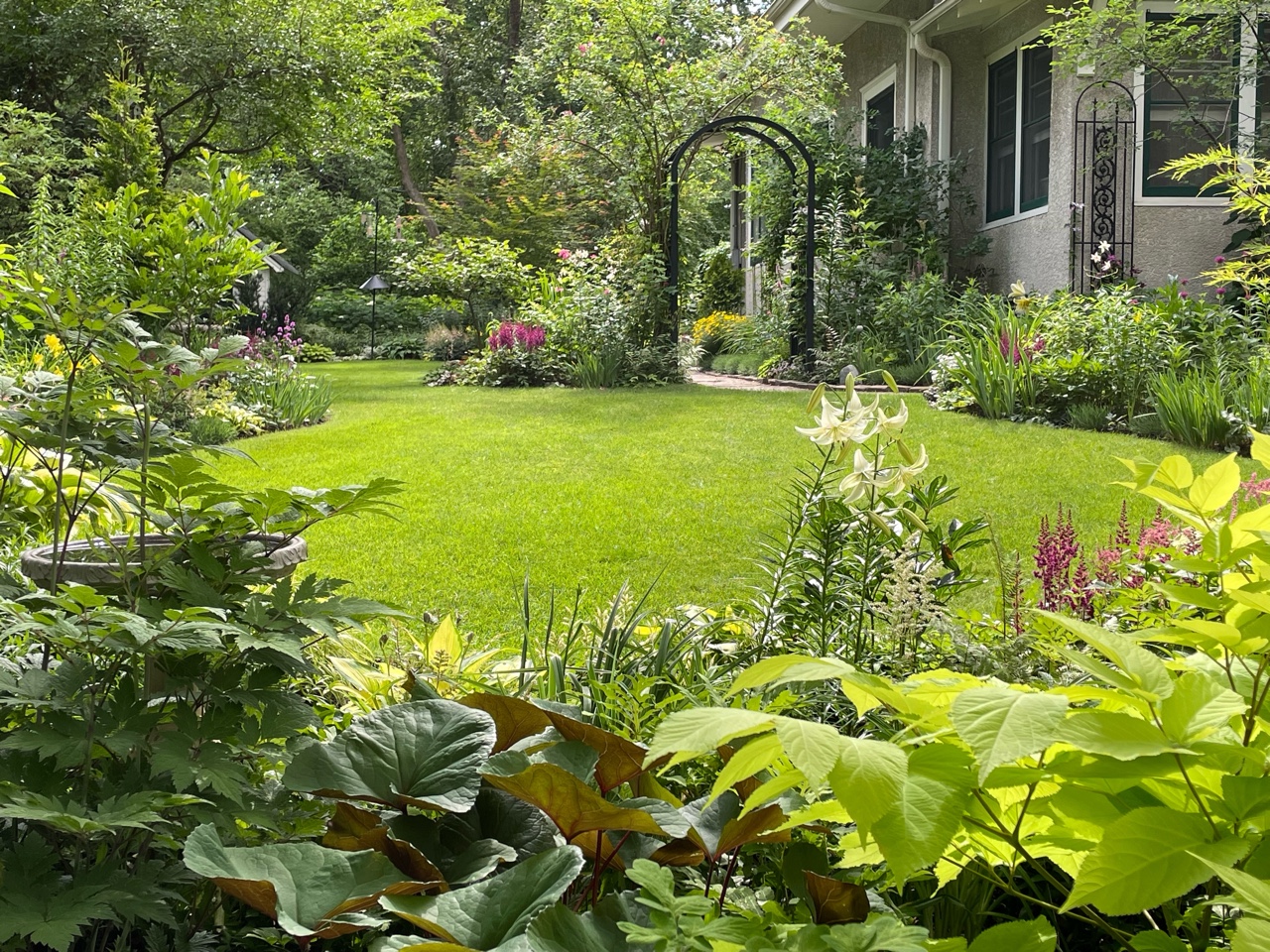 The front garden in early July includes Ligularia dentata 'Britt Marie Crawford' (Zones 3–8) and Aralia 'Sun King' (Zones 3–9) in the foreground. White tiger lilies (Lilium hybrid, Zones 3–8), astilbes (Astilbe sp., Zones 4–8), and others are also visible.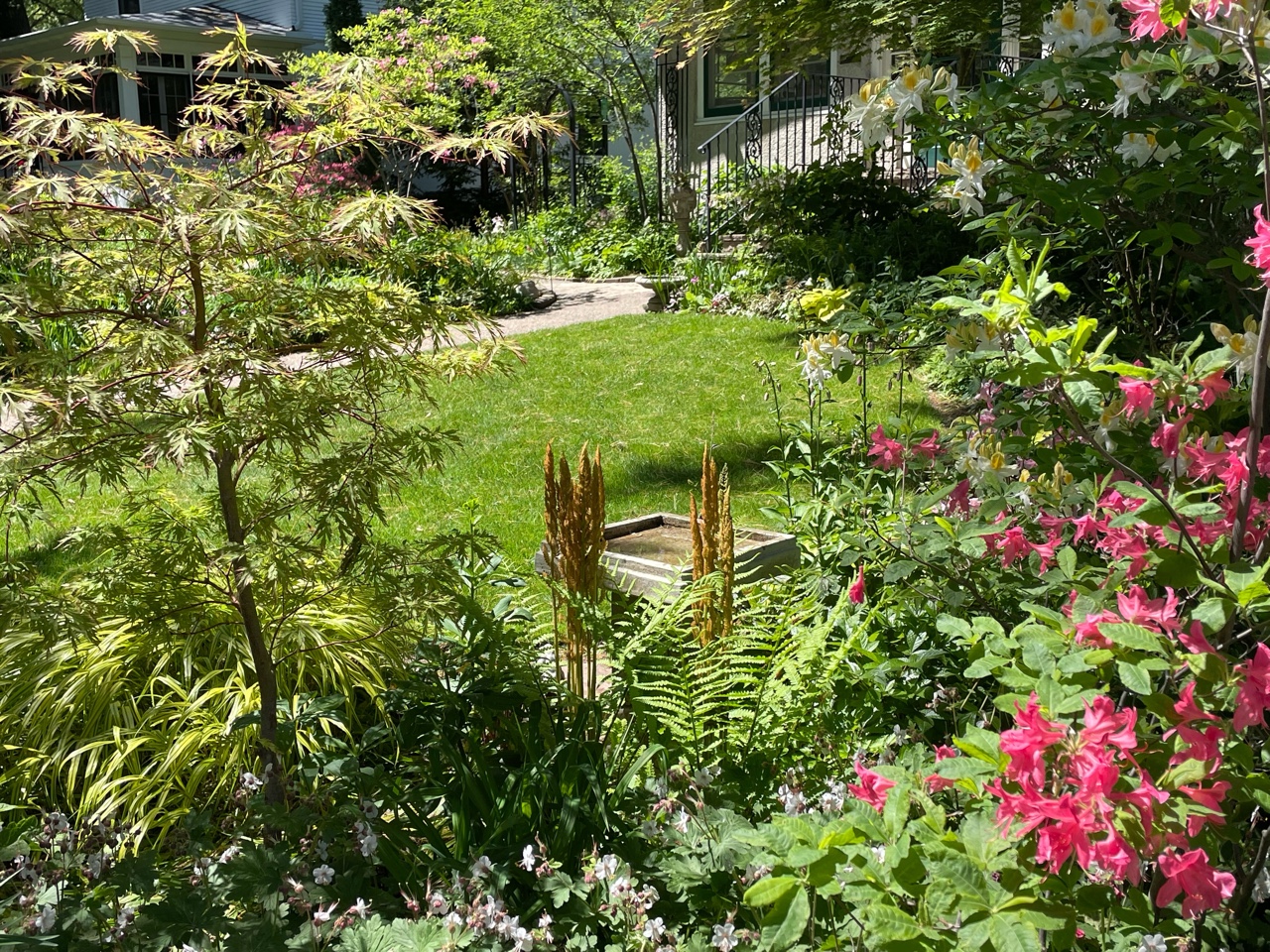 The front garden in early June features Acer × pseudosieboldianum 'Ice King' (Zones 4–8), Osmunda cinnamomea (cinnamon fern, Zones 3–9), and azaleas from the Northern Lights collection (Rhododendron hybrids, Zones 3–7). The latter bridge the gap nicely between spring-blooming bulbs and early summer perennials.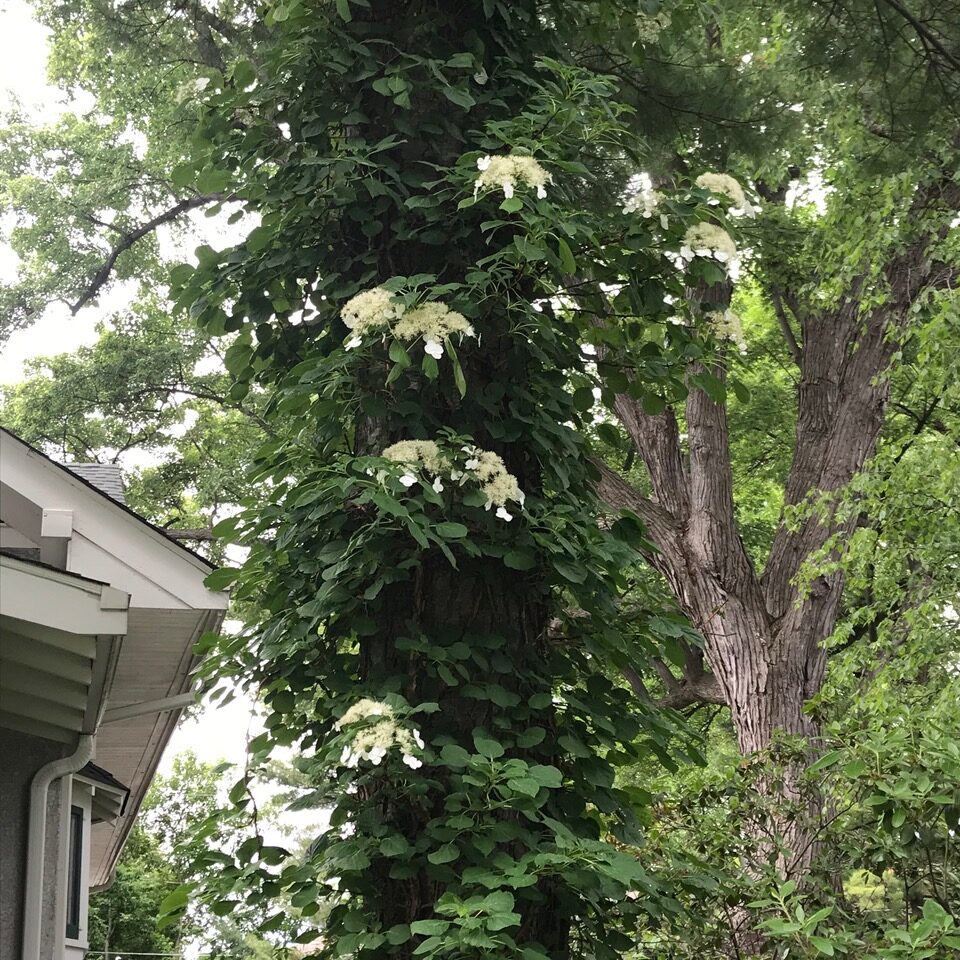 In the front garden in mid-June, Hydrangea petiolaris (climbing hydrangea, Zones 4–8) scrambles up a large white pine.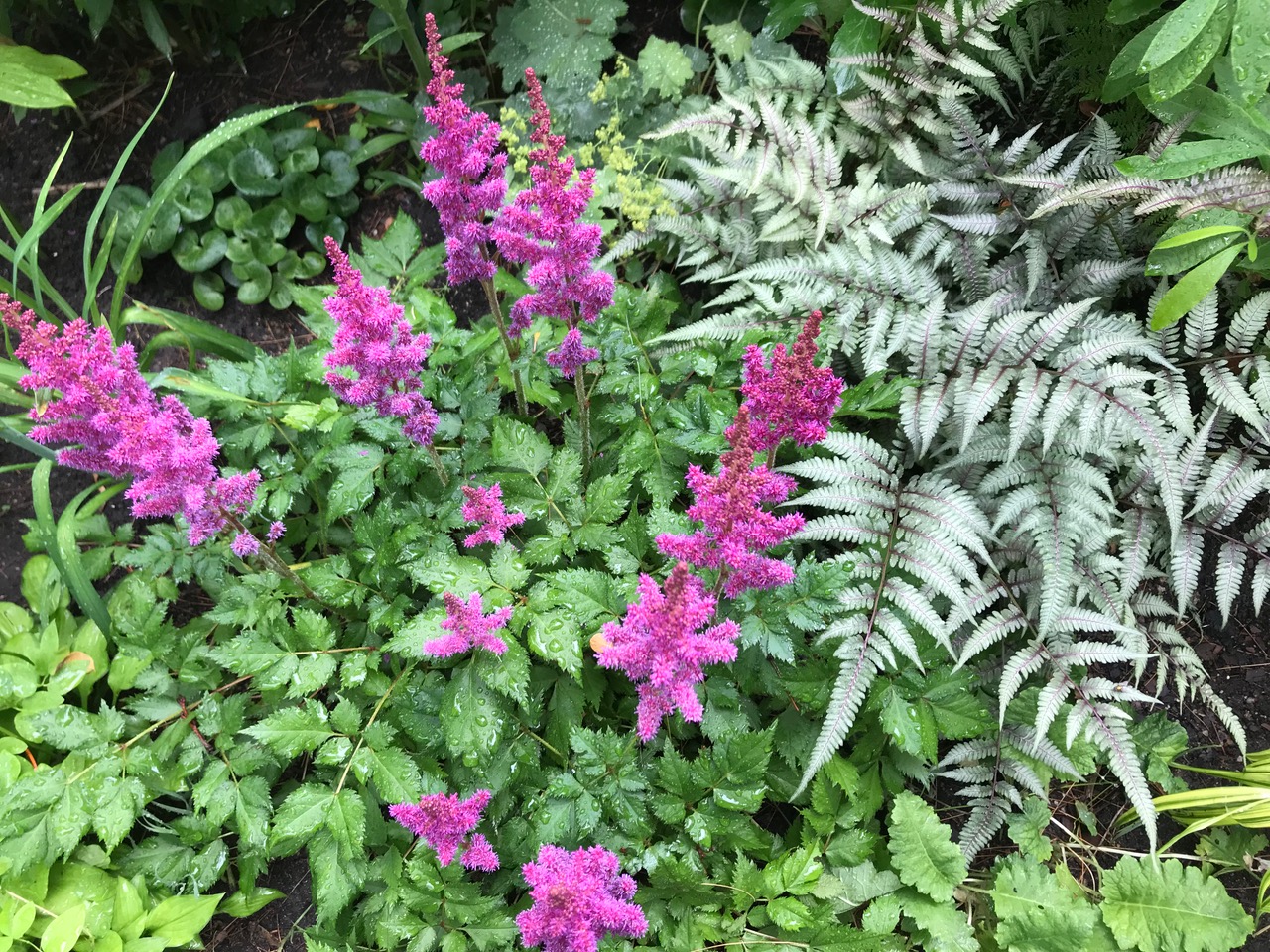 The front garden in early July has Astilbe 'Vision in Red' (Zones 4–8), which is not remotely red—thank goodness—and Athyrium niponicum var. pictum (Japanese painted fern, Zones 3–8).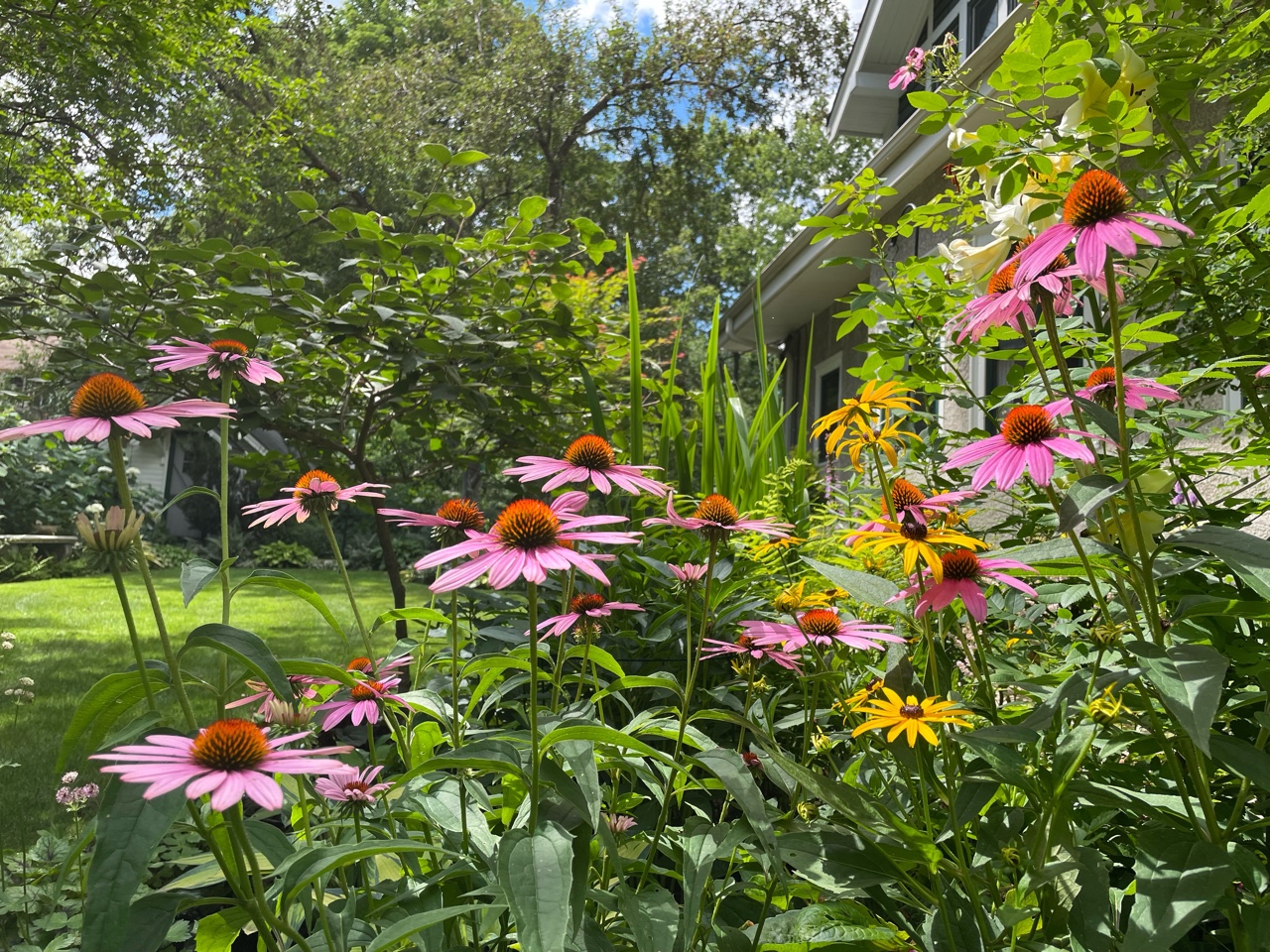 The side garden, looking toward the back, in late July features Echinacea purpurea (Zones 3–8) and Rudbeckia fulgida (Zones 3–9).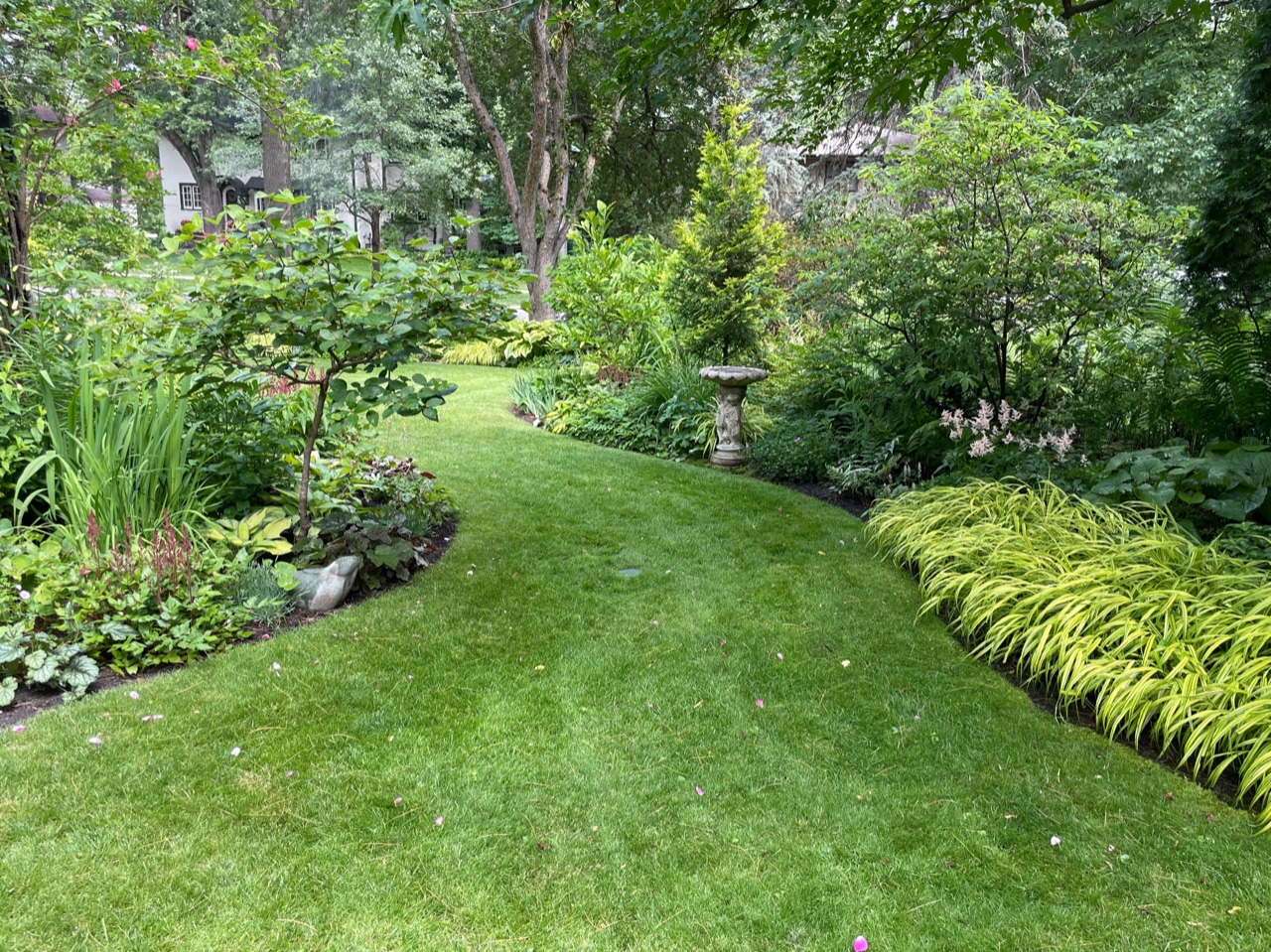 And here is the side garden in late June, looking toward the front. It includes Hakonechloa macra 'Aureola' (Hakone grass, Zones 5–9) on the right. The evergreen behind the birdbath is Thuja occidentalis 'Yellow Ribbon' (Zones 2–7).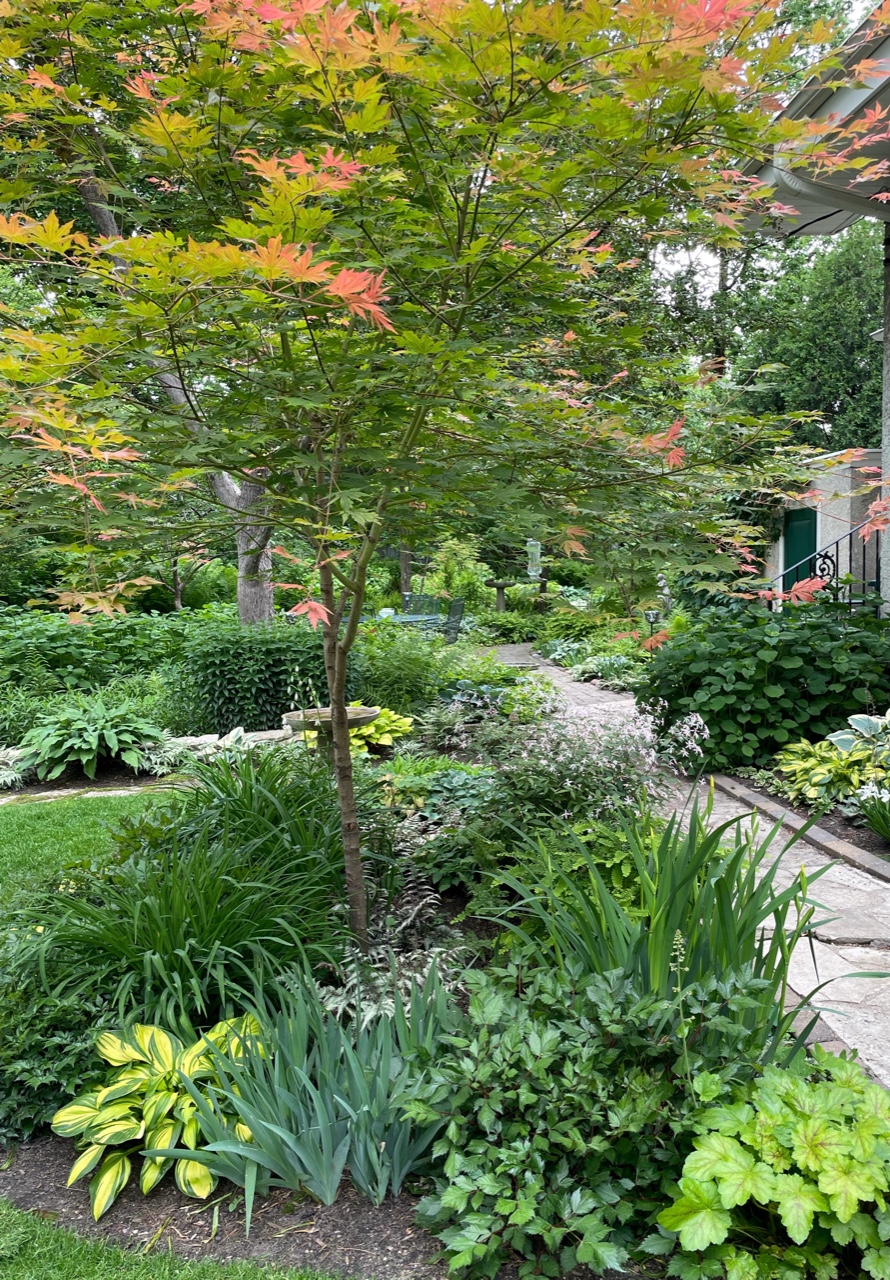 This final view of the side garden is from early June and shows the garden almost to the back. This little garden, which I planted in 2019, used to be occupied by an ancient (and failing) blue spruce (Picea pungens, Zones 2–7) . The tree is Acer pseudosieboldianum 'North Wind' (Zones 4–8). Like 'Ice Dragon' in a former photo, it's a great substitute for Japanese maples in Zone 4b. Also visible: Iris pseudacorus (Zones 4–8) in bud, Gillenia trifoliata 'Pink Profusion' (Zones 4–8), a white martagon lily (Lilium martagon, Zones 3–8), a maidenhair fern (Adiantum, Zones 3–8), a lovely but unknown Heuchera, and Hosta 'Rainbow's End.'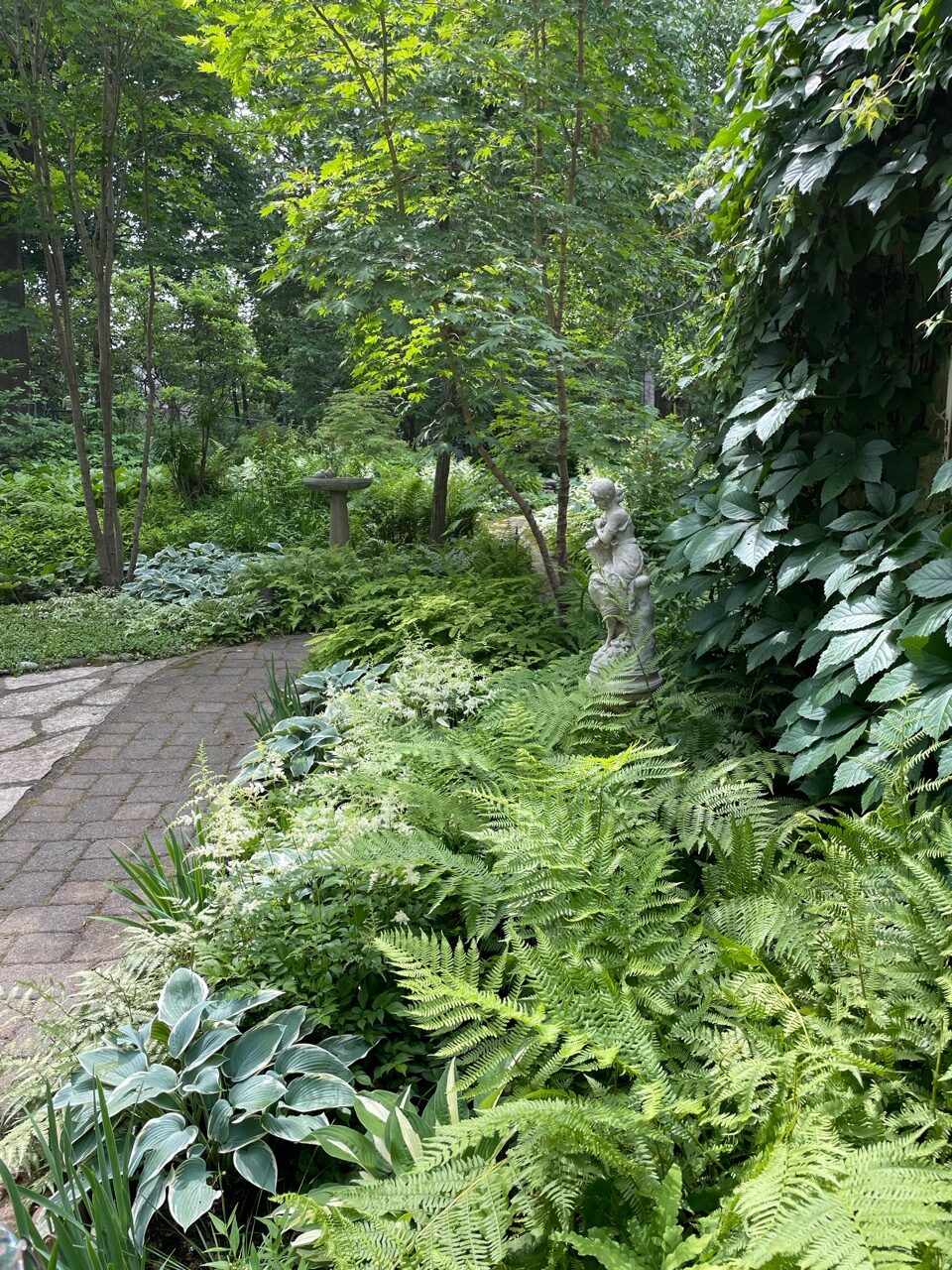 In this view of the back garden in late June, a patio is visible off to the left. Parthenocissus quinquefolia (woodbine, Zones 3–8) covers the garage wall. It was eaten to the ground—the plant, not the wall—by rabbits this winter, but you can't keep a good vine down. Also visible are Atherium felix-femina (the native lady fern, Zones 4–8), some white astilbes, and Hosta 'El Niño'. The tree is a Korean maple.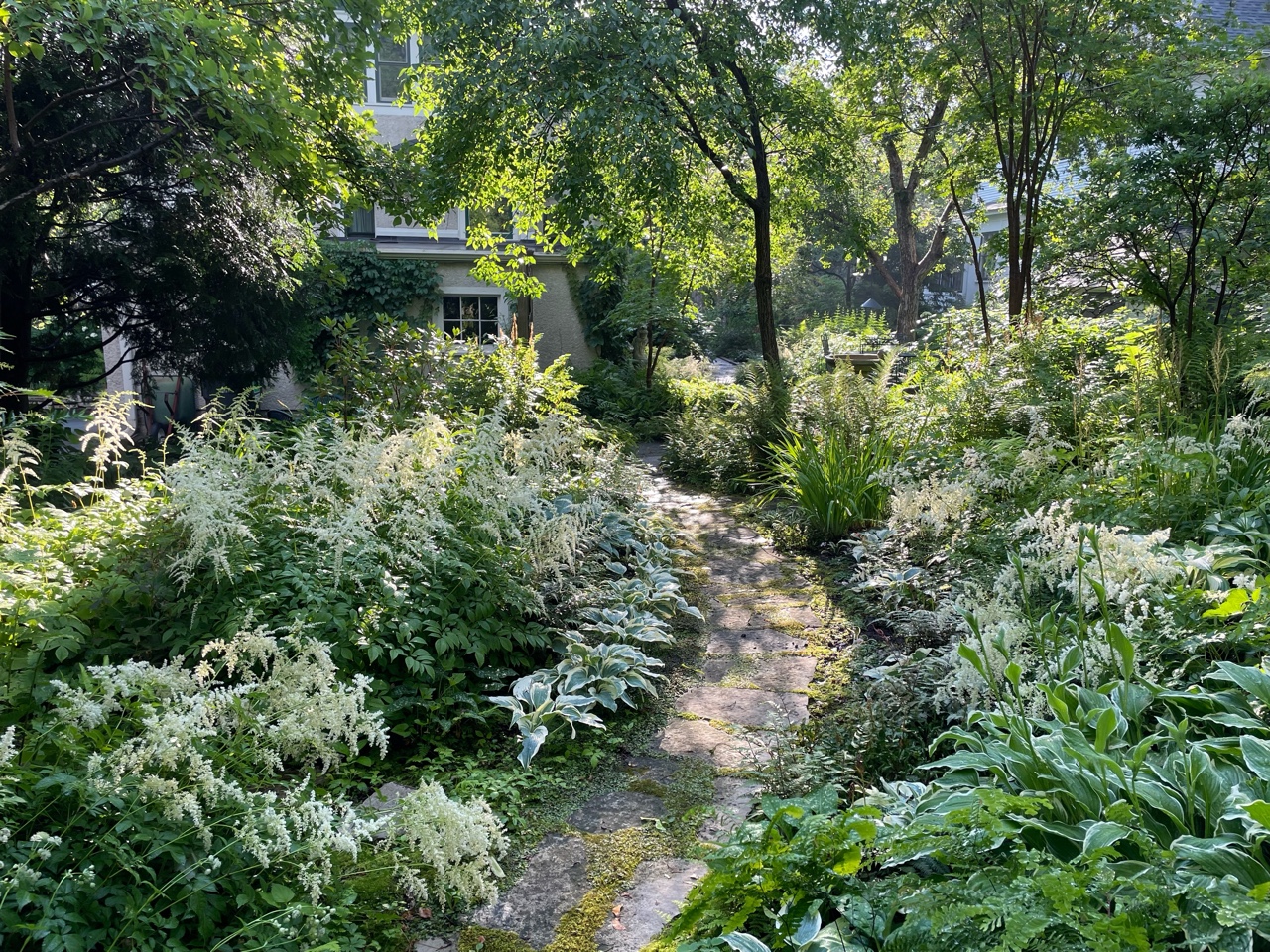 Lots of white astilbes are visible in the dappled shade of the back garden in early July. The hostas bordering the path are 'Blue Ivory' (a very unimaginative name for a truly lovely plant).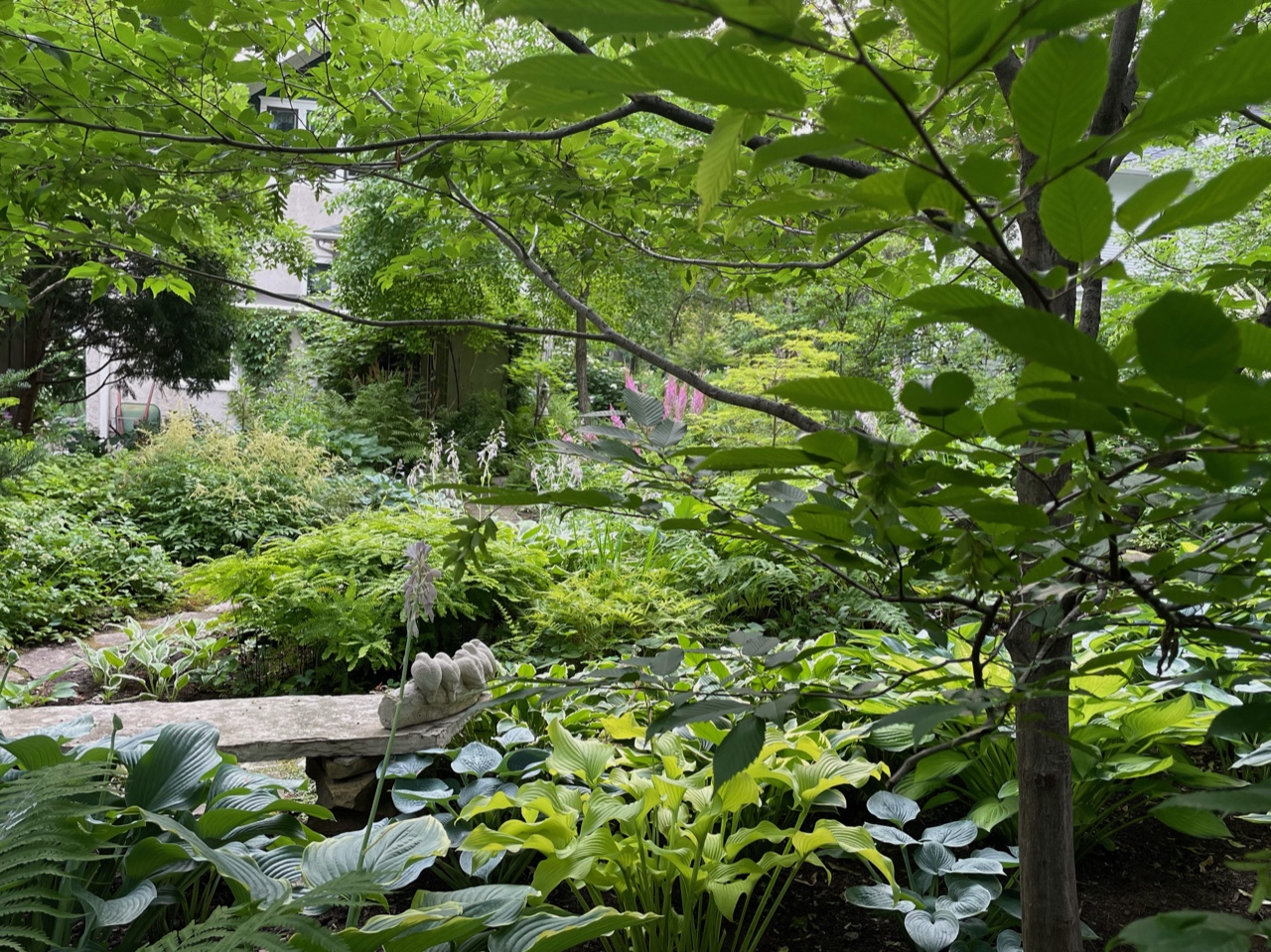 The tree in the foreground of this photo of the back garden in mid-July is a blue beech (Carpinus caroliniana, Zones 3–9). It is standing in the midst of a hosta garden. Lots of ferns are visible beyond the bench.
Have a garden you'd like to share?
Have photos to share? We'd love to see your garden, a particular collection of plants you love, or a wonderful garden you had the chance to visit!
To submit, send 5-10 photos to [email protected] along with some information about the plants in the pictures and where you took the photos. We'd love to hear where you are located, how long you've been gardening, successes you are proud of, failures you learned from, hopes for the future, favorite plants, or funny stories from your garden.
Have a mobile phone? Tag your photos on Facebook, Instagram or Twitter with #FineGardening!
Do you receive the GPOD by email yet? Sign up here.