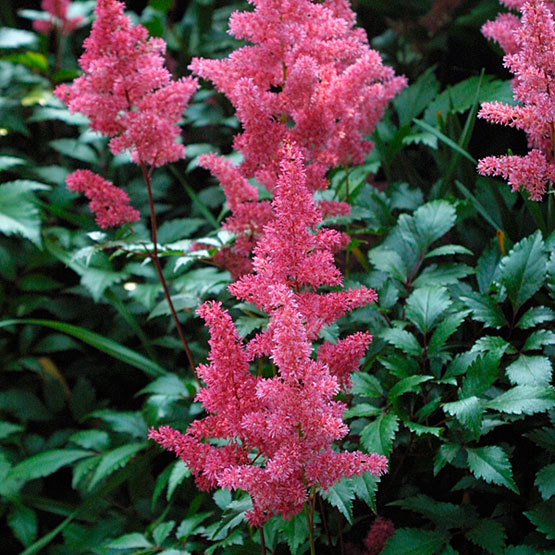 Plants in the genus Astilbe are clump-forming perennials with handsome leaves and distinct pink, purple, red, or white plume-like flowers. Blooms appear mostly in summer and fade to attractive browns for fall and winter appeal. These plants make attractive cut flowers but fade quickly.
Noteworthy CharacteristicsAstilbes originate in southeast Asia and North America in mountain ravines, streambanks, and woodlands. They are useful in damp borders, waterside beds, woodland gardens, or shady rock gardens. 
CareProvide moist, fertile soil or boggy sites in full sun. Also tolerates drier soils in partial shade with extra water during dry spells. Avoid dry alkaline or clay soils.
PropagationDivide clumps in early spring. Replant immediately or pot up and plant in early summer.
ProblemsTarnished plant bug, powdery mildew, bacterial leaf spots, Cercospora leaf spots.