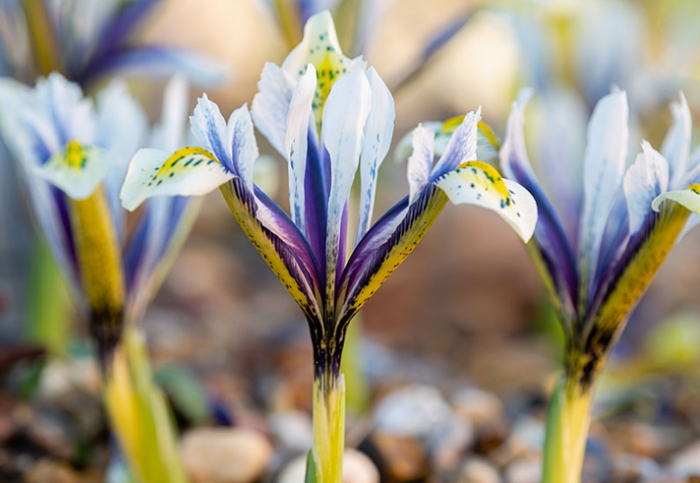 The fall planting of bulbs for springtime may be a garden's most hopeful investment. If you've been growing plants for fun for any length of time, odds are you've been enticed by a bulb catalog that happened to land in your mailbox or your inbox just as cooler weather was beginning to creep in. And if you're a procrastinator, you've probably even planted bulbs in icy ground that's just this side of freezing. Either way, this is a task with little reward in the moment other than the satisfaction of hard (sometimes frozen) work. See answers to five common bulb-planting questions.
Yet spring-blooming bulbs aren't just symbols of hope as colorful ambassadors of the growing season. It's the promise of that spring color when a fall chill hangs in the air that makes them irresistible. If you find yourself completely overstimulated by the sheer volume and spectrum of catalog offerings—or bored by plain old yellow daffodils or pink tulips—here are a few standouts, native to Eurasia, that are just different enough to make them alluring.
'Eye Catcher' reticulated iris promises early eye candy
Name: Iris reticulata 'Eye Catcher'
Zones: 5–9
Size: 4 to 6 inches tall and 4 inches wide
Conditions: Full sun; medium to dry, well-drained soil
Easy to grow and super early to flower, dwarf spring irises like this one often go overlooked by bulb shoppers who think of iris as a summer plant. 'Eye Catcher' is an intricate cultivar of reticulated iris that boasts oversize flowers on naked stems, each like a miniature Picasso in blue, gold, and white. Like so many springtime beauties, 'Eye Catcher' retreats in summer heat and enjoys dry soil conditions after its early growth spurt, making it perfect for rock gardens. And while they aren't pest proof, these beauties are less prone to squirrel snacking.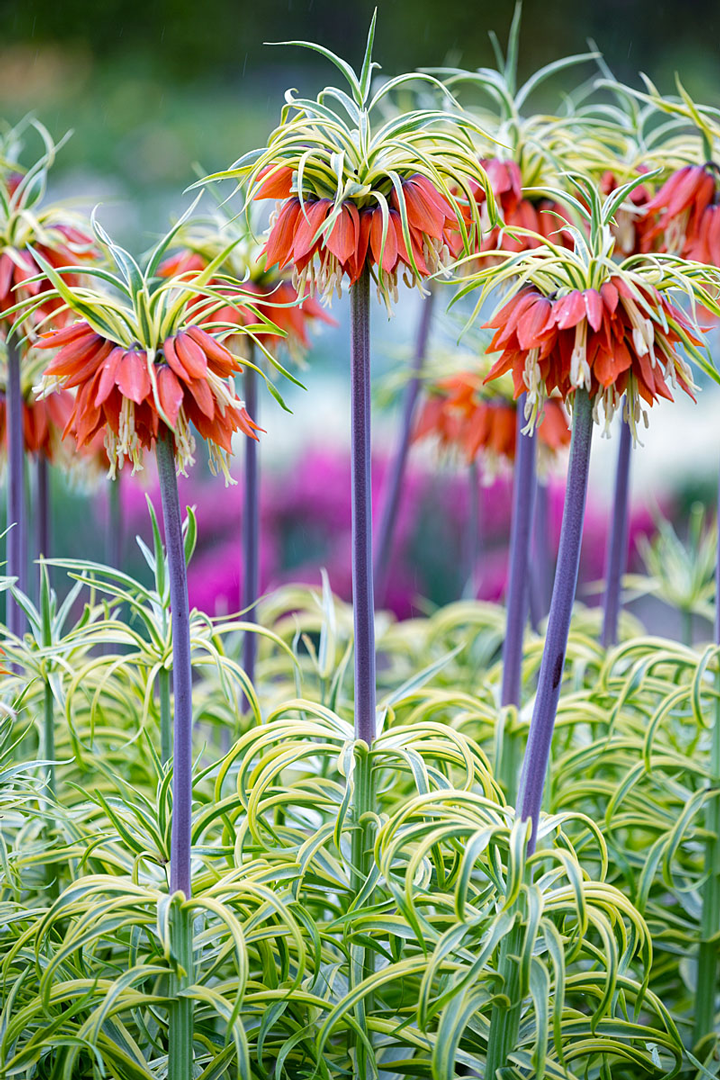 'Aureomarginata' crown imperial is the life of the party
Name: Fritillaria imperialis 'Aureomarginata'
Zones: 5–8
Size: 2 to 3 feet tall and 12 to 18 inches wide
Conditions: Full sun to light shade; medium, well-drained soil
As if the orange bells of crown imperial weren't enough to give your spring beds a kick in the pants, this variety piles on the color with wild, yellow-margined foliage all the way up to its pineapple-like topknot. Like its green brethren, it blooms with exotic spears in spring that emerge in a flurry of lance-shape leaves. It also prefers full sun and average soil that dries out during its summer dormancy, and it appreciates a winter mulching. All fritillaries have a skunky scent disdained by deer and rodents, and some can be planted sideways to guard against rot (see sidebar below).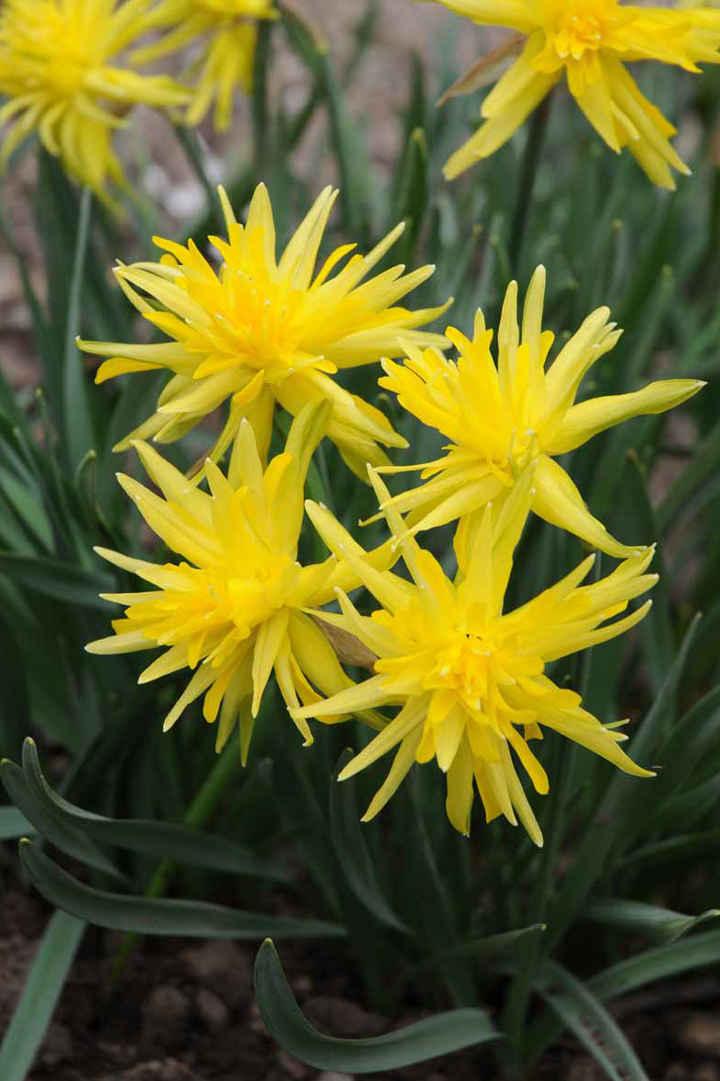 'Rip Van Winkle' narcissus wakes the garden from its winter nap
Name: Narcissus 'Rip Van Winkle'
Zones: 4–8
Size: 8 to 10 inches tall and 4 to 18 inches wide
Conditions: Full sun to light shade; medium to moist, well-drained soil
As departures from the everyday trumpet-and-star shape of the average daffodil, flowers on this double variety explode in a flurry of feathery petals, like buttery water lilies afloat in a sea of green. Dating to the 1880s, this long-forgotten cultivar blooms on the earlier side. For narcissus success, site the bulbs in a sunny spot where postbloom foliage can slip gracefully into senescence, masked by other, later plants. (Ornamental grasses make a great diversion without stealing sunlight.) Established clumps benefit from a top dressing of bulb fertilizer when they first appear, after their flowers fade, and again in fall.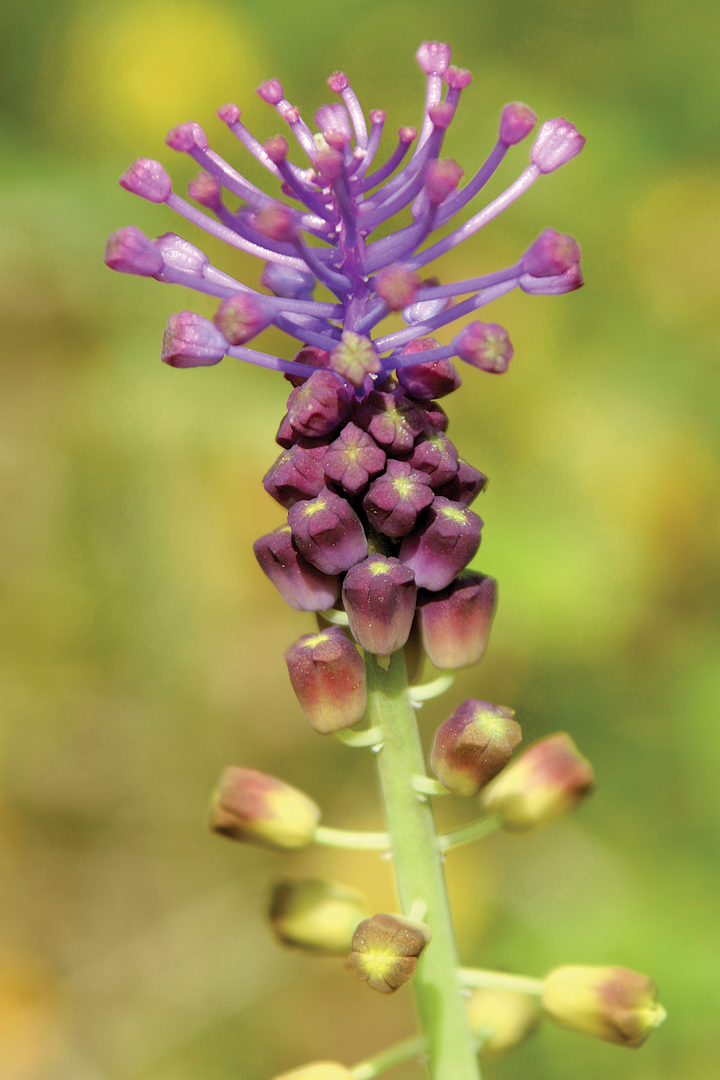 Tasseled grape hyacinth is colorful, cute, and carefree
Name: Muscari comosum
Zones: 4–8
Size: 8 to 12 inches tall and 4 to 6 inches wide
Conditions: Full sun to partial shade; average, well-drained soil
Delightful and easy like most grape hyacinths, this species sends up typical bunches of royal purple in spring, but with more pizzazz: each cluster of "grapes" is adorned with a vivid lavender tasseled crown. As with other Muscari varieties, tasseled grape hyacinth naturalizes well and won't be bothered by deer or rodent pests like some other spring bulbs. Although they're adaptable, these Mediterranean plants excel in spots that dry out in summer, and they benefit from an insulating winter mulch in Zones 4 and 5.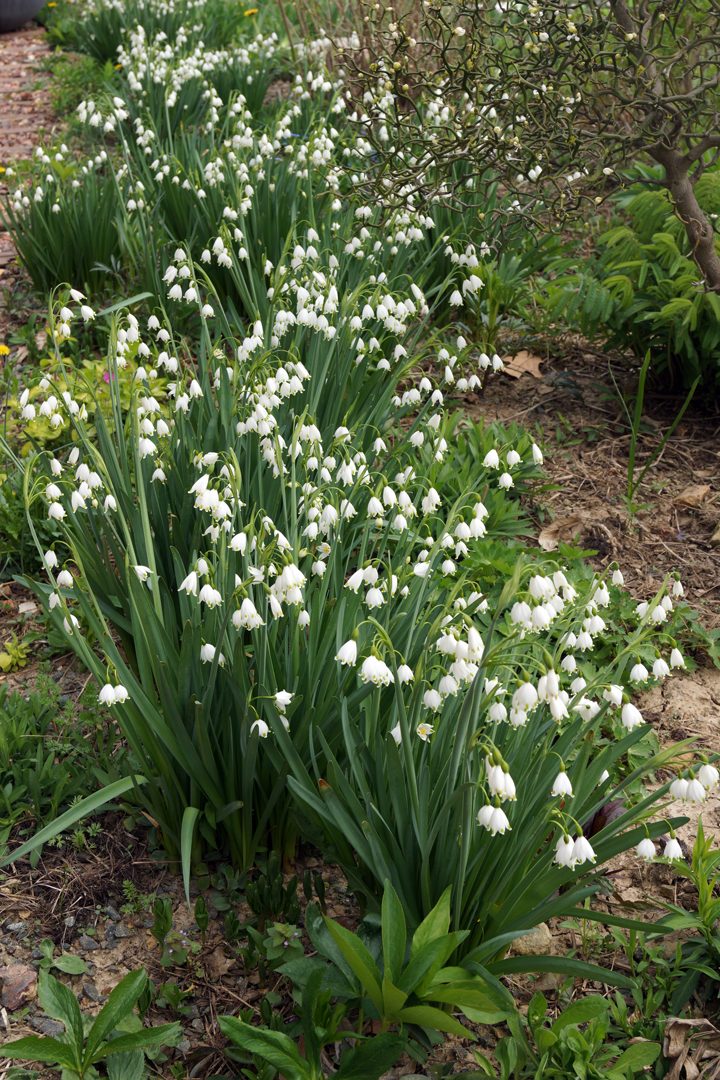 'Gravetye Giant' summer snowflake makes elegance look easy
Name: Leucojum aestivum 'Gravetye Giant'
Zones: 4–8
Size: 18 to 30 inches tall and 12 to 18 inches wide
Conditions: Full sun to partial shade; medium, well-drained soil
Often called "summer snowflake," seemingly to distinguish it from earlier blooming Leucojum vernum, this little plant still flowers squarely in what most gardeners consider spring. Most snowflakes present as just that— delicate, elegant, white-belled petticoats with clean, green foliage. Bigger and more vigorous, supersized 'Gravetye Giant' is determined to be the belle of the ball. Snowflakes are easy and unfussy, naturalizing in areas where they're happy and making great companions for more garish spring bulbs as well as taller woody and perennial plants that leaf out a bit later.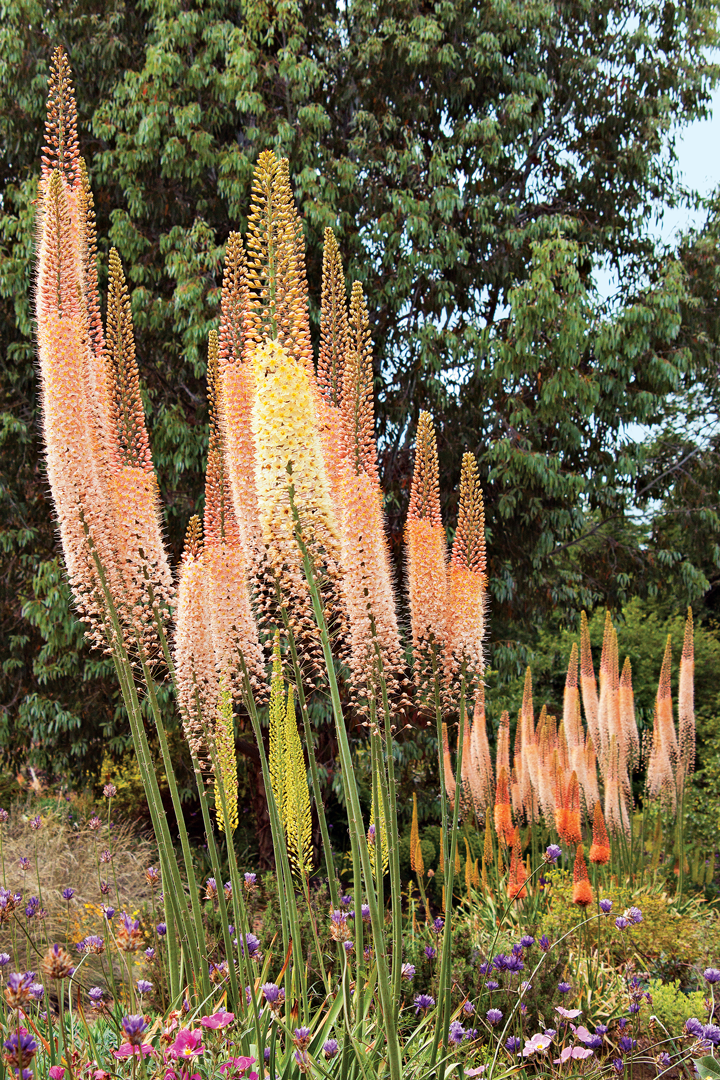 'Romance' foxtail lily blooms last but far from least
Name: Eremurus × isabellinus 'Romance'
Zones: 6–8 (5 with mulch)
Size: 3 to 5 feet tall and 1 to 2 feet wide
Conditions: Full sun; medium, well-drained soil
This plant gets its name from the tall bottlebrush spires it sends up in late spring. Tired of pastels? 'Romance' blooms are a peachy orange–pink that's just warm enough to be the antidote to spring's sweeter shades, and it's the perfect color to usher in the stronger palette of the summer growing season.
Foxtail lily's strappy leaves are ornamental too, though the plants do eventually go dormant in summer. Stretch their season of interest by leaving their senescent flower spikes standing as architectural accents. Well-drained soil is key, as is a sunny, sheltered site where wind won't spoil the fun by snapping the flowers' stems. Plant these guys promptly, because the bulbs (rooted tubers) don't like being out of the ground.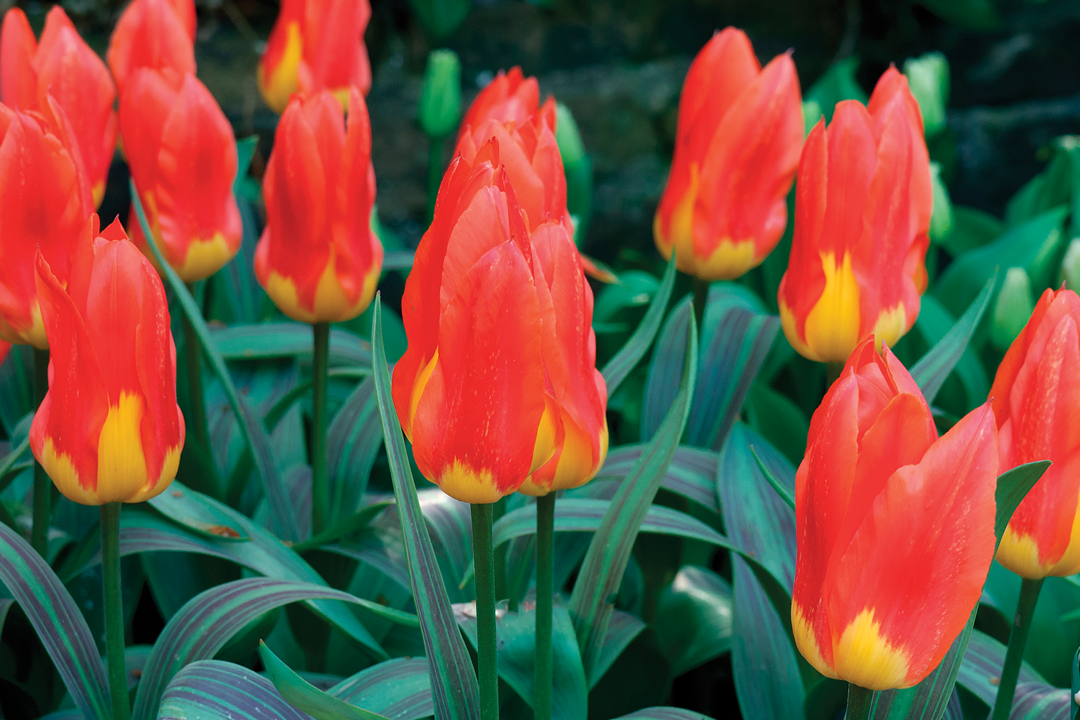 'Juan' brings big color in a species tulip
Name: Tulipa fosteriana 'Juan'
Zones: 3–8
Size: 10 to 18 inches tall and 6 to 8 inches wide
Conditions: Full sun; medium to dry, well-drained soil
Species tulips answer a few gripes that are particular to tulip haters. They are more likely to return and bloom year over year, and they are far less likely to fall prey to rodent pests. Sadly, though, they also tend to go unnoticed by gardeners in search of taller, bolder tulip varieties. But 'Juan' measures up, reaching about 16 inches in height, and it compensates for any deficit with bawdy, bright, orange-red flowers, each cupped by a yellow base. A member of the Fosteriana or emperor tulip group, 'Juan' is easy to grow in any sunny flower bed that doesn't require summer water.
---
Technique
Proper crown imperial planting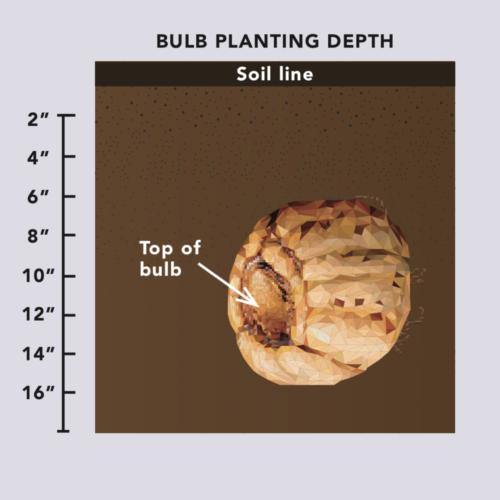 Unlike with typical tulips or daffodils, some experts recommend a special planting method for crown imperial because its natural shape makes it susceptible to rot. Bulbs can be planted sideways to prevent the stem hole in the bulb from trapping water. These bulbs are large but tend to damage easily, and they're best put in a spot where they won't need to be moved. Some research shows, however, that the bulbs will eventually right themselves over time, which could lead to them being short-lived.
---
Andrew Keys is a Massachusetts-based horticulturist and author of several gardening books, including Why Grow That When You Can Grow This? and Growing the Northeast Garden.
Sources
John Scheepers, Bantam, CT; 860-567-0838; johnscheepers.com
Brent and Becky's Bulbs, Gloucester, VA; 877-661-2852; brentandbeckysbulbs.com
Michigan Bulb Company, Lawrenceburg, IN; 812-260-2148; michiganbulb.com
Odyssey Bulbs, South Lancaster, MA; 800-517-5152; odysseybulbs.com