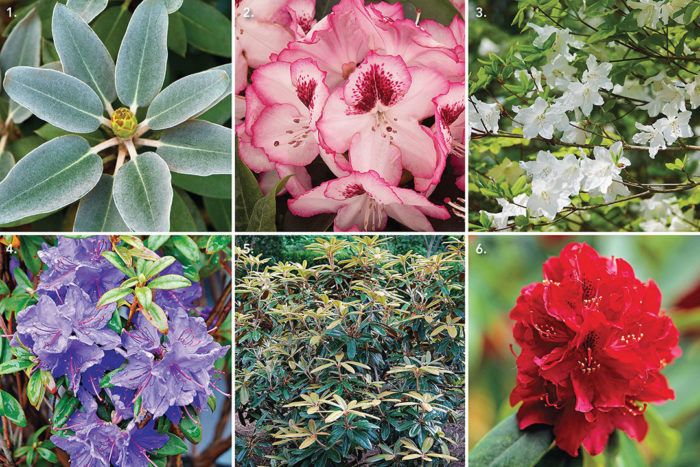 I knew rhododendrons at an early age. These woody evergreens were great havens in a game of hide-and-seek—if you could find a way to navigate the tangled hell of branches before the count of 20. I grew up on the warm end of Zone 4 in northern New Hampshire, where most large-leaved rhododendrons struggled or outright died. Those cultivars that could persist, such as the rugged and commonly planted PJMs (Rhododendron 'PJM', Zones 4–7), were unknowingly part of my earliest horticultural experience. Today I'm a horticulturist charged with managing a rhododendron collection at a botanical garden. While I still find myself crawling in and around them, typically now while engaged in the task of weeding, I have come to appreciate them for more than their screening capacity (although popping up and spooking unsuspecting visitors still warms my soul). As I have tended this space, the varieties have shown their peculiarities, from blooms that can be brazen or demure, to interesting foliage that refreshes and excites their veneer.
I'd be hard-pressed to say which variety is my favorite. But the following 11 options are some underused rhododendron selections that are truly awesome, either for foliage interest or floral value. Many of the selections, especially those for foliage, are listed as hardy to Zone 6. I think many of these could tolerate colder zones, but they are not widely grown and so are not well tested. So please do not be dissuaded from pushing your luck with any of these if you hail from a slightly colder environment.
Rhododendrons come in more varieties than you have imagined.
(1) Thick-flowered rhododendron; (2) 'Cherry Cheesecake'; (3) five-leaved azalea; (4) 'Blue Baron'; (5) 'Teddy Bear'; (6) 'Henry's Red'
---
Daniel Robarts is a horticulturist and plant propagator/breeder at Coastal Maine Botanical Gardens in Boothbay.
Photos: DoreenWynja.com (1); DoreenWynja.com for Monrovia (2); Dave Zubraski/gapphotos.com (3); millettephotomedia.com (4); Joshua McCullough (5); Leigh Clapp/gapphotos.com (6)