Northeast Regional Reports
Creating Picture-Perfect Holiday Containers
A homemade seasonal arrangement will brighten up the dreariest winter day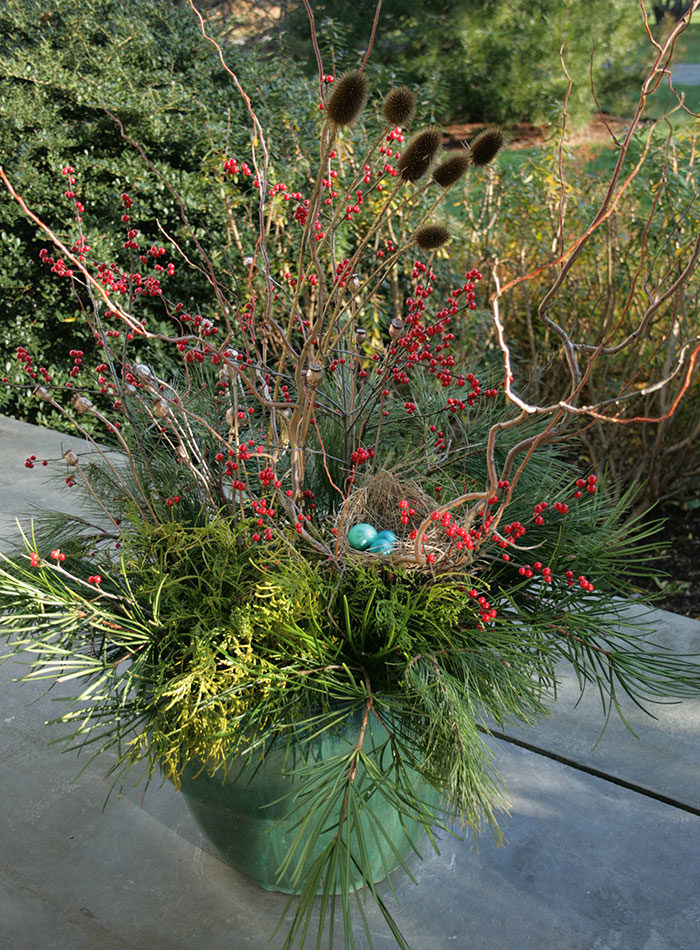 The pressure to spend at the holidays is real. But decorations don't need to break the bank. We gardeners can save big and do it in style by making wreaths, swags, and arrangements by hand out of what grows in our gardens.
Choosing the right materials
The maximalists among us will want to use a varied palette of needled and broadleaf evergreens with contrasting textures and colors, while minimalists may prefer the simplicity of a single species or two of greens. Forage from shrubs and trees that need pruning anyway, and call yourself an artisan. (But always ask permission before removing anything from property other than your own, whether public or private.)
Evergreens that last well after being cut:
Balsam fir (Abies balsamea, Zones 3–6)
Slender hinoki false cypress (Chamaecyparis obtusa 'Gracilis', Zones 4–8)
Golden threadleaf Japanese false cypress (Chamaecyparis pisifera 'Golden Mop', Zones 5–7)
American holly (Ilex opaca and cvs., Zones 5–9)
Japanese holly (Ilex crenata and cvs., Zones 6–8)
Juniper or eastern red cedar (Juniperus virginiana and cvs., Zones 2–9)
White pine (Prunus strobus and cvs., Zones 3–8)
Umbrella pine (Sciadopitys verticillata, Zones 5–8)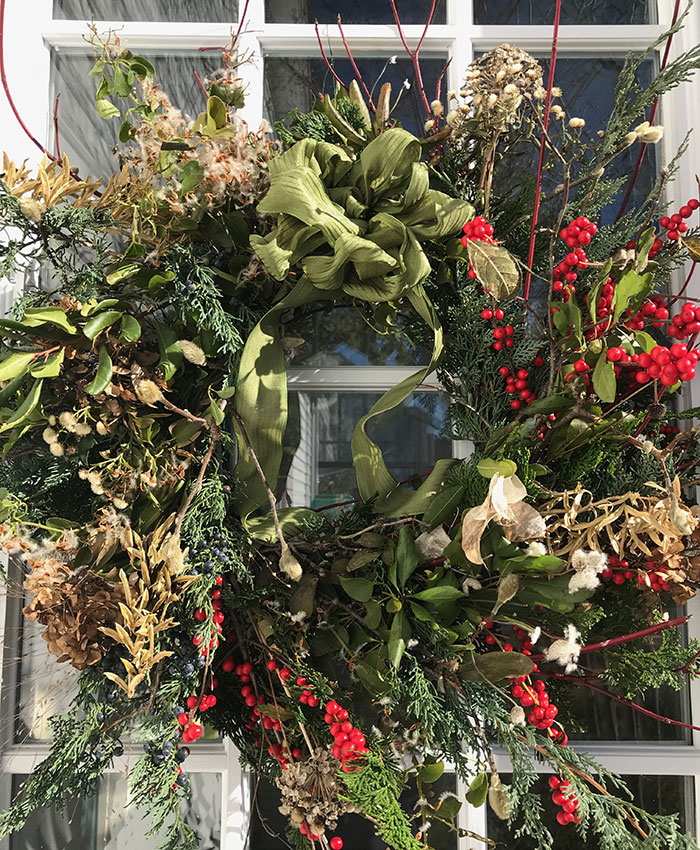 Embellish your creations with berried stems of winterberry (Ilex verticillata and cvs., Zones 3–9), English holly (Ilex aquifolium, Zones 7–9), rose hips (Rosa spp. and cvs., Zones 3–9)—including the invasive thug mulitfora rose (Rosa multiflora, Zones 5–9)—and privet (Ligustrum obtusifolium, Zones 3–7), which is also invasive in many parts of the Northeast.
Redtwig dogwood stems (Cornus sericea and cvs., Zones 3–8) and corkscrew willow (Salix babylonica var. pekinensis 'Tortuosa', Zones 5–8) make excellent exclamation points in outdoor container arrangements. I also like to add sturdy seed heads from plants such as coneflower (Echinacea purpurea and cvs., Zones 3–9), teasel (Dipsacus fullonum, Zones 3–8), honesty (Lunaria annua, Zones 5–9), breadseed poppies (Papaver somniferum, annual), and black- and brown-eyed Susan (Rudbeckia spp. and cvs., Zones 3–11), along with any cones, seed capsules, and pods I can find. For extra holiday pizazz, spray paint that stuff silver or gold.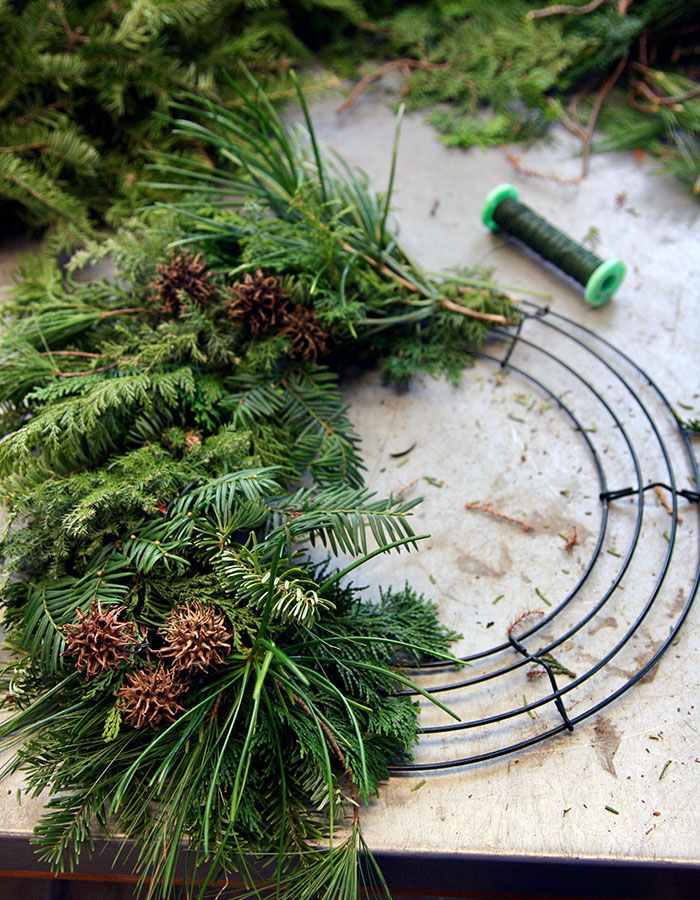 Crafting your creation
If you follow trends, you'll see that anything goes for DIY wreath making—including asymmetry, which should significantly reduce your intimidation. A store-bought balsam wreath makes a fragrant base for personalization. Or you can start from scratch with a round frame, a spool of 22-gauge floral wire, and bunches of trimmings. Attach the wire to the frame, and then, in a continuous loop, secure each bunch of greens over the stem ends of the last, pulling the wire tight as you go.
If a quick swag is more your speed, wire together an assortment of arm-length branches. Make outdoor container arrangements by tucking long branches and stems into leftover potting soil. For indoor table arrangements, use sturdy vases and old-fashioned frogs to anchor stems rather than floral foam, which is toxic and nonbiodegradable. Outdoor wreaths, swags and container arrangements can hold their color and last well past the holidays. Indoors, cut greens have a shorter life span. Keep them cool, hydrated, and out of direct sun.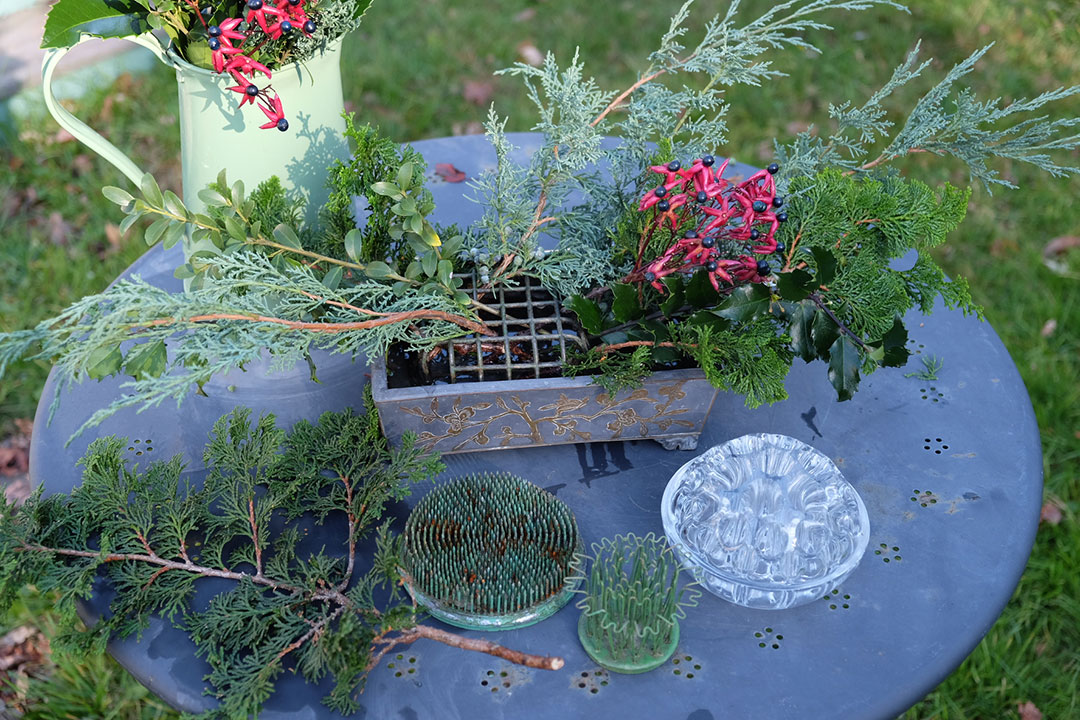 Traditional holiday decor is worth every penny for symbolizing welcome and marking the transition to the coziness of winter. Decorations made from the garden do all that and celebrate the richness of the previous seasons. That's priceless—and cost effective.
—Kristin Green is author of Plantiful: Start Small, Grow Big With 150 Plants That Spread, Self-sow, and Overwinter. She gardens in Bristol, Rhode Island.
View Comments