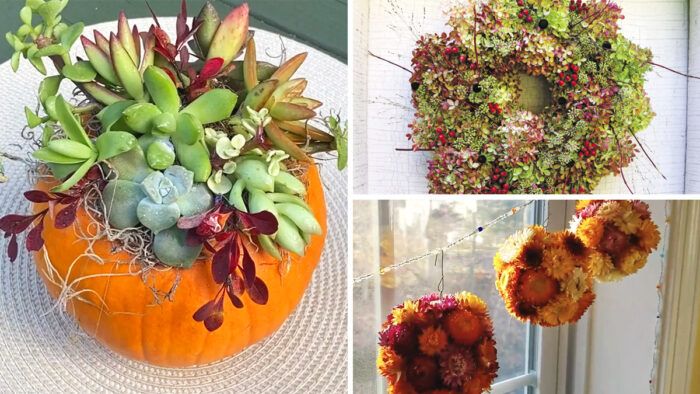 As temperatures start to cool and there are fewer chores to do outside, I start thinking about how I can extend the gardening season. One way is to start dreaming and planning for next spring. But before that, I like to tackle a few garden craft projects, using leaves, seeds, and even dried flowers from the landscape, which thankfully isn't covered in snow yet.
Many of these projects are ones I undertake in order to decorate for the holidays. Yes, I could simply buy one of those silly mums dressed like a turkey for the Thanksgiving centerpiece, but why not make a succulent pumpkin instead? It's a sophisticated use of various winter squash and lasts well beyond that plate of stuffing.
Making crafts
I also like to make my own wreaths. The practice started when I worked for nurseries a couple decades ago and has carried over into my life now. I always hate to cut flowers from my garden in-season, thinking that I'll enjoy them longer if I leave them outside on my plants. But in fall, when the panicle hydrangeas blush a brilliant pink, I have no problem cutting the stems off my shrubs and turning them into fall harvest wreaths for family and friends (and myself!). The wreath-making continues into winter when I like to scour my beds and borders for various evergreens and berries, clipping a bit here and there, to make a one-of-a-kind holiday wreath. Making this traditional decoration is easier than you might think. And there's no need to spend $50 or more on a boxwood tree from the florist this year. We teach you how to make one that's a fraction of the price.
A few years ago I noticed that spray painting my allium seed heads white instantly transformed them into everlasting snowflakes, which can be used as ornaments or in a winter solstice wreath. If you're looking for something a little more colorful, associate editor Carol Collins shares her approach to making dried starflower ornaments in a video tutorial that you'll find below (along with the rest of our craft projects).
Bringing holiday joy
We also can't forget that the holidays are first and foremost about bringing cheer to those around us. With this in mind, we take you step-by-step through building a holiday garden gnome out of an old tomato cage. The end product is bound to make anyone giggle. Just don't forget the potato nose—it's the most important part!
Check out more holiday garden inspiration
---