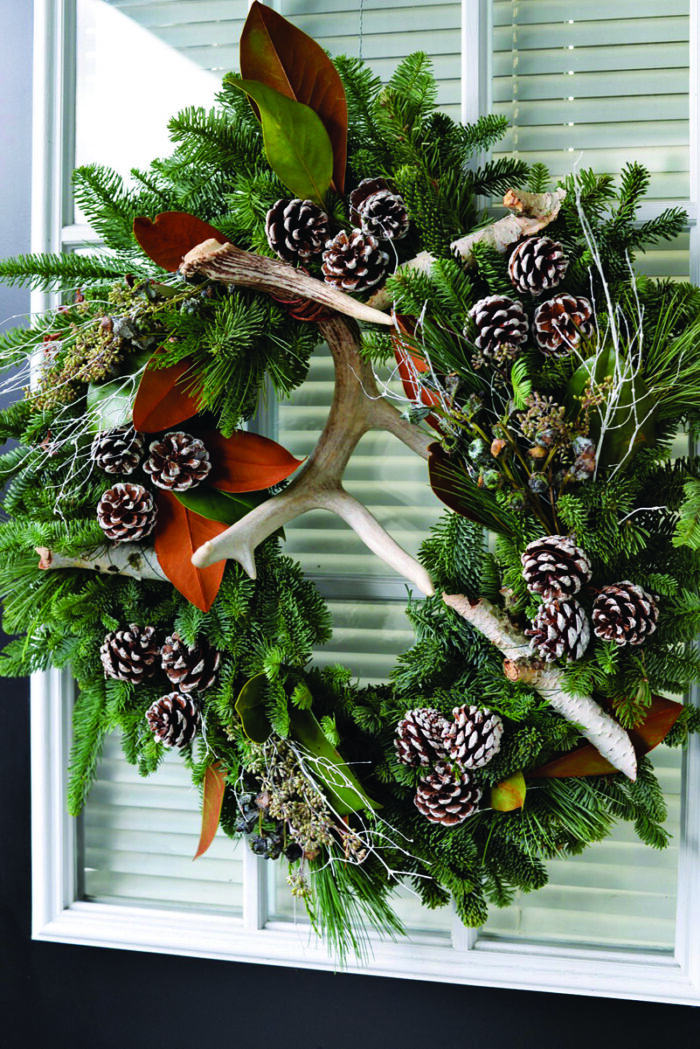 Long-time Garden Photo of the Day contributor Cherry Ong may be the poster gardener for the spirit of the season. It has become a tradition for Cherry to make DIY Christmas wreaths and swags for friends and family out of materials she gathers from the surrounding landscape. She then travels around handing them out like a nature-inspired Santa Claus in the weeks before the holidays.
While she doesn't begin construction on the decorations until late November, Cherry is thinking about how to spread cheer all year long. In summer, she delivers cut-flower bouquets, and before her succulents die off in fall, she makes succulent pumpkins and hands those out to coworkers, family members, and friends.
At holiday time this effort is directed into making winter wreaths and swags, sometimes up to 10 or 12 of each type of decoration. Cherry has built the wreath bases out of grapevine before, making both circular and square shapes, but now she mostly purchases metal bases and reuses them year after year.
---
Materials for Wreath Building
Hardware
• 10- or 12-inch box wreath frame
• 22-gauge florist wire
• Assorted greens
• Pruners
• Ribbon
• Pine cones and/or berries (optional)
Favorite evergreen branches for DIY Christmas wreath- and swag-making include:
Forever Goldy® arborvitae (Thuja plicata '4EVER', Zones 5–8),
Variegated boxwood (Buxus sempervirens 'Variegata', Zones 6–8), S
Callywag™ holly (Ilex× meserveae 'Monnieves', Zones 5–9),
'Goshiki' osmanthus (Osmanthus heterophyllus 'Goshiki', Zones 6–9),
Scarletta® leucothoe (Leucothoe fontanesiana 'Zeblid', Zones 5–8),
'Elegans' Japanese cedar (Cryptomeria japonica 'Elegans', Zones 5–8).
Favorite Naturalistic Wreath Decorations You Can Likely Find Outside or at Home
pine cones
colorful branches
dried berries and leaves
antlers
cinnamon sticks
dried orange slices
---
Because she prefers naturalistic-looking decor, sourcing items has turned into a yearlong treasure hunt. Aside from the gleanings she gets from her own garden, Cherry collects items she stumbles upon during her walks or bike rides throughout the seasons. These include pine cones, colorful branches, dried berries and leaves, and even antlers to add color and textural interest to her creations. "I collect pine cones, put them in a bag, bring them home, and clean them up. So I have a bin full of them now—all different types," she says. Cherry will sometimes purchase other items to decorate, including cinnamon sticks, dried orange slices (which she cautions have a short life span unless you live in a very cold climate), and seeded eucalyptus.
A transplant to British Columbia, Cherry keeps an eye out on local gardens and yards for inspiration. "I always notice gardens everywhere and think, 'There are pine cones good for collecting.' I'm always looking," she says. The result is a unique and thoughtful gift for friends and family. Additionally, one of the nice things for Cherry about the wreaths and swags is the ease of disposal. "Almost everything goes to the compost bin," she explains. "A few pine cones and cinnamon sticks don't get composted, but other than that, it's all evergreens. People give the wreath bases back, and I get to do them again next year."
---
Festive DIY Christmas Wreath Recipes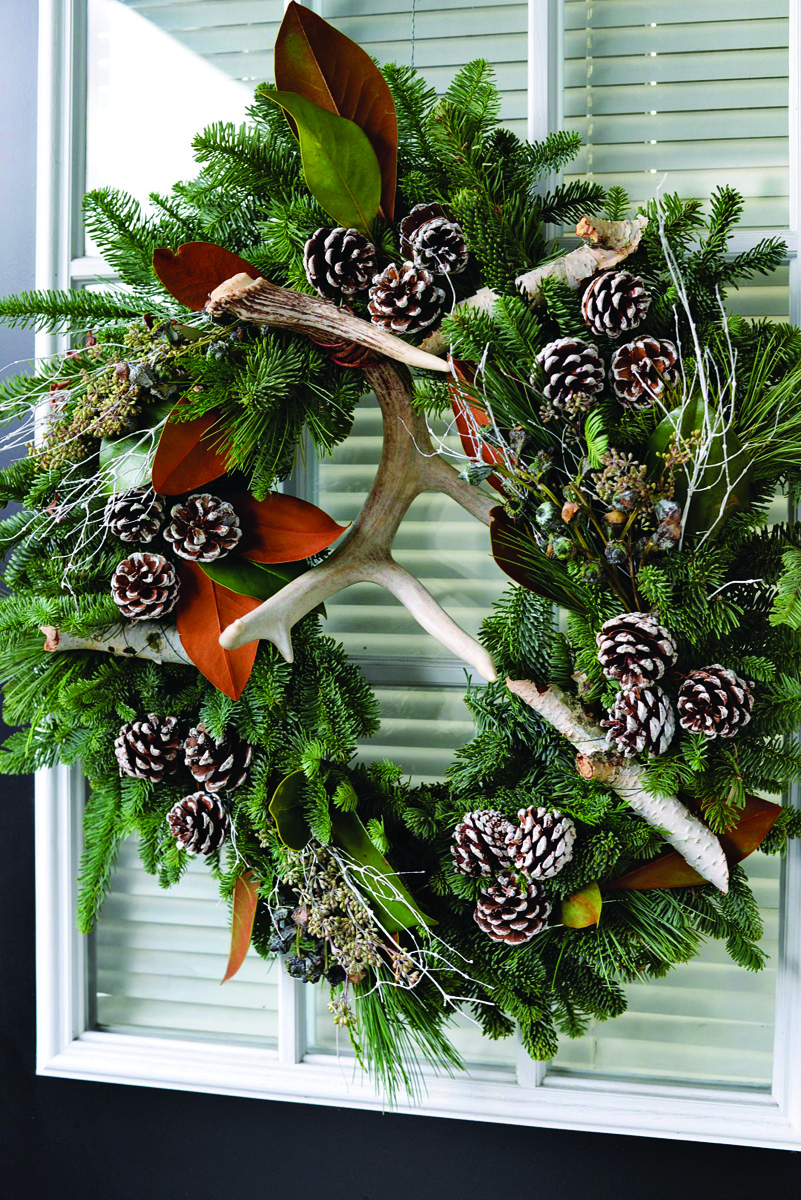 | | |
| --- | --- |
| < Wreath Design 2 > Pine cones; American holly (Ilex opaca, Zones 5–9); 'Goshiki' osmanthus; Southern magnolia; 'Zebrina' Western red cedar (Thuja plicata 'Zebrina', Zones 5–7); noble fir | < Wreath Design 3 > Douglas fir (Pseudotsuga menziesii, Zones 4–6); cinnamon sticks and pine cones; 'Zebrina' Western red cedar; Southern magnolia; white pine |
---
Festive Swag Recipes
< Swag Design 1 > Corkscrew willow (Salix matsudana, Zones 5–8); white pine; Southern magnolia; seeded eucalyptus; pine cone

< Swag Design 2 > Douglas fir; noble fir; seeded eucalyptus; winterberry (Ilex verticillata, Zones 5–9); 'Blue Ice' Arizona cypress (Cupressus arizonica var. glabra 'Blue Ice', Zones 6–9); rafia ties; redtwig dogwood (Cornus sericea, Zones 3–7)

'
---
Festive Holiday Container Design
---
DIY Christmas Wreath Video Tutorial
Learn more about this wreath recipe here: How to Make a Christmas Wreath from the Garden
Step-by-Step Wreath Build
Step 1: Secure the starting end of the wire to the frame.
Step 2: Next, cut pieces of assorted greens 6–8 inches long, making small bundles.
Step 3: Wrap the small bundles to the frame using wire.
Step 4: Be sure the last bundle is a bit longer to hide the beginning bundle's stems.
Step 5: When the evergreen bundles feel secure, knot off the end of the wire, and create a loop to hang the wreath (using the excess wire).
Step 6: Make a bow, and secure it to the wreath using more wire.
Step 7: Lastly, add berries and/or pine cones for extra flare.
---
—Christine Alexander is the digital content manager for Fine Gardening.