Midwest Regional Reports
Crafting Your Own Winter Container
Create a stunning display with clippings found in your own garden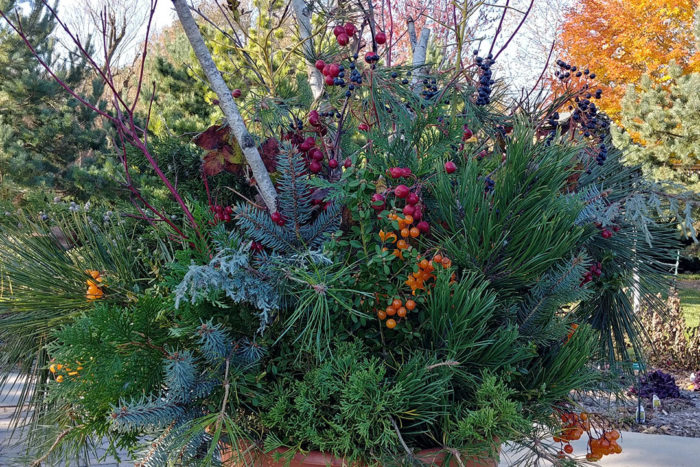 Creating a beautiful container to enjoy during the winter months is an easy way to extend the gardening season. Containers are an adaptable and versatile element of the landscape that can display the best of what nature has to offer at this time of year. Most if not all the material you need can be found just outside your door. Whether your container is large or small, or for use indoors or outdoors, grab your pruners, step outside, and give it a go this season.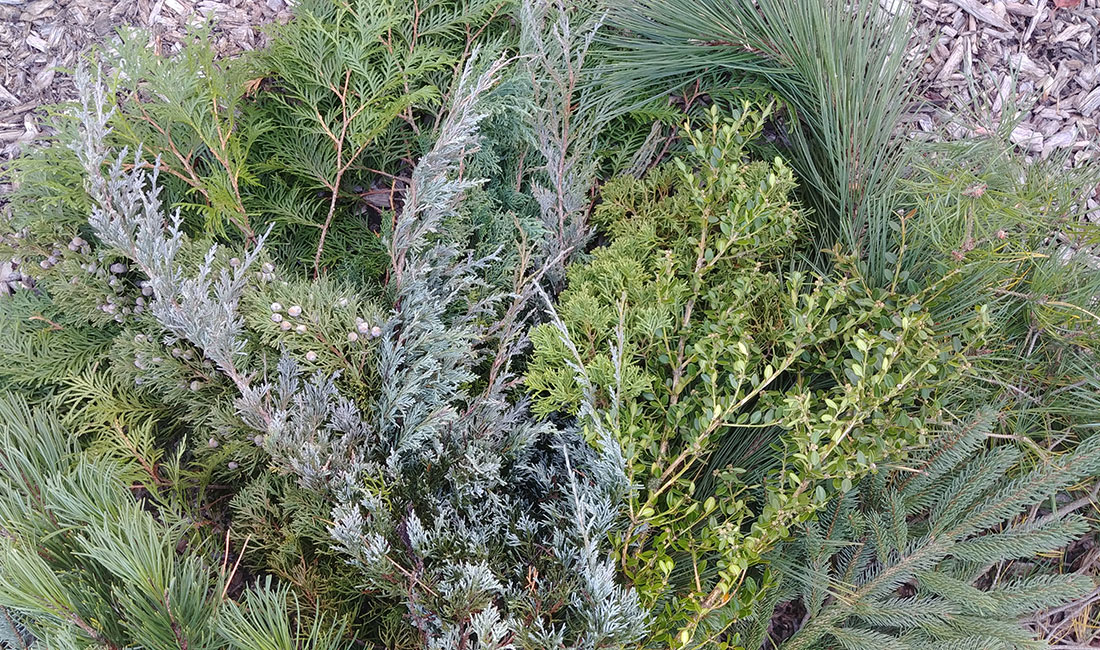 Comprising the bulk of the winter container, evergreens provide structure and foundation. There are a wide variety of materials to choose from throughout the Northern Plains. The scalelike needles of American arborvitae (Thuja occidentalis, Zones 2–7) and juniper (Juniperus spp. and cvs., Zones 2–9) provide blue-green foliage as well as fragrance to the arrangement. There are bonuses to using these two evergreens—the half-inch-long brown cones found on arborvitae and the purple-black berrylike cones of juniper. If you are looking for short- or long-needled evergreen material, seek out the various pine (Pinus spp. and cvs. Zones 2–10) and spruce (Picea spp. and cvs., Zones 2–8) species growing everywhere in the region. Korean boxwood (Buxus microphylla var. koreana, Zones 4–9) is a broadleaf evergreen that can be used to add interest as well.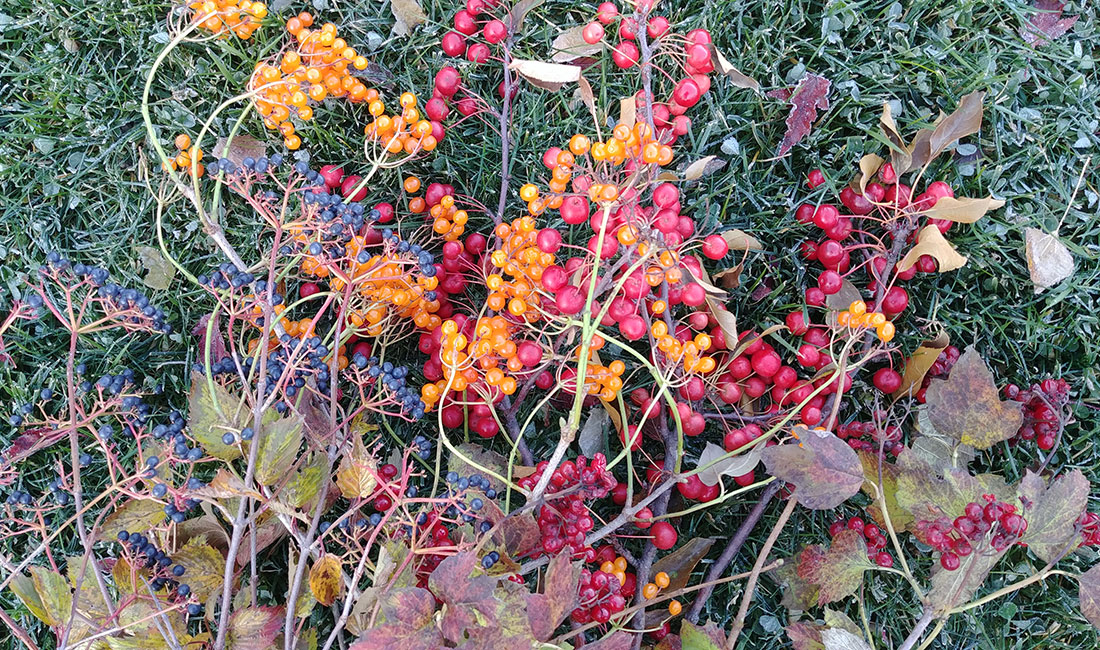 While available plants might not have showy flowers to provide bright color, there are elements in the landscape that can fill that void. Viburnums (Viburnum spp. and cvs., Zones 3–9) can provide a splash of color with their flashy fruit. Blue Muffin® arrowwood viburnum (Viburnum dentatum 'Christom', Zones 3–8) can add tones of blue and purple to the container, while European cranberrybush viburnum (Viburnum opulus, Zones 3–8) and American cranberrybush viburnum (Viburnum opulus var. americanum, Zones 2–7) add tones of yellow, orange, and red. Crabapples (Malus spp. and cvs. Zones 2–8) are another easily found material to add vibrant color to your winter container.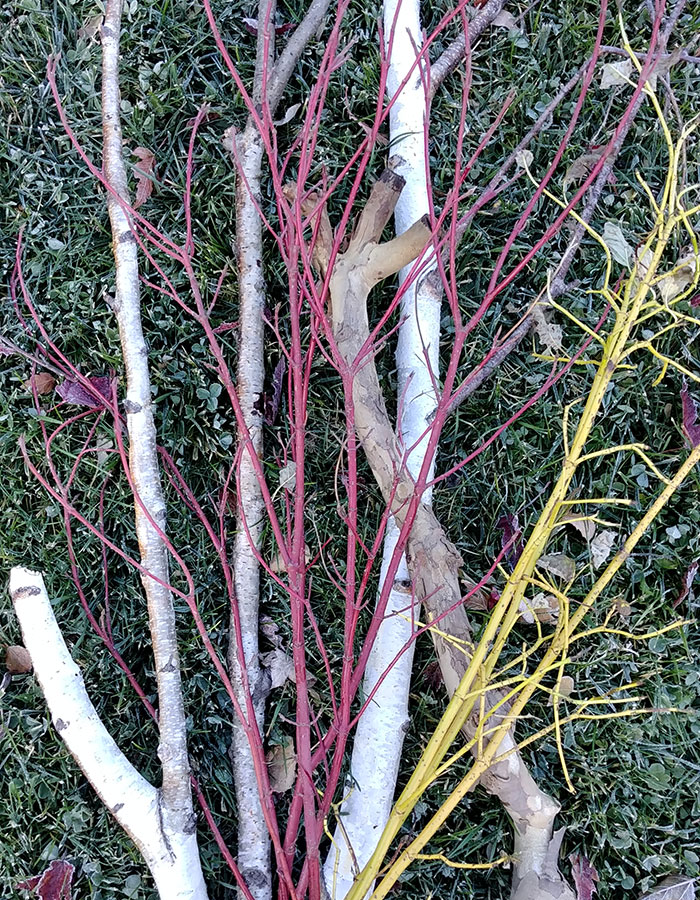 An often-overlooked feature of many trees and shrubs is the unique attributes that their bark can offer. Birch (Betula spp. and cvs. Zones 2–9) species showcase attractive bark that varies in color from pure white to near black, with textures ranging from completely smooth to furrowed and peeling. American sycamore (Platanus occidentalis, Zones 4–9) can also add a unique touch to your design with its patchy, peeling bark. For those seeking some additional color with a finer form, take advantage of the shades of red and yellow that dogwoods (Cornus spp. and cvs. Zones 3–8) can offer, which grow almost everywhere in the Northern Plains.
Personal touches from your garden can be added using seed heads of favorites such as hydrangea (Hydrangea spp. and cvs., Zones 4–9) or astilbe (Astilbe spp. and cvs., Zones 3–8). You can prolong the life of the various plant materials by locking in moisture with a foliage sealer or wax spray, and to keep your arrangements in place, utilize floral foam. Even if your plant choices are limited this time of year, make use of what's available, and have fun with it.
—Chris Schlenker is the head gardener of McCrory Gardens at South Dakota State University in Brookings, South Dakota.
View Comments