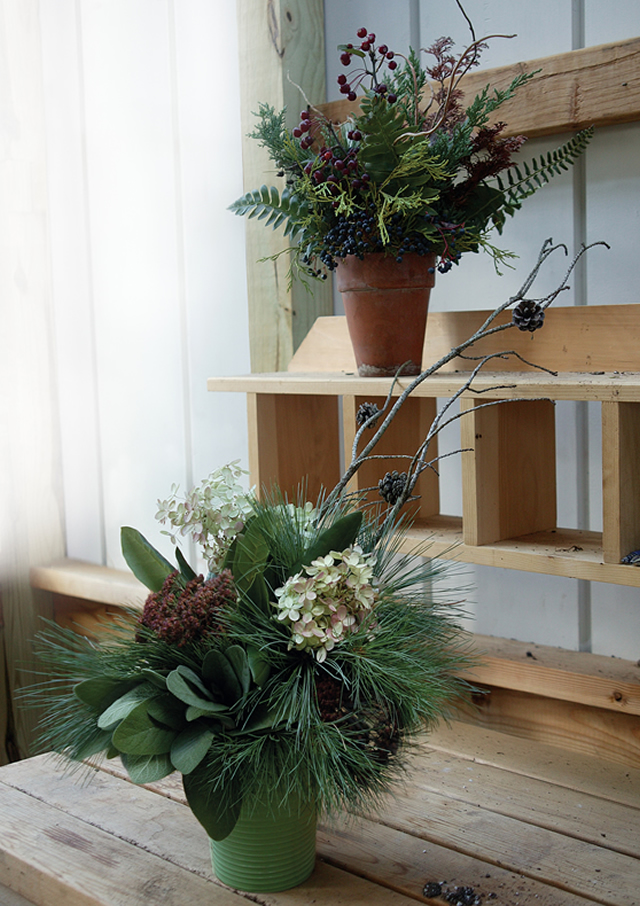 We could all use a little botanical pick-me-up in the depths of winter, but as gardeners, it feels like we're cheating when we buy a bouquet of flowers from the supermarket. Take a little stroll, instead, through your garden—even if it's covered with snow—and open your eyes to materials you have at hand that you can use to create an arrangement. Search for lingering perennial foliage, intriguing seed heads, sculptural branches, boughs of evergreens—both needled and broad-leaved—and vivid berries and rose hips. You'll be surprised at what you can do with just a few clippings and a bit of imagination.
Bare branches take an arrangement to new heights
In the top photo, white pine boughs (Pinus strobus, Zones 4–9), broad-leaved sage (Salvia officinalis cv., Zones 5–8), fuzzy lambs' ears foliage (Stachys byzantina cv., Zones 4–8), sedum seed heads (Sedum cv., Zones 3–11), and dried hydrangea blossoms (Hydrangea paniculata cv., Zones 4–8) combine for a soft, touchable bouquet, while a couple of bare pine branches with attached pinecones offer a zing of contrast.
Fruits and berries keep winter wonderful
Below, crabapples (Malus cvs., USDA Hardiness Zones 3–9) are great for adding a bit of rosy red to winter arrangements, but blue viburnum berries (Viburnum dentatum cv., Zones 3–8) offer an unexpected color for the season. Here, evergreen Christmas fern (Polystichum acrostichoides, Zones 3–8) and juniper (Juniperus cv., Zones 2–9) fill in with green, while golden chamaecyparis (Chamaecyparis pisifera cv., Zones 4–8) adds a dash of yellow.
Photos: Brittany Carlson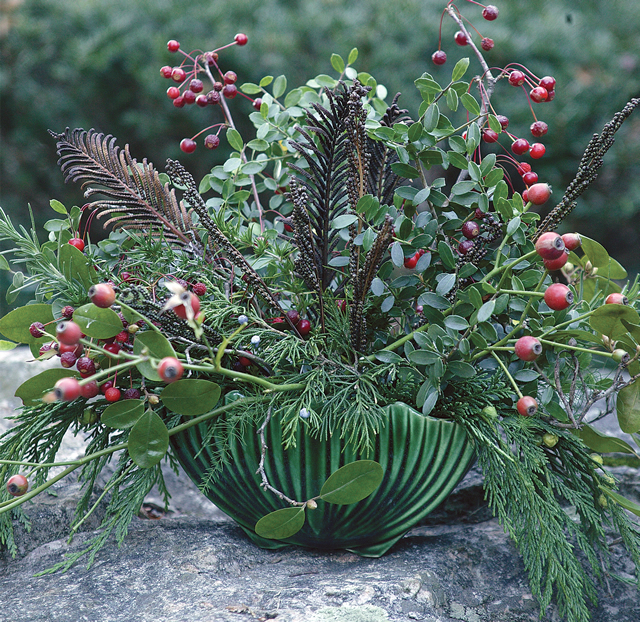 Rose hips and fern fronds relieve the green. The biggest challenge of making a pleasing winter arrangement is finding colorful materials to break up a collection of evergreens. In this combo, red rose hips (Rosa spp. and cvs., Zones 2–11), branches of crabapples, and the dark brown fertile fronds of an ostrich fern (Matteuccia struthiopteris, Zones 2–8) do the trick.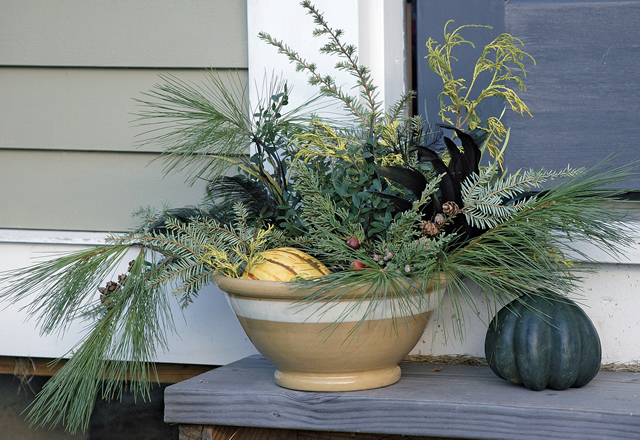 Scour your kitchen and craft stash, too. Don't stop at the garden when collecting materials for winter arrangements. Once you're inside, look around for things to tuck into the greenery, like winter squash from the kitchen or leftover feathers from a craft project. They'll add that little something extra to dress things up a bit.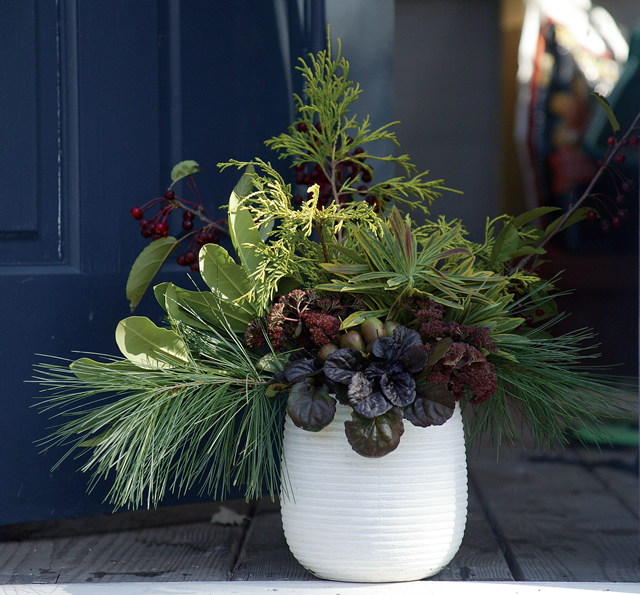 Borrow from the perennial garden. Bugleweed (Ajuga reptans* cvs., Zones 3–9) is a vigorous spreader in many gardens, and some of the new cultivars have gorgeous crinkled burgundy or tricolored foliage. Take advantage of an overabundance of this and other ground covers by digging a bit up, washing the dirt off the roots, and tucking them into an arrangement.