Mountain West Regional Reports
Crafting an Original Seasonal Arrangement
Rival nursery displays, and build your own decorations by following these simple steps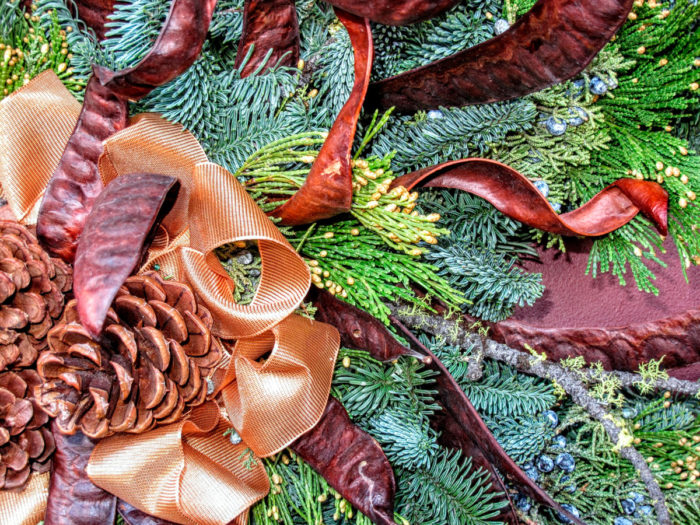 You may not even realize it, but my guess is that very close at hand you can find all you need to make gorgeous, last-minute seasonal arrangements. Get your gloves on, and let's go harvest some greenery!
Step 1: Preparation
When building your arrangement, I recommend having gloves to protect your hands, a glue gun, an ample supply of glue sticks, a couple of paddles of craft wire, wire wreath forms, and maybe a second pair of hands. And of course, before you go snipping off parts of the neighbors' shrubs and trees, please ask their permission.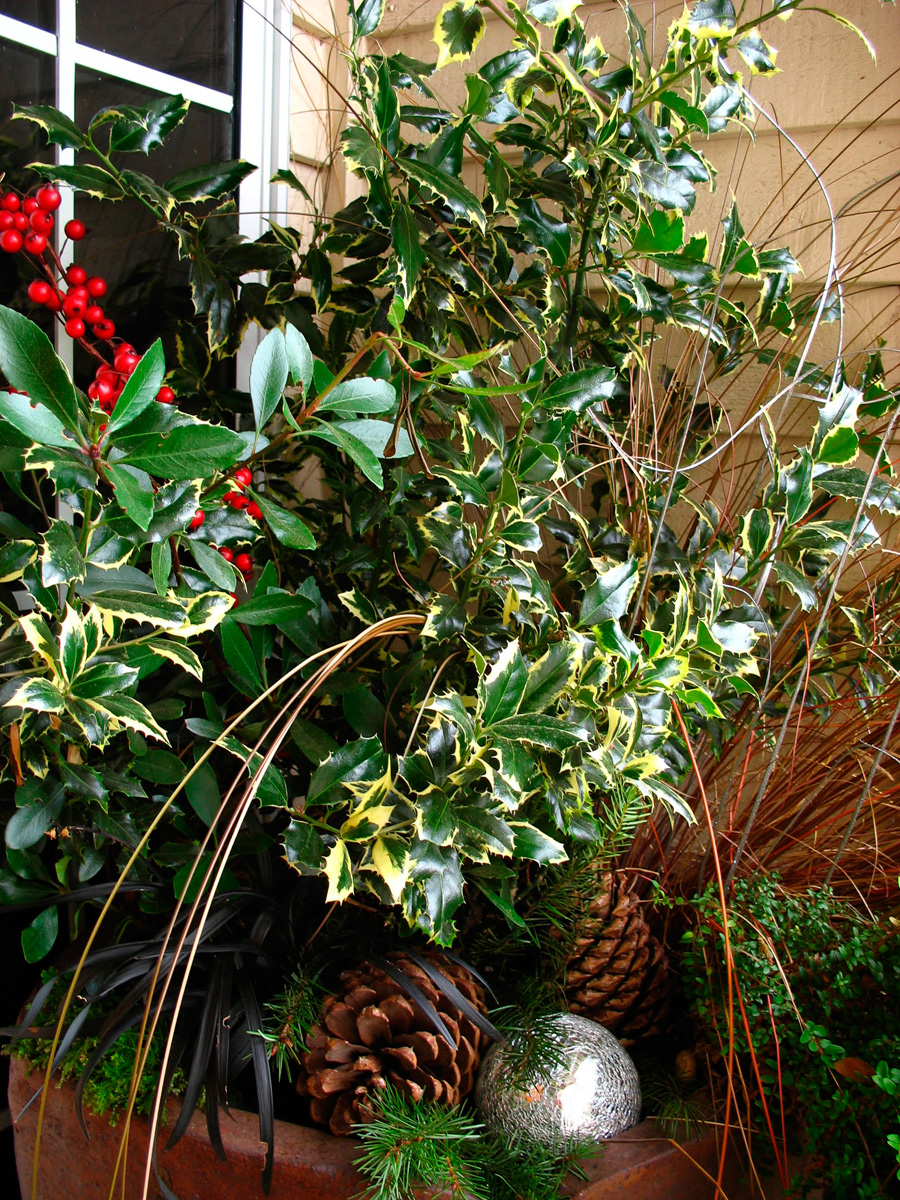 Step 2: Evergreen cuttings
Start with cuttings of evergreens and conifers. These can be as elaborate or simple as fits your style. Evergreen bay laurel branches (Prunus laurocerasus 'Otto Luyken', Zones 6–8) make awesome fillers. Try adding battery-operated lights. I like using tiny LED bead lights. You can wrap them around the twigs and nestle the battery pack out of sight in the rest of the greenery.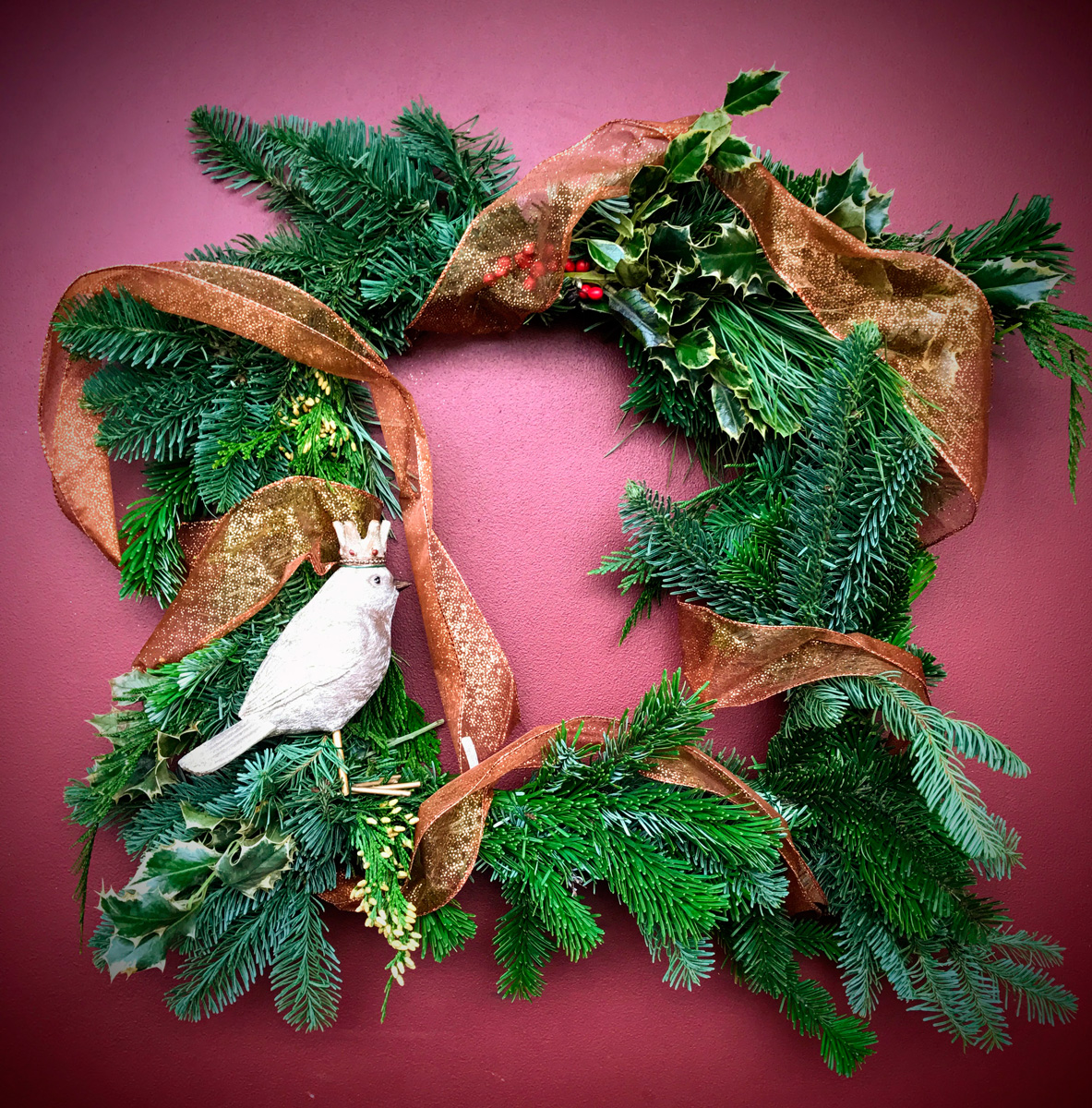 This square wreath incorporates a number of evergreens as its base. Variegated English holly (Ilex aquifolium 'Argentea Marginata', Zones 6–9), Fraser fir (Abies fraseri, Zones 4–7), and junipers (Juniperus spp. and cvs., Zones 3–6), with their signature blue berries, blend together to form the foundation of the wreath. Also in the mix are Lawson's false cypress (Chamaecyparis lawsoniana, Zones 5–8) and incense cedar (Calocedrus decurrens, Zones 5–8), with its charming golden-tipped foliage.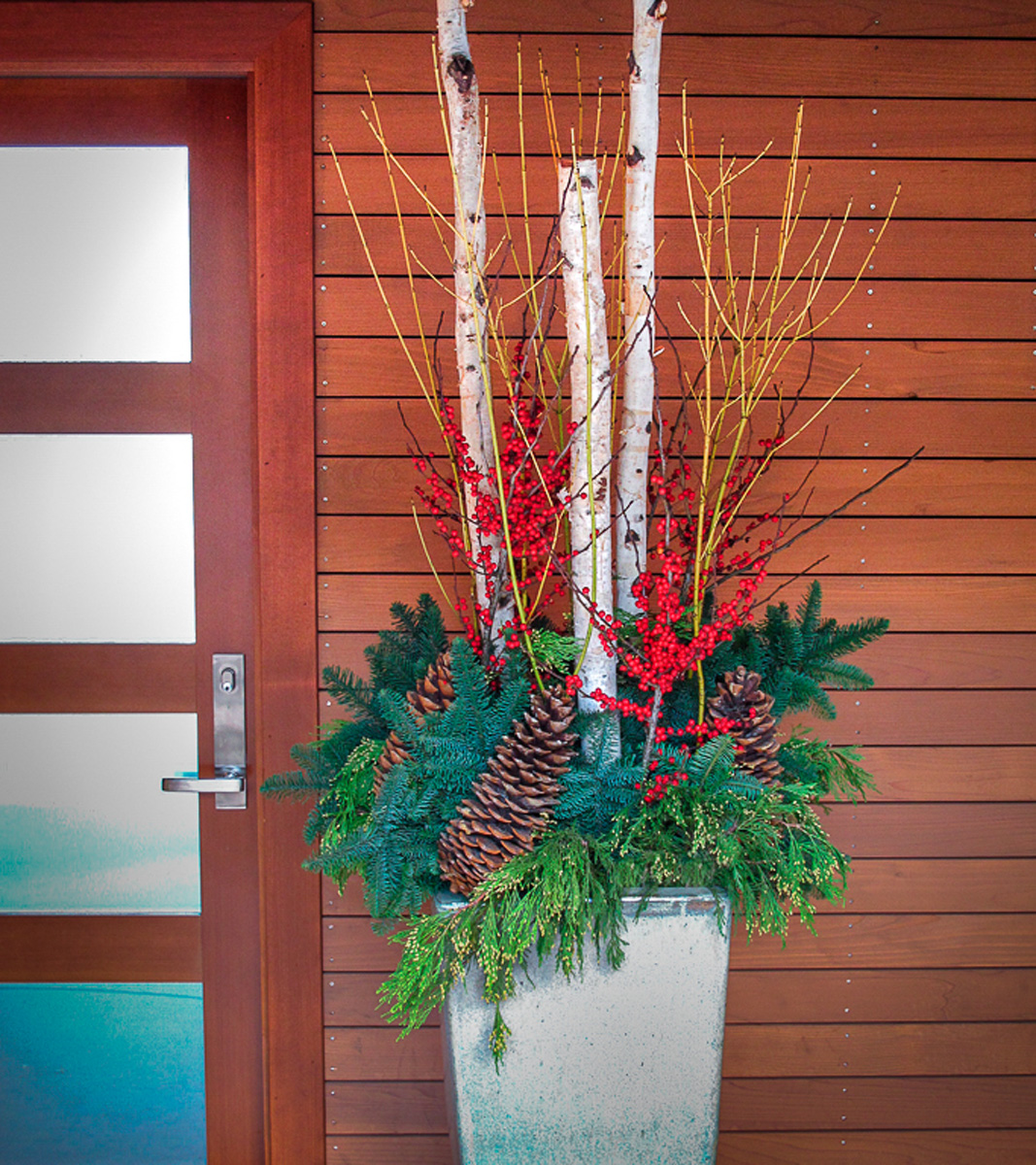 Step 3: Twigs
Twigs from red-twig or yellow-twig dogwood shrubs (Cornus sericea cvs., Zones 3–8) and interesting branches from hazels and willows make wonderful fillers for fall container arrangements. Corkscrew hazel (Corylus avellana 'Contorta', Zones 4–8) branches are crazy beautiful, as are corkscrew willow (Salix babylonica var. pekinensis 'Tortuosa', Zones 5–8) branches. Additionally, grapevines with or without the leaves and tendrils (Vitis spp. and cvs., Zones 5–8) make a nice wrap on wreaths.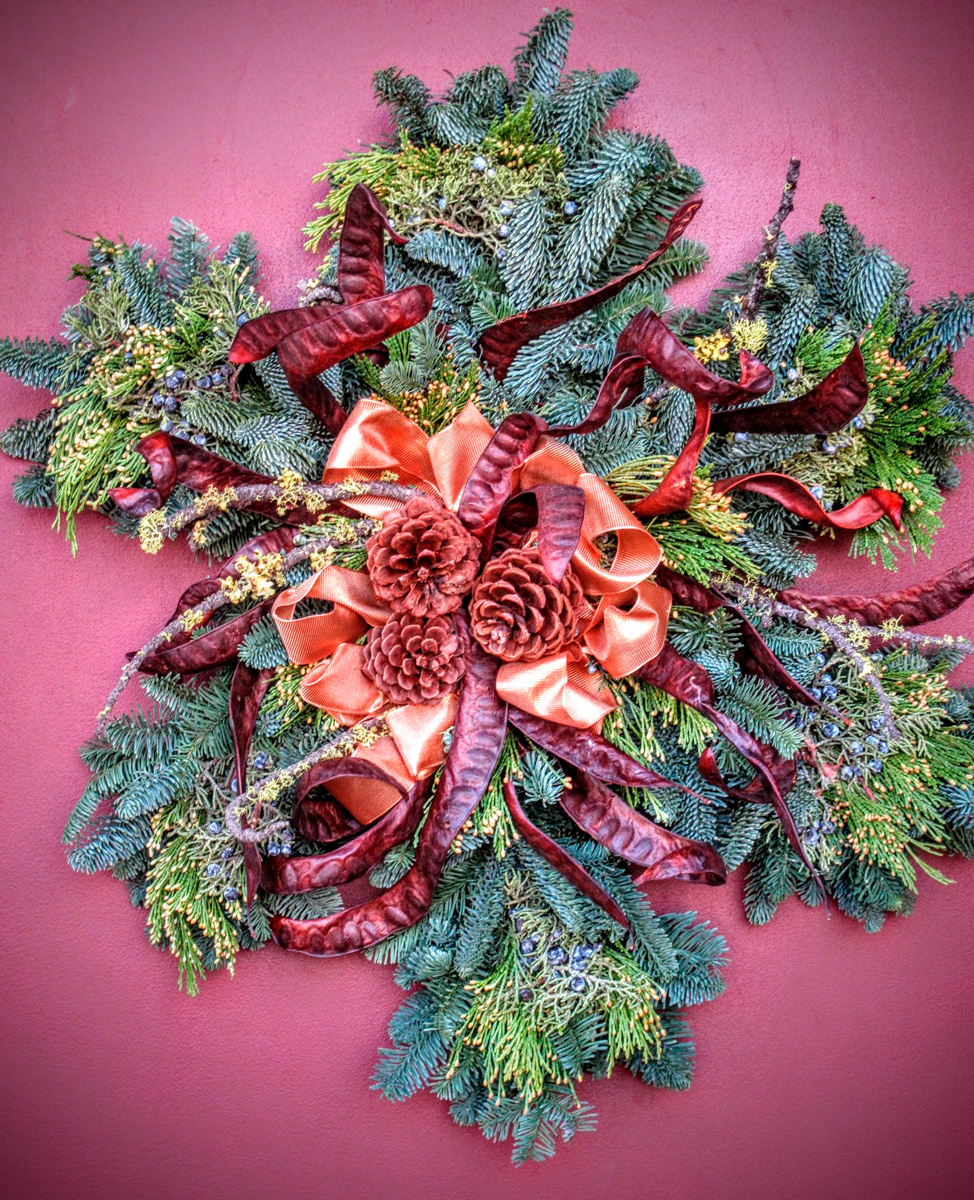 Step 4: Seedpods
Locust seedpods from honey locust trees (Gleditsia traicanthos, Zones 3–8), typically the scourge of homeowners, can be turned into a thing of beauty when incorporated into a wreath. Seedpods of catalpa trees (Catalpa speciosa, Zones 4–8) are also fantastic, if a bit wild looking. Dried black-eyed Susans (Rudbeckia spp. and cvs., Zones 3–7) look terrific in floral arrangements too. Of course, pine cones are tried and true. The enormous cones of Ponderosa pine (Pinus ponderosa, Zones 3–7) are among my favorites.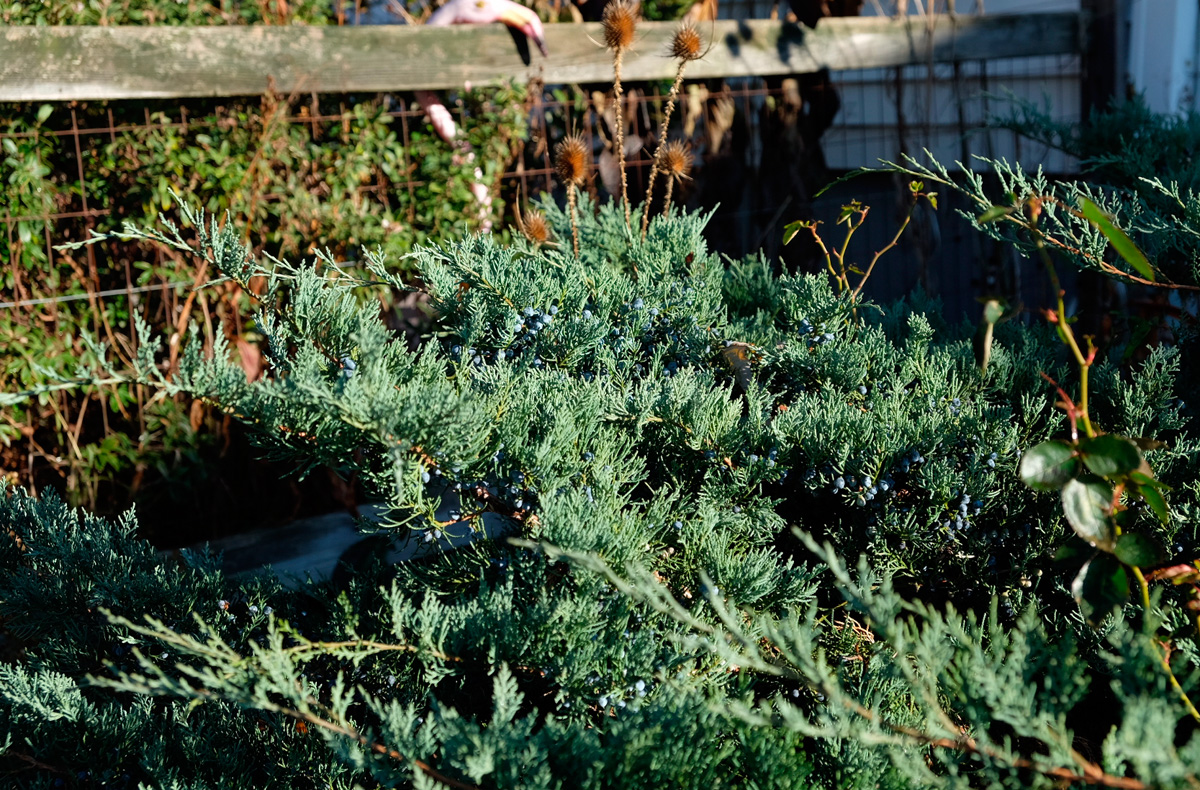 Step 5: Berries and fruit
If you can find branches laden with rose hips (Rosa spp. and cvs., Zones 3–9) or juniper berries, add them to your arrangement. Junipers—with their dark, wrinkled, musty blue berries (which are actually cones)—can be the basis for a blue-green theme, tucked between some blue or green satin wired ribbon. Branches with dried crabapples (Malus spp. and cvs., Zones 4–8) still attached to stems lend a rustic touch. If you don't have any of that on hand, get a bag of inexpensive apples at the store, impale them on sticks (bamboo kebab skewers work wonders), and then tuck those into the mix.
I once speared a whole pineapple (Ananas comosus, Zones 11–12) on a big stick in the center of an arrangement. The pineapple is often used to signify hospitality and generosity. That's such a lovely sentiment, and I think it's nice to incorporate a pineapple in any arrangement.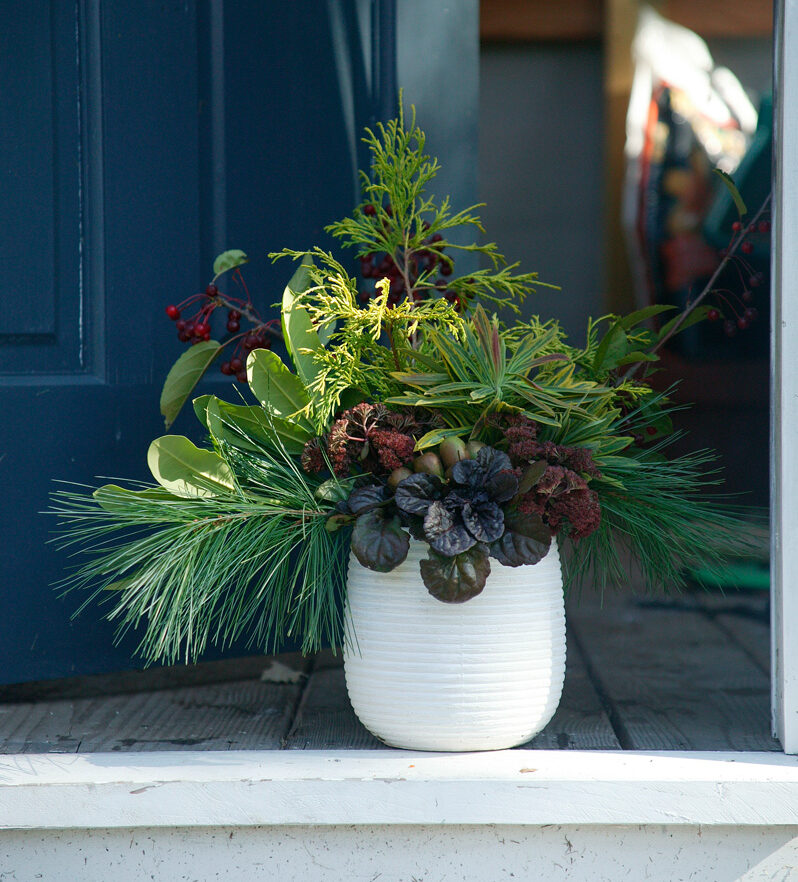 Step 6: Generosity
Consider making yourself available to do some porch decorating for friends and neighbors who cannot physically do this for themselves. This is a perfect gift. It costs nothing but a bit of time and lends cheer and kindness to the season and to your friends.
May your winter season be bright and peaceful.
---
Mary Ann Newcomer is the author of two books: Rocky Mountain Gardener's Handbook and Vegetable Gardening in the Mountain States.
View Comments