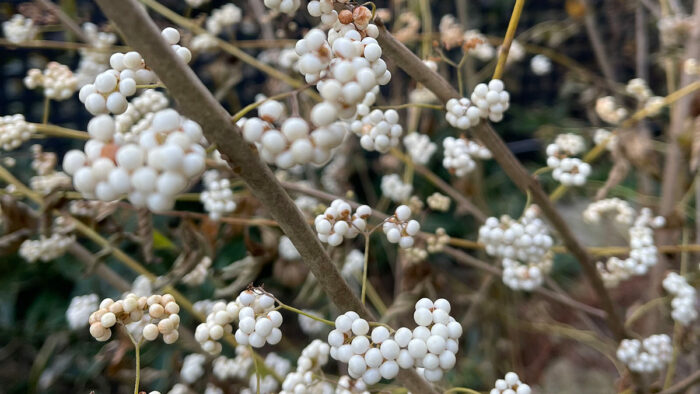 Late fall and early winter can be a drab time in northeastern gardens. Most of the leaves have faded from the trees, and the perennial border is looking mushy and brown. What's a gardener to do? Luckily, there are many plants that look great at this time of year. The following are a few trees and shrubs that might be lesser known but are worth adding to your garden for a late-season show.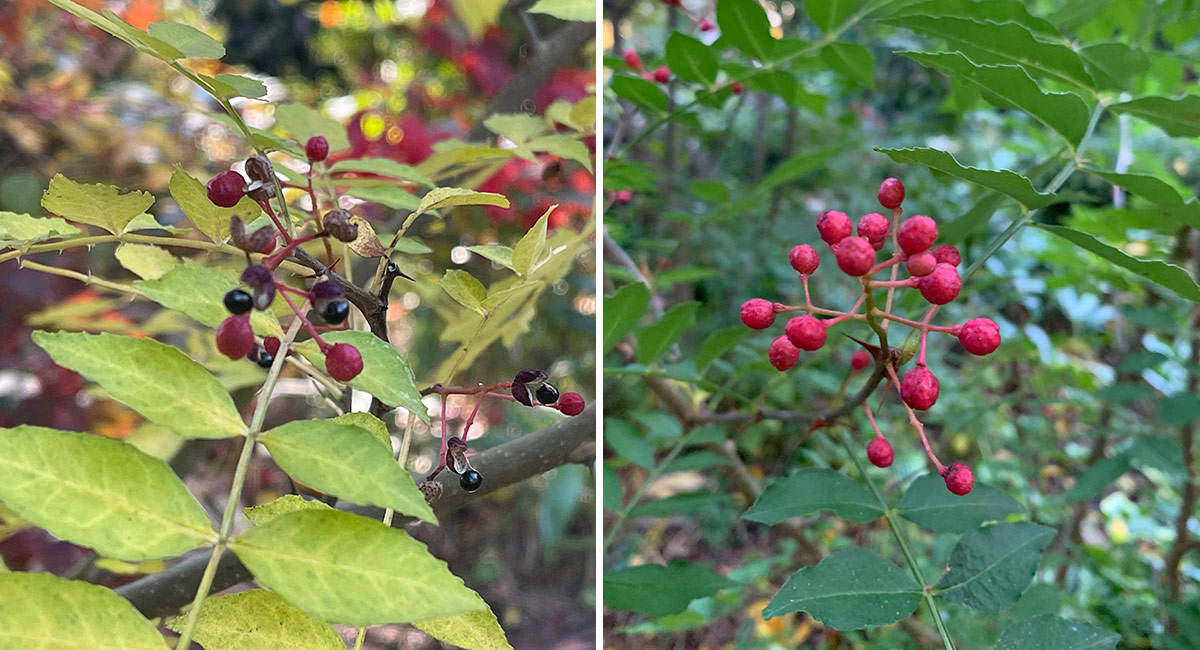 Szechuan pepper
Zanthoxylum simulans, Zones 5b–9
There is just something about having a shrub in your garden that is interesting, useful, and not that common. Zanthoxylum is a genus that you may not be familiar with, but if you are a foodie, or maybe of Chinese descent, than you are in on the surprise. The berries of the plants from the Zanthoxylum species (all are known commonly as Szechuan peppercorns) are a sensation to be experienced. You might have encountered them in authentic Szechuan restaurants (Mapo tofu, anyone?). They cause your taste buds to feel as if they are being electrocuted—but in a good way.
The surprising thing is that Szechuan pepper (or prickly ash) is hardy in many northeastern gardens. It's hardly a novelty because it's also a pretty shrub. Sure, it's thorny, but no more so than a hybrid tea rose, and it's really all about the late autumn display here. As the foliage turns golden and drops, it's the glossy red fruits that shine, cracking open to release their black seeds and distinctive fragrance. Yes, you can pick them and dry them or use them fresh in your kitchen adventures. This may be a shrub that is more about adding early winter interest and usefulness to your garden than, let's say, another hydrangea might bring. But don't we all need an extra boost of garden interest in the short days of November and December?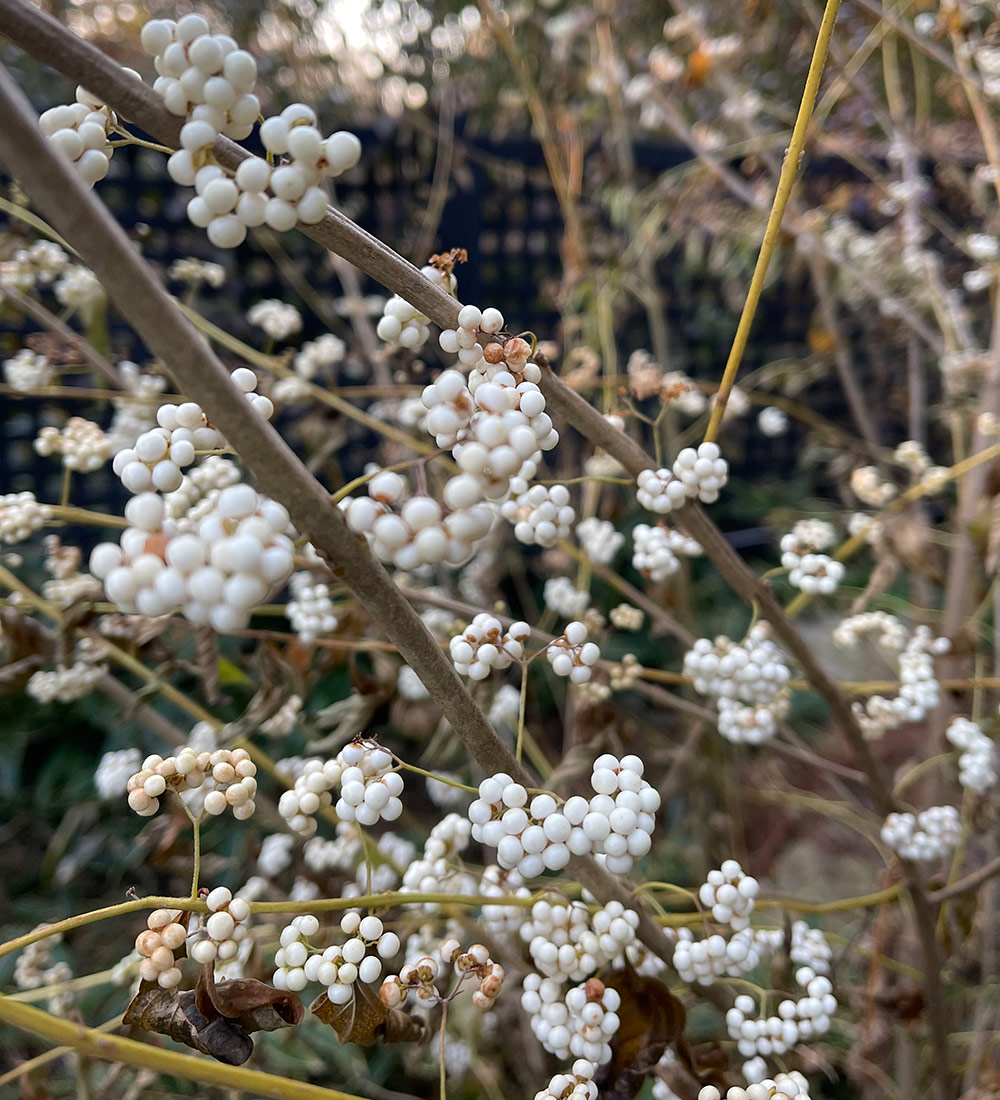 White beautyberry
Callicarpa dichotoma f. albifructa, Zones 5–8
While many of us are seduced by the brilliant berries of various purple beautyberry species and cultivars, their more demure, yet lovely sister, white beautyberry, is not as familiar. Hardy through Zone 5, this shrub is in so many ways the more beautiful beautyberry, especially if the weather remains mild in autumn (as a hard freeze will turn the berries tan). In my garden, the pure white berries make this Callicarpa the star of the late autumn garden.
Like so many shrubs with late-season interest, it can look rather ordinary the rest of the year, but as any beautyberry owner knows, to get the lovely long arching branches full of berries, you must cut the entire plant back to the ground every spring anyway. With a show like this, it's easy to justify waiting until November and December for such a striking display.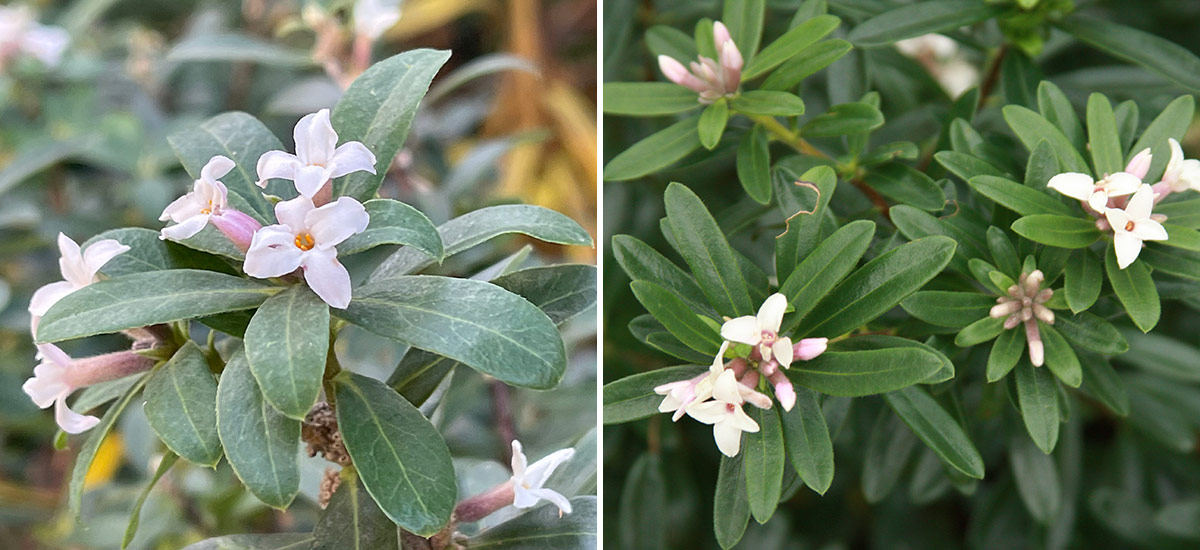 Eternal Fragrance® daphne
Daphne × transatlantica 'Blafra', Zones 5–9
Each year I try to photograph my daphne in bloom during each month of the year. This is a shrub that even in my cold Zone 5 garden has some flowers sporadically on it in every month of the year. Astounding as that is, its main bloom period is still in early spring and again in November when the intensely fragrant blooms take over the show from even the late fall foliage.
I was given a seedling of Daphne × transatlantica a decade ago by a friend, and while my plant is lovely, it is a bit floppy, as some daphnes can be. Yet it persists. Even after heavy snows have bent the stems and when all seems lost, it recovers and blooms with even more vigor. Thankfully others have caught on, and there are now named selections that offer better habits and performance. Look for Eternal Fragrance® that promises semi-evergreen foliage and a more mounded growth habit from 2 to 3 feet tall and wide.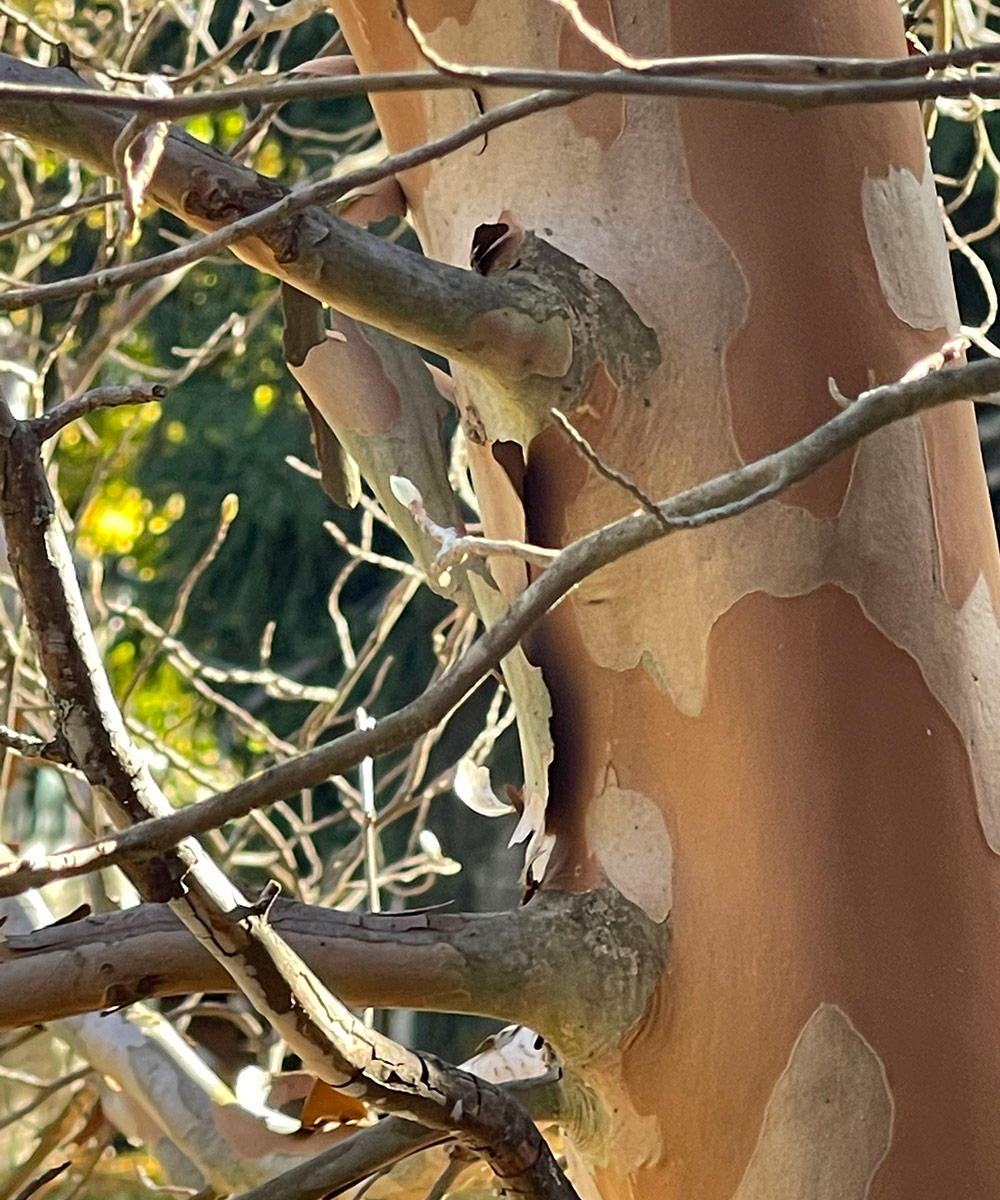 Japanese stewartia
Stewartia pseudocamellia, Zones 5–8
Japanese stewartia is not a tree with many faults. Heck, the only ones I can think of are that its flowers drop like fried eggs, which means you should never plant it over a deck or poolside, and its seedpods are worse than Lego pieces when you're barefoot. These are no reason, however, to avoid planting what may be the most awesome small tree ever.
My Japanese stewartia, which grows at the corner of my front porch and the street, is the one plant that I get the most comments about in winter. You might be familiar with this stewartia, as it is often recommended as a summer-blooming tree, with its large, white camellia-like flowers that bloom in June. Yet to be perfectly honest, as lovely as those flowers are each year, competition is high in the garden in June, and you can almost miss them. If only stewartia bloomed in February when its cousins, the camellias (Camellia spp. and cvs., Zones 6–10), do.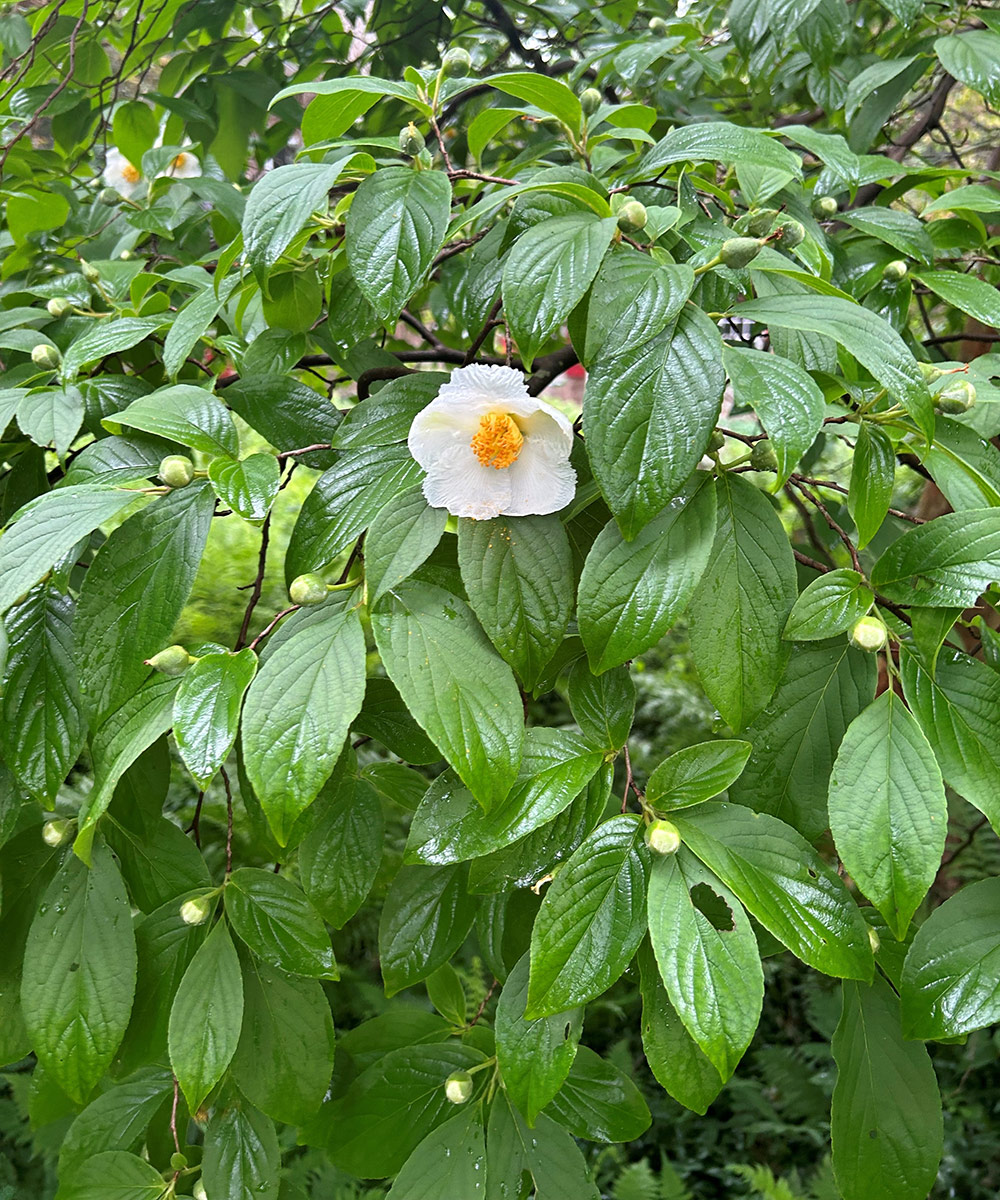 Winter just happens to be when those who are fortunate to own a Japanese stewartia discover its secret gift, and it isn't flowers at all. In fall, Japanese stewartia puts on a display with gorgeous red fading foliage. But in the off-season, stewartia bark alone is stunning; it's almost as if you crossed a eucalyptus tree (Eucalyptus spp. and cvs., Zones 8–11), with its multicolored trunks, and a sycamore tree (Platanus occidentalis, Zones 4–9), with its camouflage-colored bark that always gets attention. "What is that camouflage tree in your front yard?" people ask me all winter long.
Landscape designers call the sort of branching exhibited by Japanese stewartia "muscular," as the smooth bark wraps skin-tight over the undulating trunks, reflecting light and glistening with various colors that range from tan, to orange, to brown.
As if that were not enough, the tree's overall form and silhouette are more attractive in winter than that of nearly any other shrub or tree. How many of us can say that in winter? Japanese stewartia specimens might even be posing just to get extra points, because each branch appears as if an artist sketched it. Every twig, even the tiniest one, is attractive enough to be snipped off with secateurs and maybe added to complement a display of greens in a winter window box or a holiday wreath, or plunged into gravel to hold paperwhites erect.
Any one of these shrubs or trees could wow your neighbors this year with something a little out of the ordinary. Whether you are looking for berries, fall color, late-season flowers, or stunning bark, spice up your off-season with something more unusual this year.
For more fall and winter interest, check out:
And for more Northeast regional reports, click here.
---
Matt Mattus is the author of two books: Mastering the Art of Flower Gardening and Mastering the Art of Vegetable Gardening. He gardens in Worcester, Massachusetts.
Photos, unless otherwise noted: Matt Mattus