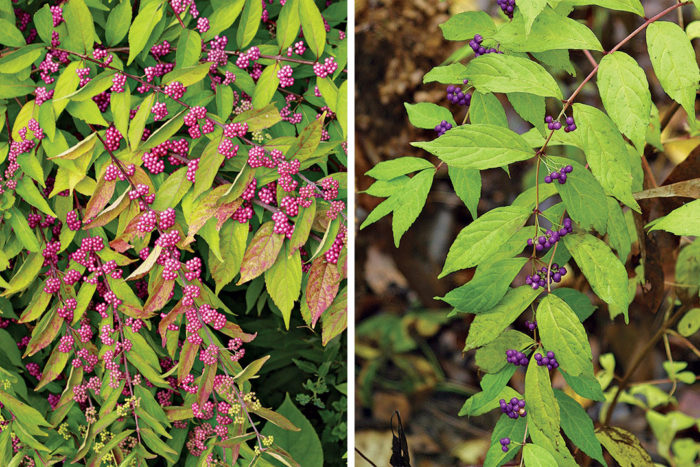 At a glance
Callicarpa spp. and cvs.
Zones: 5–9
Size: 4 to 6 feet tall and wide (unless otherwise noted)
Conditions: Full sun to partial shade; evenly moist, average soil
Native range: China, Japan, or continental United States
I love a four-season shrub as much as the next gardener. A plant that blooms gorgeously in spring, has wonderful summer foliage followed by fall color, and then displays great bark and structure through the winter is amazing. But some plants just can't have it all. Since autumn is my favorite season, I love plants that shine from September to November. Plants that bloom in fall or have great late season color or an exceptional fruit display catch my interest because that's a time of year when not much is happening landscape-wise. Beautyberries are truly darlings of the fall garden for their fruit display.
Callicarpa is a large genus of shrubs with more than 100 species worldwide, most of which grow in tropical areas. However, several species grow in temperate regions and are perfect additions for North American gardens. The word Callicarpa comes from the Greek callos and carpos, meaning "beauty" and "fruit." The flowers of beautyberry are often small and go unnoticed in summer, and the foliage of most species is a medium green and not very distinctive. It is the fruit in hues of rich purple, white, or pink that sing out for attention and make beautyberry a fall plant with no rivals.
Notable selections you won't soon forget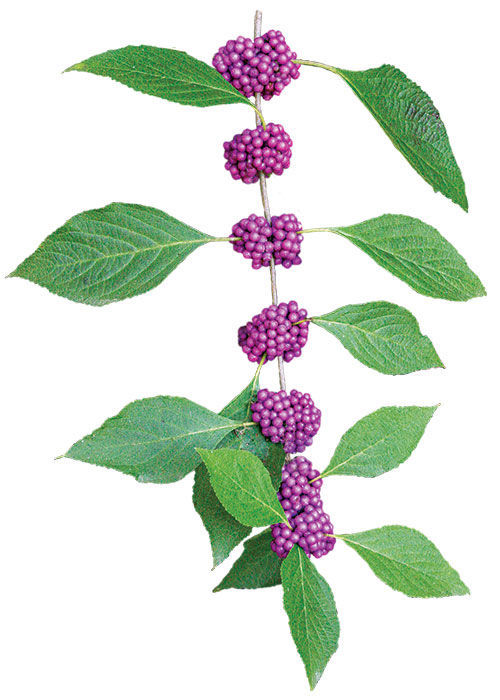 American beautyberry (Callicarpa americana) is our proud American star. A native found from Maryland to Oklahoma and Texas, American beautyberry grows in wooded areas and favors moist soil with an open canopy. In the garden, it is tolerant of a wide range of soils and moisture levels but does better in wetter areas. Sometimes a bit difficult to establish in the cooler areas of its range (Zones 6b and 7a), it prefers spring planting and good watering throughout its first year. American beautyberry has larger fruit and larger foliage than other species, and the leaves are notably a lighter green. The ¼-inch-diameter medium purple fruits encircle the stems at regular intervals and make a great show. The overall appearance of the shrub can be a tad unruly, so planting in a group or mass creates a better display and increases cross-pollination and fruit production.
Asian beautyberry (C. dichotoma) has a smaller habit than most beautyberries, and several selections are top-notch. Two of the most notable are 'Issai' and 'Early Amethyst'. 'Issai' has small berries that are like tiny pinkish-purple bubbles clinging to the stem at each node. More of a weeper in habit, its stems arch over, and the small leaves are held in tandem along the branches. 'Early Amethyst' sets its fruit earlier in the season than most cultivars of beautyberry. While 'Issai' holds the berries close to the stem, 'Early Amethyst' has looser panicles of brilliant deeper purple berries that are held away from the stems.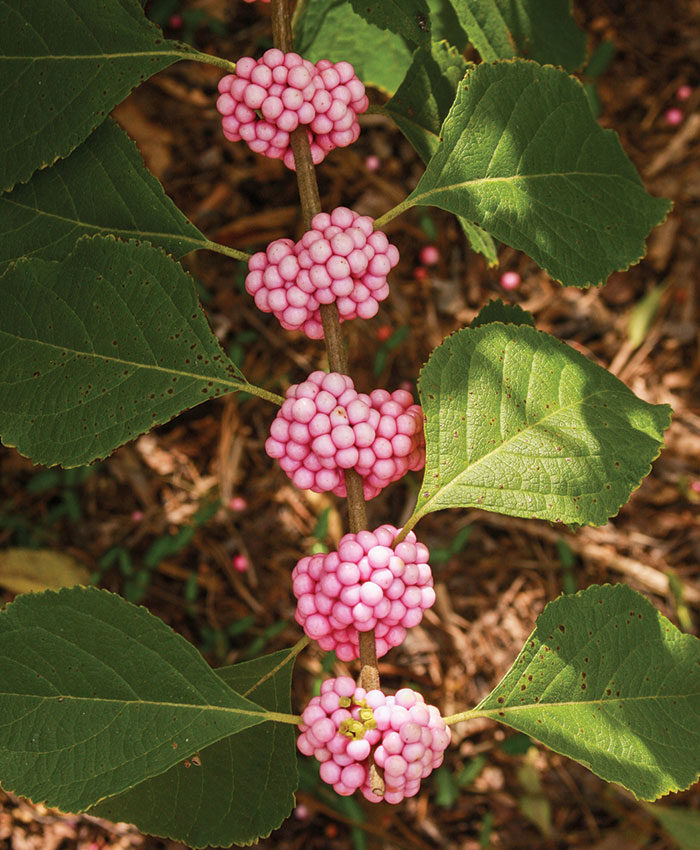 'Welch's Pink' American beautyberry (C. americana 'Welch's Pink') is a lovely selection of our North American native, with bubblegum pink fruit in profusion. Found en masse at the U.S. Botanic Garden in Washington, D.C., this planting alone is worth a visit in October.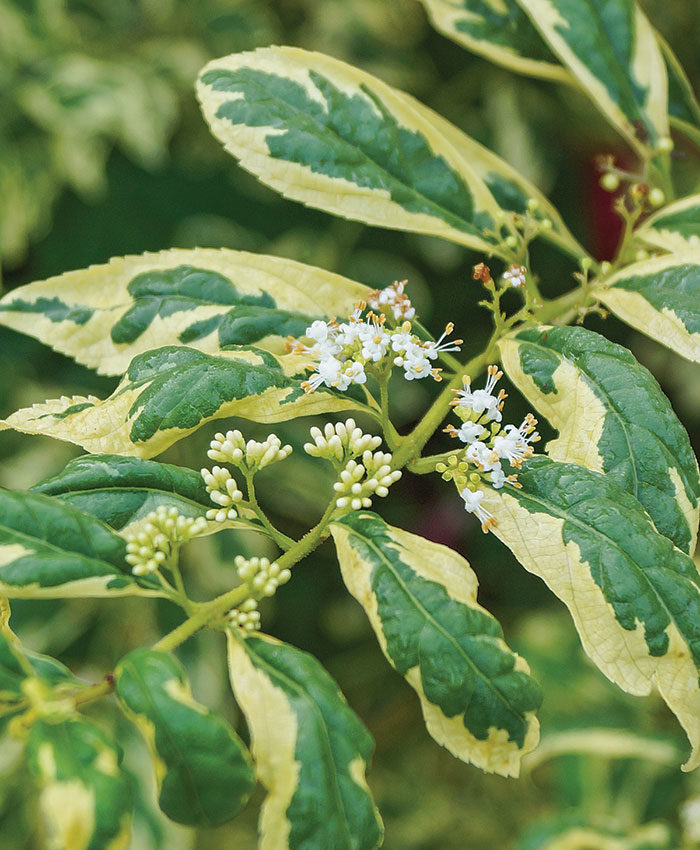 'Duet' Asian beautyberry (C. dichotoma 'Duet') is a real stunner that's worthy of a place in any garden. This selection was found at Tennessee Technological University and introduced through the U.S. National Arboretum. The foliage and fruit sing a duet together, with the white-margined foliage matching perfectly with the plump white berries. The variegated foliage makes 'Duet' interesting throughout the growing season, especially when placed against a dark backdrop. Its habit is more upright and should stay right at 5 feet tall.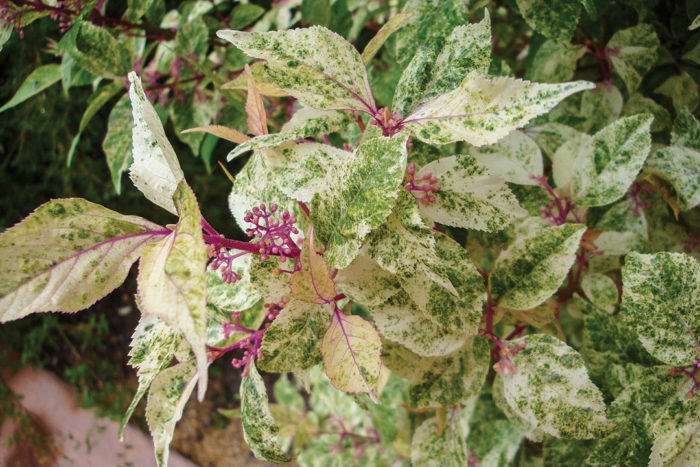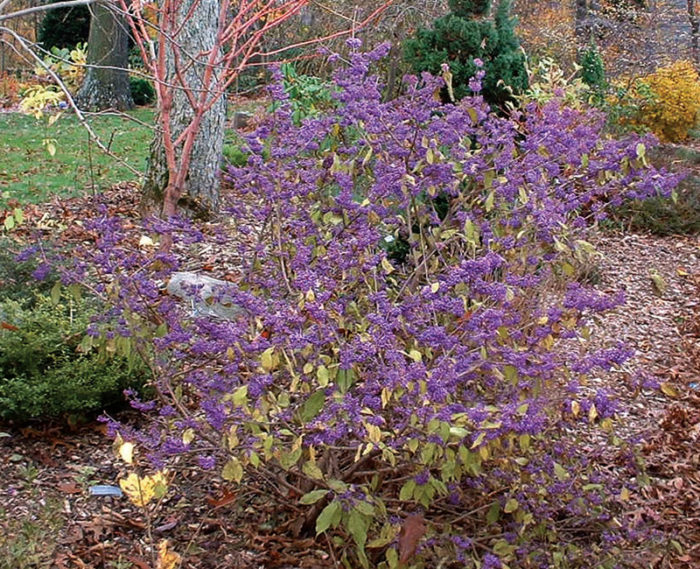 Japanese beautyberry (C. japonica) is another species with brilliant medium purple fruits. This rounded shrub grows larger than C. dichotoma, to 6 feet or more, has larger foliage and, as a bonus, has a hint of pinkish or soft yellow fall foliage color. My favorite Japanese beautyberry is the cultivar 'Heavy Berry' (C. japonica 'Heavy Berry'). As you can imagine from its name, this shrub sports the best berry set of all beautyberries. It produces copious amounts of metallic purple berries, almost hiding the stems, and creates quite a show. A newer introduction, Wine Spritzer™ Japanese beautyberry (C. japonica 'Shiji Murasaku'), is appropriately named, with its lovely white-speckled or "spritzed" foliage and beautiful wine-colored young stems. The foliage display is reason enough to grow this rounded, compact shrub that stays 4 feet tall. Unfortunately, it is shy to flower and set fruit, but few shrubs can create as lovely a display of speckled variegated foliage as Wine Spritzer™.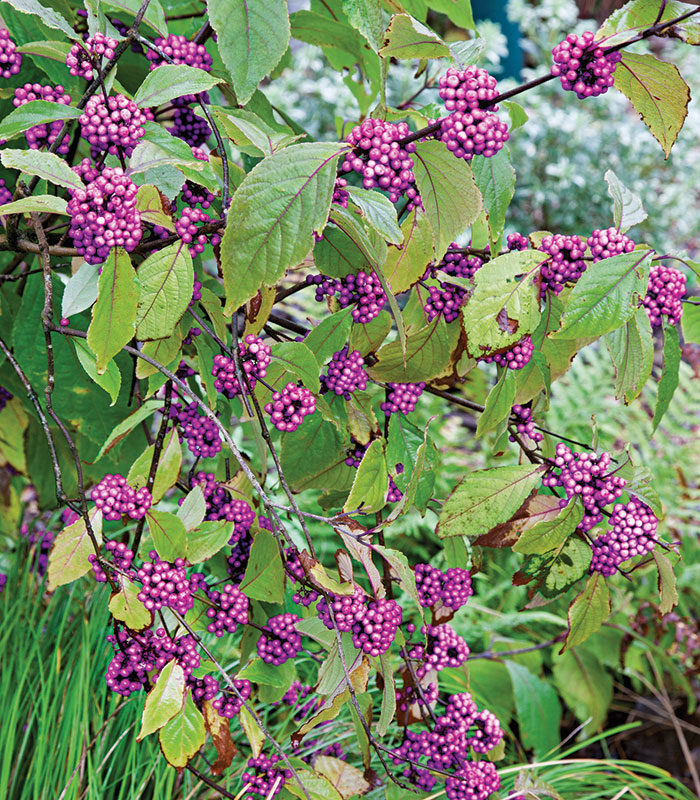 Not to be overlooked, the reliable and spectacular fruit display of 'Profusion' Bodinier beautyberry (C. bodinieri 'Profusion') makes it a standout. The clusters of slightly bluish-purple fruit are always abundant. 'Profusion', a Dutch selection from 1887, is often seen in nurseries, but the species itself is rare, and no other selections of C. bodinieri are readily available. Often growing to 6 feet or more, its statuesque presence is upright and neater than some of the other beautyberries, especially when grown in full sun.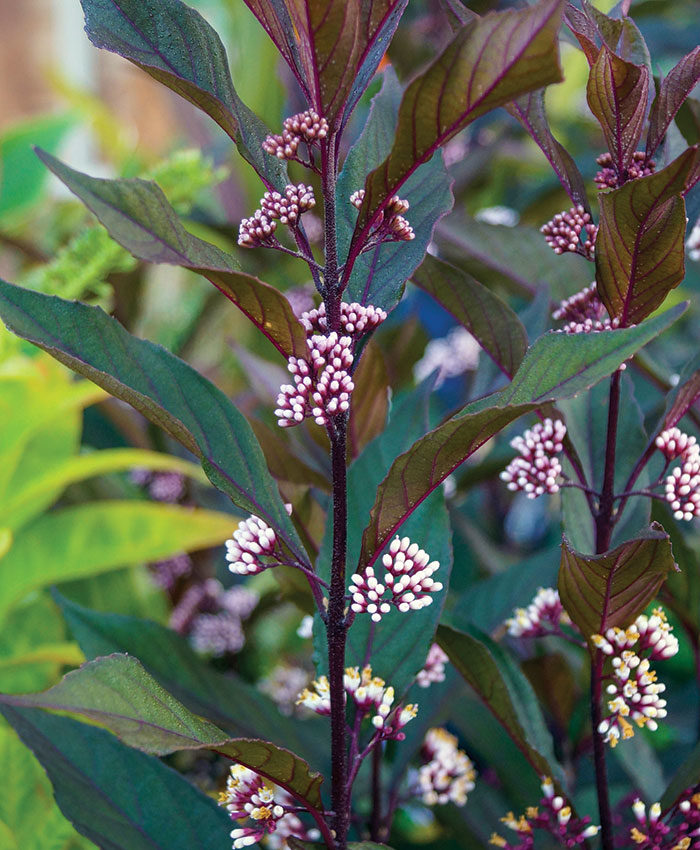 Pearl Glam™ beautyberry (C. 'NCCX2'), a fairly new introduction, is a hybrid between C. kwangtungensis and C. dichotoma. The former tends to be a large gangly shrub more than 8 feet tall with arching branches, but it has wonderful dark purple foliage through summer. C. dichotoma has abundant fruit and a smaller habit but rather boring green foliage. Pearl Glam™ combines the best of these traits with abundant fruit set off against dark purple foliage. This hybrid has a smaller and more compact habit, reaching only 4 feet tall and 3 feet wide. The dark purple foliage and rich purple fruit combination is truly unique.
New and unusual options to try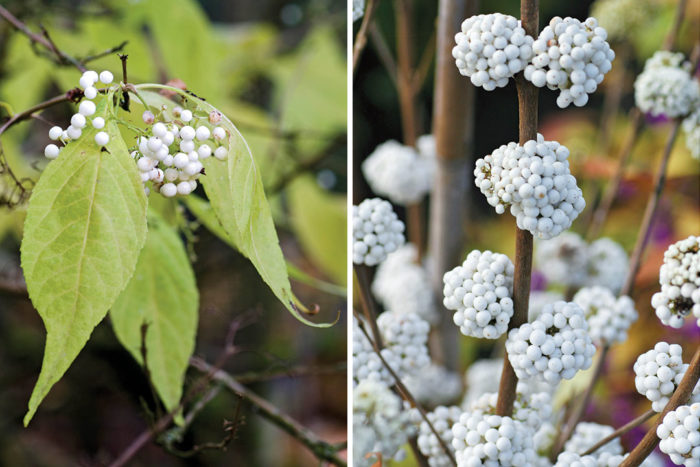 White-fruited beautyberry (C. longissima 'Alba') has an extravagant display of ivory fruit that resembles light and fluffy popcorn. The self-fertile flowers continue to produce over several months, so the shiny fruits seem to randomly pop as the season progresses. The hardiness and ultimate size remain to be seen; this beautyberry may become a giant for warmer climates.
The Plump and Plentiful™ series of beautyberries features new releases such as Lilac (C. 'Kolmalila'), Amethyst (C. 'Kolmagicme'), Purple Giant (C. 'Kolmapurgi'), and Snow Star (C. 'Kolmnostar', pictured). These four selections were specially bred for fruit display and performance as cut branches. Although they are too new for an adequate rating of their performance over time in the garden, so far they are looking good.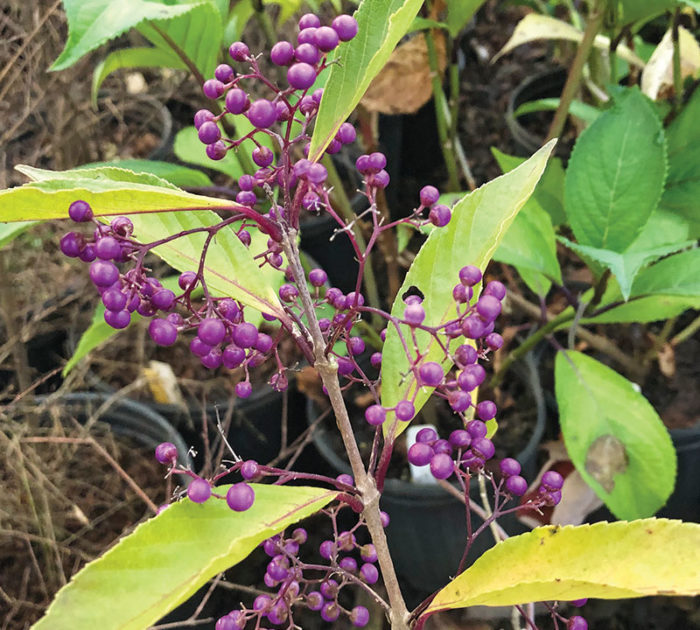 Willowleaf beautyberry (C. salicifolia) has unusually large flowers of light purple, and the inflorescences are large and held out and away from the branches. The foliage is shiny green, and the newest stems are dark purple. The fall fruit display is equally stunning, prolific, and long-lasting. This plant holds potential to be appreciated as a flowering shrub, but its hardiness over time is untested.
---
Fun Facts About Beautyberry and Its Fall Friends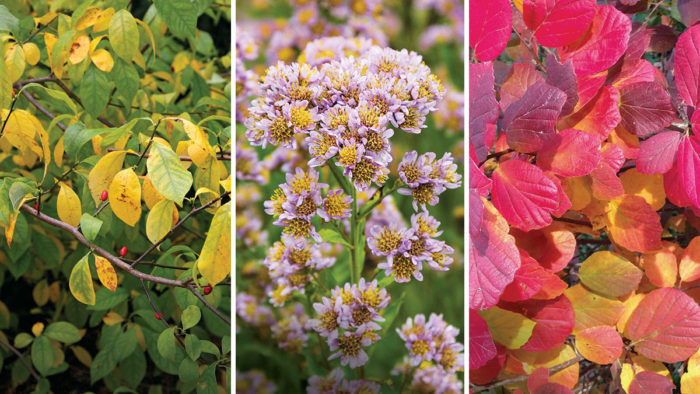 • Siting: For best fruit production, beautyberries like full sun. They can take a moderate amount of shade but will produce a reduced amount of fruit.
• Moisture: Adequate moisture is best, especially in the first year of establishment. Beware of planting in sites that are continuously moist with good drainage, as I have seen Japanese beautyberry (C. dichotoma) seed into an area next to a stream and in gravel production areas that are watered daily.
• Pests: No serious pests or diseases, and beautyberries are generally not bothered by deer.
• Maintenance: Pruning helps maintain shape and tidiness; otherwise, beautyberries are maintenance-free. Learn how to prune beautyberry.
• Propagation: Easily propagates from cuttings and seed.
• Fruit: These are technically drupes, or stone fruits like peaches or plums.
• Companions: The purple fruits of beauty berries look great with the soft purple flowers of tatarian aster (Aster tataricus 'Jindai', Zones 4–8), the yellow fall color of spicebush (Lindera benzoin, Zones 4–9), or the multicolored autumn foliage of fothergilla (Fothergilla spp. and cvs., Zones 4–9). The newer selections of beautyberries that have variegated or purple foliage are spectacular when combined with nearly any dark green or burgundy backdrop.
---
Andra Windorf Nus is a research specialist in the Department of Horticultural Science at North Carolina State University. She breeds plants for the Mountain Crop Improvement Lab.
Illustrations: Lyn Alice Hamilton
Sources