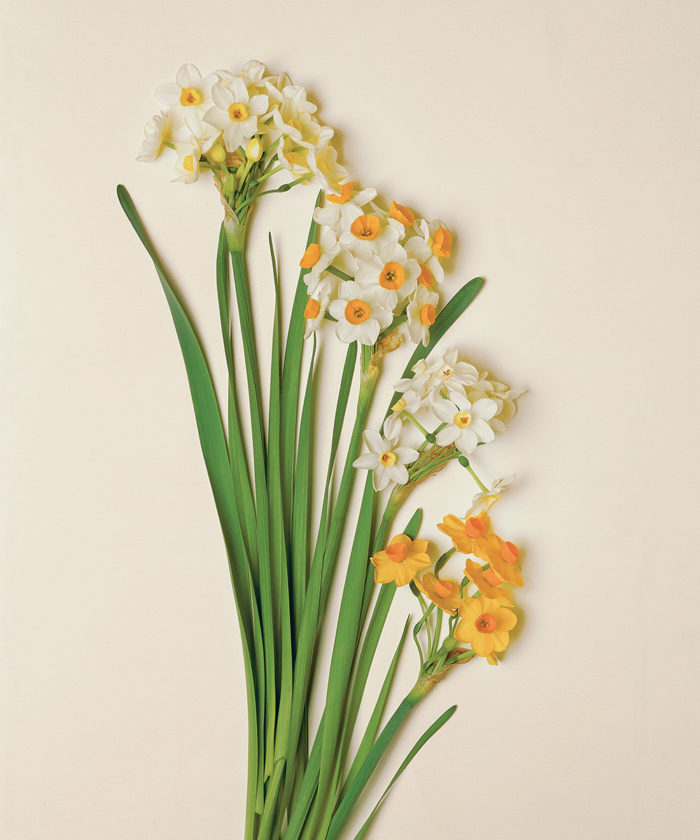 Coaxing paperwhite narcissus to bloom indoors (a process called "forcing") is a winter tradition. Their light color and musky sweet fragrance are enough to chase away anyone's winter blahs.
Forcing paperwhites (Narcissus papyraceus) is easy—just pot them up, and in a few weeks they're a fragrant flurry of bloom. Each bulb pro­duces one to three stems with up to 20 flowers per stem, with each flower up to 1½ inches across.
Bigger is better when buying paperwhite bulbs. Bulbs larger than 6½ inches in diameter usually produce more and bigger flowers. Keep the bulbs dry and at room temperature until planting; if refrigerated, these tender treasures may abort blooms. Plant them as soon as possible because they will begin to sprout within four weeks.
Paperwhites don't even need pots. Just set the bulbs on pebbles in a shallow bowl and add water. Keep the water level below the base of the bulbs to avoid rot.
Outstanding Paperwhites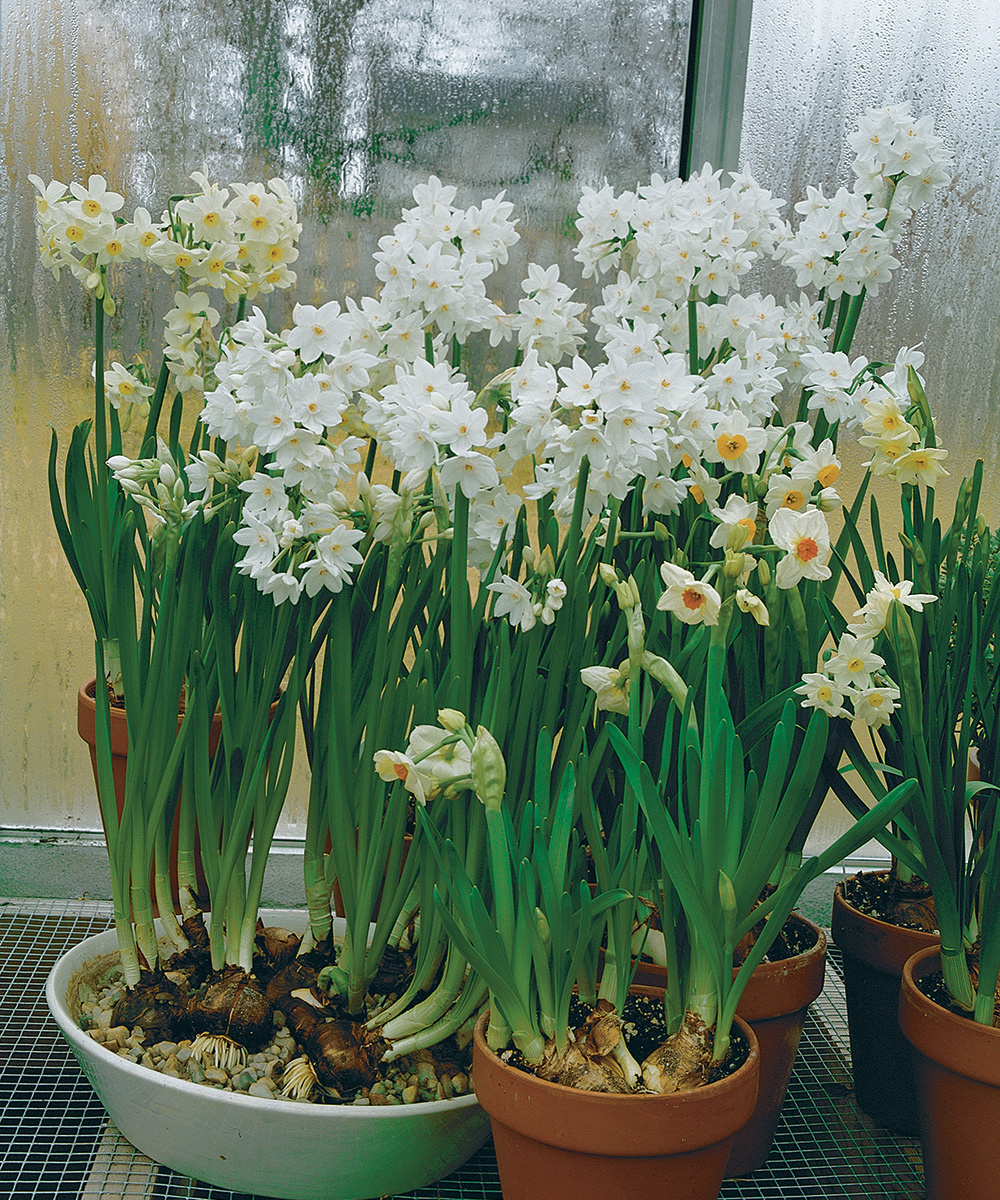 'Israel' ('Omri') is, in my opinion, the finest of the new paperwhites. Each 16- to 20-inch-tall stem brings forth 15 to 20 large, creamy yellow flowers with pale yellow centers. 'Israel' has a mild, sweet, musky fragrance. It blooms three to five weeks from planting.
'Nazareth' ('Yael') is a more compact paperwhite, reaching a height of 12 to 14 inches. Each stem is topped by 8 to 10 mildly sweet-scented, creamy white flowers with yellow centers. 'Nazareth' blooms about three weeks after planting and sometimes needs to be staked.
'Jerusalem' ('Sheleg') has the largest flowers of any paperwhite. These white jewels have a texture that seems to sparkle and a mildly sweet fragrance. 'Jerusalem' produces two to four very strong stems (16 to 20 inches tall) per bulb, and it blooms three to four weeks from planting.
'Galilee' is a vigorous, compact (12- to 14-inch-high) cultivar that blooms three to four weeks after planting. It has 10 to 15 white flowers per stem, and its flowers exude a moderately musky fragrance that I find a bit strong for a small room.
'Ziva' is one of the most vigorous paperwhites, blooming two to three weeks from planting. It produces 10 to 15 musk-scented flowers of the purest white atop strong, 16- to 18-inch-tall stems. It has the strongest fragrance of all the paperwhites and is the one found in many garden centers.
'Bethlehem' ('Nony') has a mild, sweet fragrance. Its flowers, held 8 to 10 inches above the bulbs, are bicolors—creamy white with pale yellow centers. Each 'Bethlehem' bulb produces one to four stems having 10 to 15 flowers. They bloom four to five weeks after planting.
'Cragford' is a truly multipurpose bulb; it can be forced easily or grown outdoors from USDA Hardiness Zone 5 to Zone 9. Each strong, 12- to 14-inch-tall stem yields several white flowers with orange centers. It has a mild, musky scent and blooms 8 to 10 weeks after planting.
'Grand Soleil d'Or' (or 'Soleil d'Or') is a cultivar of N. tazetta ssp. aureus, a native of Italy. Ten to 20 bright yellow flowers with orange centers develop on each stem; each bulb generates one to four stems 12 to 14 inches high. 'Grand Soleil d'Or' boasts a marvelously sweet fragrance and blooms six to 10 weeks after planting. This cultivar will grow outside from Zone 7 to Zone 9 if it receives at least a half day of full sun.
Chinese sacred lily (Narcissus chinensis) is a bicolor beauty. It is one of my favorites because of its good looks and its delicate fragrance. Three to four weeks after planting, it produces several 14- to 16-inch-tall stems bearing five to 10 white flowers with golden orange centers. Its stems are a bit weak and require staking. 'Con­stan­tinople' is a lovely double-flowered form.
We prefer to grow paperwhites in bulb pans (shallow pots with drainage holes) with potting medium because they will have stronger stems and will flower longer than bulbs grown on pebbles. We use a coarse potting mix of 50 percent fine-textured pine bark, 25 percent peat moss, 10 percent coarse sand and 15 percent vermiculite.
We space the bulbs closely, with five bulbs in a 6-inch-diameter pot or 11 bulbs in a 10-inch pot. We cover their "shoulders" with potting mix and surround them with gravel to weigh them down so the roots won't push them out.
After potting, we saturate the medium with tepid water and allow it to drain. We water sparingly until the bulbs sprout, and then keep the medium evenly moist.We place the bulbs either in a warm spot (75°F) to hasten growth and flowering, or in a cool spot (55°F) to slow them down. To prolong flowering, we keep them cool at night and mist their leaves daily.
Sometimes garden catalogs just aren't enough to get us through the gray days of winter. We gardeners need living, blooming plants to make us smile, and paperwhites can fill that need—fast. What a simple way to get a boost when it's too cold outside to garden.