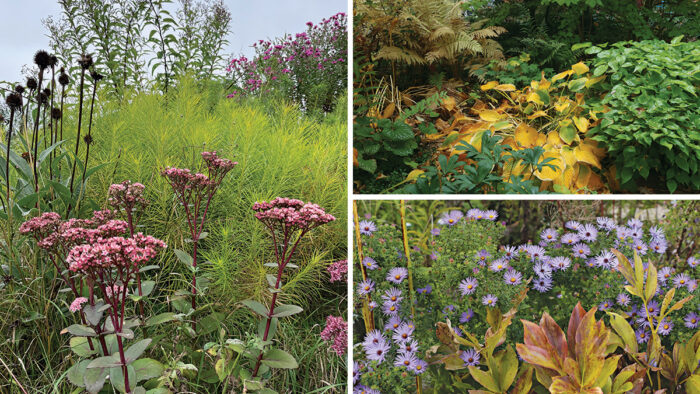 Fall is pure magic at Swift River Farm, a private landscape in Petersham, Massachusetts. Several different gardens weave together to create this dynamic space, including a woodland area, a more formal section with hedges and stonework, an alpine environment, and a sweeping meadow. These different areas lend themselves to unique plant palettes and designs but still work together as one unit. While this space shines during the growing season, the colder nights of autumn bring a spectacular encore. As the foliage within the beds and borders starts to turn, it echoes the changing colors of the sweeping New England hillsides in the distance at the same time that fall-flowering plants burst into bloom. Seeking out new and interesting additions as well as digging plants out and moving them around helped create exciting combinations that prioritize complementary and contrasting colors, textures, and forms. Autumn doesn't have to be a quiet time in the garden if you design compelling vignettes that will stretch your garden's interest until winter.
Muted primary colors shine amid vertical structures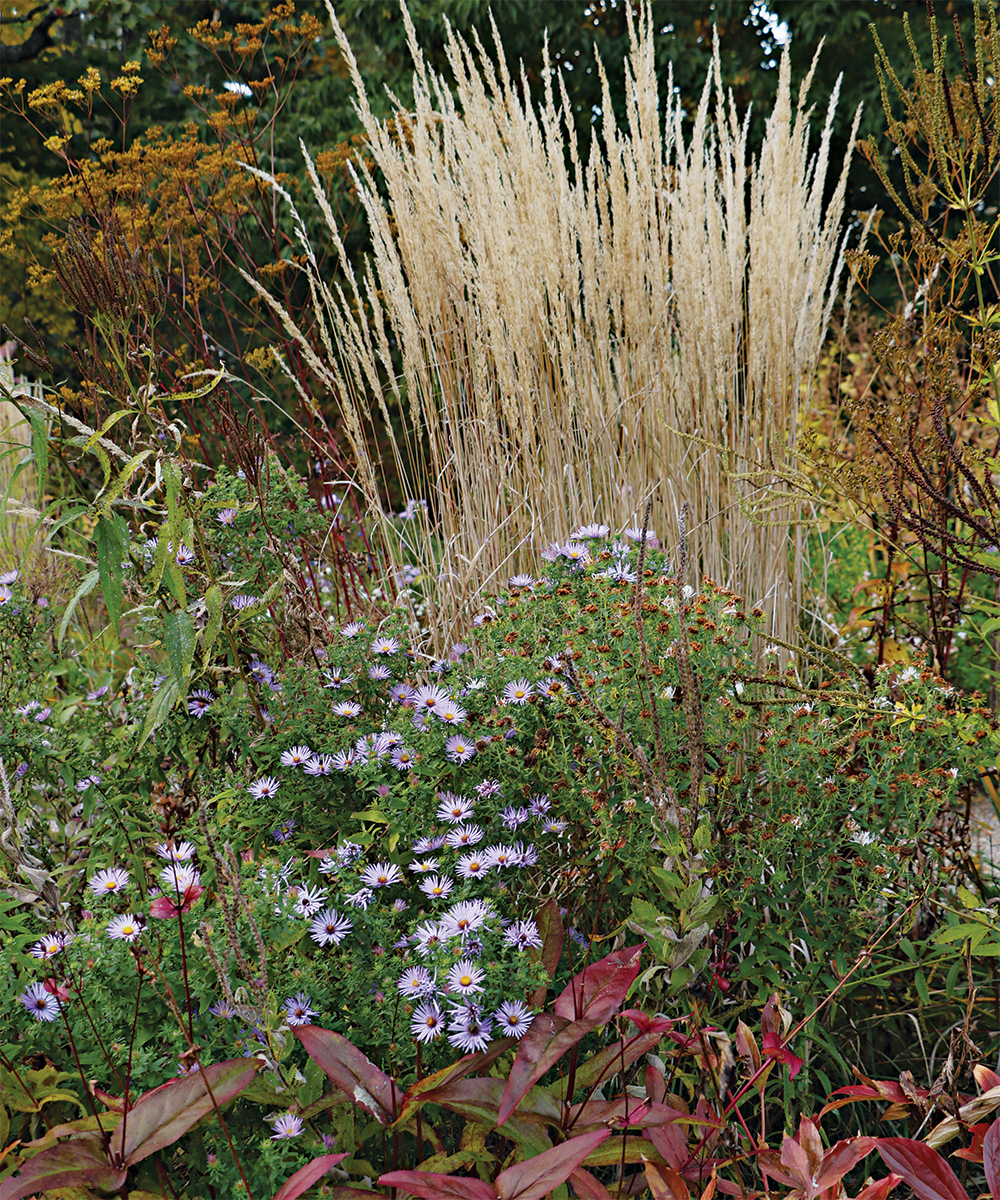 These tones of brown, red, yellow, and blue create a vibrant fall display. Deeply scarlet leaves of 'Dark Towers' penstemon form horizontal spears, which play against the bright blue radial disks of late-blooming 'October Skies' aromatic aster's flowers. The strongly upright faded seed heads of white Culver's root and flat-topped umbels of patrinia add structure to the scene. Bleached-blond 'Karl Foerster' feather reed grass creates a bright vertical accent. And who needs a hedge when this scene is so beautifully set off against the green backdrop of a mature forest's edge?
'Dark Towers' penstemon (Penstemon 'Dark Towers', Zones 3–8)
'October Skies' aromatic aster (Symphyotrichum oblongifolium 'October Skies', Zones 3–8)
White Culver's root (Veronicastrum virginicum 'Album', Zones 3–9)
'Karl Foerster' feather reed grass (Calamagrostis × acutiflora 'Karl Foerster', Zones 5–9)
Patrinia (Patrinia scabiosifolia, Zones 5–8)
---
Expert tip: Save your grasses from winter pests
Burrowing voles are still active during winter and love to munch on the roots of perennials, especially ornamental grasses. Spray some vole repellent on your grasses periodically to save them from hungry critters.
---
Extend the view with layers of height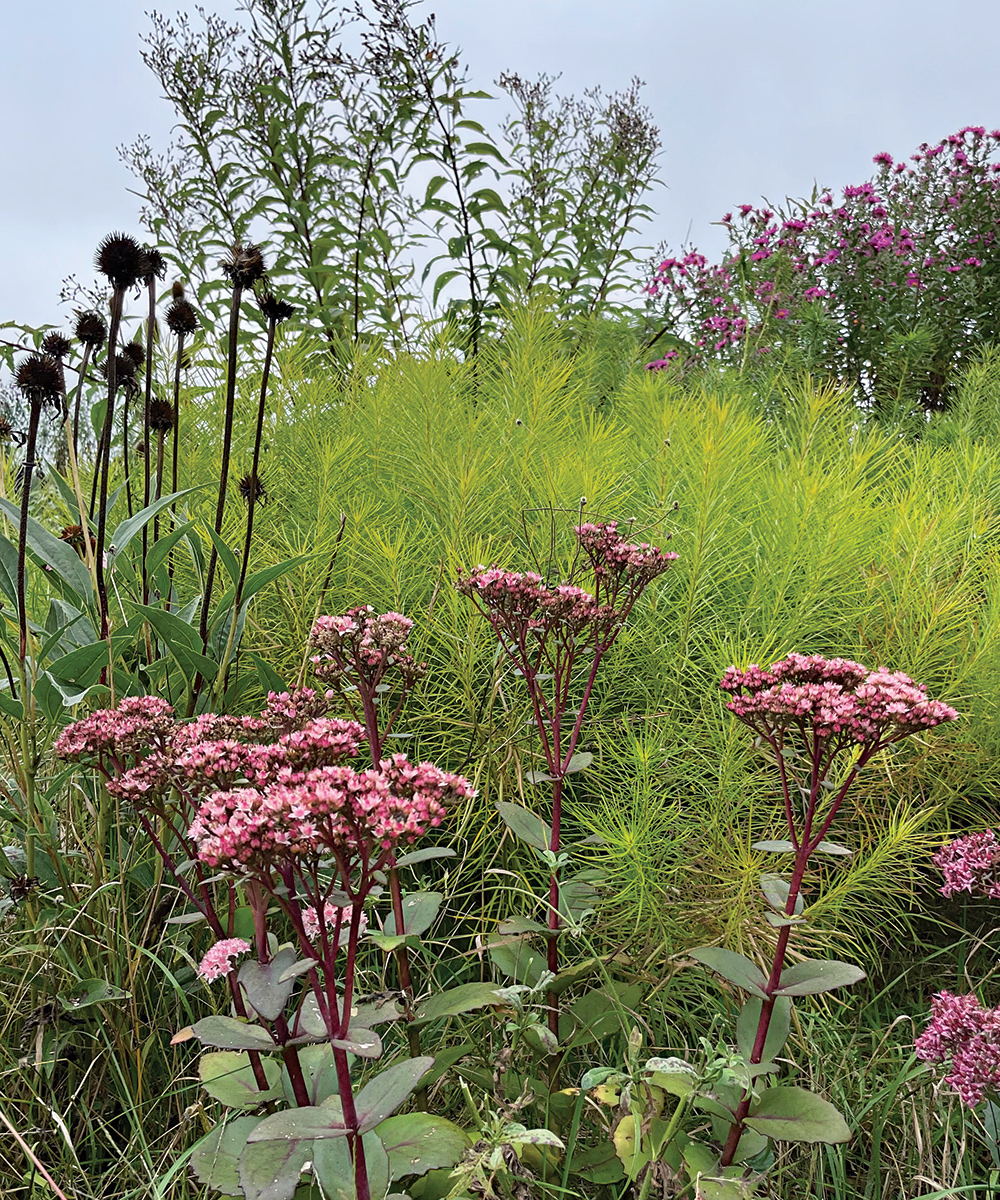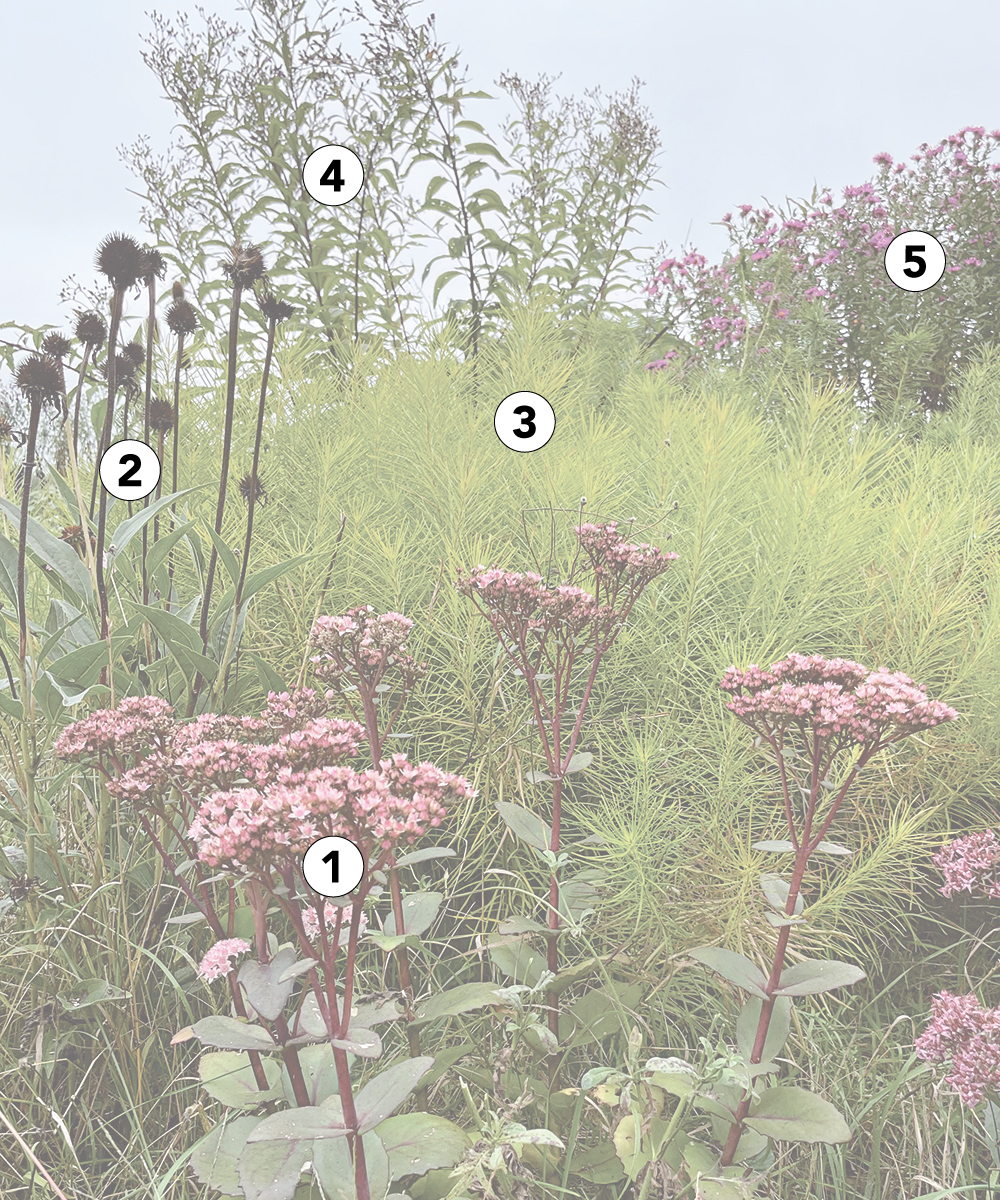 In this area of the meadow garden, the muscular form, burgundy stems, and ruddy flowers of 'Matrona' sedum show up vividly against yellow-green threadleaf bluestar, which has feathery foliage. The dark seed heads of purple coneflower provide further contrast. Towering in the background is the shrublike New York ironweed, whose purple flowers have yielded to dark, beady seed heads that give this plant a fine texture. The pinkish-purple blooms of New England aster echo back to the 'Matrona' sedum below. Different plant layers create depth and add contrast to this small space.
'Matrona' sedum (Hylotelephium telephium 'Matrona', Zones 3–9)
Purple coneflower (Echinacea purpurea, Zones 3–9)
Threadleaf bluestar (Amsonia hubrichtii, Zones 5–8)
New York ironweed (Vernonia noveboracensis, Zones 5–9)
New England aster (Symphyotrichum novae-angliae, Zones 4–8)
Fine-textured plants can still look bold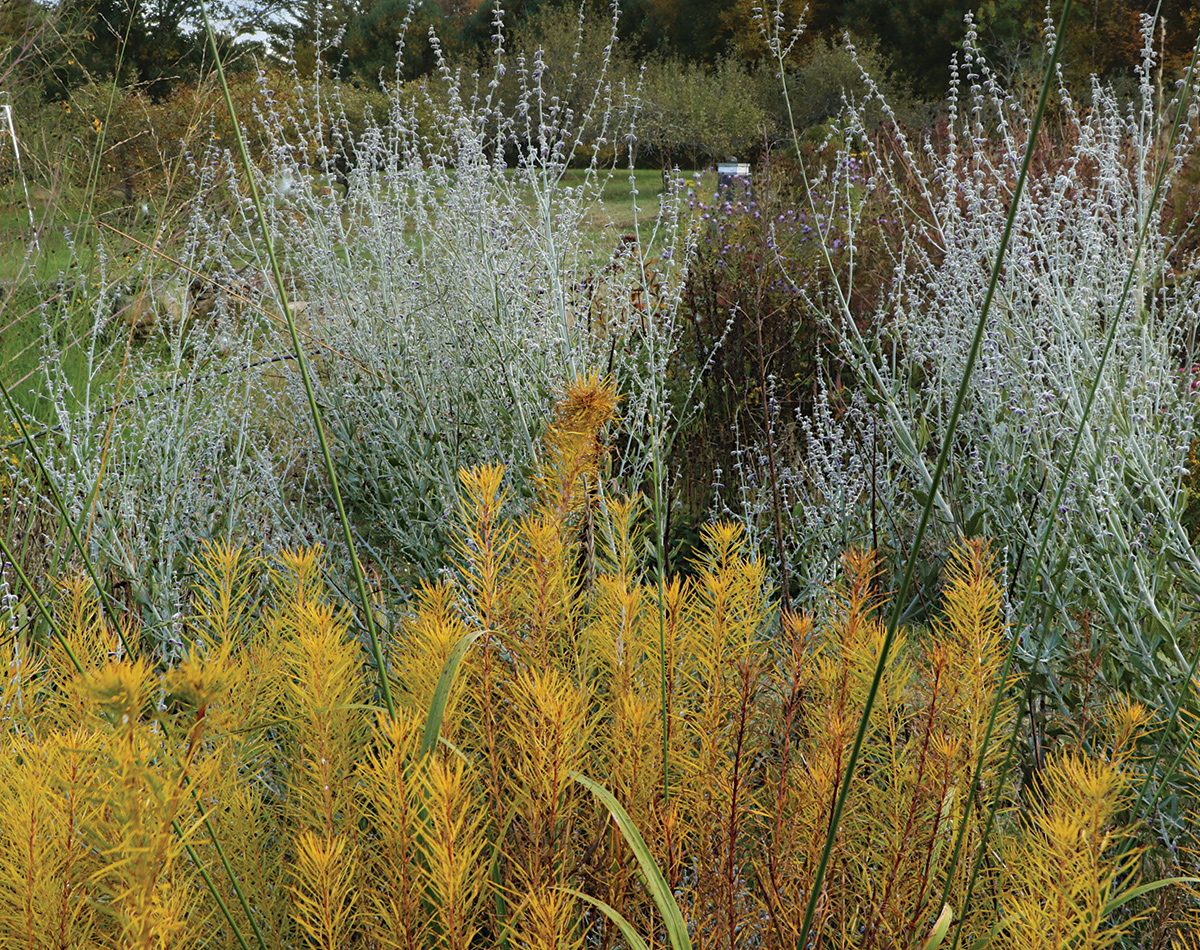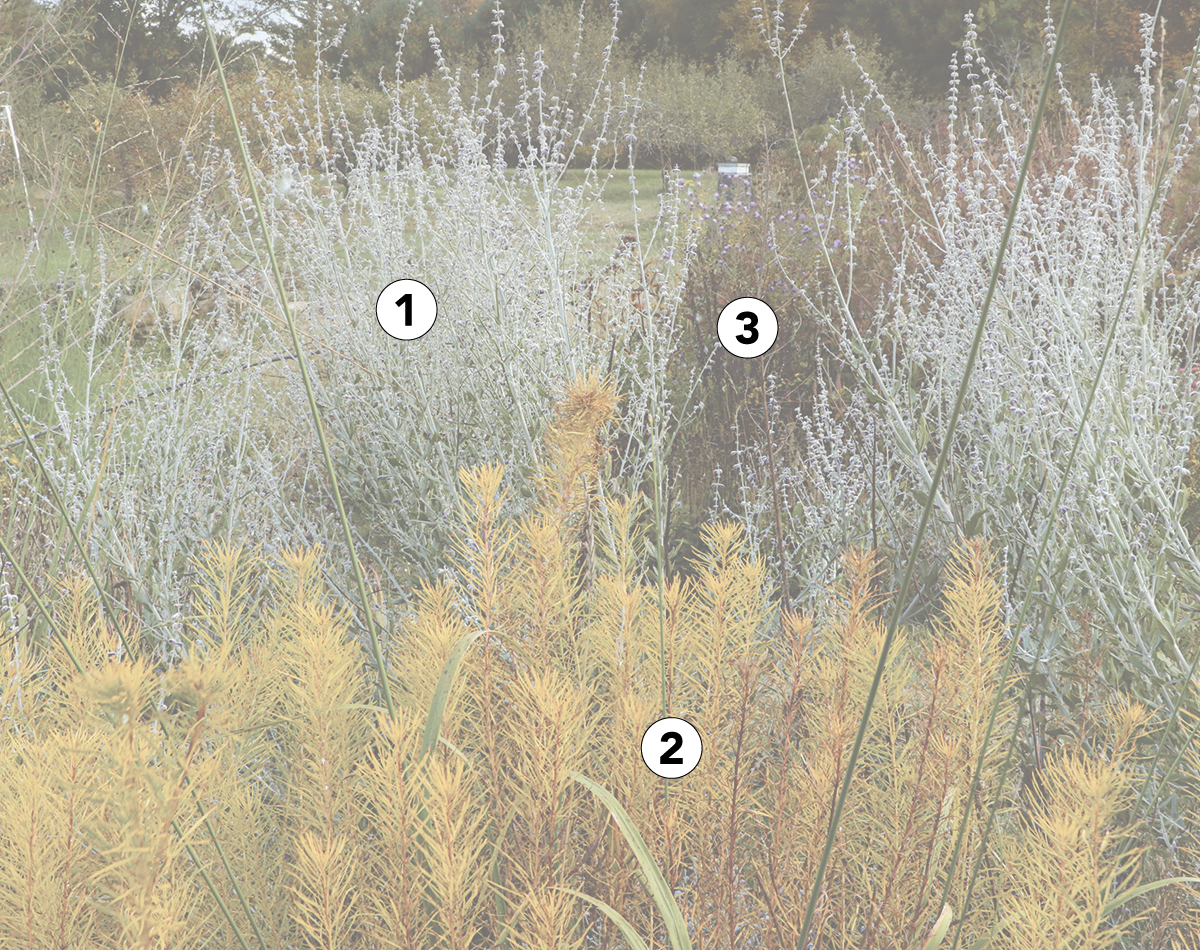 Threadleaf bluestar is one of the most striking fall plants, with its truly distinctive coloring and graceful form; it makes anything growing next to it look really good. At this stage of autumn, its chartreuse coloring has deepened to golden. Its vertical neighbor, Russian sage, stands out sharply next to it even though its flowers have faded to a soft gray-blue. Both plants shine against the rusty backdrop of 'Henry Eilers' sweet coneflower. The delicate textures of all three perennials tie this planting together.
Threadleaf bluestar
'Henry Eilers' sweet coneflower (Rudbeckia subtomentosa 'Henry Eilers', Zones 4–8)
Bright yellow and green highlight contrasting leaves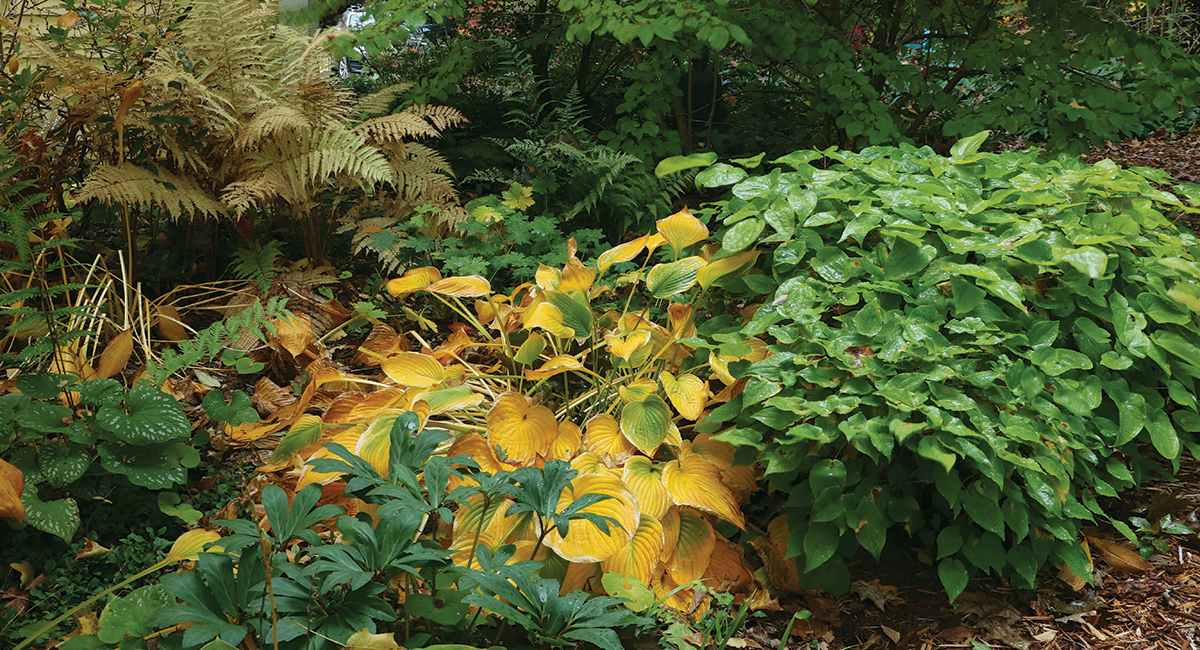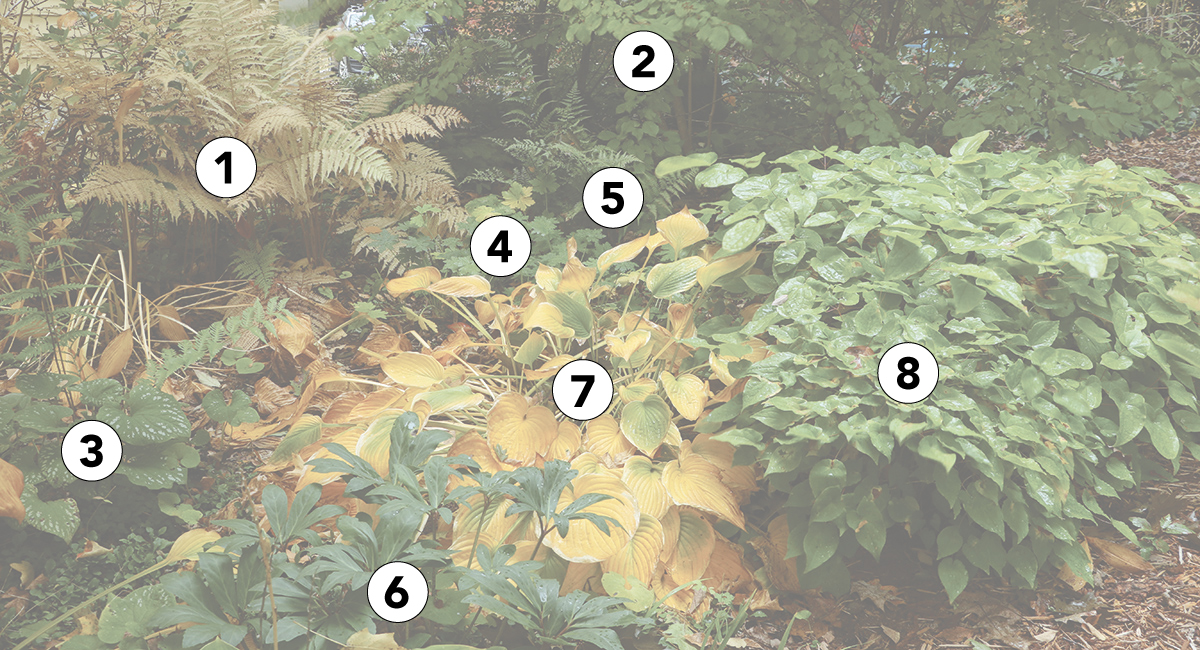 Even after all those cheery spring flowers are long gone, interesting foliage continues to carry the woodland garden through summer and into fall. Here the tawny fronds of ostrich fern give a nod to the color of the bright yellow 'Montana Aureomarginata' hosta leaves. Verdant light green 'French Braid' epimedium stands out against the deeper greens of a hellebore, meadow geranium, and 'Jack Frost' brunnera. The hellebore's dissected foliage along with the painted fern's bipinnate leaves create interesting shapes and textures against the medallion-shaped foliage of 'Mariessi' doublefile viburnum. You can feel the coolness of the season in this vignette.
Create swaths of color with spreading perennials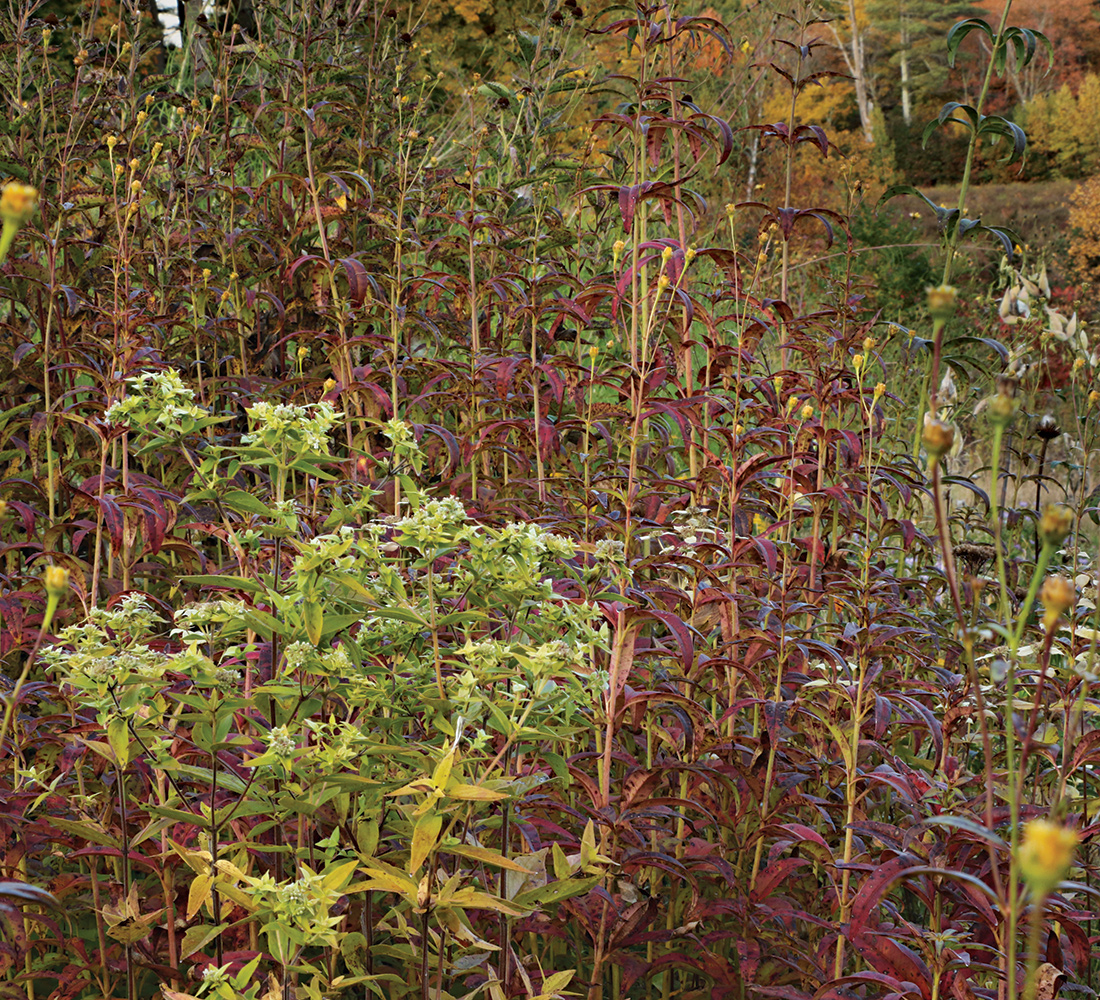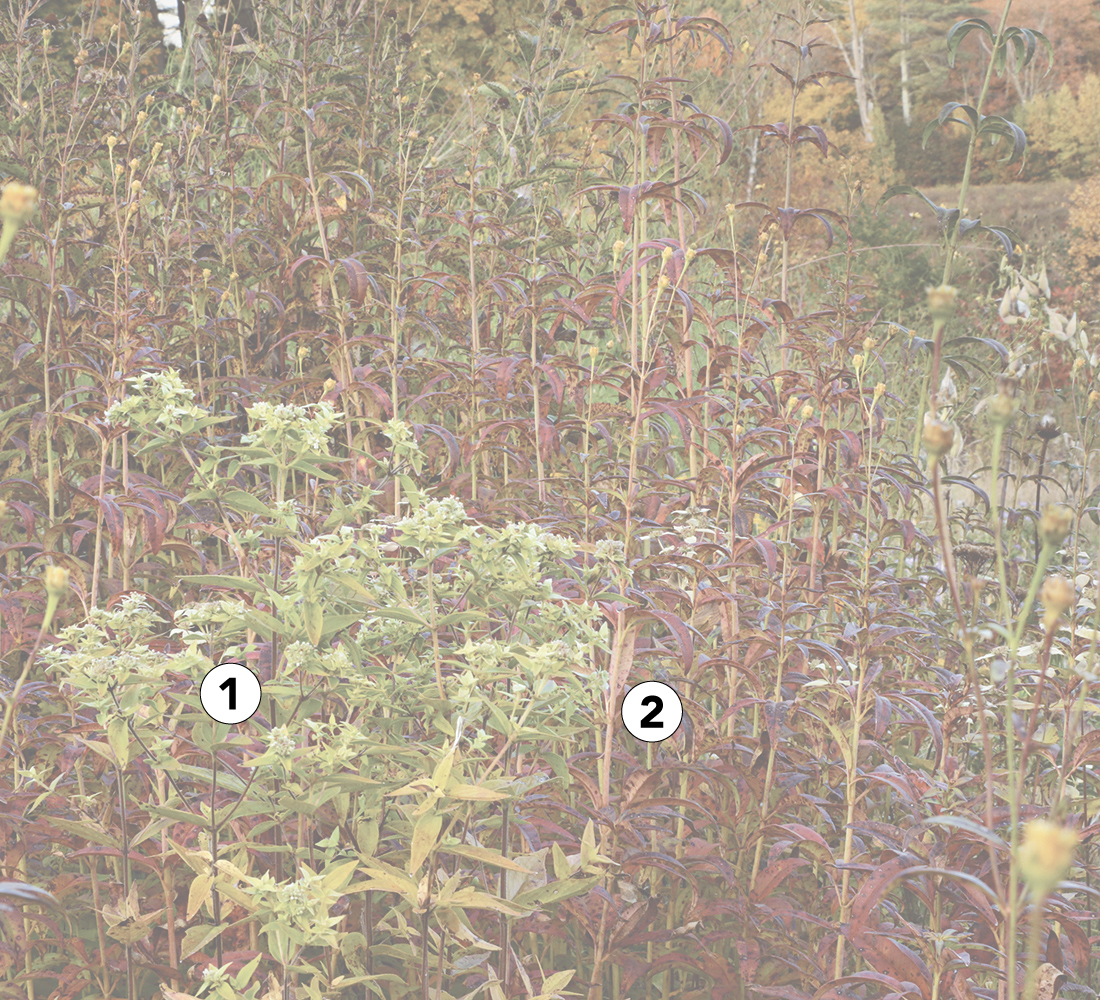 This native mountain mint glows a minty green against the cranberry red of tall coreopsis and its yellow-ochre seed heads. Both plants have lance-shaped foliage that gives them a similar form. These perennials bulk up quickly and can take up some space, making them great choices to compete with less desirable plants. They also have long seasons of interest; mountain mint flowers fade to seed heads almost without anyone noticing, and the brilliant late-season color of tall coreopsis, echoed by trees on the distant hillside, makes it a great plant for summer and fall.
Hairy mountain mint (Pycnanthemum verticillatum var. pilosum, Zones 4–8)
Tall coreopsis (Coreopsis tripteris, Zones 4–9)
Fall flowers play off of vibrant foliage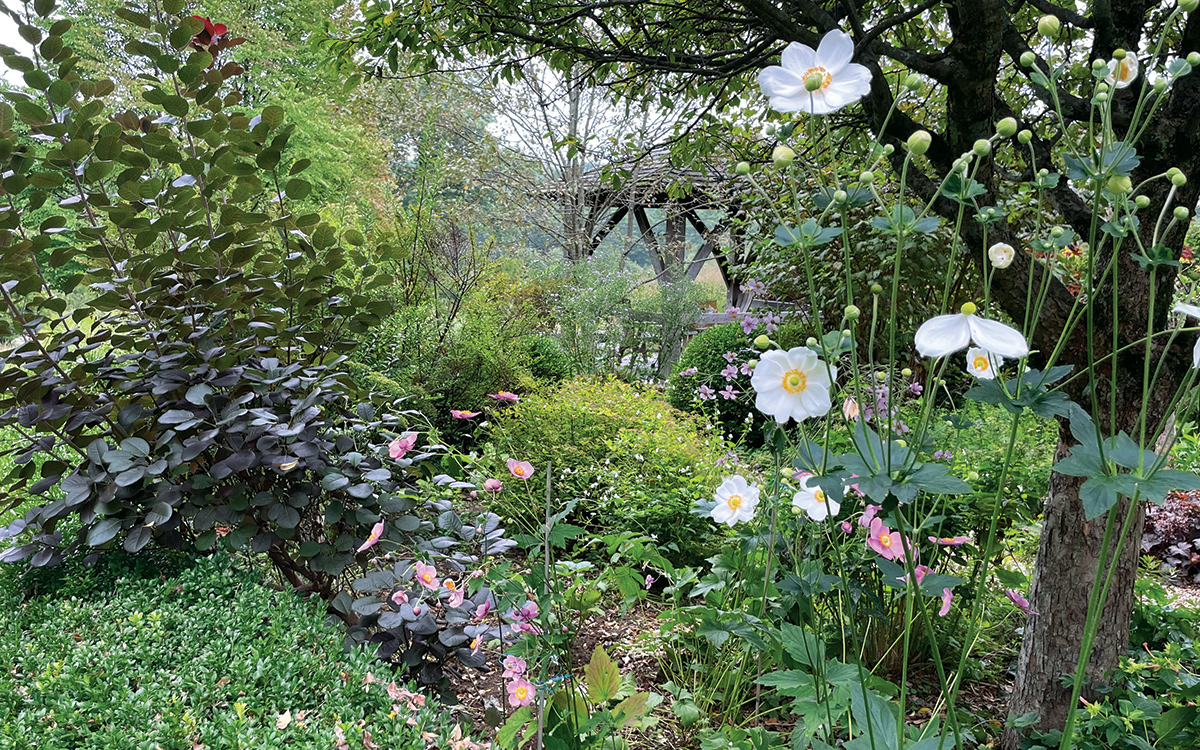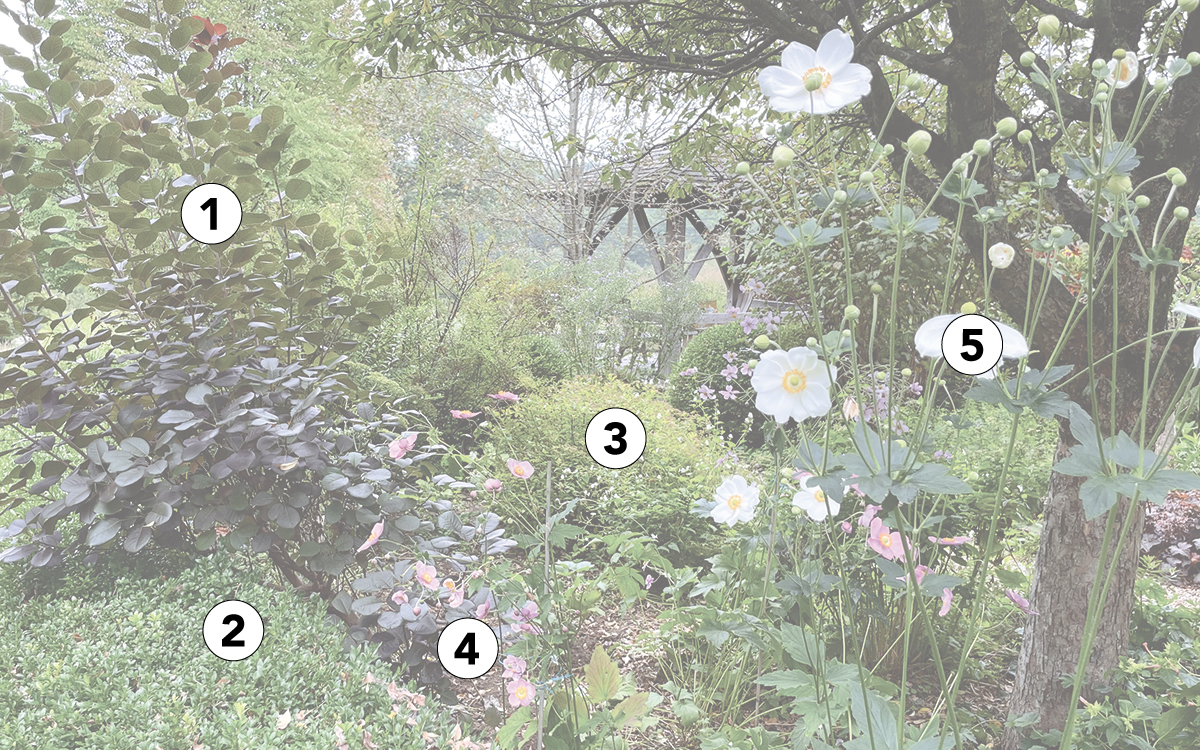 A hedge of 'Green Velvet' boxwood separates the lawn from a more formally enclosed garden where there are a number of romantic plants, such as these Japanese anemones. The dainty pink flowers of 'Robustissima' and white blooms of 'Honorine Jobert' hang artfully over the edge of the hedge, standing out starkly against the dark, bold foliage of 'Grace' smokebush. This shrub's upright, columnar habit contrasts with the tidy, rounded one of 'Gold Mound' spirea, which offers a chartreuse glow in the background.
'Grace' smokebush (Cotinus 'Grace', Zones 5–9)
'Green Velvet' boxwood (Buxus 'Green Velvet', Zones 4–9)
'Gold Mound' spirea (Spiraea japonica* 'Gold Mound', Zones 3–8)
'Robustissima' Japanese anemone (Anemone × hybrida 'Robustissima', Zones 4–8)
'Honorine Jobert' Japanese anemone (Anemone × hybrida 'Honorine Jobert', Zones 4–8)
Pair bright blooms with fading greenery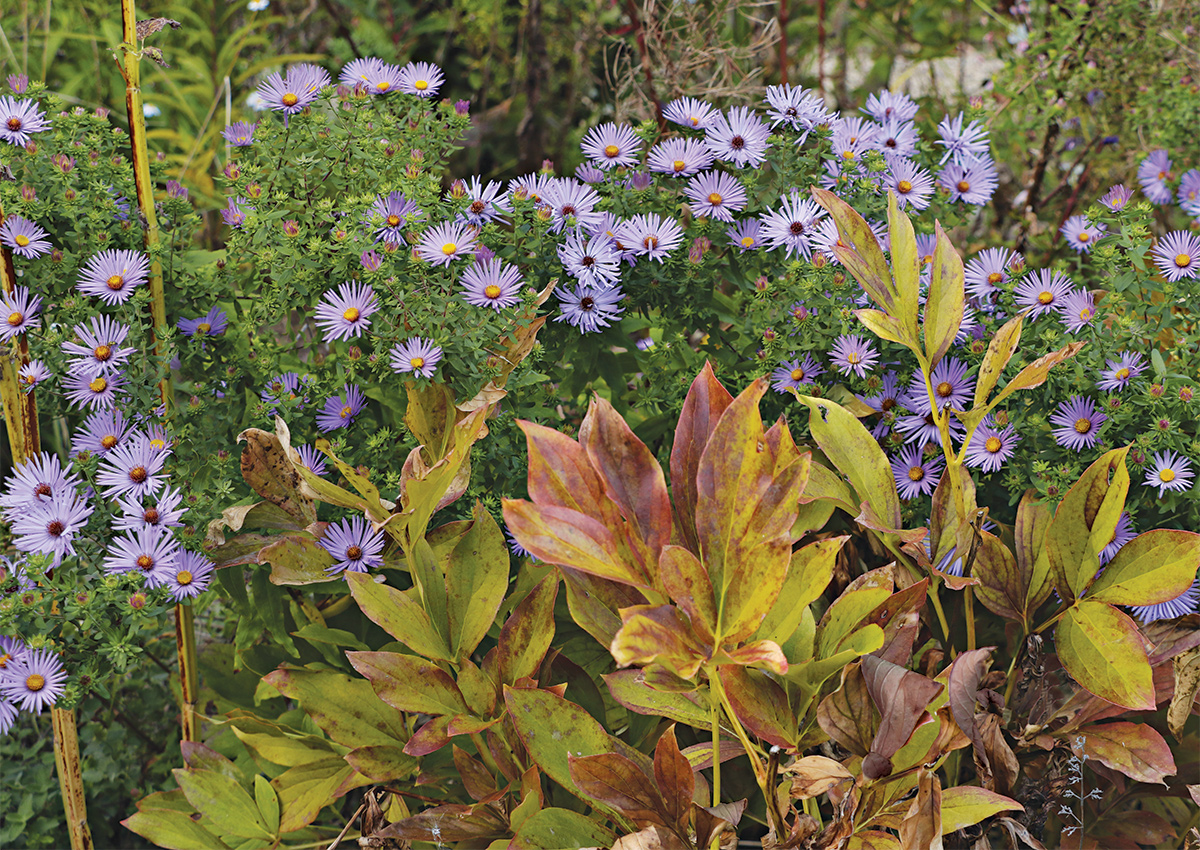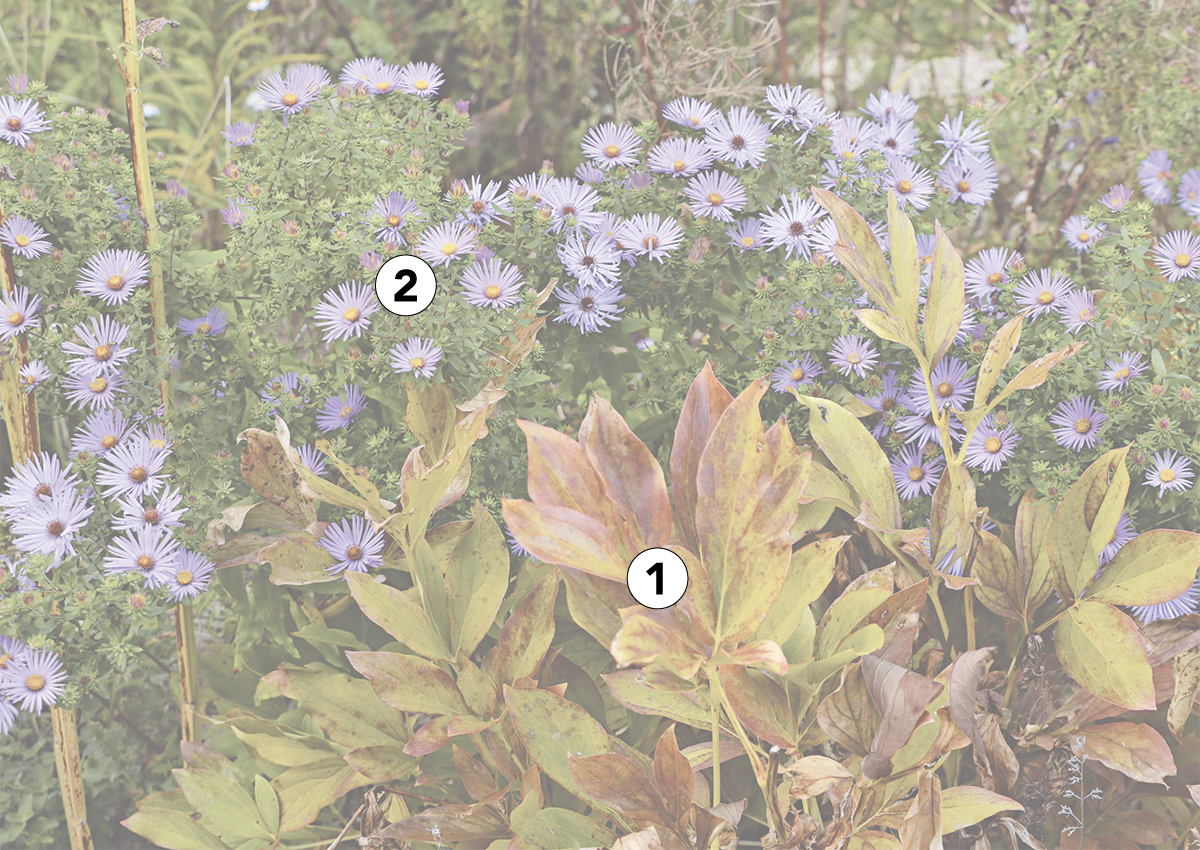 Vibrant purple is a standout color at this time of year and is often found in roadsides and ditches from the flowers of our native asters. The nativar 'Raydon's Favorite' features radiant periwinkle disks that stand out against fading peony foliage, which contains shades of yellow, bronze, red, and light green. Purple always stands out against yellow, its complement on the color wheel. The dark green of the aster leaves and vastly different leaf shapes and textures of the two plants further accentuate the contrast.
Peony (Paeonia cv., Zones 3–8)
'Raydon's Favorite' aster (Symphyotrichum oblongifolium 'Raydon's Favorite', Zones 3–8)
Some tender plants can reward you late in the season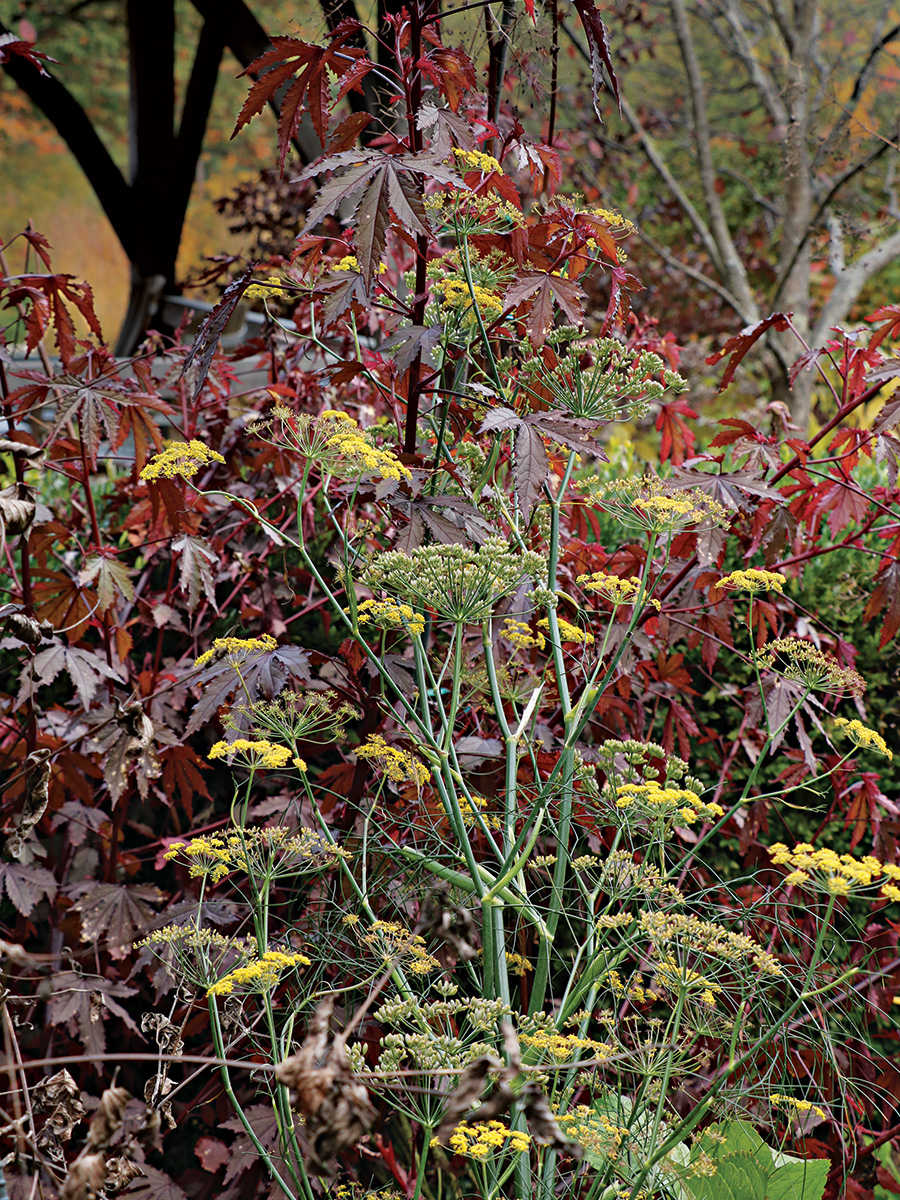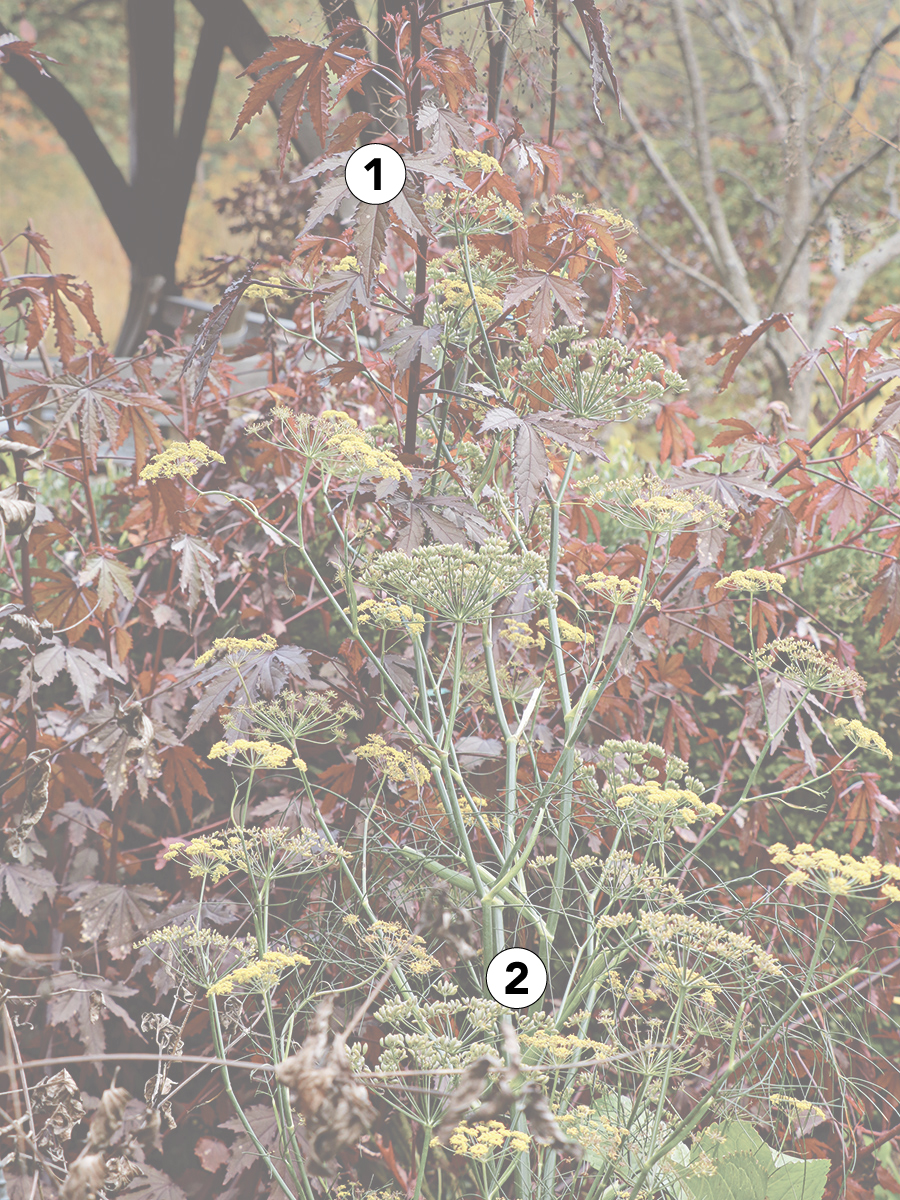 Certain plants grown as annuals can offer so much late into fall, long past when petunias (Petunia spp. and cvs., annual) and cosmos (Cosmos spp. and cvs., annual) might have given up the ghost. Some tender perennials get even better as the cold weather turns, such as this 'Mahogany Splendor' hibiscus, with its deep burgundy, palmate foliage that echoes the shape and color of maple leaves (Acer spp. and cvs., Zones 3–9). It pairs nicely with the contrasting, lacey yellow umbels and seed heads of sweet fennel, a short-lived perennial often grown as an annual here in the Northeast.
'Mahogany Splendor' hibiscus (Hibiscus acetosella 'Mahogany Splendor', Zones 8–9)
Sweet fennel (Foeniculum vulgare*, Zones 4–9)
---
Fall maintenance should bolster the display
How do you clean up the garden in autumn and prepare for winter without sacrificing the late-season show? Cut back some plants and leave others alone to maximize the garden's potential in late fall and winter.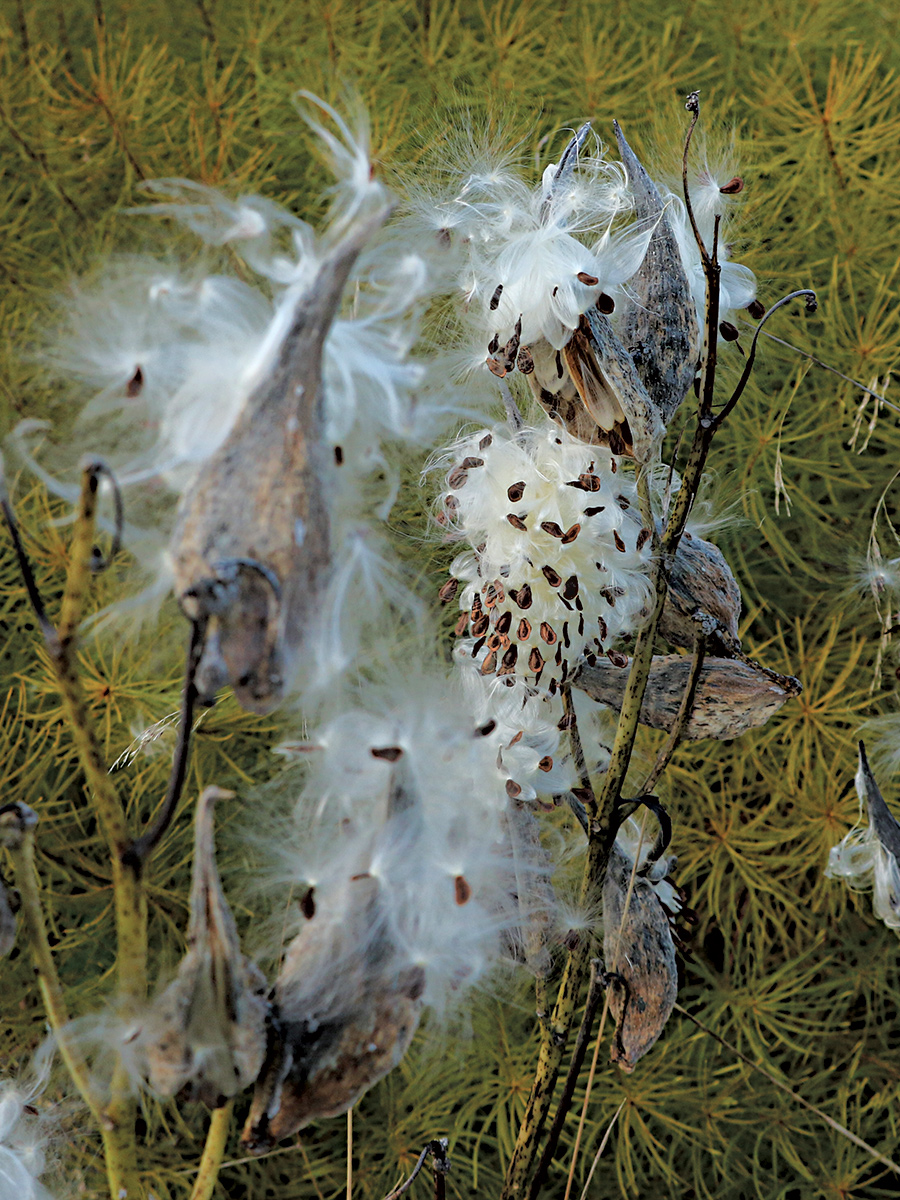 Keep most faded plants for wildlife and winter interest
Many perennials in the meadow garden are left standing through fall and winter, including common milkweed (Asclepias syriaca, Zones 3–9; photo right), tall coreopsis, purple coneflower, sedums, asters, and ornamental grasses. Their seed is food for birds over winter, and their faded growth provides valuable habitat for insects and other animals. Additionally, their structural seed heads keep the garden interesting from fall till spring. Once winter ends, the meadow gets completely mowed down and the perennials in the other areas of the garden are cut back.
Trim back perennials that distract from the show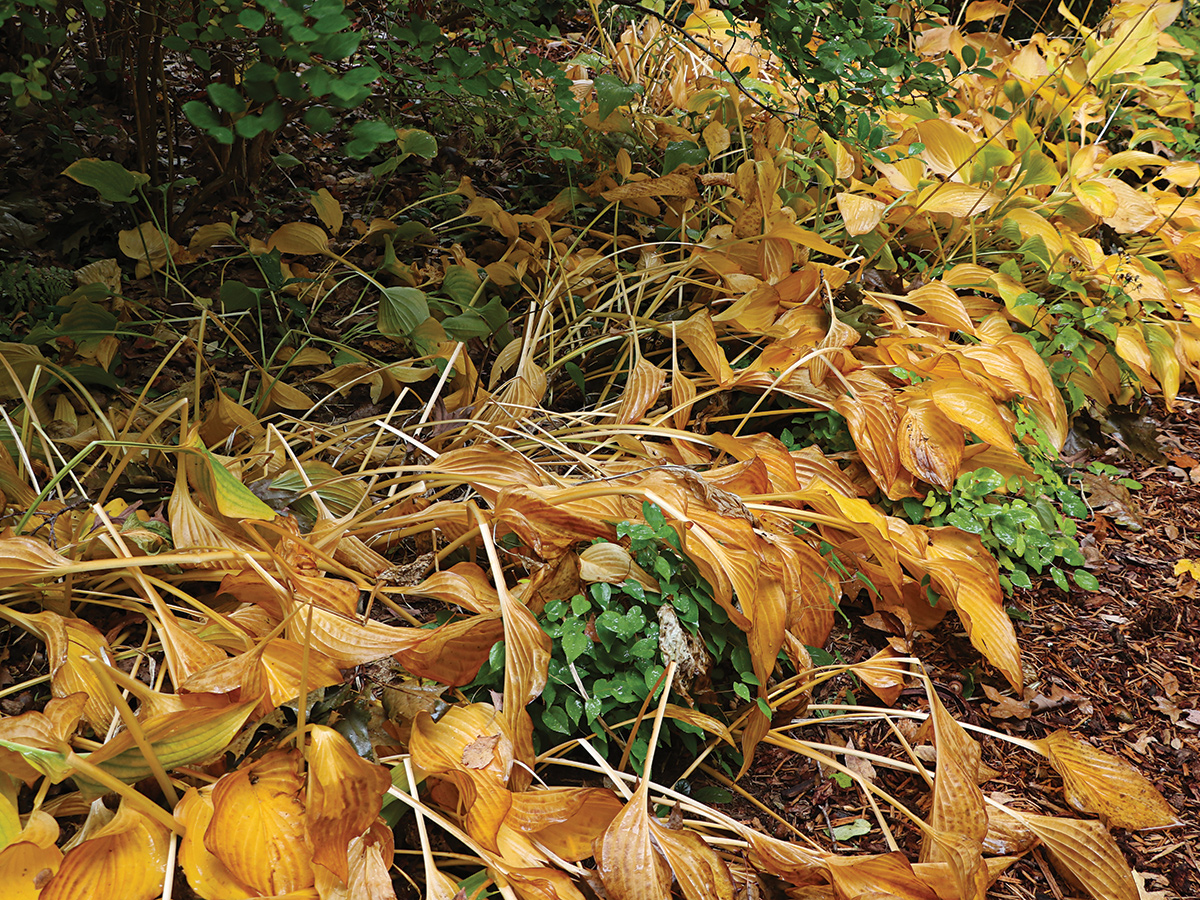 A few plants do need to be removed before winter sets in. Willow-leaved sunflower (Helianthus salicifolius, Zones 4–9), which can reach 8 feet tall during the growing season, as well as hairy mountain mint and some other tall perennials tend to collapse and look unsightly if not cut down in fall. Plants whose foliage gets wet and mushy, like hostas, are also cut back to prevent an unattractive mess.
---
*Invasive Alert:
Japanese spirea (Spiraea japonica)
This plant is considered invasive in AL, GA, IN, KY, PA, TN, and VA.
Sweet fennel (Foeniculum vulgare)
This plant is considered invasive in CA, OR, WA, and WV.
Please visit invasiveplantatlas.org for more information.
---
Helen O'Donnell is a garden designer and the co-owner of The Bunker Farm, a plant nursery and farm in Dummerston, Vermont. Bruce Lockhart is a retired doctor and ambassador for The Garden Conservancy who has been working on building his dream garden in Petersham, Massachusetts, for twenty-five years.
Photos, except where noted: Diana Koehm