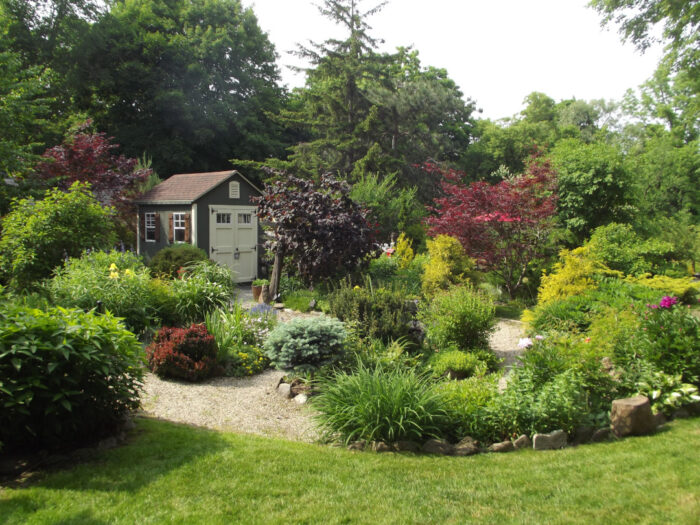 I'm Sheila Abair, and I garden in northern Vermont (Zone 4b/5a). I have sent in pictures before (Sheila's Vermont Garden).
Gardening runs in my family. I am attracted to cottage-style gardens with lots of winding paths, and I enjoy water features.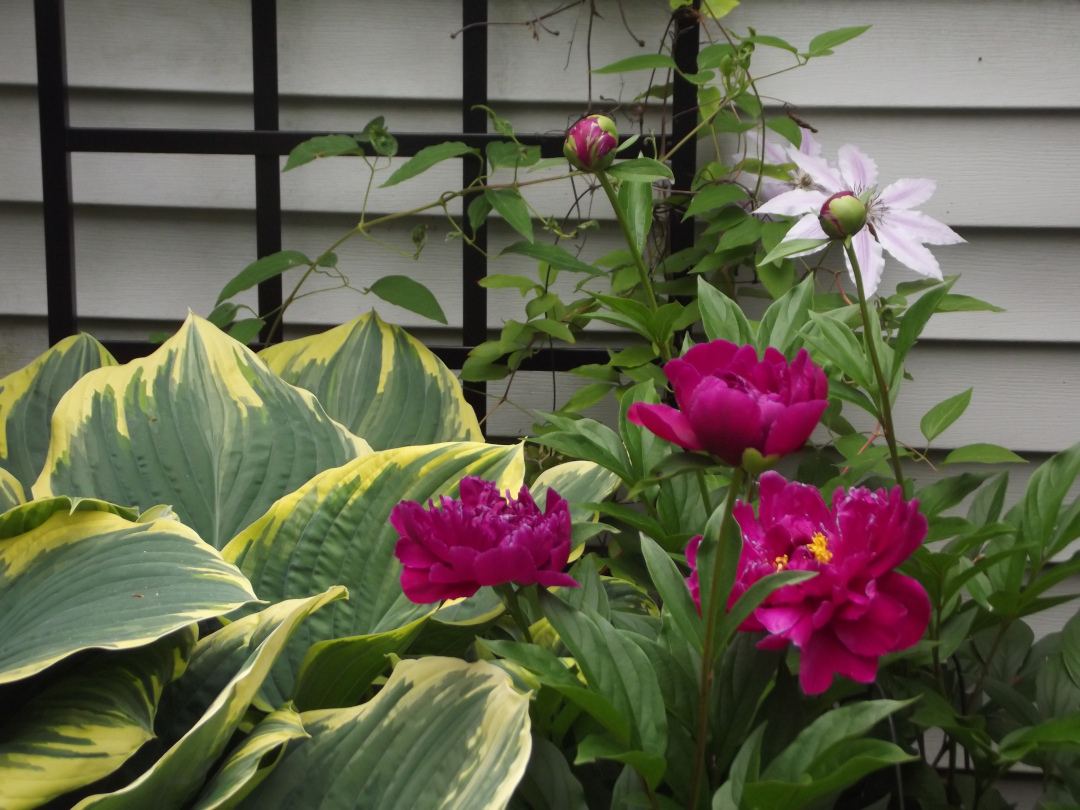 A pleasing combination of Hosta (Zones 3–8), peony (Paeonia hybrid, Zones 3–7), and Clematis (Zones 4–9)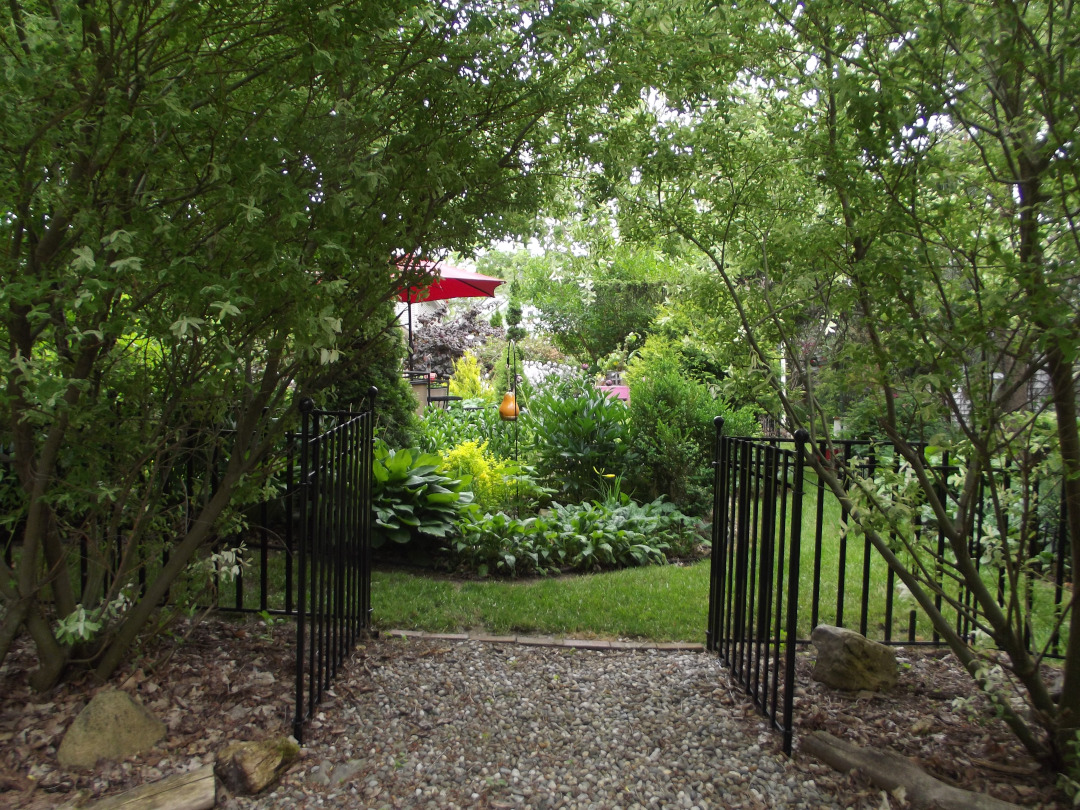 This is the view through two overlapping 'Hakuro Nishiki' willows (Salix integra 'Hakuro Nishiki', Zones 5–7) toward the patio. You can see hostas and lungwort in the front with a peony and barberry (Berberis thunbergii, Zones 4–8) behind them. Across the patio is a burst of phlox (Phlox paniculata, Zones 4–9), my corkscrew hazel (Corylus avellana 'Contorta', Zones 4–8), and threadleaf false cypress (Chamaecyparis pisifera, Zones 4–8).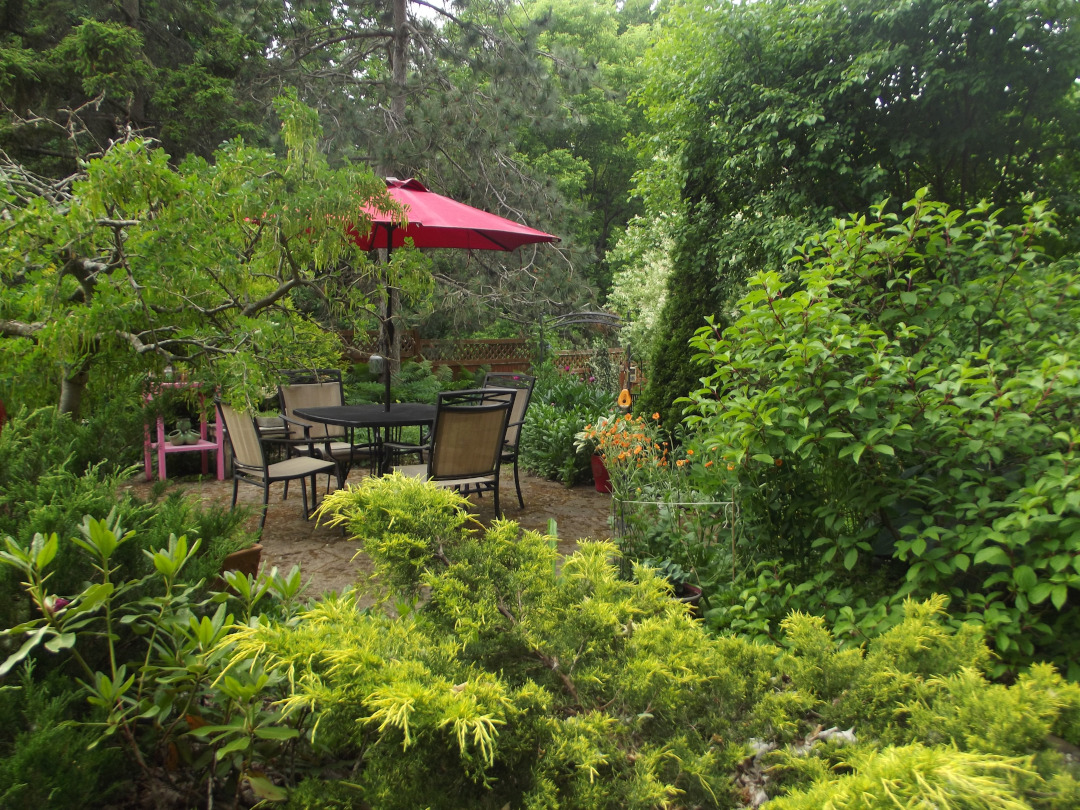 The patio is surrounded by a plethora of plantings that create a wonderful serene space to be in. I love the orange Geum (Zones 5–9) next to the hydrangea yet to bloom. Evergreens are in the forefront. The rhododendron I planted between them struggles a bit, but I like its contrasting foliage. The small ornamental tree to the left was one of my first plantings; unfortunately, I don't know what it is, but it produces yellow flowers in spring.
Many of the dame's rockets (Hesperis matronalis, Zones 3–8) in front of my garden shed self-seeded. As they fade, the Canterbury bells (Campanula species) at their feet will begin to flower and look nice drooping over the black fencing. The weigela (Weigela florida, Zones 5–9) has finished blooming but was amazing with its cascading stems and pink flowers. My attempts at hypertufa pots sit on the gravel path. There is a globe cedar (Thuja occidentalis, Zones 2–7) with some bugleweed (Ajuga reptans, Zones 3–10) to the right.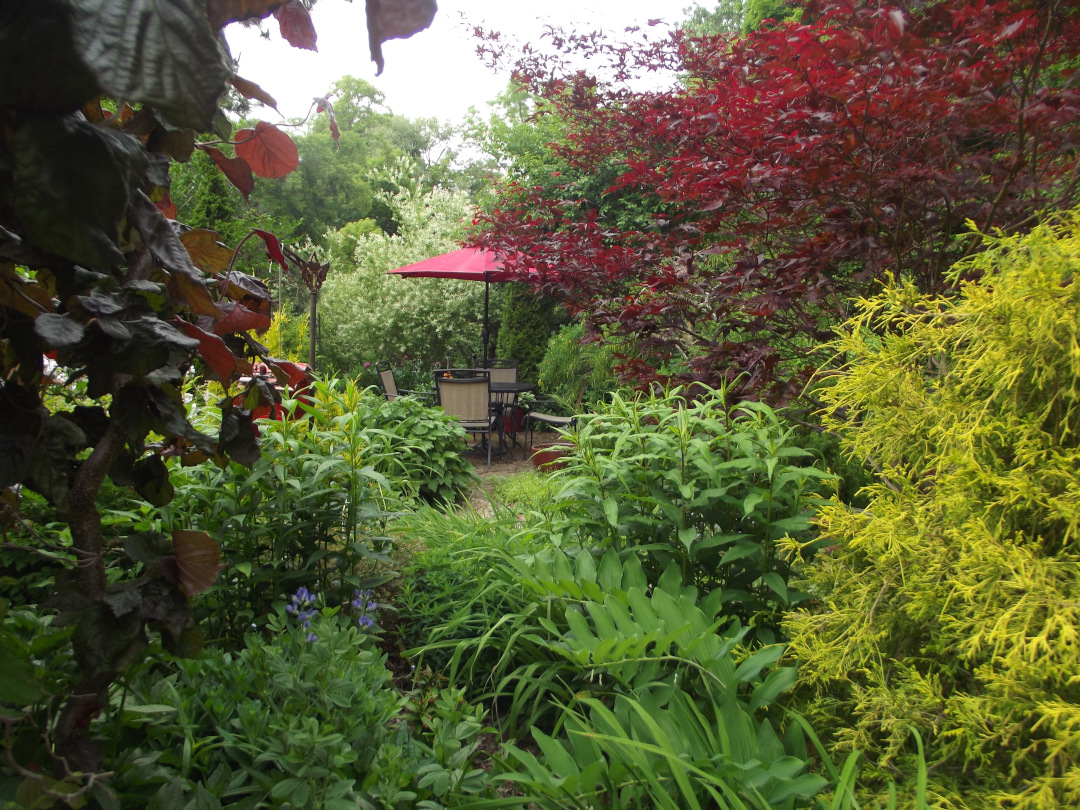 This is another picture of plantings surrounding the patio. You can see the base of the corkscew hazel, with suckers galore, daylily 'Stella D'Oro' (Hemerocallis 'Stella D'Oro', Zones 3–10) yet to bloom, penstemon (Penstemon digitalis, Zones 3–8), Solomon's seal (Polygonatum, Zones 4–8), threadleaf false cypress, phlox (Phlox paniculata, Zones 5–9), and a Japanese maple (Acer palmatum, Zones 5–9).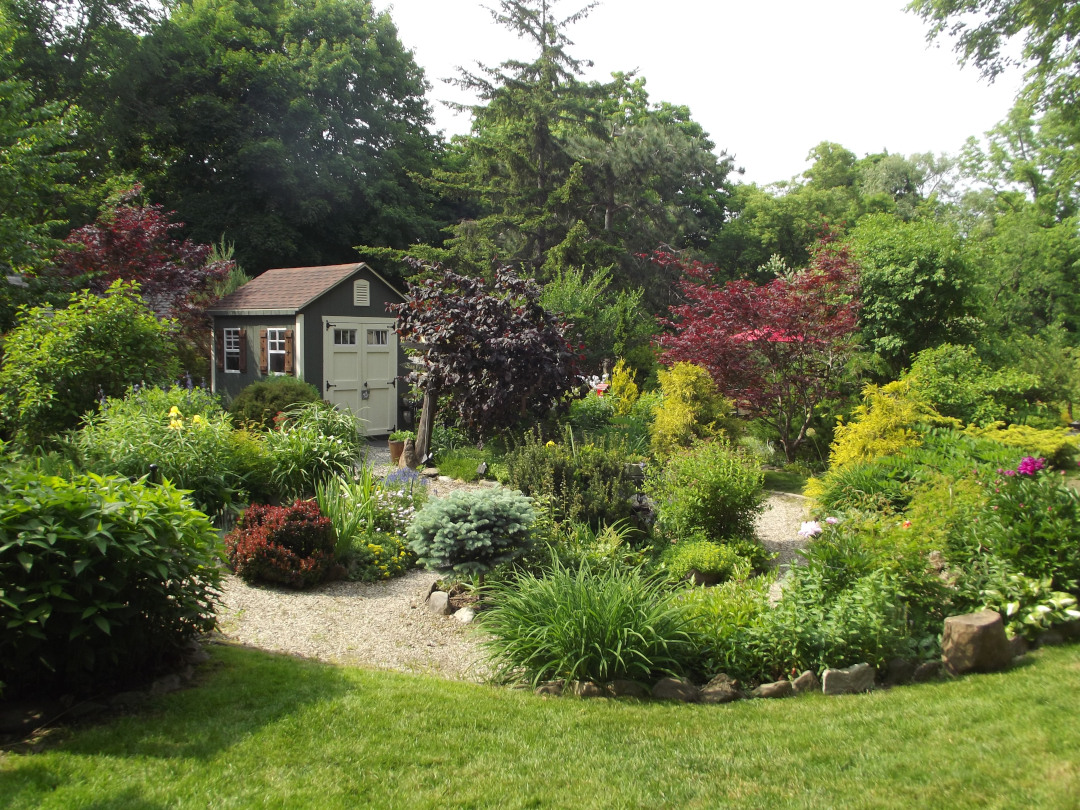 These plantings fill what used to be an aboveground pool. Some splashes of color are from the peonies, bearded iris (Iris hybrid, Zones 3–8), and other perennials. The corkscrew hazel somewhat dominates but is balanced a little by the Japanese maples and barberry.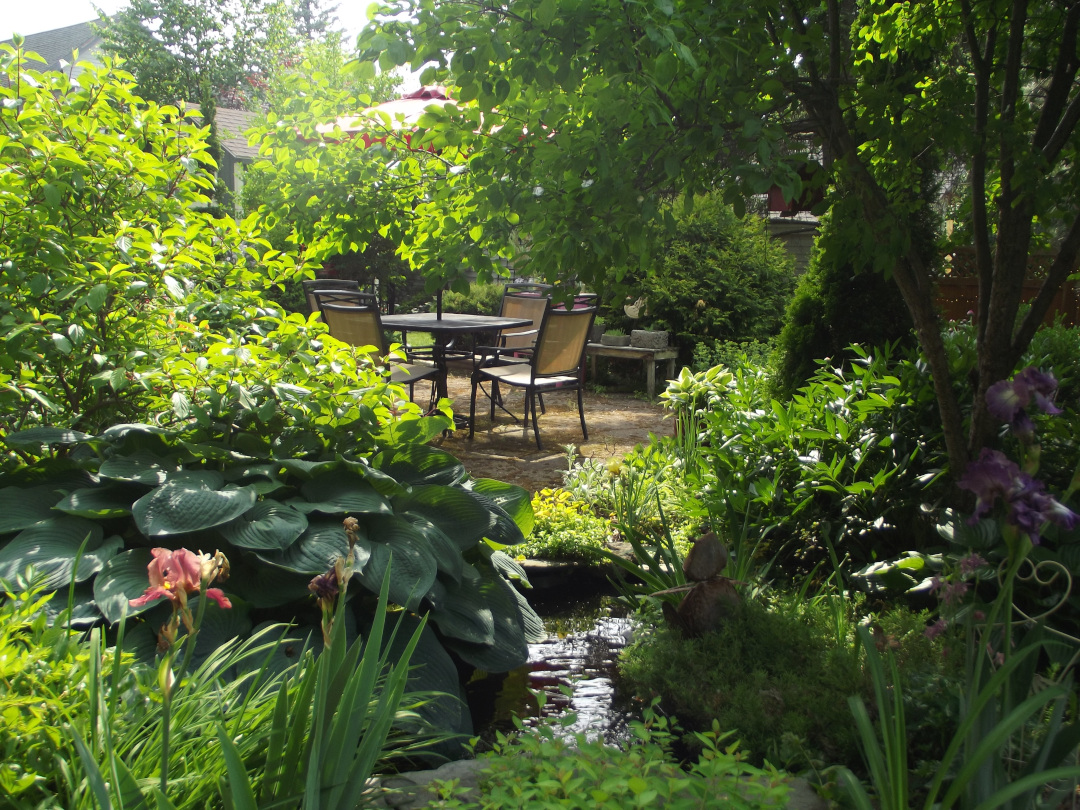 Evening view of the pond surrounded by a hosta, bearded irises, and a rododendron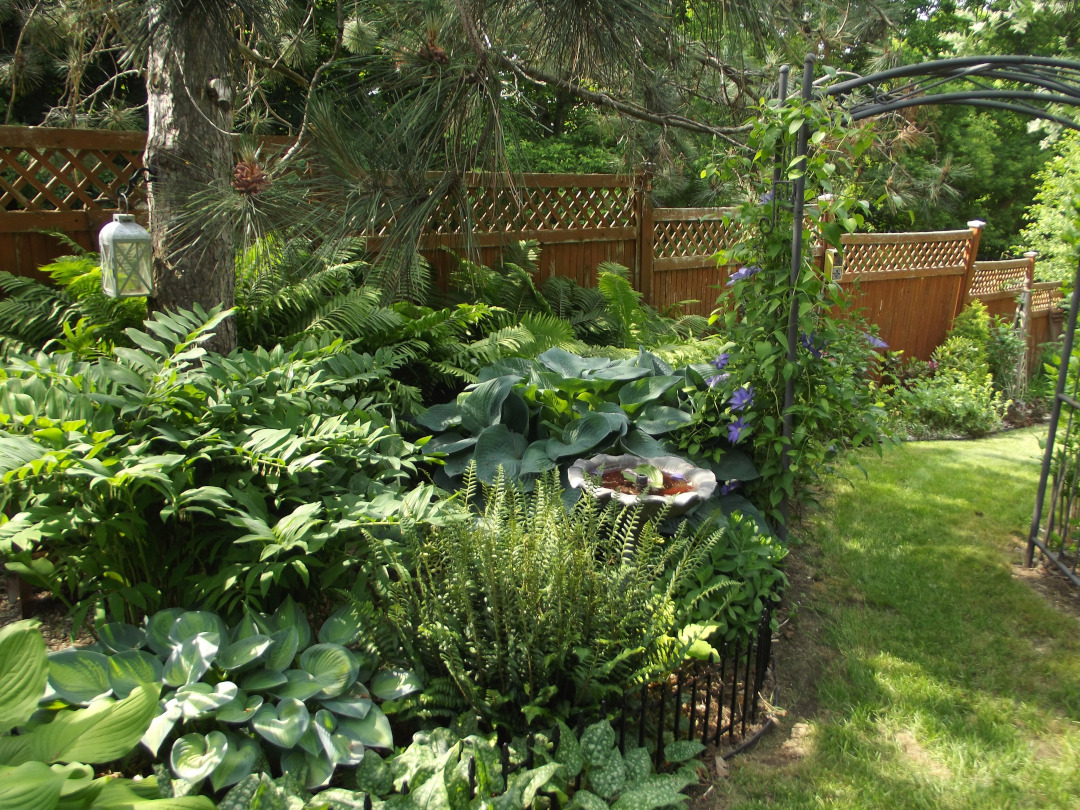 In the shade garden, hostas, Solomon's seal, lungwort (Pulmonaria, Zones 3–9), and ferns get a little late afternoon sun. The clematis is just starting to bloom.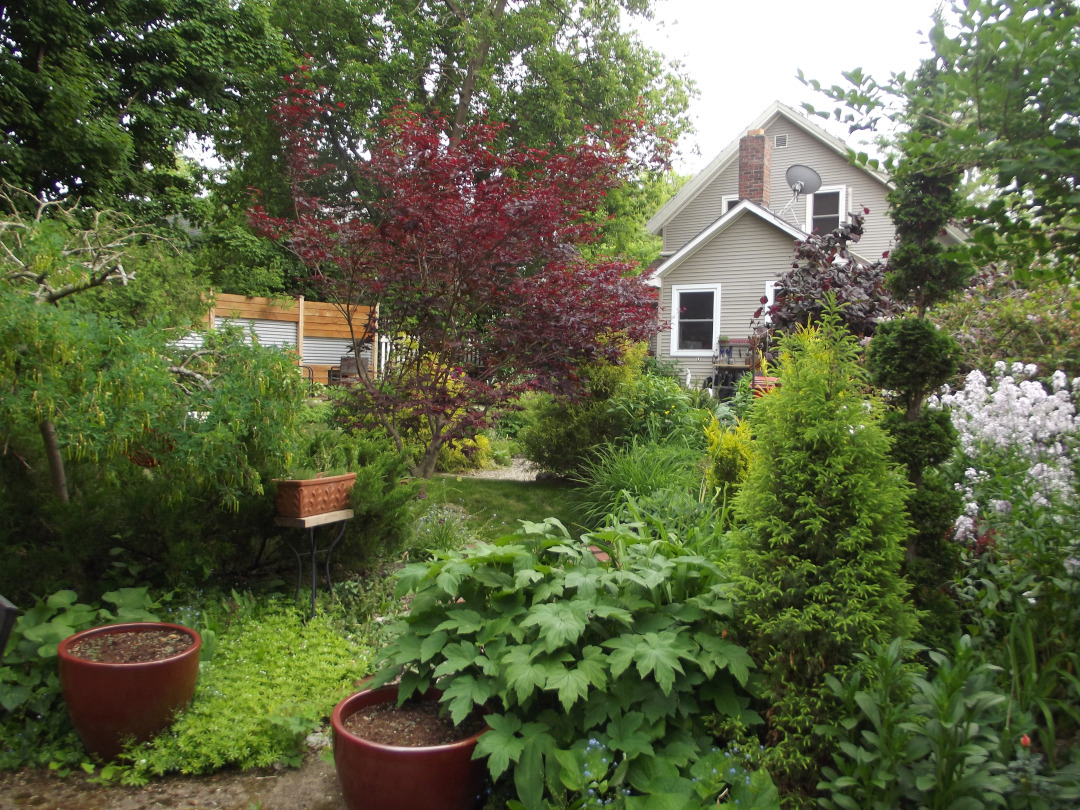 This view toward the house from the patio is dominated by the Japanese maple. The two pots are seeded with violas. Japanese anenome (Anemone hupehensis, Zones 4–8) will bloom later, but it still provides nice foliage. In the background is the fence I designed and my husband and friend built.
Have a garden you'd like to share?
Have photos to share? We'd love to see your garden, a particular collection of plants you love, or a wonderful garden you had the chance to visit!
To submit, send 5-10 photos to [email protected] along with some information about the plants in the pictures and where you took the photos. We'd love to hear where you are located, how long you've been gardening, successes you are proud of, failures you learned from, hopes for the future, favorite plants, or funny stories from your garden.
Have a mobile phone? Tag your photos on Facebook, Instagram or Twitter with #FineGardening!
Do you receive the GPOD by email yet? Sign up here.