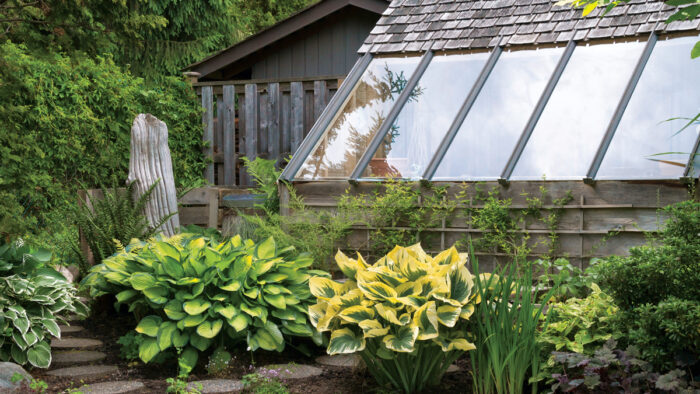 At first glance many hostas look similar, with cool-colored leaves and mounded growing habits. Yet this group of plants is incredibly diverse, with some varieties distinguishing themselves as standouts. The following hostas are a few of my favorites.
Name: 'First Frost'
H. 'First Frost'
Size: 16 inches tall and 3 feet wide 
'First Frost' is a chameleon of a plant. In spring, leaves emerge with beautiful blue centers and complementary margins of yellow, but as the season progresses, the margins become pure white. At the same time, the blue part of the foliage shifts from teal to gray-blue. This plant looks good against a backdrop of solid-colored evergreens or ferns, where its hue shift can be appreciated.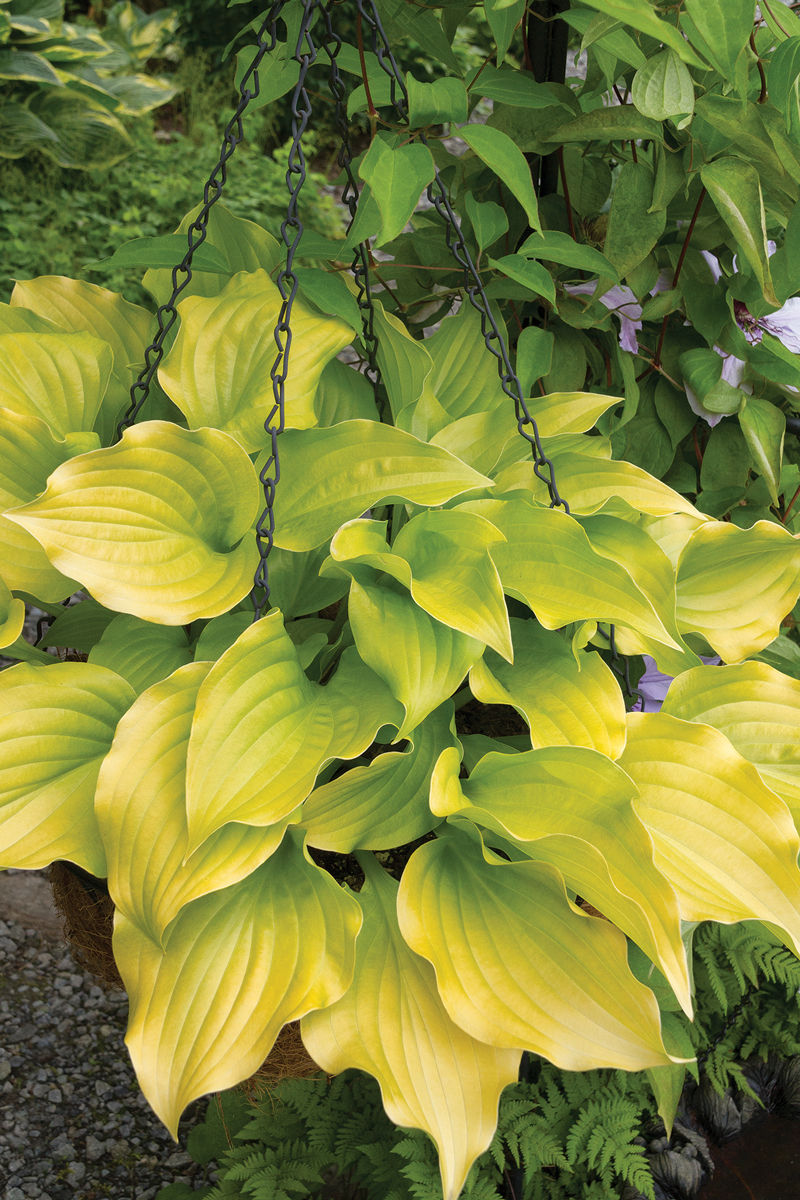 Name: 'Nancy'
H. 'Nancy'
Size: 10 inches tall and 1½ to 2 feet wide
Hosta yellows are soft and have no harsh orange tones. Those welcoming golden hues can bring attention to the plants around them and draw visitors to points of interest. 'Nancy' has shiny, bright yellow leaves that soften to a golden glow as summer goes on. In my garden, it sits happily in a hanging basket at the top of an entrance to the back garden and serves as a lantern illuminating the way.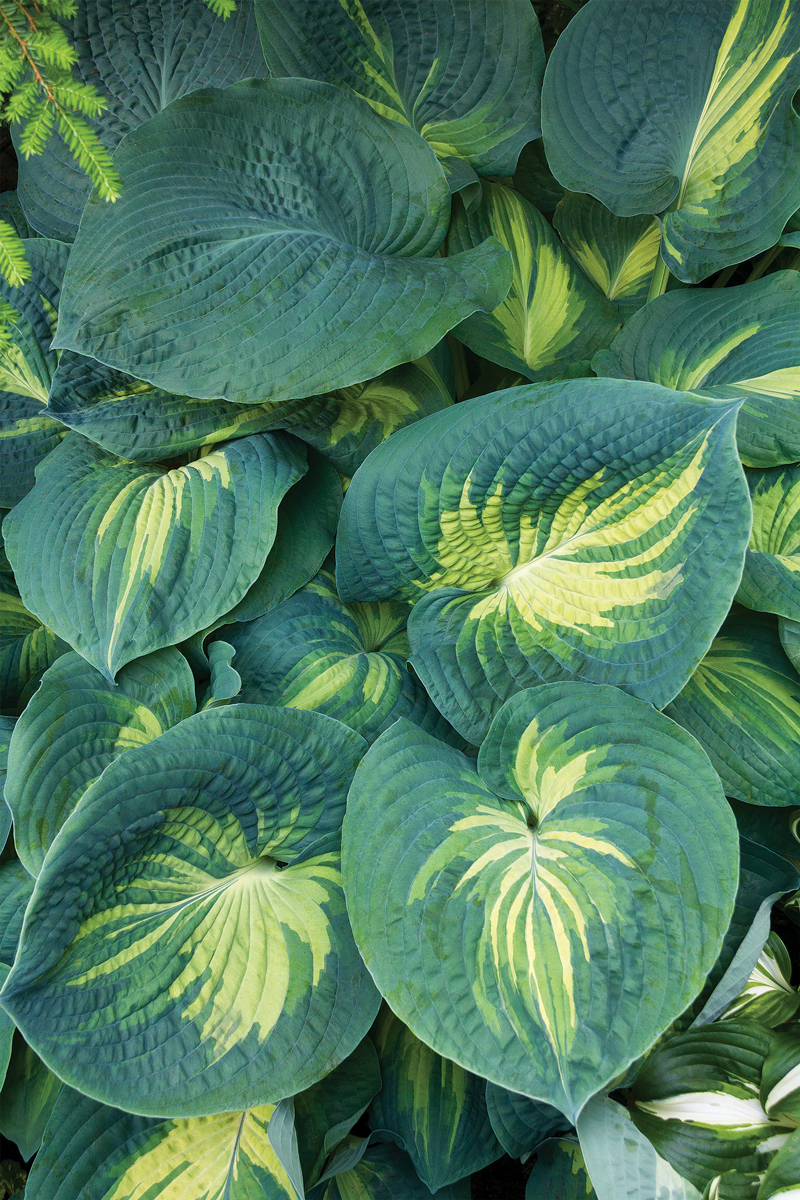 Name: 'Great Expectations'
H. 'Great Expectations'
Size: 2½ feet tall and 4 feet wide
This cultivar has leaves with soft blue margins and buttery yellow centers. The veining in the foliage helps to carry the color through the leaf, and the overlapping of the leaves creates a dense habit. The overall effect of 'Great Expectations' is soothing and calming; it works well next to louder plants.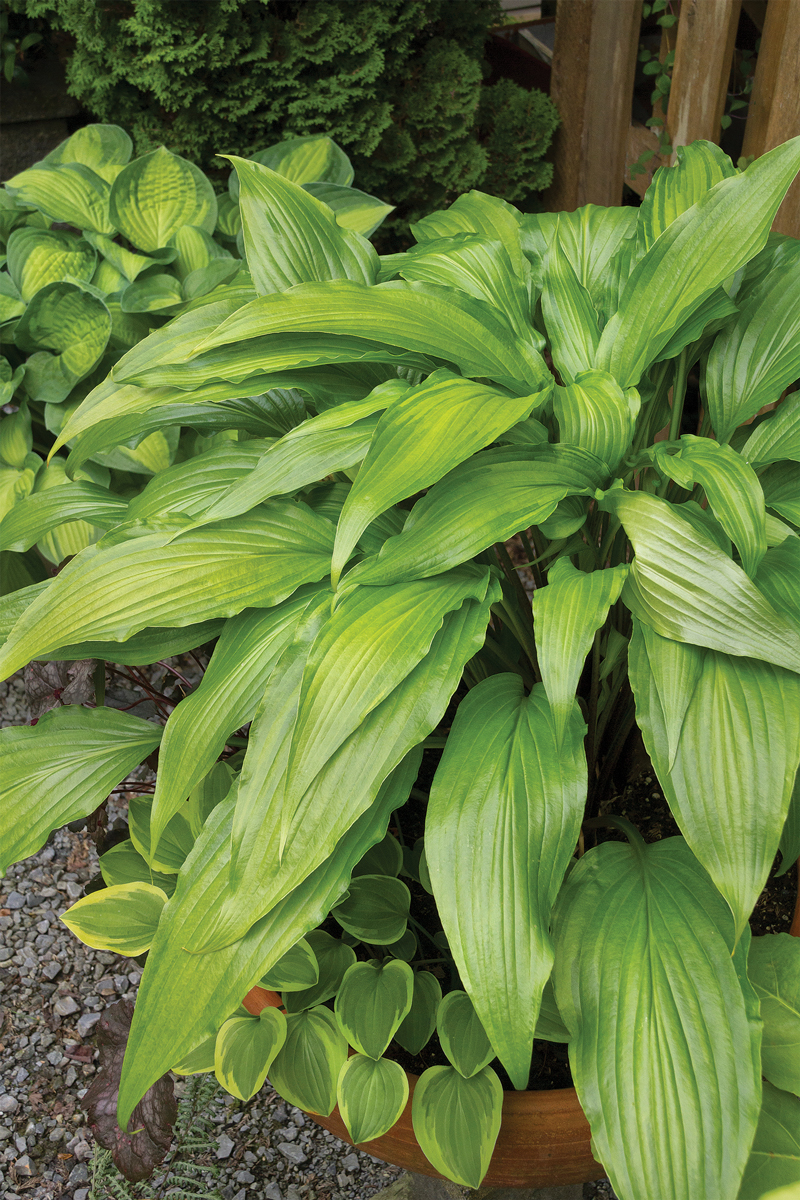 Name: 'Spritzer'
H. 'Spritzer'
Size: 2 feet tall and 3 feet wide
Often a hosta's leaf shape or growth habit is its most intriguing characteristic, and a solid green coloration can act as a foil for other variegated hostas to play off of. What better spot for a hosta called 'Spritzer' to live up to its name than in an elevated pot that allows its elongated spray of foliage to push up and cascade out like water from a fountain?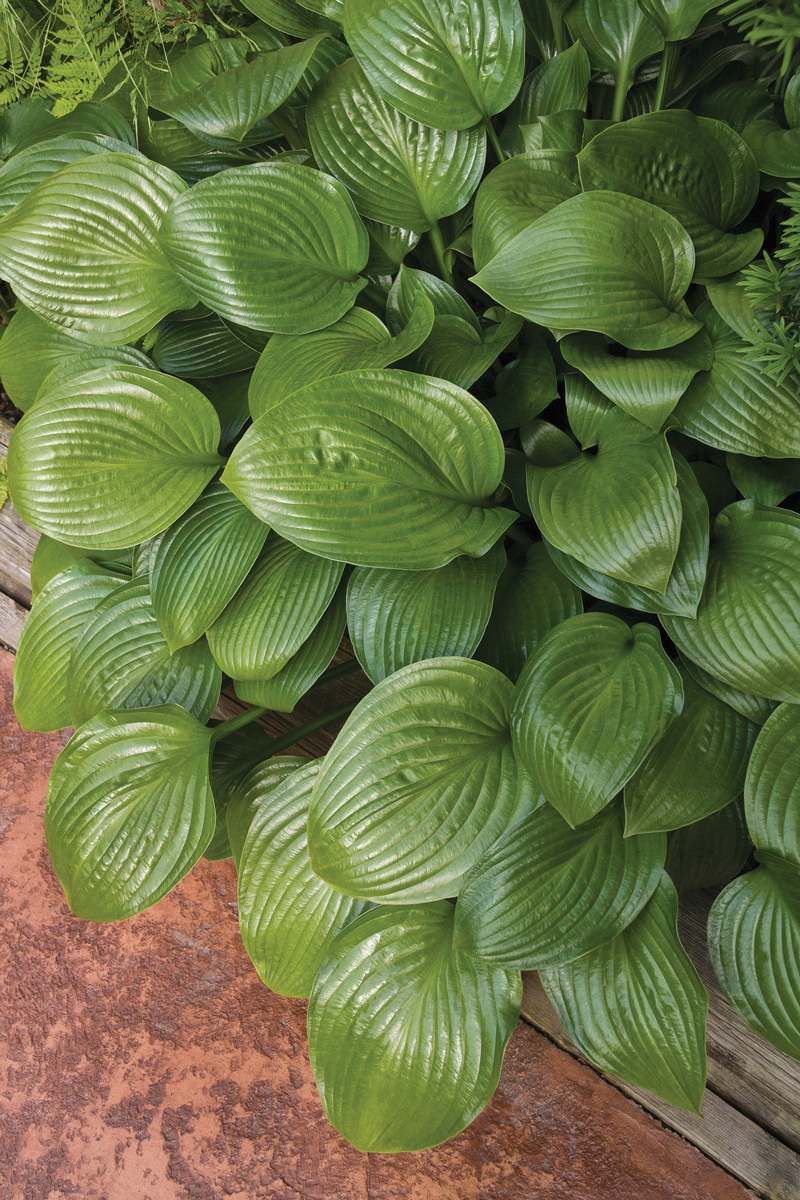 Name: 'Joseph'
H. 'Joseph'
Size: 20 inches tall and 3 feet wide 
The foliage of many hostas has a matte finish, but the foliage of 'Joseph' is bright and shiny with sturdy veining along the leaves. This plant has been a quiet anchor in my garden for decades and even withstands afternoon sun. Its sturdy, thick foliage shades other, smaller treasures, which nestle in pots behind it.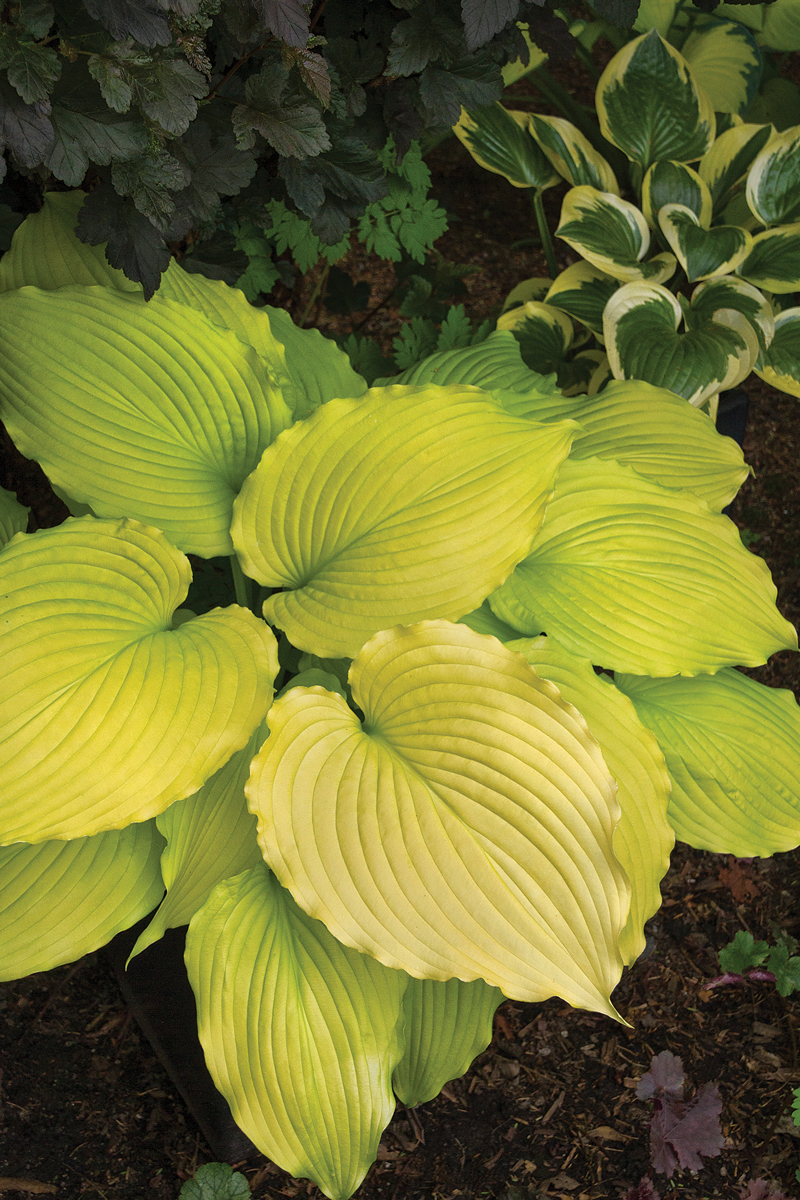 Name: 'Dancing Queen'
H. 'Dancing Queen'
Size: 1½ feet tall and 2½ to 3 feet wide 
Many yellow-hued hostas become more chartreuse as the season progresses, but 'Dancing Queen' keeps its bright yellow coloring all summer long, with just a hint of softening as fall ­arrives. I placed it in a very shady spot that receives only a touch of morning sun. Despite this, it glows regally and brings welcome warmth to an otherwise dark area.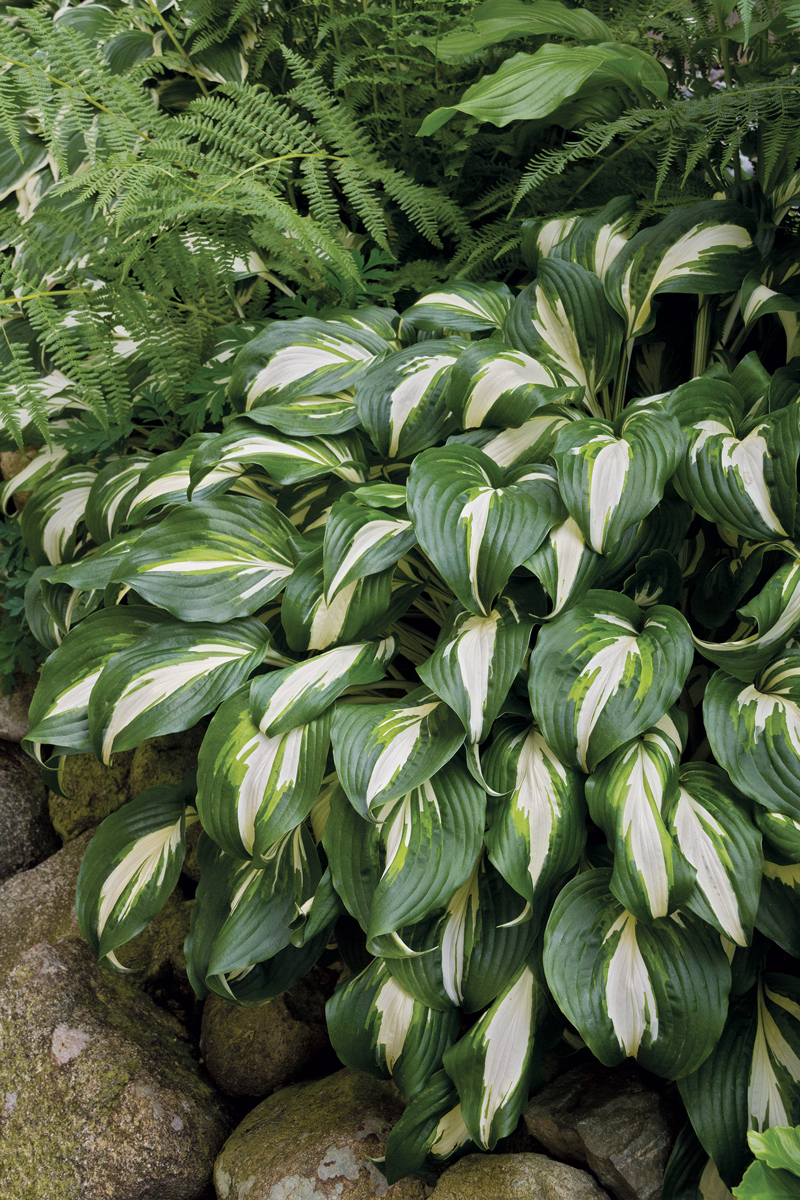 Name: 'Night Before Christmas'
H. 'Night Before Christmas'
Size: 1½ feet tall and 3 feet wide 
There is an area in my garden where color is not allowed—only greens and pure whites. It's a secluded spot for quiet repose, accessible only from one entry point, and is filled with hostas and ferns. In the busyness of the day, it's the perfect place to slip away to for a few moments of relaxation. The bright white in the variegation of 'Night Before Christmas' pops in a sea of green, making this hosta a perfect focal point in that part of the garden.