How-To
How to Grow Kale
Kale is certainly good for you, but it is also delicious when eaten fresh from the garden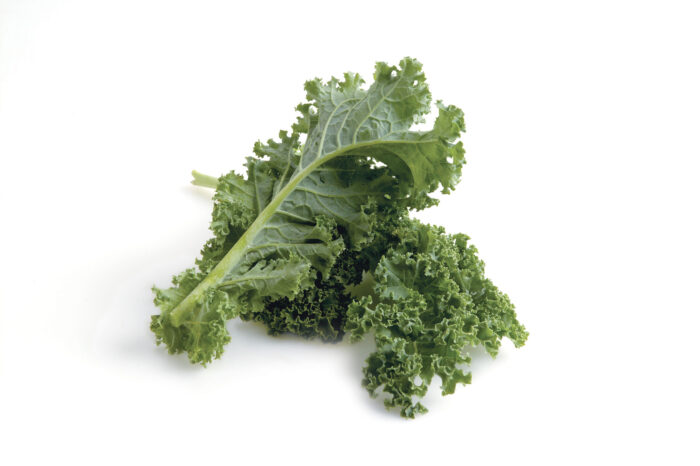 When I tell people I grow kale in my vegetable garden, they often give me funny looks and ask why I bother. Even my next-door neighbors, who welcome all my other spare vegetables, refuse my kale— except for an occasional leaf to feed their pet lizard. People think of it as something unpleasant to eat but good for you, like cod-liver oil.
But I am here to say that while kale, with its rich dowry of nutrients, is good for you, it is also delicious fresh from the garden. It is easy to grow and beautiful to look at, both in the garden and on your plate. Although a couple of frosts will make it sweeter, gardeners in all climates can grow sweet-tasting kale by choosing the right varieties.
---
Growing Kale Basics
Enrich soil with compost or manure.
Start kale in late winter to early spring, and again in midsummer.
Sow seeds in cell packs, or scatter in rows 18 inches apart. Cover with ½ inch of soil.
Place paper-cup collars around the new seedlings to deter slugs and snails.
Thin seedlings to 12 to 18 inches apart when they are 6 inches tall.
Pick a variety based on your region
The relationship between kale and weather is simple: Cold temperatures make kale sweet; warm temperatures cause kale to bolt. I used to live in Albany, a small town across the bay from San Francisco, where our winter temperatures seldom went much below 30°F. Our summer mornings and late afternoons were often filled with fog that creeps in over the Golden Gate, leaving a window of mild summer weather in between. Because I had neither extremes of heat nor cold, I needed varieties of kale that would sweeten with a light chill, wouldn't taste too astringent in the absence of severe cold, and wouldn't bolt at the first rise in temperature.
I love 'Scotch' kale (syn. 'Dwarf Blue Curled Scotch') with its curly, thick leaves, the kind most commonly found in produce departments. 'Scotch' kale, unfortunately, needs colder weather than I had to become sweet enough for my taste. That's not a problem because I love two other kinds of kale even more. 'Red Russian' kale has toothy, blue-green leaves; burgundy trim; and a milder, sweeter bite than 'Scotch' kale. Also known as 'Ragged Jack', 'Red Russian' is an American heirloom that stays sweet in warm weather. My other favorite is 'Lacinato', an Italian heirloom that produces sweet, midnight green leaves shaped like the long oval end of a lacrosse stick. The young leaves are a lighter green.
In my Albany garden, I would sow kale twice a year, once in midsummer for harvesting in fall through winter, and again in winter for spring harvesting. If you live in a colder climate—like I do now—sow kale in midsummer for a fall harvest. You can also plant kale in early spring and harvest it until the leaves toughen in the heat and the plants go to seed.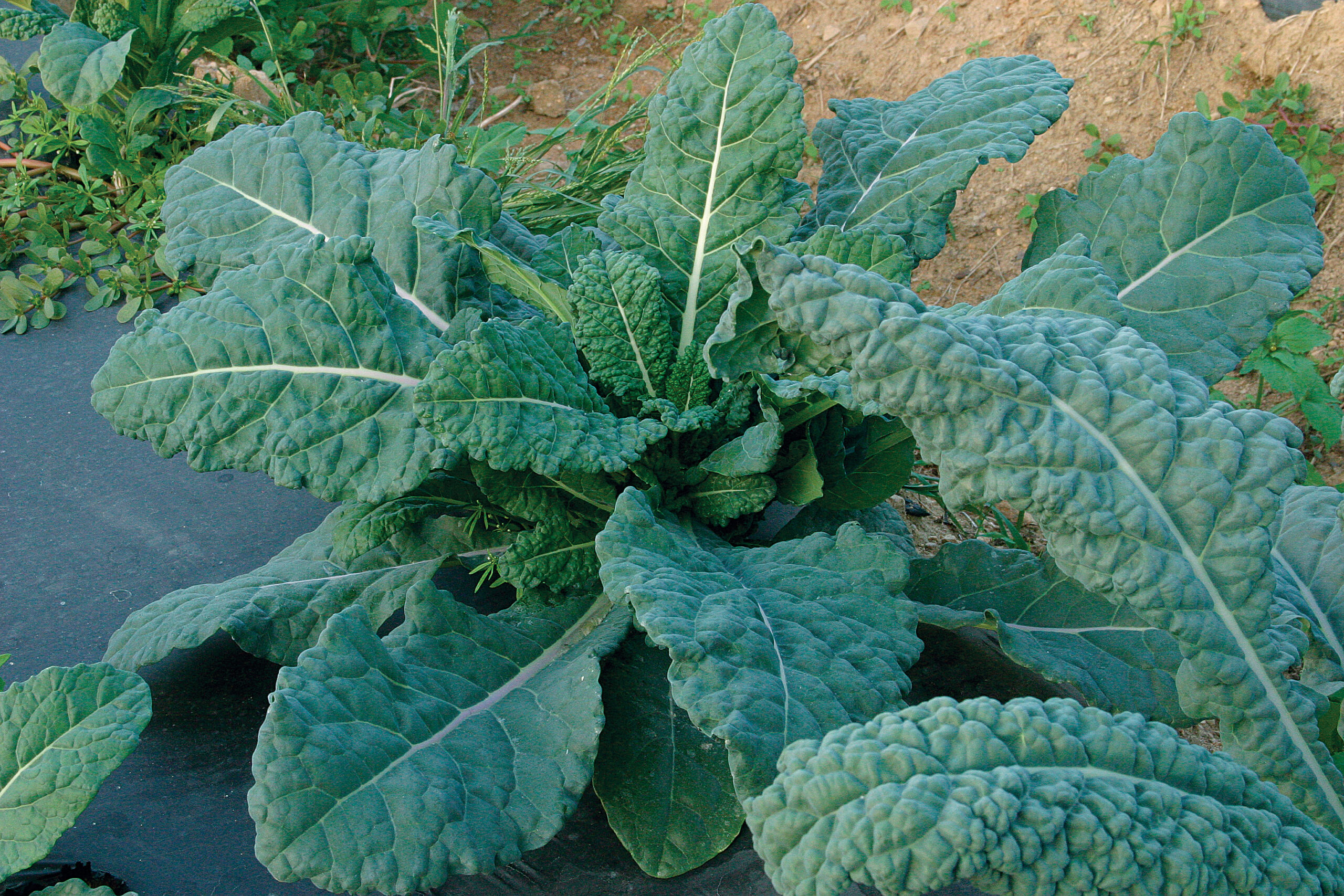 Amend, sow, then thin for the best harvest
Every year, I rotate crops and grow a green manure, like red clover, in the beds not producing a winter vegetable. In spring, I dig in the green manure with an inch or two of homemade compost, sometimes supplemented by kelp meal and a little chicken manure. Where the soil is overly acidic, wood ash or other alkaline amendments are good for kale. If my kale ever looks peaked, I feed it a little fish emulsion.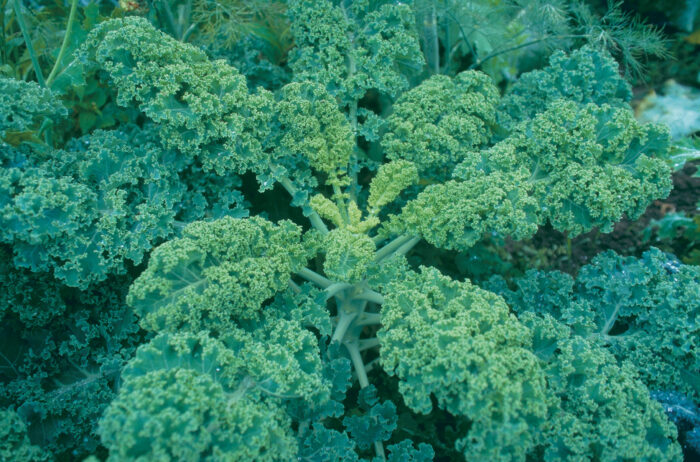 Direct-sown plants work as well as transplants in my garden. I get a crop quicker if I sow the seed directly because the days to harvest stated on the seed package don't seem to include the five or so weeks it takes to grow the seedlings indoors. But I can protect the tiny plants from snails and slugs better if I start them indoors. I thin seedlings so that they're 12 to 18 inches apart; 12 inches is enough for 'Lacinato', but 'Red Russian' needs 18 inches. If they still get too crowded, I harvest the in-between plants and use their leaves for salads or stir-fries. My plants grow anywhere from 18 inches to 3 feet tall.
When I order kale seeds, I look for ones that are not treated with fungicide. Seeds are treated so that they will not decay if planted in cold, wet soil, but I prefer to risk a little seed decay to keep my garden as organic as possible.
The taste and texture of kale harvested and cooked the same day is well worth the few minutes of cabbage-worm patrol each week. Kale that sits in the grocery store gets tough and spicy, while fresh leaves are always crisp, tender, and bittersweet. My kale plants grow tall on increasingly bare stems as I harvest the outer leaves. The lower, outer leaves of 'Red Russian' kale, however, become tough as the season progresses, so I compost them and eat the smaller, inside leaves.
When summers are cool, my kale plants may produce for a full year without flower­ing. Frequently, however, a sunny, warm period sends them all to seed.
How to Harvest Kale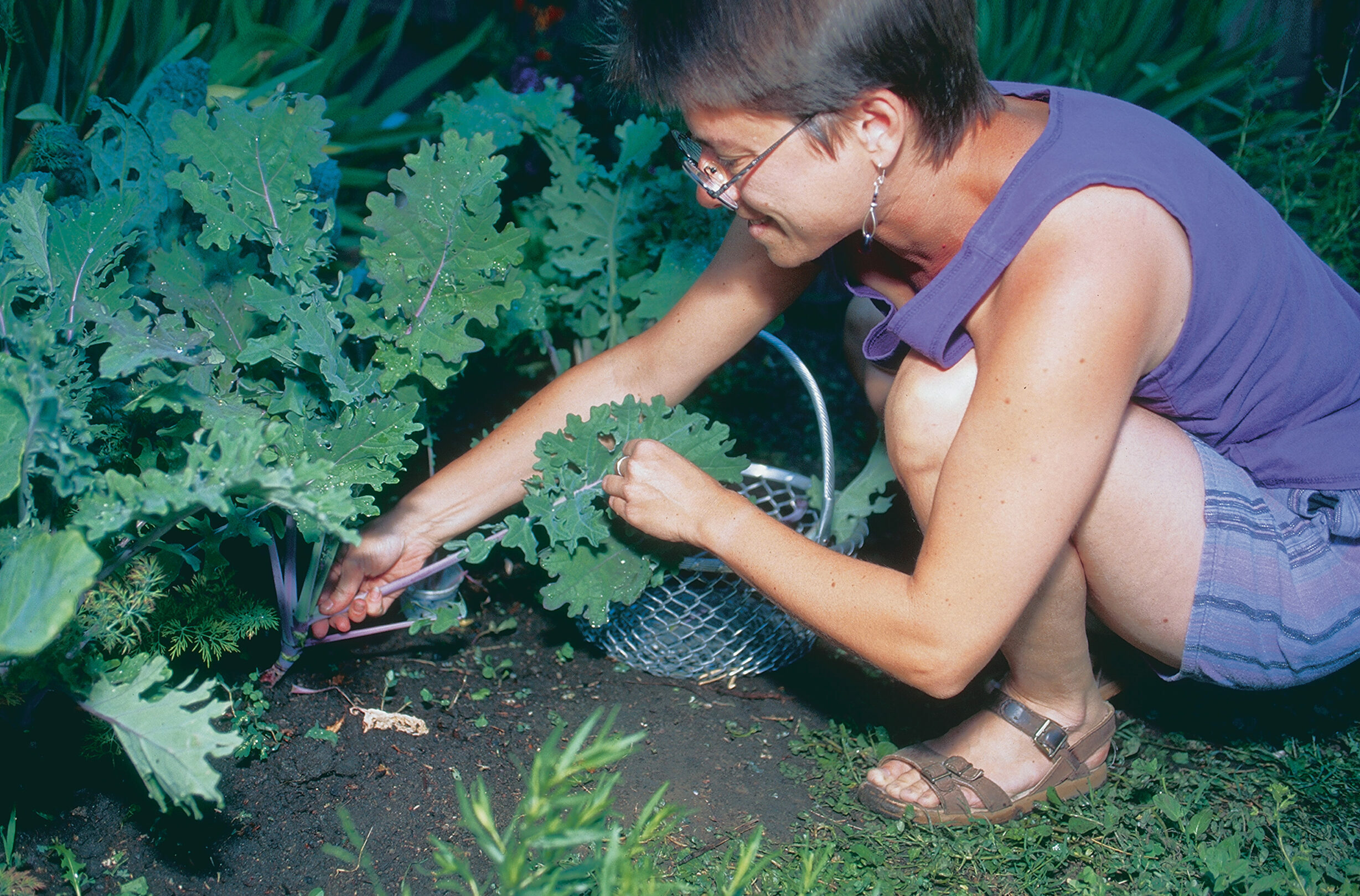 Harvest kale from fall through spring. Start by removing the lowest leaves first and then work your way slowly up the main stalk.
---
Type of pests that will eat your kale plants
In my yard, the most serious threats to kale are cabbage loopers and cabbage worms, green caterpillars hatched from tiny eggs laid on the leaves by cabbage moths. As soon as the weather warms and I see the first brown or white moths flying frenziedly over my greens, I begin care­fully inspecting both sides of my kale leaves and removing or crushing the tiny white or orange eggs.
If I am not vigilant, leaves with holes and scalloped edges are my reward, along with juicy green cater­pillars that ride into the kitchen on the harvest. The caterpillars can be hard to spot because they look like the ribs of the leaves. 'Red Russian' and 'Lacinato' kale are also susceptible to aphids. I crush the clusters of aphids with my fingers or spray them off with the hose.
—Nan Wishner harvests kale year-round on a 17-acre farm in Northern California.
View Comments