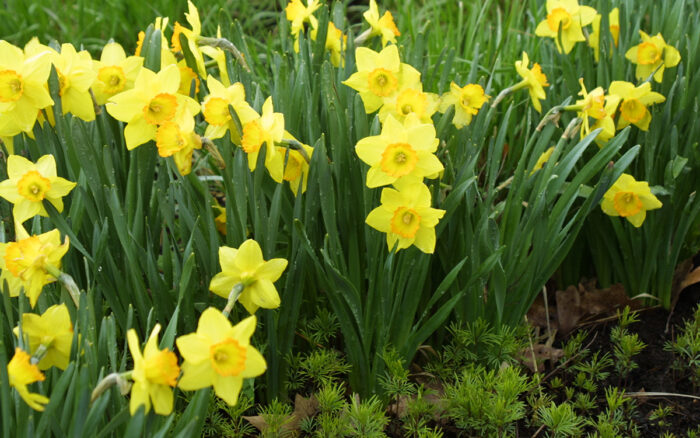 These beloved bulbs mainly bloom in late winter and early spring, breaking the spell of winter with their large blossoms saturated in cheery tones. Narcissus naturally occur in meadows, woodlands, along watercourses, and in rocky outcroppings up to subalpine altitudes. The mainly yellow or white flowers are comprised of six petals surrounding a corona. Narcissus are classified into 13 divisions according to different flower forms or by botanical name: (1) trumpet; (2) large-cupped; (3) small-cupped; (4) double; (5) triandrus; (6) cyclamineus; (7) jonquilla; (8) tazetta; (9) poeticus; (10) bulbocodium; (11) split-corona; (12) miscellaneous cultivars; and (13) daffodils distinguished solely by botanical name. In reference to Narcissus, the term "heirloom" refers loosely to bulbs that existed before 1940. Daffodils make superb companions to herbaceous and woody plants, and their uses in the landscape are numerous: in formal spring displays, mixed herbaceous or shrub borders, deciduous woodland plantings, rock gardens, and naturalized in large scale meadow plantings or lawns. They are also grown in containers and in greenhouse displays.
Learn more about gardening with daffodils:
Classic Daffodils for the Garden
A Bright Idea for Spring Containers
Inspiration for Spring Bulb Design
Noteworthy CharacteristicsMany daffodils are hardy to Zone 3, and a cold treatment is necessary to initiate bloom. They can be forced, and they make excellent cut flowers, but their sap can cause other flowers in the same vase to wilt prematurely.
CareGrow in average, well-drained soil in full sun or partial shade (see individual species for specific requirements). In autumn, plant bulbs from 1.5 to 5 times the bulbs' height (3 inches or more in cold climates). Under glass, grow in 1 part grit and 2 parts soil mix. Deadhead seed heads (except those of species, for dispersal) and allow leaves to photosynthesize for 6 weeks before cutting back, including plantings in turf. Lift and divide clumps if they become overcrowded or perform poorly. Bulbs may be forced in autumn in a cold frame; plant with tops visible, keep moist, and when rooted, move to a cool greenhouse (less than 64°F).
PropagationSeparate bulbs, and replant in early summer or early fall.
ProblemsNarcissus bulb fly, narcissus nematode, bulb scale mite, slugs, narcissus basal rot, other fungal infections, narcissus yellow stripe virus, and other viruses