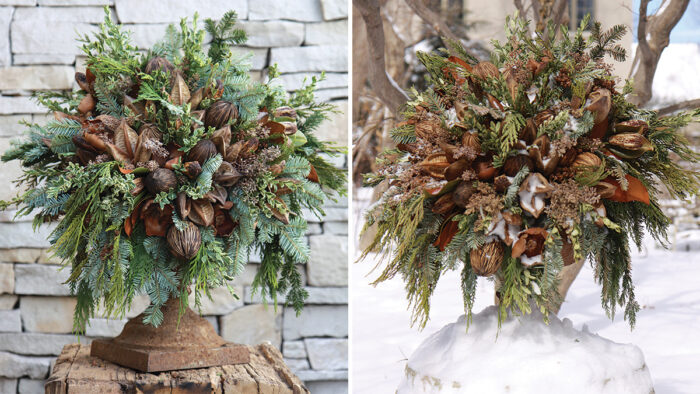 Winter combinations of stems and branches are lovely seasonal accents, but if they are not adequately supported, your decorations may flop or capsize in the wind. To avoid those pitfalls, work with a heavy, frost-proof container, and create a sturdy support system for the cut materials.
---

Materials used
Frost-proof container
Chicken wire
8-inch-long, finger-width, cut stem pieces
Evergreen cuttings
Additional botanical accents such as cones, pods, or berries
---
1. Pack the pot with moist compost or potting soil
Filling the entire vessel and doming it up over the rim will stabilize the arrangement and make it look fuller. You can reuse the planting medium later, when the arrangement is taken apart.
2. Cover the domed soil with wire
A layer of chicken wire pinned down with cut stem pieces acts like a floral frog to keep heavy branches upright and firmly anchored in the spot where they have been placed.
3. Arrange evergreen branches and cuttings
Working roughly from bottom to top, and starting with the largest stems, push cut ends through the wire frame and deep into the soil. Fill in gaps with botanical accents such as cones, seed heads, and berries.
4. Display your creation outside
Because the soil-filled container will be quite heavy, you won't need to worry about wind or heavy snow capsizing it. Even if the weather is warm and rainy, the wire framework will keep stems from sliding around in the potting medium.
---
Check out Paul's 12 elevated garden-container designs where the pot is the star.
---
Paul Zammit is a professor of sustainable horticulture at Niagara College in southern Ontario.
Photos: Paul Zammit