Design
Start With a Star: Container Design Tips
Create an unforgettable display around one of these impressive performers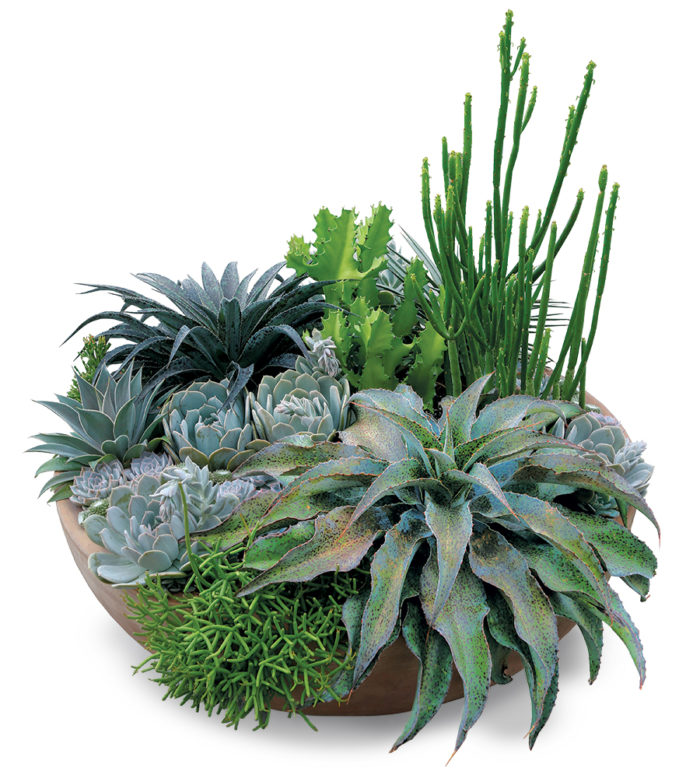 Surrounding a dramatic "thriller" with the right supporting cast is a time-honored formula for container garden success. If you want to freshen up your potted displays, look for show-stoppers to anchor your designs. The plants below get plenty of attention at my garden center; these beauties can step into the starring role and steal the show. Will any of them make your next casting call?
Mangave cultivars are delightfully diverse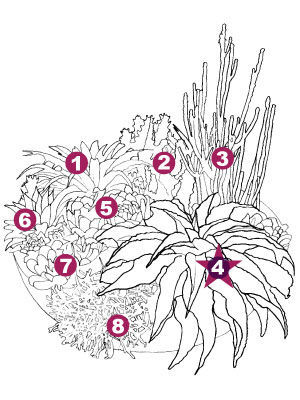 Mangaves are cool new hybrids that have taken the succulent world by storm. They combine the best characteristics of two species: the strong architectural qualities of agaves (Agave spp. and cvs., Zones 7–10) and the fast growth and pretty leaf patterns of manfredas (Manfreda spp. and cvs., Zones 7–10). These collectible cultivars are stunning grouped with each other and with other succulents.
 'Inkblot' mangave (Mangave 'Inkblot', Zones 9–10)
Candelabra plant (Euphorbia lactea cv., Zones 10–11)
Pencil tree (Euphorbia tirucalli, Zones 11–12)
'Spotty Dotty' mangave (Mangave 'Spotty Dotty', Zones 9–10)
'Holy Gate' echeveria (Echeveria runyonii 'Holy Gate', Zones 9–11)
'Lavender Lady' mangave (Mangave 'Lavender Lady', Zones 8–10)
'Blue Prince' echeveria (Echeveria 'Blue Prince', Zones 9–11)
Mistletoe cactus (Rhipsalis neves-armondii, Zones 10–11)
'Blue Dune' lyme grass is spiky and spectacular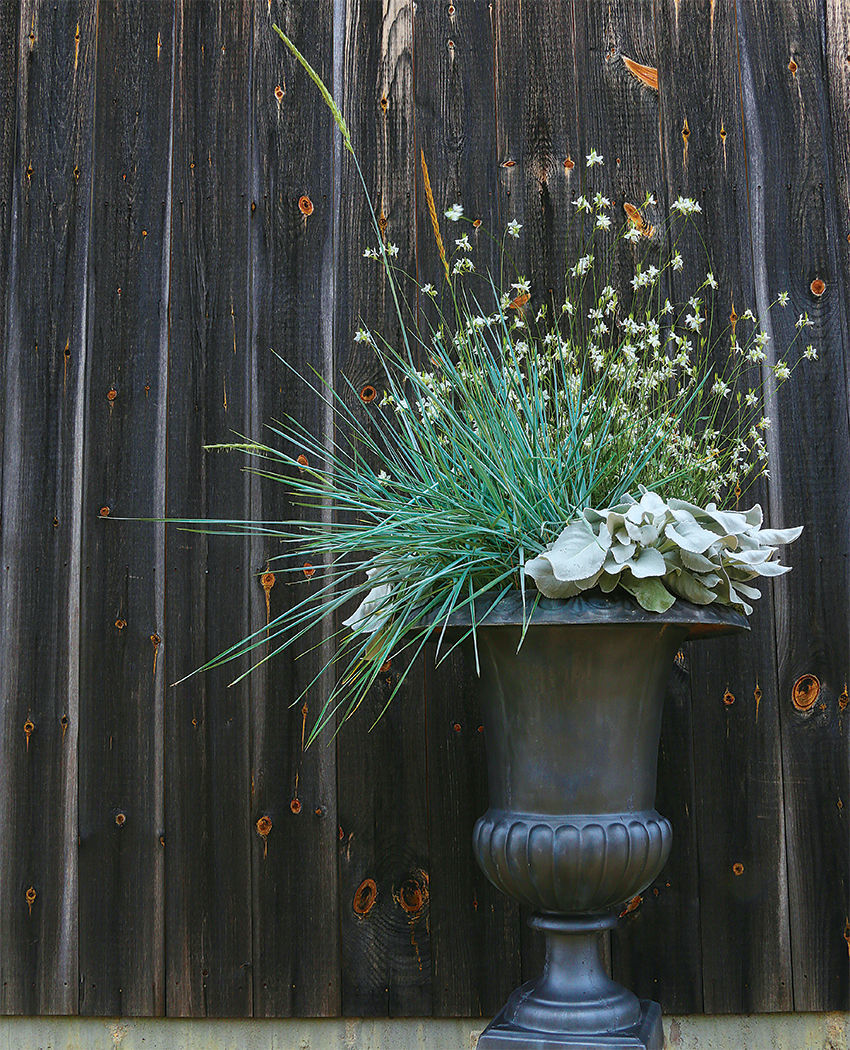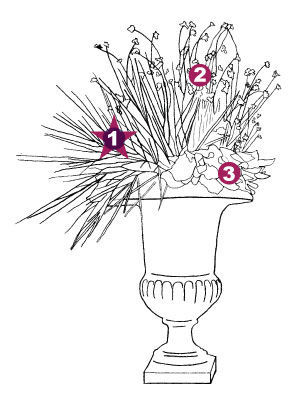 'Blue Dune' lyme grass is such a vigorous grower that it can become a bit of a thug when planted in the ground. If you don't have the garden space to let it run loose, you can easily contain its exuberance in a pot. Add 'Whirling Butterflies' gaura for movement and silky-leaved Angel Wings® senecio for a bright base layer. This drought-tolerant combination will look amazing for months.
 'Blue Dune' lyme grass (Leymus arenarius 'Blue Dune', Zones 4–9)
'Whirling Butterflies' gaura (Oenothera lindheimeri 'Whirling Butterflies', Zones 5–9)
Angel Wings® senecio (Senecio 'SENAW', Zones 8–12)
'Fireworks' gomphrena supplies sweetness and light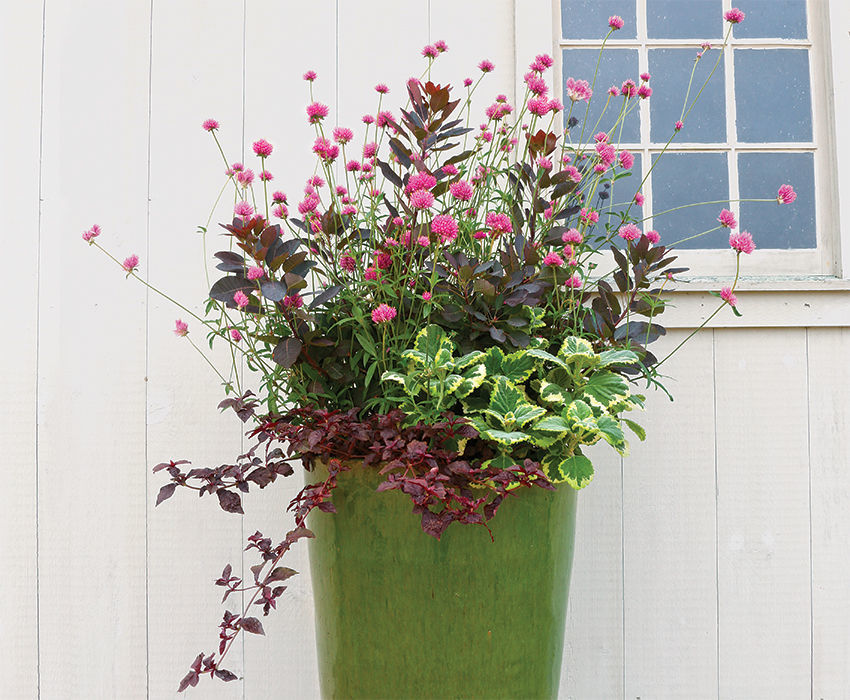 'Fireworks' is a vigorous grower that puts out a continuous display of long-lasting hot pink blooms atop strong, slender stems. To balance its brilliant color, combine it with dark-leaved companions such as this compact smokebush and gracefully trailing bloodleaf. The scalloped foliage of 'Lemon Twist' spur flower adds fresh color and an appealing texture to the mix.
'Fireworks' gomphrena (Gomphrena 'Fireworks', annual)
'Royal Purple' smokebush (Cotinus coggygria 'Royal Purple', Zones 4–8)
'Lemon Twist' spur flower (Plectranthus 'Lemon Twist', Zones 10–11)
'Purple Lady' bloodleaf (Iresine herbstii 'Purple Lady', Zones 9–10)
'Escargot' begonia has bold leaves with a twist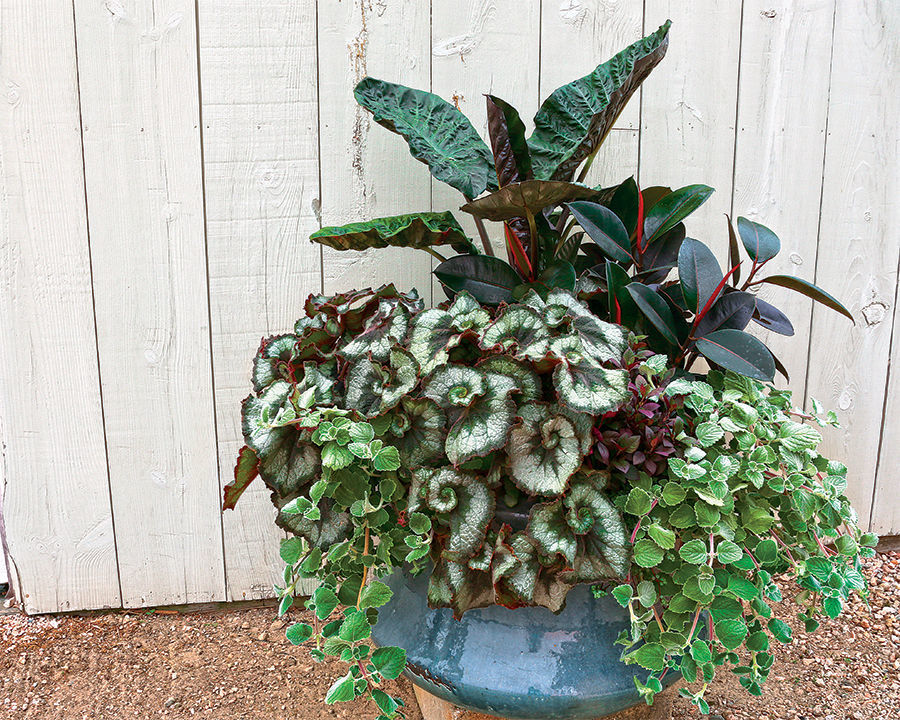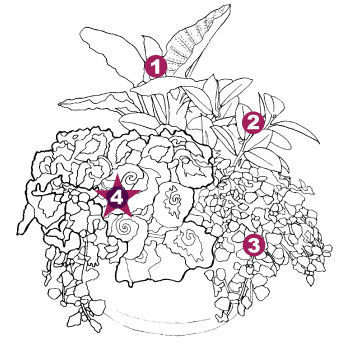 Customers at our garden center find the big, whorled leaves of 'Escargot' irresistible. This plant has a strong presence and looks especially striking when planted with companions that echo its subtle color scheme. Here, the alocasia and rubber plant provide bold brushstrokes of near-black foliage, while silvery Swedish ivy spills and fills.
'Yucatan Princess' alocasia (Alocasia sarawakensis 'Yucatan Princess', Zones 9–11)
'Black Prince' rubber plant (Ficus elastica 'Black Prince', Zones 10–12)
'Nicoletta' Swedish ivy (Plectranthus 'Nicoletta' Zones 10–11)
'Escargot' begonia (Begonia 'Escargot', Zones 10–11)
'Hallmark' bulbine only looks delicate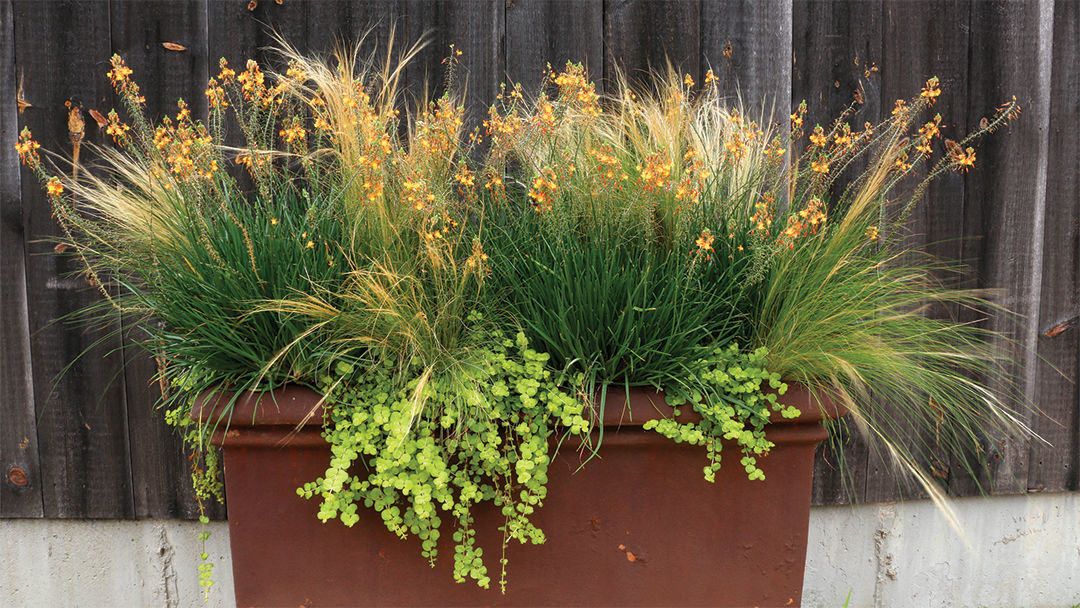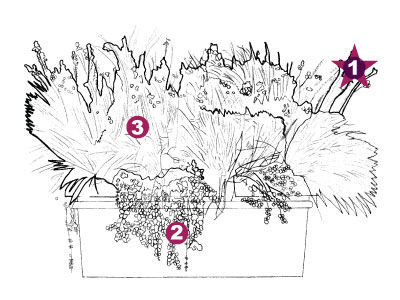 Count on this drought-tolerant South African native for clouds of tangerine-colored flowers over a long season, often from late spring until frost. The blooms rise from rosettes of slender, succulent foliage, which add structural appeal when combined with wispy Mexican feather grass. Familiar creeping Jenny takes on a new level of sophistication as a cascading foundation plant.
'Hallmark' bulbine (Bulbine frutescens 'Hallmark', Zones 8–10)
Golden creeping Jenny (Lysimachia nummularia* 'Aurea', Zones 3–9)
Mexican feather grass (Nassella tenuissima, Zones 6–10)
*See invasive alert below.
Give your container stars a chance to shine
Focus on details
When you are shopping for plants, look for interesting foliage textures and colors, and compelling flower shapes and forms. Paying attention to these details will make your container garden unique and exciting.
Evaluate your site
Think about the location for your container garden. Is it sunny, shady, or a bit of both? Partial shade can vary from dappled sunlight, to soft morning sun, to hot afternoon sun, and this will govern your plant selections. Plants that like the same sun exposure and have the same water and nutritional needs will thrive together.
Remember to feed
Most potting soils are not nutrient rich, and frequent watering leaches away nutrients. Combining slow-release fertilizer and liquid fertilizer will help you maintain a lush, thriving container garden all season.
Have fun and be creative
Push outside your comfort zone. There are lots of great plant choices out there to experiment with. You just might surprise yourself!
---
*Invasive alert: Creeping Jenny (Lysimachia nummularia)
This plant is considered invasive in CT, IL, MA, NH, PA, TN, WI, and WV.
Please visit invasiveplantatlas.org for more information.
---
Sarah Partyka is the owner of The Farmer's Daughter, a garden center in South Kingstown, Rhode Island.
Photos by Carol Collins
Illustrations by Conor Kovatch
View Comments