Design
A Tiny Courtyard Garden Makeover
This once-neglected patio gets a lively lift thanks to a few designer tricks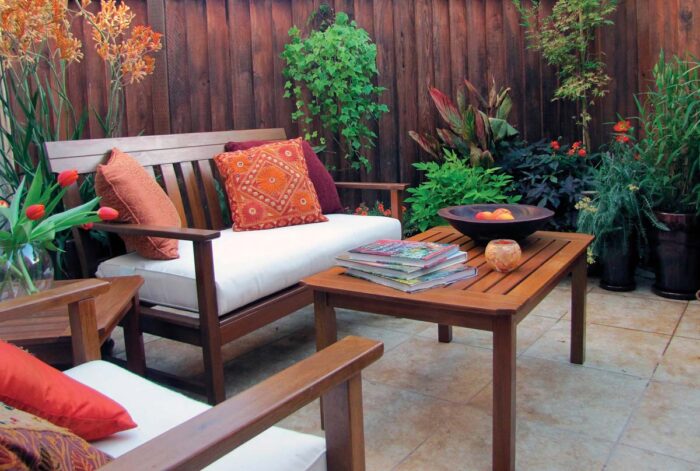 The secret to the perfect garden room isn't so secret: Start with comfortable seating, add lush plantings, and finish everything off with cozy, colorful details. But if all you have is a small patio, fitting everything in to transform it into a courtyard garden can be a challenge.
Besides the obvious difficulties of limited space and close neighbors, this courtyard also came with a space-hogging air-conditioning unit and rules from the homeowners' asso­ciation that prohibit attaching anything to the neighbor's wall—which, as luck would have it, is the primary view from inside the house. Creative problem-solving goes a long way, however, in such a tight space. Bringing interior-design accents like flooring tile and fabric outdoors and adding colorful plantings turned this formerly unused courtyard into a central gathering place, with seating for five and a tropical flair that can be enjoyed both inside and out.
Diagonals make a space look bigger
Arranging outdoor furniture on an angle breaks up a boxy yard and makes the space feel more open. This same trick also applies to flooring. In this courtyard, tiles were laid on a diagonal to help counterbalance the yard's rectangular shape. You could create the same effect, however, by simply angling an all-weather area rug.
| | |
| --- | --- |
| Before, facing the neighbor's fence. | After, with neighbor's fence in background. |
Built-in seating disguises an eyesore
A custom air-conditioner surround provides seating, a countertop, and storage space. When the air conditioner is in use, the fabric cushions can be removed to allow the unit to vent. Take note, however, that it's essential to consult with a professional landscape contractor or air-conditioning specialist for a project like this, as your unit needs adequate ventilation to function properly.
| | |
| --- | --- |
| Before | |
Vertical plantings soften the edges
| | |
| --- | --- |
| | This courtyard is not only small but is also narrow. Containers often work better than beds in these situations because they let you more easily layer vertical plantings. In this courtyard, a freestanding trellis bolted to the floor provides a vertical frame for a fountain, lanterns, and potted climbers, such as star jasmine (Trachelospermum jasminoides, Zones 9–10) and 'Jackmanii' clematis (Clematis 'Jackmanii', Zones 4–11). To fill the garden's corners without overwhelming them, I opted for tall slender plants with a see-through quality, such as 'Tequila Sunrise' kangaroo paw (Anigozanthos 'Tequila Sunrise', Zones 10–11) and coral bark Japanese maple (Acer palmatum 'Sango-kaku', Zones 5–8). |
Bold foliage offers long-lasting color
| | |
| --- | --- |
| Emphasizing tropical foliage instead of flowers extends the life of a garden over multiple seasons. In this cozy backyard retreat, I relied heavily on Tropicanna® canna (Canna indica 'Phasion', USDA Hardiness Zones 8–11), sweet potato vines (Ipomoea batatas cvs., Zone 11), and coleus (Solenostemon scutellarioides cvs., annual). | |
---
A courtyard makeover doesn't have to break the bank. Check out these suggestions to help you decide when to splurge and when to save.
1. Include a water feature
The sound and sparkle of water brings a peaceful energy to any garden.
| | |
| --- | --- |
| $$$ Splurge—Buy a water feature from a garden boutique, $500 to $1,200. | $ Save—Create a simple custom water feature by installing a pump inside a decorative pot or urn, $50 to $200. |
2. Choose the right flooring
Bridge the connection between home and garden by selecting a flooring material that works both indoors and out.
| | |
| --- | --- |
| $$$ Splurge—Buy tiles or acid-stained concrete, $12 to $40 per square foot. | $ Save—Lay an all-weather area rug on your patio or deck, $75 to $300. |
3. Add cushions
Scattering all-weather throw cushions on furniture (or even the floor) adds color and comfort to an outdoor room.
| | |
| --- | --- |
| $$$ Splurge—Buy outdoor cushions in fade-resistant fabric, $30 to $100 each. | $ Save—Sew your own cushions from Sunbrella fabric, available in a wide array of colors and patterns at fabric stores, $20 to $40 per yard. |
---
Susan Morrison is a garden designer in Concord, California, and the coauthor of Garden Up! Smart Vertical Gardening for Small and Large Spaces.
View Comments