Design
Front-Yard Gardens Make a Strong First Impression
Success lies in suiting the garden to your house style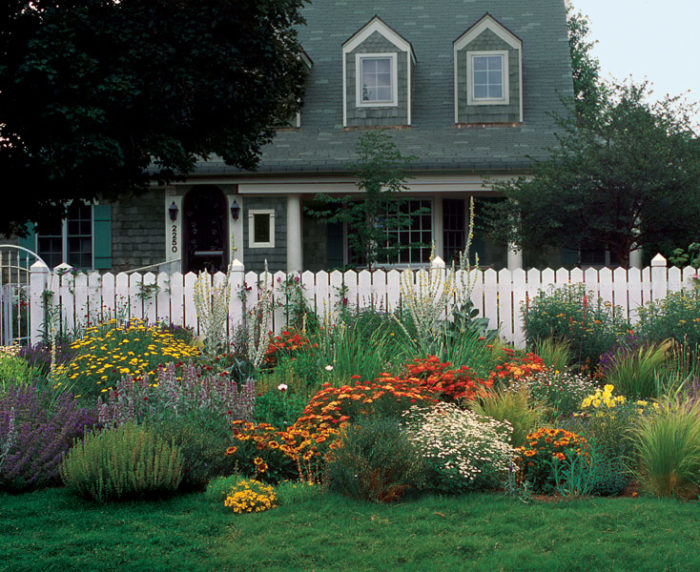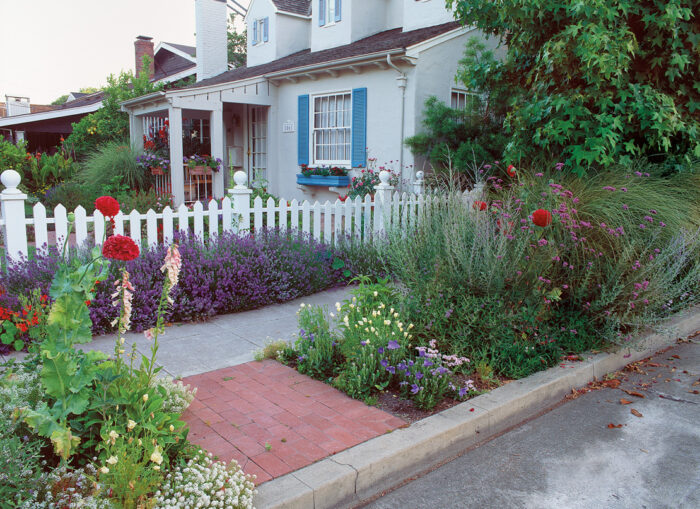 Front-yard gardens can change neighborhoods. I've witnessed this both as a gardener and as a landscape architect. Years ago, I mixed some annuals and perennials among the evergreen foundation shrubs in front of my family's home. Before long, the welcoming curves I had carved out of the sod near our front door extended through a series of planting beds and paths to our neighbors' yards on either side. We shared plants, time, and friendship with those neighbors. And passersby encouraged my gardening efforts. I felt that I was doing more than just sprucing up our front yard. I was making our neighborhood a friendlier place to live.
Learn more: A Front Yard Makeover
Now that I'm a professional garden designer, I keep this mission in mind. There is an older neighborhood in Palo Alto, California, where I've designed four front-yard gardens. Although they are very different, they all suit the neighborhood just fine. One is a cottage-style home on a street corner, where I added a picket fence, arbor, herb garden, birdbath, and lots of colorful plantings. There's even a bench for sitting in the garden, and the fence is low enough that conversations can take place over it. Just down the street is a Craftsman bungalow, and I've treated the hardscaping with similar craftsmanship, while keeping the plantings simple yet attractive.
Across the street is a one-story ranch with contemporary landscaping—lots of curving beds, ornamental grasses, and low-maintenance perennials. And finally, just a few blocks away is a traditional Colonial with a formal landscape featuring a brick walk, symmetric foundation plantings, and a picket fence draped in roses. All four front-yard gardens have small patches of lawn, but the foundation plantings are varied, and the gardens are designed to suit the houses as well as the gardening abilities of the homeowners.
Any front garden could benefit from this kind of attention. What would be most appropriate for your house? Maybe you have a cedar split-rail fence that would look nice knee-deep in daylilies and laced with rambling roses, or a stuccoed courtyard wall with alcoves that would benefit from a water feature or an attractive arrangement of desert plants, or even an old Victorian in a western ski town that could be enhanced with native wildflowers.
Lead guests to the door
Of course, before you get carried away with planting, you have to take care of a couple of practical matters. The first of those is to clearly identify the front door, so that when guests arrive they know exactly where to go.
When I visited Dublin, Ireland, I marveled at how homeowners distinguished their row houses by painting the front door a favorite color. You can do this too. In addition, there are a number of other ways you can give your place personality: by building an arbor over your entrance, by grouping several eye-catching containers on either side of your door, by installing a sculpture or wall fountain in an entry courtyard, or by growing a vine up and over your doorway. You can even install special landscape lighting (beyond the standard porch lights and lampposts) to highlight your entry at night.
To reach the doorway, you need a good path. Build one that's wide enough for two people to walk abreast. It should also be safe—that is, with an even, nonslip surface that won't cause anyone to stumble or fall.
Poured concrete is the most commonly used path material because of its low cost. However, other materials such as brick, stone, and concrete pavers make a stronger first impression and are often more appropriate in a garden setting. Even concrete that has been stained or texturized is much more interesting than plain concrete, and is still very affordable. Or spruce up existing concrete paths by edging them with bricks or cobblestones. Select materials that match the style, materials, or colors of your house. This will better integrate your house and landscape.
Most front-yard paths are straight because they are the easiest for contractors to build and the quickest route to the front door. Curved or jogged paths are often more interesting, especially when they wind their way through a garden, toward a birdbath, or alongside a bench. Most front paths lead either to the street or to the driveway, usually to the place where most people park. In many cases, however, two paths make more sense, even if one is little more than a stepping-stone path that runs alongside the driveway to the street.
Enhance foundation plantings for year-round good looks
Once you've highlighted your entry and established your pathways, you can concentrate on the plantings. The most significant are those planted at the foundation, where the house meets the ground. This is a wonderful place to create multiseason interest and plant your first front-yard garden. Start by evaluating what you have. If your living room hasn't seen the light of day for 20 years, you might want to start by ripping out overgrown shrubs. But most of the time, you can work with what you have. Mature camellias (Camellia spp.) and hollies (Ilex spp.), for instance, might be limbed up into small trees—especially if they anchor corners of the house or either side of the front door—while ungainly rhododendrons (Rhododendron spp.) or boxwoods (Buxus sempervirens) could be drastically pruned and allowed to regrow beneath windows. Healthy shrubs that no longer suit the site might be transplanted to other places in the yard.
Whether you're working with existing plantings or starting from scratch, go for variety, even among evergreens. Select shrubs and small trees with different leaf shapes, textures, foliage color, and growth habits.
Also, think in terms of "mixed border" instead of strictly "evergreen foundation plantings." Starting with a base of well-spaced evergreen groupings, highlight spring with bulbs, flowering shrubs, and small flowering trees; summer with splashes of perennials and annuals; autumn with bright foliage; and winter with berries, seed heads, and interesting bark. Consider the flaming leaves of burning bush (Euonymus alatus), the red stems and yellow leaves of redtwig dogwood (Cornus alba 'Aurea'), or the scarlet berries of winterberry (Ilex verticillata), then add bold masses or bright splashes of your favorite flowers.
Plant only what you can manage
When creating a front-yard garden, it's important to consider how much upkeep will be required. It's all right to allow a backyard garden to grow wild and woolly at times, but since the front garden is always on display, you want to keep it looking as good as possible. Although ideally you might envision a lush mixed border embracing all sides of the garden—and this could be your goal—it may be best to start with a small area and see just how much effort it takes to maintain.
In addition to planting only as much as you know you can tend, avoid high-maintenance plants that need frequent watering, are susceptible to pests and diseases, or require daily deadheading. Instead, choose from among easy-care plants with a long season of interest. Black-eyed Susans (Rudbeckia spp.), daylilies (Hemerocallis cvs.), coneflowers (Echinacea spp.), and ornamental grasses like sedges (Carex spp.), fountain grasses (Pennisetum spp.), and Miscanthus sinensis are excellent choices for much of the country.
Another trick is to give your plantings a backdrop or a structure upon which to grow. Plant a long border beside a fence or in front of a retaining wall. Incorporate a mailbox in a curved bed that links the driveway and street. Allow perennial beds to creep into or border your front path. Plant some flowering vines—perhaps a climbing rose and a clematis—to scramble up your lamppost. Although not all plantings need a backdrop—freestanding island beds are a good example—such solid elements help carry the garden through the winter when herbaceous plants are dormant.
Structures should complement, not compete with, the architecture of your house. Use similar materials, like a brick mailbox post and paths if you have a Colonial home, a white picket fence if you live in a cozy cottage, or a stacked-stone wall if you hang your hat in a New England saltbox.
So if you've been dreaming of a front-yard garden, go ahead. There's absolutely nothing that says you have to stick strictly with the ubiquitous American lawn and evergreen foundation shrubs, a greatly overrated trend started in the late 1800s. And even if you keep the lawn and shrubs, which certainly have their merits, you can still spruce things up by expanding your foundation plantings, adding a few flower beds, draping your mailbox in vines, or placing a couple of colorful pots on the porch. And finally, take time to enjoy your front-yard garden. Welcome the opportunity it brings for meeting new neighbors. After all, there may be some fellow gardeners among them.
Cottage style: A picket fence and a profusion of plants create a cozy setting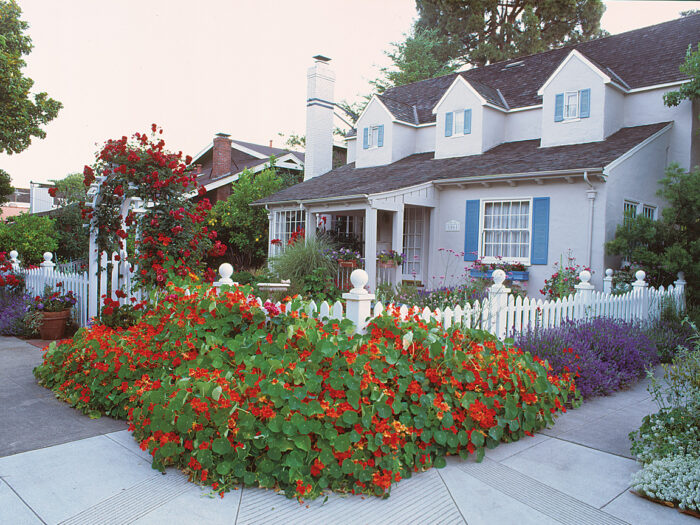 Bob McIntyre's charming house on a small corner lot was the perfect setting for a cottage garden. It was also in keeping with his longing for a small lawn bordered by flowers and a picket fence. Focal points include a bench from which he can enjoy the garden and the Sunday paper, lemon trees in large pots, and a birdbath, which is placed at the intersection of two paths. A rose-covered arbor over the front gate greets guests upon their arrival, and an herb garden borders the walk to the front door.
Like any good cottage garden, this one boasts a profusion of plants. We chose a bright, cheerful color scheme—yellow, orange, and red. Black-eyed Susans (Rudbeckia fulgida var. sullivantii 'Goldstrum') anchor the garden in summer; nasturtiums (Tropaeolum majus cvs.) and Lobelia cvs. grow in an untamed riot against the fence. Large clumps of ornamental grasses and rows of lavender (Lavandula angustifolia 'Hidcote') help soften the strong color scheme.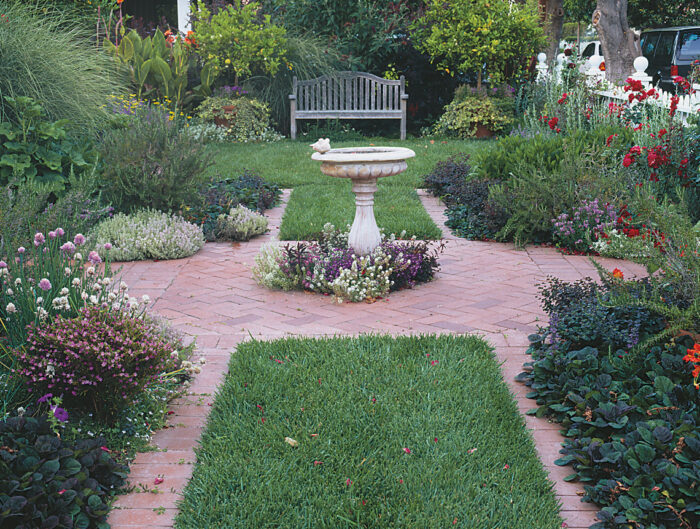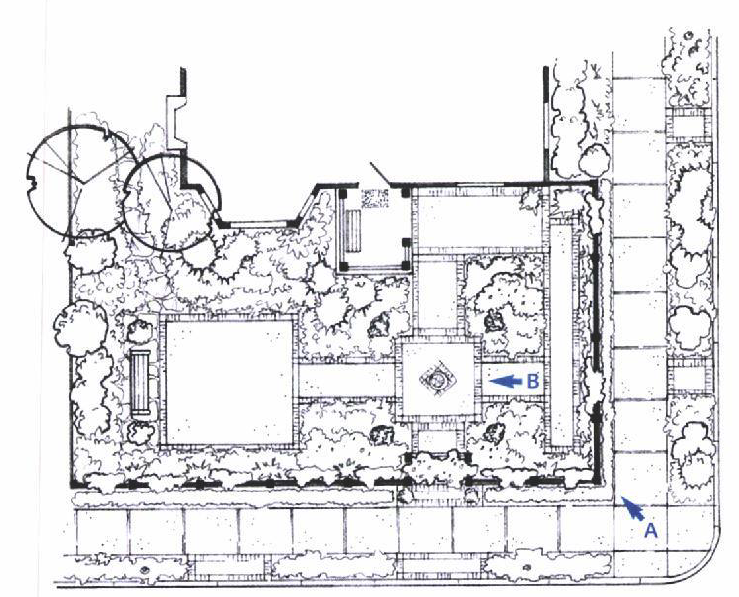 So that the garden can be enjoyed both from the street and from the yard, we planted both sides of the fence, as well as the grassy strip between the sidewalk and street. This gives neighbors out for their morning walk a sense of moving through a garden, instead of just looking over the fence at one.
Colonial style: Traditional plants and structured paths tie a symmetrically designed house to its garden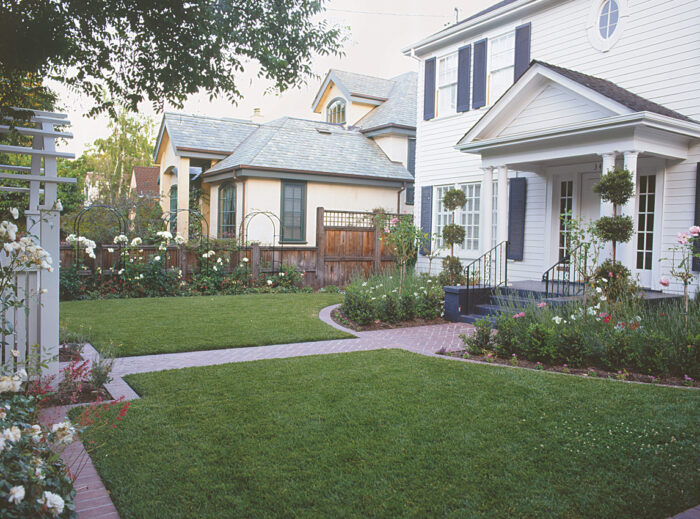 A mother of four children, Selena Dwight wanted to create a sense of order in front of her Colonial home that wasn't always possible indoors. She had already redesigned the bed lines in front of this traditionally styled home. My job was to design the plantings. I also added the picket fence and arbor, and edged the neatly manicured lawn with bricks to match the front walk, which really helped tie the house and landscape together. These hardscaping elements also gave structure to the garden.
In keeping with the historic style of the house, we focused on plants that were traditional in Colonial times. Boxwoods were the most obvious choice for establishing a foundation of evergreens. Roses were planted against the fence, which features hoop arches to give them additional support as they grow. Clematis montana combines nicely with the roses, which will grow up to cover the arbor. Lavender, punctuated with standard roses for a touch of formality, anchors the beds on either side of the front porch. All of the plantings are carefully balanced to suit the symmetry of the house. Finally, we added a small cutting garden in the sunny side yard, which is accessed from the front yard.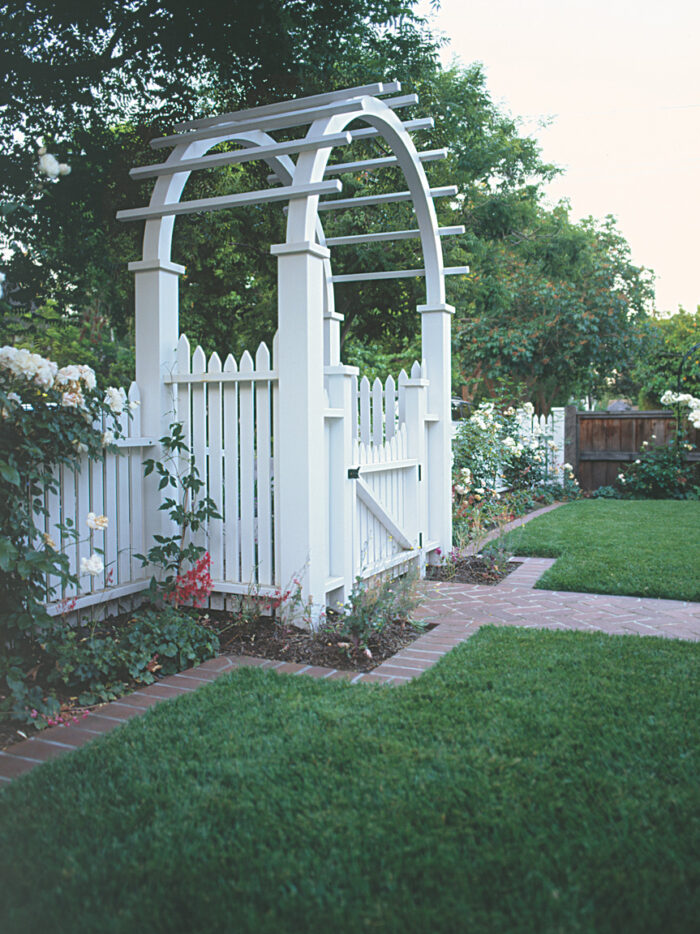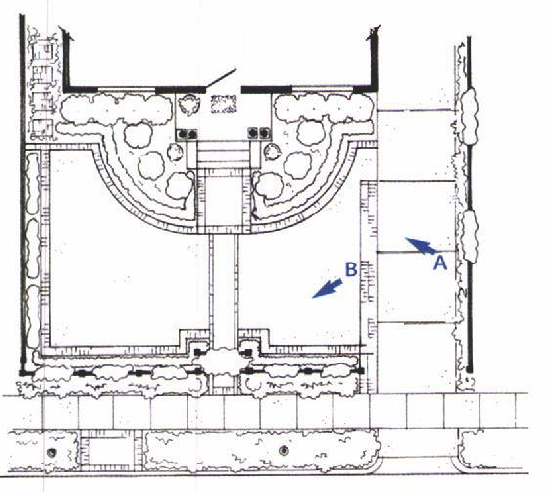 Bungalow style: Hardscaping reflects the Arts and Crafts aesthetic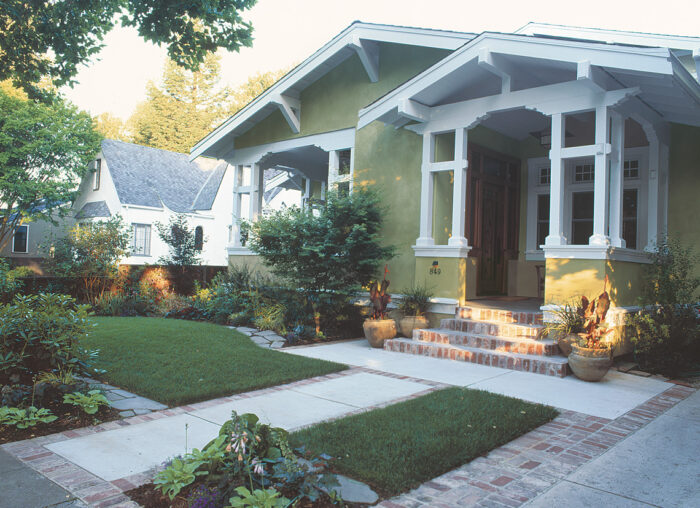 Dave Ketchum is an avid gardener. So although I designed his front-yard garden, he handled the installation and does all the gardening. Our goal was to design a garden that complemented the architecture of the renovated bungalow. In particular, we wanted the hardscaping to reflect a sense of quality craftsmanship. We added brick bands to widen the existing driveway and paths. And for variety, we laid tumbled bluestone for lawn edging, which is wide enough to serve as a path in wet weather.
My planting design goals were fourfold: to complement the green walls, to create structure with plants, to diversify the plantings so that there are stars in each season, and to minimize maintenance. A mixed border of evergreen and deciduous shrubs, small trees, perennials, and ornamental grasses surrounds the small lawn.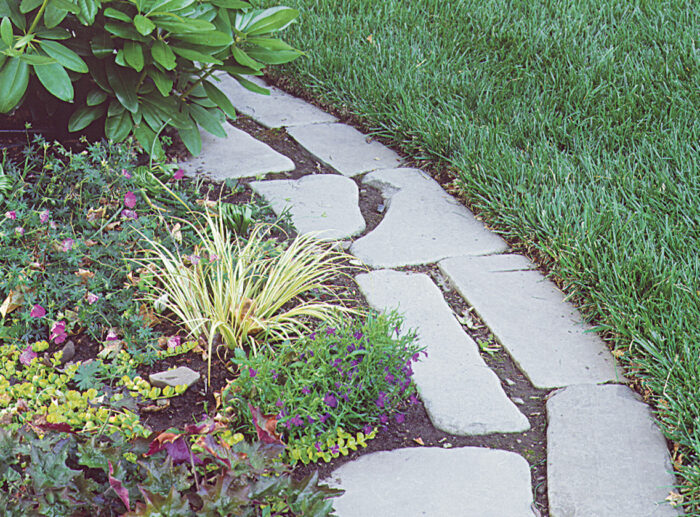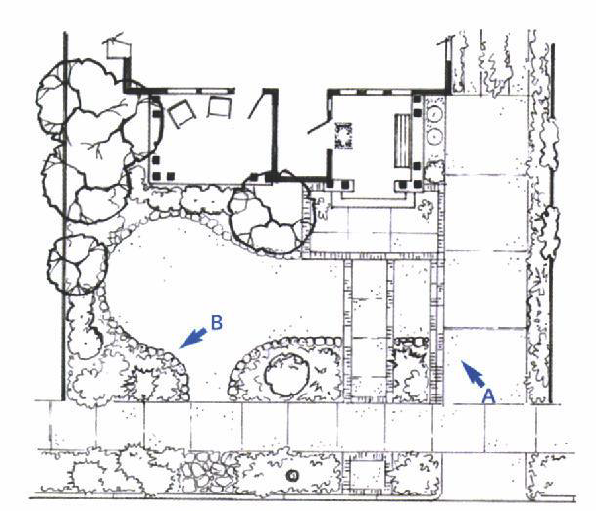 Many of the deciduous shrubs display colorful bark and interesting branching structure in winter. And lime-green and wine-colored foliage is used to complement the green stucco walls. The dark foliage of Japanese barberry (Berberis thunbergii f. atropurpurea), spurge (Euphorbia dulcis 'Chameleon'), and coral bells (Heuchera micrantha var. diversifolia 'Palace Purple') contrast wonderfully with the bright yellow leaves of Bowles' golden sedge (Carex elata 'Aurea') and golden creeping Jenny (Lysimachia nummularia* 'Aurea').
Contemporary style: Curved beds complement a contemporary ranch house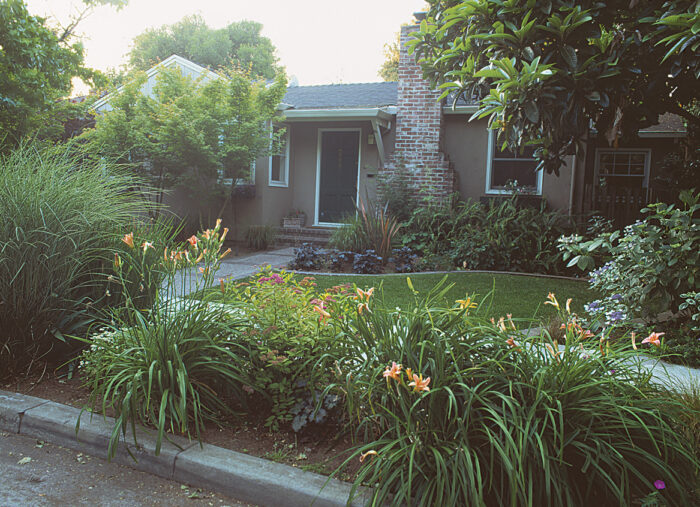 In the process of renovating their house, Patty and Jim White decided to update their garden as well. They wanted to revamp all the plantings, retaining only two large loquats (Eriobotrya japonica), a row of tall cedars, and an old rose climbing the chimney.
To complement the contemporary house, we opted for a series of curved beds with sweeping paths of lawn between them.
Low-maintenance was a top priority. Patty and Jim welcomed the use of less traditional plants, like ornamental grasses and New Zealand flax (Phormium tenax). An olive tree anchored the planting scheme, and we added a mix of plants with gray-green and wine-colored foliage.
​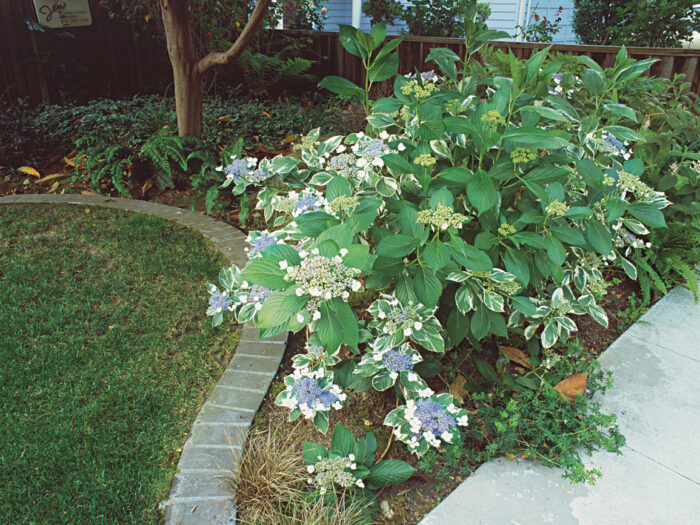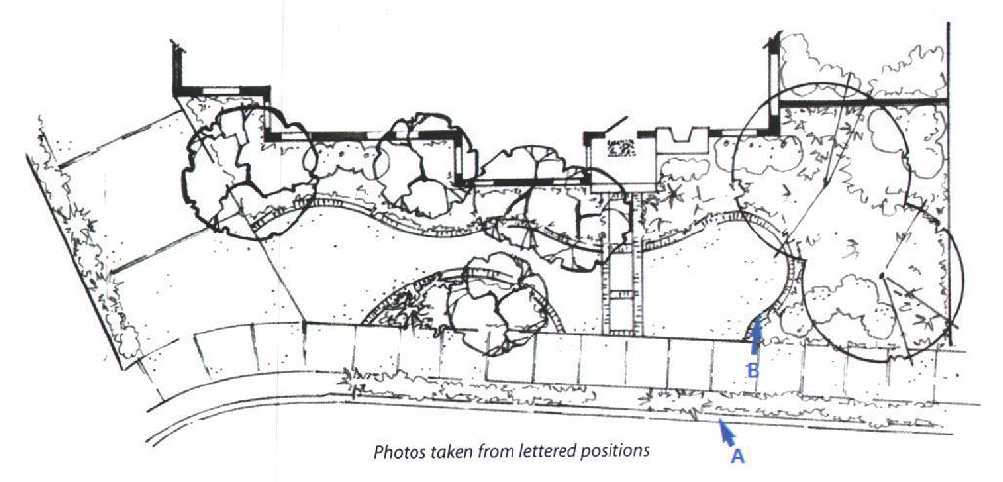 *Invasive alert: Creeping Jenny (Lysimachia nummularia)
This plant is considered invasive in CT, IL, MA, NH, PA, TN, WI, WV.
Please visit invasiveplantatlas.org for more information.
---
View Comments