Article
Bold and Beautiful Zinnias
These classic annuals have vibrant colors and forms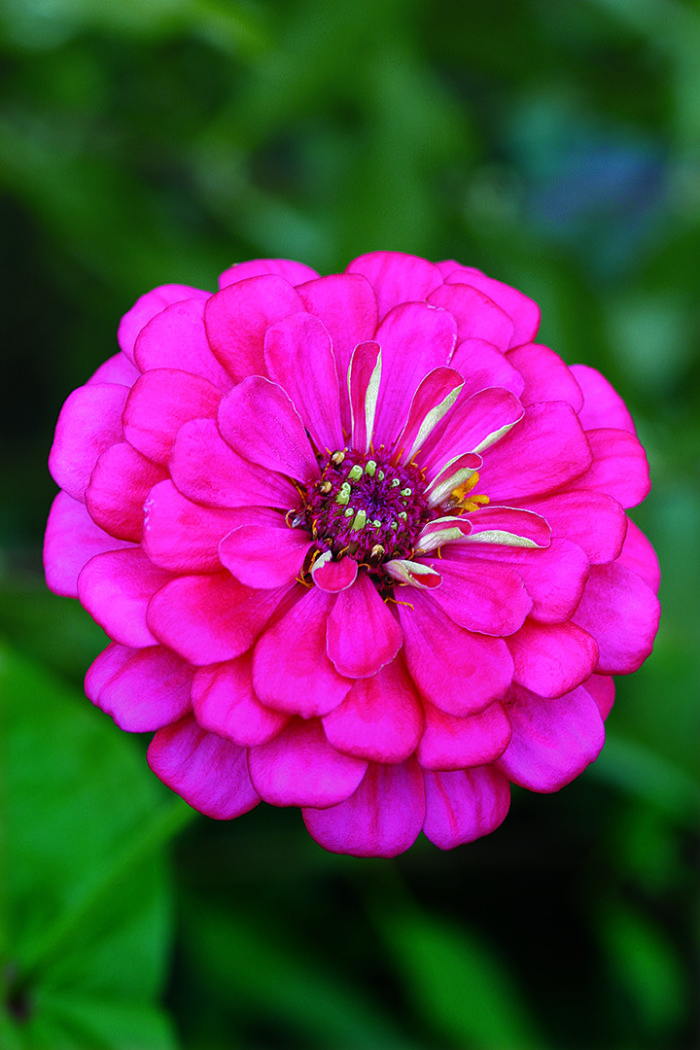 If color is what you're after, then zinnias are what you need. These easy-to-grow, reliable plants burst with bright, bountiful blooms in mid- to late summer. Few annuals can hold a candle to zinnias' floral displays, which come in a rainbow of colors and an array of shapes and sizes; they're also a huge butterfly magnet. Whether peppered through borders and containers or planted in huge masses, zinnias supply us with cheery, long-lasting flowers that beautifully complement other annuals and perennials. Their long stems make them a great addition to cut-flower bouquets. And judging from their long history, I'm not the only one who gets excited by these colorful annuals.
Zinnias have been in cultivation for hundreds of years, likely beginning alongside dahlias and sunflowers during the height of the Aztec civilization. It wasn't until 1763 that zinnias were officially named by the "father of modern taxonomy," Carolus Linnaeus, in honor of Johann Zinn, a German professor of botany and medicine. The first double forms were introduced in France in 1856. In the late 19th and early 20th centuries, zinnias became popular in the United States, where breeding efforts lead to the development of quilled and striped varieties. The diversity of zinnias today just keeps getting bigger and better. Whether you're looking for a simple single or a flashy double, there's a zinnia out there for you.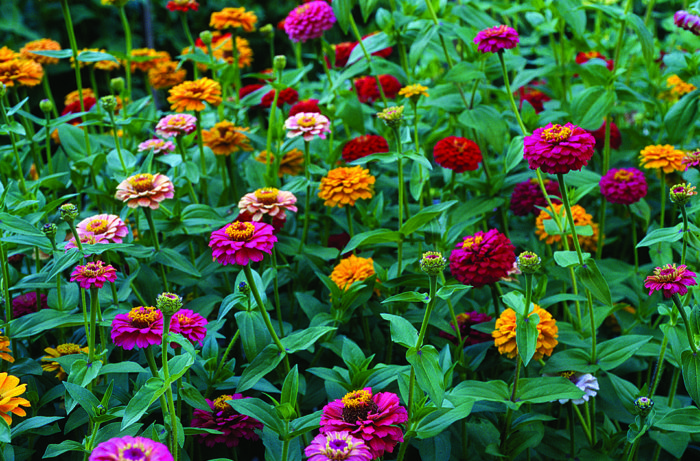 Origin: Roughly 20 annual and perennial species belong to this genus, which is native to the southern United States, Mexico, and South America.
Conditions: Zinnias require rich, well-drained soil in full sun. They are generally heat and drought tolerant. Do not plant them outdoors until night temperatures reach above 50°F. Space plants 10 to 12 inches apart at planting time to give them room to grow and to allow for good air circulation, which will make plants less susceptible to diseases.
Pests and diseases: Powdery mildew tends to be the biggest disease problem, especially in areas with hot, humid summers. Choose disease-resistant varieties (like the new hybrids), and avoid overhead watering. A weekly spray application of 1 tablespoon baking soda to 1 gallon water helps keep powdery mildew in check when applied to the leaves and stems of the affected plant. Zinnias should be protected from browsing deer and rodents.
Maintenance: Keep zinnias evenly moist, and feed them with a well-balanced fertilizer every few weeks for best flower production. For extended bloom, deadhead plants throughout the season. Remove unsightly leaves to prevent the spread of disease and to keep plants looking good.
Propagation: It's easy to save seed from spent blooms after the petals have faded and the remaining flower heads have dried out. Expect variability in color and form as collected seed often does not resemble the parent plant.
Zinnia elegans holds the spotlight
For those gardeners who find zinnias to be ordi­nary, stiff, or garish, perhaps it's time to recon­sider. Breeders have had a field day with the classic daisylike flowers of Zinnia elegans, developing wonderful variations of its form that come in just about every color imaginable (except true blue) and that have increased disease resistance. The advances made with these cultivars offer single, semi-double, double, dahlia-flowered, and cactus-flowered blooms in various colors, sizes, and heights. Even bicolored varieties are available.
Zinnia elegans cultivars range in height from 8 to 48 inches tall with ovate leaves and hairy stems. Some of the most favored at the tall end of the spectrum are those belonging to the Benary's Giant series formerly known as the Blue Point series. These dahlia-flowered beauties have 36- to 48-inch-tall, strong, multibranching stems. The double, 3-inch-wide flowers are available in 13 brilliant hues from across the color spectrum. They have better mildew resistance than older, large, dahlia-flowered types. Some seed growers package different Benary's Giant cultivars into specialized color-scheme mixes, such as Hot Crayon Colors, which combines warm shades of red, yellow, and orange, or Berry Basket, which brings together flowers with grape, pink, and raspberry hues.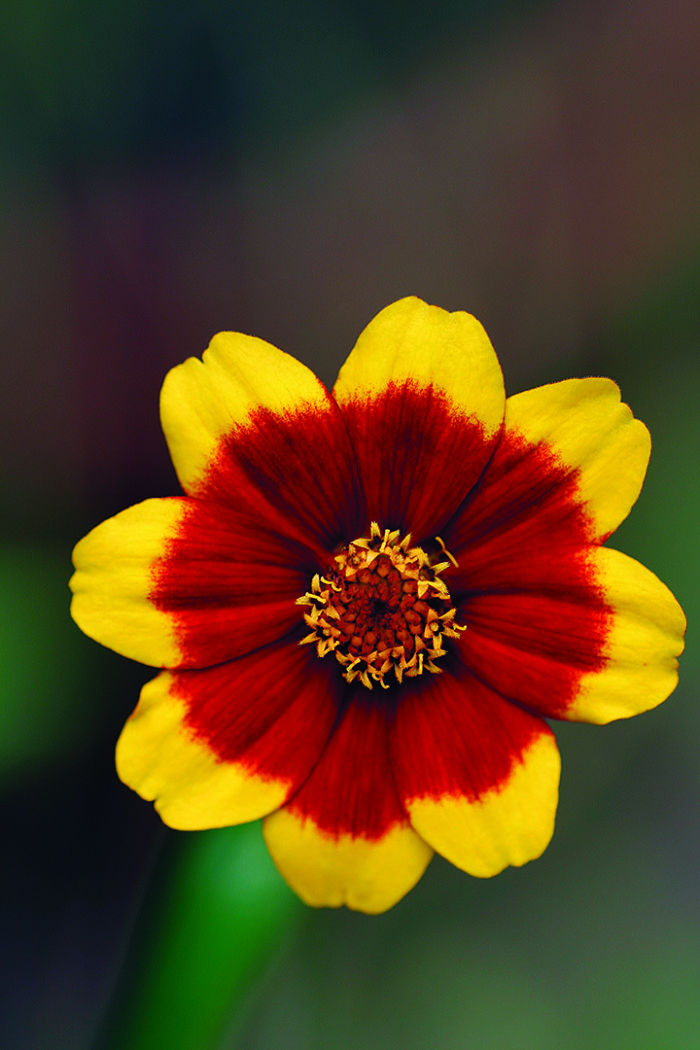 Cactus-flowered zinnias are often a popular choice for their unique, slightly curved and twisted petals that resemble quilled chrysanthemums. They generally grow 36 to 48 inches tall with 4-inch-wide, semi-double and double blooms that dazzle with their bright colors: canary yellow, gold, orange, crimson, scarlet, apricot, coral, carmine, lilac, rose, pink, and white. They are usually sold under the generic name Cactus-flowered mix. As with some of the dahlia-flowered varie­ties, seed growers package cactus-flowered zinnia seeds into customized color mixes, like the exuberant, jewel-toned Raggedy Ann.
'Cut and Come Again' is a noteworthy heirloom cultivar that stands 36 to 42 inches tall and produces blooms in shades of cream, salmon, rose pink, scarlet, butter yellow, magenta, crimson, and orange. It's an oldie but a goodie with semi-double to fully double, 2- to 3-inch-wide flowers that are in bloom for much of the gardening season. Plants are sturdy and well branched; they are not, however, particularly disease resistant in excessively humid climates.
For a dwarf variety with an almost identical color mix as 'Cut and Come Again', look to the Thumbelina mix. The semi-double flowers are only about an inch across with 6- to 10-inch-tall stems. This selection is a good choice for the edge of plantings, while 'Cut and Come Again' can be placed closer to the back. Both varieties combine well in beds and vases with black-eyed Susans (Rudbeckia spp. and cvs., USDA Hardiness Zones 3–11), sunflowers (Helianthus spp. and cvs., Zones 5–9), and tall verbena (Verbena bonariensis, Zones 7–11).
The novelty bicolored mix 'Candy Cane' offers 2- to 3-inch-wide double flowers that are either white streaked with bronze, red, or pink like pepper­mint candy, or yellow splashed with red or pink. Plants grow 18 to 24 inches tall. The 30-inch-tall hybrid Zowie!™ Yellow Flame, however, is a superior bicolor. A 2006 All-America Selections award winner, this vibrant plant features semi-double, 3- to 4-inch-wide, scarlet-rose blossoms with warm yellow edges and, like other zinnia hybrids, is remarkably mildew resistant.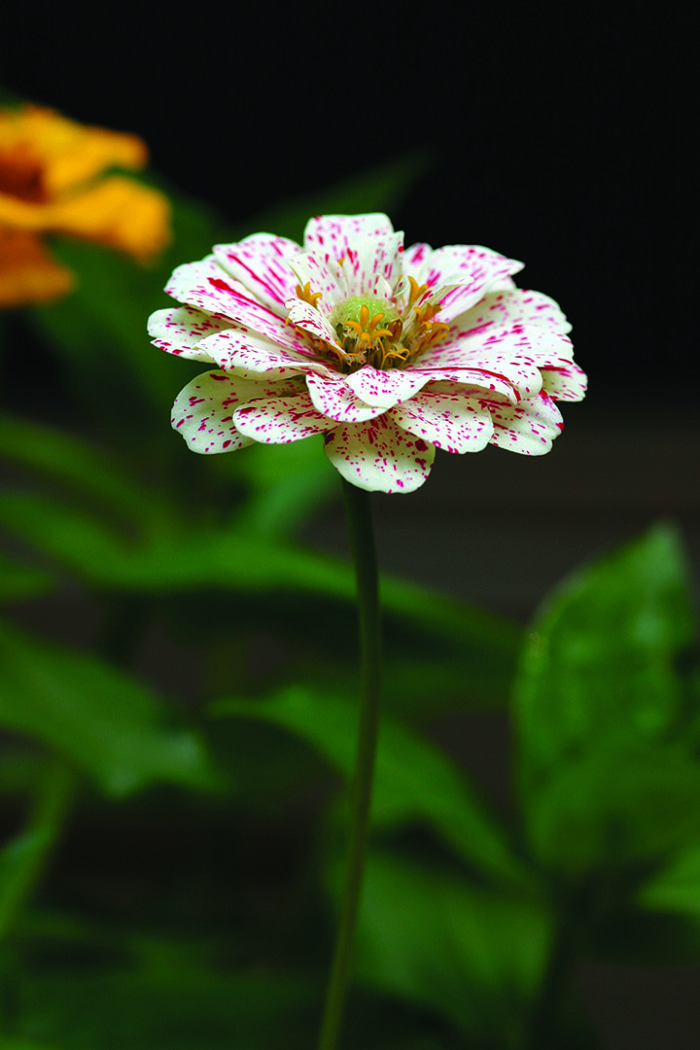 Going from wild to mild, 'Envy' is a chartreuse zinnia that has been a longtime favorite among flower arrangers. The improved selection 'Green Envy' (syn. Benary's Giant 'Lime' and 'Envy Double'), on the other hand, is a must-have zinnia for any gardener. It offers the same unusual, vivid color only in a consistently fully double form. The 3-inch-wide flower heads sit atop 36- to 48-inch-tall plants with long, branching stems. 'Green Envy' sets off bright summer flowers and harmonizes well with soft pastels.
Starting from seed offers the widest variety
The broad popularity of zinnias is not only because of their striking blooms but also because they are easy to grow. While you can find zinnias at your local garden center, consider growing them yourself from seed to get the best choice in varieties. Seeds are started either indoors to get a jump on the gardening season—especially in cold weather climates—or directly in the garden. Zinnia seeds readily germinate in five to 10 days and generally begin blooming three months after they sprout.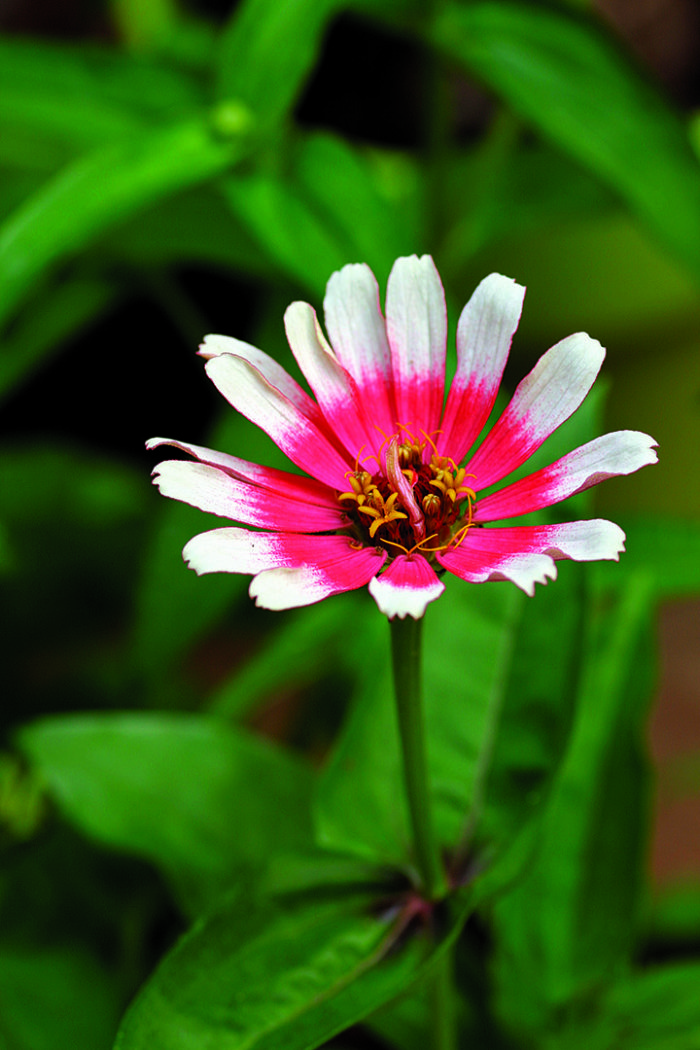 To start indoors
Sow seeds ½ inch deep and 3 inches apart in a container of moist, but not soggy, seed-starting mix four to five weeks before the last spring frost date. Place the container in a warm location with a strong light source, and keep the soil mix moist. Once the seedlings emerge (photo, above), begin fertilizing with half-strength liquid fertilizer every 10 days. The seedlings can be safely planted outdoors after the risk of cold damage has passed and night temperatures are evenly in the range of 50°F to 55°F.
To start directly in the garden
Wait until night temperatures are above the 50°F mark.
1. Sow seeds ½ inch deep with 2- to 3-inch spacing in rows 12 inches apart in well-worked, fertile garden soil in full sun.
2. Gently firm the soil and then keep it evenly moist while awaiting germination. When seedlings are large enough to handle, thin them to 10 to 12 inches apart.
3. Protect young seedlings from slugs and snails by using a nontoxic control method, such as Sluggo. If marauding birds find young seedlings attractive, use bird netting until seedlings reach 4 to 5 inches tall. If you live in an area with long summers that don't get too humid, you can direct-sow zinnias in the spring for summer flowers and then again in midsummer for abundant fall blooms.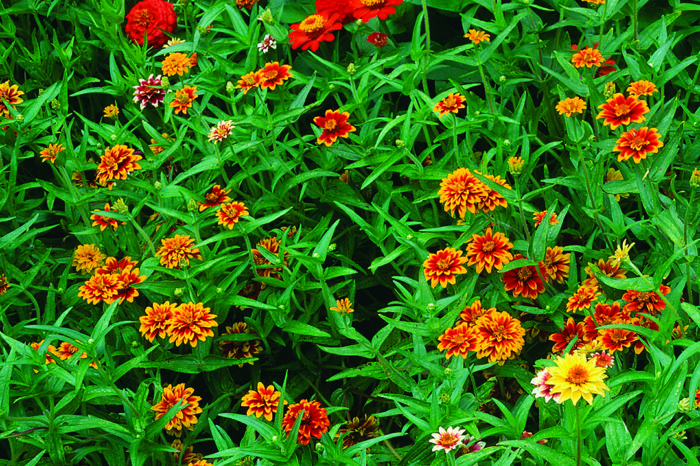 Lesser-known species and hybrids shine just as bright
While Zinnia elegans seems to get all the press, don't overlook some of the lesser-known species and hybrids. Zinnia angustifolia, for example, is 12 to 18 inches tall and has linear leaves and single, 1½-inch-wide, star-shaped flowers. Named varie­ties include the Crystal series, which contains orange-, yellow-, and white-flowering cultivars with orangish centers. This is an excellent bedding plant. It stands up well to extreme summer conditions, is resistant to common fungal diseases, and requires no deadheading.
The hybrid Profusion series (Zinnia angustifolia × Z. elegans) is also a superb low-growing choice, especially for containers. The 2-inch-wide flowers are single or semi-double and cover the 12- to 15-inch-wide mounding plants for months. The All-America Selections award-winning series has cultivars that come in shades of orange, cherry, white, and apricot, all of which partner well with other colorful plants, like pot marigolds (Calendula officinalis cvs., annual) and blanket flowers (Gaillardia × grandiflora cvs., Zones 3–8). Best of all, Profusion zinnias are highly disease resistant and require little maintenance because they are self-cleaning, dropping their blossoms after they fade.
Two uncommon, old, single-flowering species are Zinnia peruviana (syn. Z. pauciflora) and Zinnia tenuiflora (syn. Z. 'Red Spider'). Zinnia peruviana blossoms are 2 inches wide and a warm brick red or sulfur yellow with raised brown centers. Plants grow 18 to 24 inches tall. Zinnia tenuiflora is slightly shorter at 15 inches tall with candy red flowers. Both plants are simple but contribute to the diversity of the genus.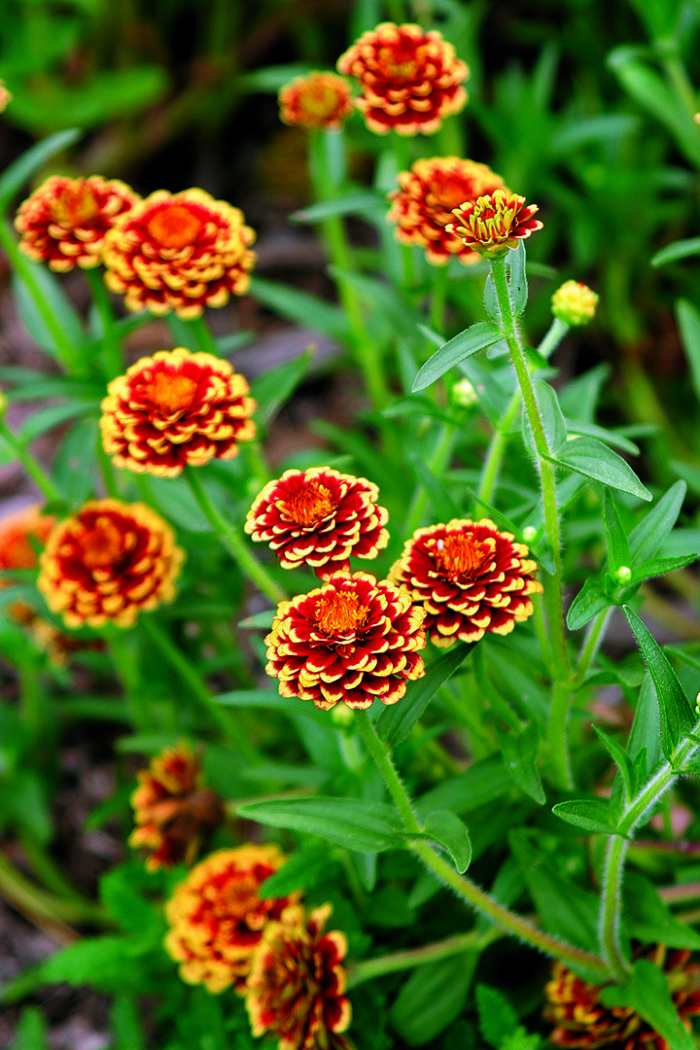 One look at Zinnia haageana or its cultivars and you'll think you're at a fiesta. While the species produces golden yellow flowers, the cultivars are generally bicolored in shades of yellow and mahogany. The oldest heirloom mix from this species, 'Persian Carpet', creates a mosaic of chestnut, mahogany, bronze, orange, and rust-colored petals with contrasting yellow or cream edges. The 1½- to 2-inch-wide blooms are a potpourri of singles, semi-doubles, and doubles. They grow on 12- to 18-inch-tall, multibranching stems. Newer but with the same color range is Aztec Sunset™, a petite selection that stands 6 inches tall with 2-inch-wide, double flowers. If a single is more your speed, consider 'Chippendale' with its 2-inch-wide, mahogany red blooms and golden tips. It tops at 18 to 24 inches tall.
Zinnia haageana and its cultivars will add a little zing to plantings and pair well with tried-and-true petunias (Petunia spp. and cvs., annual) and salvias (Salvia spp. and cvs., Zones 3–11). Perhaps the next time you are looking for a splash of color, you'll add these along with other striking zinnias to your gardening repertoire.
—Renee Shepherd evaluates hundreds of flowers each year in her trial gardens in Felton, California.
View Comments