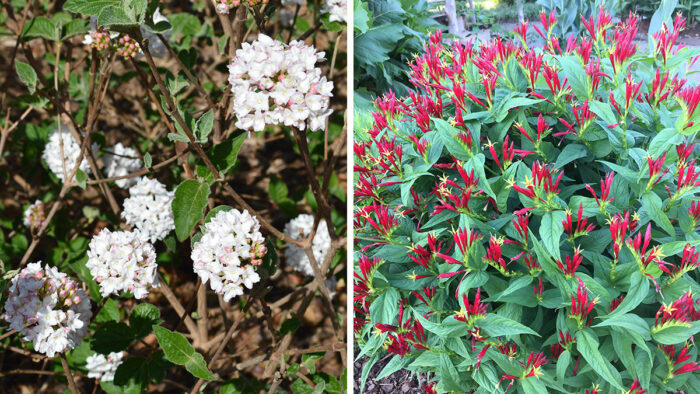 When designing a garden, I am often looking for plant material that tolerates both full-sun and shade conditions. Perhaps the garden bed includes a young tree that currently provides very little shade but over time will shade more and more of the garden. In this situation, I want a plant that can tolerate full sun now but will be just as happy once the garden is shaded. Or I may be looking for plants that I can weave throughout a planting to create rhythm and continuity in a garden that straddles different sun exposures. Whatever the reason, finding plants that tolerate both sun and shade is no easy task, especially in the hot Southern Plains.
The obvious choice might be plants labeled as "part sun" or "part shade"; however, many of these plants cannot tolerate our hot afternoon sun. They thrive in morning sun and afternoon shade or filtered light throughout the day. Others struggle with too much shade. After a bit of experimentation and much searching, I've created a plant palette that works under varying sun exposures. The following are just a few plants that transition well in these challenging sun-shade scenarios. As you experiment with others, pay attention to heat tolerance. Our sizzling summer sun is often the limiting factor.
Shrubs for sun-shade transition areas
---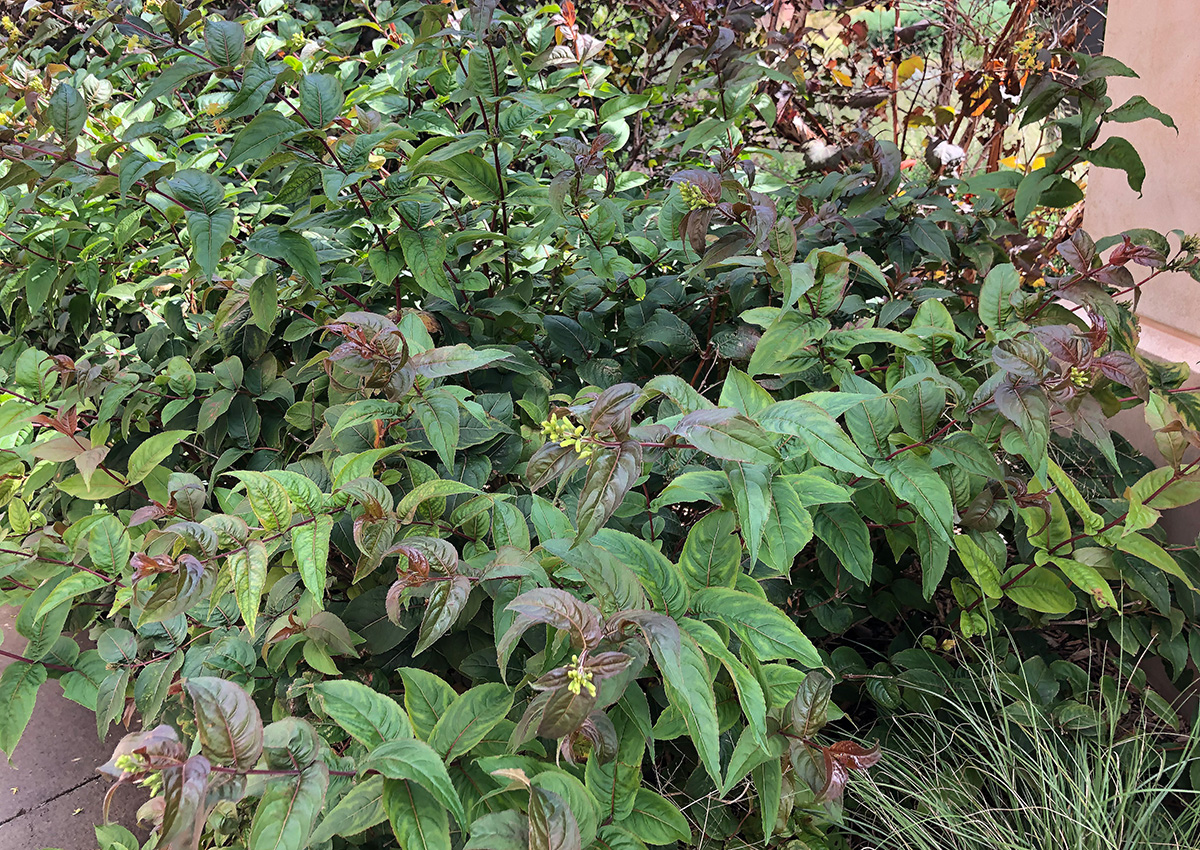 Mountain bush honeysuckle
(Diervilla rivularis and cvs., Zones 5–7)
There is so much to love about this gorgeous native, from sunny yellow blooms buzzing with pollinators to gorgeous colorful foliage. The variety 'Kodiak Black' (pictured) is a standout that displays burgundy-black foliage in spring and fall, with lighter tints in summer. Fall brings dry fruit capsules that attract songbirds. A reliable bloomer throughout the summer in sun or shade, 'Kodiak Black' grows 3 to 4 feet tall and wide, tolerates a variety of soil types, and thrives in any sun exposure.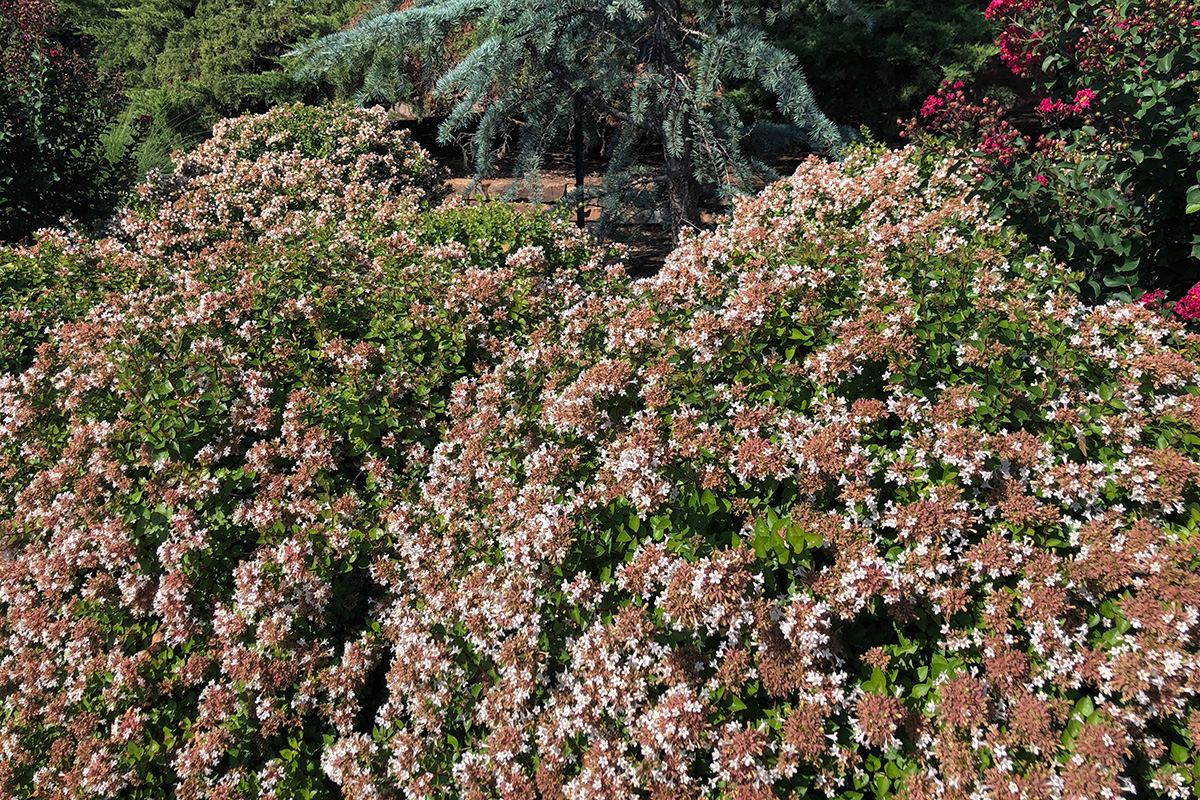 Abelia
(Abelia chinensis and cvs., Zones 7–9)
An abelia variety exists to complement just about any garden design. The floriferous 'Rose Creek' (pictured) is among my favorites. It blooms in early May, with sporadic flowers throughout summer before another mass bloom in September. This dense, mounding variety grows 2 to 3 feet tall and 3 to 4 feet wide. Also look for variegated hybrids and larger cultivars to meet your design needs. Abelias are gorgeous massed around trees, providing a seamless transition from sun to shade when they are provided with rich, well-drained soil.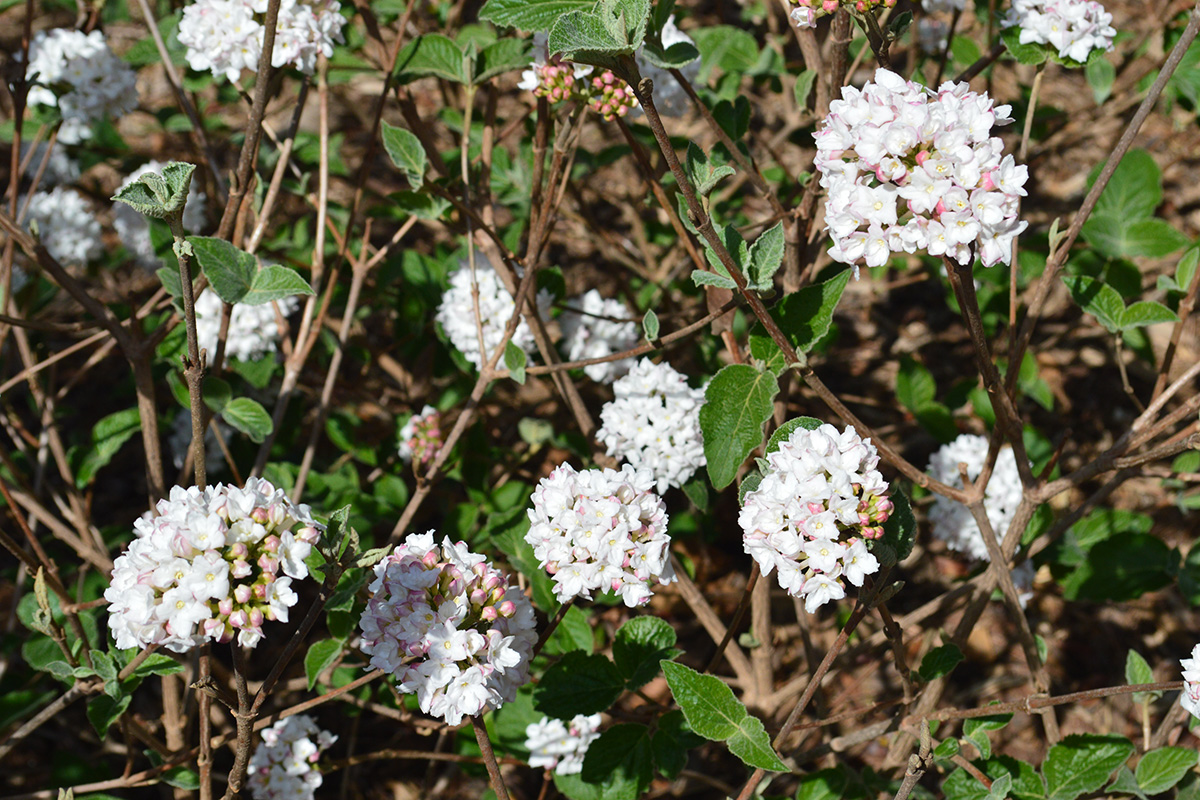 Koreanspice viburnum
(Viburnum carlesii and cvs., Zones 4–7)
This spring-blooming beauty fills the garden with spicy-sweet perfume in late March to April. A slow growing shrub, reaching 4 to 6 feet tall and wide or larger, Koreanspice viburnum is a wonderful choice for planting in beds with young trees that will eventually provide shade. Wine-red autumn color adds interest to the garden, while birds flock to the late-summer fruit clusters that turn shiny black in fall. Plants prefer moist, well-drained soil but tolerate heat and drought once established. They also work well in windy sites.
Perennials that can tolerate bright and shady conditions
---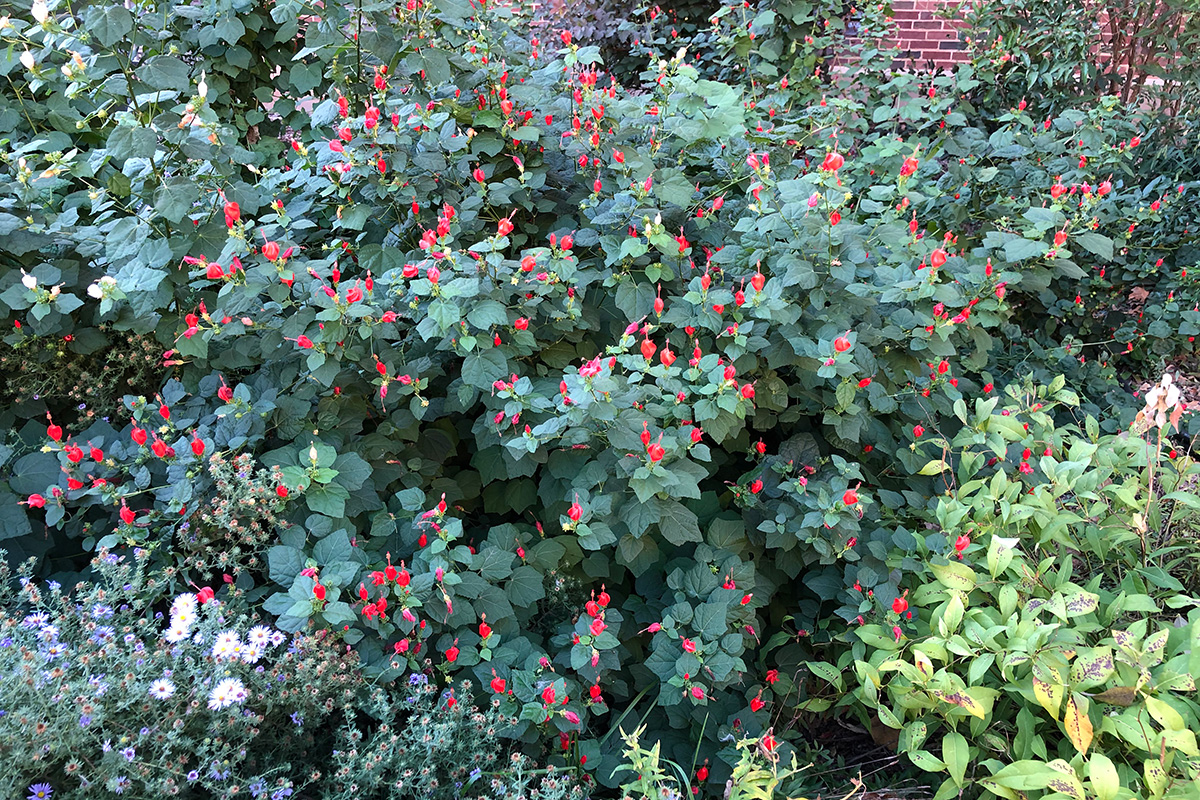 Turk's cap
(Malvaviscus arboreus var. drummondii, Zones 7–10)
One of my favorite native plants for its versatility and heat tolerance, Turk's cap grows as a subshrub or dieback perennial, depending on location. In the northern parts of the Southern Plains, it dies back to the ground each winter, while in the southern parts it remains evergreen. Even dieback plants can grow 3 to 5 feet tall and wide each season. To say this plant is rugged is an understatement. I've seen it growing out of a limestone cliff face in Texas in the full sun, though plants are more at home along streams and woody edges. In sun or shade, plants produce an abundance of twisted red blooms that attract hummingbirds and butterflies from early summer through fall.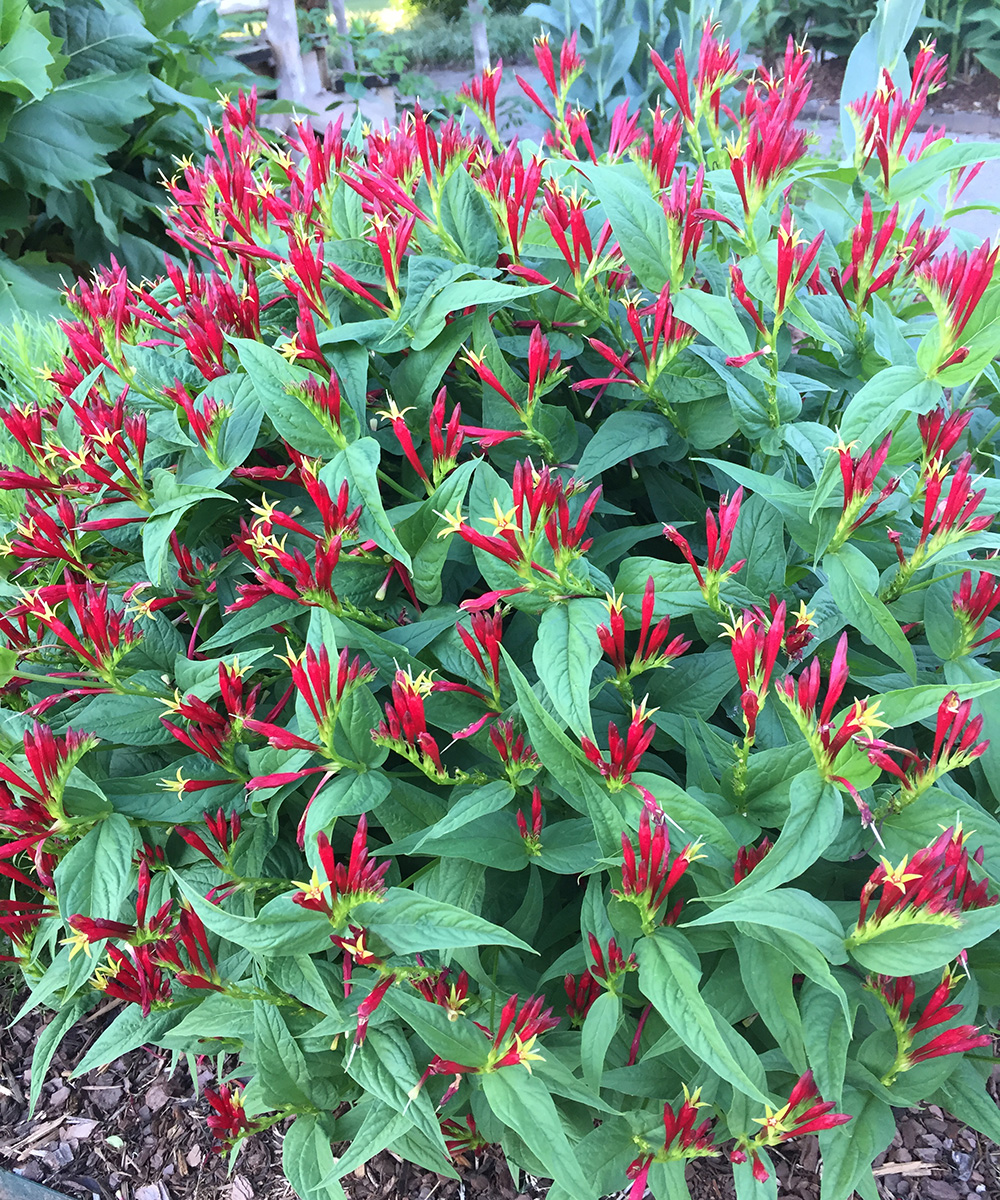 Pinkroot
(Spigelia marylandica and cvs., Zones 5–9)
I've grown this native perennial, which is also called Indian pink, in full-sun and full-shade conditions in Oklahoma. In nature, it is found in moist woodlands and along streambanks. In the garden, it performs best in partial shade, however, don't be shy about planting it in transitional areas. It tolerates dry shade but needs a bit more water in full sun. Growing 12 to 24 inches tall and wide, pinkroot emerges late in the spring and produces gorgeous red and yellow blooms through much of May. Hummingbirds adore this stunning, adaptable plant.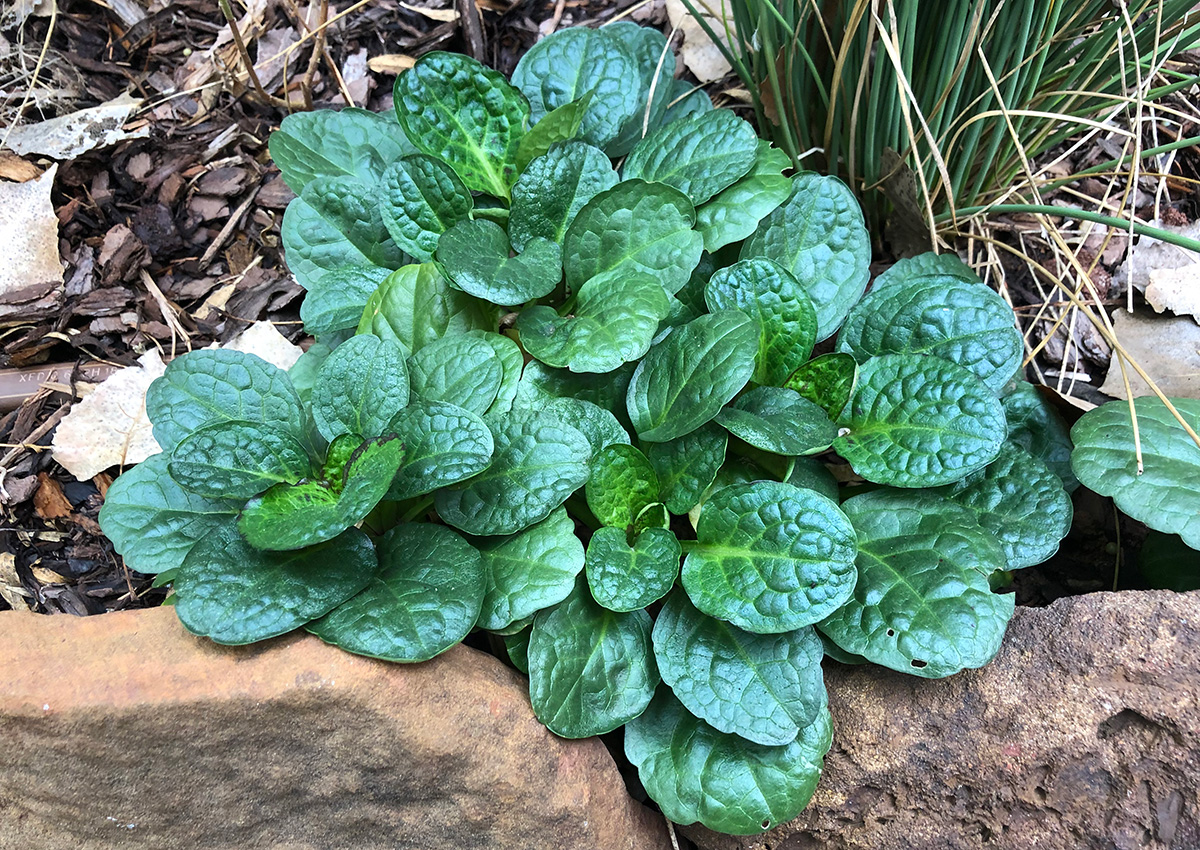 Bugleweed
(Ajuga reptans and cvs., Zones 3–10)
A flowering evergreen ground cover for sun or shade, bugleweed tolerates all light conditions and is quite adaptable to different soil types and moisture regimes. The foliage comes in a variety of hues and sizes, from the diminutive 'Chocolate Chip' to the purple-bronze 'Catlin's Giant' (pictured). Plants spread to form a low-growing mass 6 to 12 inches tall and up to 2 feet wide. Bugleweed can be aggressive, so avoid planting it near plants sensitive to crowding, like the pinkroot described above.
—Kim Toscano is a horticulturalist based in Stillwater, Oklahoma. She previously hosted Oklahoma Gardening, a weekly PBS television program produced by the Oklahoma Cooperative Extension Service.
Photos: Kim Toscano