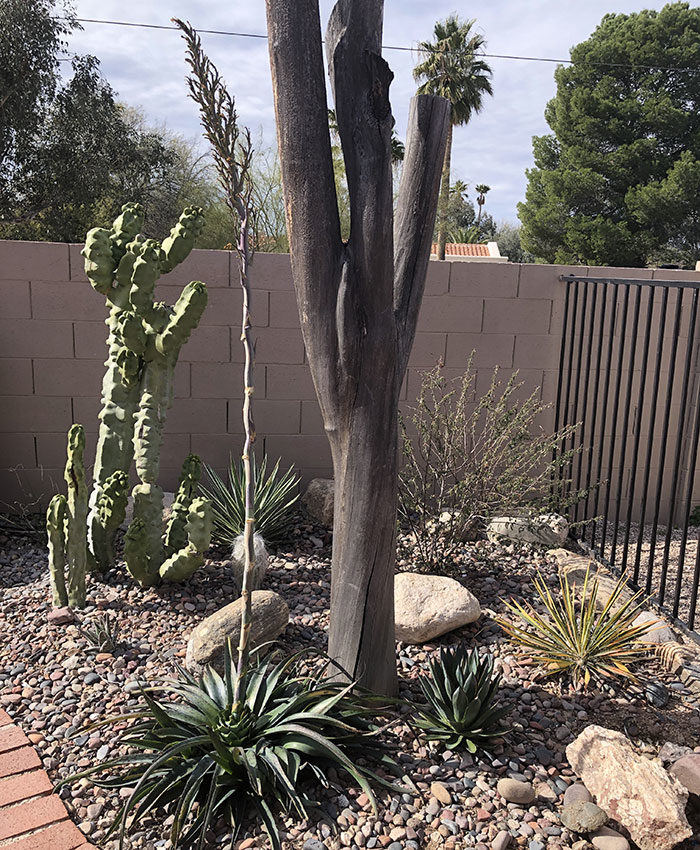 Mangaves happen to be one of our absolute favorite additions to our garden. A mangave (× Mangave cvs., Zones 8–11) is a hybrid of manfreda (Manfreda spp. and cvs., Zones 7–11) and agave (Agave spp. and cvs., Zones 7–11). Breeders have taken some of the best attributes of each plant to create these beautiful and durable little hybridized gems. They grow at a faster rate than agaves, thanks to their manfreda genes, which is also where they get some of their amazing leaf shapes and patterns. And because of their agave genes, they have inherited drought resistance and sun-loving durability, making them an absolute treasure.
Although some mangaves are a bit more cold-hardy than others, most are hardy in USDA Zones 8–11. They are happy in full sun or partial shade, and they need little water to thrive. Mangaves are also deer and rabbit resistant, which makes them a delight in front yards. As of 2018 there were over 40 cultivars of mangave, with names such as 'Bad Hair Day' and 'Catch a Wave'. They are all beautiful in their own right, but we'll share a few here that we have in our gardens to bring a little attention to these still up-and-coming hybrids.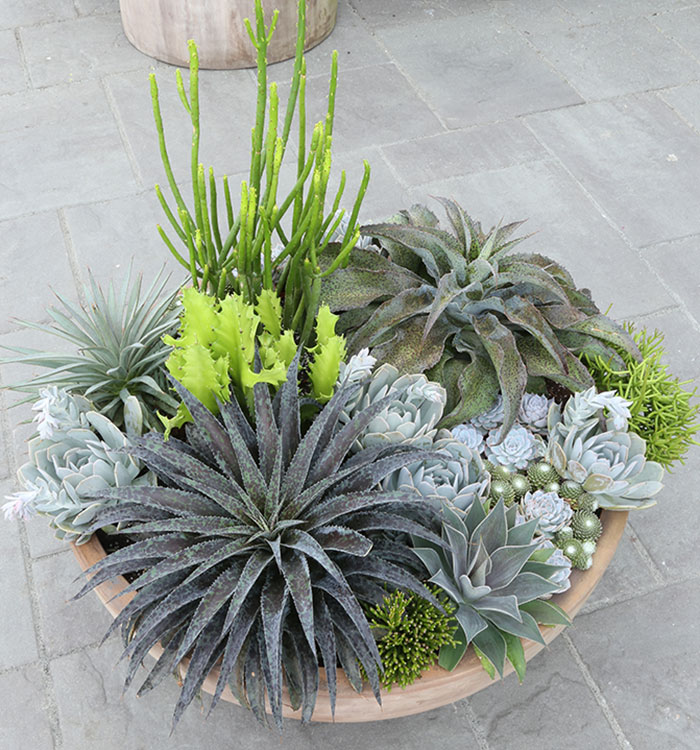 The first mangave we planted after moving to Tucson was 'Inkblot' (Mangave 'Inkblot', Zones 9–10). This cultivar is an amazing combination of both parents, with blood red spotting on broad, dark green leaves with tiny white teeth. 'Inkblot' will grow to about 8 inches high and 22 inches wide, keeping it perfectly compact for gardens of any size. The more sun it gets, the darker the red spots get. Ours flowered after one year, shooting up a 6-foot spike. It has held up nicely in our cold overnight temperatures and continues to thrive.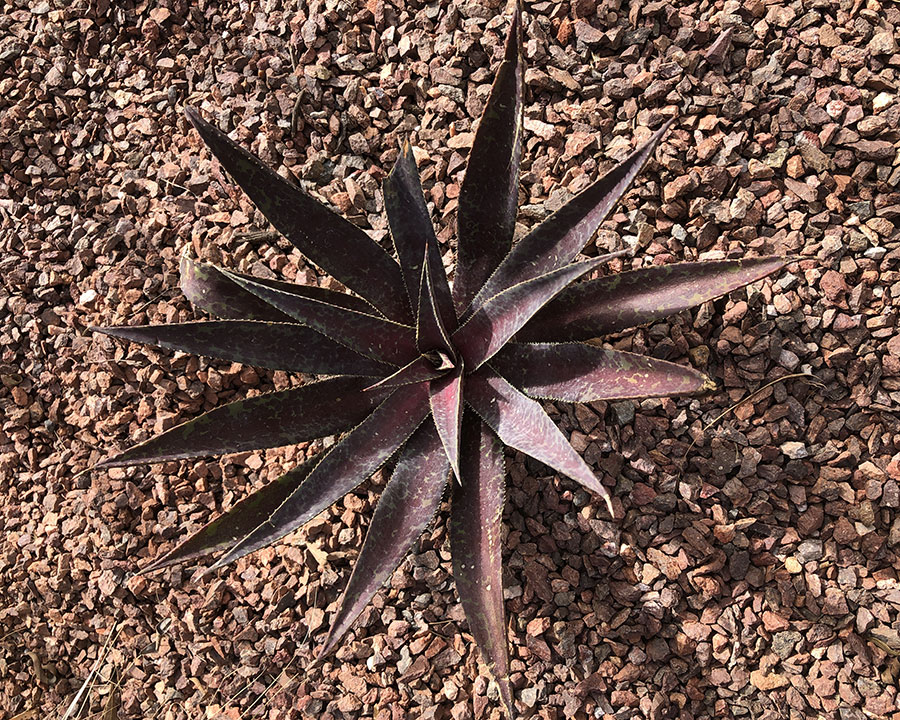 A new addition to our gardens is a 'Blazing Saddles' mangave (Mangave 'Blazing Saddles', Zones 9–11). Although many describe its green leaves as heavily spotted with red, it's hard to believe that the leaves are not red-spotted with a tiny bit of dark green. This smaller cultivar has a spread of 6 to 8 inches wide and 12 to 14 inches tall, making it the perfect petite filler in any container or rock garden.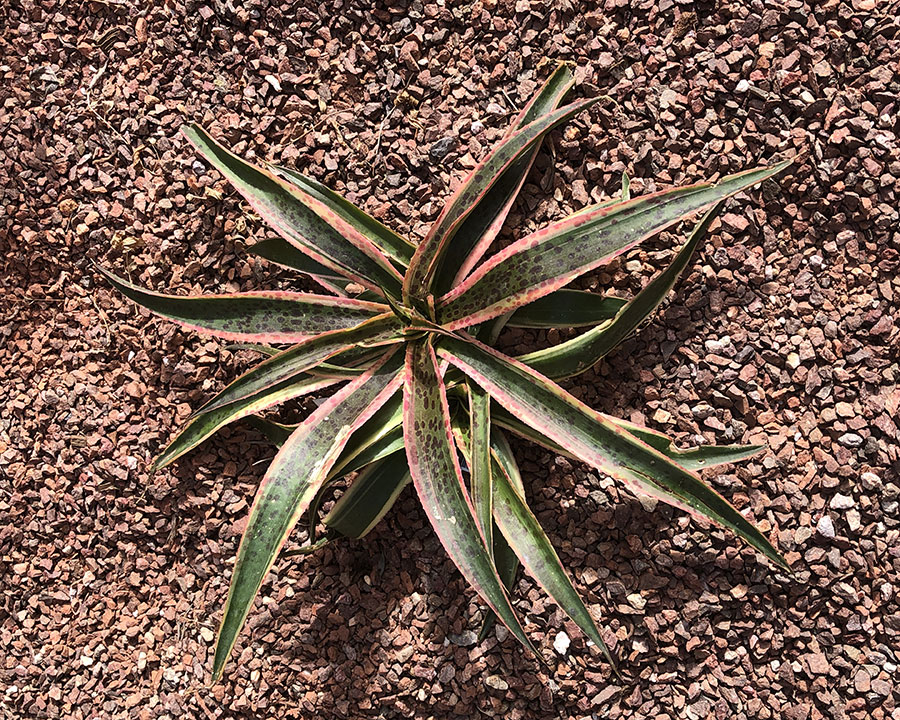 Another favorite mangave currently residing in our gardens is 'Kaleidoscope' (Mangave 'Kaleidoscope', Zones 8–11). This is one of the larger cultivars we have, with a potential span of 24 inches wide and 36 inches tall. Its multicolored leaves come in tones of green and yellow with a light red border. If that wasn't spectacular enough, the leaves are also covered in delicate red spots. It's a show-stopper! As it matures, it should gift us with a 6-to-7-foot flower spike over the summer. The flowers are green and have a subtle fragrance. Unlike some agaves, mangaves do not perish after flowering.
Keep an eye on your mangaves to help prevent pests such as scale and mealybug, and don't overwater. As with many drought-tolerant plants, too much water can lead to both crown rot and/or root rot.
Mangaves are the perfect addition to any garden or container if you're looking for texture, color and interest. They're a piece of cake to care for, and they bring tons of drama. Even if mangaves aren't for you, at least do yourself a favor and check out all the names of the different cultivars, because most of them are about as clever as they come! In our next life, we'd like to come up with fun plant names too!
—Sheila Schultz and Laurel Startzel are a mother-daughter duo who founded Denver Dirty Girls Container Gardening while living in Denver and have continued their business since moving to Tucson, Arizona.