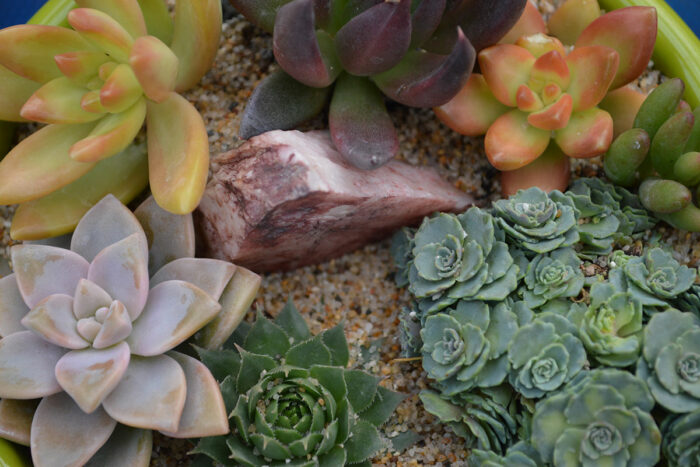 Echeverias (Echeveria spp. and cvs., Zones 9–11) are beloved by many gardeners for their beautiful colors and textures. They are rose-shaped succulents that are not only drought resistant but also extremely easy to care for. They are often confused with hens and chicks (Sempervivum spp. and cvs., Zones 4–9), so we'll give you some tips on telling them apart. We'll also share a few of our favorite echeverias and hopefully introduce you to something fun and new to add to your garden.
Echeveria vs. hens and chicks
Echeverias and hens and chicks are similar in many ways, but there are a couple of easy ways to tell them apart. Hens and chicks have different blooming habits. Their bloom grows directly from the center of the rosette, not from between the leaves as with echeverias. Hens and chicks are monocarpic plants, meaning that once each individual plant blooms, it then dies. Echeverias are polycarpic, meaning that they bloom every year. Hens and chicks also grow in more of a star shape, whereas echeverias produce rose-shaped leaves. One last way to tell the two apart is by looking more closely at their foliage. Hens and chicks tend to have little hairs at the edges of their leaves, while echeverias have smooth leaves most of the time.
Echeverias come in a variety of colors, and their blooms can range from pink to peach to white to yellow. Although echeverias can handle moderate changes in temperature, they cannot compete with the hardiness of hens and chicks. Echeverias love full sun and well-drained soil. Only water them when their soil is dry, and trust us when we say that the easiest way to kill a beautiful echeveria is by overwatering it. The same can be said for most succulents. Ignore them, and they will love you.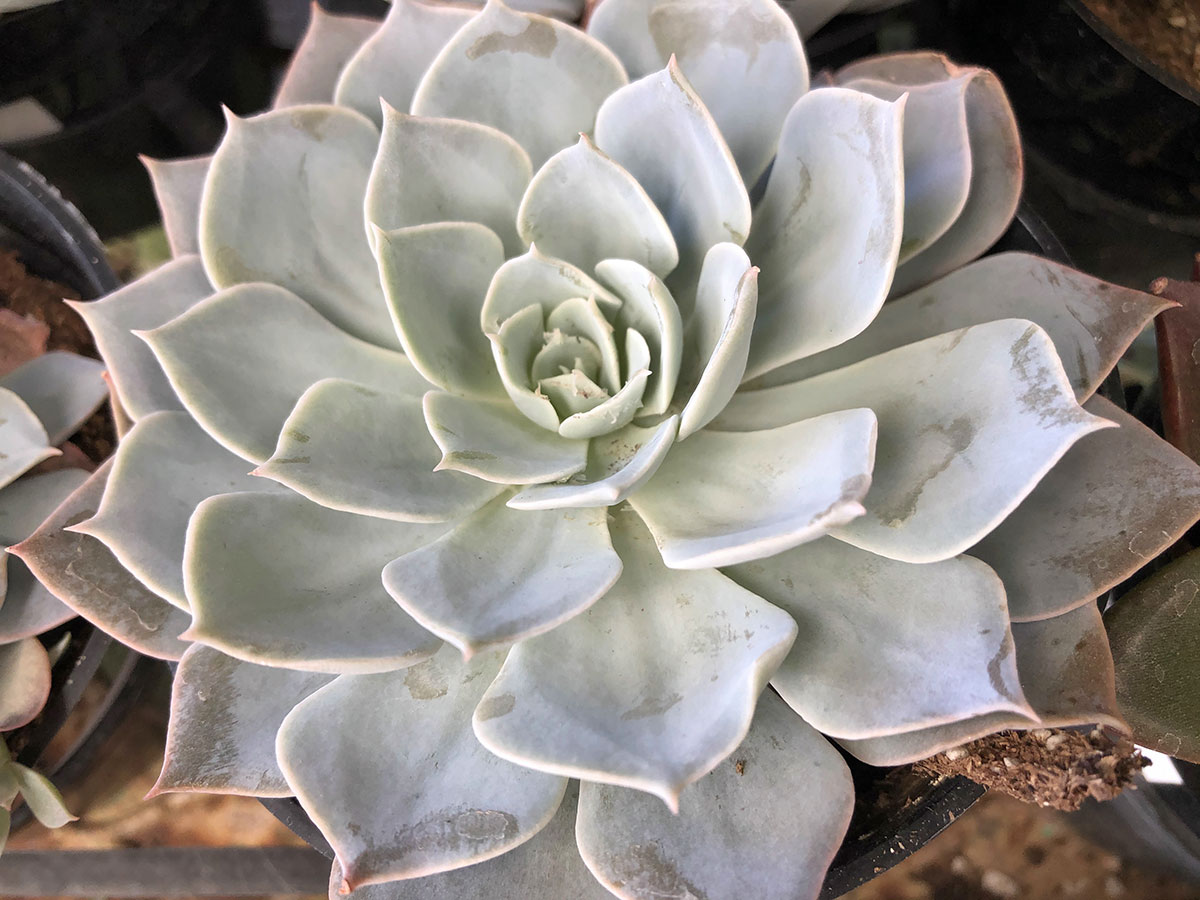 'Canadian' echeveria
E. 'Canadian', Zones 9–11
'Canadian' produces beautiful gray leaves and bell-shaped blooms. It can tolerate living both indoors and outside. These plants make a beautiful addition to any container, garden bed, or landscape. One joy about echeverias is that they produce pups, allowing you to expand your plantings, and 'Canadian' is no exception.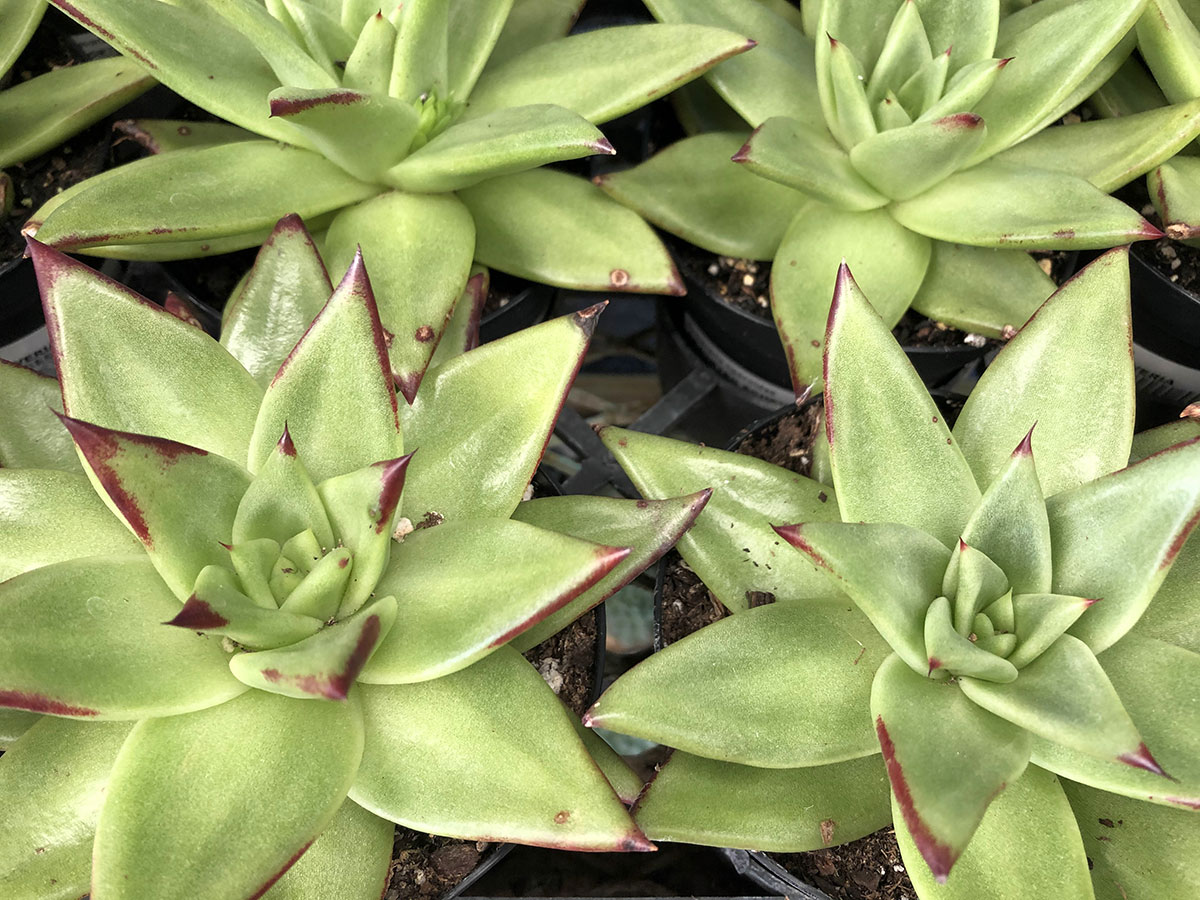 Molded wax agave
E. agavoides, Zones 9–11
Molded wax agave, also called lipstick echeveria, is a show-off when it comes to foliage. That is really why we love echeverias so much. It's not for their blooms—it's for their petal-shaped leaves. Molded wax agave has light green petal-shaped leaves with pink-red edges. It produces tight clusters of rosettes and is a quick grower.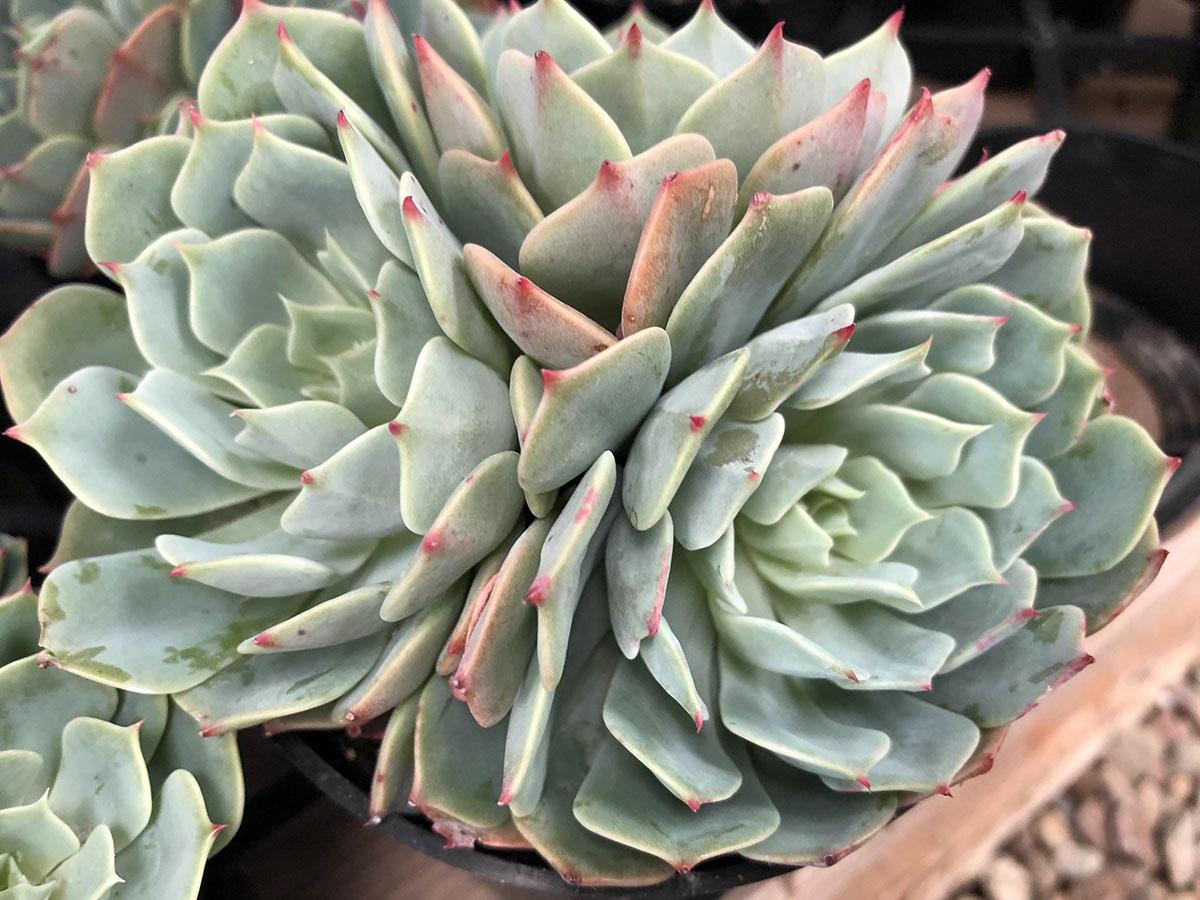 Blue echeveria
E. pumila var. glauca syn. E. secunda, Zones 9–11
If you're looking for a multiclustered echeveria, blue echeveria produces tight multirosette mounds. The leaf petals are a beautiful mint green with deep pink tips and edging. We love incorporating these when we're looking for more depth and height in our rock gardens, and the blooms are stunning. Blue echeveria can produce hundreds of little red, jewel-like blooms.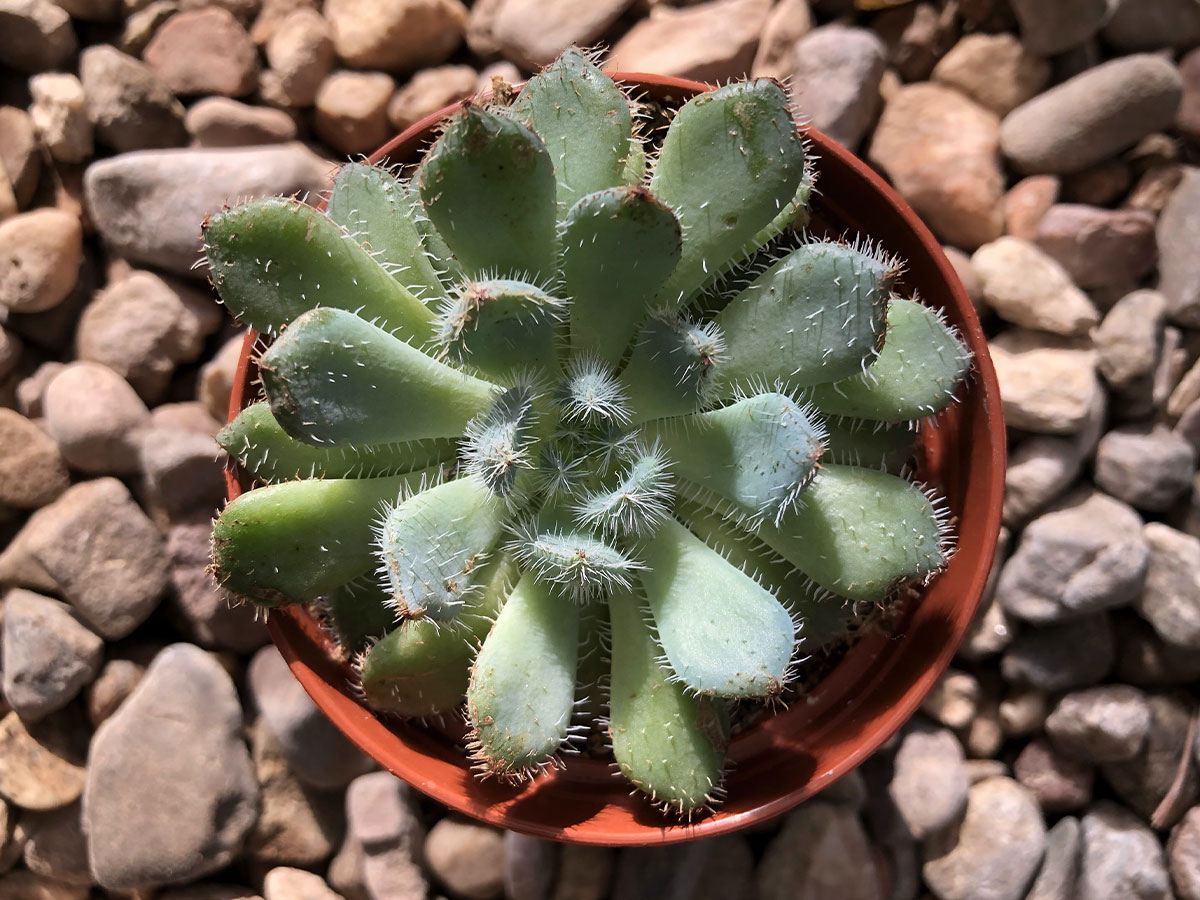 Firecracker plant
E. setosa var. deminuta, Zones 9–11
We love this little guy for its texture above all else. This plant grows in thick clusters, and what look like little rough spines or glochids are actually soft and bristle-like in texture, fully covering the leaves. Firecracker plant produces brightly colored red and yellow flowers. It is a great addition to any tabletop container and makes a great ground cover.
There are over 150 species of echeveria. With so much diversity, it's difficult to pick just a few favorites. If you find that your local garden centers don't have much variety, don't be timid about shopping online. It's pretty amazing how online retailers package these plants to arrive unscathed. You can start to grow your collection in earnest by looking beyond your local shops if their supplies are limited. For more recommendation on succulents to grow in the Southwest, read on here:
—Sheila Schultz and Laurel Startzel are a mother-daughter duo who founded Denver Dirty Girls Container Gardening while living in Denver and have continued their business since moving to Tucson, Arizona.